The most interesting excursion tours in Montenegro
Budva
Kotor
Tivat
Podgorica
Popular tours in Montenegro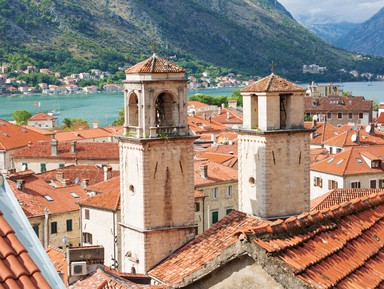 Private guides with the best rating in Montenegro
I am Montenegrin and I want you to see my country through the eyes not of a foreign guide, but of a local. I will gladly show you beautiful and unusual places where tourists rarely visit. I love my land very much and am always happy to see it!
Experienced guide-driver in Montenegro, I live here permanently since 2011, I know all the interesting places and I am happy to show them to you! I am interested in the history of the Balkan Peninsula and its natural beauties. At my excursions you will enjoy the unique nature of Montenegro and learn a lot about the life in the country, customs and peculiarities of the mentality of the locals. In addition to Montenegro, I also organize trips to Croatia, Albania, Bosnia and Herzegovina, Serbia and Macedonia.
I love Montenegro very much and consider it my home. I live here since 2008, during this time I have got to know the mentality and I am fluent in the language that allows me to learn interesting facts from the local old timers. I have become part of the culture of this country and have friends among the locals. Traveling around Montenegro is a pleasure, I am happy to share them. Organize individual trips by car to interesting places, monasteries, national parks, architectural treasures, with flexible terms, and taking into account your wishes and mood.
I live in Montenegro. Licensed tour guide. The founder of travel agencies and the first Russian-speaking pilgrimage society in Montenegro. I offer responsible and high-quality guided tours for individuals and groups. Exciting and informative guided tours to Montenegro, Serbia, Bosnia and Herzegovina. I offer you informative and meaningful tours. It is possible to join mini-groups. Vivid impressions as a gift! Glad to see you all year round!
I am an experienced guide in Montenegro, constantly living in the country since 2013, I know all the interesting places and will gladly show them to you! And also I will tell you about the history of the Balkans and Montenegro in an interesting way, with me you will not be bored. I combine at the same time and the function of the driver, I will take you on a tour from any place on the Budvan Riviera.
791 travel reviews
Fun, friendly guide who loves his country and knows how to talk about it in an interesting way. There were no everyday problems with Ivan either: photo/coffee breaks, toilets, lunch – everything was solved quickly and easily. Special thanks for professional driving on the mountain serpentines
Eugene is quite responsible, pleasant and competent guide.
Excellent and informative tour! For those who are interested in history, Vadim is a godsend! I found out all the history of Montenegro, from antiquity to our time, walked around the old town. And the whole two hours flew completely unnoticed. Thank you very much!
Thanks to the guide, he is very knowledgeable, he speaks intelligently, it seemed that he has answers to all our questions, but we did not ask many questions, because we were in Montenegro for more than a week and already knew a lot by ourselves, travelling and from guidebooks. It was convenient that the beginning of the tour was floating, and we had no need to come from afar to the early hour. There is certainly a question to the construction of the excursion, it was almost half review-automotive, which is not attractive to tourists with a car, as we, but this format is NOT specified in the description! That is, you pass (cursory!) the old town (for some reason, not all of it, not even a climb up the wall!), go to Perast, there is also an express trip to the island, and . and that's it.) Further you could finish, because you drive the rest of the time just along the coast around, to go back to Kotor) again I should mention that perhaps for tourists without a car such a trip is not available themselves and therefore attractive. But it should be written explicitly. And one more thing. the tour does not last the declared 6 hours. In our case, it lasted 3.40, which, as they say, a third less. I asked this question to Oleg, but he only said that it usually includes a pickup time for tourists from the surrounding area, and we came to Kotor by ourselves. We did not poke around, but … in my opinion, this is not at all, because firstly 2.20 for the collection of tourists is an unrealistic figure, all the coast can be passed during this time, plus the description clearly stated "meeting in the old town. That is six hours from now. I would not have so much time to pay attention to the duration, but it's a shame not to get 60% of the information and impressions for the cost of 100%) Yes, forgive me Oleg, I tried to be extremely objective. Perhaps my review will be a reason to either change and clarify the description of the program, or adjust the tour itself in the duration and richness.
Everything went perfectly. They took us from Dobry Vody, showed us everything, told us everything, just chatted. No rush.
Thank you, we liked it).
Thanks again Vladimir. We had the best and warmest impressions from the tour. So many interesting things to learn, see and try) I recommend from the bottom of my heart.
Our tour was led by Ilya. Very interesting what he said. We liked everything. Went with children 6 and 7 years old. It was interesting for them, too.
Thanks a lot to Vadim for the walk in Budva! Due to our fault the tour started almost half an hour late, Vadim waited for us, thank you very much. Vadim's speech "poured like a song", it was a pity that it was impossible to remember all that he had heard, so much knowledge about the city, loved by the narrator! We also went with Vadim to the City Museum, and all our questions about life in this wonderful city were answered. Very much we recommend everyone to "walk" with Vadim, especially those who come for the first time.
A lot of impressions, I definitely recommend it!
Excursions in Montenegro
Only a few years ago, the centuries-long struggle for a separate existence of the territory, which Europeans called Montenegro, a calibration of the self-name Crna Gora, i.e. Montenegro, came to an end. Excursions will allow to feel originality of this area – traces of the Turkish domination, superimposed on the Balkan energy, antiquity of orthodox sanctuaries and fascinating Adriatic landscapes. The country, whose territory does not even fit a number on the world map, is now recognized as one of the three fastest growing tourist destinations. Numerous tours of Montenegro give a sense of what an extraordinary concentration of ancient sights and picturesque places here will face the traveler.
The tour in Montenegro is sure to tell you that, since 1991, the country has officially become the first ecological power in the world. There are more plant species growing here than in all other European countries taken together, you can safely drink the water from the Tara River, it is so clean, and the olive tree is two thousand years old and still bearing fruit. Even its name, as will become clear from the tour of Montenegro, it owes so much to the dense crowns of the mountain forests, that they do not let the light in. The natural grace of this country has made it truly a sanctuary. "In the evening here, all you have to do is stretch out your hand and the night will fall right into your palm," says the hero of Pavic's novel about the ancient city of Kotor.
Each city of the Budva Riviera – the famous region of the Adriatic coast – is a separate reason to tour Montenegro. However, the hardy traveler will not have trouble walking it on the beach – the mountain tunnels connect it in a continuous strip, and many hours of walking will get to all the coastal towns. To see the monasteries, where the first records in the old Slavonic language, mosaics, left over from Roman times, medieval squares, and in the evening to drink raki with soul-turning sounds of folk stringed instruments – for such simple pleasures worth to come here at least once in a lifetime.