10 must-see flea markets
At the beginning of 2012 the Department of Trade and Services of Moscow started talking about creating a European-style flea market in the capital. It must open by the end of the year and now they are looking for the place for it within the Garden Ring. Moscow flea market will sell books and records, kitchen utensils and interior items of the Soviet era, and jewelry from the coffers of mothers and grandmothers (except clothing). In Europe and America, flea markets are incredibly popular. There is even a virtual map on the Internet with flea markets all over the world marked on it. Flea markets are called open-air museums: by their assortment you can learn a lot about the life and habits of the inhabitants of the country. Many of them tourists include them in their itinerary. Forbes chose 10 flea markets around the world, which should not be missed.
Togo Shrine (Tokyo)
Opening days: 1st, 4th and 5th Sunday of each month
In Japan, flea markets are called "no-mi-no-ichi". The trading starts at dawn and goes on until dusk. The oldest and most popular in Tokyo is considered to be the Togo Shrine flea market. It is located on the territory of the temple, and this is another characteristic feature of Japanese flea markets. Merchants lay out their wares in the gardens of the shrine of Admiral Togo Heihachiro, who commanded the Japanese fleet during the Russo-Japanese War of 1904-05. In addition to the traditional flea markets with costume jewelry, toys, and housewares, at the Togo Shrine you can find antique porcelain dolls, wedding kimonos, and scrolls decorated with calligraphic inscriptions. Japanese flea markets differ from European ones by fixed price of the majority of goods and it is not always possible to bargain here.
Flea market on "Udelnaya" (St. Petersburg)
Address: Udelnaya railway station, Udelnaya metro station
Working days: Saturday and Sunday
Flea market at the Udelnaya railway station is one of the most famous in Russia. Some travel agencies even offer excursions with a visit to it. The city of St. Petersburg has been arguing about the fate of Udelnaya for the past several years, and last spring they tried to close down the market, but within two weeks the vendors were back where they belong. At this market you can find everything, from unsightly cheap stuff to antique items. There's the "girl's half", with vintage clothing and accessories, bookstores and art stalls, antique candlesticks, Christmas toys, and cigar cases, and if you look hard enough you'll even find silverware, homespun rugs, and Chinese porcelain sets. Most things you can buy for a reasonable price, because most of them are sold by retirees who need a little extra money to supplement their pensions.
Kunst und Flohmarkt am Tiergarten (Berlin)
Working days: Saturday and Sunday
In spring, almost every city in Germany organizes flea markets in which locals sell off items they no longer need, but may still be useful to others. Even children take part in the sales, getting rid of toys and school books. There are about 40 flea markets in Berlin, and at most of them vendors have to pay about €20 to rent space. The most famous and most visited Berlin flea market is Kunst und Flohmarkt am Tiergarten. The market is popular among tourists, on whom vendors often inflate the prices, but it is possible to haggle. Often one comes to Kunst und Flohmarkt am Tiergarten for pre-war rarities (here one finds old gramophone records, Dresden crystal and outfits from the turn of the last century) as well as relics from the now defunct GDR.
Shuk Pishpishim (Jaffa)
Address: Streets of Old Jaffa
Opening days: Every day except Saturdays
One of Israel's most famous flea markets is located in the Tel Aviv suburb of Jaffa. Shuk Pishpishim, as the Hebrew word for "flea market", occupies most of the streets of the old city, and the square in the center. On the square are usually traded numerous consumer goods, laid out directly on the ground, and in the shops of the old town there are stores with antique furniture, handmade dishes, jewelry and other valuables. A separate category of goods in the market are items brought in by immigrants from the former Soviet Union: busts of Lenin, Russian-language books, Soviet gramophone records and dishes labeled "catering. Not long ago the Tel Aviv-Yafo municipality allowed the Shuk Pishpishim to open at night once a week, and now on Thursdays the flea market is bustling with activity until the morning.
Brooklyn Flea (New York).
Working days: Saturday and Sunday
There are about half a dozen year-round flea markets in New York, with open-air flea markets added during the warmer months, but Brooklyn Flea is worth the visit above all. Opened in April 2008, it has already become an iconic place in New York City and was praised by The New York Times. In summer the "fashionable flea market" is located in Fort Green Park, and in winter dealers move to Williamsburg Bank, which was built in 1927 and for a long time was called the highest skyscraper in Brooklyn. Today the Brooklyn Flea boasts more than 150 stalls and stands offering a wide variety of merchandise. New York fashionistas love to spend their weekends here. They come here for the vintage clothing and shoes, as well as designer jewelry by young designers, which are in abundance at the market. What is nice, most of the purchases can be paid by credit card.
Starokonka (Odessa).
Address: Old Market (31 Raskidailovskaya Street) and adjacent streets
Working days: Saturday and Sunday
The Starokonny bazaar was built back in 1832 to trade cattle and horses, and in the mid-1930s it began to turn into a flea market. In 2002-2003, Starokonka was reconstructed, but even today there are still spontaneously scattered vendors in the streets adjacent to the market. The sellers at the Starokonny flea market can be divided into four categories: sellers of household items, serious antique dealers, sellers of military ammunition and all sorts of craftsmen with teddy bears and homemade jewelry. As a result, you can find almost anything you want in Starokonka: they say that Viktor Yushchenko himself bought an antique Hutsul axe from one of the local merchants. The serious clients of the Starokonka include Odessa's artists, designers, and, of course, fanatical collectors of antiquities.
Am Hof Markt (Vienna)
Opening days: from March 1 to the end of December, Friday and Saturday.
Trade in the historic Am Hof square dates back to the 13th century, when the new Austrian rulers, the Habsburgs, entered the Hofburg in 1280. Until the 19th century it was the capital's main fishmonger's market with seafood and Danube crayfish, and after the appearance of the market on the Danube Canal it changed specialization: sellers of antiques and old works of art were set up here. Market Am Hof can be covered in 20-30 minutes, but the review of paintings, candlesticks, figurines, old books and jewelry drags on for hours. The Am Hof Markt is open morning and afternoon on Fridays and Saturdays, and for those who can't sleep, there is a night market – Nacht Flohmarkt am Sudbahnhof, which is located at the South Station.
Portobello Road Market (London)
Open every day but Sundays.
London's prestigious Notting Hill is known for its high-end real estate, street carnivals – and the Portobello flea market. A former 19th-century grocery market, it's now considered London's largest and most famous flea market. In the 1960s, returning soldiers from the liberated colonies began to turn in unusual souvenirs that appeared here two decades earlier – and so began to form the assortment of flea market. Today, you'll find exotic books and records, delicate watercolors of English landscapes and porcelain milkmen, but many people come here to stock up their closets. Kate Moss spends her time at Portobello for her red-carpet looks and designer Paul Smith frequents the flea market from his boutique next door.
Waterlooplein (Amsterdam)
Address: Waterlooplein 53 Binnenstad
Open every day but Sundays.
Holland is famous for preserving far more artifacts of the past than its neighbors, and the easiest way to see this is at the most famous flea market – Waterlooplein. On the site of today's flea market in the 19th century was located the Jewish market, liquidated during the war. At the end of 1940s, trade began here again, but already with antiques, and today the flea market is one of the main attractions of the city. Tourists come here in search of unusual souvenirs, collectors – for rare items, and young people – in search of original clothing. Throughout the year the Waterlooplein holds the title of the most popular flea market in the country, and only for one day it relinquishes this title: on April 30, in honor of the Queen's birthday, the fees for street trading are canceled, and the entire Netherlands becomes a big flea market.
Saint-Ouen (Paris).
Address : Between rue Jean Henri Fabre, Avenue Michelet and rue Louis Dain.
Days: Saturday, Sunday, Monday
Saint-Ouen is the most famous and largest flea market in the world: 7 hectares, 16 separate flea markets and about 11 million visitors a year. In the 19th century Parisian antique dealers were forbidden to sell their wares within the limits of the French capital, and then they settled on the square in front of the gates of the fortress Clignancourt, located outside the city limits. In 1885, these spontaneous bazaars were recognized by the authorities and transformed into the market Saint-Ouen. However, soon the market was labeled a "flea market": the clothes and furniture sold there were often crawling with insects. Today St. Ouen Market is unlikely to find fleas, but there are hundreds of stalls here with rare vintage goods. For example, people come to Biron Market for antiques, Paul Burt's Market for fine porcelain and Malic Market is often frequented by celebrities in search of rare outfits.
The 10 most famous flea markets in the world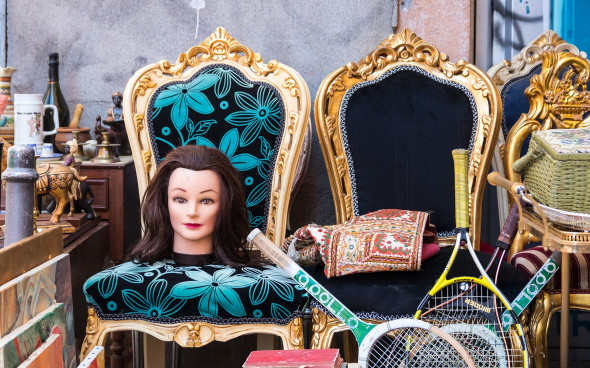 Flea markets are a great way to buy antiques at a discounted price and they also have a very special atmosphere. Here you can learn urban legends, discover local history and definitely have a new experience. Every major capital city has its own places where connoisseurs and tourists alike go. Opportunities to travel abroad are now scarce – it's time to refresh your memory with a list of famous flea markets around the world and make plans for the future.
Saint-Ouen Flea Market, Paris
In 1841 in Paris, junk and antique dealers were forbidden to trade within the city. They moved to a specially designated place for the bazaar and spread their goods in front of the gates of the fortress Clignancourt. Trade was brisk, and in 1885 official permission was granted by the government to open the marché aux puces (literally, "flea market") [1]. The name refers to the sanitary condition of the items traded there.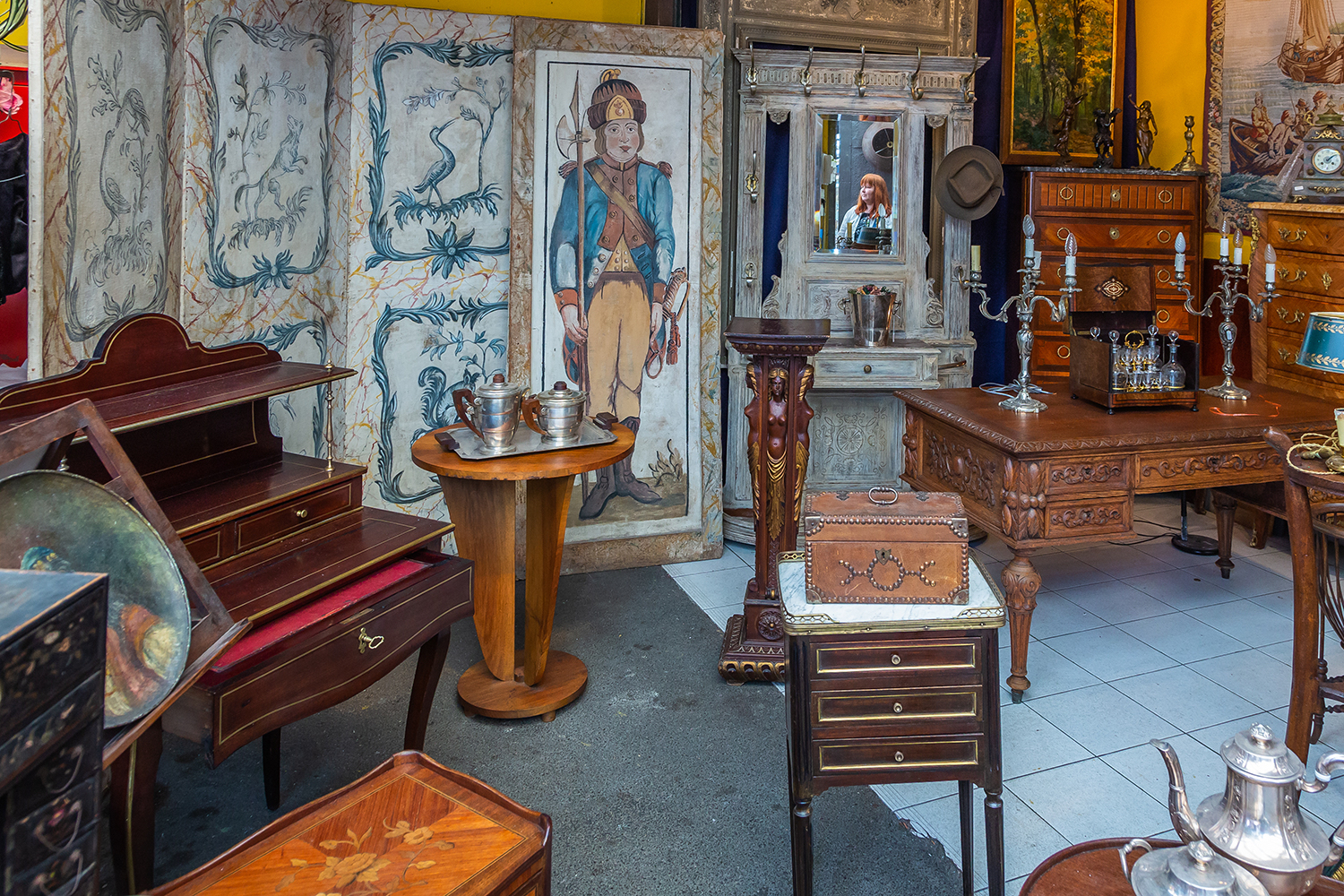 Today the Marché aux Puces is the "flea quarter": 12 separate markets and five shopping streets with goods ranging from collectible antiques to curious trinkets. There's a wide range of interior decorations, designer clothes, antique furniture, books, new and second-hand electronics. The market also has a delivery service, so you can safely make large purchases. More than 5 million people visit the market every year and it is usually open every weekend from Friday to Monday inclusive [2].
Flea market in Mauerpark, Berlin
For many citizens and guests of the German capital, a visit to the Flohmarkt in Mauerpark is a must for the weekend. The market is located in the eastern part of Berlin. After the fall of the Berlin Wall, a spontaneous park appeared on the vacant lot, where city dwellers liked to have picnics. The park was initially earmarked for housing, but in 2004 it opened as a flea market – a one-off fair at first, but then became a regular event. Flohmarkt is held every Sunday and is very popular with young people, who come here to find interesting things for little money.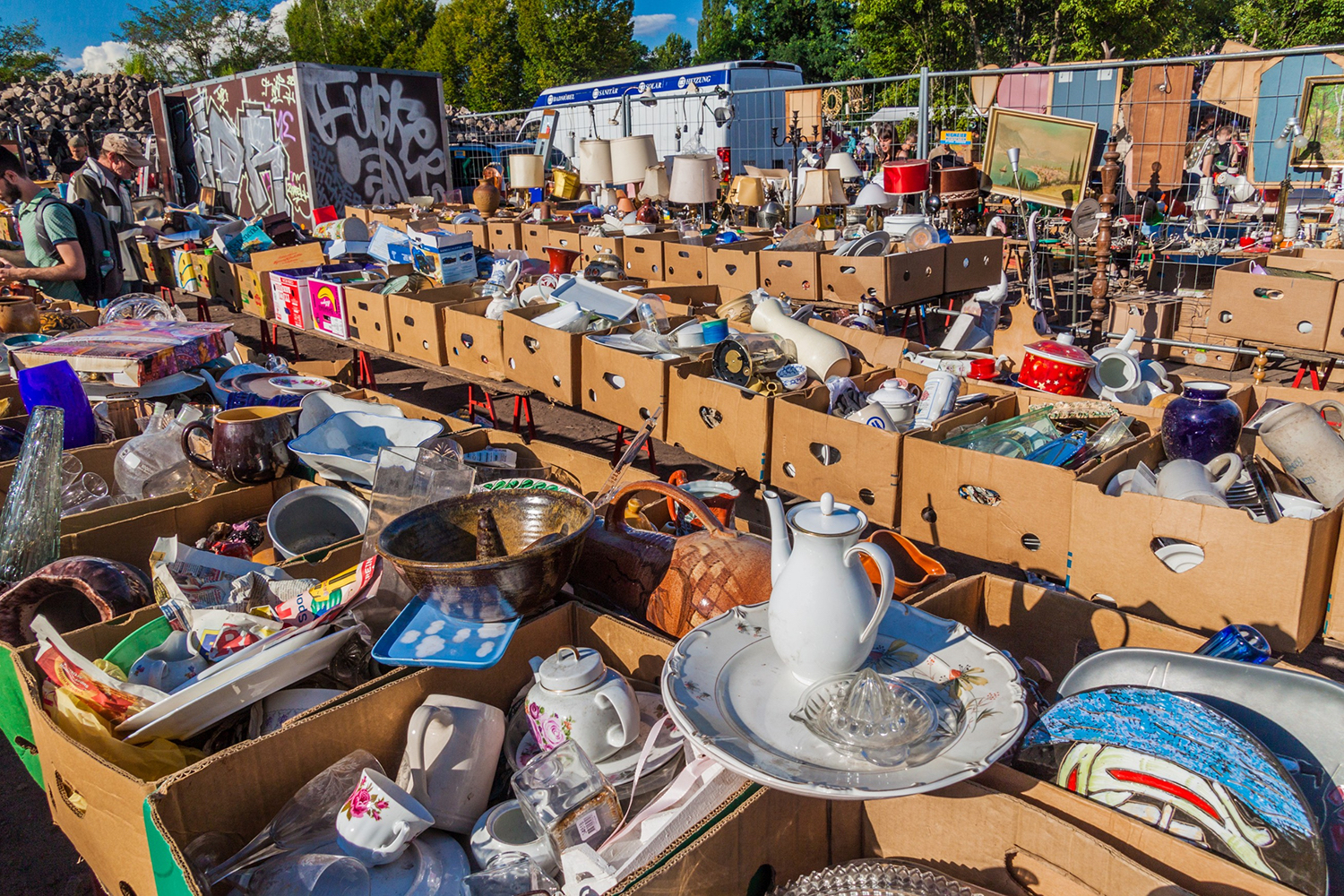 Most of the vendors are individuals: artists, students and crafts enthusiasts. At the many stalls you can buy not only vintage clothing, but also jewelry, handbags, handmade authorship products, vinyl and musical instruments. While hunting for antiques you should be careful, because there is always a risk of coming across an artificially aged modern thing. There are a lot of kiosks with fast food and drinks and places where you can sit down and listen to live music.
El Rastro, Madrid
El Rastro is one of the most popular open markets in Spain. In Spanish, rastro means "trail." There is a spooky legend explaining the market's name by its location: in the past, dead animals were dragged from the slaughterhouse to the tannery along the main street Calle Ribera de Curtidores, where it is located. A trail of blood followed the carcasses. The street surface was changed many times, but the name remained.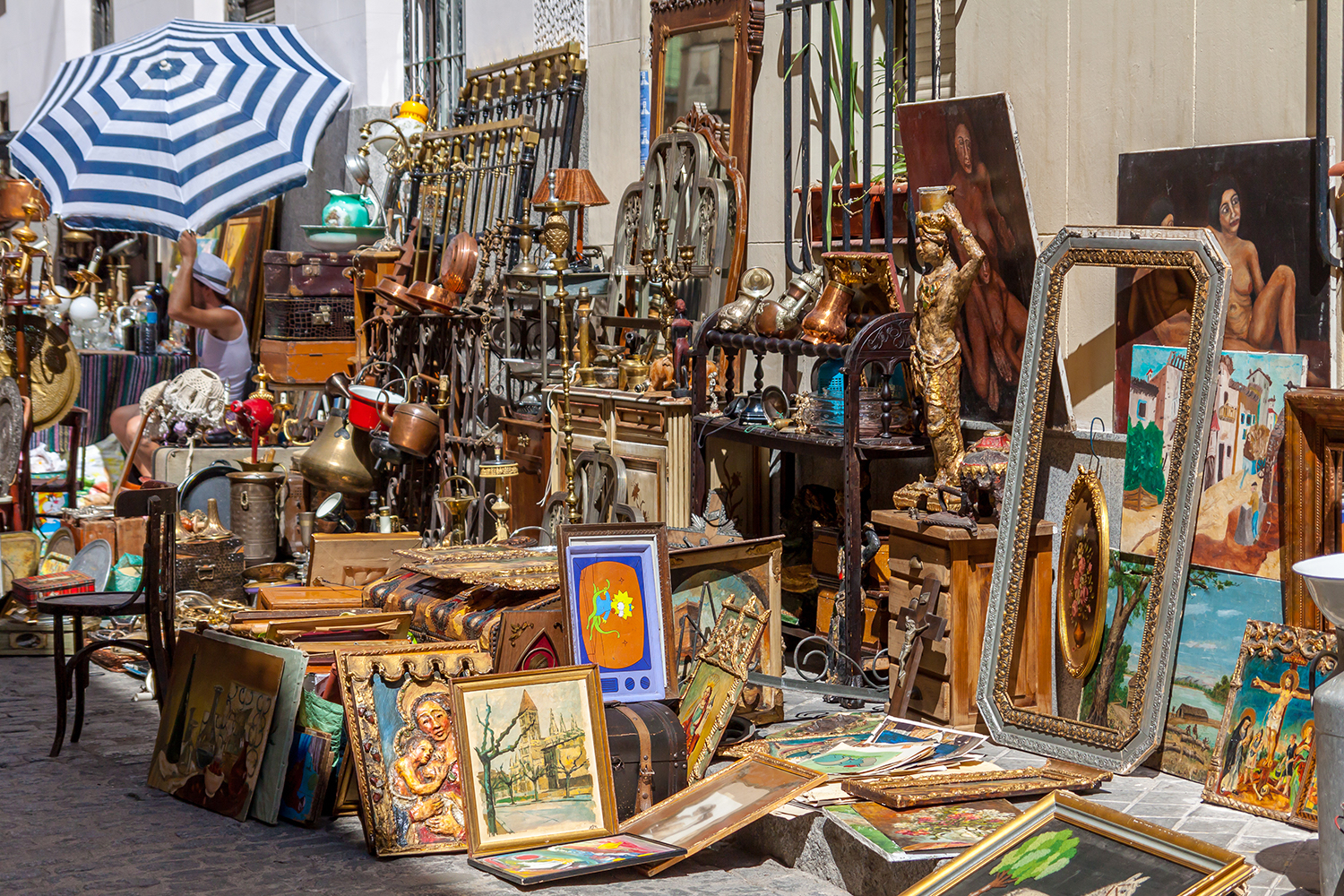 Today El Rastro does not evoke grim memories and is associated only with national color, colorfulness and cheerful atmosphere. Every Sunday and on holidays you can buy clothes (new and second hand), crockery, old records, posters and magazines here. Also on sale are items firmly tied to Spanish culture – castanets, fans and national costumes. You can also find really vintage items: engravings, ancient coins, elegant figurines, antique household items, handmade goods. The market is considered the ideal place to buy souvenirs for little money. And of course, here you can try the local tapas and have a glass of wine.
Portobello Road, London
The famous antiques market is situated in Notting Hill, a prestigious and expensive area of London. Back in the 19th century there was a grocery market selling fresh produce along Portobello Road, a stretch of three miles. In the 1940s, antiques dealers also appeared, gradually transforming the market into a large-scale flea market. Soldiers who returned from the liberated colonies in the 1960s were donating unusual souvenirs to local antique shops. Thus the largest antiques market in Britain appeared in the capital [3].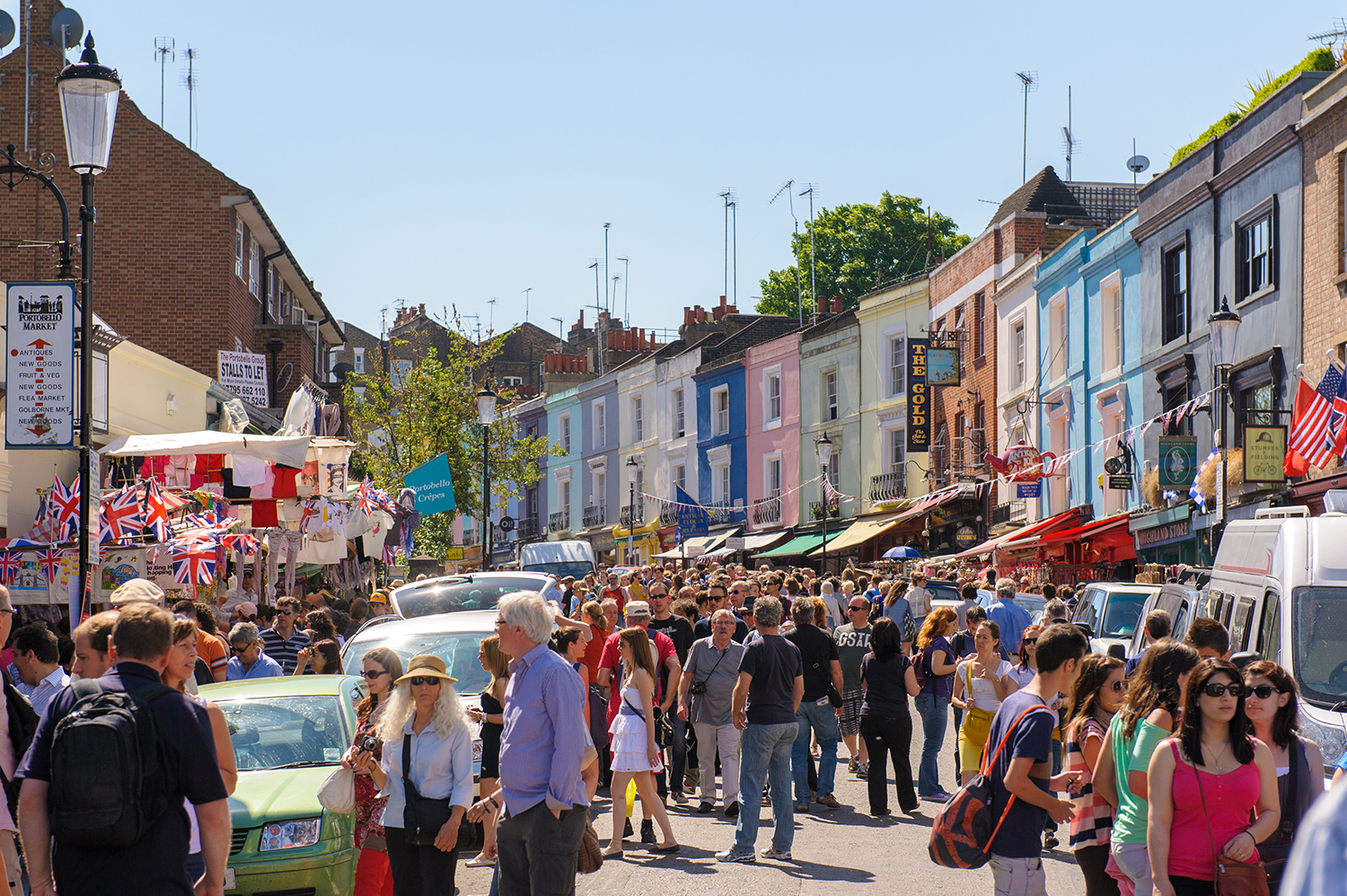 Now you can find anything on Portobello Road. From Monday to Thursday fruit and vegetables are sold here, on Friday numerous second hand shops open, and on Saturday they are joined by antiques dealers. Many rarity-lovers come here just to find exclusive items with a rich history. Guarantee the seller's certificate of membership in the PADA (Portabell Antique Dealers Association). And on Portobello Road you'll also find rare books in specialty bookshops, author English landscapes, china, vintage souvenirs and designer clothes.
Mercantile, Barcelona
The Mercantic Vintage Market opened in 1992 on the site of an old ceramics factory in the small town of San Cugat in the province of Barcelona. It can be reached from the capital of Catalonia by car or by train. The covered market covers an area of 15,000 square meters, where about 100 traders from Tuesday to Saturday offer the citizens and tourists a wide range of goods [4].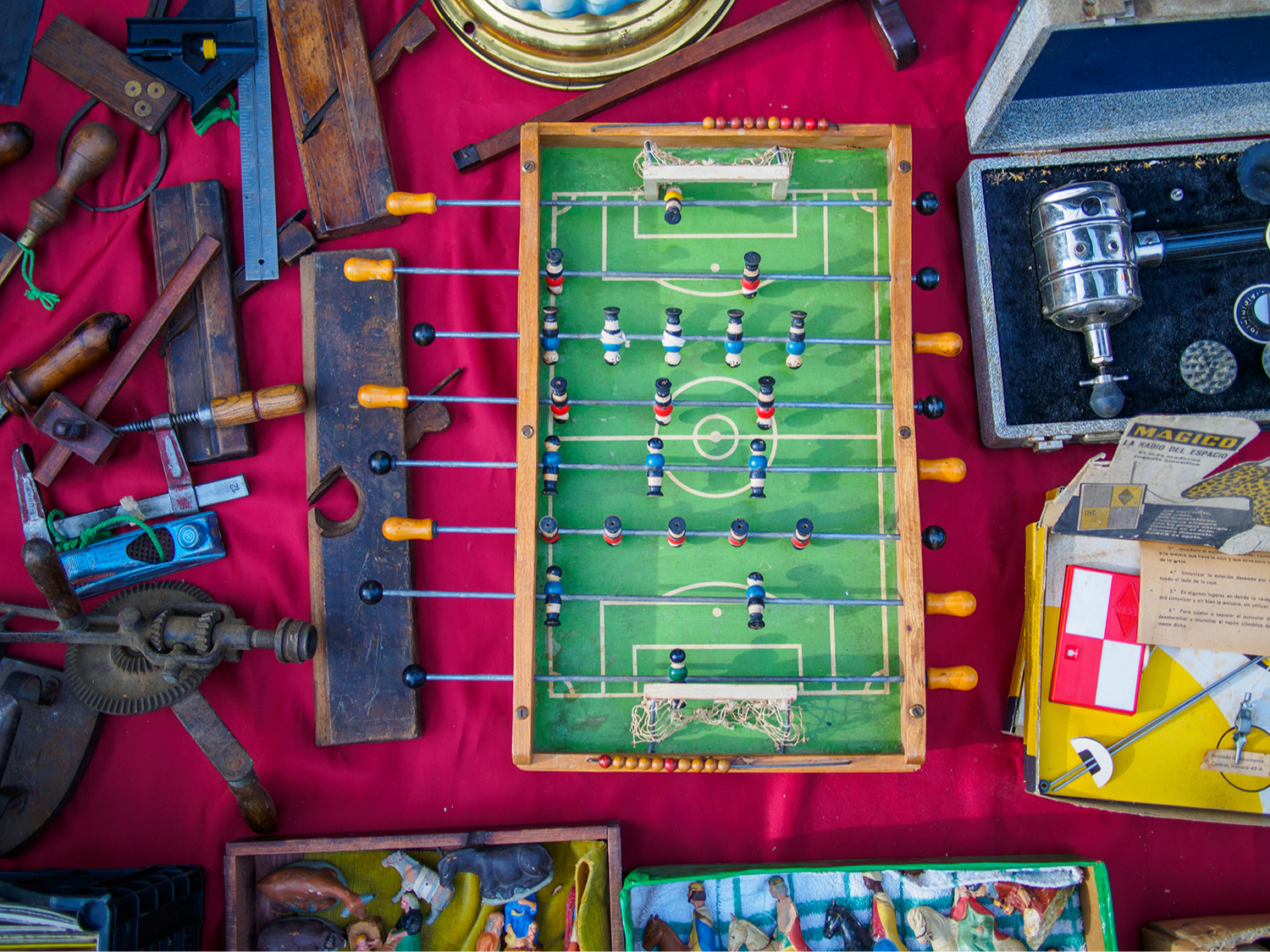 Antique furniture, retro clothing, national Spanish goods, homeware, fancy souvenirs – it is almost impossible to leave the place empty-handed. Here you can also grab a bite to eat and take a break from the hustle and bustle. On the first Sunday of every month, the variety of goods is updated.
Flea Market in Brooklyn, New York
Brooklyn Flea was opened in April 2008 by Jonathan Butler and Eric Demby. Soon enough it became one of the colorful attractions of New York City. Every Sunday in the Dumbo district under the Manhattan Bridge, shoppers are greeted by about 80 vendors of all kinds of merchandise. Vintage clothing, jewelry, collectibles, handmade by local designers, delicious food and a great atmosphere are what citizens and tourists alike come here for. During the winter, the market moves to the Industrial City (Bush Terminal), a 4,600-square-meter space [5].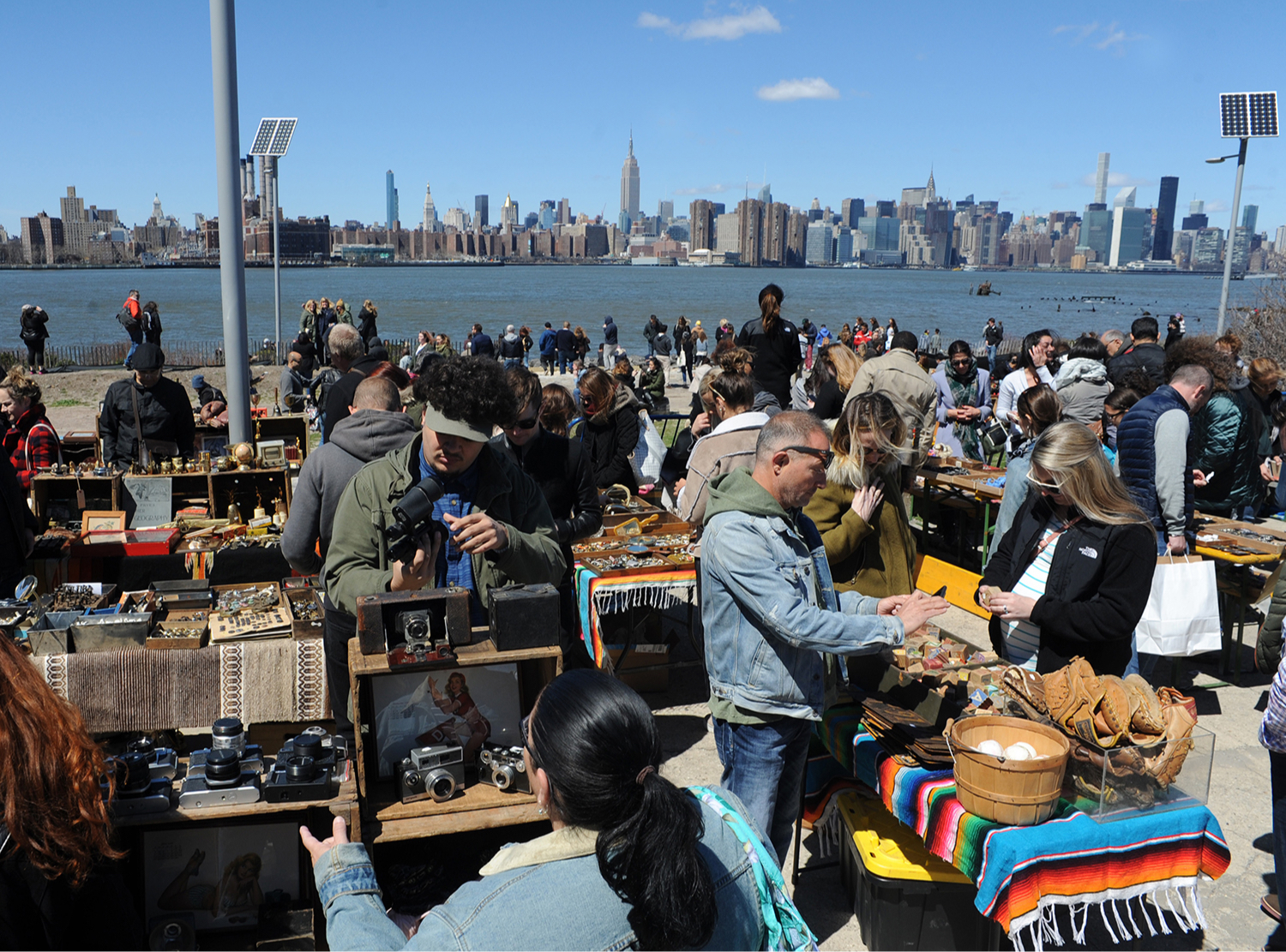 The Brooklyn flea market immediately became so popular that branches opened as early as 2011. In May 2011, a huge Smorgasburg food market began its work, and branches also opened in the Williamsburg and Chelsea neighborhoods. Brooklyn Flea received awards and accolades, was praised by The New York Times, and Time Out of New York named it one of the main points of attraction in the capital [6].
Ferikoy Flea Market, Istanbul
Ferikoy, which opened in 2009, is located in Istanbul's neighborhood of the same name and is considered one of the city's most famous markets. It usually sells fresh vegetables, fruits, herbs and other food items during the work week. The vintage and antique dealers appear only on Sundays and work from 9 am to 6 pm.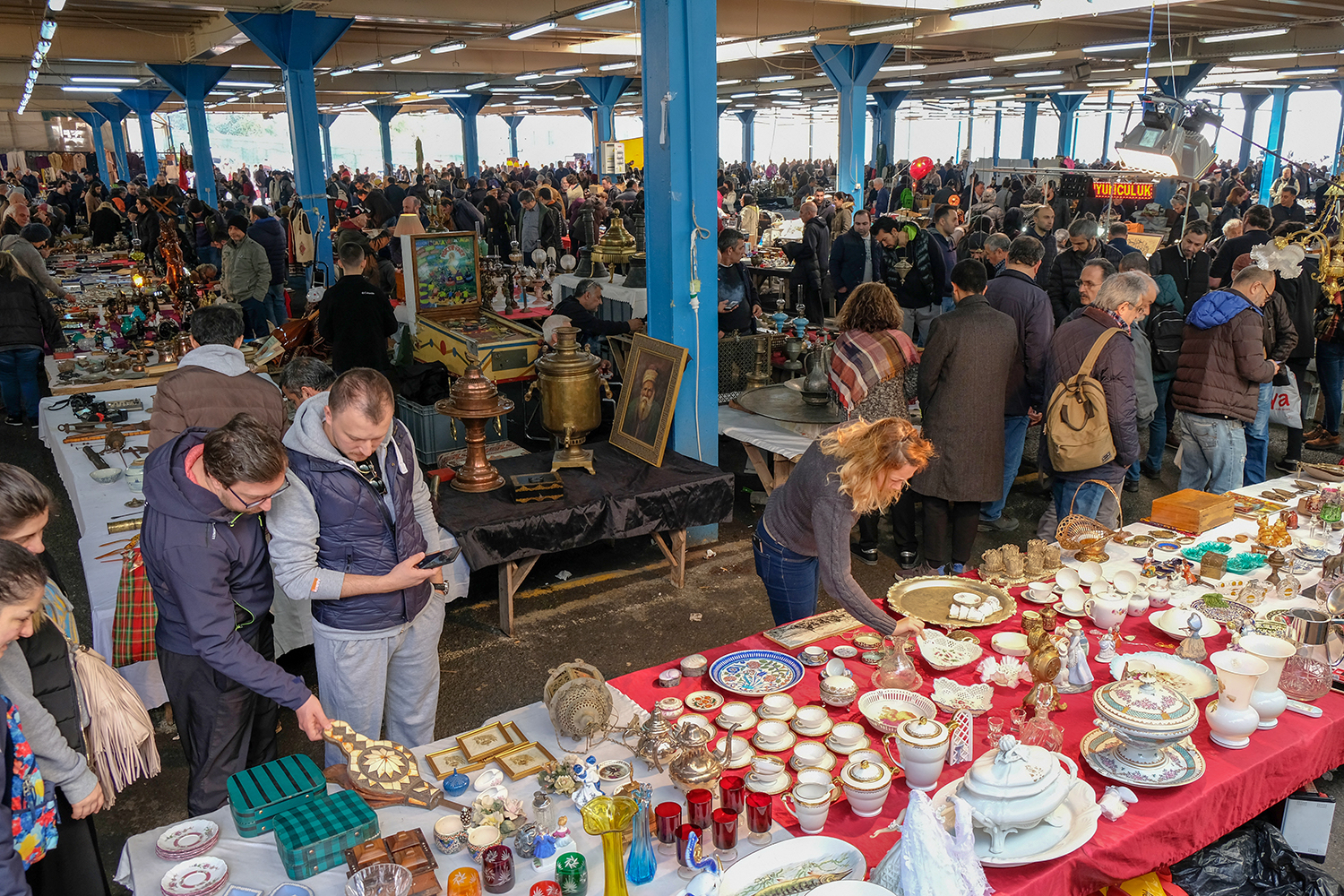 Here you can find everything: antique weapons, plaques, vinyl, retro clothes and bags, replicas of things by famous designers and original goods, antique furniture and much more. The market assortment is not devoid of local color: national clothes, dishes, jewelry and, of course, the local cuisine – there is a small food court with Turkish fast food.
Damnoen Saduak Floating Market, Thailand
About 100 km from Bangkok is the Damnoen Saduak Floating Market, the namesake of the canal of the same name built between 1866 and 1868 by order of King Rama IV.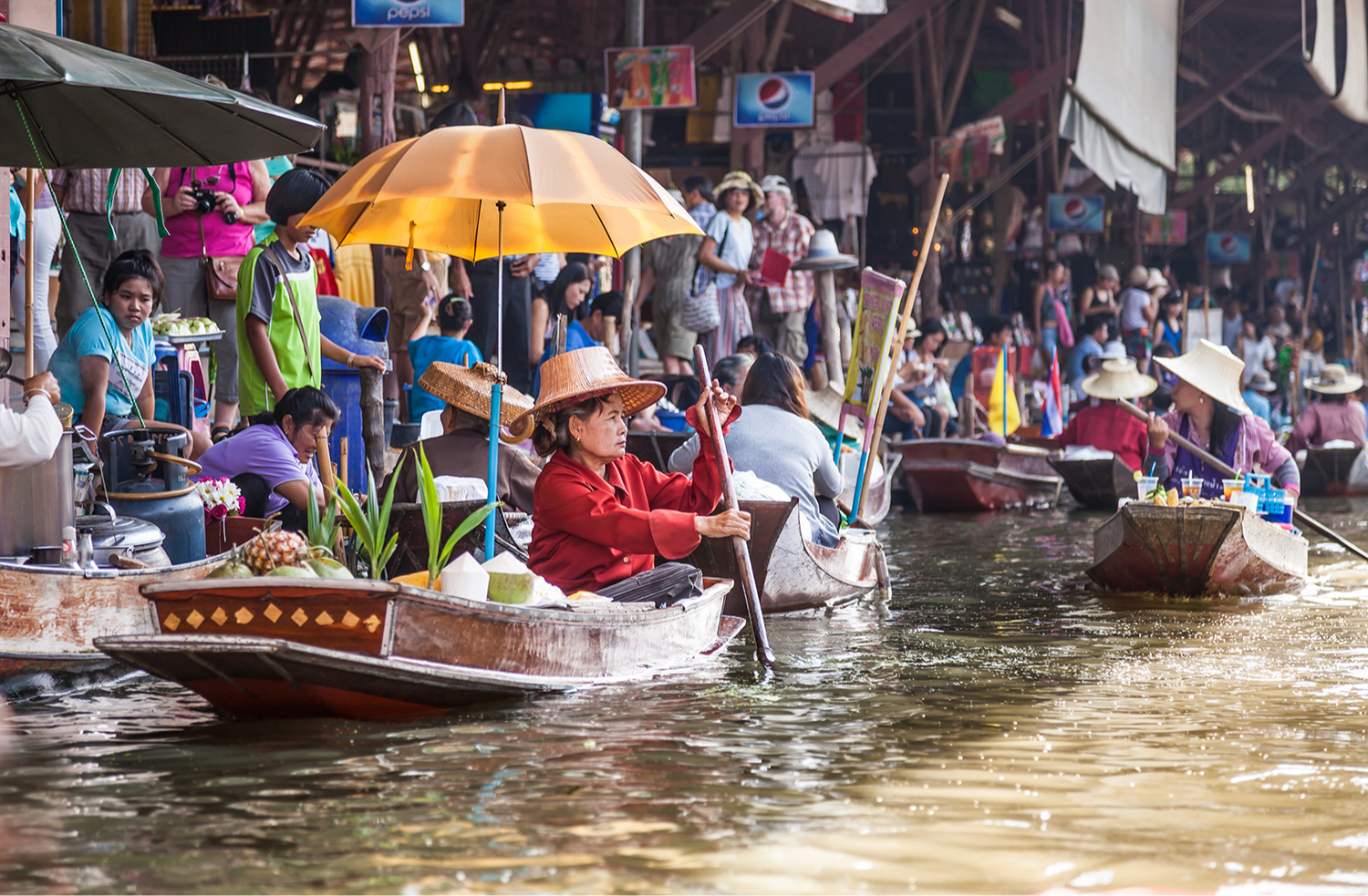 The canal is 32 kilometers long and connected the Mae Klong and Tha Chin rivers. Gradually, traders began to appear on the canal, who offered their goods to those passing by directly from their canoes. In 1971, thanks to the Tourism Authority of Thailand, the market was given the status of an official attraction. In 1981 a new road was built to it, and private entrepreneurs founded a modern floating market Damnoen Saduak.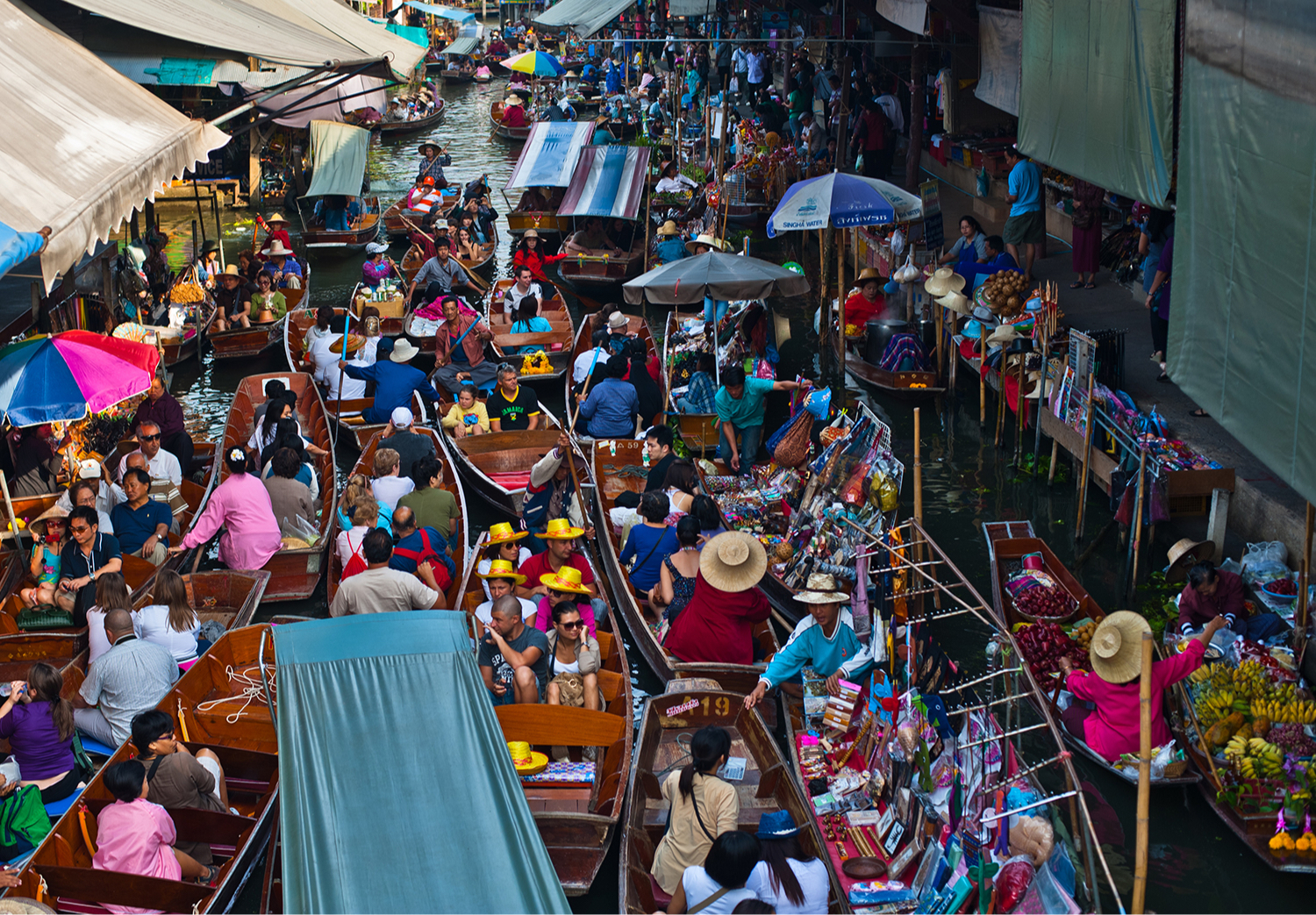 Today it consists of a maze of narrow canals filled with small canoes. In them Thais in traditional dress sell fruits and vegetables, local food and various knickknacks. On the banks of the canals are stalls with souvenirs. Due to the fact that tourists come here mostly, prices for many products can be inflated. So haggling with the vendors is common and even necessary practice. To avoid the crowds and heavy traffic on the river, it is best to arrive at the market by 7:00, and some vendors start their work and at 6:00. Because of its scenic beauty, Damnoen Saduak has appeared in several movies, including one part of the Bond movies, The Man with the Golden Gun.
Monastiraki Flea Market, Athens
The market is located in the old city, in the Monastiraki district, and is surrounded by shopping streets. It opens on Sunday and quickly fills up with large numbers of people after 11am. Tourists most often come here for the color, the atmosphere and the opportunity to buy souvenirs at a low price.
You can sample local cuisine to traditional Greek music at one of the tavernas on the square. And in the afternoon actors, dancers, singers, musicians and circus performers appear at the market and are happy to entertain guests for a small fee.
Am Hof , Vienna
Am Hof is a square that is located in the Inner City (Vienna's first central district). Its history goes back to the distant 13th century, when the new Habsburg rulers moved into the Hofburg residence. The square has always been a place where fish, seafood and Danube crayfish were traded. When the Danube Canal came to have its own market, the focus of trade on Am Hof changed: sellers of antiques, paintings, statuettes, books, mirrors and other interesting items appeared.
Today it is a small flea market, which formally you can walk around in half an hour, but if you peer thoughtfully into the stalls to find yourself some exclusive, the visit drags on for half a day. The market is open from March through December every Friday and Saturday.