Agritourisms and farmhouses in Umbria
The best way to take a break from the hectic days of everyday life is to indulge in the solitude of nature! Just imagine how beautiful it can be with a cup of coffee on the terrace overlooking the vineyards: refreshing fresh air, the first rays of sun shining on the Umbrian countryside, and an invigorating silence… The lady of the manor is serving breakfast to her guests, bringing milk and home-made jam tarts… It seems to be time for the table!
Casale Dei Frontini
The green heart of Umbria is the name of the valley of the river Tiber in the province of Perugia, on the hills of which stretches the ancient city of Todi. Eight kilometers from it, surrounded by olive groves and vineyards, is the farmhouse Frontini, located in the building of an old monastery built in the late 1700s. Its interiors are the same today as they were 300 years ago. The thick stone walls and travertine blocks of the arches, the ancient masonry and wooden beams of the interfloor ceilings, all complement the shapes of the doors and windows, executed in typical 18th-century architectural canons.
The hotel has five 2-bed rooms with all comforts, furnished in a typical rustic style. In addition, the farmhouse has three two-bedroom apartments with kitchenette. Each of them can accommodate up to six people, which attracts many lovers of family agritourism to this place.
Guests will especially enjoy the farmhouse restaurant with traditional Umbrian cuisine, whose menu always includes beef and lamb dishes, as well as many products grown on the farm. Here one can also taste unique wines such as Grechetto di Todi and Sagrantino di Montefalco, made from local grapes.
The farm is located in the central part of Umbria, with easy access to most cities – Assisi and Orvieto, Perugia and Spoleto, Spello and Montefalco – as well as many small medieval villages, which are the real jewels of this beautiful region.
Tenuta Del Gallo
In the southern part of Umbria, not far from the old town of Amelia, on an agricultural farm, there is a hotel complex located in two carefully restored old buildings from the 1600s. Their refined interiors, furnished with antique furniture, attract agritourism lovers looking for maximum comfort. The hotel has a total of six hotel rooms and three suites. Each has a balcony or terrace overlooking the magnificent Italian garden with fragrant flower beds, and a bathroom with Jacuzzi.
The farmhouse restaurant, consisting of a large dining room and two summer loggias, allows you to enjoy not only the exquisite Umbrian cuisine, but also the magical panorama of the valley, which stretches from the hills with olive trees to the fields below. There is a wine bar with over 3,000 bottles of gourmet wine produced on the farm and an outdoor summer pool.
The farm produces olive oil, repeatedly awarded the prestigious "il Ramoscello d'Oro" prize for its excellent quality, and also cultivates rare ancient varieties of fruit trees such as black figs "fallacciani" or the Amelia rose apple, giving their forgotten great taste to contemporaries. It also grows seasonal products used to make jams, marmalades, pickled spiced fruits, candied fruits and sauces, which can be purchased by guests of the farmhouse.
Tenuta il Casone
It was established at the end of the 18th century and is just 4.5 km from Città della Pieve, the historic center. The farmstead covers about 20 hectares. More than half of this area is devoted to growing organic crops and the rest is woodland. The farm produces saffron, olive oil, honey and fruits, which you can taste and buy directly from the owners.
The farmhouse offers five cozy two-, three- and four-bed rooms on the first floor. Each is furnished with simple elegance, and the interior details related to local architectural traditions – terracotta floors, exposed wooden beams in the ceiling and brick walls – set a surprisingly romantic mood. Here is a common living room with a fireplace and a small library, where daily homemade Italian breakfast is served. In addition, the property has a detached two-room cottage with a kitchenette and a patio – a small patio with sun loungers and barbecue facilities. From May to September, the outdoor summer pool with panoramic views of the amazing scenery of hillside fields and forests fills with water.
The location of the farmhouse close to the regional highway is very convenient for daily trips in Umbria and southern Tuscany. Perugia, Orvieto and Montepulciano, for example, can be reached in just 40 minutes.
Cantina Morami
Not far from one of Italy's largest lakes, Trasimeno, is the cozy and welcoming farmhouse of the Morami family, an ideal place to relax in the quiet countryside of Umbria. For generations, grains, tomatoes, various fruits and vegetables as well as olives and grapes have been grown here, from which olive oil and several brands of white and red wine are produced on site.
Tucked away in the green gardens of the family estate, the Hotel MORAMI Agriturismo, has nine comfortable apartments. Named after the Cabernet, Grecchetto and Sangiovese grapes grown here, the apartments are suitable for 2 people and are equipped with kitchenette, bathroom and loggia. The more spacious 2-bedroom apartments – Alicante, Chardonnay, Merlot, Savignon, etc. – are designed to host 4 guests and in addition to the above amenities also have a terrace with direct access to the garden. On the territory of the estate there is a 16-meter outdoor summer pool and landscaped garden with fruit trees.
Casa Vacanze Poggiovalle
In one of the most beautiful places in Umbria, close to the medieval town of Città della Pieve, is the cottage Poggiovalle, much appreciated by those who love agritourism. The farmstead, which occupies about 1000 hectares, is like two villages, each formed by a small cluster of houses with swimming pools, recreation areas, tennis courts, a hotel barbecue area and a convenient parking lot.
"Borgo Grannaro" is surrounded by a magnificent garden of olive trees, with the fragrance of nurturing rosemary and lavender. There is a house for 6 apartments with separate entrance to each, and 2 small detached cottages. In total, the borgo can accommodate up to 40 people at a time. "Borgo Belvedere" has 14 apartments and several cottages, for a total of 78 beds. All offered 2-3- or 4-room apartments are equipped with a kitchenette, usually located in a small living room, and a separate bathroom with a shower. Some apartments have a fireplace.
The farm, in addition to growing crops, is engaged in breeding a special Italian breed of Apennine sheep for meat, milk and wool, cattle and horses. It produces ecologically pure meat products, as well as honey of exceptionally high quality. You can enjoy quality products in the restaurant on the farmstead.
Santa Felicita La Paterna
Country house Santa Felicita Paterna is 11 km from the charming medieval town of Citta di Castello, on the slope of the Apennines. Surrounded by mountains, flowering valleys have made this area of Umbria one of the most desirable places for lovers of agritourism, rest and recuperation. To see and enjoy the beauty of the region, the hotel staff organizes walks on foot and horseback along the ancient pilgrimage routes Via Francigena and Cammino di Assisi. Fans of fishing can take advantage of the unique offer of trout fishing in the nearby lake.
The hotel has 2-3 room hotel rooms and apartments, furnished in typical rustic style with all amenities. The apartments have a kitchenette and a furnished terrace overlooking the magnificent garden. A daily continental breakfast is served in buffet style and is included in the accommodation rate. Traditional Umbrian cuisine and local wines are served in the in-house a la carte restaurant, where à la carte meals can be ordered individually.
There are two outdoor pools at the farmhouse, for adults and children. Guests also have free mountain bikes to ride around the area.
Le Vigne di Pace
The farmhouse Le Vigne di Pace, located between Umbria and Tuscany, is an ideal starting point for visiting charming nearby towns like Assisi, Siena, Perugia, Pienza, Gubbio, Cortona as well as Lake Trasimeno. The ancient estate, owned since 1742 by the Count's family Bertanzi Mocchi, was extensively renovated in 1989 by the heirs, who transformed it into one of the most magnificent country houses of Umbria. Today it has a dozen 2-3 room elegant and comfortable apartments with all the comforts that retain the charm of a typical rural home.
The traditional activity of the farm is the cultivation of several varieties of grapes without the use of chemical fertilizers and the production of organic wine. The entire production chain, from growing the grapes to bottling the finished product, is done on site. In the farmhouse restaurant, guests have the opportunity to taste the wines produced, accompanied by dishes of classic Umbrian cuisine.
Fattoria di Rigone
The old farmhouse Fattoria di Rigone is still filled with the scents of past centuries, nestled among the picturesque hills of Umbria. Built in the 1500s, it served for many years as the summer residence of one of Perugia's aristocratic families. Today, the 250-hectare farmhouse is a farmhouse that offers agritourism lovers a comfortable stay in one of its four apartments.
Each apartment farmhouse has a separate entrance and consists of 2 double bedrooms with bathrooms and a spacious living room with a kitchenette, where guests can cook their own food from seasonal products grown on the farm. In addition, on request, there are tastings of the wines, olive oil, honey, blackberry and fig jam which can be purchased before departure.
The estate is about half an hour away from the historical sites of Perugia, Assisi, Gubbio and Citta di Castello, with the Terme di Fontecchio thermal springs nearby. Equally interesting are the smaller Borgias such as Montone or Pieve di Santo Stefano. For walks in the surrounding hills, the hotel staff kindly provides mountain bikes, a ride which will help you discover the most hidden corners of charming Umbria.
How to save on hotels
You can and should look for hotels not only on bookings! Italy for Italomanians recommends Hotellook, which will help you find and compare many hotel rentals on several booking sites at once!
Best Farmhouses in Umbria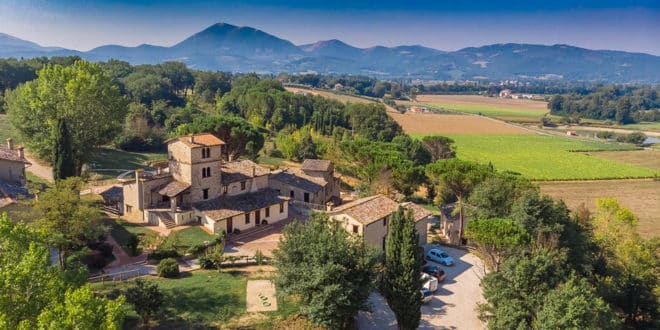 Farmhouse vacations in Umbria are a great idea if you love nature, scenery and want to see authentic rural Italy. We have been to Umbria more than 10 times, we enjoy returning to the region constantly, combining sightseeing with the aesthetic pleasure of contemplating the natural beauty.
What is the best time to come to Umbria?
Since Umbria is located in the central part of Italy, the ideal time to travel would be from April to October. The swimming pools in most farmhouses are open from June to September. Since many of the houses are located on the hills, it is impossible for most tourists to get to them during the cold season and they stop working.
How much does it cost to stay in a farmhouse?
Accommodation in farmhouses in Umbria for 2 people costs from 60 to 100 euros per night. The price may vary slightly depending on the month. The peak season in Italy is August.
Which cities do you recommend to visit first?
My favorite cities in Umbria are Assisi and Todi. Of course, you should also definitely include Perugia, Spoleto, Orvieto, Gubbio in your trip plan.
How many days to see the most important things in Umbria?
In an intensive mode it is possible to go around the main cities in a week, but I am not an advocate of this approach. The ideal pace is 1 city a day and every 3 days to have a rest day, walk around the house or sunbathe by the pool.
Where and how to eat?
If a farmhouse has a dinner, we certainly use this option the first night, and at the same time we get acquainted with the owners and the local cuisine. Breakfast is usually standard for Italy – coffee and sweets. Lunch on their own or combine it with a walk in the nearby city, similar to the dinner.
Staying in one house or moving to a new one every day?
I advise to stay in one house for at least 3 nights. You can stay in 2-3 houses in a week. It is also a great idea to choose a dream house and use it as a base to explore the region for 7-10 days.
I present you a selection of the best farmhouses in Umbria, selected according to our experience and feedback from tourists. Some of the properties shown are former farms, converted by their heirs into small hotels and in some places the real life in the countryside is in full swing.
Agriturismo Casale Dei Frontini
Only 2 hours from Rome or 30 minutes from Perugia and you're in paradise.
The Frontini family farmhouse is our favorite place to stay in Umbria, I even celebrated a birthday here once, we will definitely be back again.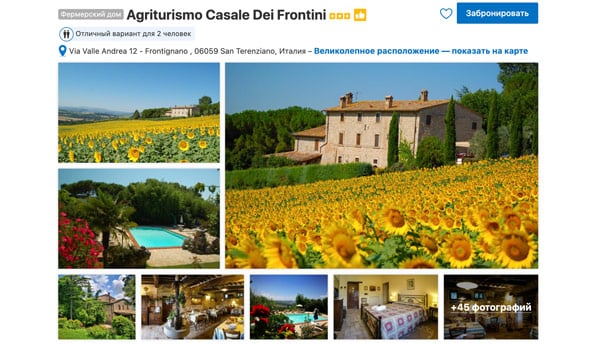 The farm has a small vineyard, cultivates various vegetables, and raises Chianina cows – the same ones used to make the famous steaks in the neighboring region – as well as rabbits, pigs, and horses.
The animals are looked after by Don Corrado, the head of the family – a very open and kind man, with whom it is easy to find a common language. Michele and his brother take care of the gardens, and his mother Donna Silvana is in charge of the kitchen and the money, all settlements at the end of the stay with her.
Barely 10 minutes away is a beautiful medieval town Todi, where you can go for a walk before dinner – we did so several times. For a fixed fee of 30 euros per person (water and house wine included in unlimited quantities), you can dine at home, but in this case, be prepared to stuff yourself. The fact that dinners are prepared by Silvana, she also decides what you will eat, the menu is not – we are not picky and it's the perfect situation, as we really like the local cuisine. By the way, repeatedly noticed that to Silvana for dinner come locals on special occasions, as well as tourists from neighboring cities.
Minus and a huge plus of this vacation option is that the farmhouse has only 4 rooms, which are often booked many months in advance.
Agriturismi Farina
Agriturismi Farina farmhouse is located on over 100 hectares of farmland consisting of fields planted with cereals, olive groves and forests where beautiful thoroughbred horses are bred.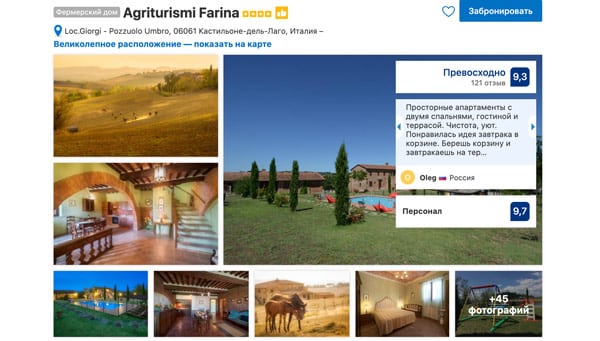 Guests have the opportunity to admire free grazing on land adjacent to the farmhouses. There is a garden with a swimming pool and an area with barbecue facilities.
The hostess Veronica inherited her passion for farming from her grandmother Luisa and grandfather Giuseppe. Together they decided to restore the old 17th century stables and turn them into farmhouses.
The house is located on the border of Umbria and Tuscany and is ideal for exploring both regions.
Five places close by that are a must visit:
Montepulciano, one of Italy's most beautiful historic villages and the production area of the famous Nobile di Montepulciano wine;
Cortona – described in the book "Under the Sun of Tuscany" by Frances Mayes;
Perugia – you don't have to imagine it, I advise you to plan a whole day for it;
Assisi, the city of St. Francis, is an hour away. Alternatively, you could go to it in the morning and stop in Perugia on the way back.
Siena – plan for a full day sightseeing;
Castiglione del Lago – city on the shores of the lake of the same name just 15 minutes away. In summer, you can relax on one of the beaches.
When routing to neighboring towns, be sure to choose different roads – so you'll see at least twice as many beautiful landscapes along the way.
We recommend visiting the thermal baths nearby:
Chianciano Terme, www.termechianciano.it
San Giovanni Terme Rapolano, www.termesangiovanni.it
Bagni San Filippo, free for all
San Casciano dei Bagni, www.fonteverdespa.com
Antica Residenza Montereano
The ancestors of Andrea and Giacomo, the present owners of the farmhouse Antica Residenza Montereano, built it in the 19th century.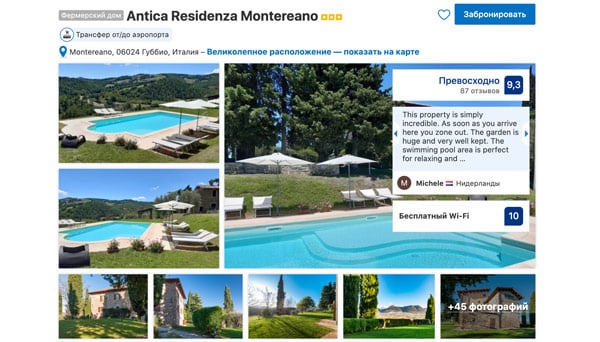 The house is located 5 km from the beautiful town of Gubbio, surrounded by greenery and tall trees, has a swimming pool with a panoramic view.
The location is strategically great, as the border between Umbria and Tuscany passes nearby – ideal if you plan to explore the two regions at once.
The farm produces olive oil and grows crops. Rooms for 2-4 people and apartments for up to 6-7 people are available for accommodation. When making a reservation you can specify food requests, such as gluten-free for breakfast, or about hobbies, Andrea and Giacomo will try to fulfill the request.
Borgo Pulciano Agriturismo
Borgo Pulciano is a unique medieval village located on a plot of 4 hectares consisting of 6 farmhouses.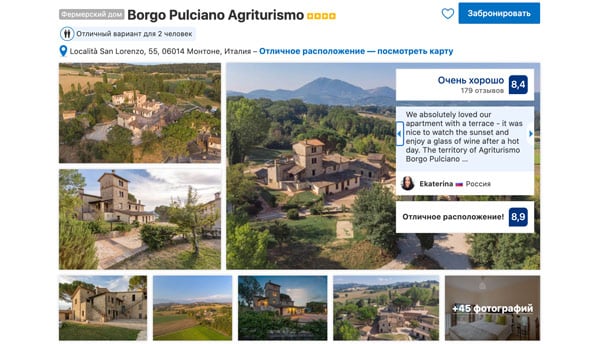 An ideal place to relax in Umbria and explore the region.
The grounds are huge and very well planned, there are 2 swimming pools, so you can easily avoid noisy children if such will be vacationing in the neighborhood. By the way, there is a special playground for children and near the village there is a 2 km health trail for walking.
In Umbertide, just 4 km away, there is a beautiful medieval fortress.
Relais Parco Subasio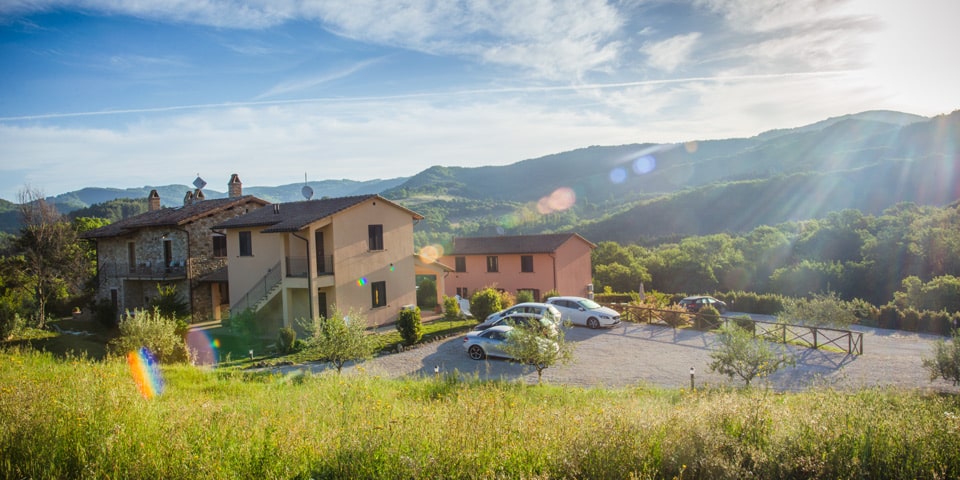 I wrote about Relais Parco Subasio in detail in this review – it's a former farmhouse that the current Christian, converted into a small hotel.
A huge plus is the location, one of the highest in the region. The pool is open in the summer, near Assisi and one of my favorite restaurants, Da Giovannino. I recommend it to anyone who wants to escape the hustle and bustle of the city.
Antica Fonte
The house Antica Fonte is located on a picturesque hill 3 km from Assisi, the owners are Paolo and Daniela.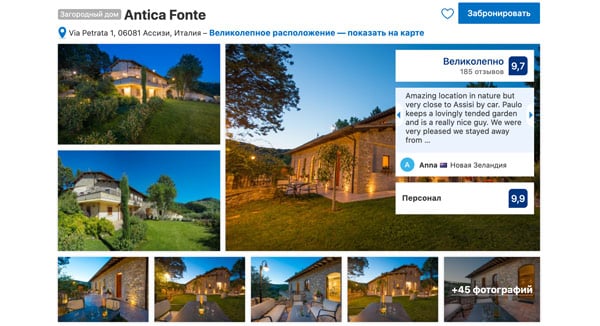 Guests have a fully equipped kitchen at their disposal, you can cook on your own and enjoy your meals on the terrace outside the house. There is an incredible amount of greenery and silence, which in the morning is broken by the singing of birds. If you are looking for a quiet place with a minimum of neighbors, this is ideal. Note that there is no swimming pool.
Relais Il Cantico della Natura
Relais Il Cantico della Natura, a stone house built in the 16th century, has a beautiful view of Lake Trasimeno.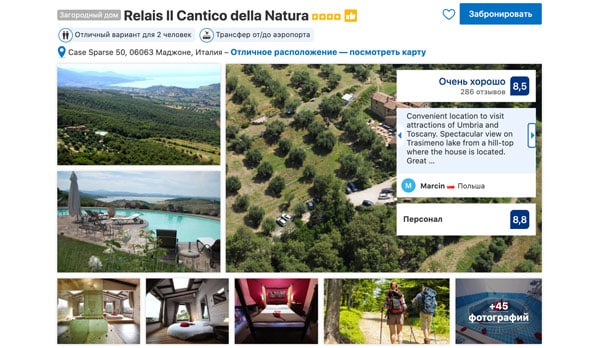 The rooms overlook olive groves and forests. It has a restaurant, small fitness center, sauna and Turkish bath.
Cerqua Rosara Residence
You can stay in the apartments at the farmhouse Cerqua Rosara Residence for an entire vacation – the place is fabulous, but the minimum booking length is 2 nights.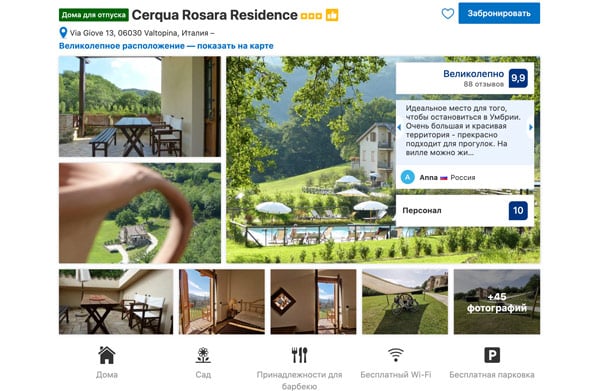 There is everything you need, including washing machine and dishwasher, charcoal grill, swimming pool. There are chickens, ducks, goats and a donkey. If you are vacationing with children, they will love it. The surrounding area is perfect for walking.
Agriturismo Casanova
Agriturismo Casanova is set on a picturesque hill near Gubbio.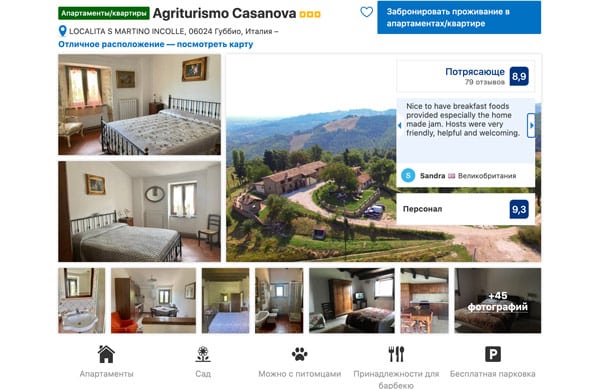 It offers an outdoor pool, garden and barbecue facilities, a hammock and rocking chair.
Agriturismo il Castello
Il Castello is set 600 metres high in a 13th-century farmhouse in the Monte Subasio Natural Park, just 6 km from Assisi.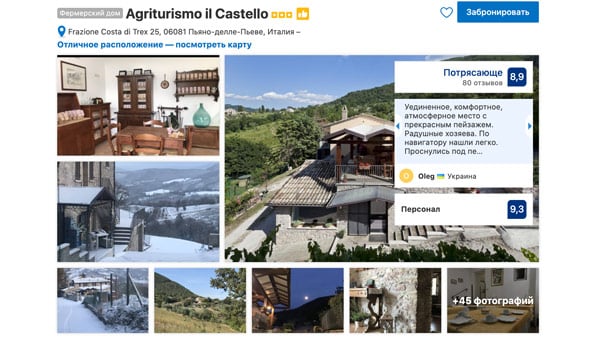 Get ready to be at one with nature and wake up to the singing of the rooster.
There is an opportunity to dine at the restaurant of the complex, which serves traditional Umbrian cuisine made from organic vegetables grown on the territory of the complex.
Eremito – adults only
Eremito is an adults-only eco-resort hotel located in a restored 14th century house surrounded by a 3000 hectare nature reserve.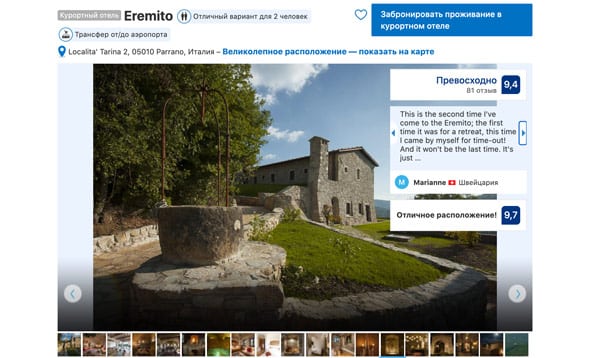 The hotel accepts guests only from 18 years old, accommodation with children is not possible. A rare option for Italy, which offers all-inclusive accommodation, costs about 330 euros/day for 2 people. The place will suit those who want to escape from the hustle and bustle, to be in silence and alone with nature. There is room for yoga classes.
How do I see the ideal vacation plan in Umbria
Usually in Umbria we structure our day like this:
At sunrise we run and do gymnastics, contemplate the sunrise, listen to the birds sing – this item can be omitted
Breakfast around 08:00.
We go for a walk in the town for a couple of hours and stay for lunch, which begins at about 12:30 in the whole country. After lunch you can, if you wish, walk some more around town or go to another. We usually go back to the house, relax by the pool, read or sleep.
Closer to 18:00 we walk around, work up an appetite, as houses are almost always located in very picturesque places. When you want even more of an experience, you can go to one of the neighboring towns and combine dinner and a walk. It's also always a good idea to open a bottle of wine at sunset on the terrace of the apartments as an aperitif.
Houses and towns on the map
I've put all the farmhouses in the selection as well as the main towns in Umbria on a map, study it before you go.