Top 25: The most impressive beaches everyone should visit
Our world, regardless of all the ugly things that happen in it, is truly a beautiful place. For us, one of life's greatest and most enriching experiences is the opportunity to travel and see the uniqueness of our planet.
For many people, the beach is a place of joy. At the beach you can relax and restore your inner balance, connect with your loved ones and even with nature. There is a pronounced therapeutic effect in spending some time next to the waves, and we're sure many would agree.
One thing we all love is the beach. It's such a buzz to relax, swim and sunbathe in a place that takes your breath away. From Asia to Europe and even North America, there are so many amazing beaches to explore, so we decided to narrow it down to a list of the top 25.
So here they are, the 25 most beautiful beaches in the world. Use this list as a guide and as a wish list, and trust us when we state that each of these places is even more phenomenal when seen in person. Remember the main thing: travel is the only thing you can buy to enrich you.
25. BLUE LAGOON – TURKEY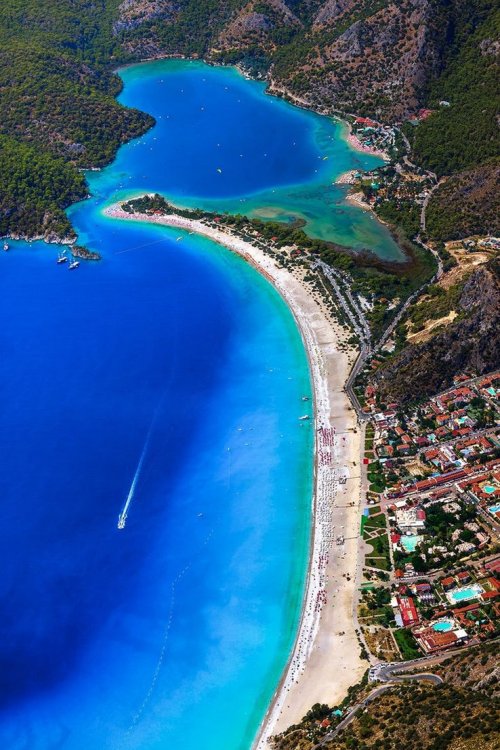 Located at the confluence of the Mediterranean Sea and the Aegean Sea the Blue Lagoon Beach is one of the most picturesque beaches on the planet. The nearest town is Fethiye (Fethiye) is about 10 km from the Blue Lagoon. This beach is a national marine reserve, which means that you will not find any resort here. The diving at Blue Lagoon is fantastic. Mysterious caves and tons of marine life await you, which you can get a good look at. Definitely, everyone should visit this beach at least once in their life.
24. THE BATHS – BRITISH VIRGIN ISLANDS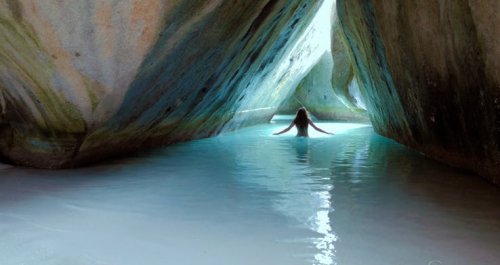 The British Virgin Islands have some of the most beautiful beaches on the planet, including Baths Beach. The mystery of the beach is that no one knows how Virgin Gorda Island ended up with a veritable garden of smooth granite boulders. This makes it an ideal place for pirates to hide, and as such, we're sure there's treasure hidden somewhere, and we'd love to be the first to discover it. One of the most fascinating parts of this beach are the secluded grottoes. These grottoes make for the best photos because the sunlight streams through the rocks, creating an amazing light effect.
23. NAVAGIO – GREECE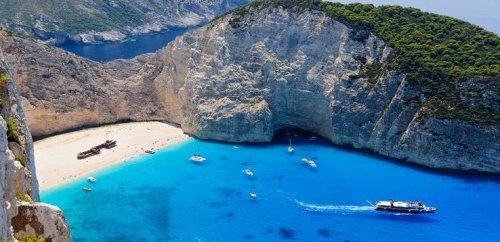 It is no secret that Greece is a country where you can find many of the most beautiful beaches on the planet. Navaio Beach, located on the island of Zakynthos, is a magnificent crescent-shaped beach, which can only be reached by boat. The beach is surrounded on three sides by picturesque cliffs and attracts tourists from all over the world to see the beauty of Navajo. The coolest thing about this beach is that in the middle of it stands a cargo ship rumored to have been used to smuggle wine and other products in the 1980s. That's why the beach has two names: Shipwreck Beach and Smuggler's Cove.
22. 22. GRACE BAY – TURKS AND CAICOS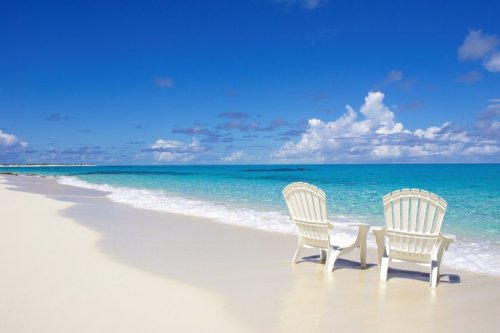 Turks and Caicos is known for having the most beautiful sea in the world. The water has a distinctive light wave color, which is characteristic of the Turks. Grace Bay is a perfect combination of turquoise water and white sand. We recommend renting a sailboat and exploring this beauty from all angles. Coral Gardens is a small underwater route in Grace Bay that features many of the sea creatures that live there, making it one of the world's best diving destinations.
21. MAKENA – HAWAII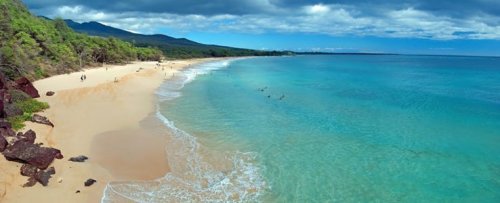 Hawaii is a breathtaking place, and Makena Beach is at the top of our list for obvious reasons. The salmon-orange sand that can be seen during sunset creates a unique color palette along with the blue water and red sky that is truly breathtaking. Before you go there, you should know that there are two beaches – Big Beach and Little Beach. And, if you're interested, you don't have to visit Little Beach.
20. TOFINO – BRITISH COLUMBIA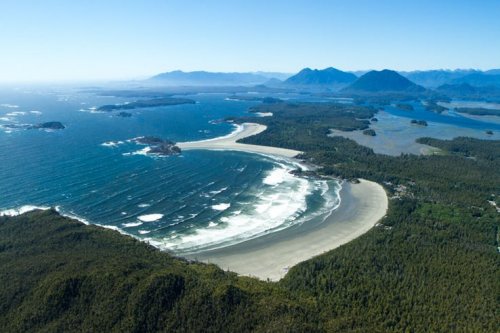 When you imagine Canada, you don't think of beaches, which is why Tofino Beach is special. Tofino is known for being perfect for surfing, as well as for its crystal clear water. The white sandy beach makes this surf town in British Columbia one of the most stunning places you'll ever see. The great thing about this beach is that bears love to admire all this beauty too. Just be sure to take some pictures, but don't get too close!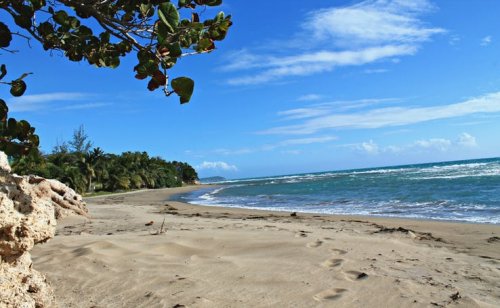 19. TREASURE BAY – JAMAICA
Jamaica is one of those tourist destinations that has something for everyone. Treasure Bay is a 9.6 km long coastline that is divided into several bays, four of which are open to the public. This beach is known for its pristine rocky shores and unique swimming and diving conditions. The beach is not a big tourist attraction, and the locals tend to create more than cater to tourists: they are writers and artists who create attractive and impressive cultural creations.
18. TIKEHAU ISLAND – TAHITI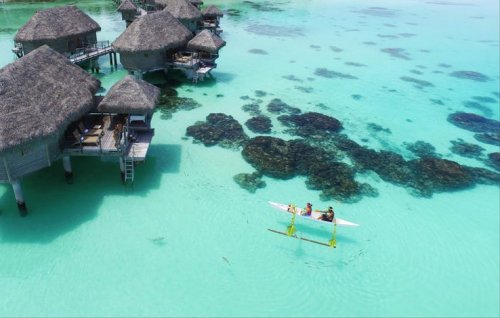 One of life's biggest dilemmas is deciding whether to go to the white sand beach or the pink sand beach. If you choose Tikehau island as your vacation destination, you get both. This stunning beach looks like a painting on a canvas. The shores of the small island are pristine and the water is bright blue, making it a unique place to swim and dive. Jacques Cousteau's research group claims that this place has the highest concentration of fish in the world, which is why scuba diving and snorkeling here is so wonderful.
17. DREAMLAND BEACH – BALI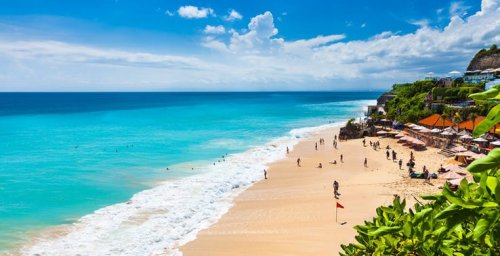 Not surprisingly, with such a name Dreamland Beach is like a dream. It is located in Bali, once a hidden cove, which was discovered on the peninsula Bukit (Bukit) around 1970. Since then, the beach has become a favorite destination for surfers because of the amazing coastal rips. Over the past 40 years, Dreamland Beach has become very popular and many new resorts have sprung up along it. It still retains its special atmosphere, thanks to the beach cafes and small stores. This is definitely a place you should visit if you are ever lucky enough to be in Bali.
16. 7 MILE BEACH – CAYMAN ISLANDS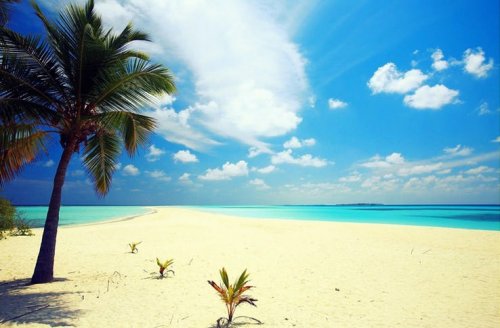 7 Mile Beach is located in the beautiful Cayman Islands, and it really is one of the most stunning beaches on the planet. 7 Mile Beach is the kind of beach where everyone will find something for themselves. There are amazing restaurants, beautiful hotels, jet skis and volleyball. There are also unique snorkeling spots with rock formations, making it a unique place to observe marine life. The Ritz-Carlton at Grand Cayman is the best hotel on the beach.
15. TRUNK BAY – ST. JOHN'S ISLAND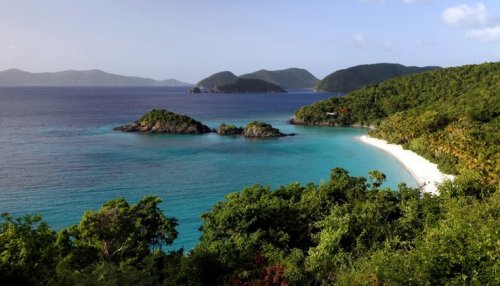 Trunk Bay on St. John Island is, without a doubt, one of those beaches that appear most often in photos, among Caribbean beaches and around the world. Trunk Bay is located in the northwestern part of the Virgin Islands National Park. Its clear and calm waters, combined with a 206-meter long snorkeling route, make this beach an ideal place for snorkeling. If you ever visit this beach, you can walk along beautiful green trails surrounded by historic sugar plantation ruins.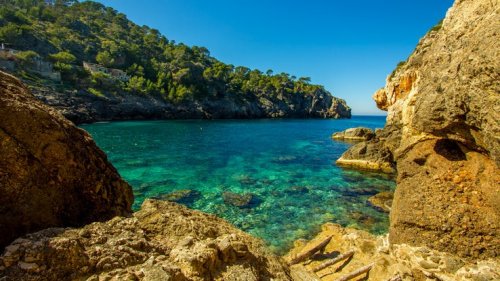 14. CALA DEIA – SPAIN
Spain is one of those destinations that is on everyone's wish list. Cala Deia, located in Mallorca, is one of the most unique beaches you could find. Cliffs surround the sapphire water surface, and while there are gorgeous villas built into the cliffs, this place gives a sense of complete tranquility. This beach is a little slice of paradise here on Earth. The best in the area are the two restaurants that serve the freshest seafood that you can enjoy while sitting practically above the water.
13. HIDDEN BEACH – MEXICO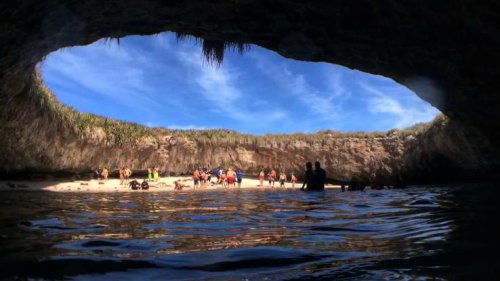 The hidden beach located in Puerto Vallarta is perfect. Although the beach is no longer as "hidden" as it once was, it is one of the most spectacular places to see. The hidden beach is rumored to have been created by the Mexican military to conduct bomb tests here in the early 1900s. What's so cool about this beach, you might ask? There is an underwater tunnel that you have to walk through to get to the beach. In our opinion, it's pretty cool.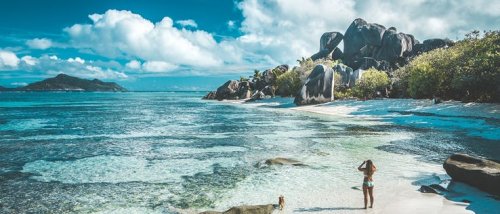 12. ANSE SOURS D'ARGENT – SEYCHELLES
Seychelles is known to have some great beaches, and it's safe to say that Anse Sours D'Argent is at the top of that list. Located in La Digue in the Republic of Seychelles, it is a beach with high cliffs and pink sand. Its beauty is undeniable, why it has become one of the most photographed beaches on the planet. This beach is one of the last places on the planet where you can meet a rare bird, the black paradise flycatcher. There are only 100 of them left on Earth, so seeing one is a unique experience.
11. PIHA BEACH – NEW ZEALAND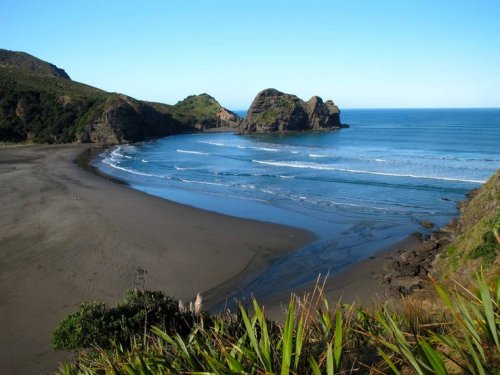 Auckland is not a city known for its beaches, but 40 kilometers north of the city is Lion Rock. It is a huge boulder, 16 million years old, its image can be found on Auckland stamps as well as on phone books. The magnificent beach is surrounded by green hills that slope down to the shore, through which streams run into the Tasman Sea. For those of you interested in this beach, Piha is known for its black sand formed from volcanic minerals. The sharp descent into the sea makes it one of the best places to surf in the Pacific. So, surf lovers, this is the place for you.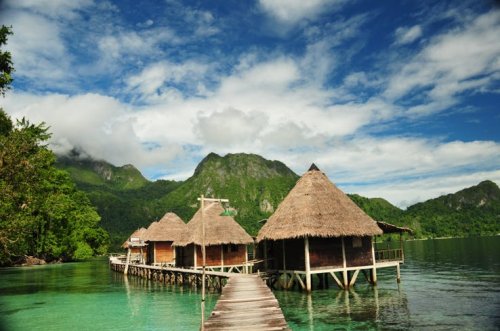 10. ORA BEACH – INDONESIA
Ora beach, which is located in Maluku, Indonesia, is the most inspiring and special beach in Indonesia. The stretch of sand itself is small, but the view of the emerald ocean flowing through the jungle islands is what dreams are made of. The best thing about this beach is that no one knows about it yet, so tourists have not yet flooded the place. Interesting fact: this beach is called the Maldives of Indonesia, because here you can rent a romantic hut over the water and make the veranda your own private beach.
9. MAYA BAY – THAILAND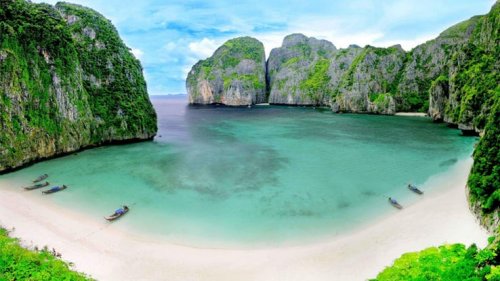 Thailand is on almost everyone's wish list, and the reason is that it is famous for its incredible beaches, kind people, good food and phenomenal hotels. When booking a trip to Thailand, the choices are enormous, so we wanted to narrow it down somewhat. Remember the movie "The Beach" with Leonardo DiCaprio? It was filmed on Ko Phi Phi Phi in the Gulf of Maya. This beach has some of the most amazing views, and is one of the most inexpensive beach towns. The only problem with visiting the Gulf of Maya is that the odds of you never coming back from here are a little higher than the odds of you never coming back from some average destination.
8. EL CASTILLO – MEXICO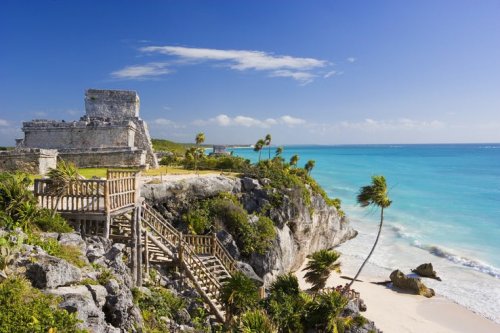 Tulum is currently one of the hottest vacation spots in the world, and the reason is simple-it's very beautiful. The beach of El Castillo is located in Tulum. The Mayan ruins provide a unique and interesting backdrop, and its white sand is highlighted by stunningly clear water and colorful fishing boats. The coolest things you can do in this place are climb the pyramids, swim in the cenotes, eat fish tacos and go kite-surfing. Basically, you'll never want to leave here.
7. REDUIT BEACH ST. LUCIA ISLAND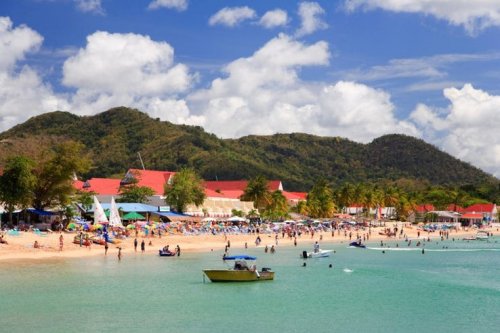 St. Lucia is one of those destinations you'll immediately fall in love with, and we'll tell you why. Reduit Beach is located on St. Lucia, about ten minutes south of Pigeon Island National Park. It provides a beautiful view of the beach. No matter what you're looking for, this beach has it all. From great restaurants within walking distance, to water activities and beautiful views, this is the place to visit ASAP.
6. SANTA GIULIA – CORSICA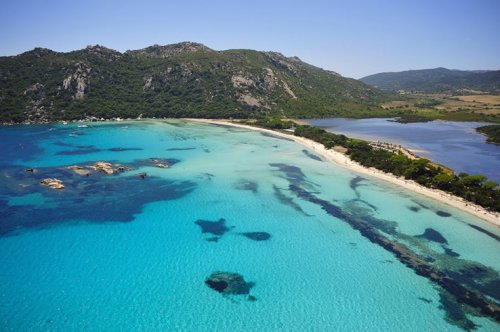 Corsica is without doubt one of our favorite tourist destinations, and Santa Giulia Beach is one of the reasons why. Santa Giulia is an impressive large lagoon-type beach. It has incredible turquoise water and white soft sand. It is a beach that is sure to take your breath away. It is heaven on earth and should not be missed. Santa Julia is also the perfect place for water adventurers. Believe me, this is one of those places whose beauty cannot be conveyed by pictures – there is no greater pleasure than lying on Santa Julia Beach.
5. BAIA DO SANCHO – BRAZIL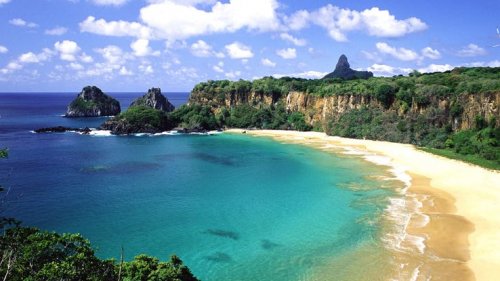 This beach is, without a doubt, one of the most incredible beaches in the world. Located in Brazil, it boasts turquoise water and coral reefs, but it is secluded and difficult to get there. You have to go down a dirt road, up some broken stairs and steep steps (to be clear). This is what makes the beach even more special. Baia Do Sancho is a must-see for divers and those who snorkel. Its spectacular reefs and abundance of marine life make spending time on the beach simply unforgettable.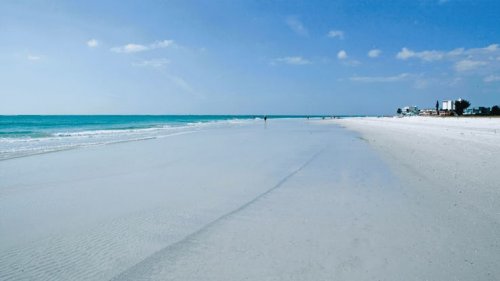 4. SIESTA KEY – FLORIDA
When it comes to the United States, there are many spectacular beaches. However, Siesta Key is at the top of the list. Located on the Gulf Coast, Siesta Key is one of those beaches you just can't help but fall in love with. Its calm waters and soft shoreline sand combined with breathtaking sunsets make it a must-visit destination. If you haven't gotten into that idea yet, here's another fact: dolphins are often seen on Siesta Key. You might even see a manatee if you go far enough by boat!
3. PRAIA DE MARINHA – PORTUGAL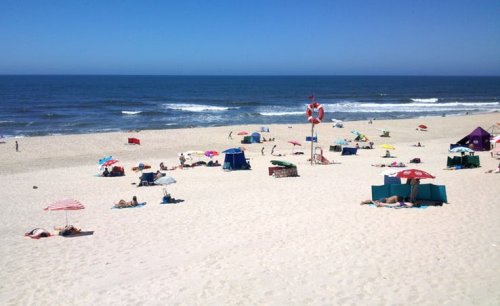 Portugal is a beautiful country and there is something for everyone. It is a country of good food, good people and even better beaches. Praia de Marinha has turquoise water and also arches under which you can swim, which is a symbol of the beach. You can take a boat ride and explore the caves and grottoes, which are sure to make you freeze at their beauty. Marinha is one of the many beaches in Portugal, however, this beach is considered the most beautiful in the country, so it is worth a visit.
2. LAKE MCKENZIE – AUSTRALIA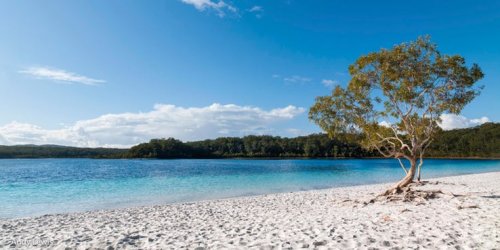 Lake Mckenzie is located on Fraser Island in Australia. This beach, made entirely of quartz, sits by a crystal clear, freshwater lake that is considered one of the cleanest in the world. It has no salt, so your eyes are safe. Fraser Island is one of the largest sandy islands in the world. It is home to an ancient rainforest and is truly "breathtaking". For those who love animals, a little bonus – you're sure to see a wild Dingo dog here, and that's just cool.
1. RABBIT BEACH – ITALY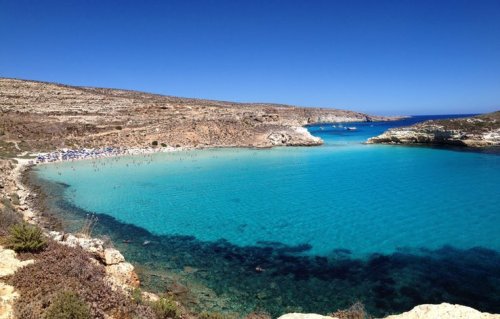 Besides pizza, pasta, and fashion, there are other beautiful things in Italy, such as great beaches. Rabbit Beach is located in Lampedusa, Italy, and it is simply stunning. Rabbit Beach is a secluded nature reserve that can only be reached by boat. Rabbit Beach (which has no rabbits running on it) is considered one of the most perfect beaches on planet Earth. One of the amazing facts about the beach is that dolphins frolic in its waters, which is pretty epic.
32 Most Beautiful Beaches in the World
Summer is in full swing and many still haven't chosen a place to vacation. We want to take a look with you to 32 of the most amazing beaches around the world. These places are perfect to relax, unwind, dream and bask in the sun!
1. The Beaches of Eilat – Eilat, Israel
Eilat has everything you need for a perfect vacation: water sports, diving, parties, surfing, restaurants, music, nightclubs, and more.
2. Foxy Beach – Cape Town, South Africa
Foxy Beach is located near the small port city of Simon, near Cape Town. The area is part of the National Park and is home to one of the largest penguin populations in Africa.
3. Thunder Cove Beach – Prince Edward Island, Canada
The uniqueness of this beach is that it is red in color. Iron oxide stains the sand, so the coast looks like a tennis court.
4. Arenas Verdes – Papakolea Beach or Mahana Beach, Hawaii
Only the bravest tourists head to this place because you have to walk through the volcanic landscape to get to the beach. It offers a beautiful view of Puu Mahana Bay. The green color of the sand is due to the ash in the soil of this volcanic island.
5. Beaches of Negril – Jamaica
The resort town of Negril is famous for its beautiful coastline with beautiful golden sand and warm waters of the Caribbean Sea.
6. Chesil Beach – England
Chesil is a protected area and one of the longest beaches in England. As you walk along it, you should look carefully under your feet, as the beach consists only of pebbles.
7. Maho – St. Maarten, Caribbean Islands
Maho beach on St. Martin's Island is known all over the world. Not only for its long golden beaches and turquoise waters, but also because it is close to Princess Juliana Airport, which allows tourists to admire the picturesque scenery as they land.
8. Ipanema – Rio de Janeiro, Brazil
Ipanema is the mythical beach of Rio de Janeiro. On weekends it happens that cars make room on the adjoining road for pedestrians who want to do sports and especially for surfers. All this is accompanied by music!
9. Sharm el Sheikh – Egypt
On this popular and very beautiful beach is a luxurious coral reef, diving enthusiasts will find their happiness here.
10. Hot Water Beach – New Zealand
This beach is notable for its geothermal water source, which creates natural hot baths. It attracts over 700,000 tourists every year.
11. Miami Beach – Barbados
Sunsets, sand, turquoise waters and grace. The perfect setting to enjoy an unforgettable vacation. They say here an old Mercedes bus was converted into a diner!
12. Arugam Beach – Sri Lanka
The resort of Arugam Bay is the best place for surfing in Sri Lanka. Wildlife enthusiasts will also be impressed by elephants and crocodiles!
13. Klitmøller – Denmark
Located in the northwest of Denmark, this beach is considered one of the best surfing spots in the country. There is the highest probability that you will find the highest waves here, which is why Klitmøller is called the Surf Mecca of Denmark. No less!
14. Matira Beach – Bora Bora
Bora Bora is known as one of the most beautiful islands in the world mainly because of its beaches. That's why newlyweds from all over the world spend their honeymoon here.
15. Praia Do Cassino – Rio Grande, Brazil
The beach with fine sand is located near the city of Rio Grande. It is the longest beach in the world with a length of 254 km! It stretches along the Brazilian coast to the border of Uruguay.
16. Pendine Sands – Wales
Many world speed records in automobile and motorcycle racing history have been set on this wide 11km beach.
17. Stockton Beach – Stockton, Australia
The beach is 32 km long and is surrounded by dunes. You can ride your quad bike across the large sand mass and contemplate the remains of stranded ships a few meters from the shore.
18. Agonda Beach – Goa, India
There are several resorts in India with very beautiful coastal areas. One of them is Agonda Beach, once a popular tourist destination among hippies.
19. Budir Beach – Budir, Iceland
You hardly think of Iceland when you think of beaches. But the white sand contrasting with the surrounding area makes it exceptional.
20. Muriwai Beach – Auckland, New Zealand
Muriwai or Muriwai Beach is a beach in the Auckland region on the west coast of the North Island of New Zealand. It is home to a large colony of boobies, large seabirds.
21. Bondi Beach – Sydney, Australia
Bondi Beach is a popular beach in a suburb of Sydney, Australia, known for its fine sand and surfing. It was added to Australia's national heritage list in 2008.
22. Black Beach – Hawaii
The beach is very popular because of its black sands. It is located next to Volcanoes National Park and is home to endangered turtles.
23. Pfeiffer Beach – California.
California's inimitable and most popular beach, Pfeiffer Beach is tucked away on the Big Sur coast in a small, quiet nook with a stunning sunset!
24. Palau Beaches – Micronesia
Palau's beaches are one of the best places for diving. Reefs, caves. sea life in all its abundance and dazzling white sand.
25. Tulösand – Halmstad, Sweden
Here you can relax both day and night with a mass of beach bars that offer picturesque views of the pristine coastline.
26. Patong Beach – Phuket, Thailand
Thailand remains one of the most popular destinations for European tourists who crave the warmth of the sun in the middle of winter. This is the most favorable warm period with very little precipitation. Visiting the island of Phuket, be sure to visit the beach at Maya Bay, which is 46 kilometers away on the island of Phi Phi Le.
27. 75 Mile Beach – Fraser Island, Australia
75-Mile Beach is sometimes called 70-Mile Beach. This beach is located on the east coast of Fraser Island in Queensland, Australia. The white sandy beach stretches for about 120 kilometers.
28. Copacabana – Rio de Janeiro, Brazil
Copacabana is one of the most beautiful and famous crescent-shaped beaches in the world with a length of 4.5 km on the Atlantic Ocean. Brazilians call it the Princess of the Sea (Princesinha do Mar).
29. Beaches of Saint-Tropez – France
Saint-Tropez has several small sandy beaches covering 11.3 km of coastline. A quiet haven for celebrities.
30. Gardner's Bay – Galapagos Islands, Spain
Gardner's Bay is a favorite diving spot located in the northeastern part of the island of Española. Here on the white sandy beach you will be greeted by colonies of sea lions that sunbathe and play with swimmers every day.
31. Siesta Beach – Siesta Key, Florida
The uniqueness of this beach is the clean, soft and fresh sand under your feet. A real treat for vacationers.
32. Ninety Mile Beach – Victoria, Australia
The name of the beach does not correspond to its actual length, in fact it stretches only 55 miles (88 km) and is among the longest beaches in the world!