Gagra
Gagra is a city that is considered the most beautiful and most expensive in Abkhazia. This resort is very popular among tourists, which is due to its proximity to the Russian Adler and its fame since the Soviet Union. The resort is suitable for both young people and couples with children. The city has a variety of entertainments, places to relax, and excursions are available.
Save on a trip to Gagra!
Videos: Gagra
History
History of origin and development of Gagra is very ancient. In the II century B.C. Greek merchants founded a city called Triglif. After the arrival of the Romans, the city was renamed Nitika. Then there was a long chain of names: Byzantine Trachea, Kakara and Khakari, Venetian Kontezi and Kakura, Persian Derbent and Turkish Badalag. With the accession of the Caucasus to Russia, the city was called Gagra, which means "the sanctuary of the family Khagba.
The city was originally founded as a commercial port, attracting merchants from all over the world. It became a resort thanks to Prince Oldenburgsky, who saw fit to turn Gagra into a resort-city, a health resort, to build a climate-control station, to lay the park. Already after a couple of years tourists from all over the world came here to have rest and treatment. And today Gagra welcomes lovers of clean air and warm sea. There are no harmful industries in Gagra. The air is saturated with ions, sea salts and oxygen. And this medicinal cocktail contributes to healthy rest of Gagra guests and residents.
Climate and weather
Climate of Gagra was formed under the influence of the sea air. Cold continental winds almost have no access to the city thanks to the Gagra Range. Mountains and gorges create a special ventilation, which cools air in summer and warms it in winter. Many people note that the weather in Gagra is warmer and milder than in other Black Sea towns.
The hottest time of the year is July and August. The air temperature rises to +27 … +30 ° C during the day and does not fall below +20 ° C at night. The sea warms up to +22 … 24 °C. The beginning of the autumn is the best time to stay at the resort: the air is warm, the thermometer rises to +23 … +25 °C and the sea warms up to +24 … 26 ° C. The swimming season begins in May and ends in November.
Winter is mild. The coldest month of the year is January. Frosts are extremely rare and do not last long (10-12 days). The average air temperature in winter is +8 … +10 ° C. Water is cooled down to +9 … +12 °С.
The main mass of precipitations falls in winter and early spring. Sunny days are more than 7 months a year.
Nature
The resort of Gagra is located in a picturesque place – between the blue sea and a high mountain ridge buried in verdure. Beside the town, there flow the rivers Bzyb and Psou. They are supplemented with picturesque waterfalls and tunnels in the rocks. At 50 kilometers from Gagra, among the mountains is Lake Ritsa. It is small, but very deep, with clear azure water. In Gagra itself flows the rivers Gagripsh, Joekvara, Tsikherva and Reprua – the shortest river in the world (18 meters). Some of them flow into the Black Sea.
Not far from the city is a mountain Mamzyshkha, the height of which reaches 1878 meters. From Mamzyshkha offers a stunning view of the sea, lush greenery and distant mountain peaks.
One of the alleys of the Seaside Park
The mountain slopes near Gagra are mostly covered with beech forests. Not far from the city in deciduous forests you can find groves of seaside pine, which purifies the air, giving it a unique fragrance. These forests are often called the Gagra forest estate. High up in the mountains you can enjoy alpine meadows with lush grass and bright flowers. The tops of mountain ranges are covered with eternal snow, which does not melt even in the hottest days. You can find mandarins, lemons, oranges and boxwood on the seashore. There are vineyards, olive trees, figs and laurel in Gagra.
In Gagra neighborhood there are tours, chamois, deer, roe deer, wild boar, bear, jackal, wolf, fox, wild cat; also here nightingales, thrushes, jays, starlings, pheasants, golden eagles and falcons like to nest. In the sea there are trout and perch, dolphin and stingray, in the rivers – pike-perch and river trout.
Not far from the resort there is Joekvara gorge, at the bottom of which flows the river Joekvara. The gorge is covered with dense thickets of boxwood, moss, and other plants. Here grows a Caucasian linden, which is over 500 years old.
A fountain in Primorsky Park
Sights
Gagra is divided into Old Gagra and New Gagra by Tsikherva River. Old Gagra was built before the October Revolution, which is where most sights are concentrated. New Gagra is equipped with modern infrastructure.
Outhouse with observation tower
The most notable sight of Gagra, which occupies almost the entire coastal territory of the city, is the Prince of Oldenburg's Seaside Park. The park has over six hundred different plants: dates, coconuts, magnolias, bananas, and candy trees. All of them were brought from different parts of the world. The park is decorated with sculptures by Zurab Tsereteli. In the ponds swans and ducks swim. In the park there is the oldest restaurant in Abkhazia – "Gagripsh", which is more than 100 years old. It rested Chekhov, Bunin, Gorky.
The oldest landmark of the resort is located on the banks of the river Joekvara. It is a fortress-castle of the same name, which was built by the Romans in the IV century. Not far from Joekwara Fortress there are the remains of a fortress of the VI century.
Gagra Temple, a massive monumental building, has a special atmosphere. A path leads to the temple, lined with thousands of polished to a shine slabs. It is surrounded on both sides by tall cypress trees. Today, the temple is inactive. There is a museum of Abkhazian arms with a unique collection of swords, knives and daggers.
A peculiar attraction of Gagra is the Castle of Prince of Oldenburg, which was built back in 1902. It was the very beginning of the construction of the resort city.
The most striking early Christian monument of Abkhazia and Gagra is the basilica of Tsandripsh, built on the Black Sea coast in the bushes of acacia trees.
Monument to victims of World War II Winter Theatre
Nutrition
The Old Town has many parks, sights, but few cafes and restaurants, and if there are, they are usually left over from Soviet times. In New Gagra there are many more modern catering establishments. Cafes and restaurants are usually open until 24:00. The prices are rather high; it is possible to eat reasonably only in buffets and dining rooms (the full dinner – from 5 to 10 $).
One of the most popular places among the tourists in Old Gagra is a summer cafe "Araukaria" in Seaside Park, near the pension "Kolkhida". The cost of lunch per person is $15-$25.
Cafe "HQ" is reminiscent of military operations in the country. Here you can taste Caucasian, European and Japanese cuisine. Some dishes are cooked in front of the guest on an open fire or barbecue. The cost of dinner is 10-15$.
European and national cuisines can be enjoyed at the seaside, in the cafe "Ritsa". A dinner there costs $15-$25 per person.
The pearl of Gagra's gastronomic world is the century-old restaurant "Gagripsh". At the beginning of the XX century it was almost ruined and was recently restored. In the past century balls and meetings of high ranking people were held here, and today almost everyone can have a meal at the restaurant. The cost of the lunch is $15-30.
Accommodation
In Gagra you can stay in boarding houses, hotels, rest houses or rent an apartment. When choosing a place to stay, keep in mind that the more modern New Gagra is far from the seashore. Rooms of hotels and vacation homes are equipped with all amenities: bathroom and shower with constant cold and hot water, air conditioning. New private hotels are decorated in modern style, rooms are equipped with satellite TV, hairdryer, iron, mini-kitchen with refrigerator and kettle, there is Internet access. Very often by arrangement the hosts of a private hotel or rest home meet their future guests.
Many boarding houses and holiday houses offer the opportunity to have a rest by the pool or on the tennis court or to cook juicy barbeque right in the yard. Some hotels have a sauna, sauna, bar, massage, hairdressing services, wraps. As a rule, you can order meals or cook on your own for an extra charge. Sometimes room rates also include breakfast.
Accommodation prices vary greatly by season: mid-summer is the "hottest" time, when the cost reaches a maximum and can range from $20 to $100 per person. In some places lodging for children under 7 years old is free.
You can also find a place to stay in private houses and rooms with private facilities on the floor. Typically, such housing is available only in summer. The cost of a room – $ 10-15 $ per person per night, a house for four people can be found for $ 50-70, a villa for more people – $ 80-150.
Entertainment and Recreation
Gagra is a great place for youth and active family holidays.
The beaches of the resort, pebbly and sandy, surrounded by evergreen palm trees, stretch for 53 kilometers. They are mostly public, but there is a pay. On some beaches offer to rent deck chairs and umbrellas.
The castle of prince Oldenburgsky (on restoration)
In Gagra you can go scuba diving, conquering water attractions. Some clubs offer boat trips accompanied by water immersion.
In Gagra is the only water park in Abkhazia, which is very popular among children. The cost of a visit is $15. In the summer, the city sets the moon park with all sorts of rides.
In Old Gagra there is a lot of nightlife. Nightclubs, bars and discos, which are becoming more and more numerous lately, are located on the shore of the Black Sea. Clubs are open till 2 a.m. to 3 p.m.
Active rest is quite developed in Gagra – flights on paraglider and hang-glider, rafting, horse walks, mountain climbing. There are tennis courts in the city. Lovers of skiing are waiting for the mountain peaks with eternal snow.
Shopping
There are no boutiques or large shopping centers in Gagra. The most luxurious place for shopping is "Kontinent" department store. It is located near the railway station; next to the department store there are shuttle and bus stops. In "Continent" you can buy food, accessories, dishes, souvenirs. Next to the store is a small Khitry market (prices here are slightly higher than in "Kontinent").
The largest market in Gagra is city market. There you can buy Abkhaz pomegranates, feijoa, honey, wine, chacha, spices, fruits and vegetables; they also sell souvenirs. If you cook on your own, it's better to buy products here: the prices are low and you can bargain. The market is open from 7:00 to 17:00, although sellers usually leave at 14:00, for fresh, homemade meat should come to 6:00-7:00. It is very easy to get to the market – take a minibus that says "Market".
There are a lot of souvenir shops and small boutiques scattered around the city. Many of them work only in June and September.
Gagrypsh Gagra railway station, colonnade
Transportation
You can get to the resort by train and bus. Through Gagra there are two trains, Moscow – Sukhum and Adler – Sukhum. In the near future a train Sochi – Gagra is going to be introduced. There is a bus from the Russian border to Gagra.
There are buses and fixed-route cabs running around the city. There are only two bus routes, trips are made only during rush hours with a frequency of once an hour. The cost per trip by bus is $0.16.
You can also take a cab. Keep in mind that the fares are often inflated, so negotiate the price in advance.
Communication
In Gagra there are two Abkhazian operators, "Akvafon" and "A-Mobile", which cover not only the city, but also the surrounding areas. "Akvafon offers 3G communication. The cost of 1 Mb of traffic is $0.17. Top-up machines and payment points are located everywhere. Among Russian roaming operators, Beeline, MTS and Megafon work in Gagra.
At the moment there are 4 Wi-Fi access points in the city. Connecting to them is free (one must buy a universal card for this, prices vary depending on the tariff) and is possible from any device that supports Wi-Fi. There are only a few Internet cafes in Gagra. An hour in the internet costs $1.5.
Gagra has a number of telecommunications departments. Usually they are open only on weekdays from 9 a.m. to 5 p.m. A city call costs $0.06, the cost of long distance and international calls depends on the distance of the call.
Security
Money and valuables should be kept in the hotel's or pension's safe. It is better not to leave your car unattended, park it in a prominent place. The city all day long is patrolled by police cars and patrol groups of 3-4 persons. If necessary, you can turn to them for help.
Business climate
The most developed directions of private business are tourism, hotel and restaurant business. Many boarding houses and hotels in Gagra recently started offering services to accommodate business delegations, as well as meeting and taking members of delegations to the right place. State and international exhibitions and conferences are held in Gagra.
Real Estate
A one-room apartment in Gagra costs $30,000-45,000 and a two-room apartment costs $40,000-60,000. If the apartment is quality repairs, its price increases by 1.5-2 times. Prices for a house with a plot depend on the area of the land and the house and range from $35,000 to $250,000.
Tips for a tourist
In some areas of the city, cold water is supplied from 7:00 to 9:00 and from 19:00 to 21:00, hot water is even rarer. But, as a rule, such difficulties can be encountered only in the private sector in the outskirts of the city. Problems with electricity are rare.
If something happens to your health during a vacation in Gagra, apply to the Central District Hospital of Gagra. Russian citizens can be admitted by insurance, but usually for a fee.
Rest in Gagra at sea: beaches, photos, accommodation, reviews
This article details the holiday at the resort of Gagra in Abkhazia in 2022: sea and beaches, entertainment, attractions, cafes and restaurants, where to find accommodation, how to get there, a map with markings and many photos.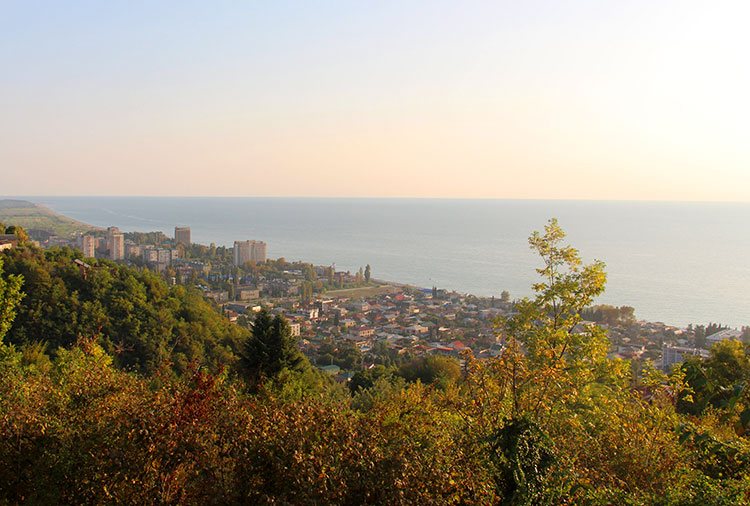 Gagra, Abkhazia
Gagra – the main resort of Abkhazia
Coming to Abkhazia, many people choose the city of Gagra for recreation. And not without reason. Gagra is the first full-fledged resort on the territory of Abkhazia. It is considered to be founded in 1903, when Prince of Oldenburg wanted to create "Caucasian Nice". The prince built a castle on the mountain of Joekvara Gorge and laid a park on the seashore. By the beginning of the First World War all necessary infrastructure would appear here: climatic station, hotels, stores, customs, hospital, restaurants. Gagra becomes a full-fledged foreign resort, which was in the Russian reality, all the benefits of which were enjoyed by the higher ranks, the nobility and aristocracy.
During the Second World War and the Georgian-Abkhaz conflict Gagra was heavily damaged because of military operations. Now, though slowly, it is being restored.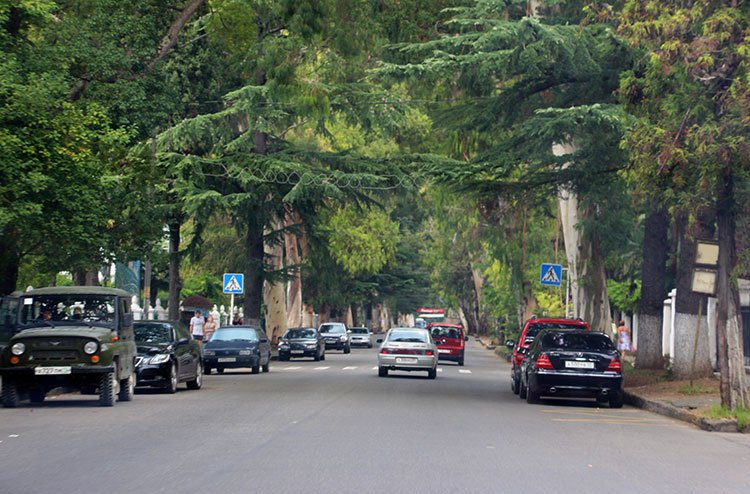 Streets of Gagra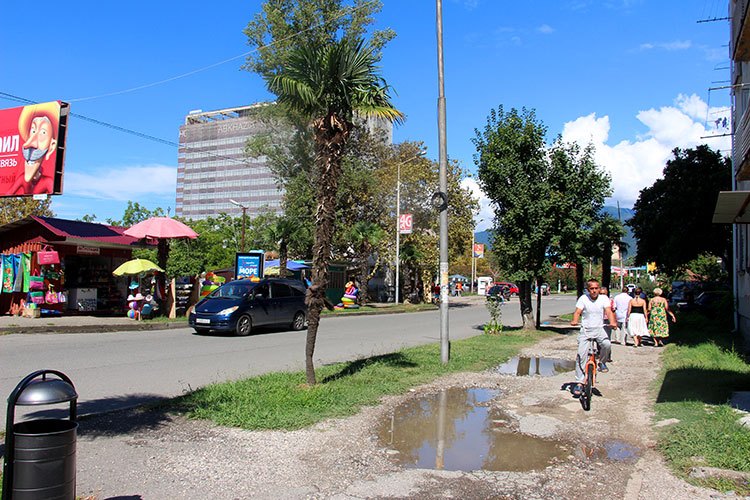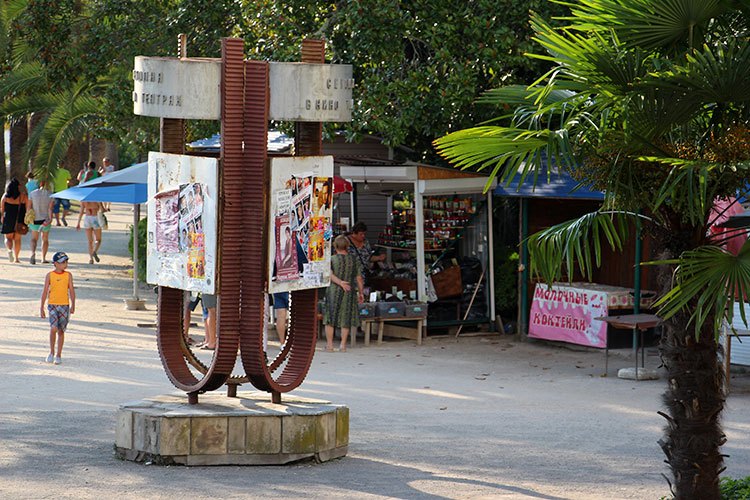 Rest at Sea in Gagra
As in most parts of Abkhazia, the beaches of Gagra are pebbly. Water in the sea is clear and acquires bright turquoise color when the weather is calm and clear.
Central Beach of Gagra
There are equipped zones for beach rest with changing rooms, showers, deck chairs and umbrellas all along the city. As a rule, you will have to pay for umbrellas and beach chairs: from 100-150 rubles. Near colonnade pavilion suite costs 100 rubles/hour.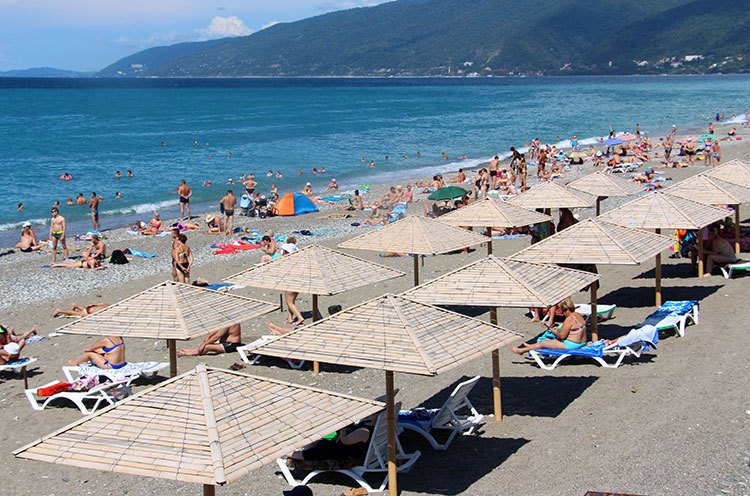 Umbrellas and sun beds at Gagra's beaches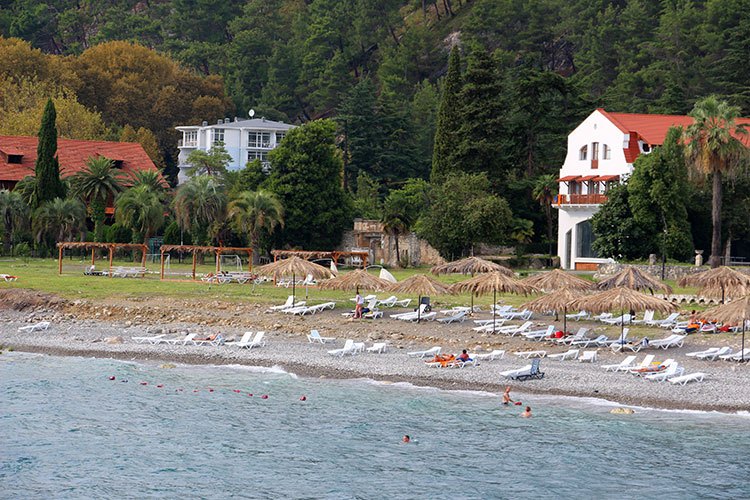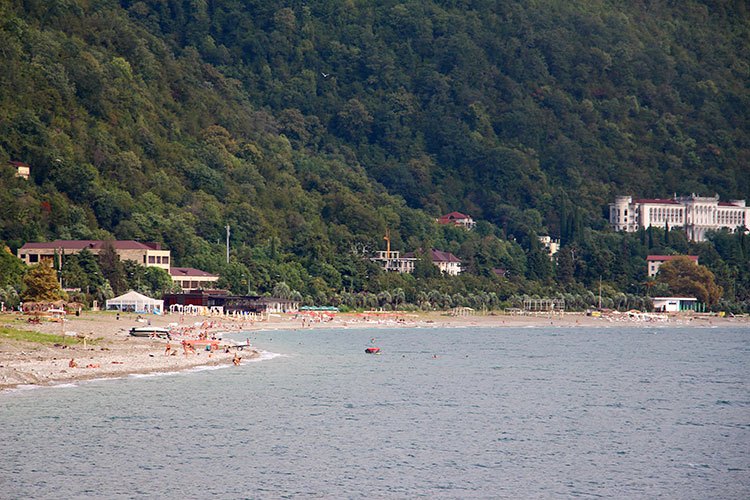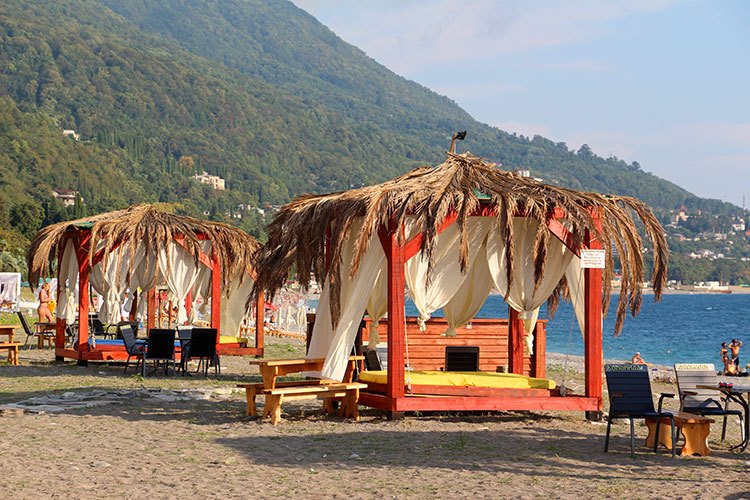 Deluxe pavilion near colonnade costs 100 rubles/hour.
At high season there are a lot of holiday-makers on the coast, especially on the central beach in New Gagra. However you can always find quieter place, having walked a little aside.
There are a lot of people at the central beach.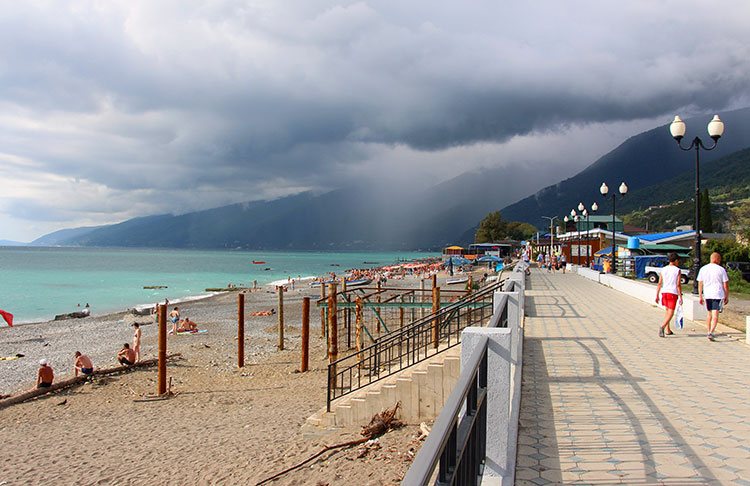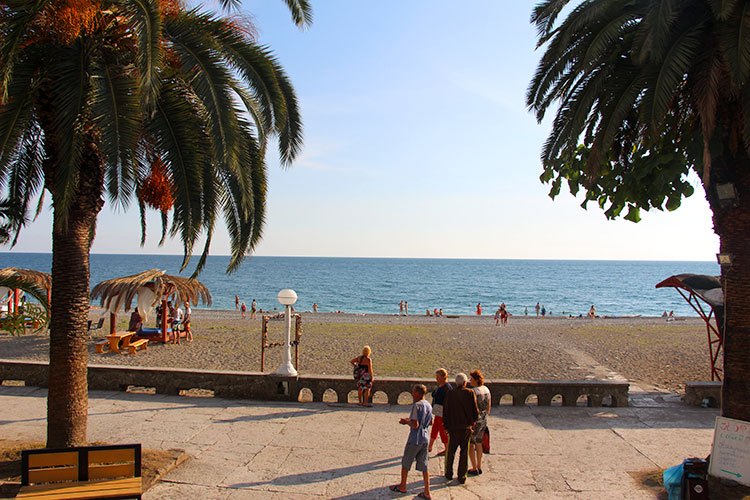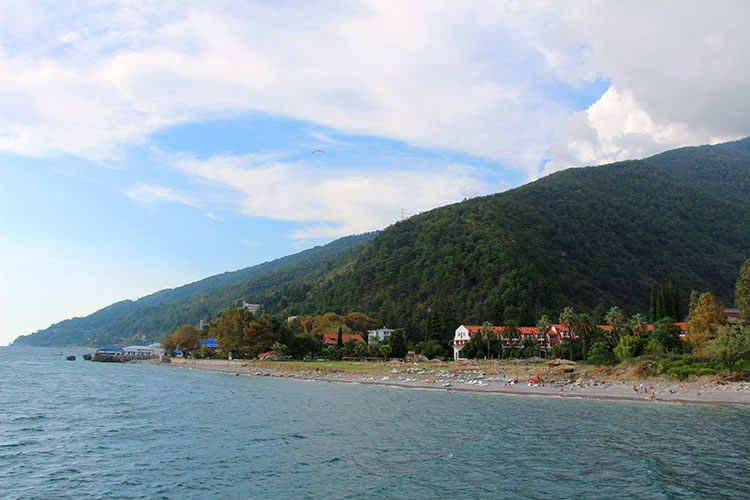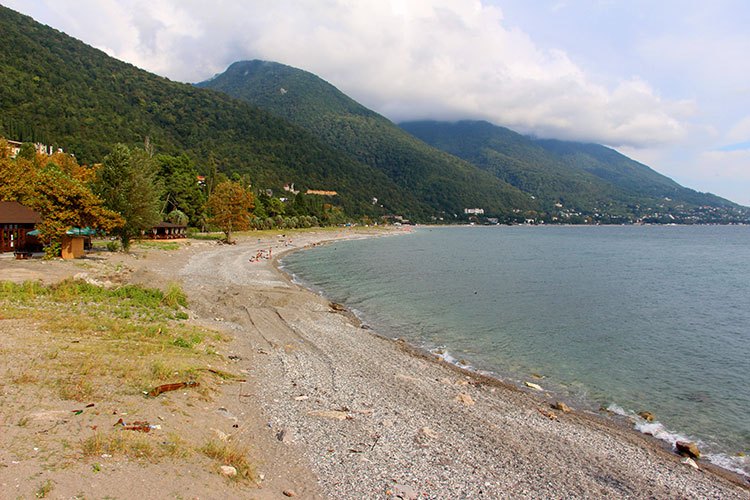 There are very few people at the outskirts of Old Gagra.
As well as at other resorts along the Black Sea coast, Gagra beaches offer massage services, beer and snacks, offer to take pictures in different images and with animals.
Lodging in Gagra
Types of accommodations in Gagra
Accommodation in Gagra is represented by boarding houses, sanatoriums, hotels, apartments, guest houses (private sector).
Pay attention to the availability of a pump for heating water (there can often be problems with it during the day and at night), as well as a boiler for hot water supply when booking accommodation.
In what areas of Gagra to look for lodging
The resort of Gagra in Abkhazia stretches a long strip along the Black Sea coast. The city is commonly divided into two main areas: Old Gagra and New Gagra. On the map the new part is schematically marked in red, and the old – violet.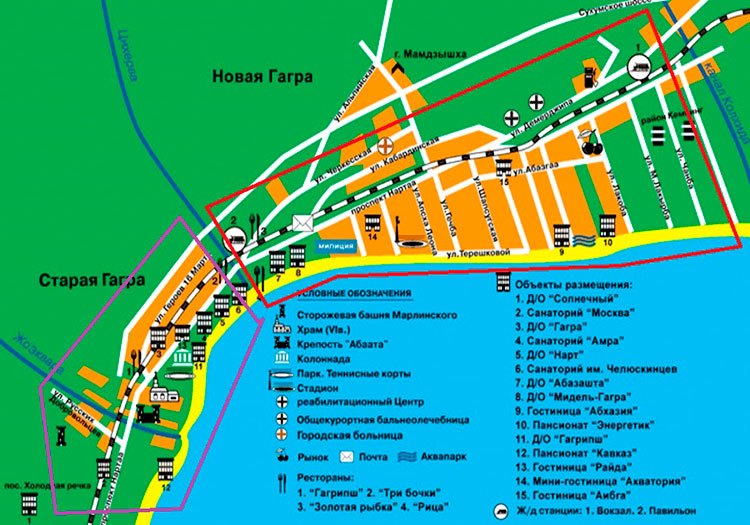 Districts of Gagra: purple – Old Gagra, red – New Gagra
Old Gagra
Old Gagra is historical and green part of the city. Here you can find old sights and a picturesque park.
Photos of Old Gagra: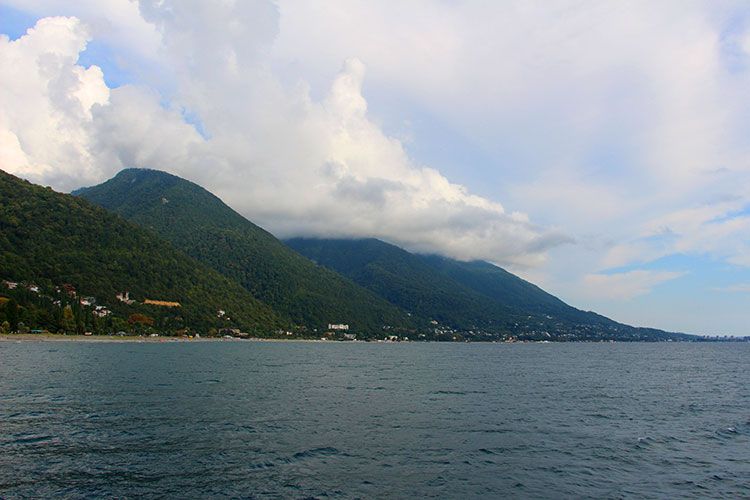 Old Gagra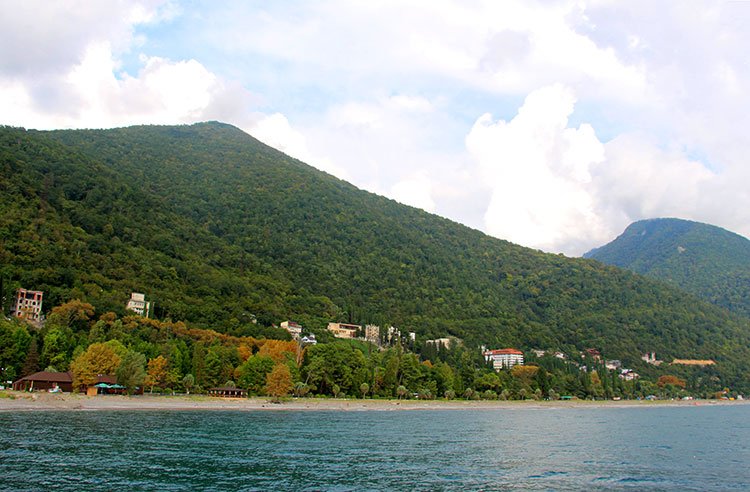 New Gagra
Main infrastructure of the city is concentrated in New Gagra: multistory buildings, market, stores, water park.
Photos of New Gagra:
New Gagra
How to look for accommodation?
Accommodation in Gagra, as well as in other resorts of Abkhazia, we look for the following ways:
We make an agreement with the owners of private housing through contacts from acquaintances who have previously stayed on vacation in Gagra.
Looking for shelter by searching on the spot (without a car is not very convenient option).
On the official specialized sites: hotels and guest houses – Booking, the private sector and apartments – Daily.
We book accommodation as part of a tour at a travel agency in your city or online directly from the tour operators on the following sites: this, this or this.
Examples of accommodation in Gagra:
Attractions of Gagra
The sights of Gagra are mostly concentrated in the old part of the city. But there is also something to see in the new part of the resort. Below is a brief list of Gagra sights with photos. All the objects are marked on the map of Gagra at the end of this article.
✔ Fountain in Old Gagra
✔ Castle of Prince of Oldenburg
✔ Abaata fortress + Church
Seaside Park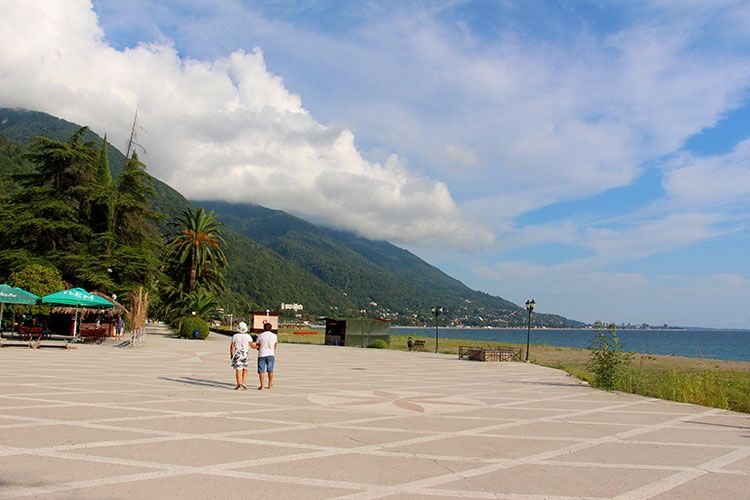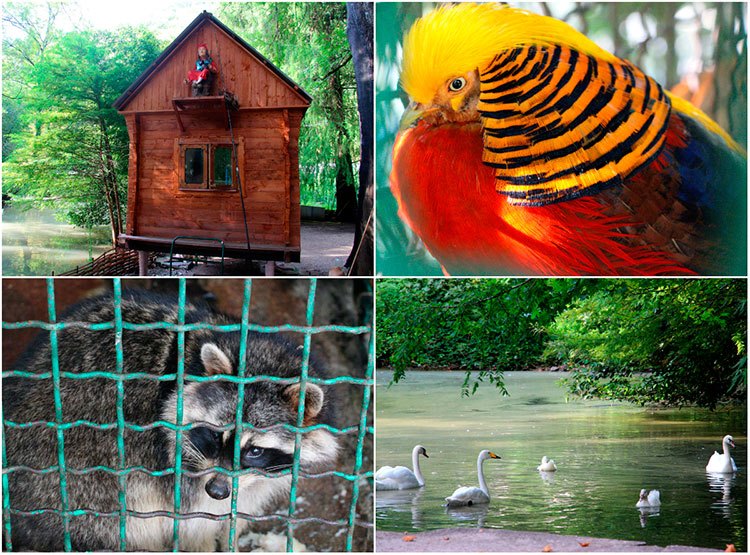 The zoo in the Seaside Park
✔ Gagripsh restaurant
Description: The restaurant "Gagripsh" is famous for the fact that in 1903 Prince Oldenburgski inaugurated the resort of Gagra on the territory of modern Abkhazia. The building with the clock was made in Norway and was bought at the world exhibition in Paris in 1902.
GPS coordinates : 43.3244, 40.23148
✔ Colonnade
The Winter Theatre
Independence Memorial
✔ New Gagra quay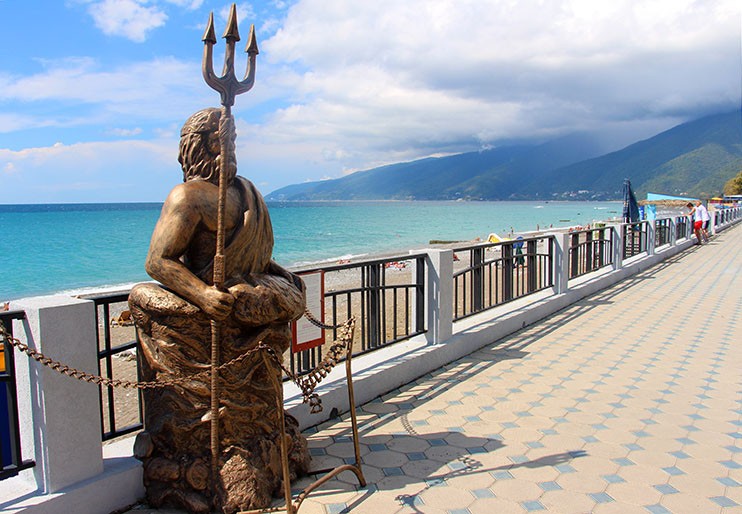 ✔ Armenian church of Christ the Savior
Excursions in Gagra
From Gagra you can take a trip to Pitsunda, New Athos and Sukhumi on your own by public transport. If you want you can go on numerous excursions in Abkhazia.
✔ General (group) excursions
In the streets of Gagra there is a huge number of stalls and outlets where tourists will be offered to choose excursions. The list and prices in almost all of them are identical. Mostly they are group excursions or jeep excursions (in the latter the drivers often play the role of carriers, but not guides).
✔ Individual tours.
Such tours are conducted by private guides – residents of Abkhazia. Individual tours are designed for a family / company of 1-6 people, can be by foot or by car (off-road guided tour).
There are the following options to order this type of tour:
By contacts from the experience of acquaintances.
A guide can come up on the street and offer his services.
On specialized sites (such as Tripster).
Examples of individual tours of Abkhazia with prices and reviews are presented below (you can go to any favorite tour, read and, if you wish, order).
What to do in Gagra
In addition to sightseeing and sightseeing trips, being on vacation in Gagra, you can have fun in the following ways:
✔ Visit the water park : adults – 1000 rubles, children (4-10 years) – 700 rubles.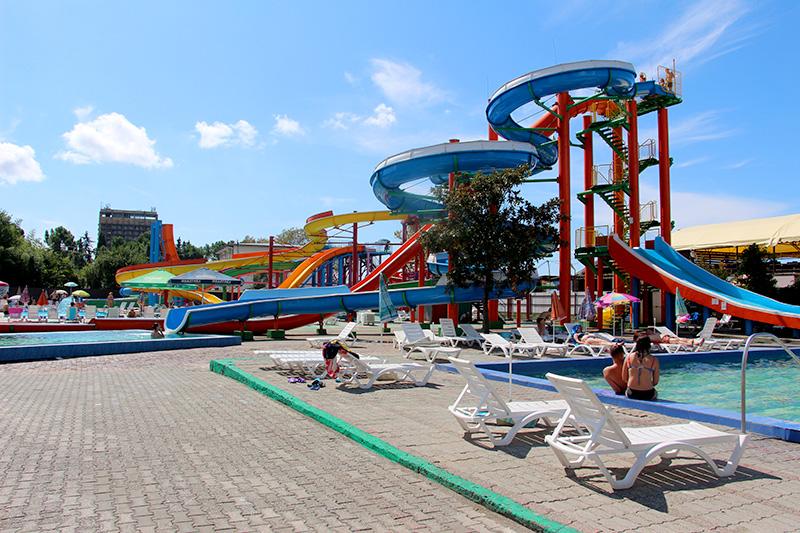 Aquapark in Gagra
✔ Take a boat trip (2 hours): adults – 800 rubles, children – 400-600 rubles.
Sea boat trip
✔ Ride a jet ski: about 1000 rubles for 10 min.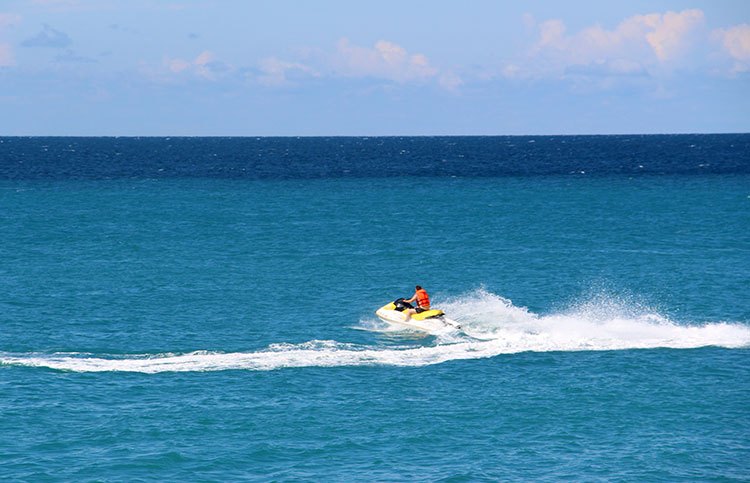 Ride on a jet ski
Ride on a bungee jump (150 m high): 2000 rubles.
Bungee jumping from this building
✔ Parachute over the sea.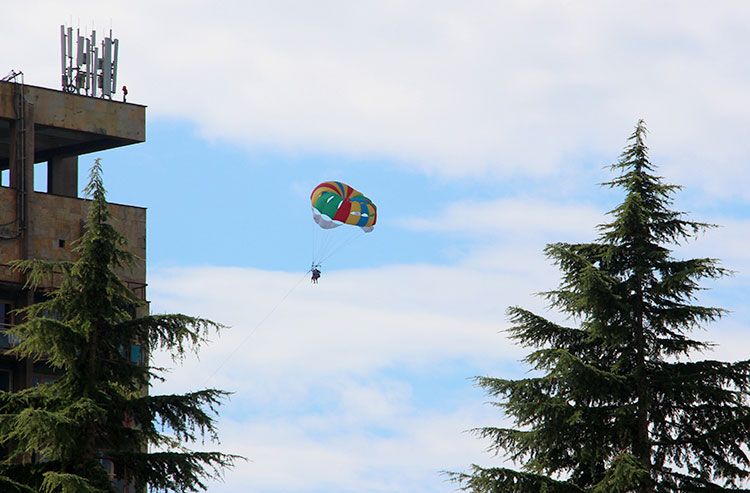 Flying with parachute
✔ Paragliding descent from the Mamdzishkha mountain: 4000 rubles for the flight + 200 rub for a photo disk.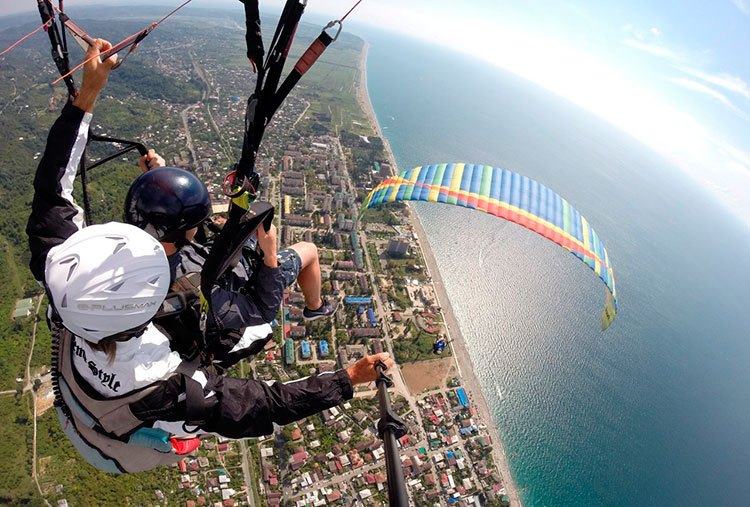 Paragliding descent over Gagra
Where to eat
There are a decent number of dining rooms, cafes and restaurants in Gagra. For regular breakfasts/lunches/dinners, everyone can find an establishment in the area where he/she lives. But for "going out", you might want something special. We could not visit all the restaurants in Gagra, so we will share only brief information about the ones we visited.
✔ Restaurant "Gagripsh" – Yes, this is the same old restaurant, which was mentioned earlier in the section on the sights of Gagra. It is moderately tasty. More expensive than other places to eat in Abkhazia, but quite affordable.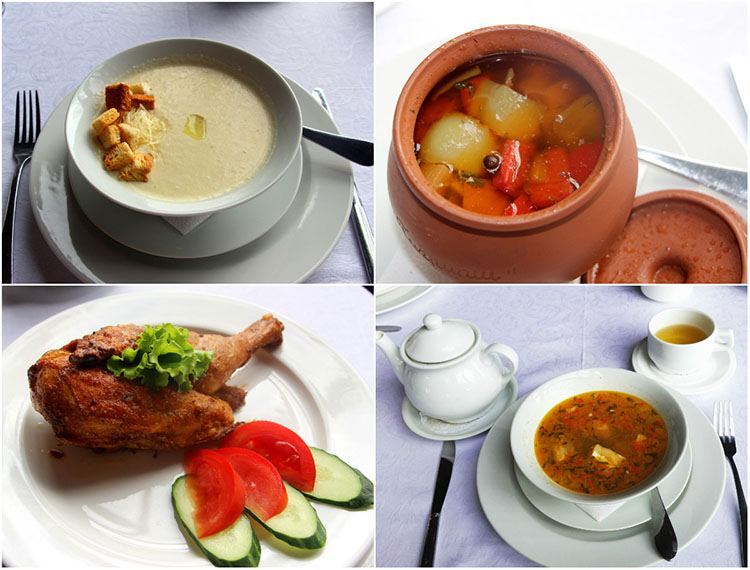 Gagripsh Restaurant
✔ Restaurant "Colonnade" is a restaurant near the famous colonnade of Gagra. Prices are slightly lower than in "Gagripsh". The food is tasty, and the portions are large.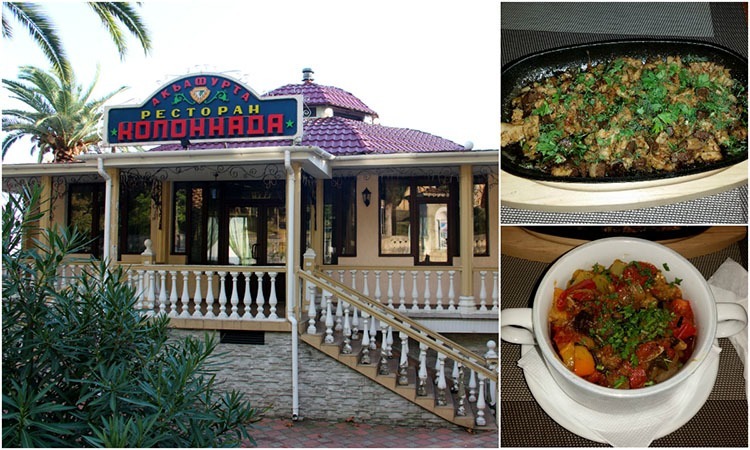 Colonnade Restaurant
✔ Apatsha "Apsny" is a restaurant of Abkhazian cuisine at the exit of Gagra, which is mostly visited by locals. Inexpensive, very tasty and soulful.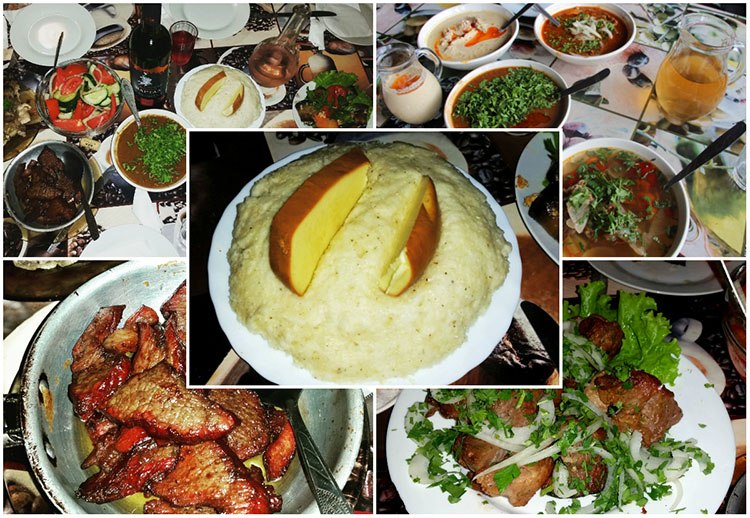 Apatskha "Apsny"
The location of these restaurants is marked on the map of Gagra in the appropriate section of this article.
Other useful things
✔ The main shopping in Gagra takes place at the market. There are also small stores and minimarkets. Some outlets in tourist season can serve customers even at night. About prices in Abkhazia in the market and not only written in the article on the link.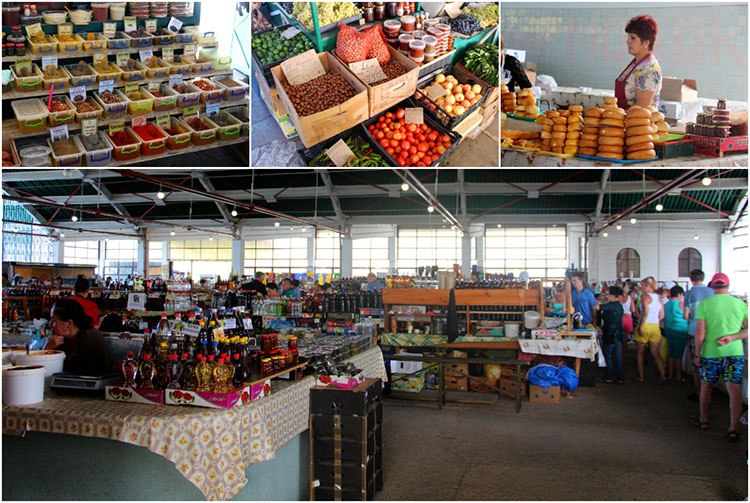 Market in Gagra
In Abkhazia, two cell phone operators – Akvafon and A-Mobile. You can buy SIM cards in the branches of these networks, as well as in almost any store. Tariffs of both operators are suitable for tourists, the quality of communication and coverage is equal. 4G is not bad in Gagra.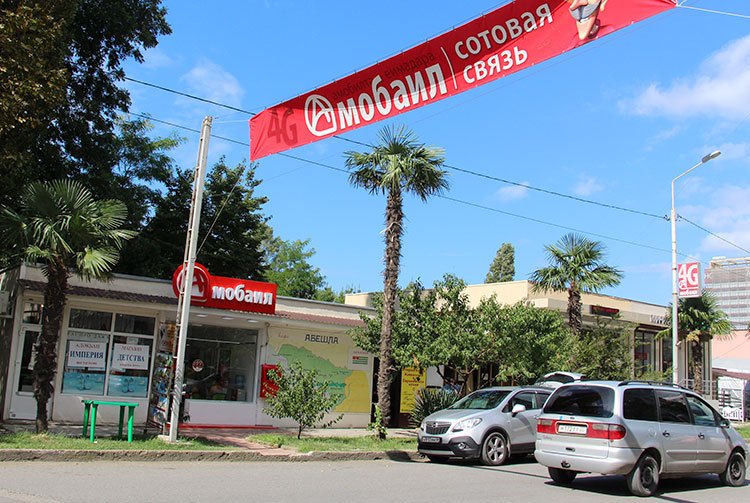 Cellular operator A-Mobile office in Gagra
Working railway station is located in New Gagra, but close to Old Gagra there is a half-abandoned platform Gagripsh, where only commuter trains stop.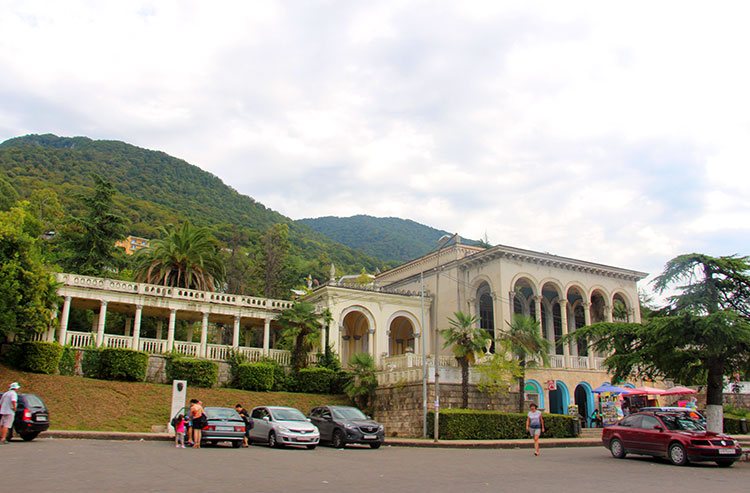 The semi-abandoned Gagripsh platform
✔ There are enough drugstores in Gagra. In any case do not forget to buy insurance in Abkhazia beforehand.
How to get to Gagra
About all ways to get to Abkhazia from various cities in Russia and Belarus, read the article on the link. But from the border with Russia / Sochi airport / Adler train station to Gagra:
By bus/taxi to the border + shuttle (70 rubles)/taxi (from 500 rubles) from the border to Gagra.
By train Adler-Gagra (during the season).
By trains from Samara, Belgorod, St.Petersburg or Moscow to Sukhum.
Group transfer – from 500 rubles/person. (by preliminary request in agency).
Individual transfer – from 2700 rubles/person (3-4 persons). To order online, click here.
Map of Gagra
Gagra resort on the map of Abkhazia:
The map of Gagra marks the main sights and other useful objects. If necessary, by clicking on the marker you can see GPS-coordinates of the point.
Authors Marina and Konstantin on vacation in Gagra, Abkhazia
We tried to highlight the main nuances of rest in Gagra in Abkhazia in 2022. Considered beaches, attractions, accommodation, entertainment, photos. Your reviews about rest at sea in Gagra can leave in comments to the article.