Seoul in 4 Days: Our itinerary, map, prices, and useful tips
Seoul is a city for which even a one-week trip won't be enough, and how do you manage to see the maximum in just four days without turning your vacation into a sprint marathon? If you think about the route in advance and prioritize your priorities, you can have a great vacation and time to get acquainted with the city. This post is about how we prepared for our trip, where we planned to go and what we saw, what maps we used and how we got around the city, and how much money we spent.
Our every trip starts at home – by browsing forums, blogs, and gathering useful information. If you are traveling with a tour group, then most likely you won't need the information that will be below, because you'll have your whole itinerary figured out for you, and you just don't need to worry about where to go. If you're planning a trip to Seoul on your own, we hope you'll find our tips helpful.
HOW TO PLAN AN ITINERARY
First of all, we start with prioritizing where we want to go and where we can go if we can. So, we decided that we definitely want to go downtown, see the main palace and Insadong Street, climb the tallest building in South Korea and spend a day in Everland.
We had no time for everything, but we wanted to see as much as possible. So we decided to write a precise itinerary to understand what day we would go where. We had never done it before, and it turned out to be very convenient.
THE WAY TO SEOUL
We departed to Seoul on May 6 from Vladivostok by S7 at 13:40 local time.

We landed in Seoul at 15:40. We arrived at the terminal, from which it is necessary to take the subway to the main terminal. It took us no more than 15 minutes to get to the main terminal.
It was very easy to get to the airport without any queues. We received our baggage at once. In total, from the time of landing to the exit of the airport, it took us no more than 30 minutes.
HOW TO GET FROM INCHEON AIRPORT TO SEOUL
If you need to get from Incheon Airport to Seoul, there is a bus that takes about an hour to the city center and stops at many popular hotels. The cost is 15,000 KRW per person.
You can take a high-speed train, which goes to the train station without stopping for 50 minutes. The cost of the trip is 8000 KRW per person.
The third way is the normal metro – it's the most economical and that's what we chose.
All three methods are described in detail on the website VisitKorea do not be lazy, read it.
NOTE that in order to buy a subway ticket at the airport you will need local money – won. We brought our VND from Russia, you can also exchange dollars at the airport, or take cash from the card.
So we chose the subway. How to get to Seoul.
There's nothing complicated or scary about it, even if it's your first time traveling. Once you get your luggage, look and follow the Airport Railroad signs and follow the arrows indicating the direction. If you get lost, do not hesitate to ask for help, Seoul people are very helpful and someone will tell you the way.
We read a very detailed description of the subway and how to get to the city in the blog"DISCOVERING KOREA TOGETHER." and we advise you to do the same. We will not focus on this, there is a lot of information on the Internet – look it up.
ABOUT THE SUBWAY IN SEOUL
As we wrote above, we got to the city by regular subway, the cost to Seoul Station (train station) was 4250 KRW per person. We didn't buy a travel card for the subway, as we didn't plan to travel super much on the subway in 4 days, we would have had to pay 5000 KRW for the cards for two people – we didn't. Every subway ride we took a new card, for which we had to pay a deposit of 500 KRW. It was returned to us at the exit. Below you'll see why we didn't spend money on the pass, as in total we went down the subway no more than 5 times. If you are planning to stay in Seoul for more than 4 days and use the Metro, it would be much more convenient and probably cheaper, since without the card each trip costs 100 KRW more.
Be sure to download the subway map app on your smartphone – mega handy thing. It works offline, shows all the stations, builds a route, calculates the cost of the trip and even tells you in what time the next train is coming. Without one of these apps, you'll be blind in the Seoul subway.
We had two of them:
и Seoul Subway downloadable here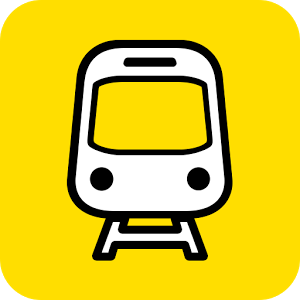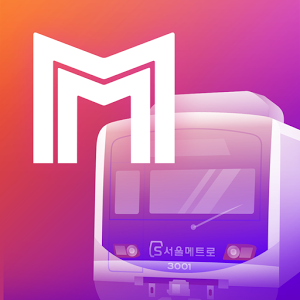 Both apps are available in English, not in Russian.
We used the SEUL METROPOLITEN app more often.
It took us about an hour to get to Seoul Station from the airport. The time flied by, we were admiring the sights outside the window, studying the subway map and making plans for the evening.
From Seoul Station we had to get to City Hall Station, next to our hotel. It was only one stop. We got off, bought a new ticket, and off we went. Note that you need to keep your travel card until the end of the trip, you need to put it to the turnstile when you exit to get off. So around 5 p.m. we were near our hotel.
KOREANA HOTEL – our hotel in Seoul
We stayed at the Koreana Hotel next to the City Hall station, which is convenient to get to every part of the city.
The hotel is in close proximity to all major attractions. You can take a tour in a bus, and we were in a bus with an open top when we arrived in Seoul at night. A few steps away from the hotel is Cheonggyecheon creek, a big street with cafes, and across the street is a huge food court. Also nearby are Toksugung Palace, Gwanghwamun Square, and Seoul's main palace, Gyeongbokgung. Within five minutes walking distance of the main shopping street Myodong . Also, the city's central market is nearby. Across the street from the hotel at City Hall Station is a shuttle bus stop to Everland Amusement Park. The airport shuttle stops right outside the hotel.
We chose the hotel because of its exceptional convenient location – to the main attractions no more than a 10 minute walk, which, as you understand, a significant savings in time and even money on the subway. The Koreana Hotel is quite an "adult" hotel, but it holds its own as a true aristocrat. Rooms are a little "tired", but clean and comfortable. For the declared 4 * hotel, everything as it should be – a mini bar, bathrobes, slippers, a bonus zany robot toilet))) and dizzying view from the 22nd floor of the room – City Hall, the N tower and the beginning of the brook Cheongcheon can be seen. The service was impeccable, just perfect. Made a late checkout without any extra charge. Breakfast is delicious, standard for 4* and a very large selection. But the main thing is not that, the main thing is the magical morning light in the cafe – we fell in love at first sight!

We booked the hotel on the official site. For 3 nights with breakfast we paid 360,000 Won. We paid by cash on checkout.
BUS TOURS IN SEOUL.
After checking into the hotel, after unpacking and grabbing a bite to eat, we went downstairs to book an evening sightseeing tour by bus. The tour sales point is right next to the hotel. The buses are next to the exit of the hotel. The landmark where to buy tickets is a small kiosk on the left hand if you stand with your back to the hotel. There is always a lot of people near it. On the booth it says BUS and something about excursions, and they will come up to you to ask what you want.
We wanted to see the beautiful Seoul in the night lights.
The cost of an hour tour 12 000 KRW per person.
To read about the tour and see the itinerary you can here The program is called D. Night course (Hight decker open-top + trolley bus).
The bus was supposed to make 11 stops during the tour, but we only stopped once at the bridge for coffee. We expected more, we thought we would take beautiful pictures of the night bridges, but alas, all we got was a photo through the window of the bus. But we went for a ride through the city, visited all the bridges, the N tower (passing through).
Would we recommend an evening tour? Yes and no. We were disappointed, as we expected more, but if you just want a ride around the city in the evening in the cheerful company of Koreans, it's quite an excellent option.
After the tour, the bus dropped us off in front of our hotel. We didn't go into the hotel, but went straight for a walk along the Cheonggyecheon creek. It is across the road from the hotel. It's beautiful! You should definitely go out in the evening.
Attractions in Seoul
Here's an overview of the best things to see and do in Seoul. What to see and where to go in South Korea's capital? I made a review of palaces, parks, museums and other interesting places.
Seoul knows how to surprise in a good way. Somehow it combines the ancient and the modern, the traditional and the futuristic in an incredible way. Personally, I didn't have that pressure feeling that you usually get in a huge metropolis. Despite its size and population (26 million people) Seoul seems quite cozy. Maybe it's the green parks and atmospheric old neighborhoods in the center.
Girls in national costumes in the street
It's not until you get to the observation deck and see high-rise buildings reaching the horizon that you realize just how big this city is.
You can hardly pass by the capital on your trip to South Korea, because most flights from Russia arrive and depart from here. So it's a good idea to take a day, or preferably two, to walk around the city. So, what to see in Seoul? I have marked all the points on the map at the end of the post.
Attractions in Seoul
Royal Palaces.
There are 5 palaces in total in Seoul, but two of them are the most popular, and they are located close by, you can walk to them.
Gyeongbokgung Palace
The most revered palace in the country because the royal family of the Joseon Dynasty lived there. Built in 1394, it was partially destroyed several times by the Japanese, but at its peak the complex had over three hundred buildings and five and a half thousand rooms.
There are free guided tours in English (11:00, 13:30, 15:30), Japanese and Chinese. The most interesting thing here, in my opinion, is the changing of the guard ceremony with music and colorful performance.
Opening hours: 09:00 – 18:30 (during the summer months, closes a little earlier at other times).
Cost: 3000 won for adults, 1500 won for children.
How to get there: Gyeongbokgung subway line 3.
Changdeokgung Palace
This is where the last monarch of South Korea lived. In the palace you can see the ancient gate, the oldest bridge in Seoul, the throne room, and the so-called secret garden, quite large in area with several thousand different trees.
Opening hours: 09:00 – 17:30 (during the summer months, closed a little earlier at other times).
Cost: 3000 won for adults, 1500 won for children. In Secret Garden: 8000/5000/4000 won for adults/retirees/children.
How to get there: Anguk subway on line 3.
Tip: If you want to visit all the palaces and save money, buy a comprehensive ticket (10,000 won). It is valid for a month and even includes a visit to the secret garden in Changdeokgung.
Bukchon Hanok Village Traditional Quarter
Between the two palaces is a neighborhood of traditional Korean houses with tiled roofs called hanok. There are more than 900 houses in the area. They are freshly built, and the neighborhood itself is very touristy, but it is interesting to walk around. The Koreans rent traditional costumes (the stores nearby are full of offers) and take pictures against the houses. You can do the same
What to see in Seoul – traditional neighborhoods
Open 24 hours a day.
Cost: free, this is part of the city.
How to get there: Anguk subway on line 3.
Jogye-sa Temple
A 14th century Buddhist temple famous for its huge wooden hall, the largest in Seoul.
Open 24 hours a day.
How to get there: Anguk subway on line 3.
Cheong-gye-cheon Stream
A good place to take a walk right in the historic center of the city. The creek bed is turned into a mini park with all the infrastructure, paths and fountains.
How to get there: Gwanghwamun subway on line 5.
N Seoul Tower and Namsan Park
Enjoying the views of the city from the 236m high N Seoul Tower is a great idea! Plus, there are several restaurants here. You don't need to go up the tower itself though since it's already on a hill and the views are great. Plus you can save almost $10.
Cost: Admission: 10,000/8,000 won for adults/children
How to get there: Shuttle buses number 3 and 5 from Namdaemun Market.
Seoul City Hall
The new city hall building was built not long ago next to the old one and literally embodies Seoul's desire to be environmentally friendly. While it is true that servants of the people do work here, ordinary people can enter, and the atmosphere inside makes it easy to spend time in comfort. In January and February, the largest public outdoor ice rink in Seoul opens next to City Hall, so you can have fun and go skating.
Old and New City Hall
Opening hours: 07:30 – 18:00 (during the summer months, closes a little earlier during the rest of the time).
How to get there: City Hall subway line 1 or 2.
Myeongdong Market Street
One of the most famous neighborhoods in the capital, both locals and tourists, where life is boiling! There are several shopping malls (with plenty of quality and cheap stuff to choose from), lots of stands with street food, cafes, restaurants…
Getting there: Subway Myeongdong.
Dongdaemun Design Plaza (DDP)
A futuristic building in a popular shopping district of the city. Designed by renowned architect Zaha Hadid. If you walk around the building, you will find artificial flowers, which coolly light up in the evening, the sight is fascinating!
Seoul sights – Dongdaemun Design Plaza
Seoul Forest Park
A small but pleasant park in the city center where you can picnic, rent a bike, and feed deer by hand.
Open 24 hours a day.
How to get there: Seoul Forest subway line 2.
Olympic Park
The largest park in Seoul that was built for the 1988 Olympics. In addition to the traditional greenery, you can see a modern art gallery and two historical museums.
Open 24 hours a day.
Getting there: Take the Olympic Park Subway on line 5 or the Mongchontoseong Station on line 8.
Gangnam District
Seoul's most populous neighborhood, and the one dedicated to it by Korean singer PSY, which attracted millions of views on YouTube several years ago. Chic hotels, bars, restaurants known throughout the country, and the offices of major corporations are all here.
Getting there: Gangnam, Samseong subway line 2.
COEX Aquarium
The capital's largest aquarium located at the COEX Shopping Mall. See fish and sea creatures from around the world: sharks, stingrays, piranhas and more.
Opening hours: 10:00-20:00
Cost: All day ticket 28000/25000/22000 won for adults/teenagers 13-18 yrs/children 3-12 yrs
Getting there: Samseong subway line 2.
Lotte World Amusement Park
The largest indoor amusement park in the world with museums, an ice skating rink, a huge shopping mall and a hotel. Children will like it best here as there are almost no extreme attractions.
Where to go in Seoul? Lotte World
Open: 09:30-22:00
Price: all-day ticket 52000/45000/41000/13000 won for adults/teenagers/kids/toddlers
Getting there: Jamsil subway line 2 or 8.
Everland Extreme Park.
But if you want to tickle your nerves, go to Everland. It is better to choose a weekday, because at the weekend the park is visited by citizens and there is no crowd here. The entire complex is divided into five thematic zones, there is also a water park, a zoo and a safari.
Opening hours: 10:00-21:00 (may change)
Cost: full-day ticket 54000/43000 won for adults/children
How to get there: bus 5002 from Gangnam Subway Station, bus 5700 from Gangbyeon Subway Station, shuttle buses passing through Myeong-dong Station (Exit 2) and Dongdaemun History & Culture Park (Exit 11).
Bukhansan National Park
Koreans love hiking, short and long hikes in the mountains, but without backpacks (as opposed to trekking). This national park north of the capital offers all the conditions for hiking; take comfortable shoes and clothes, plenty of water, and go exploring different trails, stumbling upon old city walls and Buddhist temples along the way.
Opening hours: 09:00 – 15:00 (April to November), 10 a.m. in winter
Getting there: Bus 1020, 7022, 7212
Where to go and what else to do in Seoul?
Visit a Korean sauna like Dragon Hill Spa near the train station. You can spend the night here as well as in many similar establishments, and it will be cheaper than staying overnight in a hotel.
Cycle along the Han River. Automated bike rental outlets are common.
Gateway in the city center
Bonus: this view shows many of the places I talked about in the post:
Sightseeing in Seoul on a map
Marked the sights of Seoul on a google map
Use it and recommend to friends:
Best sites for travelers
✓Travelata.ru – Find the best tours from 120 reliable tour operators. ✓Bolshaya Strana – service for booking unusual travels in Russia. Excursions, hikes, rafting, expeditions, cruises and much more! 1000 tours and 56 regions. Yandex.Travel – hotel search engine in Russia and worldwide. Compares prices on many booking systems, finding the best. Until July 22, get up to 30% cashback with PLUS points. ✓Ostrovok – a major hotel search engine. Has its own loyalty program. ✓Tripster – over 4000+ unique excursions in 500+ cities from locals. ✓Aviasales.ru – search and compare airfares among 100 agencies and 728 airlines. ✓Cruise.Online – all river cruises in Russia in one place. ✓Tutu.ru – tickets for trains, buses and planes, as well as hotel reservations. The service has many cool "features". For example, booking a ticket for one ruble. ✓Comparison.ru – travel insurance online for traveling in Russia and around the world. Rate this article: