Polish Cuisine
If you're tired of the usual cutlets, then it's time to try making zrazy. Today I will tell you how to cook potato zrazy with minced meat. Added:
New Year's Cake "Forest Moss" 4.6 10
There is such a cute cake in Polish cuisine, it is very easy to make and will be perfect for the New Year's table! Decorate it with berries, flowers made of mastic and make the sweet tooth happy! Added:
Warsaw Apple Pie 4.2 6
"Warsaw" apple pie is very easy to make. You don't even need to knead the dough for it! The dough is a dry mixture of flour, sugar, and semolina. The pie is juicy and delicious!
Polish apple pie 4.6 6
If you like doughy pastries, I highly recommend trying the Polish apple pie! Tender apple filling with a slight sourness of lemon and crumbly dough. Delicious and flavorful! Added by:
Polish roll 5.0 6
A recipe for lovers of unsweetened shortbread. We'll make Polish rolls with sauerkraut filling.
Zurek 4.0 5
Zurek is the Polish national soup. It is traditionally made at Easter, but it is so delicious that I make it much more often and on different occasions. So here's a real recipe for zhurek according to Polish tradition! Added by:
Polish Meat 5.0 5
Want a hearty and tasty lunch? Then I advise you to use my recipe how to cook Polish meat! This dish is not distinguished by its complexity, so feel free to start cooking. My tip! .
Carpathian Cake with Custard 3.7 5
A delicious cake from Polish cuisine, light and tender. The basis of the cake is an airy custard dough and the cream is milky custard with a vanilla flavor. Shall we taste it?
Poniatowski Rice 3.4 3
Wonderful and very easy dish to cook! Poniatowski" rice is almost a classic risotto with vegetables, mushrooms and cheese. Suitable as lunch or a light dinner.
Bigos 4.4 2
A classic recipe for a traditional Polish and Lithuanian dish… more.
Polish-style rassolnik 4.5 2
Creamy, velvety, moderately sour and very tasty soup from Polish cuisine. We know the name of this soup very well, but the preparation of Polish rassolnik is slightly different. Try it, you will like it!
Polish Tongue 5.0 2
Today let's cook Polish-style tongue. Boiled tongue in a sweet and sour sauce according to an old Polish recipe is made quite simply, but thanks to the sauce, a familiar dish will sound in a new way. Added:
Polish Pork 3.7 1
Pork has always held a place of honor in Polish cuisine, so traditional Polish dishes have always been a bit caloric, but they are so tasty and hearty that it's hard to refuse them. Added:
Bigus with stew 4.7 1
This economical option for making bougous will not only pleasantly surprise you with its great taste, but also allow you to nourish the whole family, so be sure to take note of it. Added by:
Polish Sauce 4.4 1
To all lovers of simple and appetizing sauces, I would like to suggest to take note of an interesting variant of sauce to fish. Even a novice cook will have no trouble repeating it, so remember the recipe for a delicious sauce. Added:
Bigos Polish 4.3 1
Do you like to try new and interesting dishes? If you happen to have many different kinds of meat delicatessen and a cabbage, then feel free to memorize the recipe and repeat it at home. . more
Gospodarski flaki 3.0 1
Well-known Polish dish proving once again that anything can be cooked well. Beef tripe, spicy herbs and a little patience, and you have a nice, thick soup! more
Salad "Miseria" 4.4
Salad popular in Poland. In Latin it is translated as "Poor". Added by: Vasiliok 09.01.2013
Corn Casserole 3.5
Corn casserole recipe. Added by:
Radish with cilantro sauce 3.8
This appetizer is suitable for people who adhere to a healthy diet and vegetarians. The highlight of this recipe, of course, is the sauce. Check out the recipe!
Baked Apples with Vanilla and Nuts 4.6
A recipe for baked apples filled with sugar, butter and roasted pecans. This easy dessert can be served with vanilla ice cream and ginger cookies. Added:
Quince Flip Pie 2.8
Recipe for making flipped quince flavor pie. . more
Bigus with duck 3.2
It's not just delicious but truly royal – the ingredients are so perfectly combined and the flavour is so rich that you can't help but fall for this duck bigus… more
Autumn Apple Pie with Blackberries 3.9
Recipe for apple blackberry tart decorated with autumnal pastry leaves… more
Pumpkin and bean stew 3.7
Recipe for a stew of pumpkin, bell peppers, lamb's peas, tomatoes and beans. Added:
Chicken zrazy 4.4
Chicken zrazy recipe – cooking a meat dish with vegetables and spices. Zrazy are peculiar cutlets with stuffing that are very popular in Poland, Lithuania, Belarus and Ukraine. Added by: Cuoco on 15.02.2011
Kołacz 4.6
Kolacz is a yeast dough pie with a sweet curd filling. Added by: Povarfan on 05/30/2011
Polish Bigos 4.5
Recipe for Polish bigos made of cabbage with mushrooms, prunes, meat and sausages. Added by: Povarfan 18.05.2011
Polish Sausages 3.8
Recipe for Polish sausages. Added: Povarfan 16.05.2011
Beef patties Warsaw-style 3.7
Recipe for cooking beef zrazy Warsaw-style. In the process of cooking, the dish turns out very tasty meat rolls.
Sauce with cabbage stew 4.1
Recipe for "Sauce Cabbage". One of the many recipes for sauteed cabbage, the dish is tangy and delicious. Added:
Buckwheat Zrazy with cottage cheese 3.6
A recipe for buckwheat zrazy with cottage cheese. This dish is for people who appreciate a healthy diet. Many countries position buckwheat with a special dietary product. Added:
Polish Fish 3.8
Polish fish is a light dish of boiled white fish in a special sauce made with eggs, herbs and butter.
Lentil salad with smoked fish 5.0
Lentil salad with smoked fish is a very hearty salad with a smoked-sour flavor that's very popular in Polish national cuisine. I share the recipe with photos. Added:
Polish Kulicz 4.2.
Today I'm going to tell you how to make Polish Kulicz, a traditional Polish Easter pastry. I don't know if this is really how Poles make kulicz, but it is delicious.
Polish Cod 4.4
Sometimes you want simple food, but exquisite, and unpretentious, but not ordinary, and not spicy, but not stale. Does that happen to you? How do you reconcile the almost incompatible? Very simple! I share a recipe!
lasanki 4.6.
Lasanki is a national dish of three countries – Poland, Lithuania, and Belarus. Historically, these three countries used to be one country. We are going to cook lasanki in the easiest recipe.
Potato ravioli with meat 4.6
Potato zrazy with meat is a hearty dish that is native to several countries. It is not the only dish that is shared by Poland, Lithuania, Belarus and Ukraine. Shall we cook?
Added by: Gertruda on 26.07.2013
Sauerkraut with Sausage 4.8
If you are looking for a simple, hearty and tasty dish, then do not pass by and pay attention to this option, how to cook braised cabbage with sausage. A terrific recipe to take note of … more
Bigos with sauerkraut 3.5
Bigos made with sauerkraut is a very tasty and filling dish. Usually it is cooked from the usual fresh cabbage, but in its absence, I tried to prepare bigos from sauerkraut – it turned out not a bit worse. Added:
Confirm deletion of recipe
You cannot cancel this action.
You may vote for only 1 recipe. Are you sure you want to vote for this recipe?
About Polish Cuisine
Polish cuisine is a culinary tradition close to Russian cuisine. It has evolved over many centuries under the influence of various historical circumstances. For the long history Polish people have managed to intertwine with many other nations of Central and Eastern Europe whose influence can be felt in the present Polish traditional cuisine. Besides Slavs and Central Europeans, Polish cuisine was also influenced by the French, Italians and Jews.
Polish cuisine is marked by the extensive use of meat (pork, chicken and beef are popular, depending on the region) and vegetables (especially cabbage and potatoes). Polish cuisine also makes a lot of use of cereals, from which Poles prepare dumplings, many porridges, baked bread. Besides that, eggs and dairy products play an important role in the Polish diet. Polish cuisine in general is very substantial and usually quite fatty.
Most traditional Polish dishes are not easy to prepare. Poles, like many other Eastern European nations, spare no time and prepare quite complicated traditional dishes. And the festive (Christmas, Easter, etc.) dishes are sometimes prepared for several days.
Traditionally, the main meal in Poland is lunch, which falls around 2 o'clock in the afternoon. Lunch consists of three courses. The first course, like in Russia, is always soup – it is usually a well known to us rassolnik, tomato soup, beet borscht or a more festive zhurek. Together with the soup we usually serve some kind of snack (it is also a tradition typical for Ukrainian cuisine): chopped vegetables, bacon, herring, cured meat etc.
The main course of the Polish dinner table almost always includes meat. Poles prepare meat in a wide variety of ways: fry, stew with vegetables and sauces, bake, mince and roast meat into cutlets and meatballs, make sausages and frankfurters. The garnish to the meat dishes is usually boiled potatoes or some kind of cereal porridge.
The dinner meal ends with dessert. The most popular Polish desserts are poppy seed cakes, yeast cakes and various cakes with fillings.
It is important to emphasize that modern Polish cuisine is not homogeneous; it varies from region to region. So, in the north-east regions of Poland are very popular Lithuanian dishes, in the East – Russian, Belarusian and Ukrainian, in the West – German and Austrian, in the South – Czech and Slovak.
It is difficult to single out the most popular Polish traditional dishes, because, as it was mentioned above, different regions of Poland eat in absolutely different ways. Nevertheless, traditional Polish specialties are considered to be: beet borscht, cholodnik (cold borscht with kefir), zhurek (soup with sausage and egg), dumplings with various fillings, bigos (stewed sauerkraut with meat), pork cutlets, holonka (braised pork knuckle), cabbage rolls, goulash, zrazy, kopitka (potato zrazy in the shape of a hoof), makowiec (poppy cake) and syrnik (Polish curd cake).
There is no dominant drink in Polish cuisine. Depending on the occasion and the region, Poles prefer vodka, beer, wine or various infusions, of non-alcoholic beverages – tea, juices, compotes and coffee.
Polish Cuisine – 67 Delicious Home Cooking Recipes
Polish cuisine is nourishing and nutritious. It was most influenced by Jewish immigrants – that's how stuffed fish and goose fat as dressing appeared. And also the neighboring Czechs – so the diet was diversified with meat products. Read more…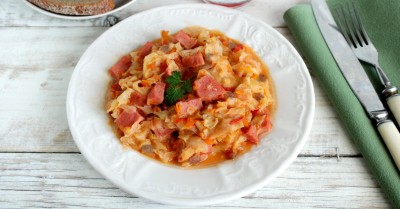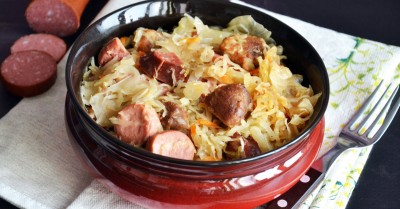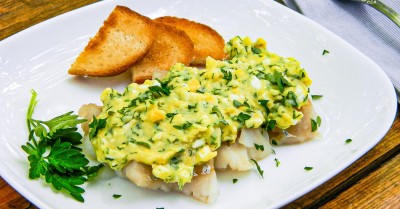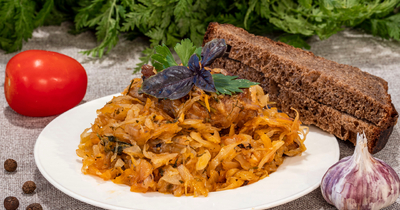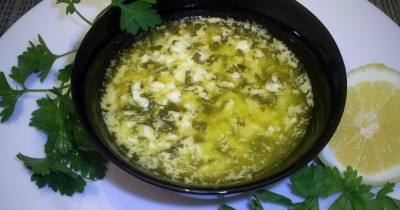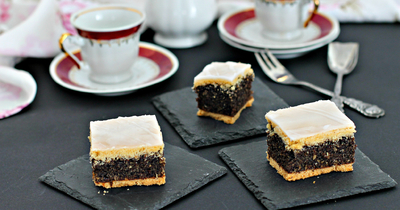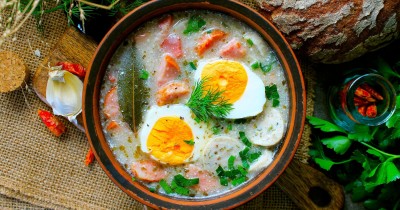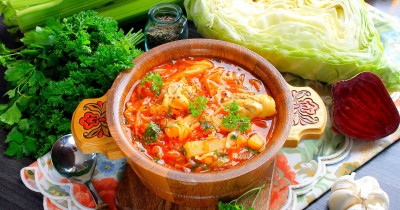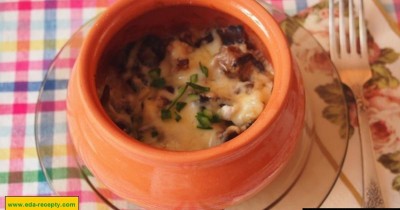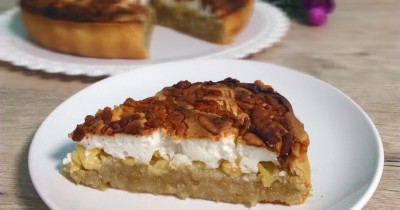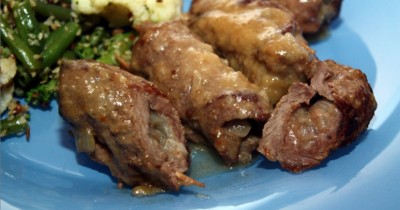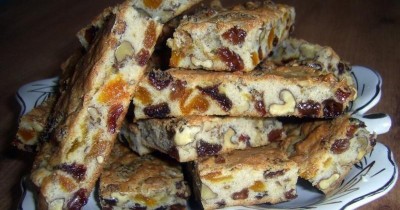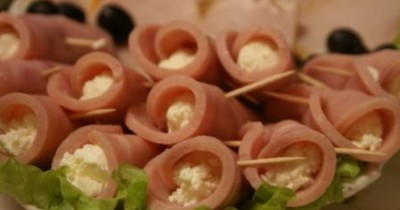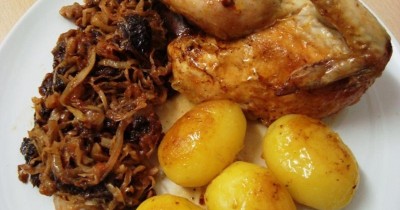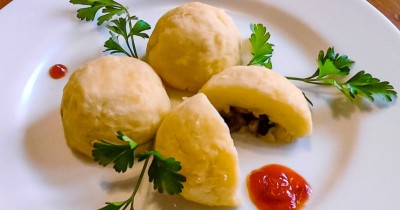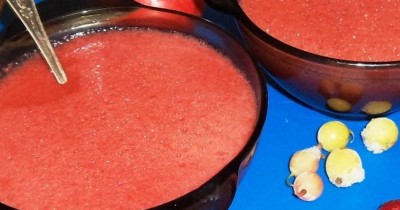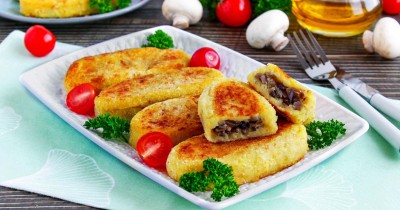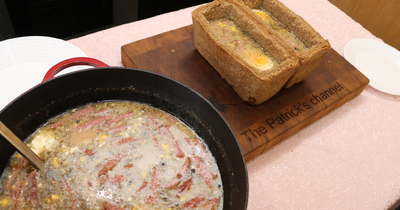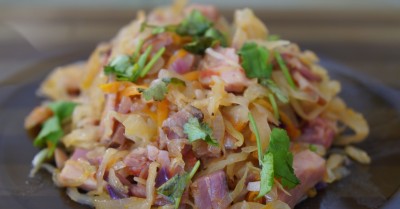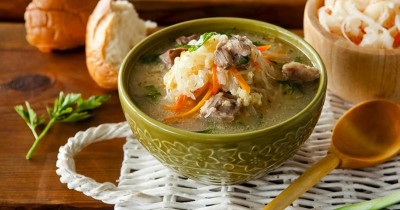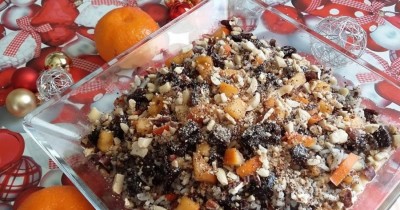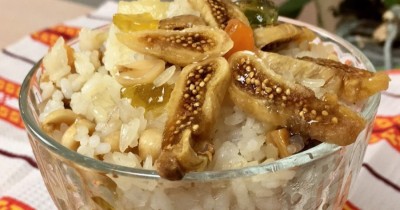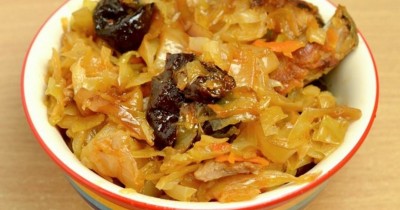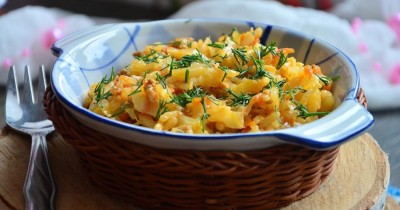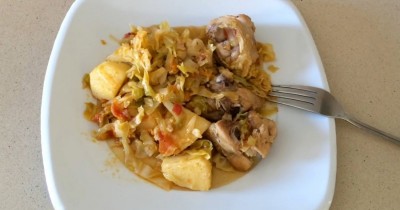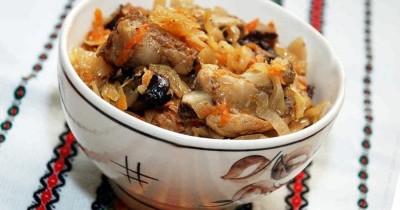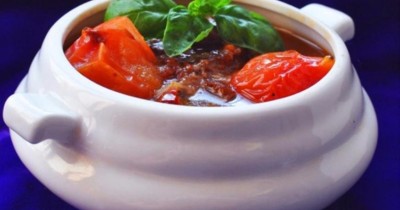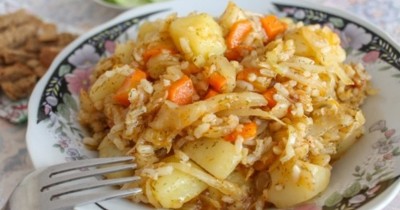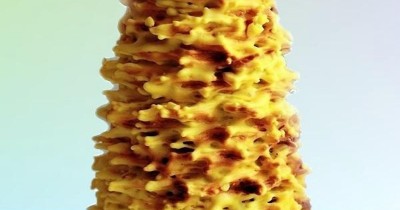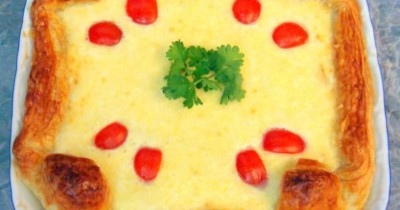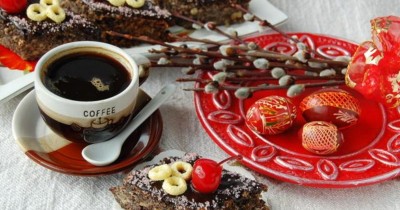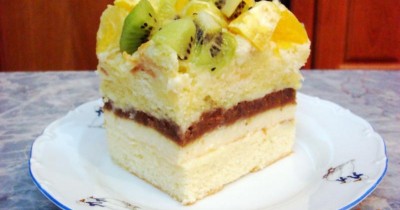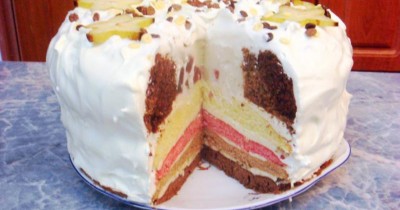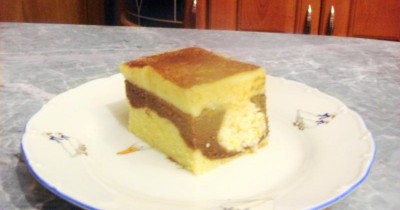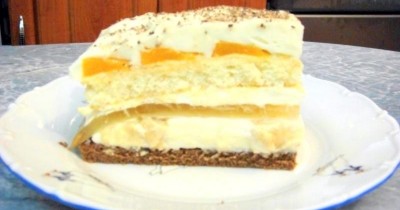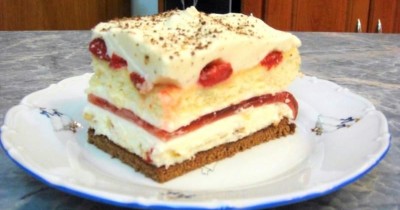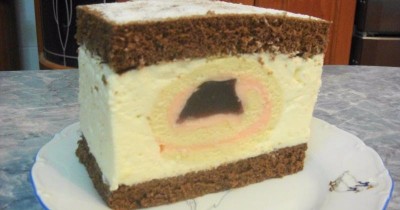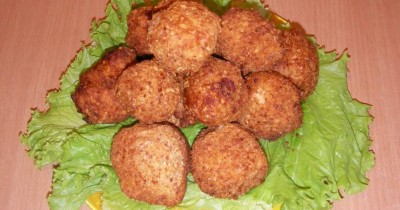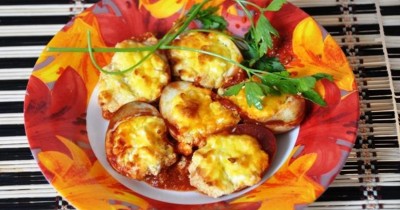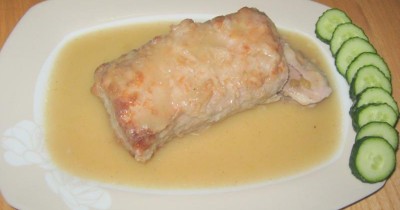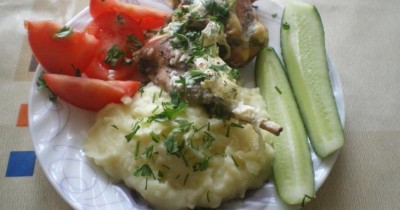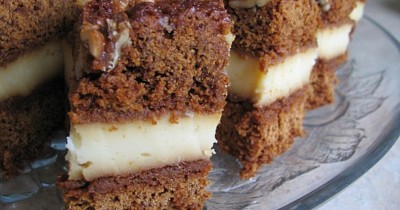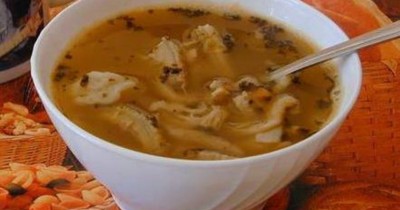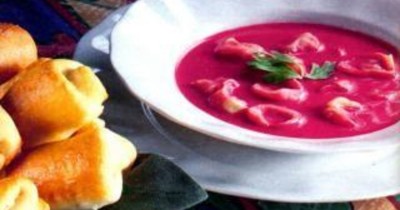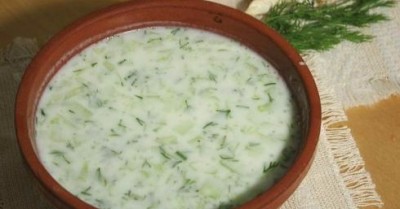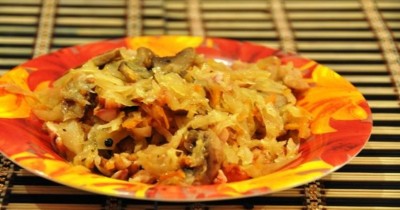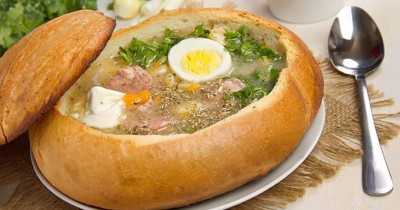 Polish Cuisine
By the way – beloved by Slavs stuffed cabbage rolls are an invention of Polish housewives. Recipes of Polish cuisine are interesting with a variety of soups and first courses. Hot or cold, you can learn to cook them yourself if you wish. 1) Czernina – chowder based on goose, duck or pig blood with giblets. The history of this dish is interesting: the girls cooked this soup to refuse the boyfriend in marriage matchmaking. This is an analogue of the Ukrainian pumpkin. And the groomsmen won't be offended, because it's a very tasty treat. 2) White borscht is a really light color. The basis: a sourdough of rye flour, marjoram and a lot of sour cream. The list is not complete, but in general the soup has a lot of meat, cereals, tripe, chopped sausages, spices. There are also boiled eggs, souring products, and herbs. From such a nourishing meal and not long and get fat. The secret of having a normal body mass index is that Poles consume only small amounts of calories. Certainly, portions in restaurants in Warsaw are big enough but if you are a guest of a native you can see on your plate breakfast with two thin sausages and one egg. This is a European moderation in consumption that one should not fail to adopt.