Vinsky forum
Surfing in Mexico. Puerto Escondido and more!
Surfing in Mexico: impressions and reports from people who been in Mexico. Mexico reviews. Holidays in Mexico reviews. Cancun reviews. Cozumel reviews
This forum is currently viewed by: no registered users and guests: 2
Liked:
Surfing in Mexico. Puerto Escondido and more!
Abrukudubra " 18 Jun 2013, 10:16
My girlfriend and I have long been choosing where to travel for 3 months. Mexico or Indonesia? The choice, as you have already realized, settled on Mexico. This particular country allows you to surf, travel to the most interesting places, and all this is not particularly expensive. So, took the tickets 2 months before departure for 28000 Moscow-Mexico-Moscow with a connection in Paris.
Arrived in Mexico City. The flight was not easy for us, although the change was only an hour and a half. Nevertheless, we decided to walk from the airport to the hostel. With minimal knowledge of Spanish we took the subway to the hostel. The subway seemed very confusing. Long and incomprehensible transfers. We spent three days in Mexico City. We got there just in time for Easter. So every night there were fiestas, however, as it turned out later, the same situation all over Mexico, not only on holidays. Although during Easter in Mexico City, there were especially loud festivities. Mexico City is a very large city, so of course, there are enough interesting things there. For example, the Museum of Anthropology, which collected exhibits describing the history of the whole of Mexico, the house-museum of Frida Kahlo – the famous Mexican artist with a difficult fate (by the way, find the movie "Frida", which is just about her), and of course the pyramids Teotihuacan. In general, you are sure to learn a lot of interesting things in Mexico City! By the way, the pyramids of Teotihuacan did not give me the impression I expected. very noisy, a lot of people, souvenir vendors everywhere. All this kills the real atmosphere of the place.
Our next stop was Oaxaca de Juarez, the capital of the state of Oaxaca. I'll note right away that all the transfers were easy. Buses of ADO and OCC, etc. probably go through all cities in the country. Bus service is regular, prices are reasonable. There is a division of service levels: ADO platinum – the most expensive and coolest, with more space per person, ultra-comfortable seats, coffee and snacks. In short, luxury. Slightly simpler ADO gold. Even easier OCC and just ADO – we traveled with them all the time, there were no problems and inconveniences. Everything you need is there. There are also economy buses like SUR. They'll do, too, if you don't travel long (2-3 hours).
Oaxaca. The city is big and many people praise it. But in our opinion the city was boring and monotonous – all the streets in the center are exactly the same: walk down one street in the center, you can not walk down the other, nothing new. From myself I recommend to go up to the planetarium – nice view on the city. Try Pollo en mole – a local culinary pride, chicken in chocolate-nut sauce. It's native to Oaxaca, but it's common throughout Mexico. So you can try it elsewhere). In Oaxaca we had enough for two days. We took a bus ticket and drove to Puerto Escondido. A very important note! If you go from Oaxaca to Puerto Escondido, be sure to check the route. Our bus went through Salina Cruz for 12 hours on a serpentine road! If you take the normal route, it would take half as long. Oh, yes! We missed a lot of Oaxaca because we didn't go to the most important thing! The ruins of Monte Alban. Subsequently, very sorry, everyone said it was a wonderful place.
Puerto Escondido. We spent 2 months here, surfing and learning Spanish. In my opinion it is a beautiful place. It is a small town, but not exactly a village. It is considered one of the best places for surfing, not only in Mexico but in the world. From late May to November there are very big waves! If you don't surf, there is not much to do here for 2 months. The whole town is a beach. Outside the city are wild, empty, beautiful beaches. Almost everywhere and always waves, which will not allow you to enjoy a quiet splash in the ocean. Just to swim can be at Playa Municipal (relatively dirty beach), Playa Angelito (many locals) and Carrizalillo (very beautiful, but usually there are waves, although for just swimming too okay). Puerto Escondido has 2 tourist streets: Alfonso Perez Gasga and Zicatella. In addition, a lot of tourists stay in the area of La Punta, but it is far from the main life of the city. Puerto will not bore you with crowds of tourists, the city is quiet enough. Criminal activity did not occur once in 2 months. Prices relative to the country are not high. Lots of hotels – no problems with accommodation should not be a problem. There are a lot of bars in the tourist streets, but there are always a few people there. If you are looking for more or less partying, you should go to bar Caballa or BarFly on Zikatelle or Congo on Alfonso Perez Gasga. Of the interesting places nearby, we should mention the lagoons of Chacagua and Ventanía, which can be reached by car or through a travel agency by bus. The Chacagua Lagoon is larger and more diverse, and if you are lucky with the weather, you can also go surfing there! Within the city limits, be sure to find the cliff path along the shore from Playa Municipal – very beautiful and romantic! And we also recommend going to the beaches outside the city limits where you can be alone with the ocean! By the way, you can rent a moped or a car for short periods at local travel agencies. Car 800 pesos a day, a moped about 400 per day. If you want to surf, you can rent a board at Oasis surf school on Boulevard Benito Juarez. This is where we rented boards and learned Spanish. The best waves for beginners are on Carrizalillo beach. The more experienced ones can go to La Punta. On Zicatela beach only cool surfers surf – the waves are too dangerous. Our 2 months in Puerto Escondido flew by very quickly, and we went nomadic through the cities of Mexico. As a bonus, I'm pasting a video we made in Puerto. If you need any advice, I'd be happy to help!)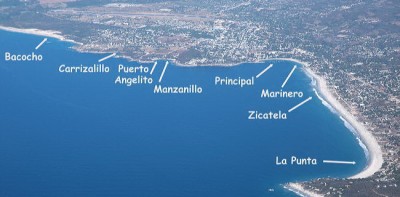 Attachments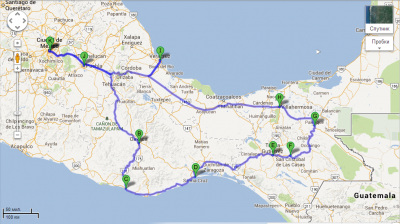 Map of the beaches of Puerto Escondido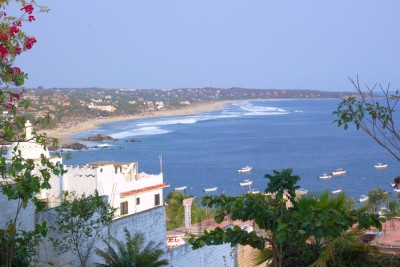 Our next itinerary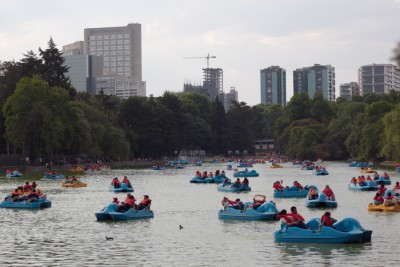 Puerto Escondido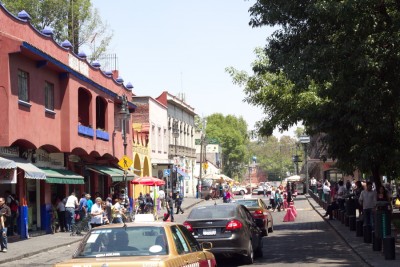 Mexico City. Chapultepec Park.
Puerto Escondido: Mexico's Pacific beaches
What is the beauty of free travel, you ask? And I'll answer: the fact that you can make spontaneous decisions. There's no maximum plan or minimum plan that if you don't follow it, you'll be biting your elbows for the remaining six months until your next vacation.
As we and Andrewsiks are those free travelers (at least we like to think so), we decided to drop in for a week in the coastal town of Puerto Escondido (Pueto Escondido).
The beaches of Puerto Escondido: Carisalillo, Puerto Angelito, Manzanillo, Principal, Marinero and Sicatela
No, I'm still being a bit sly, for all things random are not random. That zigzag was our last chance to see the Pacific Ocean in Mexico . How could we miss it?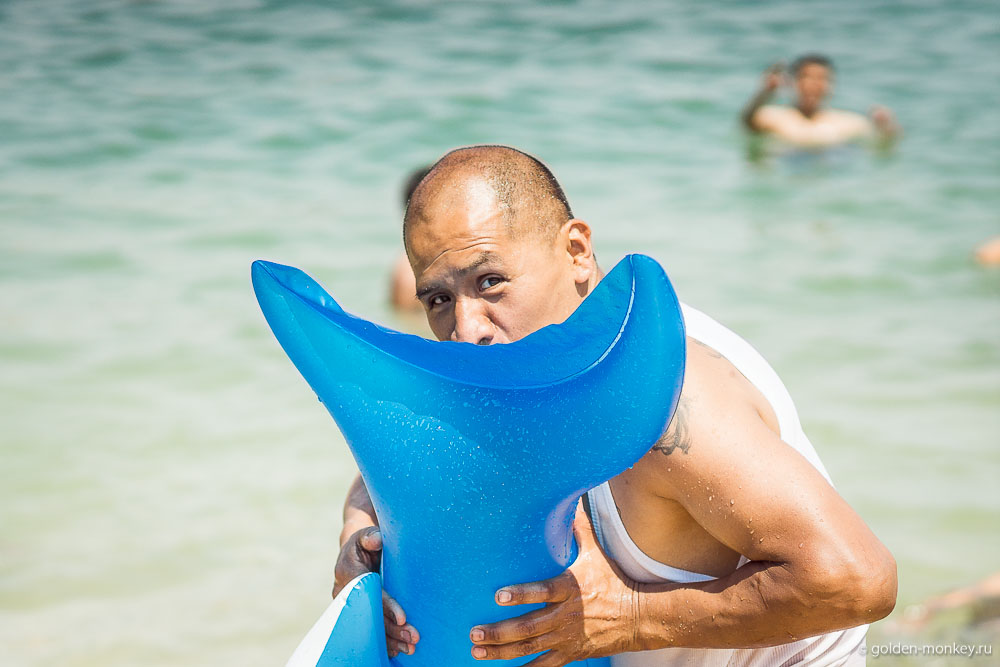 We thought about this meeting much earlier, when we wanted to lie on the beaches of Acapulco, but they somehow did not work: it seemed that all too expensive, and it was not on the way. Although we were invited there by a nice guy named Christopher. I met him in Queretaro, where he studies and lives in Acapulco. It's a pity that our plans didn't match up a bit. Anyway, we passed by.
But you know that Mexico is a hot country. The soul quietly and unobtrusively, but asked for the waters of the great seas and oceans. A stopover in Veracruz didn't help at all to satisfy that desire. I do not know what we expected from the beaches of the port city. Although, there was one good thing – we got to see the Gulf of Mexico.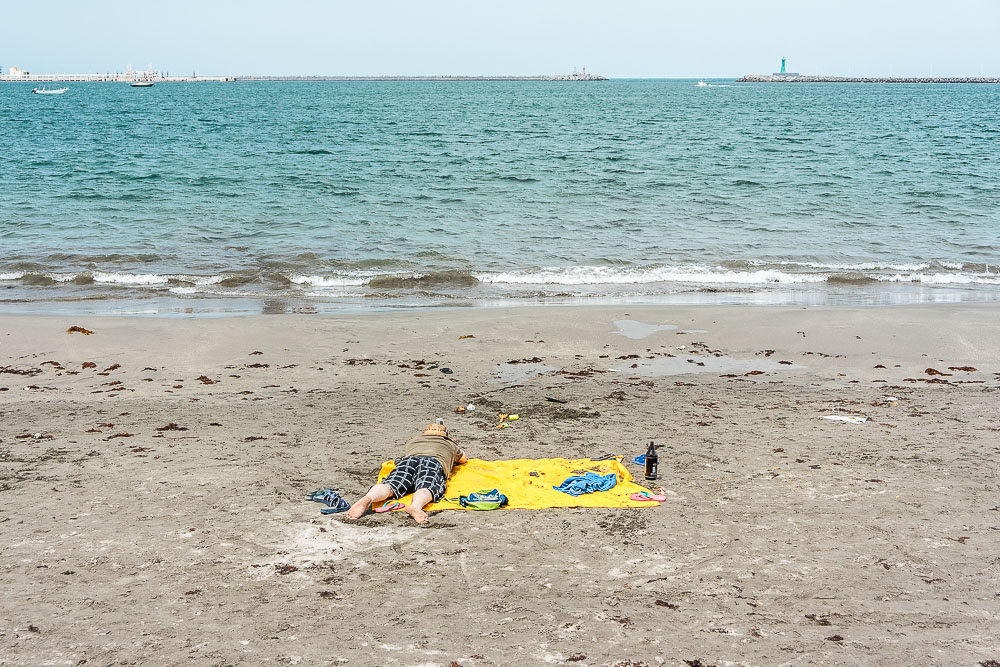 After Veracruz, the coast of Puerto Escondido seemed like heaven! Neither in Thailand's Ko Chang, nor in Cambodia's Sihanoukville, I have not seen anything like that. If you add the beaches of nearby Puerto Angel and the surrounding area, you get the most beautiful set. To be honest, even Cancun was less impressive. But more about that later.
For now, Puerto Escondido. There are many beaches here, we visited six. The trick is that they are all different. Yes, yes! Some look like each other more, others less, but each has its own face and character.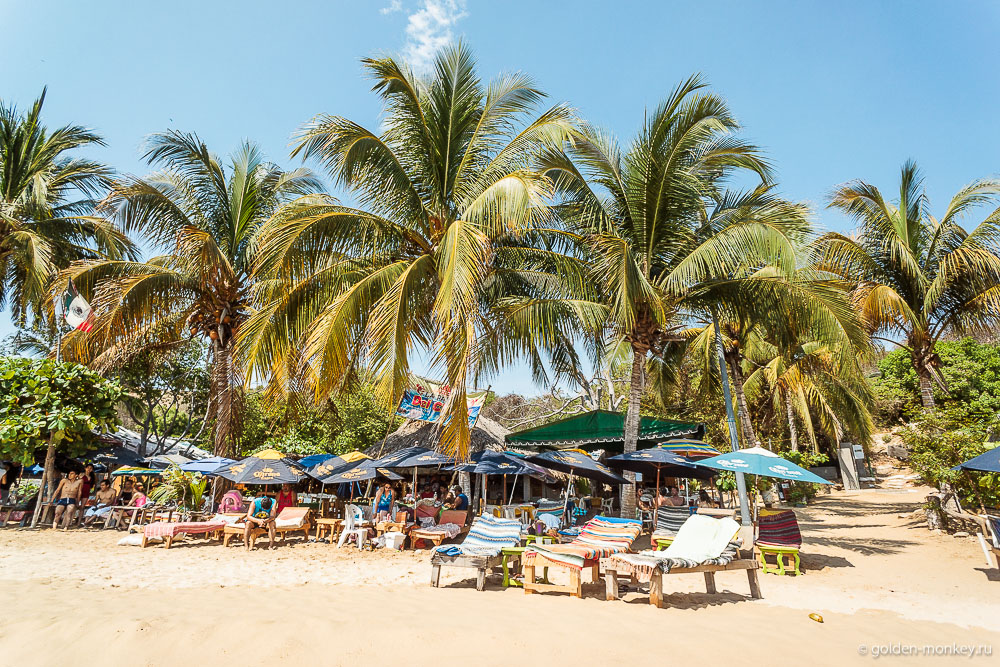 Okay, enough general phrases, put on your traje de baño (that's not a swear word, that's the Spanish word for a bathing suit) and let's go swimming in the Pacific Ocean.
Carrisalillo Beach.
I don't know about you, but we don't look for easy ways, so we head straight to the furthest beach. This means that before we dive in, we have to walk under the scorching sun through a tourist alley with cafes, restaurants, souvenir stalls and stores. A classic of the genre, so to speak.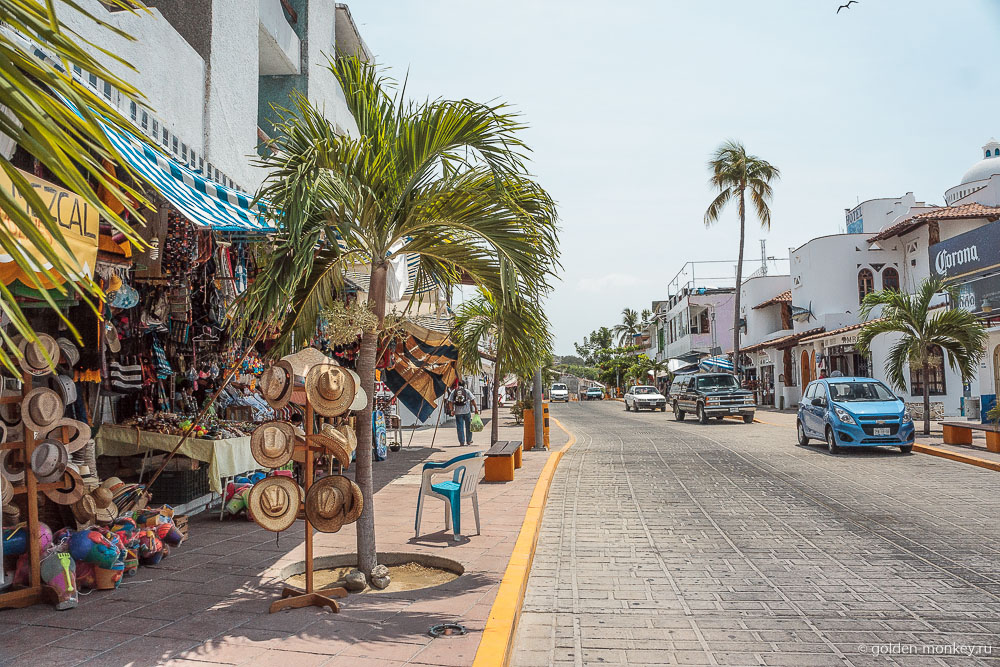 The people here are kind of uncommunicative and not very smiling. Maybe they are tired of tourists, or it's just hot and everyone sleeps. We were half dead ourselves. It is hard to stand the 35-degree heat. The sun scorches mercilessly, the humidity is wild, no shade saves. The tej de baño instantly sticks to the body.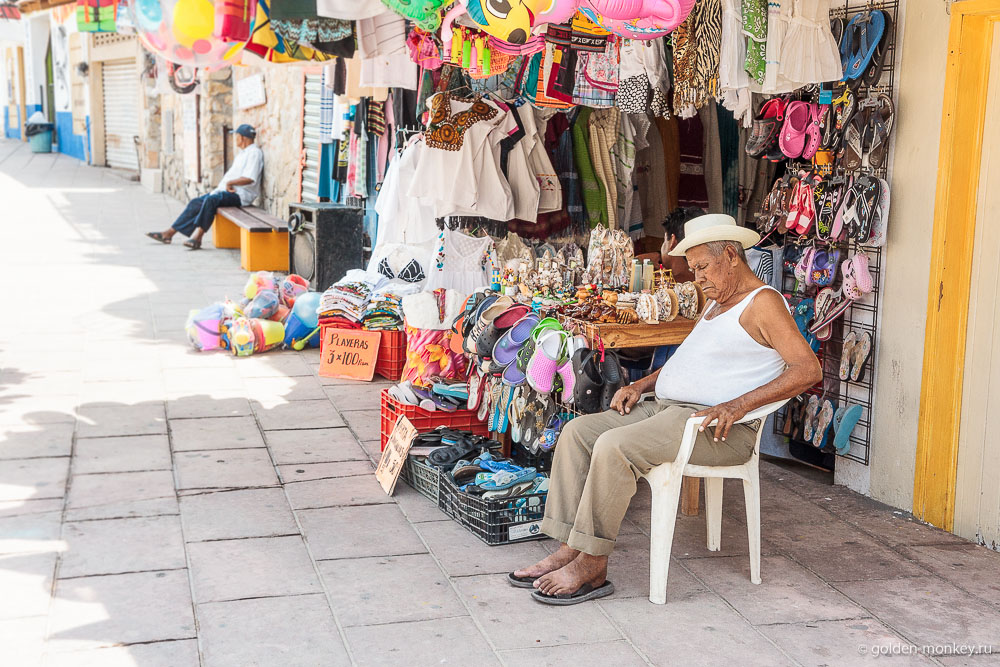 I had to rush to the water! Playa Carrizalillo is the furthest beach from the city center. That's where we have to go. Uff!
If you get too lazy, you can take a cab or public transportation, and we love walking. So what if it's hot, at least a lot of enthusiasm )).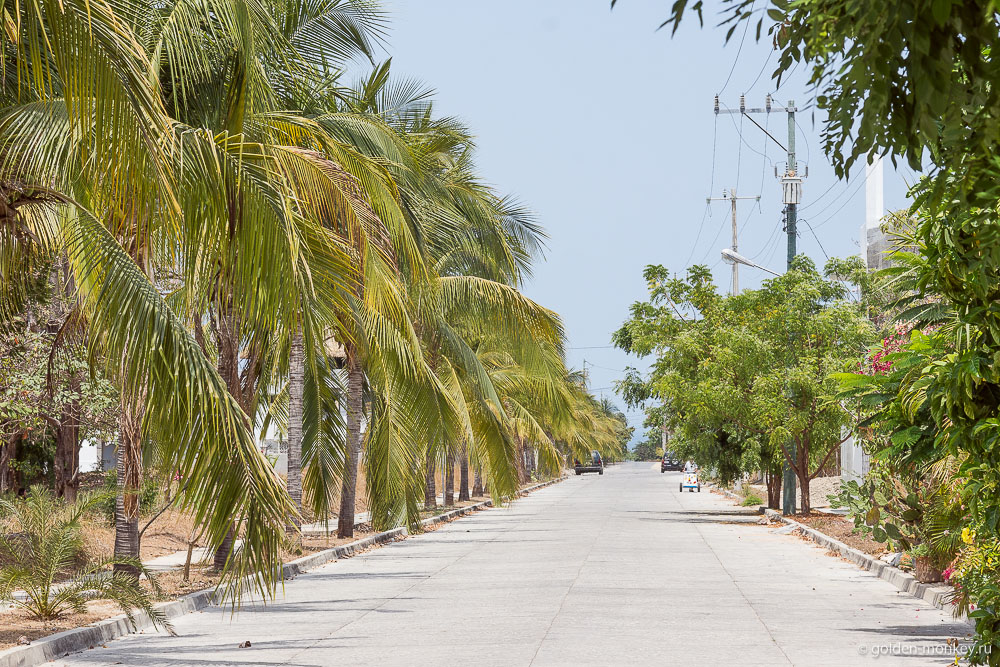 The sign "Playa Carrizalillo" is there, so we are on the right track. A little more and we see the stairs, running downhill, right where the ocean murmurs. A few steps and… wow!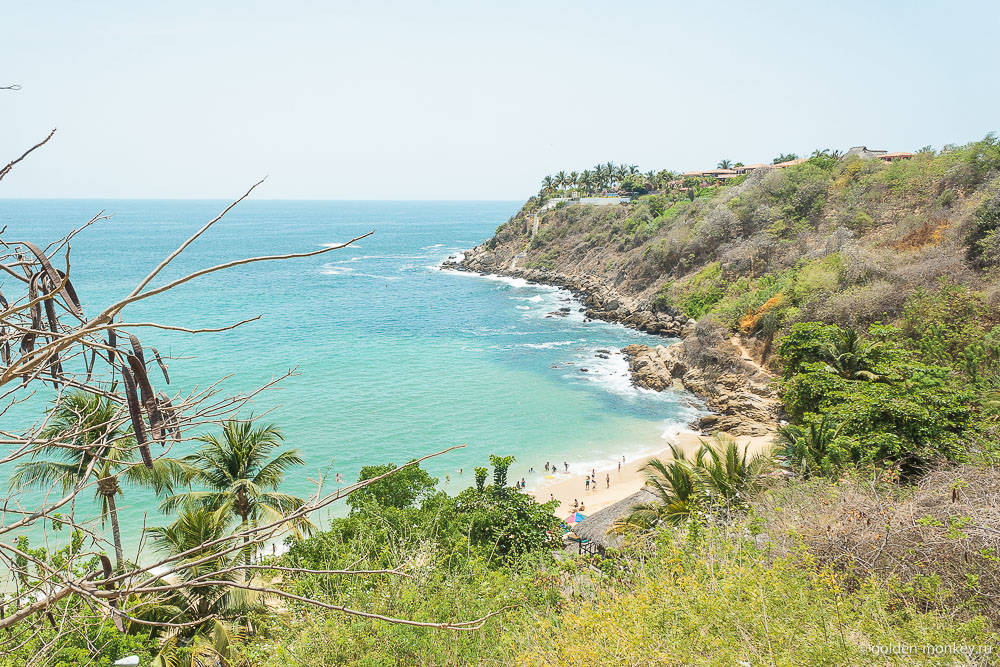 And then the steps, and then some more, and then some more. And the realization that I would have to climb up them later, but that's not important right now. The important thing now is to plunge into the water. It's so inviting, isn't it? The thought flashed through my head that we were in heaven. I had no idea it would be so cool.
– I need a place to put my backpack. – Yeah, there's the sun loungers. Let's go put it out in plain sight, or someone will steal my camera or my wallet.
We've learned from the Vietnamese that we're afraid to leave things lying around. Thank you Nha Trang! We go to the sun loungers under the umbrella, starting to put the backpack. A minute later, a local guy runs up.
– This is… There's a charge for the sun loungers – How much? – 100 pesos. – Wow! What if it's for 15 minutes? – It's still 100 pesos. – No, thanks.
Yeah, it's expensive. I guess we'll walk sometime. We put our precious burden on a tree and run, no, rush to the water.
"Gurgle, gurgle," we hear the wind. It was me and Andrewsix finally plunging into the Pacific Ocean!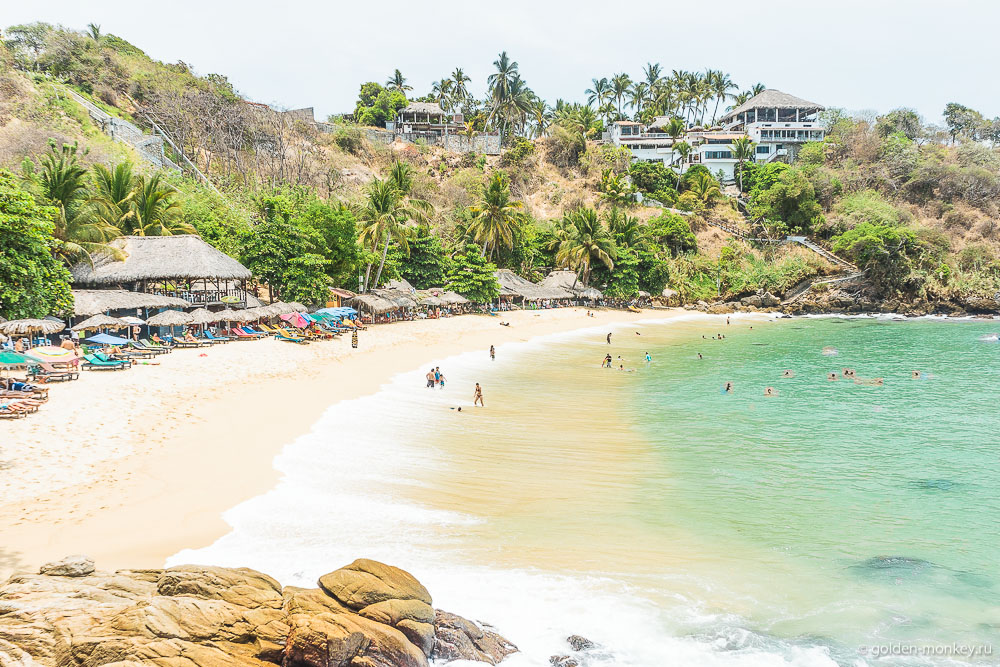 Carrisalillo Beach is a cove sandwiched between rocks. It's not too big, but it's got character, the waves are huge, and it's a cinch to get knocked off my feet. I even drove a couple of times in the sand (not the most pleasant feeling). I'm always hanging out in the waves like a piece of foam, andrusix is much better to cope with them.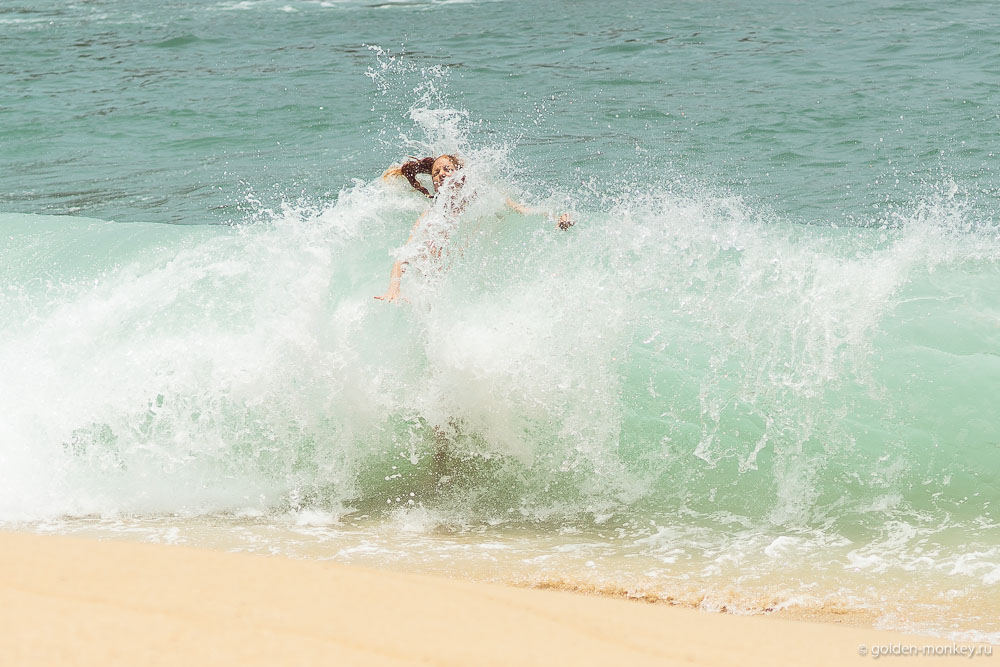 A little farther out from the shore surfers are waiting for their big wave, but they're not so lucky. The ocean's not quite warmed up yet.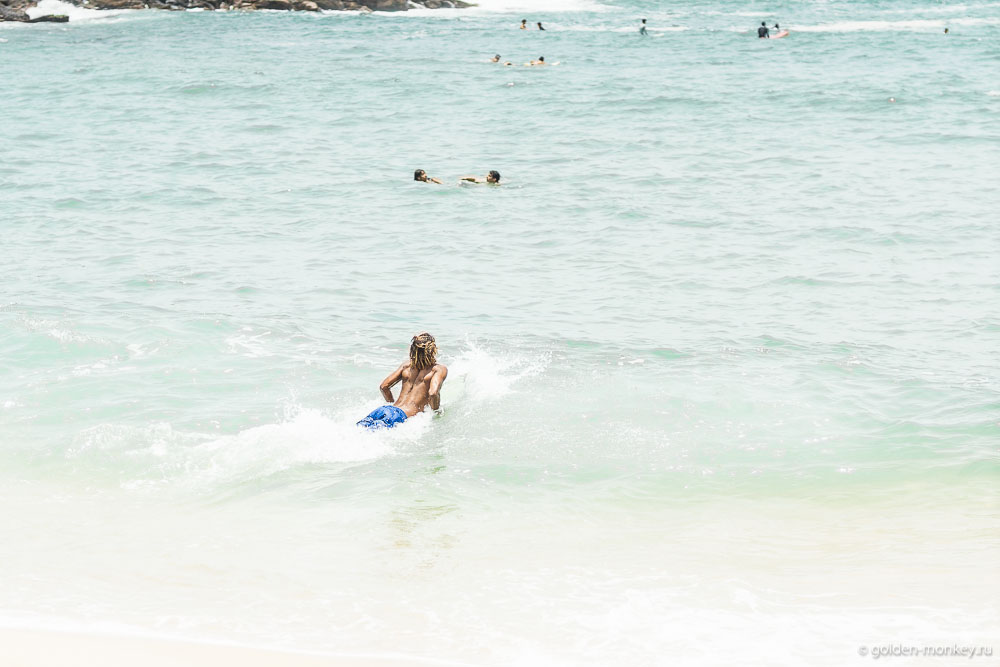 As for me, everything on this beach is perfect: palm trees are present, the water is gorgeous, ranging from incredible emerald azure color, ending with a super-comfortable temperature, yellow sand, cool matching the color of the first two components, fun waves that will not let anyone get bored. Who does not agree, raise your hand. I'm sure there aren't many.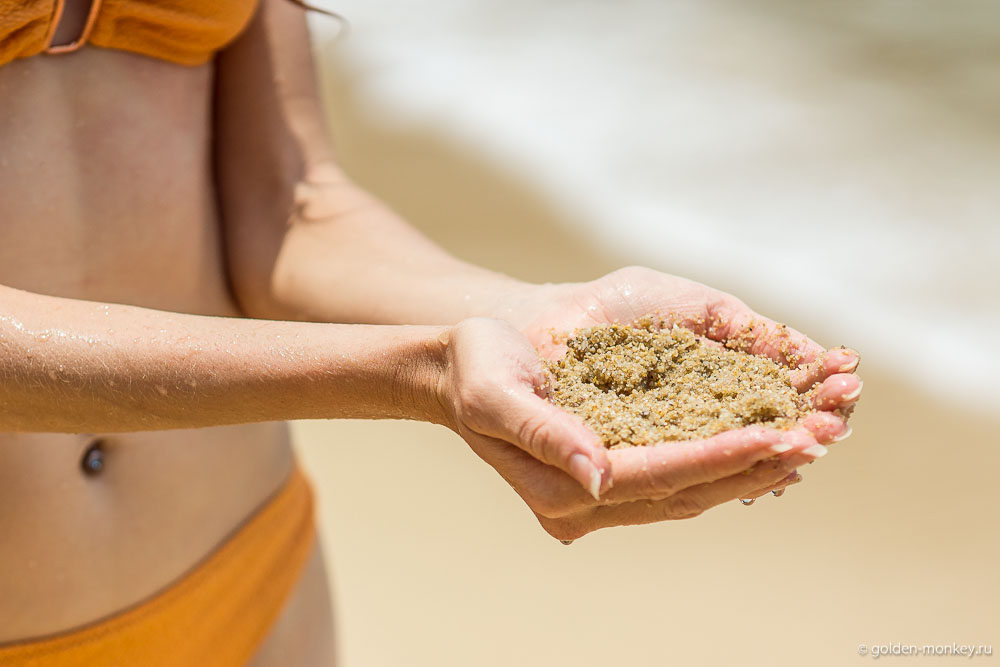 We are here to just splash around for half an hour and go on (you remember that the beaches as much as six, it's curious to see everything). And someone comes for the whole day, wallowing, reading books, others fight the waves, or with the hand-to-hand, or with a board at the front, and others drink beer and cocktails at seaside cafes (a couple of those are available).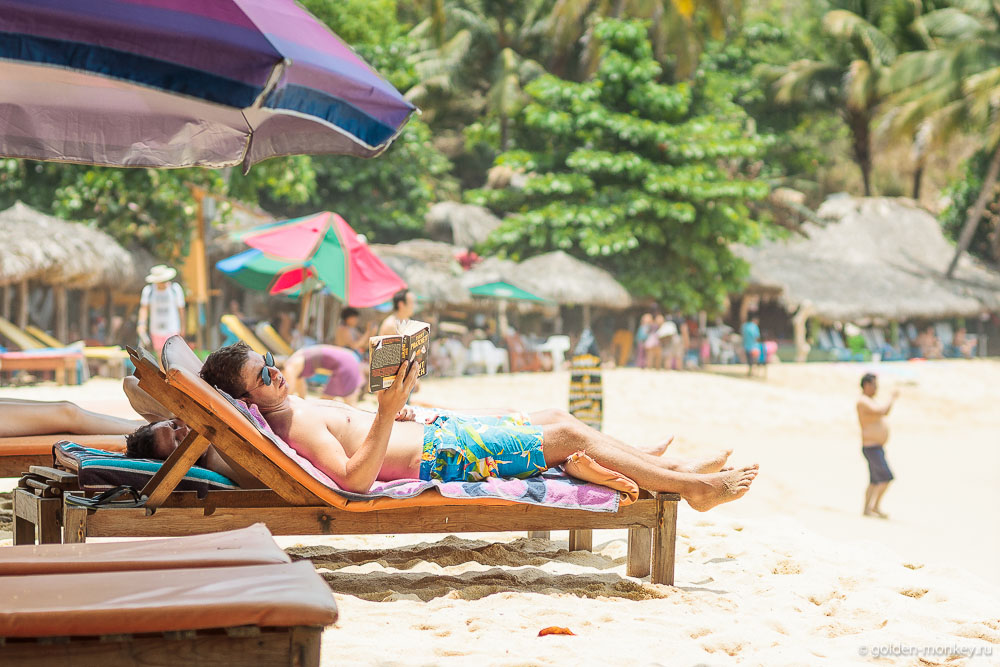 Want to get even closer to the ocean? Order a lunch of freshly caught shellfish. I don't even know what they are called. The sun-dried Mexican man will be happy to peck out a delicacy for you.
While we were watching the process of making dinner for some gourmet, a local macho man came up.
– Hola, amigos! Ablan español (Speak Spanish)? – Poquito (A little).
Switching to English, apparently, to make the conversation more fruitful.
– Do you want to surf? The board for the day is only 200 pesos. – No, we don't know how. – Then I can give you a lesson. The board, instruction, everything, it's only 300 pesos. – How long? – An hour and a half. – No, not today, we're leaving soon. – Then come back tomorrow, I hang out near the cafes every day. It's only 300 pesos. – What's your name? – Juan. – Okay, Juan, maybe another time.
Although we know there probably won't be another time, because there's no point in trying to get on a board for a day or two.
No sooner had Juan stepped back, another one came up. Yes, the tourists are fully paid off, though not annoyingly. This other offered a boat ride: an hour for 100 pesos and three hours for 350 pesos per person. The first option is for those who want to see turtles, the second for those hoping to see dolphins. A tempting offer, but again not here and not now.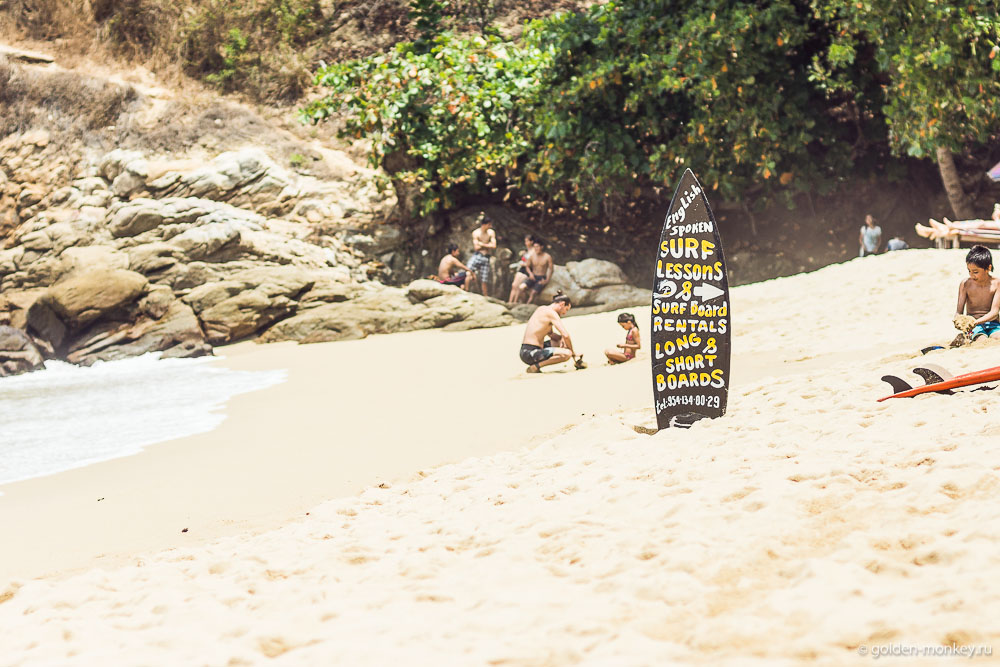 Well, it's time to move on. Again some local amigo says something in our direction. Surf again? No, a boat? No? He says there is a secret cove nearby, you just have to go behind the rocks on the path. Oh, well, thank you for that advice.
Let's go, of course. A little up the rocks on the right of the beach, a little trail through the bushes and there it is, a secret cove.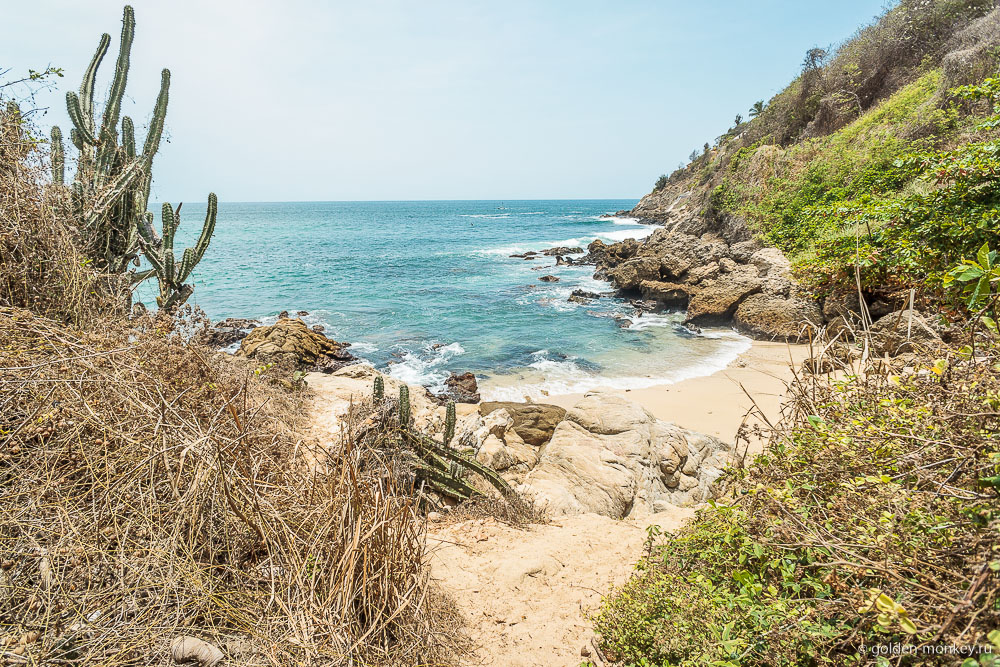 Such a nice, cute, deserted. Oh, no! Some couple kissing got in the way. All right, all right, don't get distracted, we won't be long.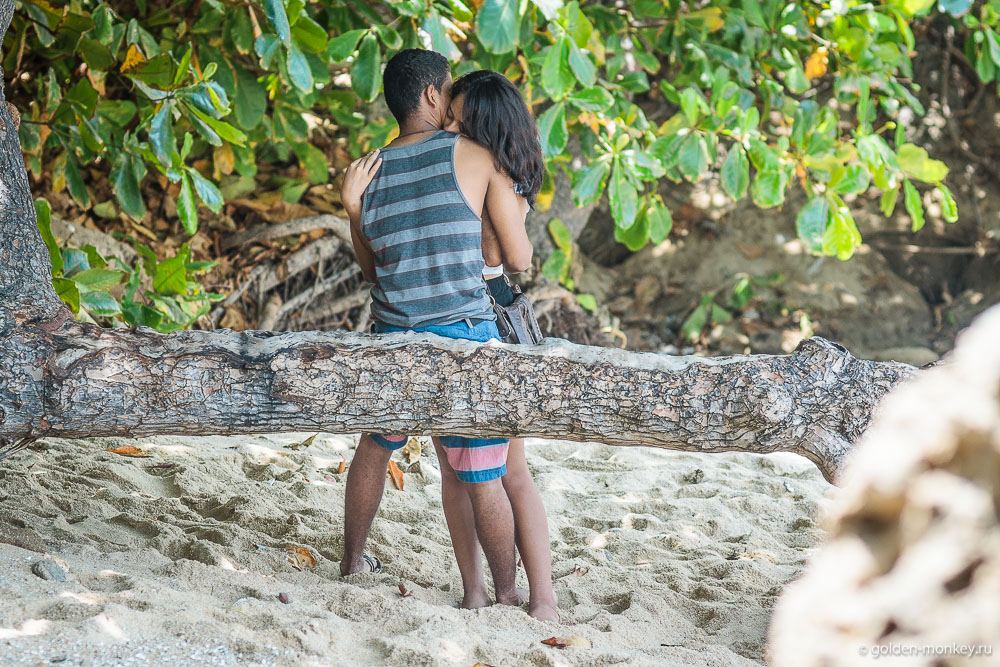 The same paths get out on Carrisalillo, we conquer the long staircase, which crawls out on the road, and we go further. And what's next, where are we going? The neighboring beach.
Puerto Angelito beach
Already on the approach to our destination we understand that it is going to be fun. Big tourist buses and people rushing here and there kill all the theoretical possibility of privacy. But come on, we're not the only ones who are hot.
One signpost calls for Puerto Angelito Beach, another for Manzanillo Beach, and we go a little further to enter the first one from the edge.
You won't believe it, once again we were in for a surprise! A tiny rocky cove with the clearest water and shells. Isn't it beautiful?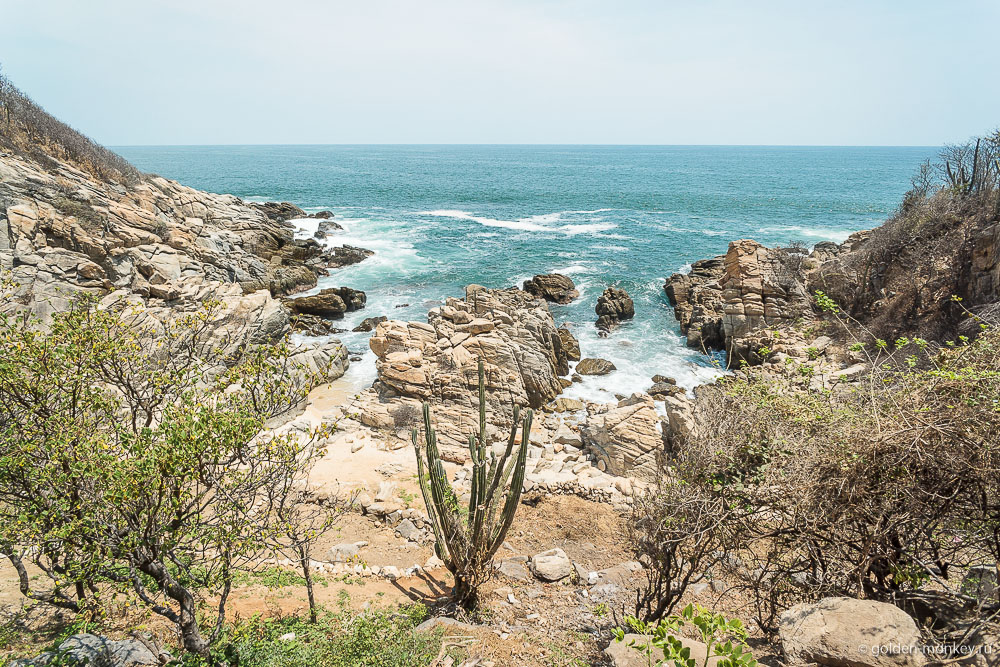 To tell you the truth, shells are my weakness, so every beach with them I take away at least a little, but with me. Right, without them the backpack is not big and heavy enough ))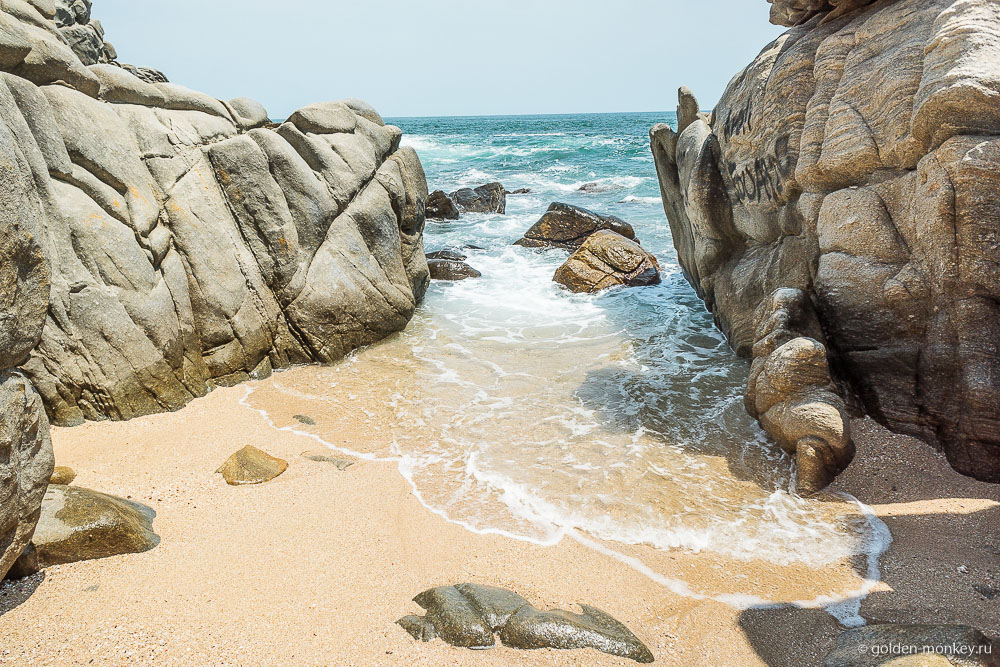 Well, one last seashell I'll take, and go, oh, and one more, and this is a beautiful. Okay, let's go. We wade through the buses, stores with coca-cola, swimsuit tents and once again find ourselves in paradise. Only this time it is more crowded and noisy. And the size is bigger. The name of this paradise – the beach of Puerto Angelito (Playa Puerto Angelito).
In general, everything is the same as on Carrisalillo, only multiplied by five: five times more palm trees, five times more café-restaurants-loungers and boats.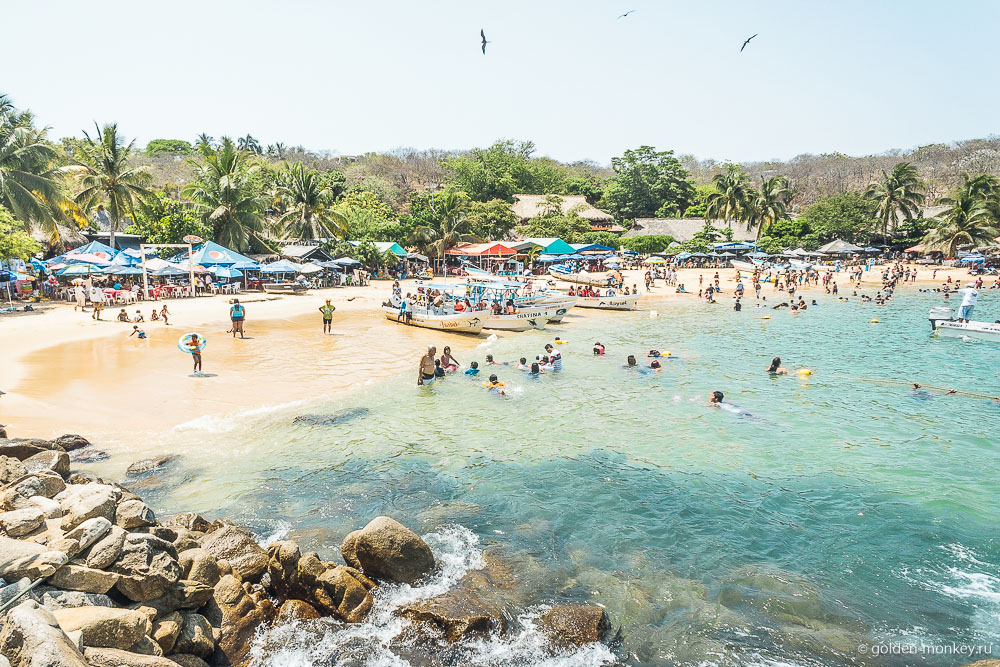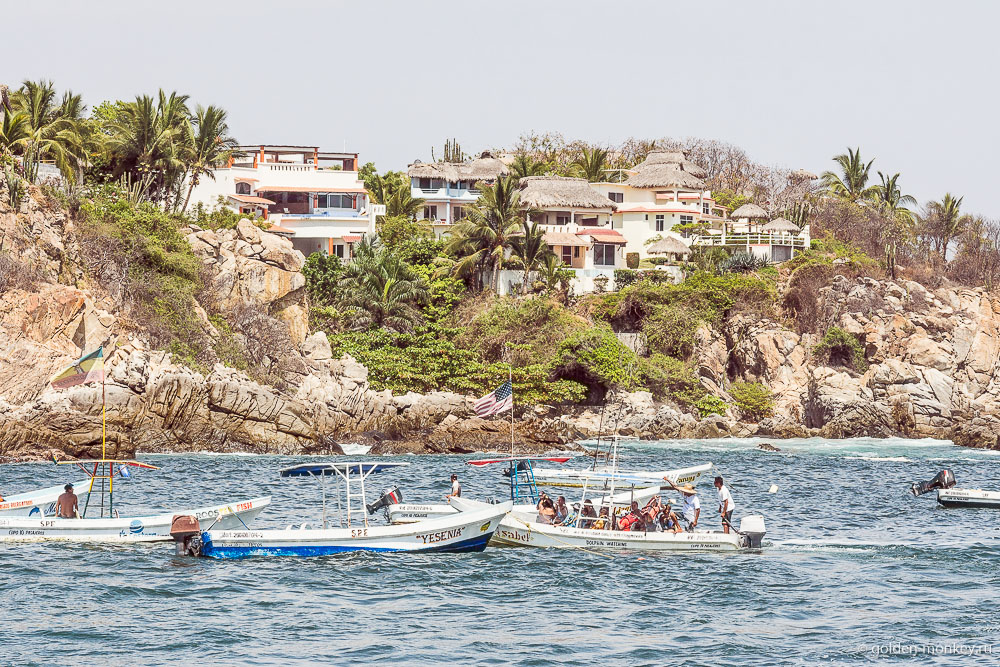 Quiet, calm water, no waves, drift, please, as much as you want. Perhaps that's why there are so many Mexicans here, all with children. These fearless chocolate tomboys full playground – madre and padre will not worry about the wave will carry them into the ocean.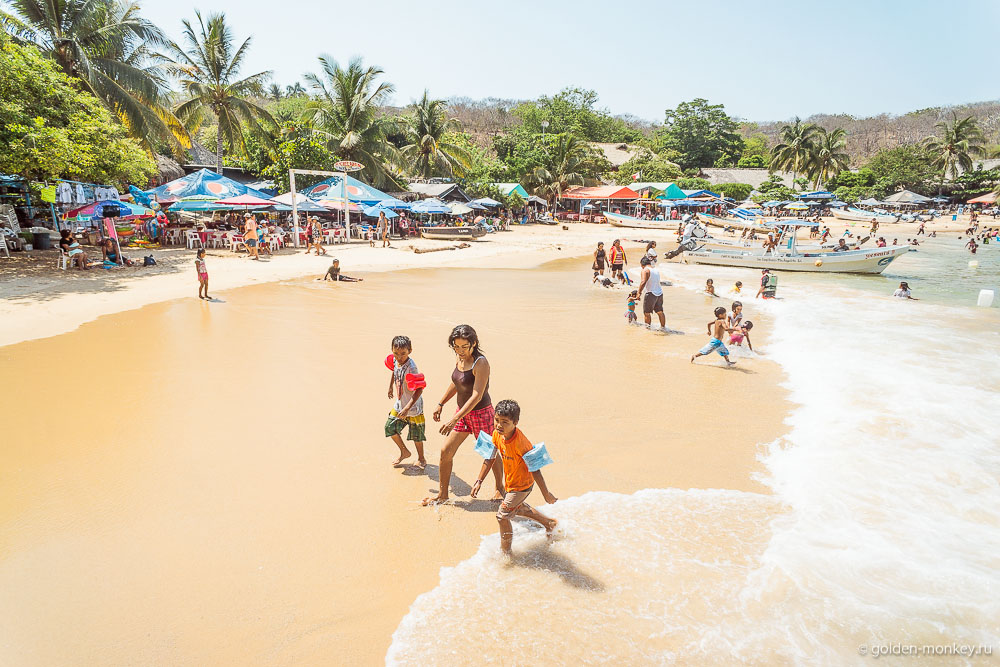 Do you know what Puerto Escondido is full of fish? Fish! And why wonder, the ocean rules here. Every restaurant has several kinds of fish on the menu, cooked this way, that way, and that way. Plus all kinds of shrimps, squids, lobsters and octopus. In general, seafood lovers will be satisfied. On the beach of Puerto Angelito, you can order fresh fish without leaving the cash register, or rather, from the coast. And so she recently swam somewhere out there in the blue abyss, waving her fins and moving the gills, and now she lies on your plate, speechless. And its life is only worth 100 pesos.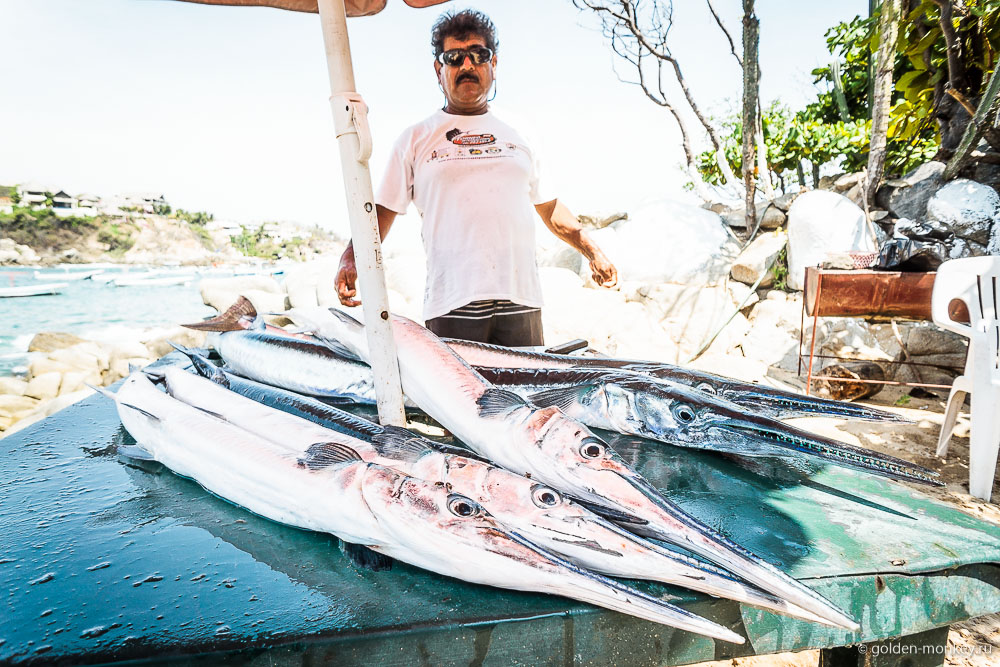 If you don't want to eat fish, you are tired of lying on the beach, you can't swim anymore, let's go parrot crabs, there are a lot of them on the stones hugging the beach on the left and on the right.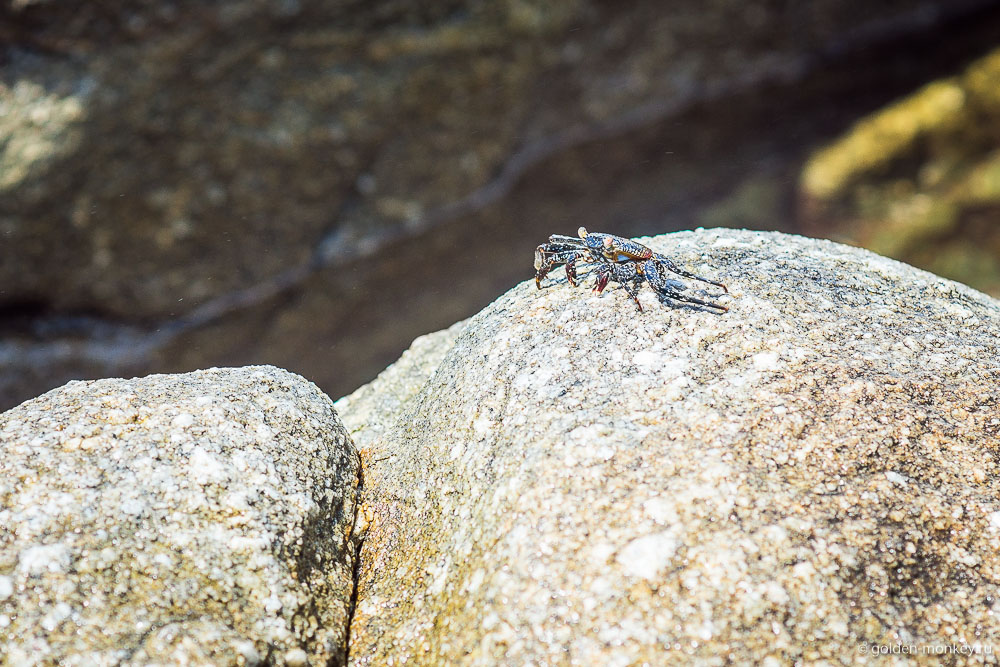 I don't like to watch crabs, it's Andrusiks who likes to hunt them, and it's even better to catch one and make three wishes. I'd rather watch the waves crashing on the shore. Boring, you might say. It's not boring at all, it's fascinating, there's something magically comforting about it.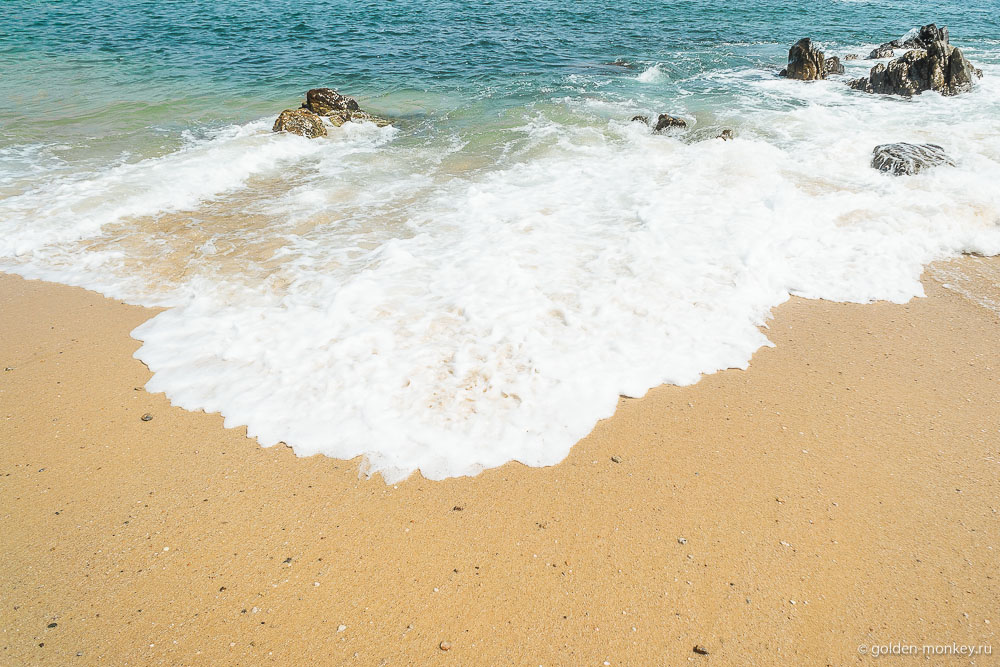 What do you think, what is it that attracts us to the beaches? After all it is so hot to lie in the sun, and all the beauty in a few days becomes quite usual and ordinary. And every time, like a spell, all say: "Beaches, beaches, beaches. For many people a beach holiday – it's just a straightforward reference to an ideal vacation. What is the point? I, perhaps, have not found an answer to this question.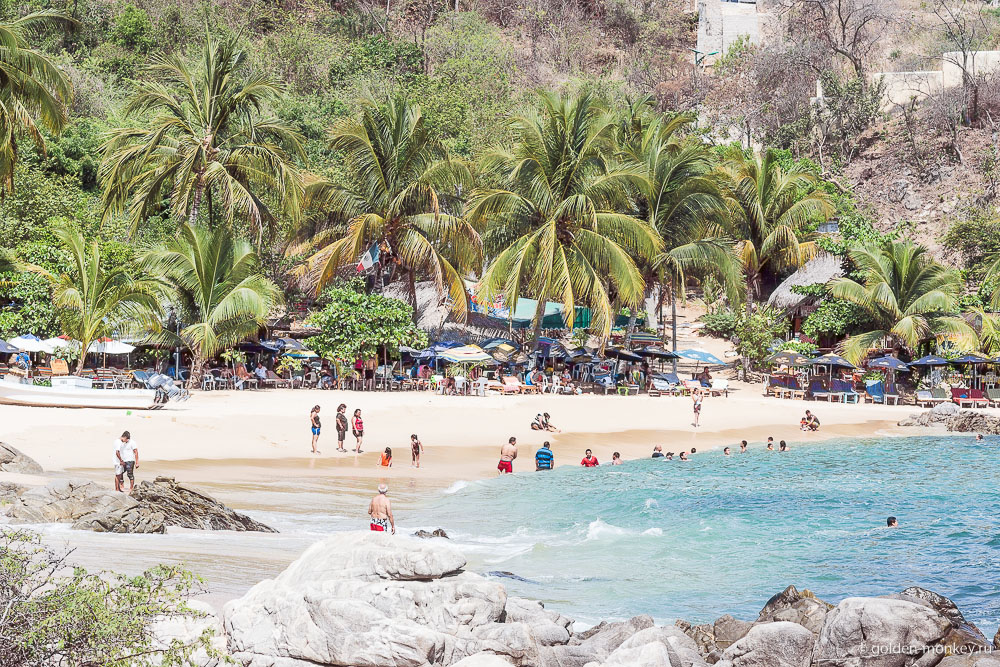 Oh, I got lost in my head, I was thinking. Let's go to the next beach, it's less crowded and we'll go for a swim.