Menorca Island and beaches, Spain. A guide to the resort, attractions, where to stay and how to vacation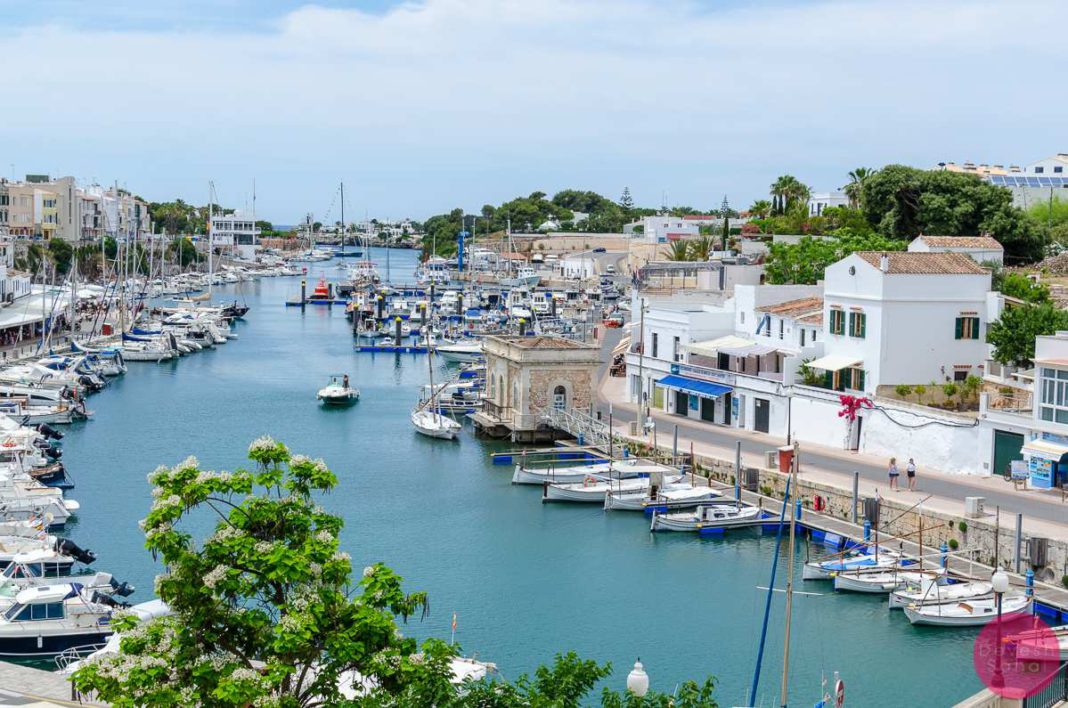 Menorca (Menorca or Minorca) – the second largest island in the Balearic archipelago, the name of which translates from Spanish as "the smaller" (the younger sister of Majorca). Minorca is not as crowded as Mallorca or as bustling as Ibiza, luxury and grace are the best definition of this resort. Minorca is also called the "island of monuments" for the presence of more than 1.5 thousand sites from different times.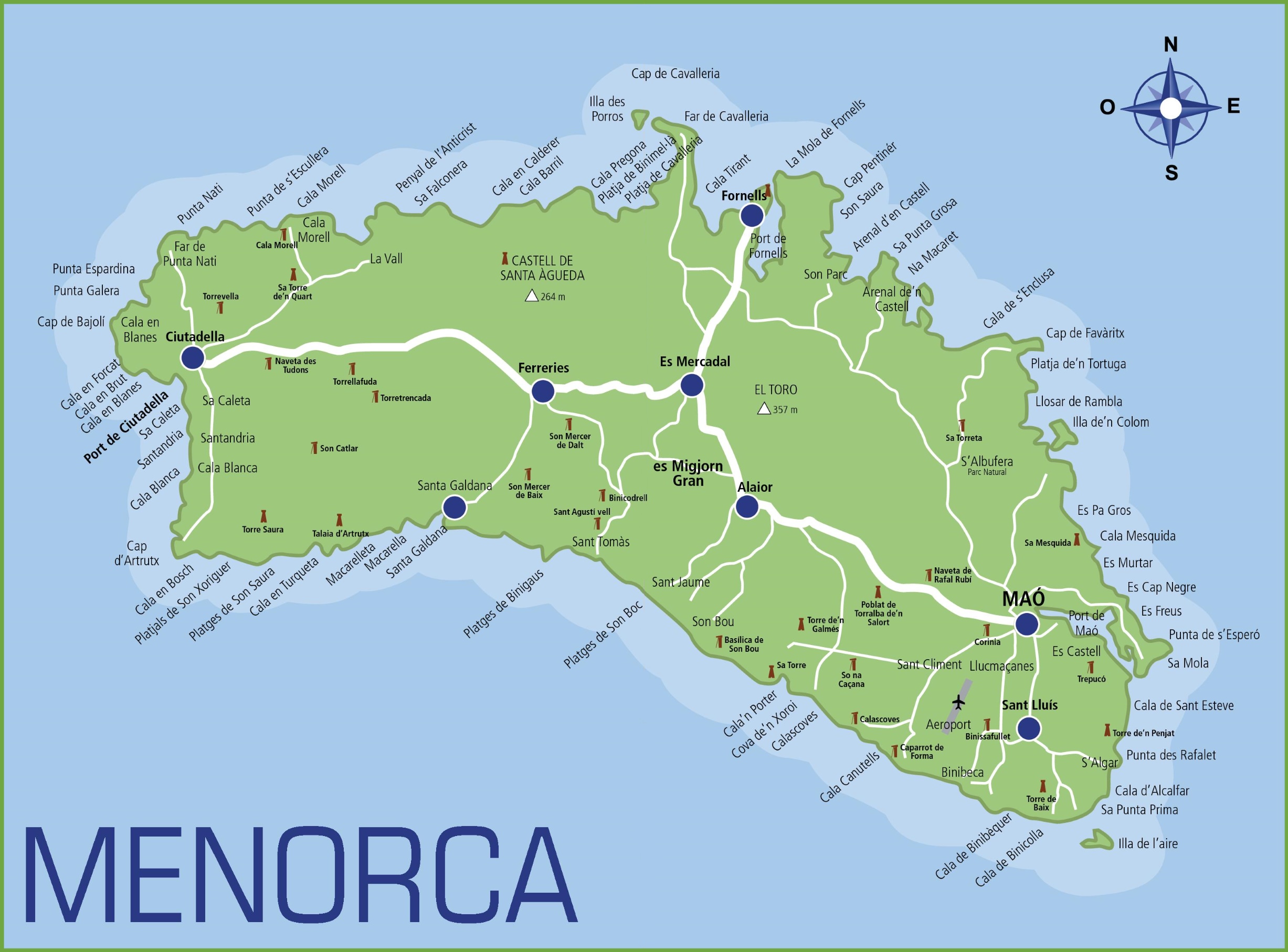 Photo: Map of Menorca
You will not find huge, multi-story hotel complexes, as the island is considered a Biosphere Reserve and such construction is prohibited there. All the buildings on Menorca, according to the guidelines of UNESCO, are painted in white. At the same time, it is one of the most respectable resorts, which keeps its identity.
Minorca has a mild Mediterranean climate – summer temperatures are around +27-29 ° C and +8-15 ° C in winter, the water gets as warm as 25 ° C in summer. In winter, there are exhausting winds and storms in the north, so the resort season lasts from April to November. August usually brings heavy rains, which should be taken into account when planning a trip.
You can see all of Minorca right now by watching this video:
Minorca offers tourists 120 beaches, but not all of them are easily accessible – some require a long drive or even a boat ride. There are completely secluded and wild beaches, as well as landscaped to all standards. Most beaches are hidden in enclosed, safe and fabulously beautiful bays. Almost all of them are sheltered by snow-white fine sand, but in the north, near the village of Fornells, there are mottled beaches the color of ochre.
The biggest concentration of picturesque and cozy beaches is around the resort of Cala Galdana – here everyone will find a place to taste. The area around St. Lewis has the largest selection of resort towns, each with its own fabulous beach.
Five things to do on Menorca. Things to do:
Enjoy a sunset with a glass of wine while sitting at the bar of the stunning Cava Den Choi Grotto;
Climb to Menorca's highest point Monte Toro with the statue of Christ;
Take a trekking route to the natural park of Sa Albufera des Grau;
Choose one of the beautiful coves around Cala Galdana for a blissful vacation;
Rub yourself upside down with the healing clay of the ochre beach of Cavaleria.
Ciudadela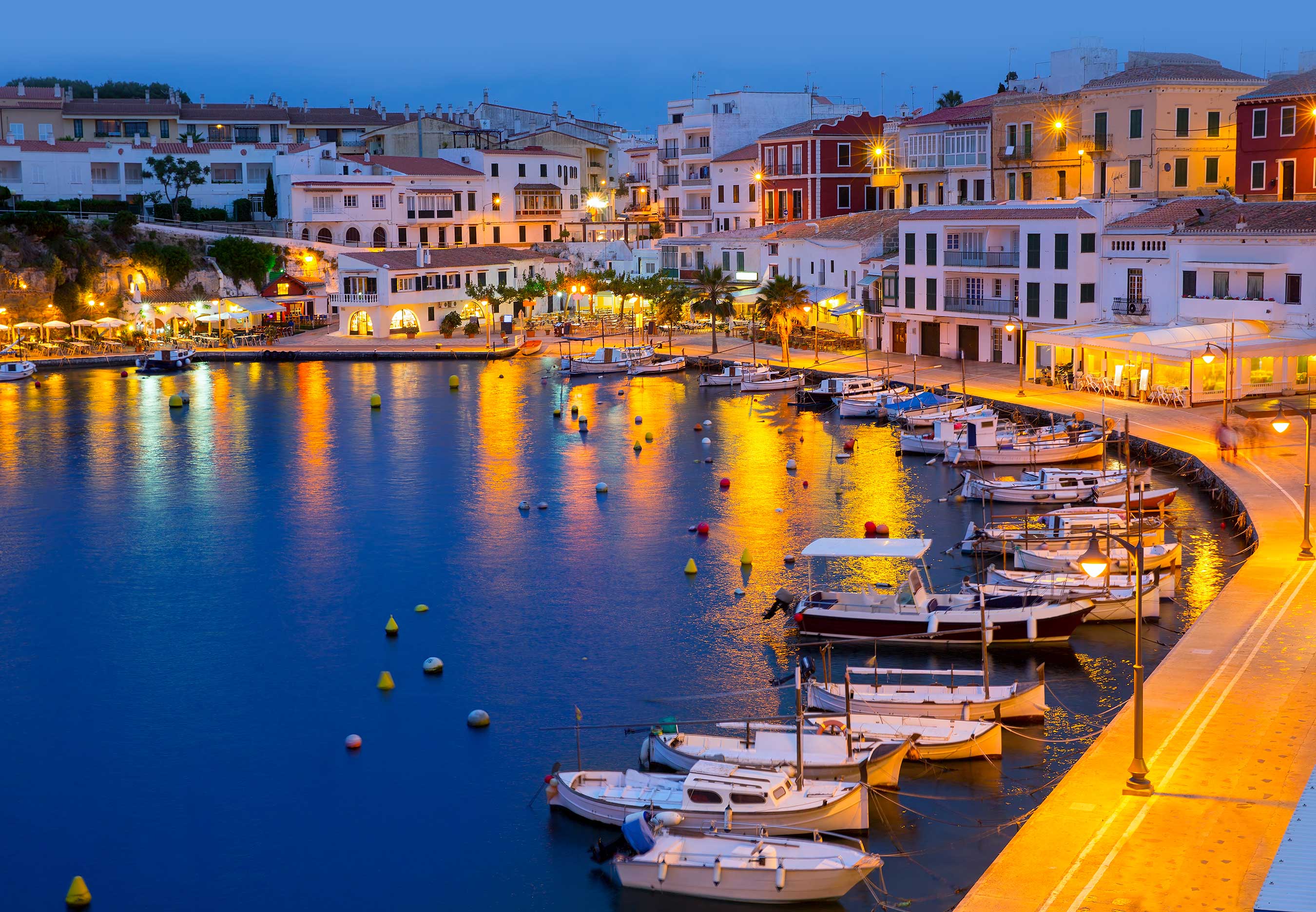 Photo: Ciudadela
Ciutadella is the historic capital of Menorca and the city of fiestas and festivals. The city delights with the amount of preserved architecture, from Gothic churches to luxurious mansions, which you can walk around in just a couple of hours. The ancient port of Ciudadela evokes the most romantic feelings.
Beaches in the vicinity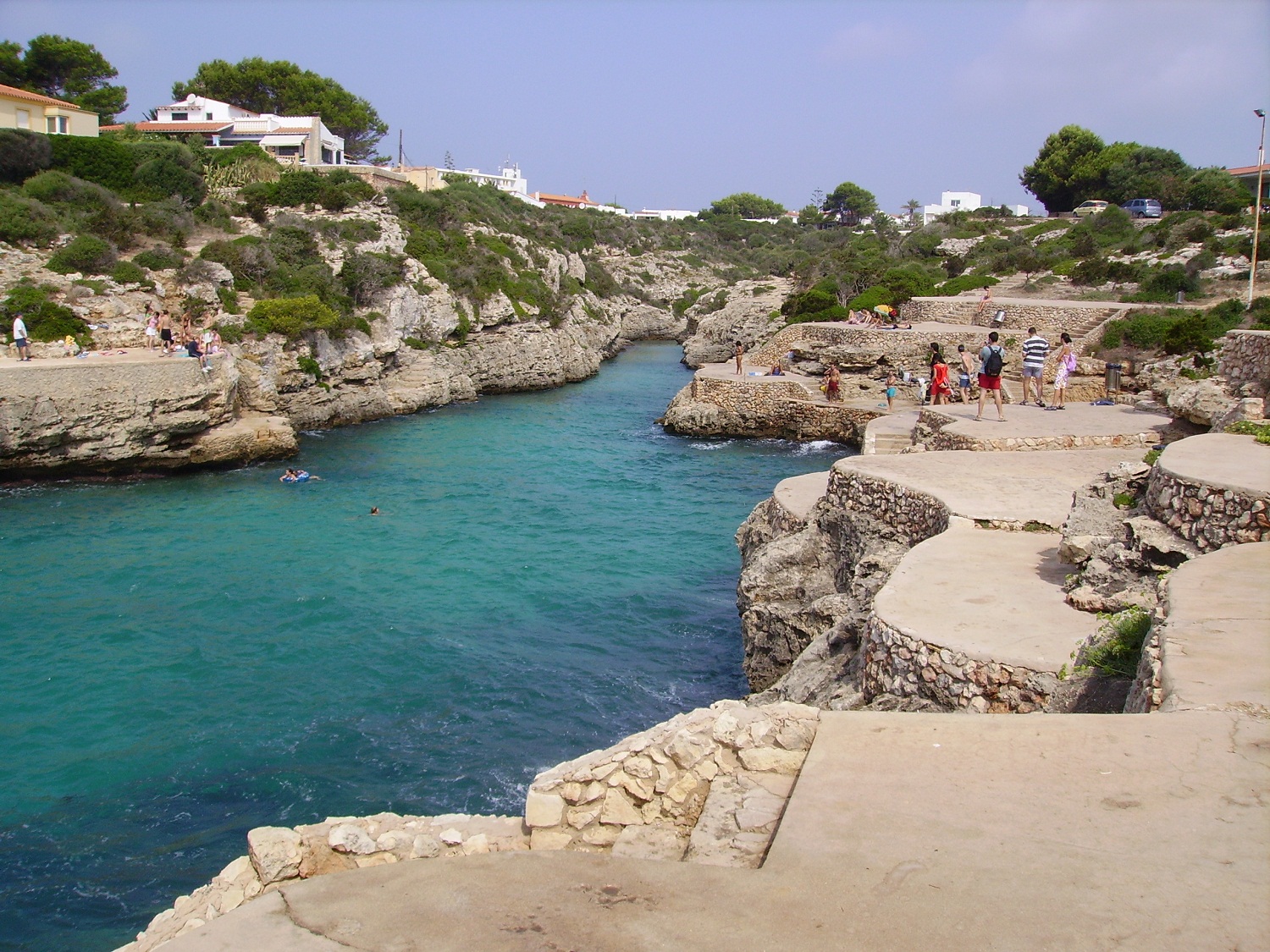 Photo: Cala en Brut
Cala Blanca, Cala en Turqueta are nice sandy beaches.
Cala en Brut, Cales Morts are amazing beaches with rocky shores.
It is better not to settle in Ciudadela, but in smaller resorts nearby.
Attractions
The city's overview should begin at the Plaza de Born, with its Moorish-accented town hall and the beautiful Palau-Torresaura mansion. The 13th-century cathedral resembles a fortress, and the 17th-century Iglesia del Roser, a miniature church, resembles an aristocratic mansion with its exquisite finishes. The 17th-century Can Saur mansion has very beautiful masonry.
Cala Blanca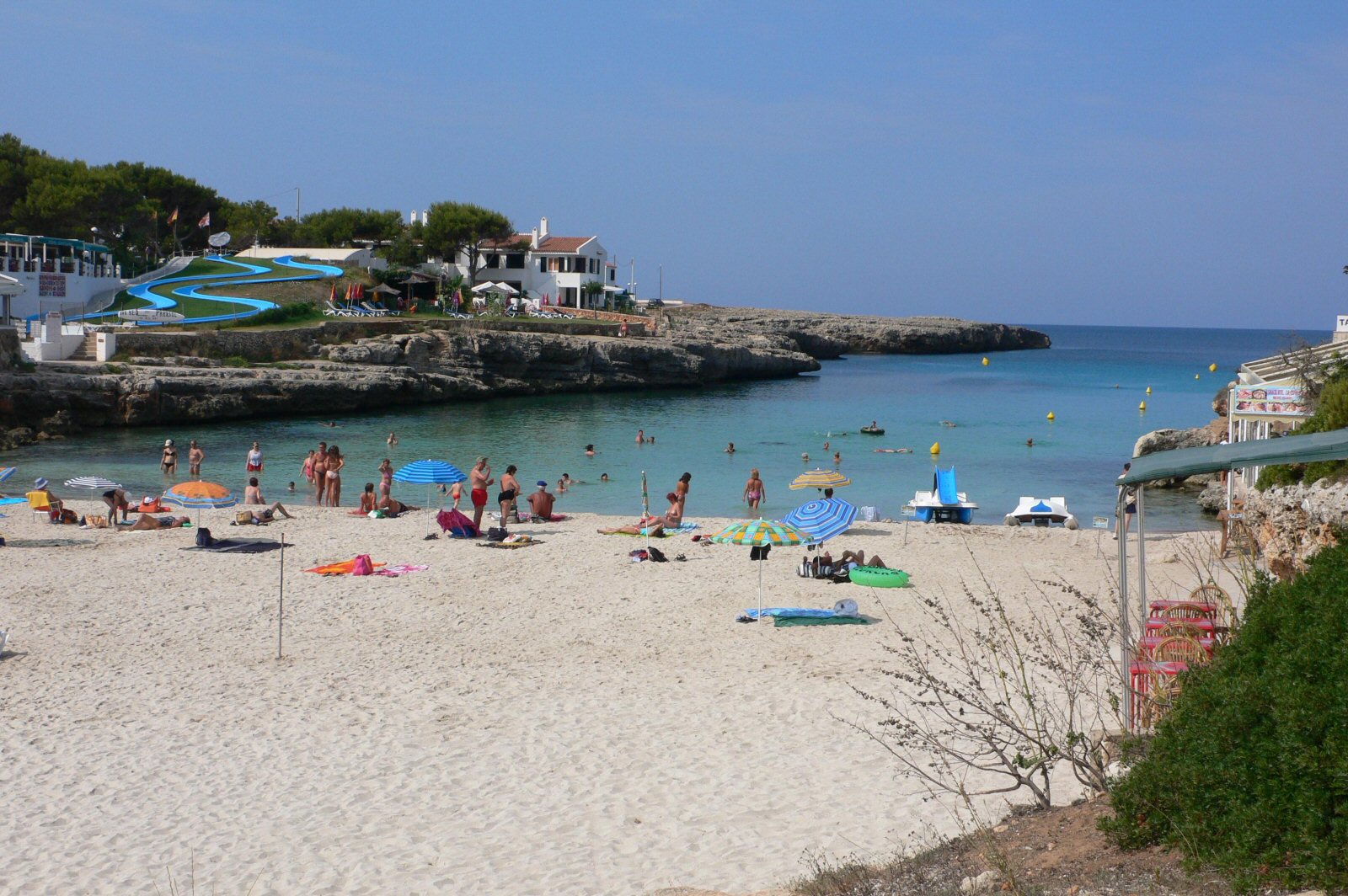 Photo: Cala Blanca
Cala Blanca is a resort for young people with nightclubs and numerous bars. Its small cove has everything you need for diving – rocky shores and calm waters. Nearby are the Parella caves with stalactites and an underground lake.
Cala Galdana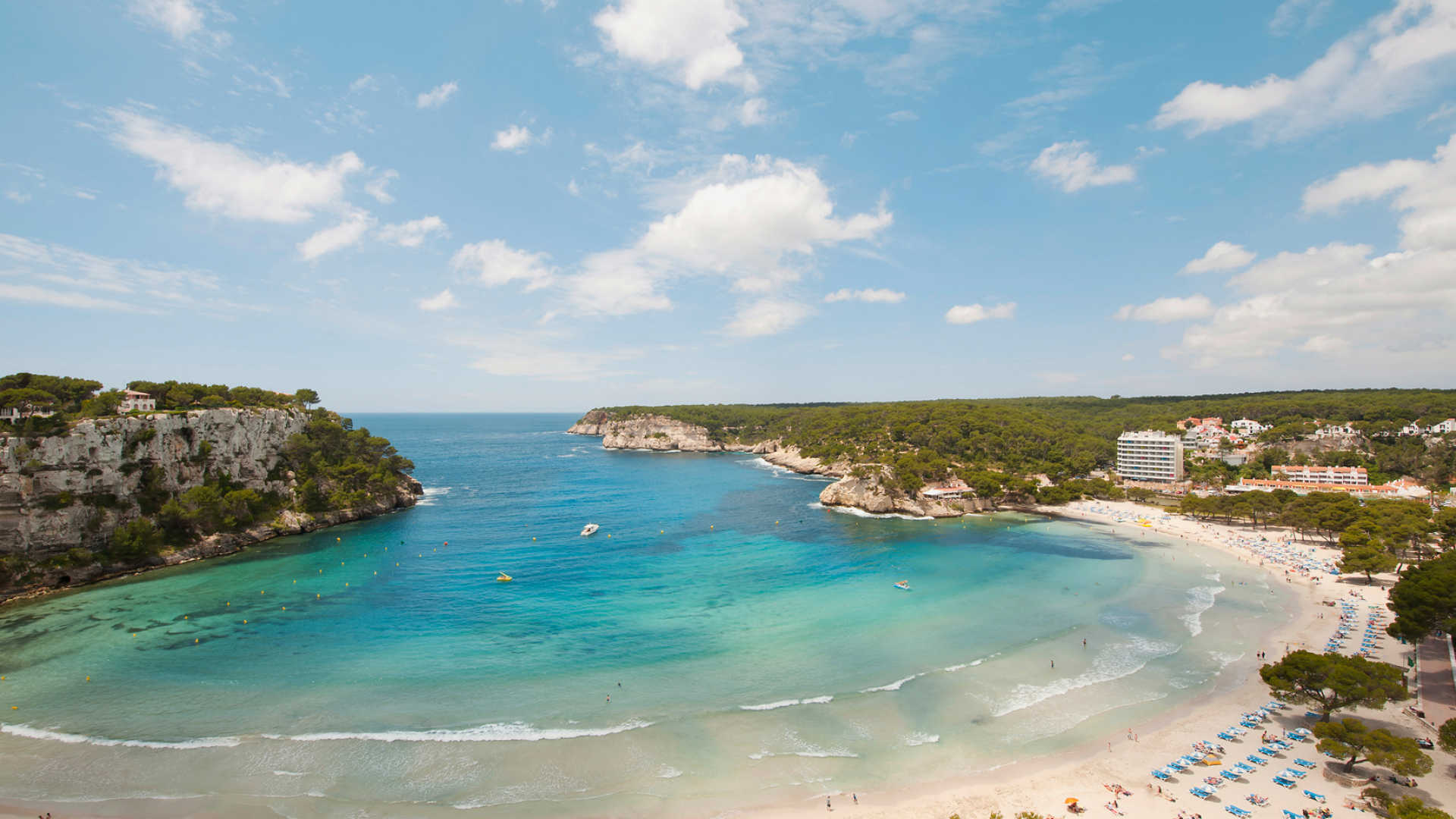 Photo: Cala Galdana
Cala Galdana is a beautiful cove near Ferreres. From here you can walk a couple of kilometers west to the beautiful bays of Macarella and Marseilla, and if you walk a little further, you will reach the famous bay of Cala Turqueta.
Beaches in the neighborhood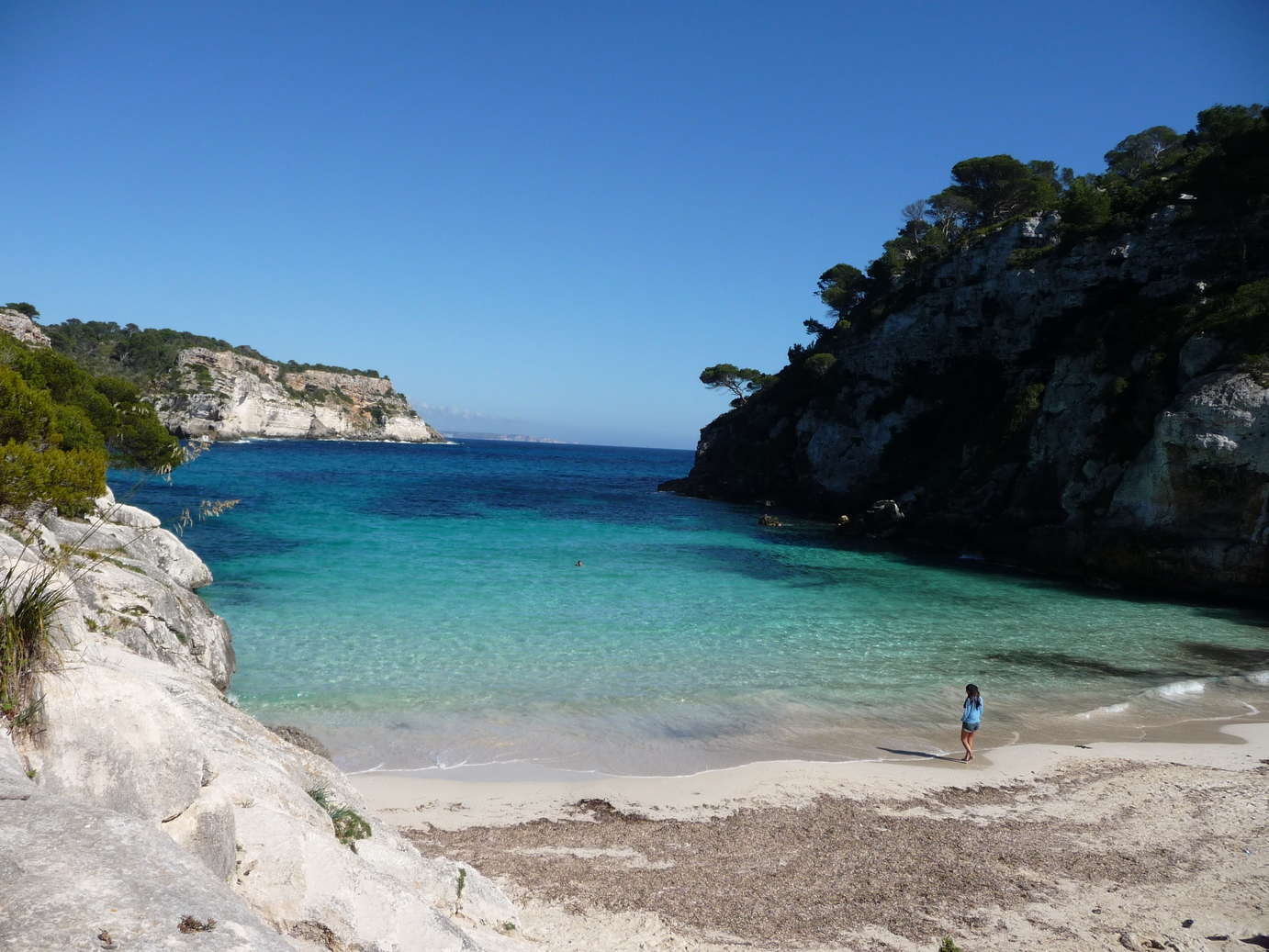 Photo: Cala Macareleta
Cala Galdana is a long beach with light sand surrounded by rocks and pines, under which you can shelter from the heat. Behind it towers one of the rare phenomena in Menorca, a multi-storey hotel. Great infrastructure, but very crowded beach
Cala Macarelleta is an amazing white sandy beach in a green bay with a smooth sandy bottom and azure water. There are no hotels nearby, so there is no pandemonium.
Macarella (Macarella) – a miniature replica of Cala Macarella in a cozy cove in 300 meters.
Cala Mitjana is a picturesque beach surrounded by dazzling white rocks.
Cala Mitjaneta is a secluded beach near Cala Mitjana with a narrow strip of land that disappears under the sea at high tide. The bottom is sand and rocks.
Cala Turqueta is the island's most touted beach in a deep enclosed bay with a sandy, rocky bottom and rocky ledges. It is surrounded by fresh greenery, shallow and safe at the shore. There is almost no infrastructure (but there are lifeguards).
Cala Trebaluger is a secluded sandy beach in the south of the island in a closed bay. A very gentle entrance to the water. Surrounded by lush greenery. No infrastructure. The nearest hotels are in Cala Galdana.
Cala en Porter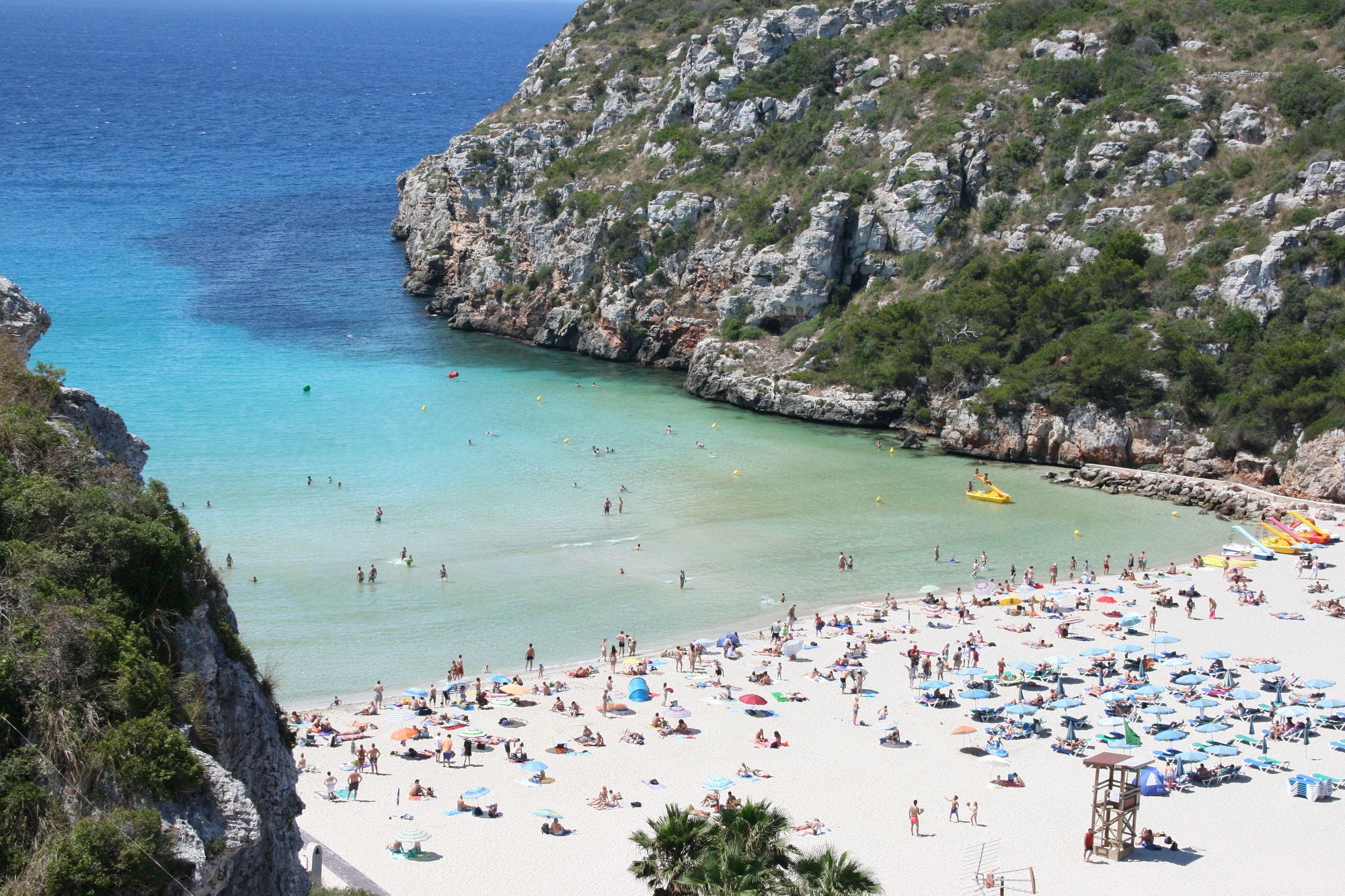 Photo: Cala en Porter
Cala'n Porter is a cozy resort in the south of the island near a unique cave complex, which is located on the high cliffs. The bay of Cala'n Porter is surrounded by tall rocks, between which you can find a 150m long sandy beach.
Beaches in the vicinity
Cala en Porter is a spectacular beach in a wide green bay of the island and the whole of Spain with crystal clear water. Around the shore is very shallow, so it is good to relax here with children. There are umbrellas and sun loungers, and lifeguards are available.
Son Bou is an unusual long beach, with many bars and hotels on the east and a lot of privacy on the west.
St. Louis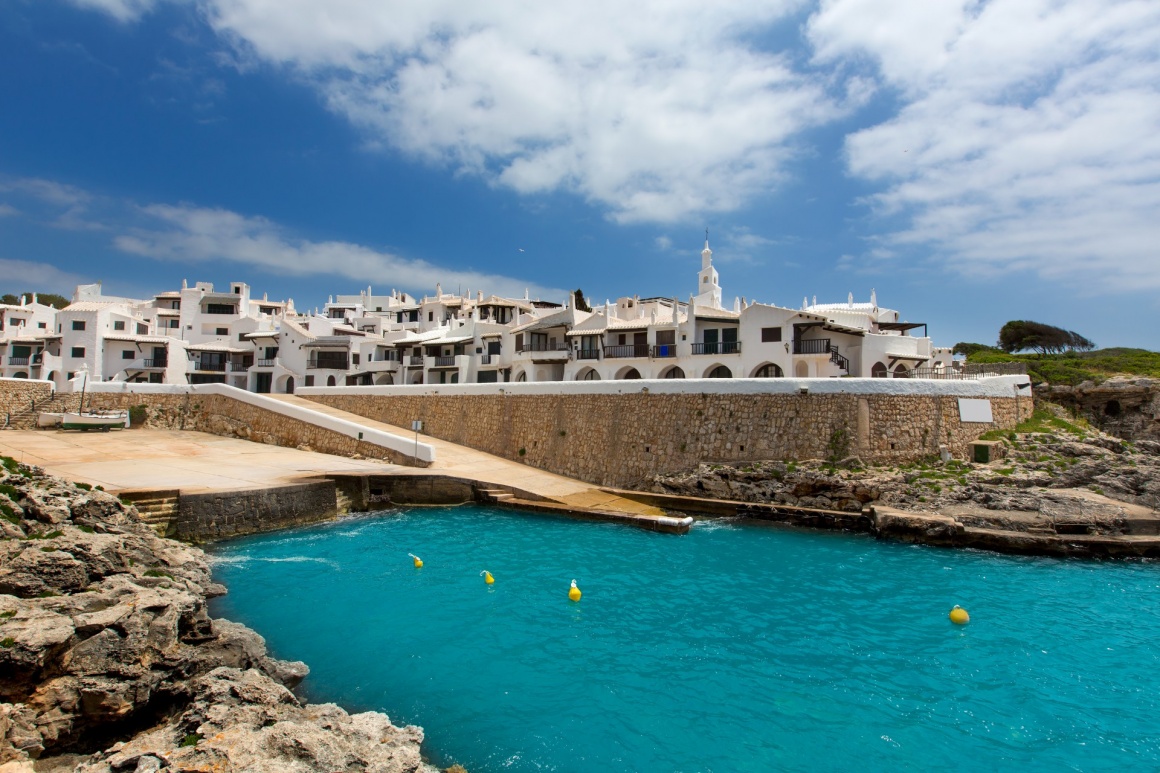 Photo: Sant Lluís
Sant Lluis is a popular resort in the southeast that is very good for vacationing with children. Nearby there are many comfortable and safe bays for swimming. In the surrounding area there are many resort towns.
Binibeka
Binibeca is an architecturally interesting little town not far from St. Lewis. The local beach in the rocky bay offers some of the most fascinating underwater scenery.
Punta Prima
Punta Prima is a resort village where homes are built right on the beach. The sandy beaches of Punta Prima are 200 meters long and are sheltered by magnificent white sand.
Binisafua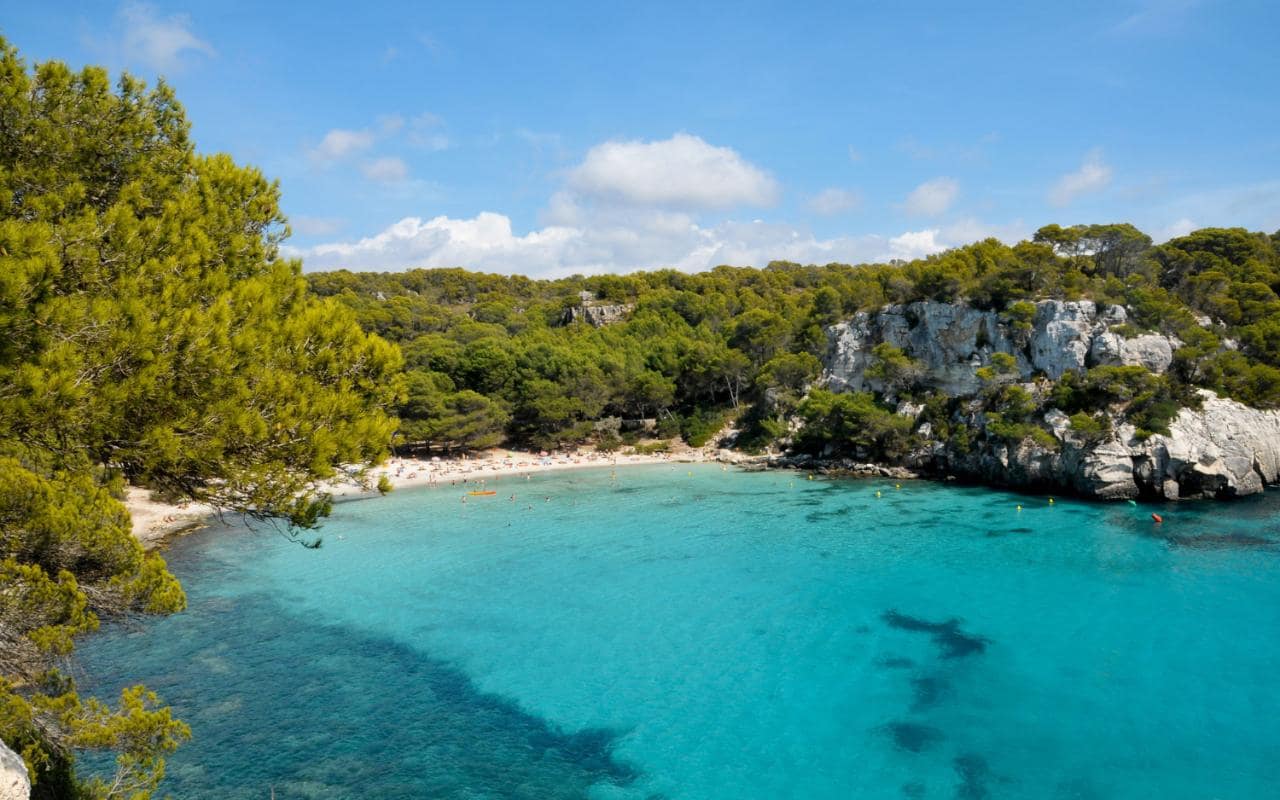 Photo: Binisafua
Binisafua is a village with an amazing tiny beach and a handful of fish restaurants.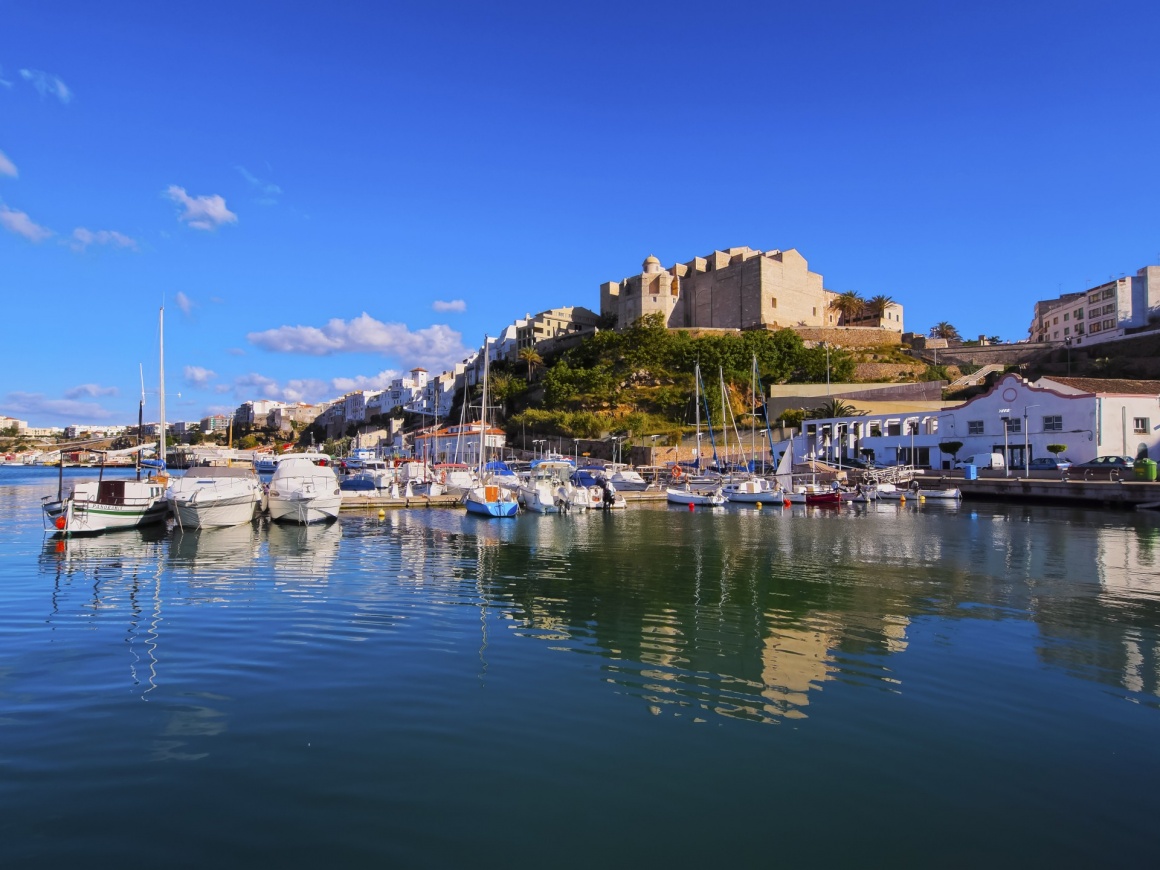 Photo: Maon
Maon is the real capital and most contrasting city of Minorca. Ultra-modern structures neighbor the old buildings. The nearby luxury nature reserve, Sa Albufera des Grau Park, is a must-see.
Beaches
Sa Mesquida is a favorite beach of the capital's residents with free parking and a store.
Attractions
Visit the Church of San Francisco and the Church of Santa Maria, where organ music festivals are regularly held. There are quite a few museums in Maon, and a key event is Opera Week.
Es Grau
Es Grau is a compact fishing village on a hill next to the dunes. The beach of the village at 600 meters in the bay is one of the best on the island. It is sheltered from the wind by the rocky island of Colom.
Arenal den Castell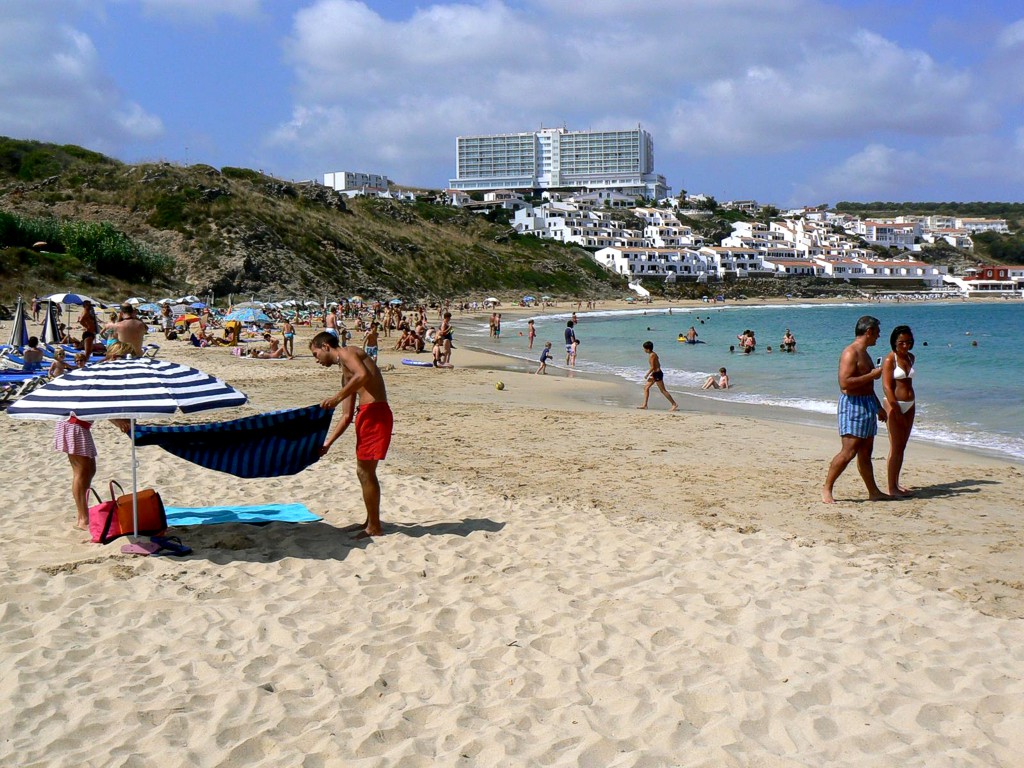 Photo: Arenal den Castell
Arenal d'en Castell is a picturesque resort located in a round bay with one of Menorca's most luxurious beaches.
Beaches in the vicinity
Arenal d'en Castell is a spacious beach in the north with nice golden sand and a fairly gentle bottom. There's a great choice of hotels nearby.
Fornells
Fornells is a fishing village that has become a bohemian place. White houses and charming streets, a harbor with rich yachts, comfortable hotels and excellent restaurants create a special atmosphere. The most famous bar is the Palma, where the cream of society hangs out.
Leisure activities
Diving, sailing and kayaking can be enjoyed here. A great idea is to visit the Cap de Cavalleria lighthouse with its extraordinary views and landshafts.
Beaches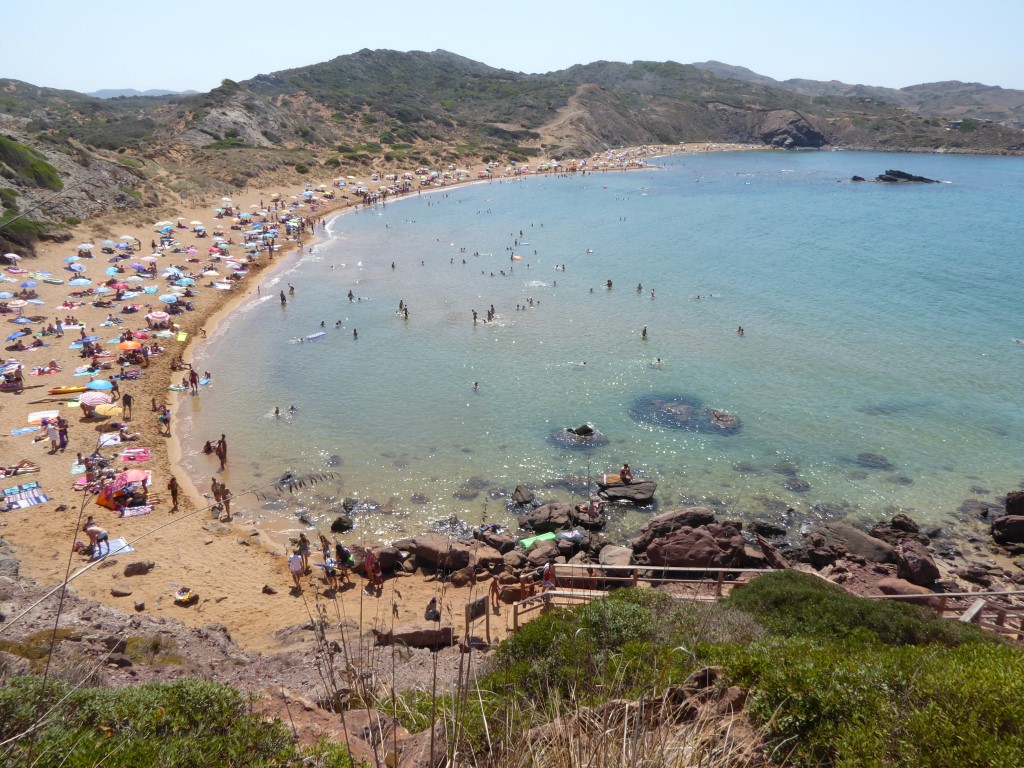 Photo: Cavalleria
Beaches in the vicinity:
Cavalleria is an ochre-colored beach in a protected area. The red clay cliffs of this beach are medicinal.
Cala Pregonda – A secluded beach in the north of the island with orange sand surrounded by reddish rocks. There are many rocky ledges of different sizes in the water. Difficult to access. The nearest hotels are in Fornells (6 km).
Cala Morella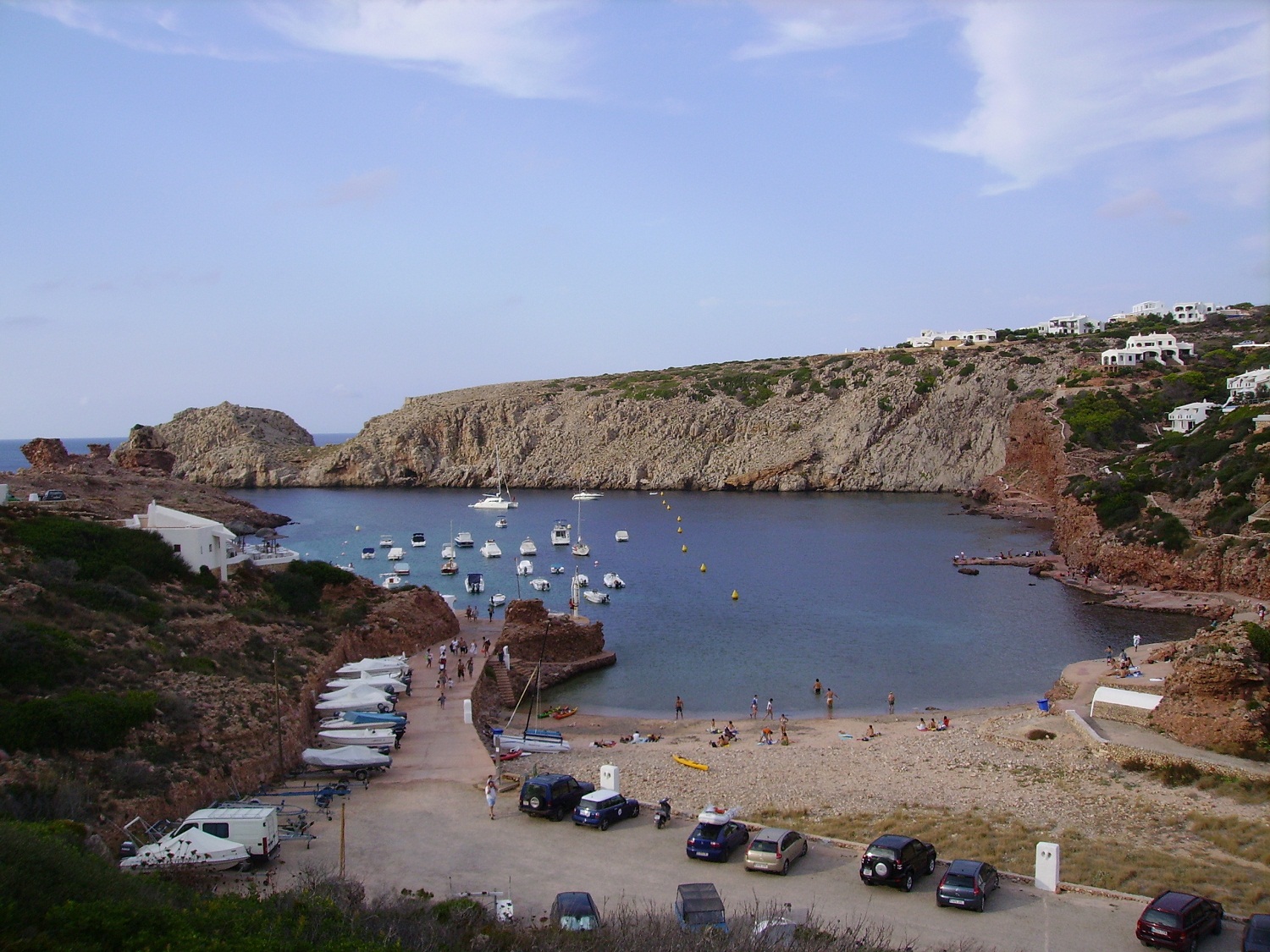 Photo: Cala Morella
Cala Morella is a tiny resort, next to which is the picturesque wild beach of Cala d'Algaiarens with a sandy bottom, protected from the wind by protected dunes.
The bottom line on Menorca
There aren't many resort towns on the island, as it's quite young in terms of tourism.
The best place to go is Cala Galdana, where the beaches in the bays are one better than the other. To be closer to the capital of Mahón, then settle in one of the towns around St. Louis. For those who want to relax with luxury, the village of Fornells can be recommended. If you want to visit the museum town of Ciudadela, the nearby resort of Cala Blanca is a great option.
The beautiful beaches of Menorca are simply mesmerizing and captivating, you can see that by watching this video:
Apartment Rental Bonus 2100 rubles
Instead of hotels you can book an apartment (cheaper on average 1,5-2 times) on AirBnB.com, a very convenient worldwide and well-known service for apartment rent with a bonus 2100 rubles at registration