Beaches Acapulco
Barra Vieja Beach is located near the highway that leads towards the international airport. From here you can see the Tres Palos Lagoon, one of the attractions of Acapulca.
On the beach of Barra Vieja there are several cafes and restaurants. Therefore, travelers will not go hungry. Here they offer everyone seafood dishes and, of course, local delicacies.
On the beach of Bara Vieja there are no annoying vendors offering to buy local products or souvenirs.
The water in this place has a bright blue color. It is clear and clean. Barra Vieja beach is sandy.
On the beach there is a rental of catamarans and boats. If you have a desire, you can go horseback riding. You can go on a tour of the local area on horseback with an instructor.
Near Barra Vieja beach, there is a national nature reserve where you can see birds and rare plants of Mexico.
Coordinates: 16.85925500,-99.88400500
The beaches of Caleta and Caletilla
The beaches of Caleta and Caletilla are two of Acapulco's most famous beaches. These beaches are separated from the Pacific Ocean by a small island, making them safe for the elderly and children to visit. They are very popular with couples.
The beaches of Caleta and Caletilla are great for those seeking a quiet family vacation. There are no noisy coastal parties here.
Both beaches are home to several modern and upscale restaurants that offer their visitors national Mexican cuisine, mostly made with seafood.
Mexican vendors also walk along the beaches of Caleta and Caletilla, offering national sweet treats and dough products.
On the beaches of Caleta and Caletella there are special children's pools. In the water, the place for bathing children is fenced with a special fence.
Earlier the beach of Caleta served as a recreation center for Mexican soldiers.
Coordinates: 16.83181800, -99.90355000
Revolcadero Beach
The beach Revolcadero is one of the most beautiful beaches in Mexico. It is located in the southern part of Acapulco. The water in this place is bright blue, unusually clear and transparent. However, swimming here for inexperienced swimmers can be dangerous. The waves of the Pacific Ocean in these places reach several meters.
On the coast of the beach Revolcadero are several hotels, which usually accommodate travelers who come here. They have restaurants and cafes where you can eat for a small fee. There are also a few shops where you can buy locally made souvenirs.
The beach Revolcadero sand is grayish-dark in color. Its color is influenced by the nearby Laguna de Tres Palos.
At Revolcadero Beach, you can rent boats and boats for walks, as well as various mattresses and life preservers. Beach umbrellas and chairs can also be rented.
Entrance to the Revolcadero beach is free for both children and adults.
Coordinates: 16.79139400,-99.82486700
Beach Condesa
Condesa Beach is a small town beach located on the outskirts of Acapulco. It has a reputation as a beach that is usually frequented by people of non-traditional sexual orientation. There are several hotels and restaurants near the beach. If you want, you can have lunch or dinner here for not much money. On the beach you can often find people selling local national dishes. Here you can buy seafood, sweets and spices.
The prices of products from such vendors are somewhat higher than in the usual markets of Acapulco. Fans of outdoor activities will find on the beach a few boats and jet skis, which can be rented. It is also possible to ride on extreme water rides: a banana or on cushions. The beach is open from 11 am to 11 pm. Entrance to the beach is free. But there is an age restriction. Only visitors over fifteen years old are allowed on the beach.
Coordinates: 16.85849600, -99.88654000
Tamarindos Beach
Tamarindos Beach is considered the most famous beach of Acapulco. In addition, it is one of the oldest. It is inexpressibly beautiful and has a lot to love.
Tamarindos is located in the Old Acapulco area, in the northwest part of the magnificent bay. It has what is known as a "traditional atmosphere". But it's probably the best any beach has to offer. Surrounding Tamarindos are several respectable hotels.
It has it all: the most gentle fine sand, clean and soft, gentle waves that will not make you feel afraid, palm groves, pleasant atmosphere and cordial tranquility. For a small fee you can rent sun umbrellas and sun loungers. In addition, a pleasant impression of the place add pretty restaurants with a menu of seafood. Of course, those who wish can do all kinds of active sports on Tamarindos.
One of the attractions of the beach is the old pier, surrounded by moored yachts and fishing boats.
Coordinates: 16.85184200,-99.85772300
Keletilla beach
Caletilla Beach is the part of Acapulco that is considered traditional. Protection from the open sea makes this beach very family-friendly, it is also great for the elderly and children. Often it is combined with the neighboring beach of Caletlla, from which Caletlla is separated by a small island.
In addition to its wonderful beach qualities (good clean sand, perfect sea water, facilities), Caletlla beach is known for its large range of restaurants and eateries offering seafood and other good quality versions of local cuisine.
Let's add that this beach is popular and it is almost always crowded.
All the necessary attributes of a comfortable holiday are available here – sun loungers, umbrellas, equipment for outdoor activities and so on.
Coordinates: 16.83855500,-99.90207900
Ikakos Beach
Icacos Beach is one of the most famous and popular beaches of Acapulco with a well-developed accompanying infrastructure.
The beach of Ikakos is large – it stretches for more than 2 kilometers along the coast – and has fine yellow sand. It has everything you need to make the whole day enjoyable. For those who like to relax, there are straw sun umbrellas and sun loungers. For those who prefer activity, there is a large selection of necessary equipment for sports: motor boats, water skis, small sailing boats and so on. Of course, surfing is popular here – this place on the Mexican coast has both the necessary wind and waves of the right height.
The beach is in an area where many prestigious hotels are located. Accordingly, there are many restaurants and cafes in close proximity, as well as shopping centers and nightclubs.
Coordinates: 16.85408000,-99.86100900
Hornos Beach
Hornos Beach is considered one of the oldest beaches in Acapulco. It is located in the city's recreational park, which has the same name.
Hornos beach is one of the most visited beaches in the city. The sun is there twelve hours a day. But it can not hurt the vacationers. There are dozens of trees that create shade on the beach. On the beach there are several sources of fresh water. But it can also be bought in the cafes that are located nearby.
On the beach, you can rent deck chairs for about five dollars per deckchair.
The waves at Hornos Beach are always calm. The ocean waters in the area are calm.
Every year, the beach hosts the world famous Sand painting contest. During this time, thousands of vacationers from different cities in Mexico come to the beach. Some contestants even come here from other countries.
Not far from the beach Hornos located guest houses. In them, tourists can relax and even stay overnight.
Coordinates: 16.85753000, 99.90893600
Attractions in Acapulco
La Quebrada Gorge, Acapulco, Mexico Acapulco Airport, Acapulco, Mexico Park Papagayo, Acapulco, Mexico Historical Museum of Acapulco, Acapulco, Mexico Botanical Garden of Acapulco, Acapulco, Mexico Laguna de Coyuca, Acapulco, Mexico
Beaches in Mexico
Beaches of Cancun, Cancun, Mexico Santa Maria Beach, Southern Baja California, Mexico Medano Beach, Baja California, Mexico Stingray Beach, Quintana Roo, Mexico Paradise Beach, Quintana Roo, Mexico Playa Corona Beach, Quintana Roo, Mexico
Beaches of the World
Bavaro Beach, Playa Bavaro, Dominican Republic Copacabana Beach, Rio de Janeiro, Brazil Beaches of Nuweiba, Nuweiba, Egypt Golden Sands Beach, Golden Sands, Bulgaria Anjuna Beach, Goa, India Patara Beach, Antalya Turkey Varadero Beach, Varadero, Cuba Skanesa Beach, Monastir, Tunisia China Beach, Danang, Vietnam Beruvela Beach, Beruvela, Sri Lanka Nudist Beach Praia do Pino, Santa Catarina, Brazil Red Beach, Matala, Greece
Acapulco: Mexico's Sunniest City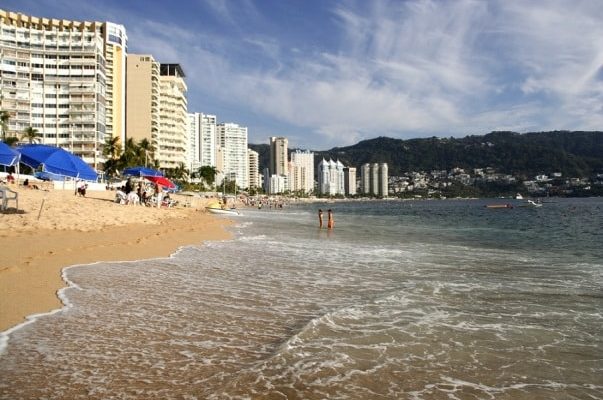 Popular Resorts
The sunniest, warmest and most popular resort in Mexico is Acapulco, which is located on the Pacific coast and is known for its beautiful beaches and bustling nightlife.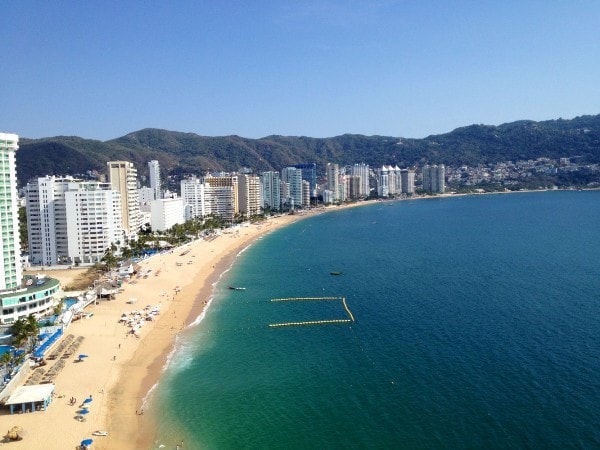 Weather in the resort of Acapulco
This resort is open to tourists all year round, and even in January it can be +32 degrees or higher. The average air temperature is +25 – +28, but there is no strong, debilitating heat: a special microclimate is created by the mountains and the ocean. In addition, due to the fact that the resort is located in a deep bay, which is closed to ocean waves, and the land side of the city is surrounded by mountains, there are no winds. It is believed that the best time to visit Acapulco is November to April, the period of "dry" season.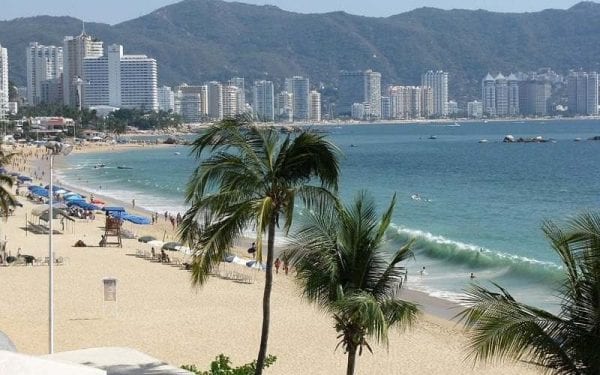 Beaches Acapulco
All beaches of Acapulco are sandy, the sand is yellowish-gray. The best beaches are considered: Pi de la Cuesta and Caletilla, which have a gentle entrance to the water. The Condesa beach in Acapulco's "golden" neighborhood is very popular.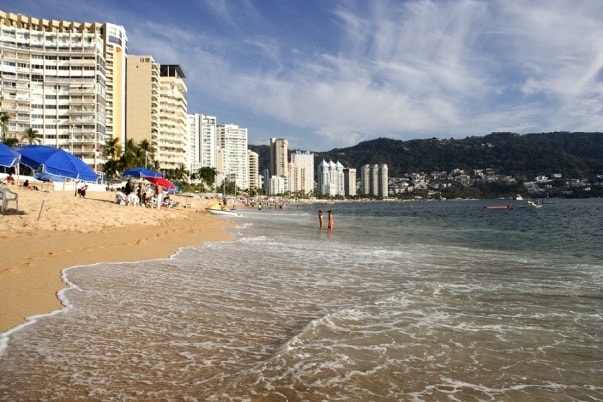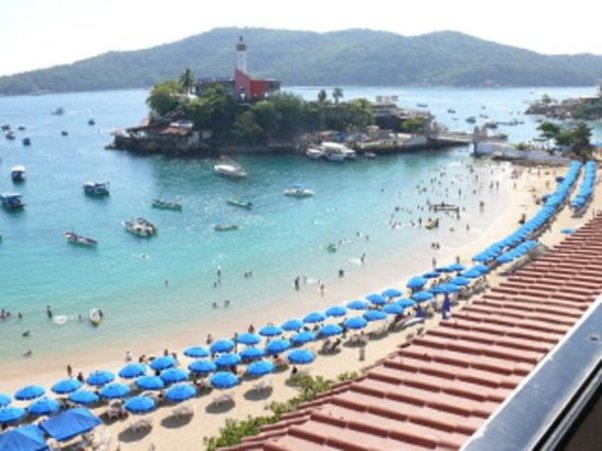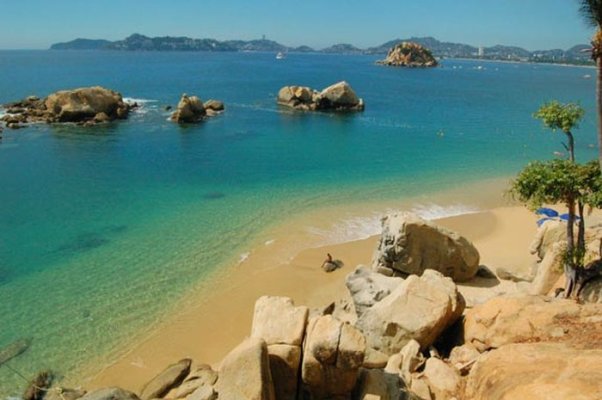 Hotel infrastructure in Acapulco
Hotels and hostels in Acapulco are very numerous, and they are all scattered along the coast, but unlike European resorts, here you will not see luxury buildings. The thing is that many hotels were built in the 50s of the twentieth century, when the resort was on the pedestal of its fame, and today are in a dilapidated state. But both rich and poor tourists can find accommodation here according to their budget.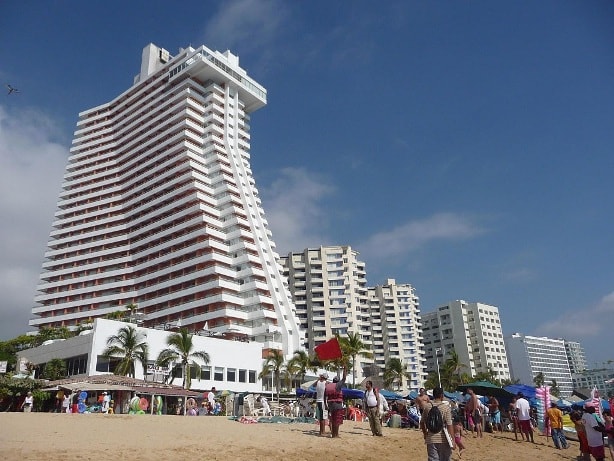 A tourist's note about Acapulco
As such you will not find guides on the city, but for better orientation in the city, we note that conventionally Acapulco is divided into three main areas: 1. The center of the city. 2. Old Acapulco: the western part of the bay.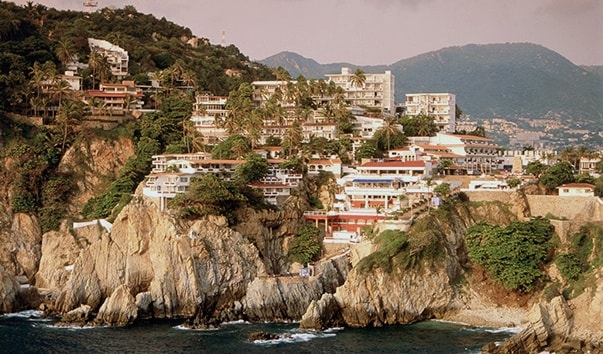 3. Golden Acapulco: the main hotel area. In the same area stand out and "Diamond Acapulco": an area of the most expensive, high-end villas in the east.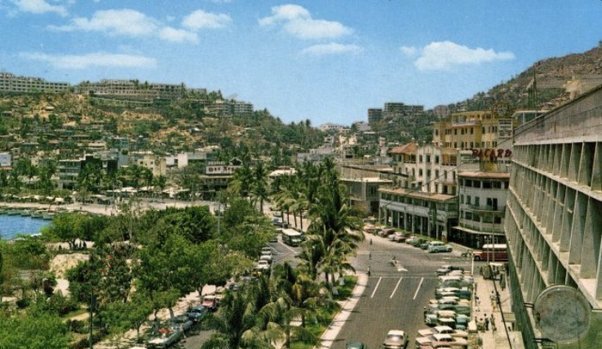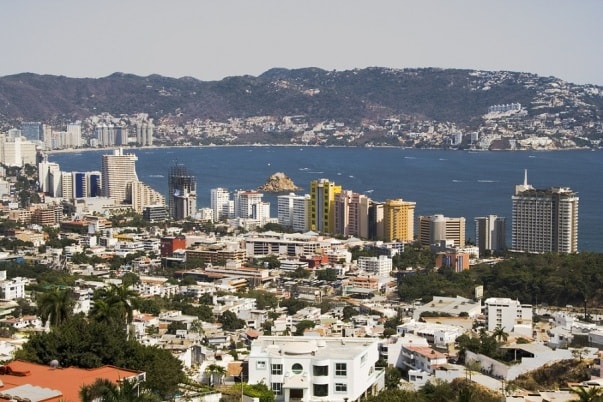 Travel around the city of tourists is better on special yellow buses labeled "Acapulco" or cabs. If you stay in the resort area, you will not need much transport, because hotels, bars and discos are located nearby, but the historical and architectural sights in the city as such and there are no: They are all outside the resort.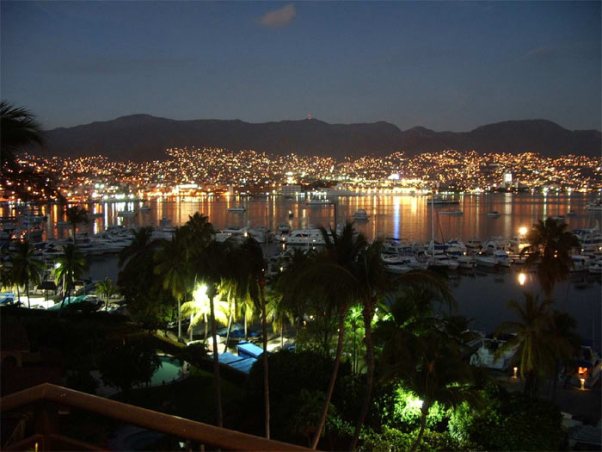 But be sure to visit the bay of La Quebrada, where the cliffs from a height of 34 professionals make dizzying jumps. Every tourist tickles the nerves watching the mini-performance, and the brave ones get the coveted fame and tips. You can watch this action from a special viewing platform or at a table in a cafe.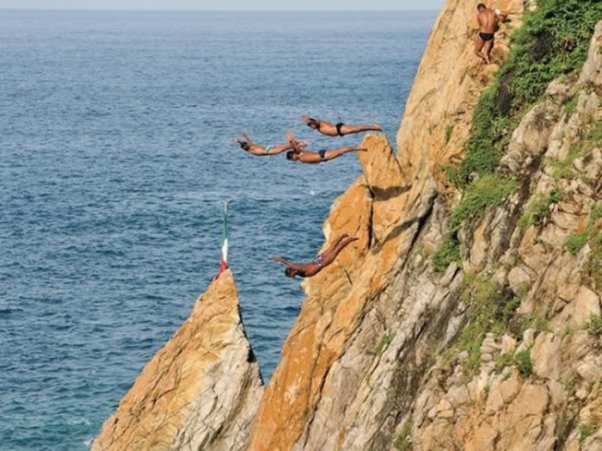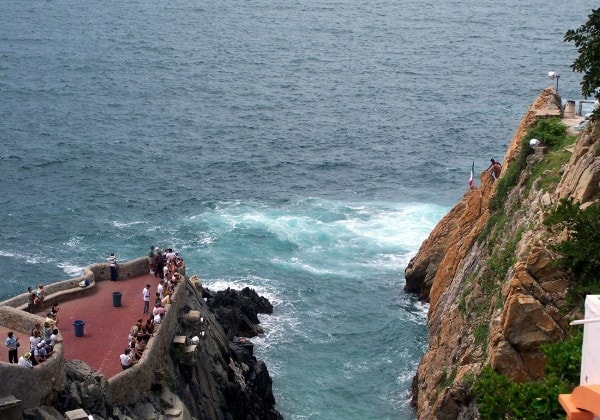 For fans of diving Acapulco will seem boring, because the water in the Pacific Ocean is turbid, but fishermen will be delighted, because the local waters are abundant with dorado, blue marlin, barracuda.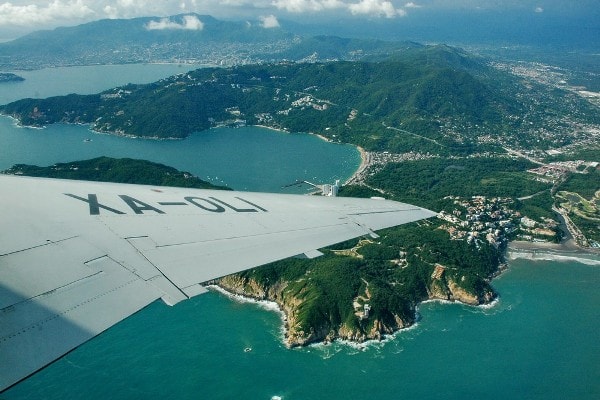 But it's better not to walk around the city center at night: Mexico is not the quietest and safest country. In addition, the scary look of the street, where it is dirty, walking a lot of strange faces, can ruin a good impression of the resort.