Not just a museum or a place to eat on a dime in Lübeck
Our parents and nutritionists bequeathed us the right foods. So the guiding principle for filling your stomach should be to calculate the calories and emotion units that you put into your well-being bank after your meal. If you, like me, are too lazy to do arithmetic, then let's trust our senses, which have been passed down to us from our ancient ancestors.
Food should smell good, look nice, and evoke the positive emotions that you put in your womb, something good, good, eternal.
That's why we go to a restaurant!
How I fell for the hunger rod.
As you may already know, in the middle of the most interesting process of getting to know the museums of Lubeck I was caught by hunger and its partner – irritation. When one is hungry, all art pales before one's eyes, or merges into the image of a succulent meal.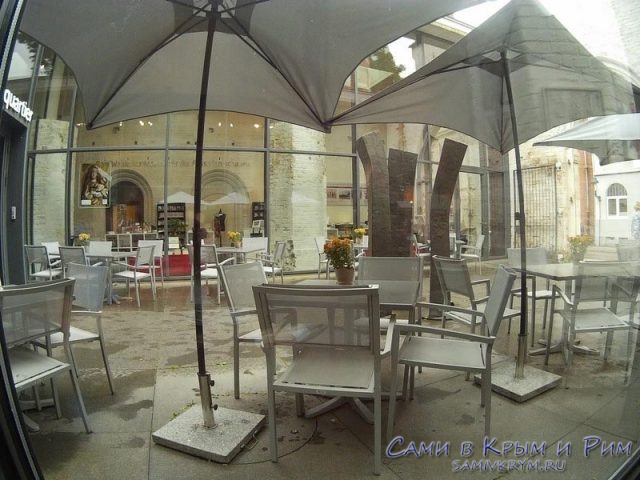 Despite the treacherous swirls of consciousness in the direction of fast food – various pies, hamburgers and other ingredients wrapped in bread, I kept heading for something cleaner and more beautiful. The fact is that quenching my appetite with a hot dog does not allow me religion, which I do not advise you to do either.
What usually bothers me when I'm looking for lunch: inconsistency of price and quality, as well as unpresentable food and ill-conceived interior. In short, without knowing the situation of the restaurant market in Lübeck, going out is a waste of time, which is already scarce.
But then, oh my, what a pious coincidence. At the entrance to the museum quarter of St. Anne's Cathedral, I saw a wonderful restaurant where all three pillars of success – price, beautiful food, and a positive interior – were woven together. I surrendered to the joy of my digestive tract.
So here is Kunstcafe.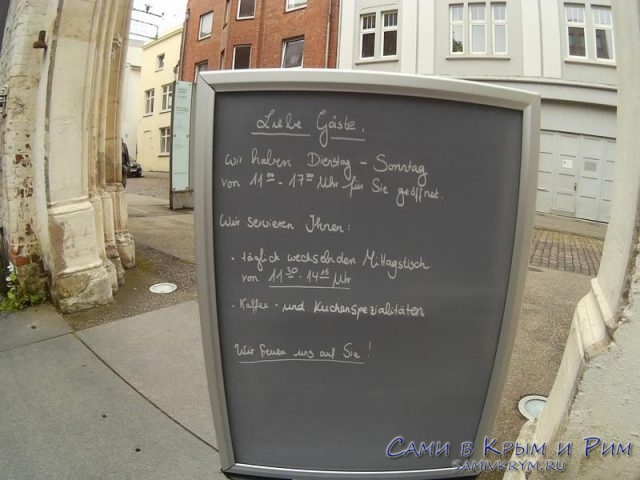 Courageous comrades in stride.
Normally, such places I bypass. Pompous, expensive, mauvais ton. But this time I was won over by the price and a brutal appetite. Why?
Basil cream soup – 3.50, vegetable salad with fish and balsamic dressing – 6.80. Could you resist?
So I thunderingly announced my presence with an international "Hello" and flopped down on the best seat in front of the street display. I did not think too much and ordered the dishes I had already mentioned for lunch. While the waitress was fussing I decided to take a look at what was going on around me.
It was lunch time, so the cafe was not empty. All around, people were steadily devouring the portions they had ordered. For today "God sent", except for my choice, pork medallions with everything and everything, spaghetti with mushrooms and parmesan and boiled potatoes with herring and lettuce.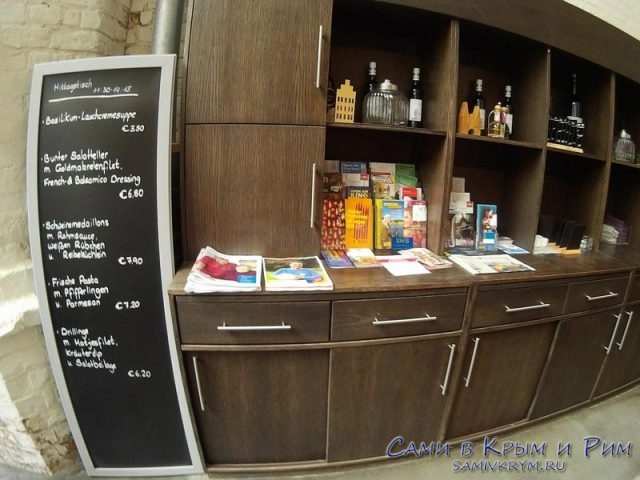 As you could see in the photo, everything is priced very reasonably.
In anticipation of the meal.
In general, such a policy, when you are offered a limited, but fairly diverse selection of dishes for lunch, benefits everyone. The client knows that the dish will be fresh and you don't have to wait until the first star. Chefs also have an easier time navigating through the products, so they can afford to have some stock and use today's products.
Not the option where you order a dish from a menu that almost no one ever orders and then engage in a noble duel with the waiter about the ingredients not being fresh.
At the next table, the lady was on medallions, but the guy was limited to soup. A little farther away, a large family was feasting their stomachs on spaghetti. A little later, an elderly couple came over and, after a glass of beer for health, began to dispose of the herring under the potatoes.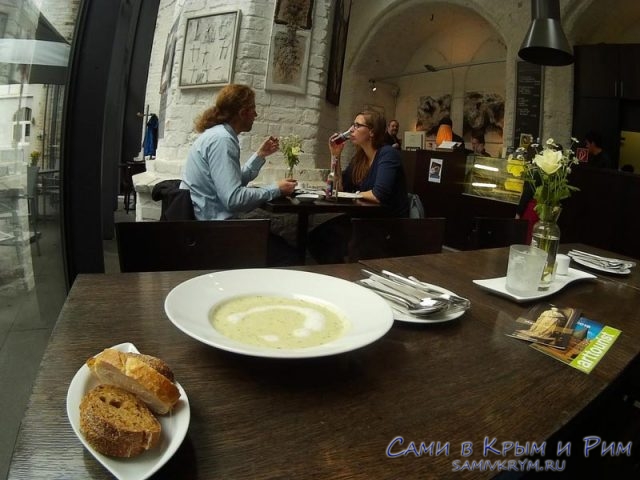 Spoons to the fight.
While I was disturbing the others to enjoy their meal, they brought me my soup. The soup was served with a couple of breads, which I happily crunched up first. The soup came easily to me. First, it was creamy, and secondly, I did not care what it was. After licking my spoon modestly, I began to languish in anticipation of the salad.
And then five minutes later, pessimistic thoughts began to creep into my head – why did I order my salad?
The thing is, I've been trying to be low-key lately, both in general and in terms of food. So as the soup rolled down the walls of my stomach into my "tank", the feeling of hunger suddenly receded, filling my mind with benign thoughts of creativity, diligence and universal love.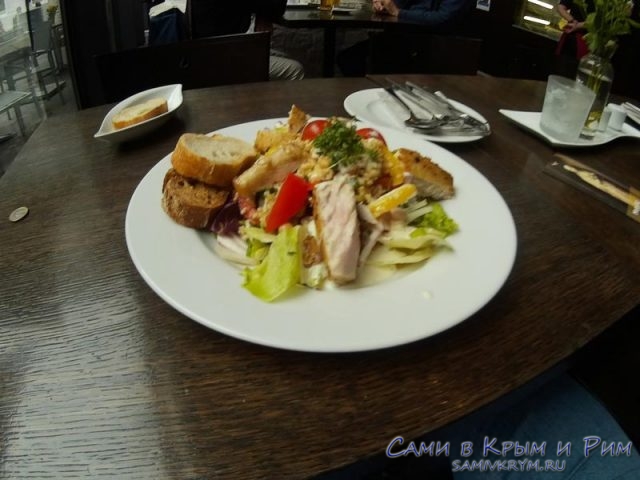 When they brought the salad, I was already ready to deny myself this pleasure, so as not to overeat and not to bring down my calibrated sense of proportion. But still succumbed to the appetizing contents of the plate and the encouragement of a young waitress.
The salad was excellent . A culinary masterpiece of banal ingredients. It had everything I love about a great salad: cherry tomatoes, mustard seeds, pine nuts, basil, and lettuce. If the pieces of boiled fish were removed from this salad, it wouldn't lose any of its nutritional and presentational value.
Do you want to know what budget travel in new age Germany is?
It's a new style of travel – "individual tours without a guide" :
When you don't overpay guides, drivers and other middlemen.
Travelling on a carefully planned ready-made itinerary .
The headache associated with the preparation and planning, is absent entirely!
Here are 2 new German itineraries. Which one will you choose?
Creativity, culture, the Alps and Italy – your choice
Thermae, German Disneyland and penny costs – no question !
I'm fed, satisfied and grateful.
The meal, which cost me only 10 euros, was worthy. After such a feast it was possible to go again to a meeting with art and new impressions, for which now I did not have to go far. St. Anne's Cathedral was waiting for me.
For foodies: restaurants and cafes in Lübeck. Authentic food and specialties, where to go for dinner
The national cuisine of Lübeck is characterized by an abundance of seafood. A local favorite is a dish made of beef, potatoes, herring, beets and eggs. Although the combination of such diverse components may seem surprising, the taste of the dish is absolutely perfect. You may order this original dish at any restaurant of national cuisine.
Lubeck is a beautiful and hospitable city with interesting historical monuments and a lot of original traditions. For over 150 years the city has held a traditional summer festival, a custom …
Among strong drinks the undisputed leader is the Luett, a cocktail of vodka and beer, which is served in small glasses. There are dishes for demanding gourmets in the local restaurants, the most popular delicacy is Luebeck marzipan. This delicacy is usually served during the Christmas holidays, but in elite restaurants it can be ordered at any time.
The Luebecker Hanse restaurant, which specializes in German cuisine, is worth mentioning among the gastronomic establishments of the city. Here you can order simple and hearty dishes at attractive prices or enjoy interesting author's masterpieces. A significant part of the menu consists of dishes prepared on a grill and Luebecker Hanse will also please vegetarians. The spacious hall of Schiffergesellschaft restaurant can easily accommodate a large company. The menu is based on national cuisine, and in the evening the guests can enjoy an interesting entertainment program. Copyright www.orangesmile.com
Every Lübeck landmark is a unique historical monument, and in order to get acquainted with the main sightseeing attractions, vacationers are recommended to take a walk through the central … Open
Both adults and children will enjoy relaxing in the cozy Niederegger Café. Fresh vegetable salads, pastries and first courses are served here, but the main distinctive feature of Niederegger is the magnificent choice of desserts. Movenpick serves a buffet breakfast in the morning, and tourists remain the main visitors of this popular place. During the day at Movenpick you can perfectly relax after walking around the city and enjoy refreshing drinks and special treats. Among the popular bars is Bolero Lubeck. It receives guests until late in the evening, in a bar always reigns cheerful and disposing to a comfortable relaxing atmosphere. This is where fans of German beer and exotic cocktails love to gather.
In addition to interesting restaurants and markets, Lübeck has more original gastronomic attractions. The historic Niederegger store, which opened more than 200 years ago, is located in the same building as the confectionery, which produces the best marzipan in the city.
The famous Travemunde holiday region in Lübeck continues to draw beach lovers and health enthusiasts alike. … Discover
The unique delicacy of almond flour is made according to a very old recipe and you can buy marzipan in many different shapes in the store. You can also buy nougat, caramel, teas and coffees in gift boxes. There is a small cafe on the first floor of the store, where you can try the most popular marzipan desserts.
Lovers of sweets will be interesting to visit the farm "Karlis" located in the suburbs of Lübeck, which was opened in 1921. This farm grows strawberries and produces from berries a variety of options for sweets and drinks. Many travellers come here to buy a tin of strawberry jam or taste the original strawberry liqueur.
1. The best form of public transport is the bus, with several dozen routes covering all parts of the city. Next to each public transportation stop there are special … Open
The farm has an excellent store that sells strawberry chocolates and special teas with dried pieces of berries. There are interesting tours of the farm, and it is often visited by tourists with children. For younger visitors there is a small zoo, and also equipped with creative workshops, where children can learn how to make their own interesting sweets from berries. On this farm, interesting handmade lollipops are produced, and everyone can watch how they are made.
Not everyone knows that in Lübeck you can also taste special types of wine. Despite the fact that the vineyards around the city has never existed, some of the best European wines mature in the local wine cellars. The tradition of winemaking in the city began during the period when it was invaded by Napoleon's army. During this period special wooden barrels for aging wine were brought to the city, which are still used for their intended purpose today.
Lübeck produces a special kind of red wine, Lübecker Rotspon, which can be tasted at literally any local restaurant or bought in one of the gastronomic stores. The grapes for making this wine are bought from neighboring regions by local wineries, and over the years, local wineries have become extremely popular and are known far beyond Lübeck.
This article on the cuisine and restaurants of Lübeck is protected by copyright law. Full reprinting is permitted only if the source is cited with a direct link to www.orangesmile.com.
Hello, Directory?
Map of all Michelin restaurants
Michelin restaurants in Lübeck ♥ Restaurant 'VAI' LÜBECK. Type – International Cuisine. 0.8 km from the city center. On the map photo ♥ Restaurant 'Die Zimberei' Lübeck. Type – classic cuisine. 0.8 km from the center. On the map Picture ♥ Restaurant 'Wullenwever' Lübeck. Type – Classic cuisine. 1.2 km from the center. On the map Picture ♥ Restaurant 'Restaurant Hauck' Hamberge. Type – International cuisine. 7.7 km from the center. On the map Picture ♥ Restaurant 'Panorama' TIMMENDORFER STRAND. Type – classic French cuisine. 15.4 km from the Center. On the map photo ♥ Restaurant 'Orangerie' Timmendorfer Strand. Type – classic French cuisine. 15.8 km from the center. On the map Picture ♥ Restaurant 'Reethus' Timmendorfer Strand. Type – Grills. 15.8 km from the center. On the map Picture ♥ Restaurant 'Weinwirtschaft' Lübeck-Travemünde. Type – Country Cuisine. 15.9 km from the center. On the map Picture ♥ Restaurant 'Villa Mare – Balthazar' Lübeck-Travemünde. Type – creative cuisine. 16.2 km from the center. On the map Picture ♥ Restaurant 'Grand 1904' Lübeck-Travemünde. Type – Mediterranean cuisine. 16.2 km from the center. On the map Photo
Auto on OrangeSmile
If all planned projects for the current year will be completed successfully, then at the end of 12 months under the management of the organization will be about 5 300 hotels, with a total room stock of more than 770 000 units. This year the company is focused on luxury hotels, which account for about 40% of the total hotel room inventory. Read