Bavarian Cooking for Beginners
Everything that we think of when we say "German food" refers in the first place to Bavarian cuisine: roast pork knuckle, potato dumplings, pretzels – these were and are all traditional dishes in the South of Germany. Bavarian cuisine is by no means the most sophisticated in the world; in fact, it is based on simple but hearty peasant dishes. Almost each of them contains pork, potatoes and beer in various combinations; therefore it is not easy for vegetarians and fattening eaters in such places.
The so-called "Bavarian cuisine" combines several regional culinary traditions: the classical cuisine of Munich suburbs with an emphasis on fatty pork, the Alpine cuisine – with special attention to cheese and lamb, and the Franconian cuisine. Germans like to settle into their small regions and fracture identities, but we'll tell you about the most typical dishes of Bavaria and Franconia, the historic region around Nuremberg.
The very notion of "restaurant" in Munich and the surrounding cities would refer rather to an establishment of high international cuisine. The best Bavarian dishes according to home recipes are served in classical beer houses, along with excellent local beer. So look for the Stube or Keller (beer cellar) in the south of Munich and in the Bavarian capital itself, and the Gaststätte in Nuremberg and Franconia. At the entrance you are likely to be asked whether you intend to eat or drink and, depending on your answer, will be sent either to the hall with the long, high tables in the company of local regulars in traditional costume or to the quieter part in the back of the place. Don't be surprised if you're invited to sit at a table with another group – or if other guests are assigned to your table, as it's not unusual in Bavaria. Don't forget that in most places the kitchen is open until a certain time, usually until 9 p.m., after which you'll be offered only beer.
Before you enter a pub, make sure you know you won't be able to try everything at once: Bavarians are very generous and one portion can be enough for two unprepared tourists. If you inadvertently order two pork knuckles for two in the same restaurant, the caring waitress will hint subtly that you can hardly cope with one portion. And she will be right.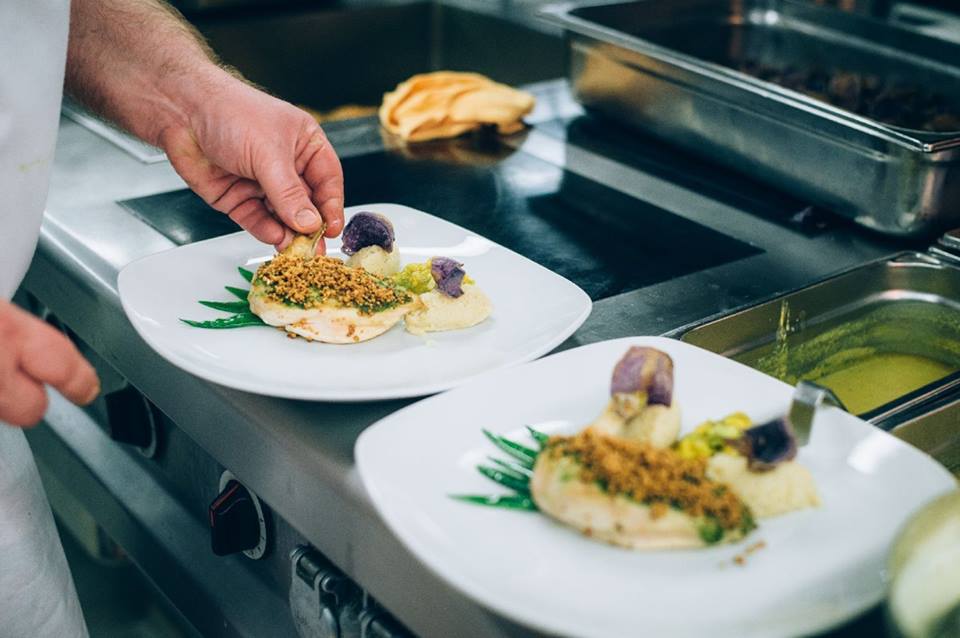 Germans cherish their traditions, even in our globalized and ever-rushing world. The average German still starts the day with a fresh pastry from the bakery next door and has a hearty dinner at home with family or in a gastet with friends. Sandwiches and takeaway salads have swallowed the world, of course, in Bavaria, and have become the typical lunchtime for office workers alongside the traditional German fast food of sausage rolls and kebabs. But Bavarians are still not about to give up their busy breakfasts and even denser dinners.
Bavarian breakfast – Fruhstuck
No Bavarian day can begin without a fresh pretzel, a pretzel made of pastry sprinkled with large salt crystals. In the olden days, pretzels were bought early in the morning at the bakery next door and served hot, but modern Bavarian pragmatists have long since become accustomed to stocking up on the sacred pretzels in the evening. The pretzel is generously buttered – no jam or chocolate paste! – And they're washed down with traditional black coffee. Of course, Bavarian sausages are also part of the breakfast. The most common sight on the table is Munich's white sausage called weisswurst, which is not boiled but steeped in water and served in a ceramic dish, with sweet mustard. That's one bratwurst and one sausage per person. Back in the 1950s, they say, a glass of wheat beer was added to the list, but now only Munich restaurants offer such a combination.
Bavarian dinner – Abendessen
A typical German dinner consists of meat, potatoes, vegetables and, of course, beer. Most Bavarians work until 17.00, so there is plenty of time for cooking. And Germans love to cook: it's enough to look at the supermarket shelves, where there are all sorts of meat products, or in someone's food basket, where kilos of pork with special labeling "a product of Bavaria" next to the bulk boxes of beer.
Sunday lunch – Sonntag Mittagessen
Weekends are a time for gastronomic delights and roasting meat "according to grandma's recipe" for Sunday lunch. For the main meal, the whole family gathers, guests and friends come over. The main course is a several-kilogram piece of meat, usually pork or lamb, roasted with onions and carrots. Naturally, in beer sauce – you wouldn't need it without beer sauce. As a side dish we have potato dumplings or mashed potatoes, and then the obligatory dessert – apple strudel or closed pie with berries. Lunch occurs in the afternoon: in the olden days, the meat was put in the oven early in the morning and went to church, and for a few hours the meat gets the right conditions. Now during Sonntag Mittagessen in small Bavarian cities, even the buses stop running – everyone enjoys the delicious food and the family atmosphere.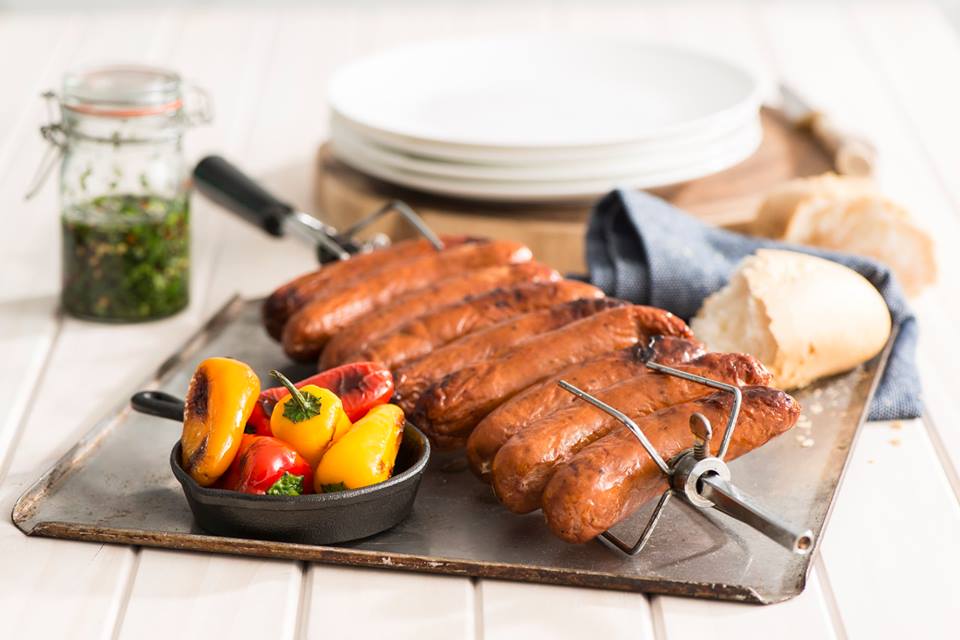 Every Bavarian town prides itself on its own sausages – and they really are different. There's no single term for "Bavarian sausages" – but there's something special to try in every town. The Bavarians joke about separating themselves from the rest of Germany with the so-called "white sausage equator" (Weißwurstäquator), which is the agreed border for the spread of these sausages of indeterminate color. Disputes about the line of the "equator" do not cease – it is laid now along the Main, then along the Danube and usually covers all the Bavarian lands and Upper Franconia. In general, the main feature of white sausages – is that they are cooked from a mixture of minced veal and bacon with spices, without adding nitrites, not soaked in salt and not smoke.
And here are the main types of Bavarian sausages, which can be found in both beer and sausage stands in the squares:
Munich white (Weisswurst).
The kind of sausage that people usually eat for breakfast. Moreover – in the afternoon they disappear from the menu, and if you do decide to order – the waiters will cast a puzzled look at you and warn that breakfast time is over. Traditionally served in pairs, in a cauldron of boiling water, with honey mustard.
Munchener Bratwurst (Munchener fried)
The word "bratwurst" refers to all kinds of grilled sausages, the main German fast food item on par with kebab. And it is clear that every city will have its own special bratwurst. The most famous is still Munich's – in fact, it is the same white sausage with parsley, only slightly denser and fried to a golden crust. Bratwurst, unlike boiled sausage, is eaten with regular, rather wicked mustard and stewed cabbage.
Nurnberger Rostbratwurst
Short thin spicy white sausages – the pride of the capital of Franconia. Marjoram, cumin, cardamom and mustard seeds are added and served in multiples of three. So, in the fast food outlets for €3 you get three sausages in a fresh round bun with fried onions and horseradish (Drei im Weggla), and in a beer hall – six sausages with stewed cabbage, or 12-15 in a set for the company. This is the only kind of sausage with regional protection of name and recipe.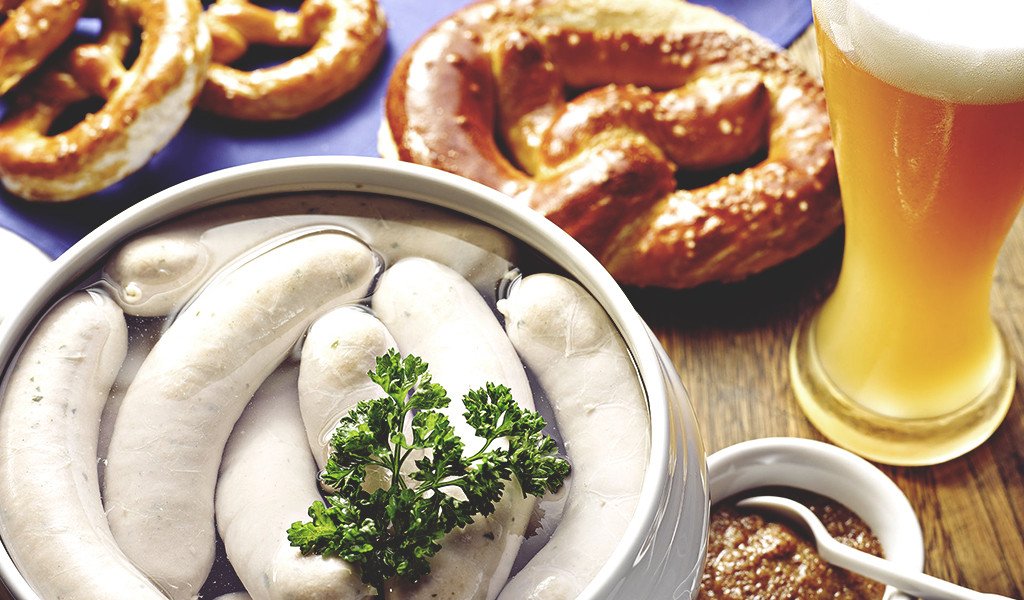 Bayreuther Bratwurst.
Bayreuth is still within the sausage equator, and the local sausages are still white. They are longer than Nuremberg's, fried harder, and served in pairs, with spicy mustard. Unlike the previous ones, the Bayreuth sausages are almost without herbs and spices, but a little more fatty due to the mix of pork and veal.
Coburger Bratwurst
Made according to the traditional recipe from 1498, and among the spices there is nutmeg and lemon peel. A fresh egg is also added to the stuffing to make the sausages dense. Koburg sausages can be up to 25 centimeters long and are served in a special long bun (Brötchen), generously sprinkled with mustard.
Wurzburger Bratwurst
The only sausage on the list from outside the "sausage belt", therefore – pink, slightly smoked, spicy and cooked with the addition of local white wine. Würzburg sausages are much bigger than others: for €4 in the main square you can get a half-metre (!) sausage in a small round bun with fried onions.
City sausage (Stadtwurst)
Stadtwurst is found on the menu of almost every restaurant and in general resembles a typical smoked sausage. Inside the sausage belt, "city sausage" would be a good alternative to spicy white sausage.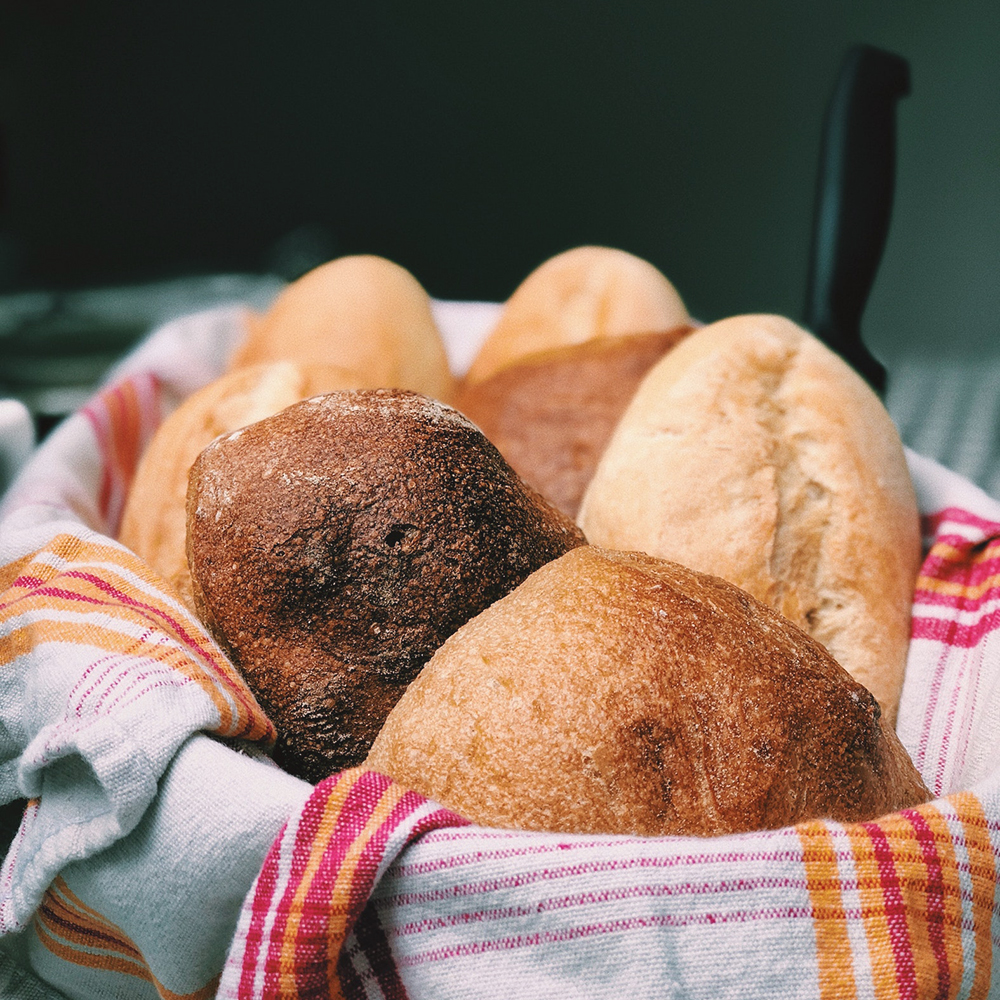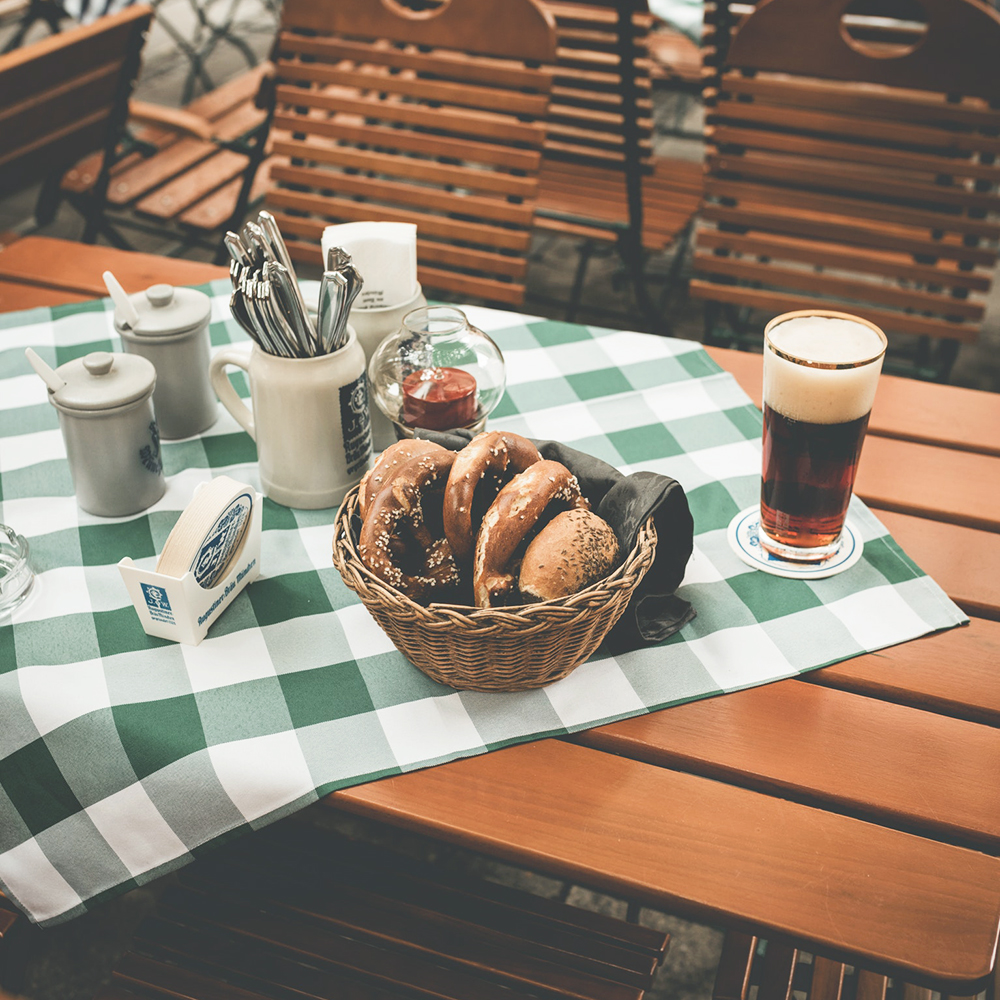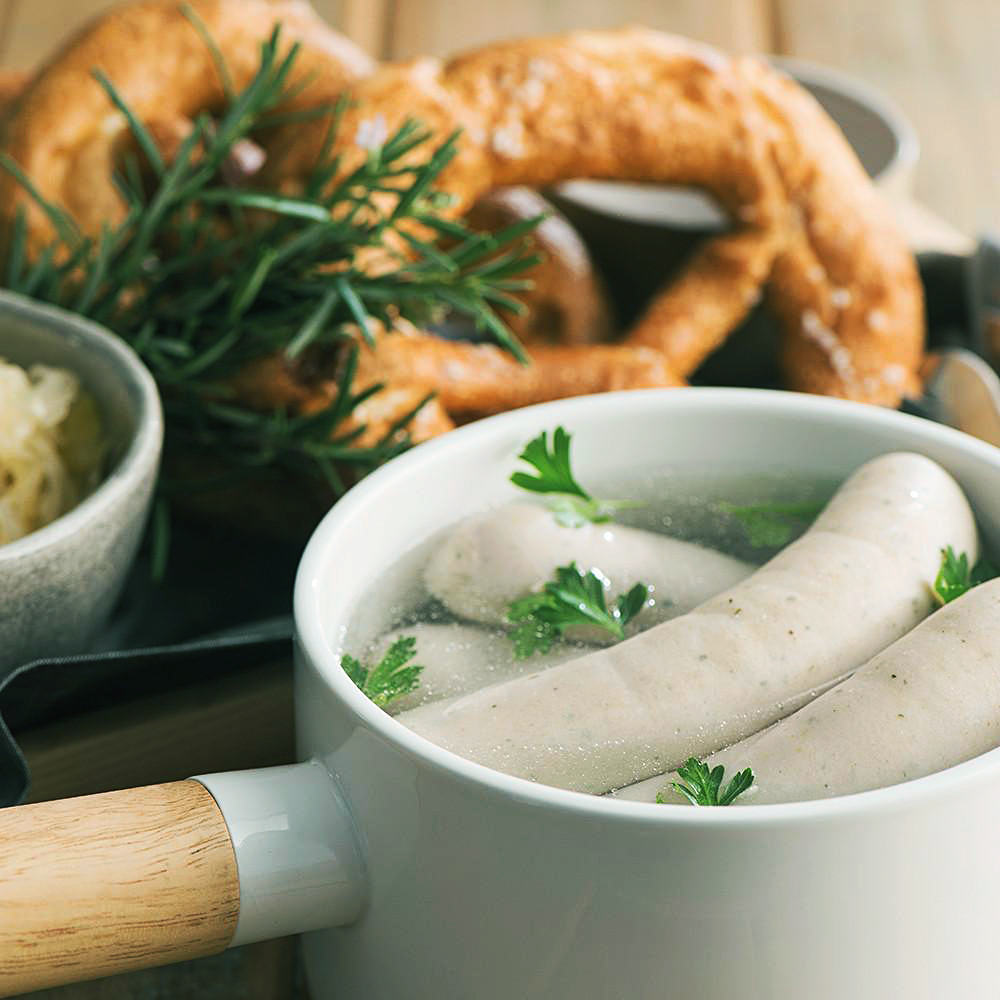 Brezzel is not only a breakfast attribute, but also a versatile snack. The classic with salt crystals or variants with cumin, sesame or anise are a great snack for a beer after work or as a snack on the go. In Franconia, along with pretzels, they also bake a "long pretzel," which is the same thing, but without the usual shape. Note that "proper" Bavarian bakeries are open until about 4:30 p.m., so stock up on brezels in advance.
One of the few Bavarian dishes that is safe to order for vegetarians: this snack contains only aged cheese, butter, onions and spices. Not only cooking methods vary from place to place, but also names – you might come across "obazda" and "angebazzter" and even "fermishter", but the essence remains the same. It is a traditional summer snack with light beer in the biergarten, the beer garden. Obazter does not appear often in culinary guides, but despite this, it is listed as a protected place name.
Perhaps the most famous and popular of the Bavarian soups. Rational use of food is in the Germans' blood, so by-products are found in every possible variation. In this case, you'll be served a strong, flavorful meat broth with liver meatballs on half a plate. The recipe is different in every house and every brewery, somewhere they add vegetables, somewhere they add cumin and dill.
Pork knuckle (Schweinshaxe)
The most stereotypical Bavarian dish is of course pork knuckle baked in a dark beer sauce, which you're sure to get with a knife stuck in the meat. For the canonical Schweinhaxe the meat is marinated for a few days in beer with garlic and cumin, and then it is stewed in the oven for a couple of hours so that the meat is not tough and can be easily separated from the bone. Such a dish will not be cheap – an average of €17, but you can eat a portion for two, because in addition to a kilogram of meat you will be served with a side dish – Sauerkraut and a couple of potato dumplings (Knödel).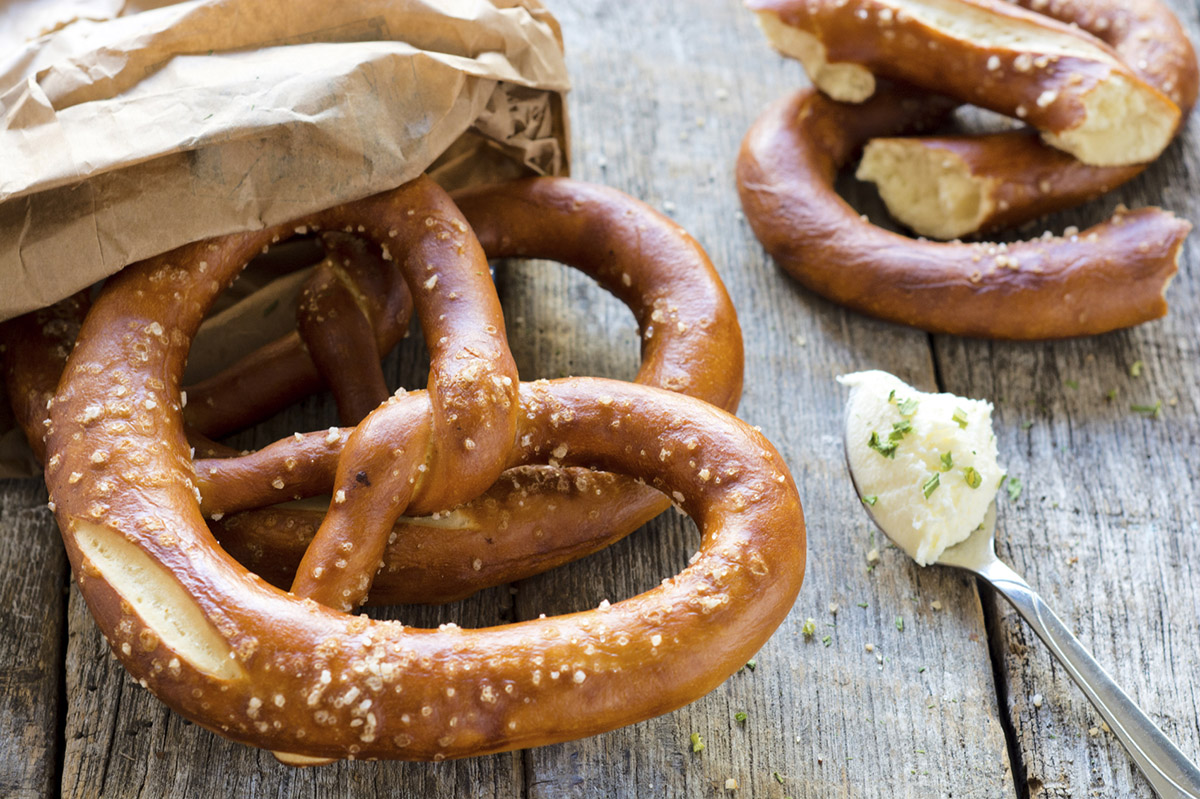 The Franconian answer to the Bavarian knuckle is the baked pork shoulder Scheufele, which looks like a miniature variation of the Schweinhaxe. The shoifele can be eaten alone – unlike the knuckle, this dish is less fatty and baked in a sweeter sauce of dark beer. You can also serve it with stewed cabbage and potato dumplings, this time in one dish.
Bavarian Schweinbraten is that Sunday dish, a piece of pork stewed in a cauldron with vegetables. Depending on the region, the meat is either baked until crispy or completely covered in sauce. If you order it at a pub, you'll probably get two or three pieces of baked meat with bread dumplings, braised red cabbage and white horseradish. In our experience, several portions of Schweinbraten remain even after the kitchen is closed, which the waiters will always be happy to tell you about.
Bavarian Duck (Bayerische Ente)
Crispy Bavarian duck is an alternative to heavy pork dishes. The bird is baked in its entirety, sometimes stuffed with apples or pears under a special sauce: möd and orange peel are added to the usual beer. You can order a whole duck or a half, which is also enough for two adults to eat, because no one cancelled the side dish.
Kasspatzle
Another find for vegetarians: slices of boiled unleavened dough topped with algo cheese and fried onions. The dish was invented by shepherds from the Bavarian highlands, but is now being made everywhere. The dough for spätzle is cut on a special board and thrown directly into the boiling water, and the length and thickness of the slices will vary from place to place.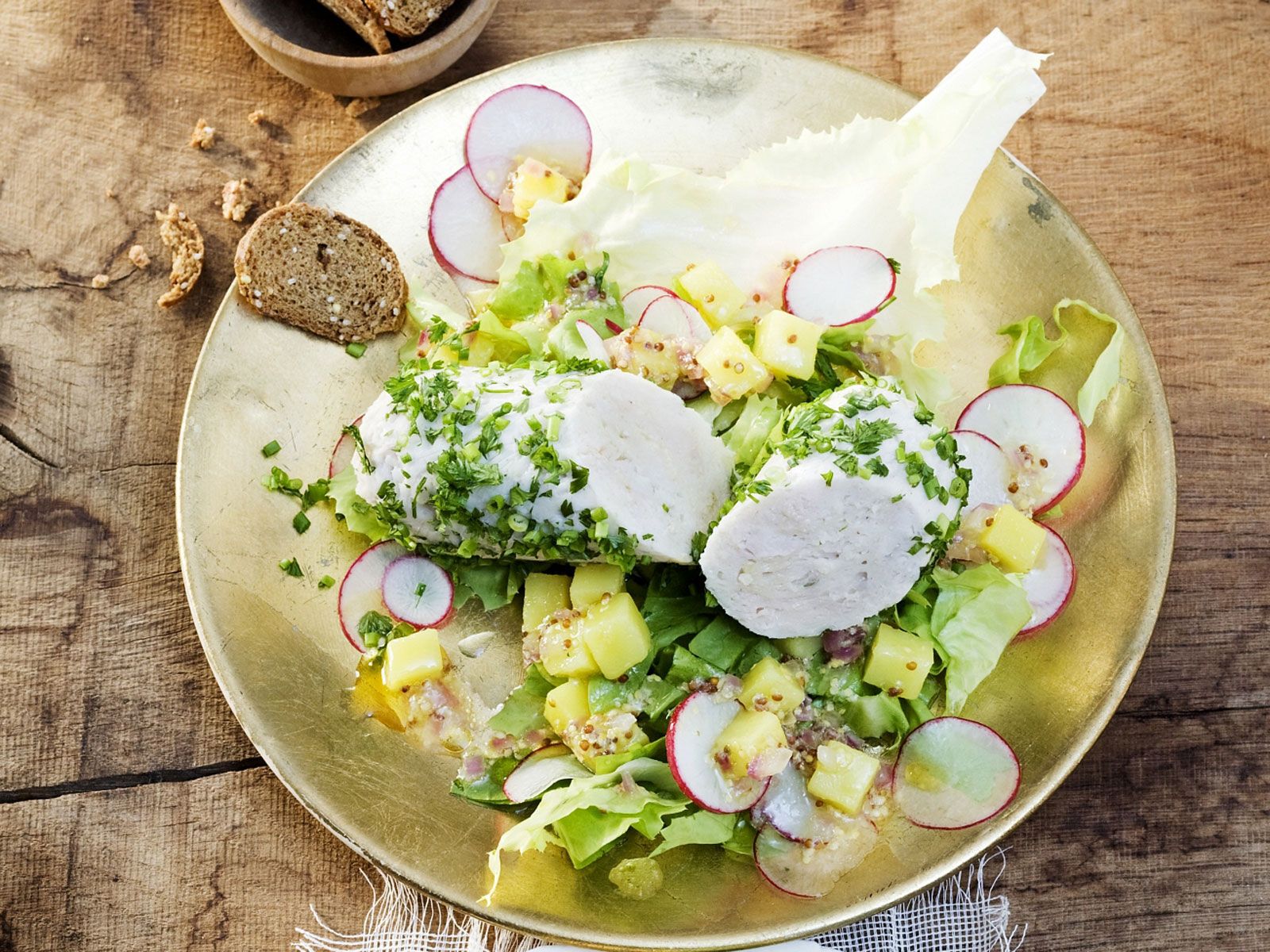 Bavarian cream (Bayerische Creme)
If you have any energy left for dessert after a hearty Bavarian dinner, be sure to try Bavarian cream – a hybrid of jelly and custard, flavored with cherry or walnut liqueur. And fresh berries – strawberries or blueberries. It's said that Ludwig II, the last king of Bavaria, was particularly fond of this dessert.
This hard-to-pronounce dish is the German answer to sweet dumplings. A round bun made of yeast dough is filled with thick plum jelly, steamed, and served with butter and vanilla sauce. Hot germknodel can also be a full meal – especially during the cold season. It is also a favorite among German children, so you can find sweet dumplings on every pedestrian street in Bavaria.
If you want a real gastronomic experience, choose a non-touristy pub in a small town or a quiet Munich neighborhood, where the staff do not speak English, and order any item you do not know. So you might end up with a raw minced meat and onion sandwich (Mettwurst), zucchini stewed in sour cream (Frischkäse Gemüsepfanne), or even a roast pig skin (gebratene Schweinehaut) – which the waitress will describe as "pig's belly" on her fingers.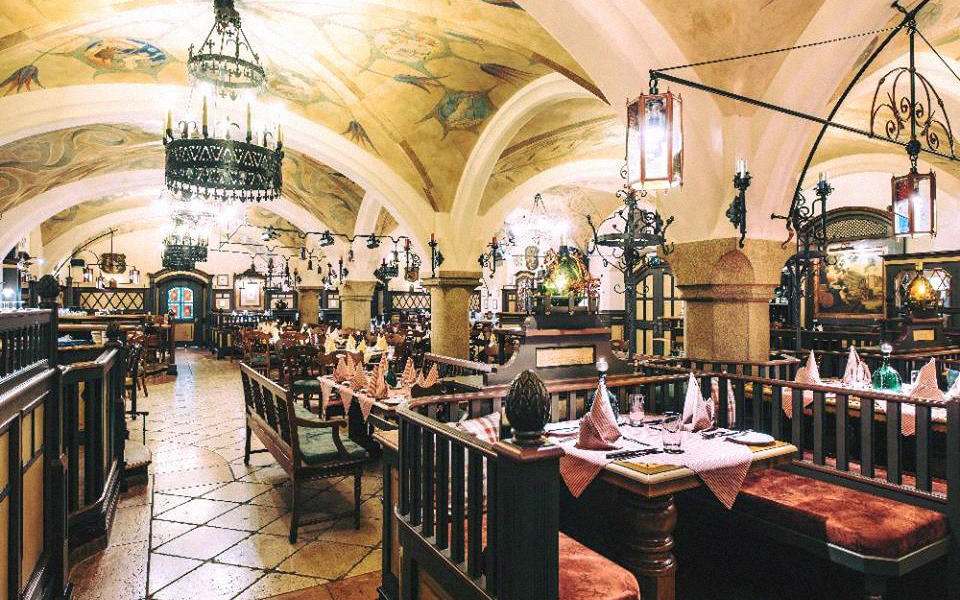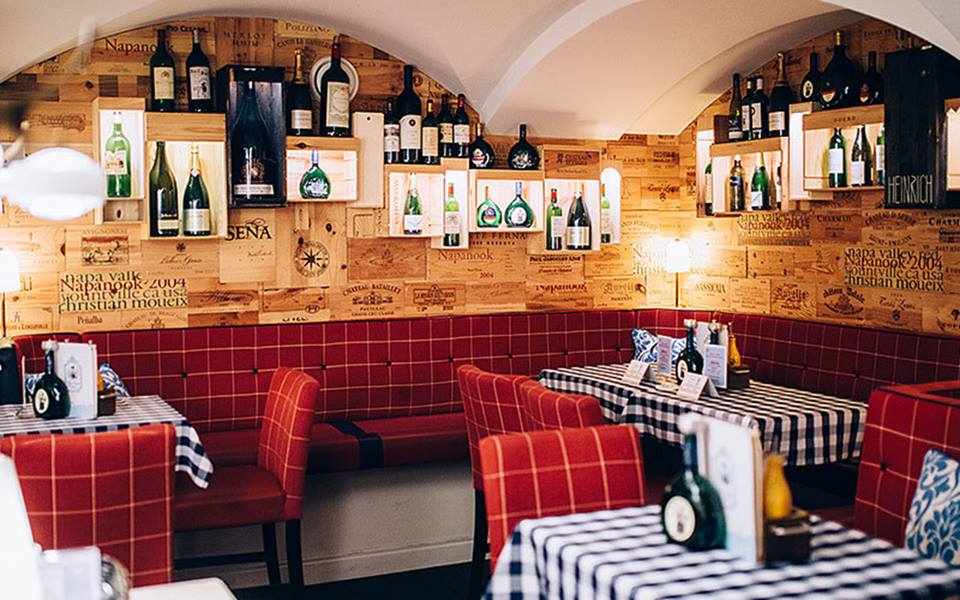 Augustiner am Dom (Frauenpl.,
is an old beer house right next to the entrance to the huge Frauenkirche. As the name suggests, it serves fresh beer of the respective brand, and with it – amazing dishes of Bavarian cuisine. Surprisingly, despite the location, the restaurant is focused primarily on locals: in the evenings in the upper hall it is impossible to get through from the abundance of Bavarians in leather shorts and hats with a feather. The English menu is specially highlighted with crowning Bavarian dishes and the waiters will be happy to tell you about old recipes, which bake duck (€29) or schweinbraten (€17) or make sausages (assorted – €17). Don't be intimidated by the high prices – any meal can easily be had for two.
Wandering around Munich in the morning, try the Ratskeller in the basement of Munich Town Hall (Marienplatz 8). The restaurant has been open since August 1, 1874, and still serves canonical white sausages, crispy warm brezels and wheat beer at lunchtime from 11 a.m. to 3 p.m. In the evenings the huge restaurant is filled with tourists from all over the world and in the evenings it transforms into an international cocktail bar.
Another historic Munich restaurant is Wirtshaus In Der Au (Lilienstr., 51), which proudly calls itself "the main supplier of Oktoberfest dumplings". An enormous breakfast menu – from Bavarian for €5 to royal (with organic yogurt and a plate of noble cheeses) for €15, five kinds of dumplings – with bread, spinach, tomatoes, cheese (from €12 for a huge portion), home-made duck (€23), several kilograms of meat plate (€19 per person) and a huge dessert list.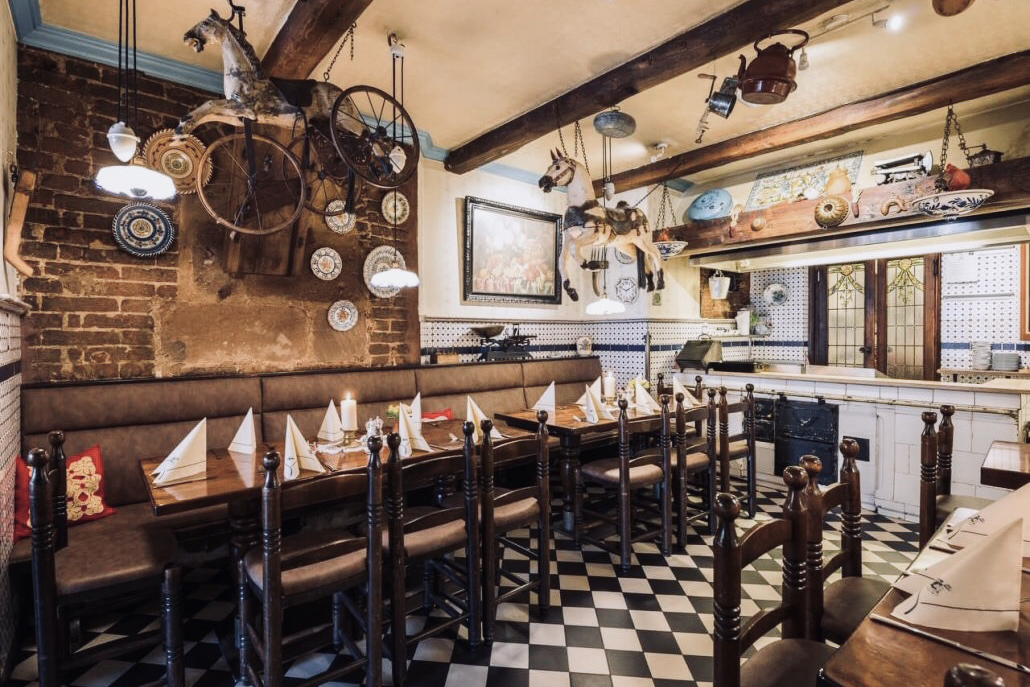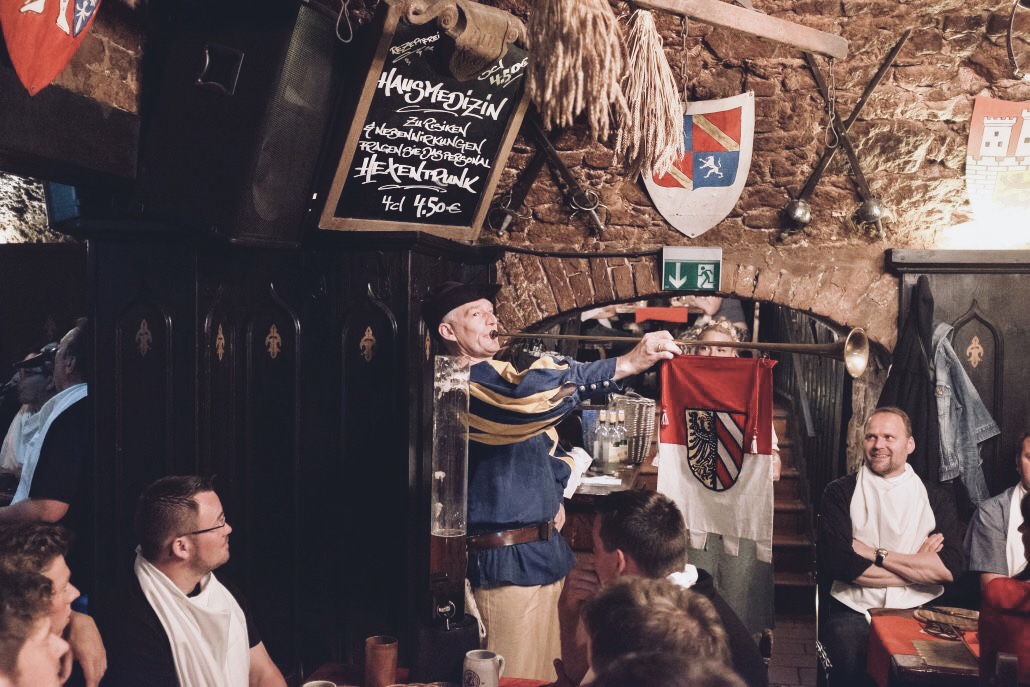 One of Nuremberg's most authentic establishments is Alte Küche'n & Im Keller (Albrecht Dürer str. 3) near St. Sebald Church. To go with a mug of Franconian keller beer, order a six-pack of Nuremberg sausages with potato salad or cabbage (€7) or a pork shoulder shoofele (€12). There are also many kinds of homemade soups based on grandmother's recipes (€3 to €6) and authentic homemade desserts (from €5). An added bonus is that the kitchen is open until 9:30 p.m., half an hour longer than in all nearby beer houses.
Just up the street is the Albrecht-Dürer-Stube (Albrecht Dürer str. 6). The main thing on the menu, along with homemade Franconian cuisine, are dishes made from seasonal products, so you can try an excellent cream soup of wild mushrooms or pumpkin pie in the fall, and curly cabbage stew grünkohl in winter. The chouffele (€10.50), cheese spätzle (€7.50) and Bavarian desserts (from €4) are superb, with reproductions of Dürer engravings and old drawings of the city adding to the atmosphere. Note – the place only opens for dinner, at 6 p.m., and is open until midnight.
If you decide to go to Neuschwanstein, on your way back stop at Madame-Plüsch in Füssen (Drehergasse 48, Füssen), the same town where you change from bus to train. This small restaurant is open since XVIII century and the interior is decorated in the style of fairy-tale castles of King Ludwig. The emphasis in the menu is on Alpine cheese cuisine and desserts.
And in the Bavarian town Regensburg on the very bank of Danube lurks the oldest sausage restaurant in the world – at least so claim the owners. In the Historische Wurstkuchl (Thundorferstr. 3, Regensburg) five hundred years ago the bricklayers who built the bridge over the river and the city cathedral dined there; later the port workers and now the white sausage lovers from all over Germany. The menu is as laconic as possible: three kinds of bratwurst (from €10 a portion), weisswurst (€7.5), stewed cabbage and beer. The pride of the place is the homemade sweet mustard from Aunt Elsa's recipe.
Photo: ratskeller.com, augustineramdom.de, unsplash.com, images.lacucinaitaliana.it, gotzinger.com
The top 10 dishes of German cuisine
Traditional food in Germany is often associated with pork knuckle, sauerkraut and fried sausages. But these are not the only dishes of the rich German cuisine.
The country loves to eat well. Proof of this is the huge number of national recipes created using pork, veal, vegetables and other natural ingredients. Experts recommend to begin the acquaintance with the main culinary masterpieces of Germany with the 10 favorite dishes of natives of the country.
Weißwurst (white sausages)
White sausages made from a mixture of ground pork and veal with the addition of herbs, egg white, lemon zest and onions is a food that must be tasted in southern Germany.
>>> Rent a car in Germany. The secrets of a profitable lease, features and Lifehacks
The famous German dish was born in 1857 in Munich. Since then, boiled wieners dressed in pig intestines have become traditional guests on the tables of Bavarians. According to the rules of national cuisine, Weißurst is served in the pot in which it was boiled. Salty pretzels and sweet mustard serve as a garnish to this popular dish.
Tourists should note: Germans prefer to eat white sausages in the morning, so ordering them after 12:00 in Germany is considered bad form.
Sauerkraut
Traditional national food in Germany is unthinkable without the famous Sauerkraut. The country even says, "Leb wohl, ess Kohl," which means "live well, eat cabbage." Germans love this uncomplicated and delicious dish so much that they jokingly call themselves Krauts.
No holiday meal in Germany is without this beloved side dish. Before serving, the shredded white cabbage is left to ferment for a few days under pressure in clay pots placed under water. A properly prepared dish includes pepper, apples, pork fat, juniper berries, onions, cumin, and beer or white German wine.
Beef rolls (Rinderrouladen)
This high-calorie meal is a frequent "guest" at traditional family Sunday dinners. It becomes particularly popular with Germans during the Christmas cold season.
Long thin slices of beef tenderloin are wrapped in a filling of bacon, mustard, onions and pickles. The highlight of Rinderrouladen is a spicy, dark sauce of broth, red wine and vegetables that exudes a mind-blowing aroma. The combination of simple ingredients gives rise to a uniquely rich taste of this national dish, which perfectly complements a side dish of stewed cabbage, boiled potatoes or flour dumplings.
Maultaschen
Those looking for something original to try in Germany should try the giant dumplings Maultaschen. They are envelopes of dough cooked in beef broth with stuffing of minced meat, lard, ham, spinach, nutmeg, marjoram and parsley.
At home, in Swabia, Germany, the dish is also called Herrgottsbescheißerle ("Deceive God"). According to German legend, the culinary invention belongs to the inhabitants of the Maulbonnais monastery. On Good Friday, when the eating of meat is prohibited, the cunning novices secretly filled herb-stuffed lean dumplings with minced meat.
Berliner Eisbein (Berliner knuckle)
This favorite dish of East Germans is the lot of true meat-eaters. Pork shank boiled in German beer and then baked on the skin, generously seasoned with garlic, onions, juniper berries and spices, is so huge that it is enough for three people.
The word Eisbein translates from German as "ice foot. This national food got its name because the natives only eat it during the winter frosts. What's more, the deliciously crispy crust on the shank shines as if it has been covered by a layer of ice.
In restaurants in Berlin and other German cities you can try Berliner Eisbein with stewed sauerkraut and mashed peas.
Labskaus
Traditional German cuisine cannot be called dietary. This is exemplified by the unattractive-looking but incredible-tasting thick pâté soup.
The recipe for this popular dish originated in northern Germany. Sailors who sailed the Baltic Sea prepared this soup with everything they had on board. The basis of the famous stew was boiled corned beef, seasoned with onions, gherkins, pieces of herring, beets and potatoes.
Today, labsaus is a favorite food of many Germans and a favorite dish of restaurants in Bremen, Bremerhaven, Hamburg and Rostock. It is served with scrambled eggs and pickles.
Koenigsberg Klopse
Seasoned tourists say that the famous Prussian meatballs are the best thing you should try in eastern Germany.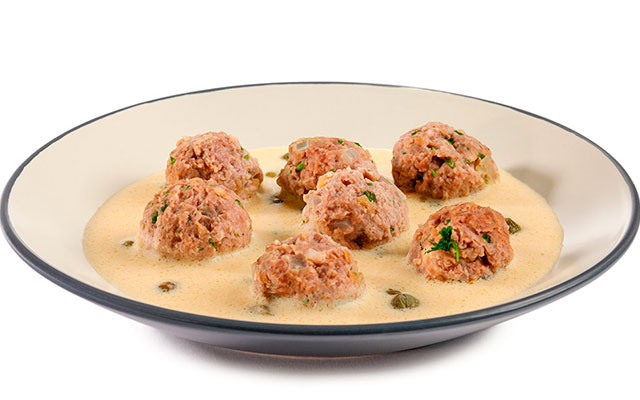 Tiny meatballs made from ground veal, softened in cream, egg and anchovies, topped with a sauce of lemon juice, white wine, mustard and capers, were once served as dinner at the house of the famous philosopher Immanuel Kant.
Half-finished products of this popular product, packaged in tin boxes, can also be bought in supermarkets. But the real cutlets, the recipe for which originated in the 19th century in Königsberg (now Kaliningrad), are worth trying in restaurants of national German cuisine.
False Hare (Falscher Hase)
A simple casserole with a funny name also belongs to the famous German dishes. It is a minced pork stuffed with potatoes and onions and filled with hard-boiled whole eggs.
The recipe for Falsche Hase originated in Germany after the end of World War II, during a time of food shortages. Rabbits and rabbits, whose meat was used to make the popular Sunday roast, had all but disappeared after numerous bombings. Enterprising hostesses found a way out. They invented a roll, the top part of which resembles the back of an animal.
Black Forest Cherry Cake (Schwarzwaelder Kirschtorte)
Sponge cake soaked in liquor, airy whipped cream, cherries, and bitter chocolate. All this is the most famous and perhaps the most beloved dessert in Germany.
The first official mention of the layered cake dates back to 1915, when Bavarian pastry chef Josef Keller decorated the then popular chocolate cakes with buttercream and cherries. By 1930, the recipe was known nationwide.
The popular German pastry got its name for the combination of white, brown and red – the colors of the traditional costumes of the inhabitants of the mountain Black Forest.
Dresdner Stollen (Dresdner Stollen)
Popular German sweet dishes can't be imagined without the Stollen. The history of baking with nuts, marzipan, raisins, candied fruits and spices goes back to 1474. That was when St. Bartholomew's Christian Hospital in Saxony offered Christmas bread made of flour, water, and yeast for the first time at the festive table. Over the centuries, Germans have perfected the beloved Christmas treat by adding new ingredients.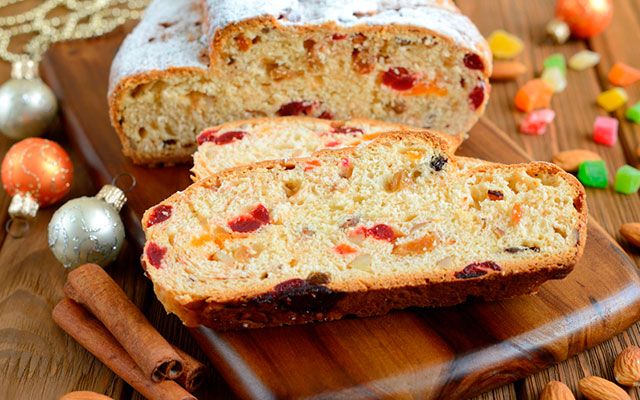 Since 1730, on the second Sunday before Christmas Eve, the Stollenfest (Stollen Festival) has been celebrated in Dresden on a grand scale. Confectioners use 1.6-meter-long knives to cut up the 4-ton birthday boy.
For Germans, the Stollen has become a traditional symbol of Christmas. It can be seen and tasted at all the fairs held in honor of this holiday.
The above popular food in Germany is only a hundredth of the German cuisine – the national dishes of the country are very diverse. Recipes depend on the region of which they are the hallmark. For example, in the Rhine area gastronomic traditions of Belgium and Holland prevail, reflected in the potato mashed potato "Heaven and Earth" (Himmel un Ääd), beef blood sausage "Koelscher Kaviar" (Koelscher Kaviar), beer soup (Biersuppe) and curd cheese "Half a Rooster" (Halve Hahn).
International cuisine is prevalent in eastern Germany, and Bavarians have adopted the culinary customs of the Czech Republic and Austria. Cheese snacks such as Obazda, Eintopf, Schweinebraten, Spaetzle, Brezel and Bienenstich (bee sting) have become favorites.
But whichever region of Germany you find yourself in, there is bound to be something for you to try. And perhaps it's the German national cuisine that will set you apart in the preparation of some incredibly tasty and hearty dishes for a long time to come.