It is simple and healthy. What real Chechens eat and drink: Top Chechen dishes and drinks
Chechen cuisine in the Caucasus is not as famous or as refined as, say, Armenian or Georgian cuisine. However, it is quite tasty and healthy.
And most importantly, it is extremely easy to make. For Chechens are true warriors, and have never had time for complicated recipes.
Every Chechen dish was supposed to be fast, hearty and wholesome. As the saying goes, eat up and go back to battle!
The basic ingredients of Chechen cuisine were vegetables, meat (except pork) and poultry, dairy products, wheat and corn, and salt. Everything must be fresh, natural, without additives and other GMOs.
So, let's find out what the Chechens like to eat from their folk dishes.
Zhizhig-Galnash
The main and most popular Chechen dish. The true pachchakh (king) of Chechen cuisine. In essence, it is a delicious meat (zhizhig) with galushkas (galnash).
To make zhizhig-galnash is rather simple. You take a piece of meat, chicken or lamb, or even beef. It is boiled without any spices. Wheat or corn dumplings (dumplings) are added to it. There is also some hot sauce which you dip the dumplings in. All this is mixed with the broth.
In the old days Vainakh bridegrooms used to choose the best brides just by their skills of cooking real zhizhig-galnazh.
Hingalsh
The famous sweet pancakes, with butter and pumpkin. The most popular Chechen dessert, adored by children and those with a sweet tooth.
Chepalgash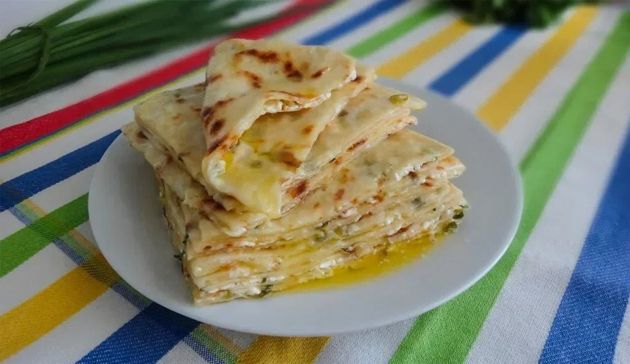 The famous Chechen pancakes stuffed with potatoes, salted cottage cheese or nekhcha (cheese). In order to prevent hingalsh from sticking to each other, the cooks rub a lot of oil on them while cooking.
Siskal
One of the simplest Chechen dishes in principle. Small flatbreads made only of corn flour, salt, egg and water. Sometimes with the addition of lamb fat and cottage cheese sauce.
They look or even taste a little bit like a cutlet, but no, there is no meat. All the same – delicious!
Arakhan topash
The famous Chechen apotheosis of gastronomic simplicity. Simply fried corn sticks, a sort of local Vainakh popcorn. All you need to make it is cornmeal and salt, and water.
Shashlik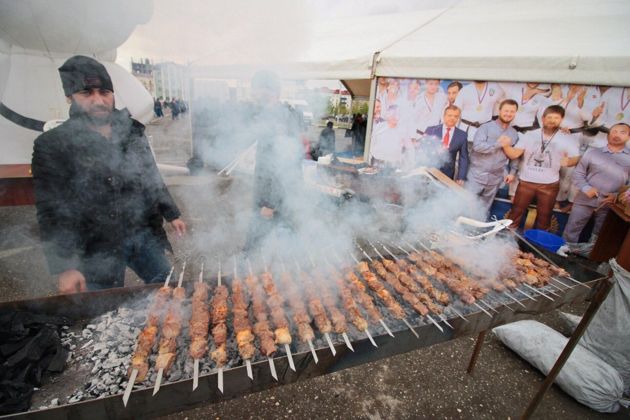 Chechens simply adore shashlyk, made from lamb and other halal types of meat. There's an entire street in Grozny dedicated to shashlik, and there are shashlik houses everywhere.
Every year a special shashlik-fest is held in Chechnya, at which shashlik-mashlik cooks from half the world come to show off their skills in cooking the dish.
Chechen bread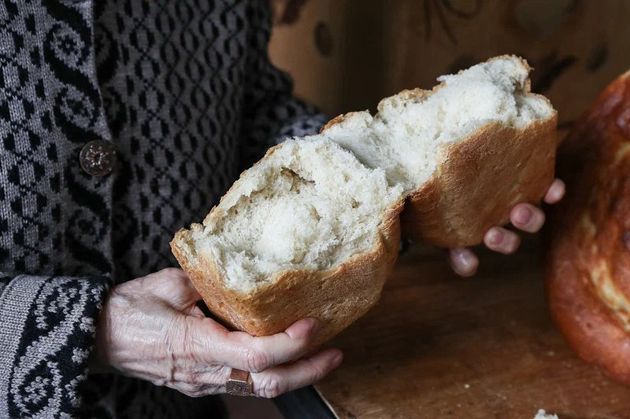 It has a unique taste. The most delicious, incidentally, is considered to be shatoi bread, which has been the true calling card of the Chechen Republic for the last half-century. It is made with a special sourdough starter, and has a flavour that is unlike anything else, and a slightly sour taste.
Chorpa
Chechen cuisine is not particularly rich in all kinds of soups. The most famous is chorpa, also called zhizhigan chorpa (meat soup) or simple nohchin chorpa (Chechen soup).
It is also very simple to prepare – vegetables, meat, potatoes and carrots. It all comes together in the soup in such a way that it seems as if the cook decided not to cut up all the ingredients. But very, very tasty, boiled!
Shermish
Chechen well-known cherenk, also known as bear onion. Incredibly beloved by all Chechens snack wild herb with a peculiar smell, which is obtained in the woods in the spring.
Nakh khonk is fried, boiled, pickled, or simply eaten. Chechnya also holds an annual nationwide festival of ramson dishes. The best, by the way, is in the vicinity of Bamut.
Konina
Chechens do eat horsemeat. It is dried, stewed, and in the form of a special dry sausage. For horse meat is quite dietary. And it is not forbidden to eat by the Koran. Horse sausage in Chechnya is available in markets and stores.
Chechen cheese
Also quite tasty stuff. You can find it at the Grozny markets. Chechens have long been great masters of making cheese.
According to folk etymology, even their self-name is connected with the word nehcha (cheese). But this is most likely only a legend.
Fast Food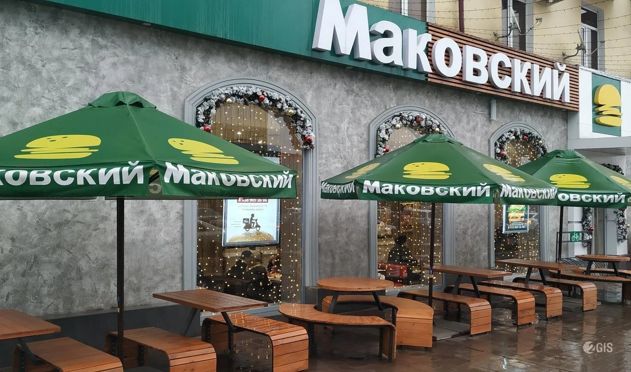 Grozny's version of McDonald's
Yes, the Chechens are loyal to their national cuisine. But the Chechen Republic is now also experiencing an active spread of the world's gastronomic trend, in the form of all kinds of fast food. Sushi, pizza, rolls and hamburgers.
True, the Chechens are actively adapting it all to their own taste.
For example, the burgers in Chechnya are halal, without pork. And the Chechens have their own unique recipes for rolls. For example, the famous "Mad Salmon," which is only served in Grozny in its original form.
What does the nachkhi drink?
The sale of alcohol is almost completely banned in Chechnya. Both in cafés and in stores.
The only place one can find green drink is in the Grozny-City bar, and then there's Grozny's Lenta, which is in the suburbs. Mostly it's the place that visitors to the republic or the federal troops stationed in the Chechen Republic go to get it.
But the Chechens themselves drink the tastiest teas, juices, morses, the famous Vainakh kvass, and Sernovodsk mineral water (which is top 5 in quality in the Russian Federation).
Interestingly, the Chechens had a pre-Islamic tradition of making their own beer, yiy. Terek Cossacks made their own young wine, chichir. Chechen-Ingush cognacs – Illi, Vainakh and others – were made in Chechnya-Ingushetia during the Soviet period. Times, however, have now changed.
Chechen national cuisine
Chechnya is a magnificent country with a small territory, but a huge history, picturesque diverse flora and fauna, and unique people. Chechnya's national cuisine occupies a special place in the history of the republic – simple but extraordinarily tasty dishes of flour, meat, plants and chicken. Speaking of Chechnya, it is impossible not to mention its dishes, cuisine, and rules of table manners.
Chechens, like the other peoples of the Caucasus, are very hospitable. If you have known a member of the nation for a long time, then it is likely that you have already been there and tasted the dishes of Chechen national cuisine.
The cuisine of the Chechen Republic dates back to ancient times, when the inhabitants of these places ate only what they could produce or obtain themselves. There was no variety of food, but the Vainakhs, as the Ingush and Chechens called themselves, made dishes that were unique in their nutritional value. Even now many admire it.
Peculiarities of Chechen national cuisine
If we compare the cuisine of Chechnya with that of the North Caucasus, we can see both similarities and differences. The basic ingredients of the cuisines are the same – this is the main similarity.
In spite of the motley nature of the North Caucasus, not all animals and plants were suitable for the table. Among plants, edible herbs and spices were preferred. As for fauna, they kept cattle, and hunted roe deer, aurochs, and chamois. From time to time, mountain turkeys were shot, but more often chickens were kept.
The basis of almost every dish is meat. Lamb, beef, and chicken are used most often. The use of pork is forbidden by religion.
The peculiarity of the national cuisine is dried meat. It is not considered a delicacy, but the locals gladly eat it.
Most of all Chechens and tourists like a variety of pastries. Flour is made from various crops – barley, corn, wheat. Most often the indigenous people use corn flour, as it makes the most delicious baked goods.
Since herbs help to better digest meat, they are also used in almost every dish. Garlic, onions, peppers, nettles, ramsons, and thyme are given the most attention.
Broths and sauces have become another thing in the national cuisine. The first ones can be absolutely different – as a hot beverage or as a supplement to other dishes. Sauces are spicy because of the frequent use of garlic and pepper in cooking.
National dishes of Chechnya
Every tourist who has been to Chechnya will confirm that the cuisine here is delicious and, most importantly, healthy. The healthiness can be assessed by looking at the population, as obese people are extremely rare. This result is achieved due to the fact that the food is natural and contains a lot of vitamins.
What are the most popular Chechen dishes? Anyone who has been to Chechnya knows what chudu is – a flatbread-like pie with roast lamb. Meat and onions are used to make it. It is passed through a meat grinder. Butter and kefir is added to the flour. The tortillas should be no more than 0.5 cm. The meat is placed between the two tortillas. Before sending it into the oven, a small incision must be made at the top, otherwise the minced meat will not bake.
Zhizhig halash is a popular dish, similar to galushki. Unleavened flour dough is cut in strips and made into small shells. The dough is boiled in meat broth. Serve jijig halash with garlic sauce and boiled lamb.
Chepalgash. This dish is made of feta cheese dough. Make as follows: mix dough, water, kefir, flour in equal proportions. Add salt, soda.
Stir in the filling to make mixed eggs, salt, cottage cheese. Stuffing is placed in the center of the cake. The resulting mass is rolled up, rolled out so that the filling is located throughout the delicacy. Then the chepalgash is baked on a griddle, dipped into hot water and smeared with butter. It is put on the table with melted butter.