The 13 best things to do in London with teens
Let's face it, a trip to the UK with teens isn't always 100% stress-free, especially if you're struggling to find things to do in London with teens. Boredom and hunger tend to derail the holiday atmosphere you've been planning for ages. So, as tempting as it is to stock the fridge and leave the kids at home with Netflix and junk food while you go to town on a bottle of pink wine at a swanky rooftop bar, you know you won't feel guilty until later. . You'll almost miss the mood swings!
The good news is that London is teeming with world-class attractions and cultural events that will make even the most lovesick, hormonal teenager happy! So don't worry, here's a handy list of the best things to do in London with teens that will keep the whole family entertained.
Jump to section.
The best attractions to visit in London with teens
1. Selfies with the stars at Madame Tussauds.
It's no secret that teens crave bragging rights on social media, and what better way to boost that sensitive self-esteem than a selfie party with the world's biggest superstars? Offering a light-hearted and mock celebrity encounter, Madame Tussauds is guaranteed to get your teen away from the 'you don't get me 'in' OMG! It's Ariana Grande! as fast as it takes to dodge a fluttering selfie stick.
There are now more than 20 Madame Tussauds museums around the world. But the original is right here in London. First opened in 1835 on Baker Street, it has grown over time to showcase more than 400 painstakingly created wax figures of the world's most recognizable people. Everyone from Prince Harry to Donald Trump to Miley Cyrus to One Direction is represented here, so you can strike any pose you like with them. It gets some serious laughs and some pretty cool photos to immortalize the moment.
There are even original pieces from the founder herself, as well as an incredible, record-breaking figure of the Hulk, the largest wax statue of any Madame Tussauds museum in the world. On top of that, there are some truly immersive multi-sensory attractions that will immerse you in the realms of Star Wars, Marvel or Alien with cutting-edge 4D cinematography and elaborate sets.
2. Immerse yourself in the SEA LIFE Aquarium.
Nothing inspires wistful youth poetry quite like watching the mad feeding of piranhas at lunch. In addition to finding metaphors for their existential gloom, watching red-bellied piranhas make their way through several pounds of flesh, your teens can ponder the life of jellyfish and wander through a giant ocean tunnel patrolled by dozens of toothy tiger sharks and blacktip reef sharks – child's play compared to the ravenous sharks in school!
SEA LIFE London also offers a wonderful underwater safari with some of the most stunning marine animals in the world. There are graceful stingrays, beautiful sea turtles, seahorses, sea dragons and hundreds of species of tropical fish. You can also see some animals that spend time outside of the water, such as crocodiles, penguins, and even tarantulas big enough to devour birds.
The aquarium regularly participates in conservation activities such as coral breeding and endangered species breeding programs, so it's sure to appeal to the socially aware Z-sensitive generations of today's teenager. Note the polar aquarium adventure, which runs through early 2020 and includes a simulation of Antarctica with polar bears in augmented reality and adorable seals. It's a real London must-see.
3. Descend into the London Underground.
Are your teenagers getting cranky again? Send them to the dungeon! We're kidding – well, sort of. London Dungeon is the perfect way to introduce your teenager to the incredible, albeit gruesome history of the British capital while having lots of fun. You'll return to London's 1,000-year dramatic past on a thrilling journey through 19 unique locations created by fantastic actors, authentic sets, and special effects that depict the macabre bloody events and characters of London's bloody history.
For thrill seekers, the dungeon is also home to two very dark and very scary attractions. Worried that your kids might be too afraid of the experience? Don't worry, in addition to the usual jump scares, the actors engage in hilarious comedic dialogue that is guaranteed to make even the most nervous teenager laugh. Visitors can also opt out of the rides.
4. Take a behind-the-scenes tour of the soccer stadium.
London is home to some of the biggest and best sports arenas in the world, and there's no better way to impress your soccer-crazed teens than with a stadium tour.
The newest addition to the capital's list of modern Coliseums is the Tottenham Hotspur Stadium. Not only can you see the first-team locker rooms and areas specifically designed for NFL wideouts, but you can even climb to the top of the stadium for an incredible view of the city!
On the other side of North London, the Arsenal Emirates Stadium Tour includes an audio guide so you can explore the tunnel and locker rooms at your own pace, as well as take some photos at the edge of the field.
A tour of the Chelsea Stadium and Museum is a hit with fans of the rich West London Blues, where you can see all sorts of signed memorabilia and the glint of silver in the trophy cabinet.
Are your teens too partial to indulge in London red, blue or white lilies? Take an award-winning tour of England's iconic national team home, Wembley Stadium.
5. See everything with the London City Card.
The reason you're here is to discover what to do in London with your teens, but you have so much choice! Here's where the London City Card comes in.
This multi-attraction pass allows you to visit two of the capital's best attractions. See the Crown Jewels and introduce your teens to England's bloody history at the Tower of London, then climb the city's tallest building with the Shard View. The pass also includes 24-hour access to a Thames cruise and an audio guide so you can take a self-guided walking tour of the city. After the whole adventure, they'll all be terrified!
Looking for something a little different? Try the Greenwich Package climb the famous O2 AND a little history at the Old Naval College Painted Hall.
6. Feel the excitement on an epic boat ride.
Sure, a cruise on the Thames will be fun. But your teenagers need excitement. They need excitement. They need a break from scrolling through Instagram! Luckily, there are some interesting Thames excursions that will help.
Thames Rockets has been offering incredible, award-winning speedboat adventures in London since 2006. Take a 50-minute jet ride down the river with an experienced skipper who combines fascinating factoids with noisy twists and turns. You'll see many of London's landmarks – Big Ben, Tower Bridge, St. Paul's Cathedral and many others.
7. Visit the Victoria and Albert Museum.
If your teen loves to get creative or is a regular fashion magazine reader, he or she will definitely love the Victoria and Albert Museum. The world's largest museum of applied and decorative arts and design houses countless creations, from a wild runway to historic smartphone apps like Flappy Bird – yes, it's now part of cultural history.
8. Go back in time at the Museum of Natural History.
Your teens may resemble someone from a zombie movie when they wake up every morning for school, but that doesn't mean they don't love learning.
With an abundance of free museums in London, education won't cost you a penny, ahem, two pence. Visit the Natural History Museum, with its vast array of exhibitions on Earth and geography, as well as its famous earthquake simulator.
The Natural History Museum is one of the most famous institutions on Earth, with everything from huge skeletons to relics of long-buried civilizations. You can even explore pieces of the moon brought home by NASA's Apollo 17 spacecraft.
9. Climb the world's tallest and longest tunnel slide.
Nothing ruins the holiday spirit like a hungry teenager. Get rid of those grumpy moans and bouts of hunger by treating them to a cool dinner they can brag about in front of their friends. Try Inamo, a chic pan-Asian restaurant chain that makes great use of cool technology. Not only can they order dinner from touch-screen tables, but they can control the lighting, play retro games, create digital images on the table and even watch the chef prepare food with a kitchen camera. Oh, and the food is to die for, too!
12. Buy an afternoon tea.
If you're more into afternoon tea, we recommend the Charlie and the Chocolate Factory-themed tea at One Aldwych, which serves treats straight out of Roald Dahl's classic story – only your little favorites won't turn into giant blueberries.
However, sometimes the only thing you need is cereal – many teens know this. So, achieve a parental victory by dining at a unique, first-of-its-kind restaurant, Cereal Killer Cafe. There are too many kinds of cereal at this all-day breakfast to count. From American sugar bomb classics to more exotic and nutritious dishes.
If you're looking for something quirky and about so London, take an afternoon tea in the double-decker bus or enjoy a tour of Shakespeare's Globe with an afternoon tea at the Swan at the Globe Restaurant.
13. Store until they drop.
When in doubt, the answer is always retail. Teens love to spend money, especially if it's not theirs! We recommend starting at the shopping mecca of Oxford Street, where you'll find stores like Primark, Lush, Topshop and Miss Selfridge. Is your child's style more edgy? London is full of trendy alternative markets featuring commission and vintage stores like Covent Garden, Old Spitalfields, Camden, Greenwich and Petticoat Lane.
Add some of these great London sights to your itinerary, and your teenager will finish the day with all the mental stimulation (and food) needed for a sound night's sleep. Then you can head to this rooftop bar with a clear conscience (and pink)!
What to do in London with teens that the whole family will love
Have you already been to London with your teens and visited these top attractions? Find even more things to do by checking out all the top London attractions your teens will love.
Having fun as a family: 10 fabulous ideas for where to go with the kids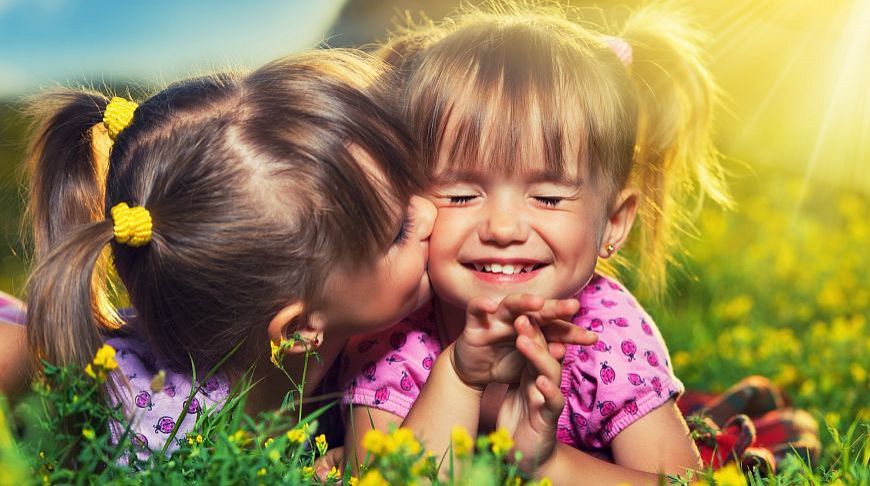 Going to spend a weekend in and around London with your child? The Zagranitsa portal has gathered ten perfect places for you! You will have lunch accompanied by the sounds of nature, meet predators, Lego mazes, shop in a huge toy store, extreme attractions and Harry Potter himself! Fledgling toward childhood?
Hamleys Children's Store.
It's toy heaven for kids! London's oldest children's store is located in the main entertainment district – Soho. The store covers 7 floors, and its range of products includes more than 50 thousand items. Among them: stuffed toys, dolls, designers, cars, board games and educational games. The store also regularly holds entertaining themed events. Be warned: you cannot leave Hamleys without buying!
Price of the issue: the cost of toys starts from £3.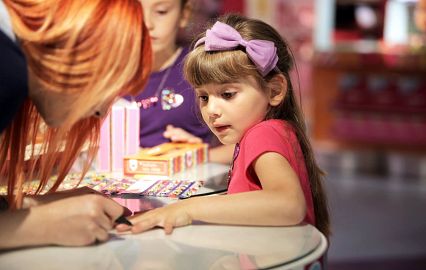 Princess Diana Playground
The playground at Kensington Gardens is named after Princess Diana. Here your child will feel like a real Peter Pan, as the place is decorated in the style of the famous story. Kids love the giant wooden ship. The adults are not ignored here, too: there are a lot of benches near the playground. If you're hungry, you can buy fresh salads and drinks there. The playground is open from 10 am until dark.
Price of question: free of charge.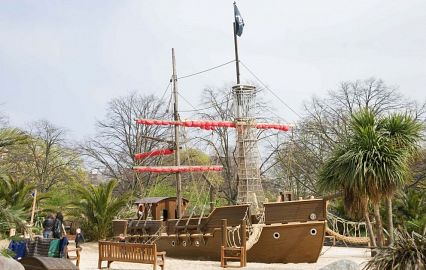 3
Legoland
A huge amusement park will appeal not only to children but also to adults. It is located in Windsor, 20 km from London. The park has 55 themed rides: cars, water slides, mysterious mazes and landmarks made from Lego. Do not forget to take a bathing suit for a child, because your child is sure to want to play in the pool with bright toy animals or climb the Drench Towers – the largest water constructor in the UK. For those who want to spend a few days at Legoland, there's the Legoland Windsor Resort nearby.
The cost is £48 for adults and £44 for children.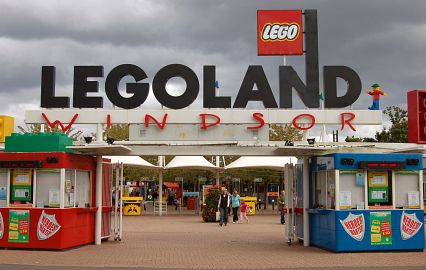 4
Harry Potter Museum
If your child is a Harry Potter fan, this place should definitely be on your weekend program! The museum is located in the pavilions of Warner Brothers Studios in Hertfordshire (30 km from London). This place keeps all the sets from the filming of the movies. Not only can you see Harry's house and Dumbledore's study and then check out Slanted Lane, you'll become part of the magical world yourself! After the tour, you, just like the characters in the franchise, can have a creamy beer at the Studio Café and try the famous "surprise" sweets. Don't forget to pop into the gift store for a magic wand – you won't find a better gift for a child!
Price: £33 for adults, £26 for kids.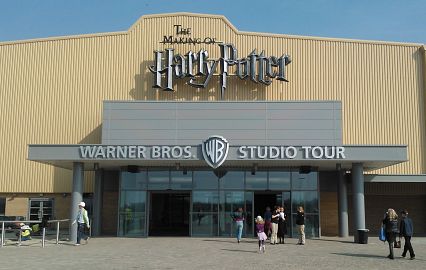 5
Thorpe Park.
Want to spice up your weekend? Thorpe Park is one of the most adventurous parks in Europe. It's in Surrey, just half an hour from London. Thorpe Park has a mix of aerial and water rides. One of the most popular attractions is Nemesis Infernu, where you can hurtle under the wings of a tumbledown plane at 50km/h and hurtle through a billboard. The highlights are Loggers Leap (a boat trip down a fast-flowing stream) and Wet Wet Wet, which is a waterslide for the whole family.
Price: £50.
6
Chessington World of Adventures Resort.
This is a synthesis of all sorts of activities! Here you can ride rides, swim in the pool and come face to face with wild animals. The extreme part of the park is divided into 10 thematic areas with rides for both children and adults. Seastorm (wooden boats on water), Flying Jumbos (merry-go-round in the form of animals) and many others are popular with children. Do not forget to visit the zoo to see the wild animals. Here you can see lions, tigers, gorillas, penguins, zebras, flamingos, rhinos, etc.
Price: from £26 for a guided tour of the Aquarium.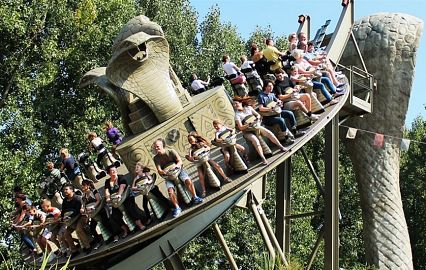 7
Sea Life London Aquarium
London's largest aquarium is located in the historic County Hall building. Your child will certainly be interested to watch the sea creatures, of which there are more than 500 species from all over the world! From crabs and tropical fish to rare sharks. You can see penguins, seahorses, stingrays, piranhas, etc. If you want to make a trip to Sea Life London Aquarium a memorable one, you can dive into the aquarium and feed the fish.
Price: £26 for adults, £20 for children.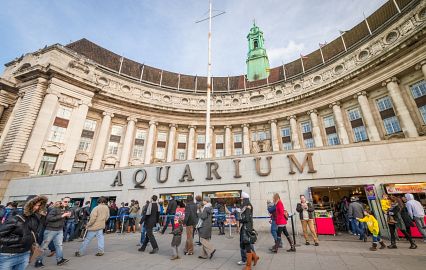 8
London Transport Museum
The London Museum of Public Transport houses means of transportation, some of which are almost 200 years old! There is the first transport of the British capital – the omnibus (horse-drawn carriage) – and the first subway cars, as well as modern forms of public transport. You can also buy souvenirs from the museum and sample themed dishes at a local cafe, such as a cocktail featuring the Underground logo.
Price: £16.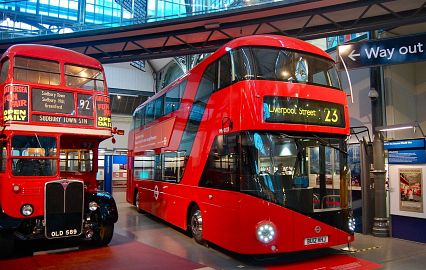 9
Hyde Park
Hyde Park is one of the capital's "royal" parks. Both tourists and citizens love to relax here. Despite the fact that it is always full of visitors and sometimes there are rallies, everyone can find a cozy place for themselves thanks to the impressive size of the park. There are lots of fountains, beautiful alleys and benches. Picnics are often held right on the lawns. A popular place in Hyde Park is Serpentine Lake, where you can go boating or swimming. Or take your child for a game of tennis or horseback riding.
Price of question: free of charge.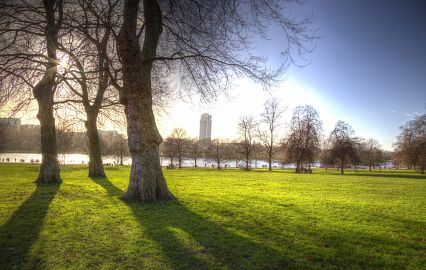 10
Rainforest Cafe
Your child will definitely not refuse to eat here! The design of the restaurant is made in the style of the jungle, and as audio effects are used sounds of nature and the voices of animals. You will feel as if you are in a forest thicket! The menu is designed both for adults and children. Children will be definitely pleased with a huge choice of ice cream and sweets. Particular attention is paid to the design of dishes, which is also sure to awaken your child's appetite.
Price point: the average bill is 25 pounds per person.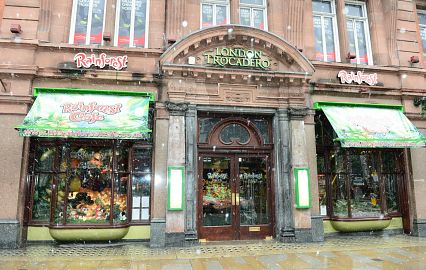 See more places in London that might interest you and your kids in our Guide.