Ski resorts in Italy – tips for choosing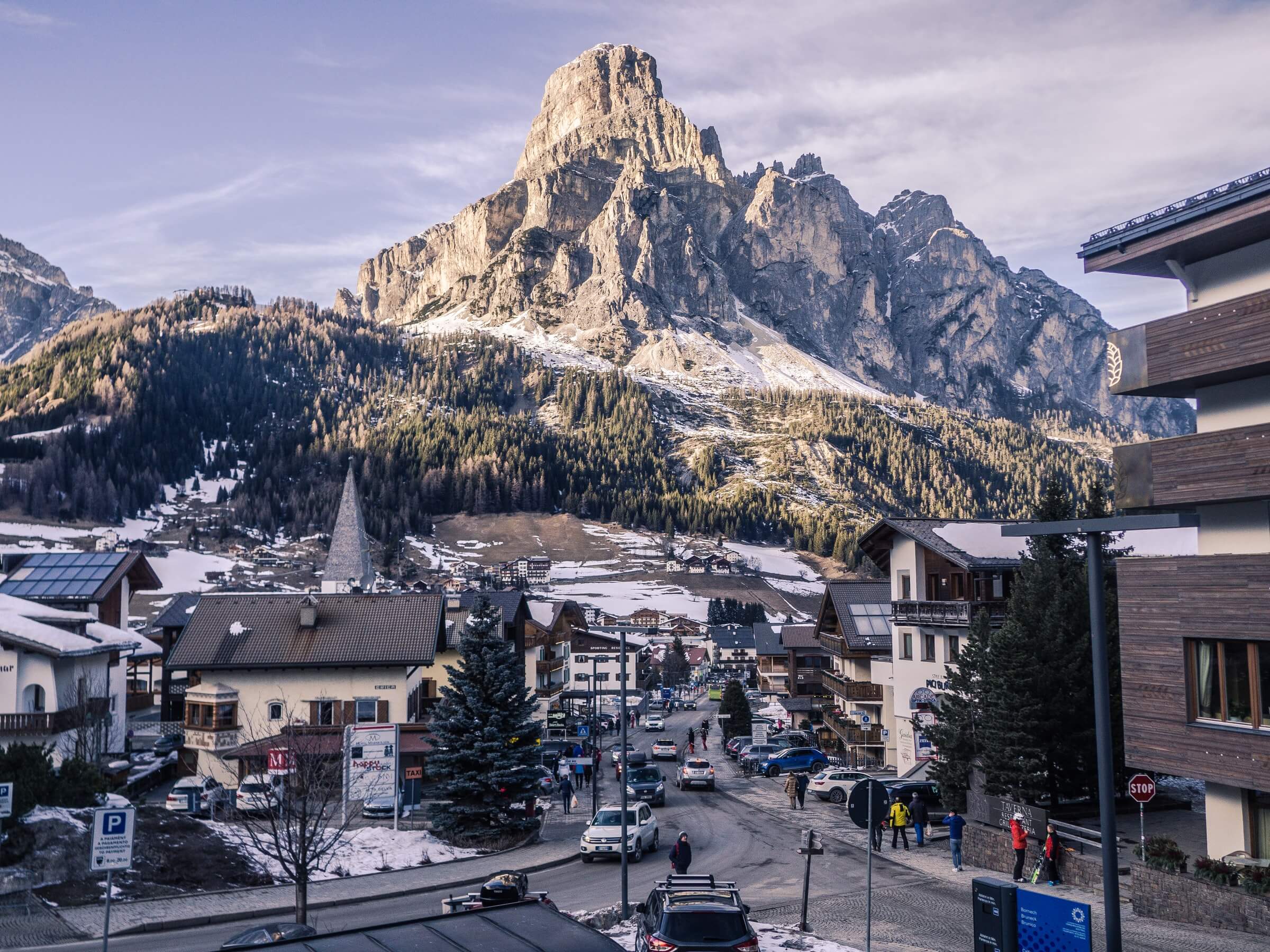 Italian resorts in winter – excellent slopes, unique atmosphere and delicious food! We tell you about the weather and skiing season, introduce the best ski resorts in Italy, pistes, prices of ski passes, rentals, reviews and tips for tourists.
Winter resorts in Italy are located in the Dolomites and near the Italian-Swiss border and are characterized by a high level of service, well-equipped slopes and spectacular scenery. Tourists at the best ski resorts in Italy combine skiing with relaxing in the thermal springs, shopping and tasting dishes of national cuisine. It remains to choose a place that suits you!
Exchange rate: 1 Euro ≈ 57 RUB.
Search for last minute offers at Travelata, which will find the best deals from different tour operators. Want to save your money? Check out our 7 rules for buying tours online.
Contents:
Climate and weather
The north of the country is in a zone of moderate continental climate. The mountainous part has cool and snowy weather in winter. The amount of snow in the mountains is not equal. In some Italian ski resorts the average depth of snow reaches 2.5 m, and in others – 0.5 m.
The temperature depends on the altitude above sea level. The higher and closer to the glaciers the resort is, the colder it is. But the Italian climate is incomparable to Siberian frosts! In January, the coldest month of winter, the average temperature reaches +4°C during the day and drops to -5°C at night.
Skiing season lasts from late November to early December to mid-April . It usually ends on the traditional Easter weekend. In the highlands there are glacial areas for year-round skiing. For example, 25 km of trails are created on the Plateau Rosa (3489 m).
Where to find cheap tickets? Use the search engines Aviasales and Skyscanner – they compare the prices of all airlines. Learn the secrets of finding cheap airline tickets.
Useful selection:
Ski resorts in Italy
Ski resorts on a map of Italy
Best ski resorts in Italy
Livigno
Lombardy is one of the fastest growing ski resorts in Italy, Livigno. It consists of three Alpine villages. The name lawine means "avalanche" in German. As a center of winter recreation, the resort began to develop in the 1970s, and a few years ago it was declared the best in Europe.
Slopes . The skiing area is divided into Carozello and Mottolino. The second has the most difficult slopes. The easy slopes are 40 km long, the medium ones are 55 km long, and the difficult ones are 20 km long. The resort has a large snow park Mottolino Fun Mountain. Due to the high avalanche hazard freeride is prohibited here.
Prices . A one-day ski pass for an adult costs 49 €, 44 € for seniors and 35 € for youth. Rent a ski set for a day will cost 21-45 € for an adult and 16-23 € for a child. Rent a helmet for 5 €, a ski jacket for 15 € and pants for 14 €.
Reviews . The resort is ideal for beginner and intermediate snowboarders and skiers. Tourists like the wide, perfectly leveled slopes and plenty of duty free stores. The disadvantages of Livigno are its remoteness from major cities. The transfer from Milan takes five hours, and from Zurich – four hours.
Diagram of ski slopes in Livigno (large size)
Bormio
Bormio is one of the most prestigious ski resorts in Italy. It is located in Lombardy, at an altitude of 1200 m. It is known for its thermal springs, sports traditions and is considered a favorite vacation spot of the Milanese. It twice held the World Cup Alpine skiing. Where to stay in Milan →
Slopes . The slopes of the winter center are part of the Alta Valtellina ski region. The length of the slopes for beginners is 20 km, the reds are 25 km and the difficult ones are 5 km. The longest slope is 8 km with an altitude difference of 1792 m. All slopes are located on the slopes of the picturesque peak Cima Bianca (3012).
Prices . In peak season, a day ski pass for an adult costs 43€, 36€ for youth, 41€ for seniors and 22€ for children. To rent a set of skis, helmet and poles for the day will cost 23-43 €. A snowboarding kit is 27€.
Reviews . Snowboarders speak positively about the modern snow park of 150 thousand square meters. In addition, the resort has an Ice Palace and a thermal center "Bormio Terme" with an indoor swimming pool. According to reviews, skiing in Bormio is more suitable for those who like long and interesting descents.
Bormio ski slopes scheme (large size)
Aosta
The ski resort of Aosta is located in northwest Italy. It is the capital of the picturesque Aosta Valley. Aosta is called the most French of all the mountain towns in Italy, and you can often hear French speech in its streets.
Trails . The ski area is located in the suburb of Aosta – Pile, and they are connected by a cable car. The slopes for beginners stretch for 8 km. The upper slopes are the most difficult. Due to the northern exposure of the slope the snow there is always in perfect condition. Fans of medium-level alpine skiing and snowboarding have a chance to try Liesse slope that alternates between gentle and steep sections. The altitude differences at the resort exceed 900 m.
Prices . During the high season, a ski pass for a day for adults costs 45 €, for young people and people over 65 years – 40 €, and for children – 31.5 €. You can rent a set of ski equipment for 20-35€, and a set of snowboard, helmet and boots for 20-25€. A complete set of children's equipment costs 13-16€.
Reviews . Many tourists like to live in a civilized environment of the city. They visit museums, theaters and historical sites of Aosta and have no problem getting to the slopes on the elevators. The pluses of the resort are lighted slopes, freeride opportunities, snowpark and halfpipe.
Aosta ski slopes scheme (large size)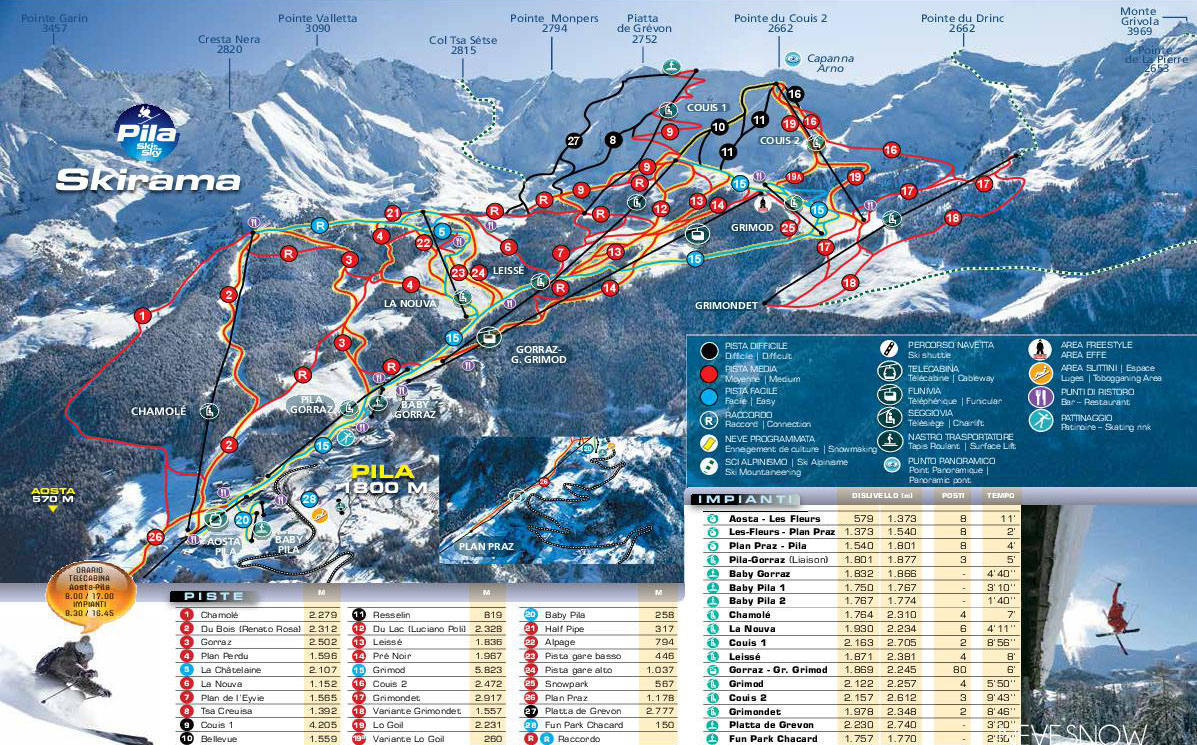 Cervinia
Italy's most alpine ski resort is located in Monte Cervinio. It's surrounded by majestic four-thousand-point peaks and is considered a paradise for fans of off-piste skiing and heli-tours. Cervinia shares a ski pass and ski area with Zermatt, the ski resort of Switzerland.
Pistes . Together with the nearby Valtournanche there are 70 slopes in the Italian resort. The longest slope is 20 km long with 2 km altitude difference starting on the Swiss side. The resort has a popular snow park with boarder cross and two halfpipes.
Prices . During the high season, a ski pass for a day for adults costs 46€, 41€ for youth and seniors, and 32.5€ for children. A day's snowboard rental costs 25,5€ and boots 8,5€. A day's ski rental costs 25.5-50€ and ski boots 8.5€.
Reviews . Tourists note that at the beginning of winter – in December and the first half of January here comes windy and cold weather, due to which the connection to the Swiss resort may be closed for a few days. Due to the climatic conditions in Cervinia are trying to install more closed gondola elevators.
Diagram of ski runs in Cervinia (large size)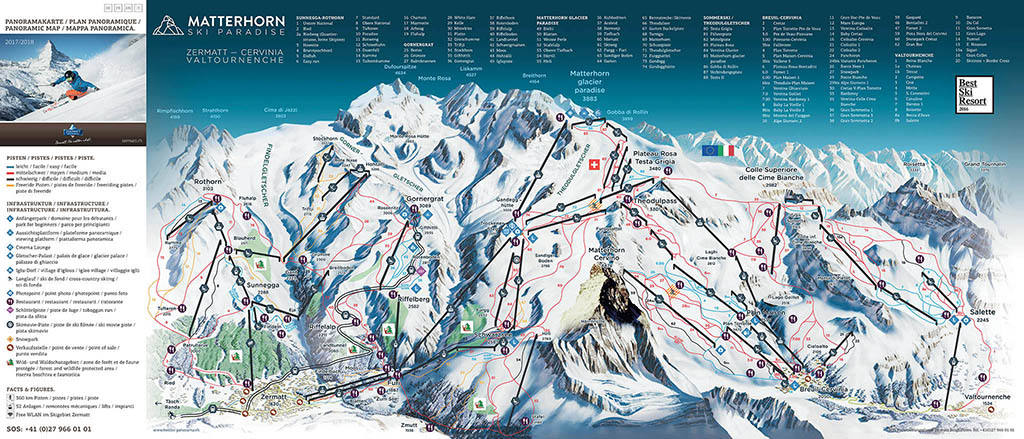 Dolomite Alps resorts
The ranking of Italy's most prestigious ski resorts is topped by the Dolomite Alps vacation centers. Approximately forty resorts have a combined 1,200 km of pistes and 470 elevators.
Val di Fassa
This ski resort in Italy is well suited for children and beginners as well as experienced athletes. It is located in the center of the Dolomites and is surrounded by beautiful peaks. The winter resort consists of several villages that have separate ski areas.
Slopes . The equipped slopes are 133 km long. Easy slopes occupy 42 km, red slopes – 73 km, and difficult – 18 km.
Prices here can not be called low. A one-day ski pass in the peak season costs 61 € for adults, 55 € for skiers over 65 years old and 43 € for young people. To rent skis for 6 days is 45-117 €, a ski set is 48,6 €, helmets are 16,2 €, snowboard boots are 12,6 € and sleds are 13,5-16,2 €.
Reviews . Tourists like the fact that the resort has three snow parks and long woodland trails. There are 28 km of trails for independent hiking in the mountains around Val di Fassa. Here you can go tobogganing, tobogganing, cross-country skiing, paragliding and relaxing in the modern Dòlaondes aqua center.
Ski slopes in Val di Fassa (large size)
Cortina d'Ampezzo
One of Italy's best ski resorts for beginners is 44 km from the Austrian border and has the unspoken status of "Queen of the Dolomites". It lies at an altitude of 1224 m and is surrounded by mountains Cristallo and Sorapis, which rise above 3200 m above sea level.
There are 61 kilometers of beginner courses, 56 kilometers of intermediate difficulty courses and 23 kilometers of difficult ones. The winter center has a snowpark and halfpipe.
Prices . A peak season ski pass costs 61€ for adults, 55€ for seniors age 65 and 43€ for youth. With the purchase of any ski pass, children from 3 to 8 years old are allowed on the elevators for free. To rent skis for 6 days costs €48.6-209.7, helmet €20.7, snowboard €48.6-95.4, snowboard boots €22.5 and sleds €24.
Reviews . According to tourists, to the winter resort of the city type go not so much to ride, how to spend time with taste. The choice of entertainment après-ski is very rich. The vacationers walk along the Corso Italia pedestrian promenade, go to museums and stores, and relax in the saunas.
Cortina d'Ampezzo ski slopes diagram (large size)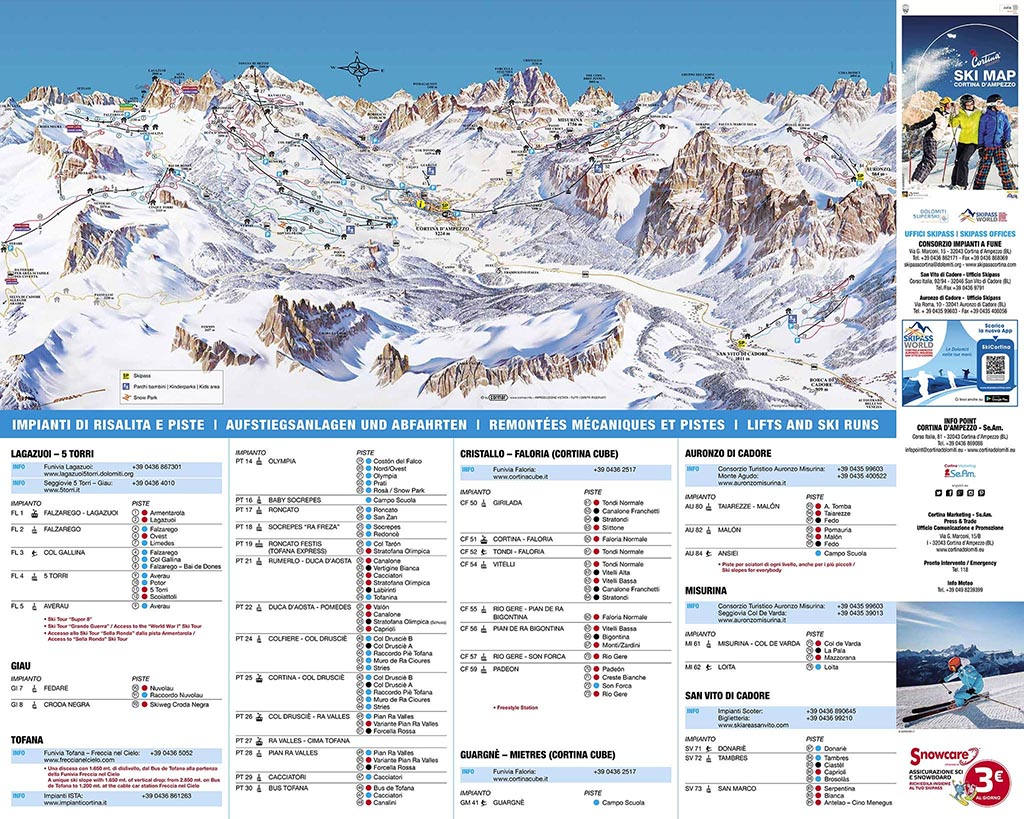 Conclusions and tips
Pros of Italy's ski resorts:
Almost everywhere the prices are lower than in other Western European countries, and the quality of service and infrastructure meet European standards.
The Italians are very positive attitude towards tourists.
Each resort has cannons for artificial snowing.
The largest ski region – Dolomiti Superski – has a general ski pass.
Excellent après-ski program and opportunities for outdoor activities – sledding, trekking, cross-country skiing and paragliding.
Ski resorts in Georgia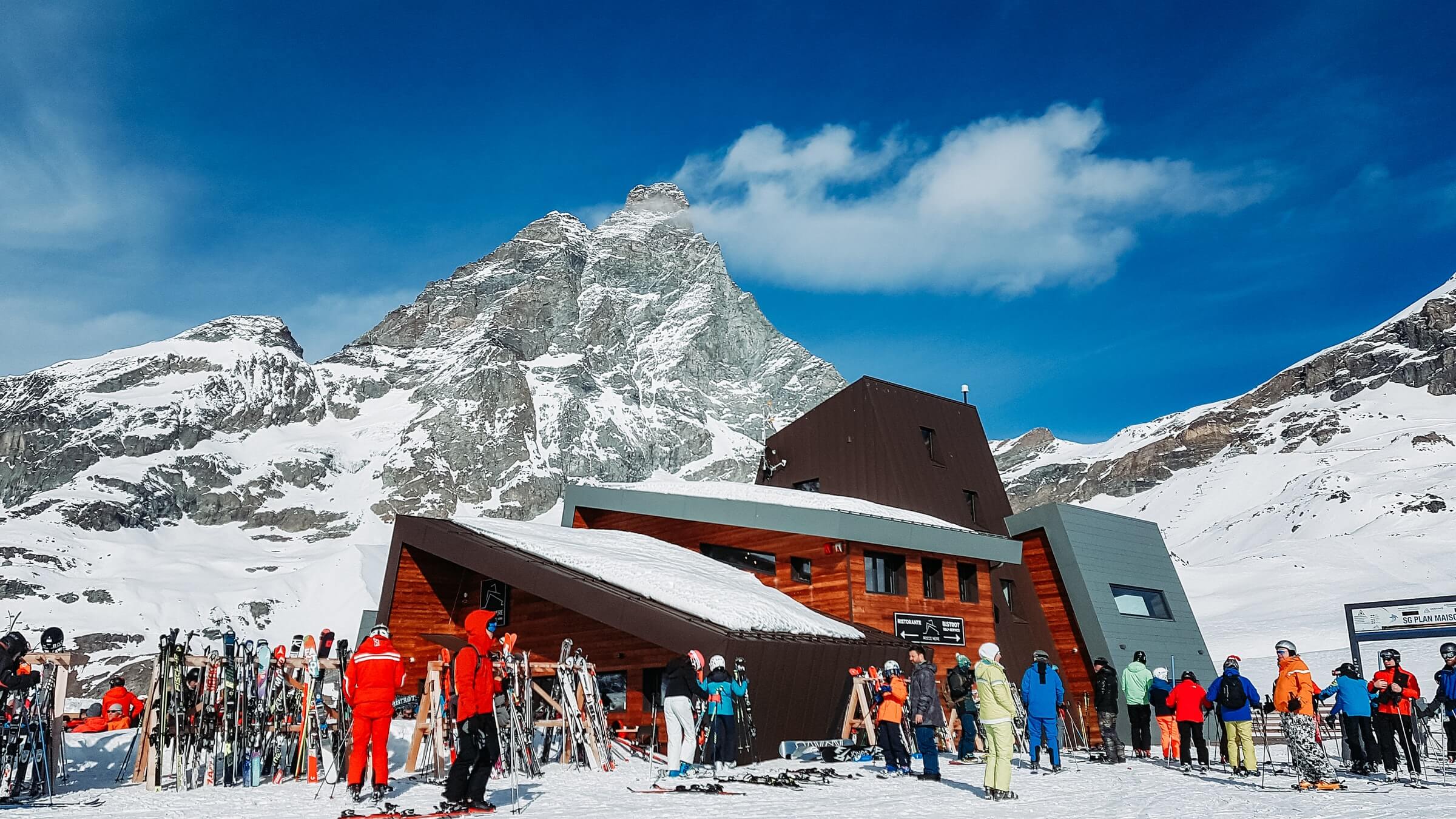 The ski resort of Cervinia. Photo: matt_bzz / unsplash.com.
Tourist Tips :
If you like a resort but are embarrassed by high accommodation prices, don't give up on your dreams. Almost everywhere you can rent a budget apartment or a room in a cheap hotel.
For duty-free shopping, choose resorts with duty free stores.
To see how the professionals ski, come to Italian ski resorts during the World Cup or other ski competitions.
If you're an advanced athlete, opt for more secluded resorts with more freeride opportunities.
Families with children should choose resorts with well-developed infrastructure and modern ski elevators.
Do not forget about insurance! You can buy it at Compari.ru or Cherehapa. The price starts from 300 rubles for a week.
Ski resorts in Russia: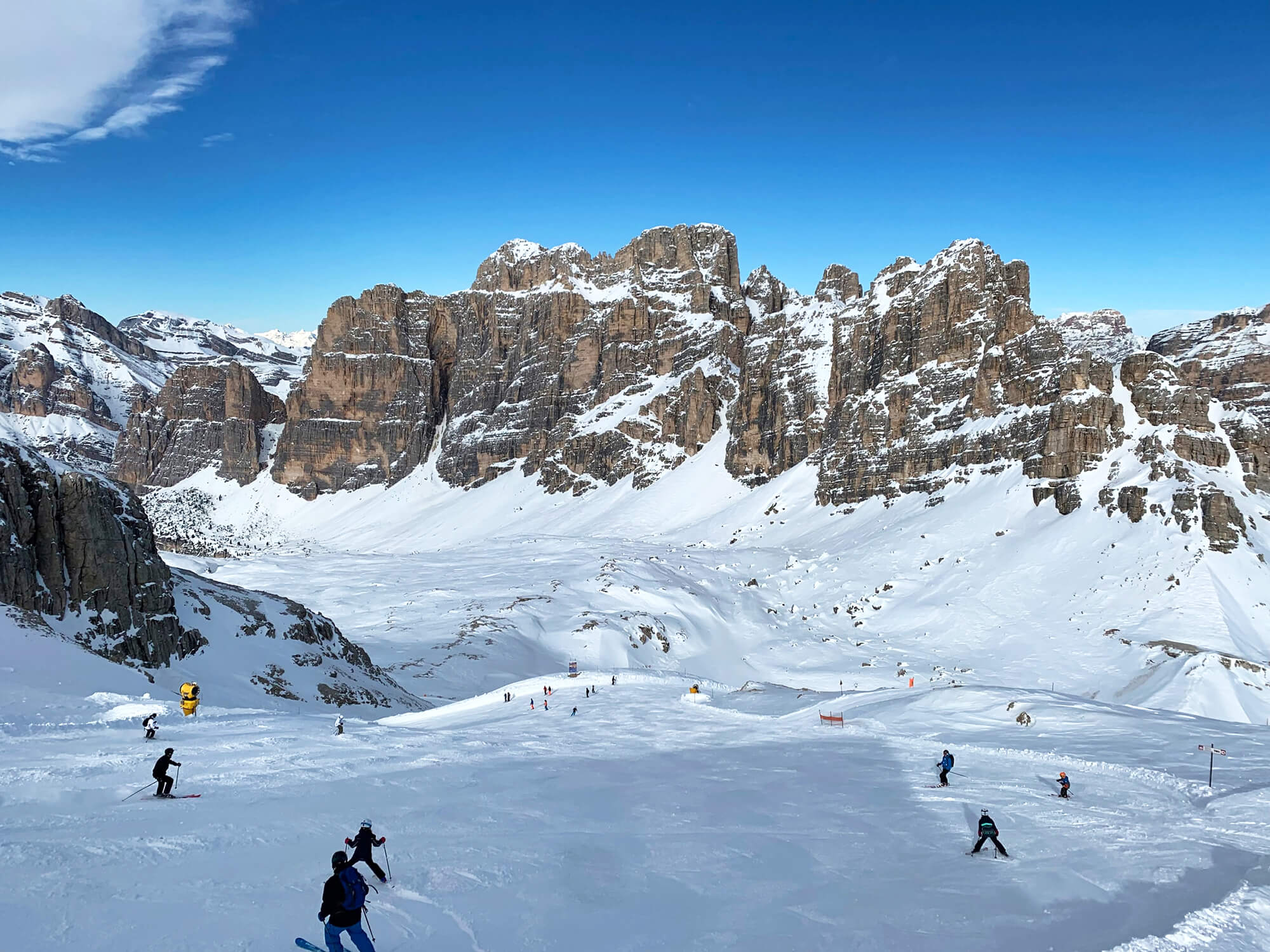 Cortina d'Ampezzo ski resort. Photo: secrettravelguide / unsplash.com.