The 10 best places to have an aperitif in Naples, Italy
Naples is a city known for its history, artistic beauty but also for its important culinary traditions and the festive spirit that reigns in every corner. The ritual of aperitifs originated in the north, but recently it has been gaining momentum in the Neapolitan capital as well.
That's why this article will offer a list of the best places in Naples where you can have an aperitif, enjoy a magnificent view of the sea and taste the food and wine delicacies.
Belledonne Wine Shop
Address: Vico Belledonne in Chiaia, 18.
Average price: 11 Euros.
Recommended dishes: olives and taralli.
Contacts: Telephone 081 403162 – www.facebook.com/enotecabelledonne/
This characteristic wine bar has lately become a real trendy place. Here you can enjoy delicious wine from a variety of varieties while adding Italian specialties such as assorted cheeses and salami, olives and taralli to your glass. Spanish culinary delights such as bruschetta and delicious croutons made with Altamura bread are also available.
Belledonne Wine Shop
Barril
Address: Via Giuseppe Fiorelli, 11.
Average price: 12 euros.
Recommended specialty: eggplant parmesan.
Contacts: Phone 393 9814362 – www.facebook.com/BarrilNapoli/
This is a very quiet place to discover, as it is only once you enter that you can appreciate its potential.
The rustic but well-maintained furnishings allow those who want to relax a bit to enjoy a glass of great wine and specialties such as Parmesan eggplant. There's also no shortage of assorted meats, cheeses and classic bruschetta.
Barril
Caffè Azar
Address: Via Alessandro Scarlatti, 139.
Average price: 8 Euros.
Recommended specialty: hors d'oeuvres.
Contact: Telephone 081578 0248.
In the nightlife of Vomero, this place has gained a prominent place thanks to its well-kept garden and cozy atmosphere. Here you can socialize with friends over a cocktail accompanied by great appetizers. The restaurant is also famous for its excellent desserts.
Caffè Azar
Historic Archive
Address: Via Alessandro Scarlatti, 30.
Average price: 12 euros.
Recommended specialty: an assortment of cocktails.
Contacts: Telephone 081 1932 1922, www.facebook.com/archiviostoriconapoli/
This place is also in Vomero and offers a great assortment of cocktails to enjoy in company. There are outdoor areas where a lot of kids stroll around on weekends. The place is suitable for those who don't bother with a long wait for service.
Historic Archive
Vanilla Cafe
Address: Via Partenope, 12.
Average price: 15€.
Recommended dish: saltimbocca.
Contacts: Phone 081764 3200, www.facebook.com/vanillacafenapoli/
This is a place that tries hard to keep up with others that are already well established and organized for aperitifs. The average price is a bit steep and the quality leaves a lot to be desired, but the view from the tables is priceless. Quality or panorama? Your choice.
Vanilla Cafe
Space Nea
Address: Via Santa Maria di Costantinopoli, 53 (first entrance),
Piazza Bellini, 59 (first entrance).
Average price: 12 euros.
Recommended specialty: desserts.
Contacts: Telephone 081 451358
It is a real gallery of modern art, where you can have an aperitif in complete silence. Often there are concerts of local music, so it is nice to have a drink in the open air. In addition to savory snacks, Spazio Nea recommends pastries and sweet dishes.
Space Nea
Upnea delicatessen.
Address: Via San Giovanni Maggiore Pignatelli, 34/35.
Average price: 15€.
Recommended specialty: smoked mozzarella.
Contacts: Telephone 081 1936 4649, www.facebook.com/salumeriaupnea/
The indication Salumeria does not do justice to this delightful bistro, located in the historic center of Naples, which is also a restaurant. The good food here is like home, the offerings are different from the typical Neapolitan delicacies reworked in a modern way. The quality is medium to high, you can choose wines, meats and cheeses from Campania, produced by small companies in the area.
Jamon
Address: Piazza San Domenico Maggiore, 9.
Average price: 15€.
Recommended dish: Iberian ham.
Contacts: Telephone 081420 2458, www.facebook.com/Jamon-627119000726810/
A tiny but delightful place that offers a great selection of wines, thanks to the great passion of the owner, as well as delicious meats and cheeses from all over Italy and beyond. Try the bruschetta, taralli with lard and peppers, and craft beer.
Jamon
Keste
Address: Largo San Giovanni Maggiore Pignatelli, 26.
Average price: 12 euros.
Recommended specialty: personalized cocktails.
Contacts: Phone 081781 0034
This place in the historic center of the city is very popular with students, both Italians and from all over the world. Keste is famous not only for its wines, cocktails and culinary delights, but also for the music and cultural events it organizes.
Intra Moenia Literary Café
Address: Piazza Bellini, 70.
Average price: 17 euros.
Recommended specialty: mixed carving boards.
Contacts: Telephone 081 451652, www.facebook.com/intramoenia.napoli/
Intra Moenia Literary Café
Located in the historic center of the city, it becomes one of the reference points for the ritual of aperitifs for a refined and demanding clientele. The environment is cultural and, in addition to food and drink, there are exhibitions, presentations and concerts.
Naples sights: rating of the 15 best places to see
Naples is a large city on the Tyrrhenian Sea and is the third largest city in Italy after Rome and Milan with a population of 975,000 people.
Naples has many historic buildings, squares and churches, as well as many interesting places for nightlife. In the shadow of the legendary Vesuvius, this city is a really interesting tourist destination.
To make it easier for you to choose where to go first, I have ranked the top 15 attractions of Naples.
1. Climbing Vesuvius
2. Visiting Pompeii
3. National Archaeological Museum of Naples
4. Castel Nuovo
5. San Severo Chapel
6. Castel del Ovo
7. Catacombs of San Gennaro
8. Visit to the ruins of Herculaneum
9. Port of Naples
10. Piazza del Plebiscito
11. The Church of San Domenico Maggiore
12. Duomo
13. Santa Lucia neighborhood
14. Royal Palace
15. Take a boat ride to the island of Capri
1. Climbing Vesuvius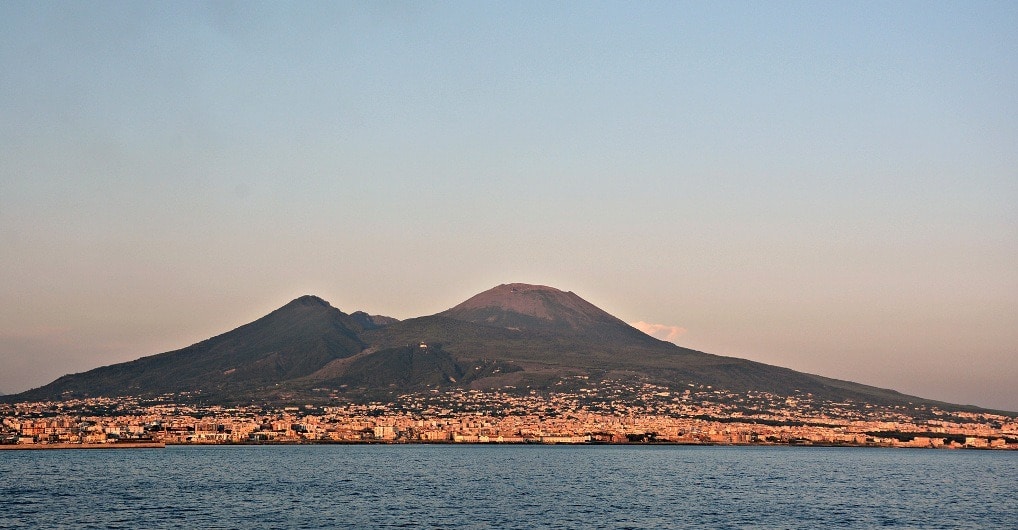 Vesuvius is a legendary volcano famous for its eruption in 79 AD. This eruption caused the destruction of the entire city of Pompeii. The volcano is large and can be seen from almost anywhere in Naples.
Vesuvius is also the only volcano on mainland Europe to have erupted in the last 100 years. It is considered extremely dangerous because of the large number of settlements located in its potential impact zone.
You can take a bus tour from Naples to visit this magnificent natural phenomenon and climb its slopes to look into the crater.
The climb will take 20-30 minutes and is considered not too difficult – the views from the summit on a clear day are fantastic.
2. Visiting Pompeii
Pompeii is an ancient city at the foot of the famous Vesuvius. The city was very developed and wealthy, but buried under ash during the eruption of Vesuvius in 79 AD.
Despite the devastation caused by the earthquake and the enormous amount of lava that fell on the city during the eruption, Pompeii is in great condition today.
This is because the huge layer of ash that settled on the ruins acted as a protective layer.
Today you can visit Pompeii and walk through its ruins. Of particular interest here are the Amphitheater, the House of Faun, the Temple of Apollo, and the Temple of Jupiter.
In addition, here you can see the plaster casts of many unfortunate victims, buried alive under the ashes and frozen in a death pose for eternity.
3. National Archaeological Museum of Naples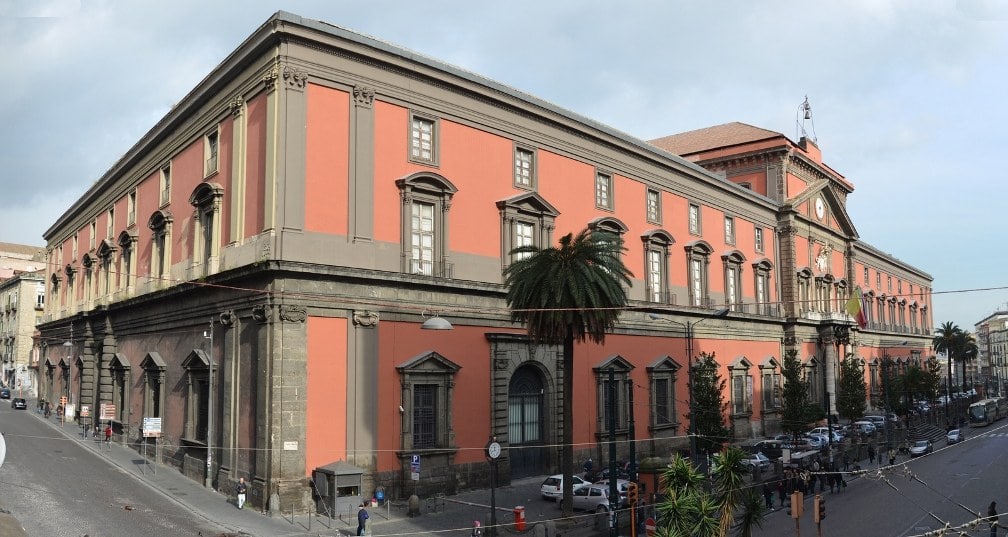 The building that houses the National Archaeological Museum of Naples was built in the 1750s. It was originally used for military and cavalry barracks, and in later years was turned into a museum.
The museum is located north of the port of Naples, and there is a subway station nearby.
Inside you will find a huge collection that includes many Roman and Greek art objects, as well as archaeological finds found in Pompeii.
You will see various marble statues depicting scenes from ancient mythology, beautiful mosaics from Pompeii, and a huge collection of Ancient Egyptian objects, including mummies and masks.
This museum is an extremely interesting place, especially for those interested in ancient history and archaeology.
4. Castel Nuovo
The Castel Nuovo is one of the first sights seen by tourists arriving by cruise ferry to the port of Naples. Standing proudly on the horizon, Castel Nuovo is the city's main feature.
This fortress by the sea was built in 1282 and attracts attention with its five round toothed towers and the magnificent Arc de Triomphe, which was added to the castle a little later.
You can plan a tour of Castel Nuovo to admire the extraordinary towers, visit the beautiful courtyard, admire the painted ceiling of the Hall of the Barons and climb to the top of the castle, which offers a spectacular view of Naples and the port.
5. San Severo Chapel
There are many chapels and churches in downtown Naples, but Capella San Severo is truly one of the most beautiful. It is located near the port and castle of Castel Nuovo.
The chapel was built in 1590 on the estate of the Sangro family and has served as the family tomb since 1613.
Although the chapel is simple and unassuming on the outside, it is its interior that is the real highlight, making an indelible impression on visitors.
The chapel contains a huge number of works of art and several famous sculptures.
A magnificent fresco decorates the ceiling and marble statues stand guard at each column.
The most famous work kept in the Chapel takes center stage is the sculpture "Christ under the Shroud" by Giuseppe Sanmartino, 1753: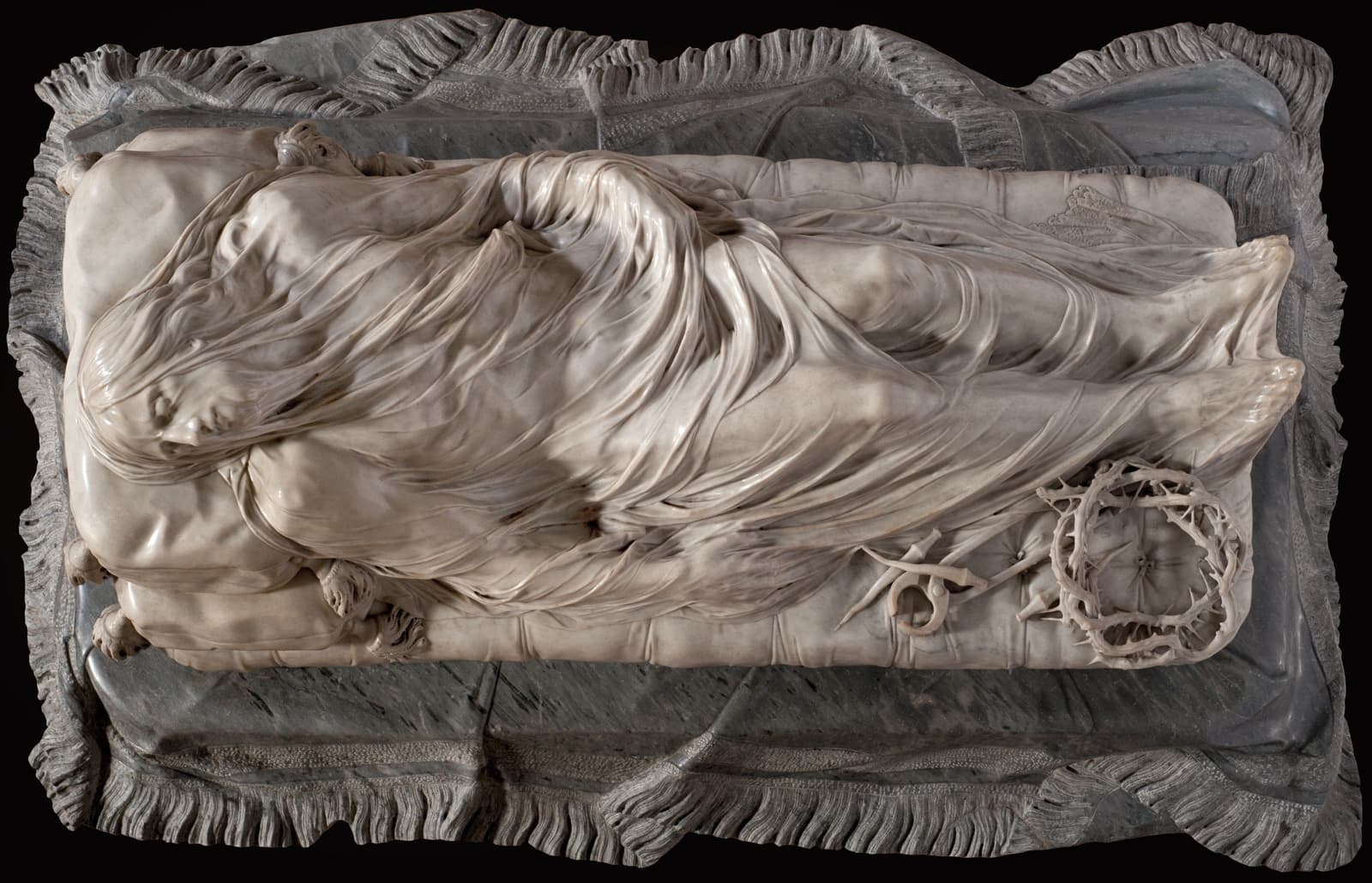 6. Castel del Ovo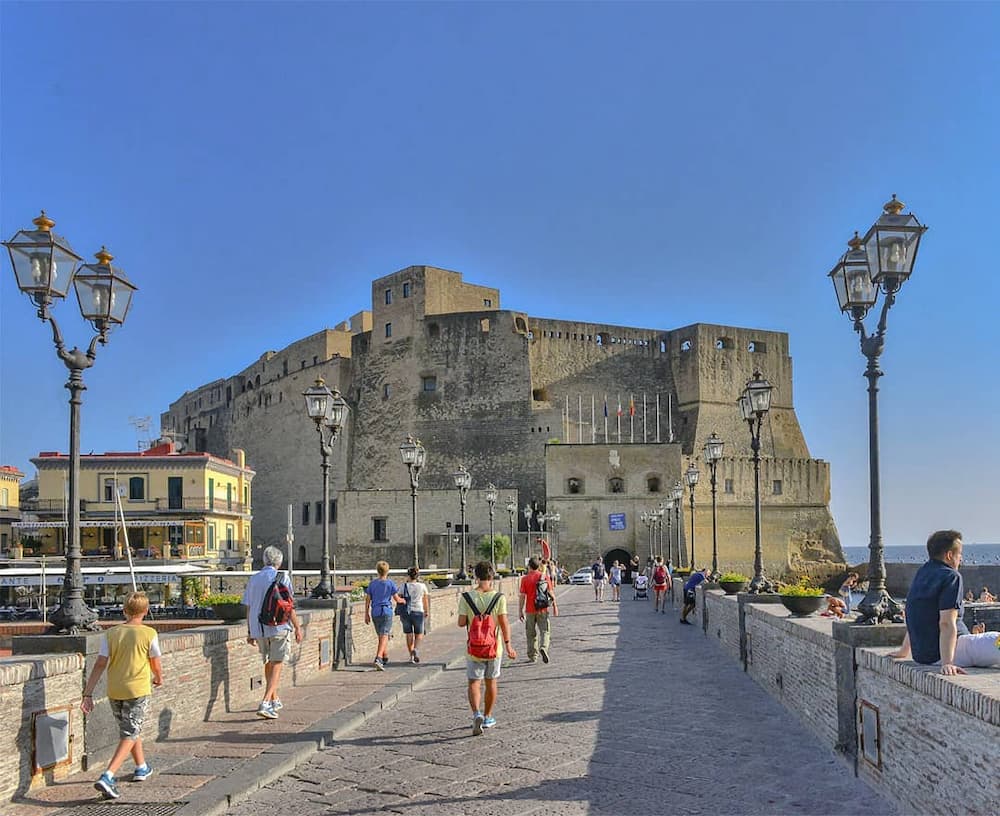 Castel del Ovo is another stunning castle of Naples, located by the sea.
The castle is located on a separate island, which is connected to the city by a long bridge. So you can get there on foot without any problems.
It is the oldest fortress in Naples, it was built in the early 6th century BC, and the main part of the fortress has been preserved to this day.
Be sure to visit this place, walk through the corridors and arches and admire the extraordinary view of the Mediterranean Sea.
There are also various art exhibitions and other events dedicated to the history of the castle.
7. Catacombs of San Gennaro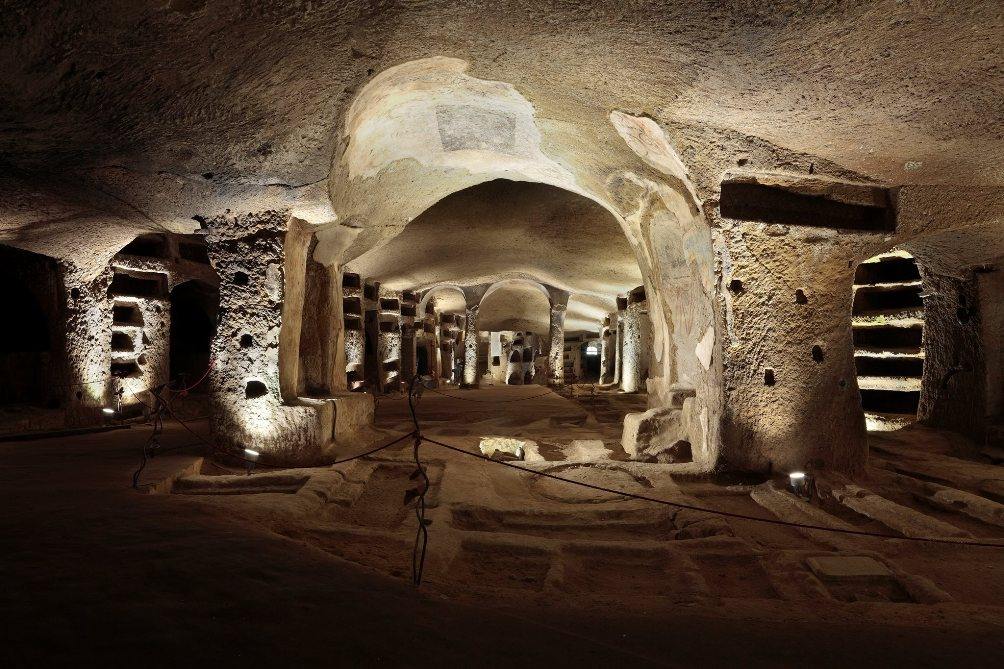 Have you ever wanted to explore a secret dungeon with a huge number of corridors and passages? Then the Catacombs of San Gennaro are exactly what you are looking for. This mysterious attraction is located in the northern part of Naples next to the Basilica of the Blessed Virgin Mary.
Once underground, you can walk through tunnels and labyrinths that contain ancient tombs and crypts.
Catacombs take up two levels. The lower level holds over 3,000 graves! The dim lighting gives this place a creepy feeling.
The upper level is no less interesting. It is more spacious and has a lot of frescoes and other works of art.
8. Visit to the ruins of Herculaneum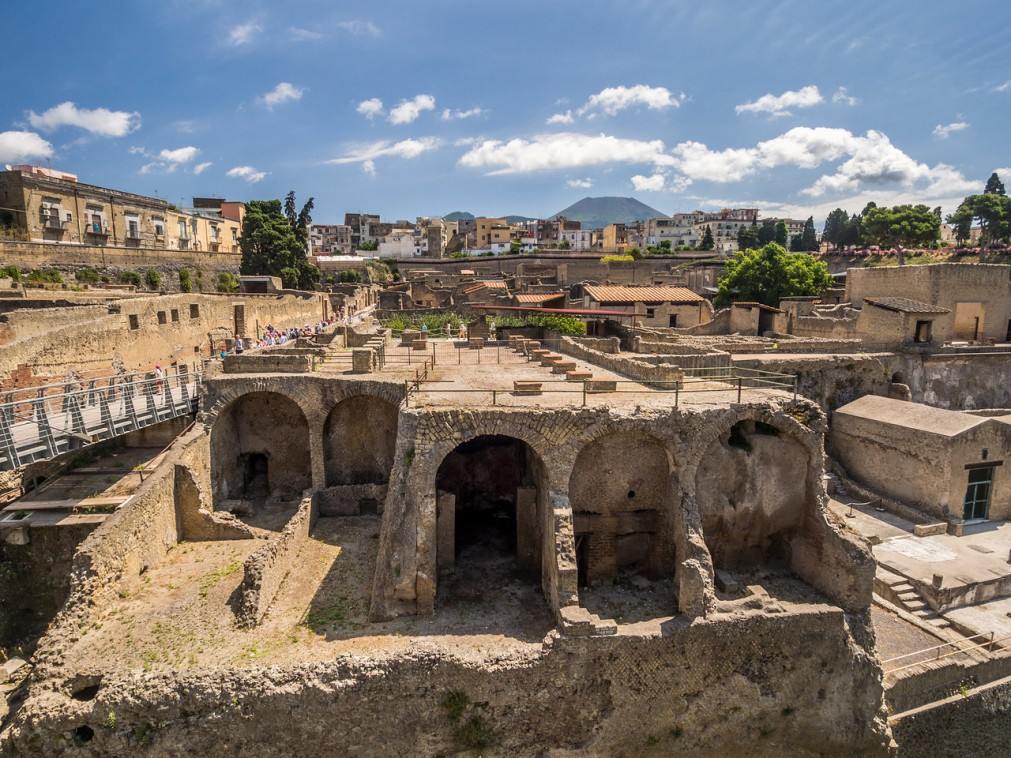 Herculaneum is another city that was destroyed after the eruption of the volcano Vesuvius in 79 AD. It is certainly less famous than Pompeii, but is still an interesting place to visit if you want to go to a less popular place.
Although it was farther away from Vesuvius than Pompeii, it was also completely destroyed.
Herculaneum is much better preserved than Pompeii, even some of its wooden buildings are still intact.
There are many curious sights within the complex, including the Villa Papyrus and the House of Argus, which contain beautiful frescoes and wall paintings.
9. Port of Naples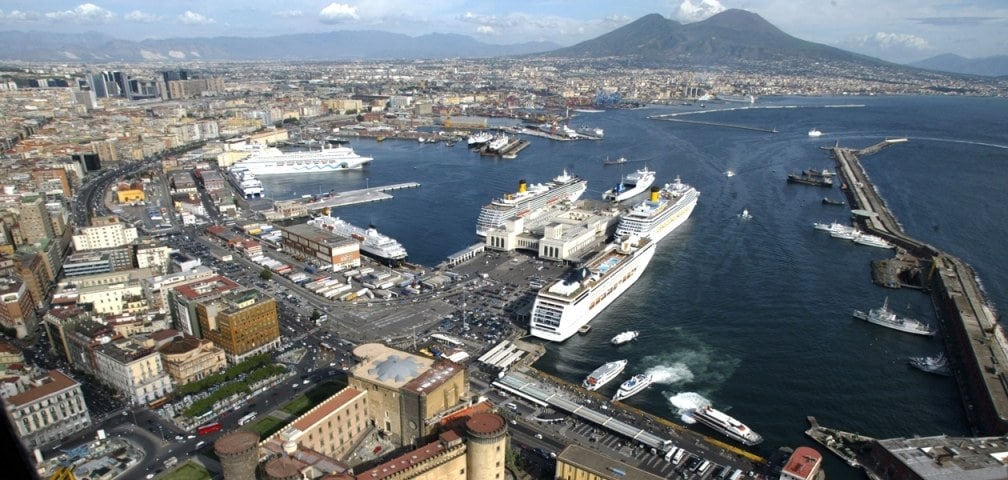 Naples is a bustling port city. Sea trade is the main source of Naples' economy.
The port is divided into separate docks. At all hours of the day and night, activity is active here.
The port stretches from Castel Nuovo to Piazza San Giovanni Battista. You can take a leisurely stroll along the promenade along the docks and see what's going on here.
If you go a little further west, you will see the small port of Mergellina. It, too, has a very lively atmosphere and is full of trendy restaurants and cafes.
Come here to experience the real local life of Naples and to admire the various yachts.
10. Piazza del Plebiscito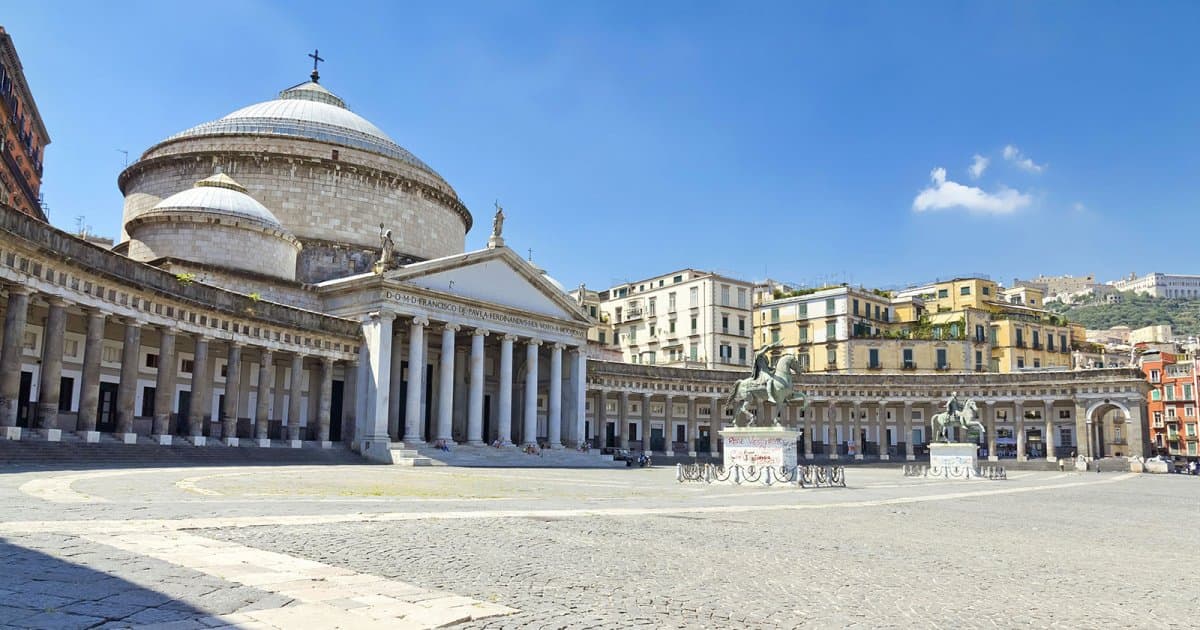 Piazza del Plebiscito is the main square in Naples and a truly fantastic place to visit. It is home to the Royal Palace and the Basilica of San Francesco di Paola.
There are important buildings such as Palazzo Salerno and the Palazzo Prefectura, as well as an equestrian monument dedicated to Charles III in a huge area.
The semi-circular covered colonnades of the Basilica of San Francesco di Paola extend in both directions and thus beautifully frame the entire square.
11. The Church of San Domenico Maggiore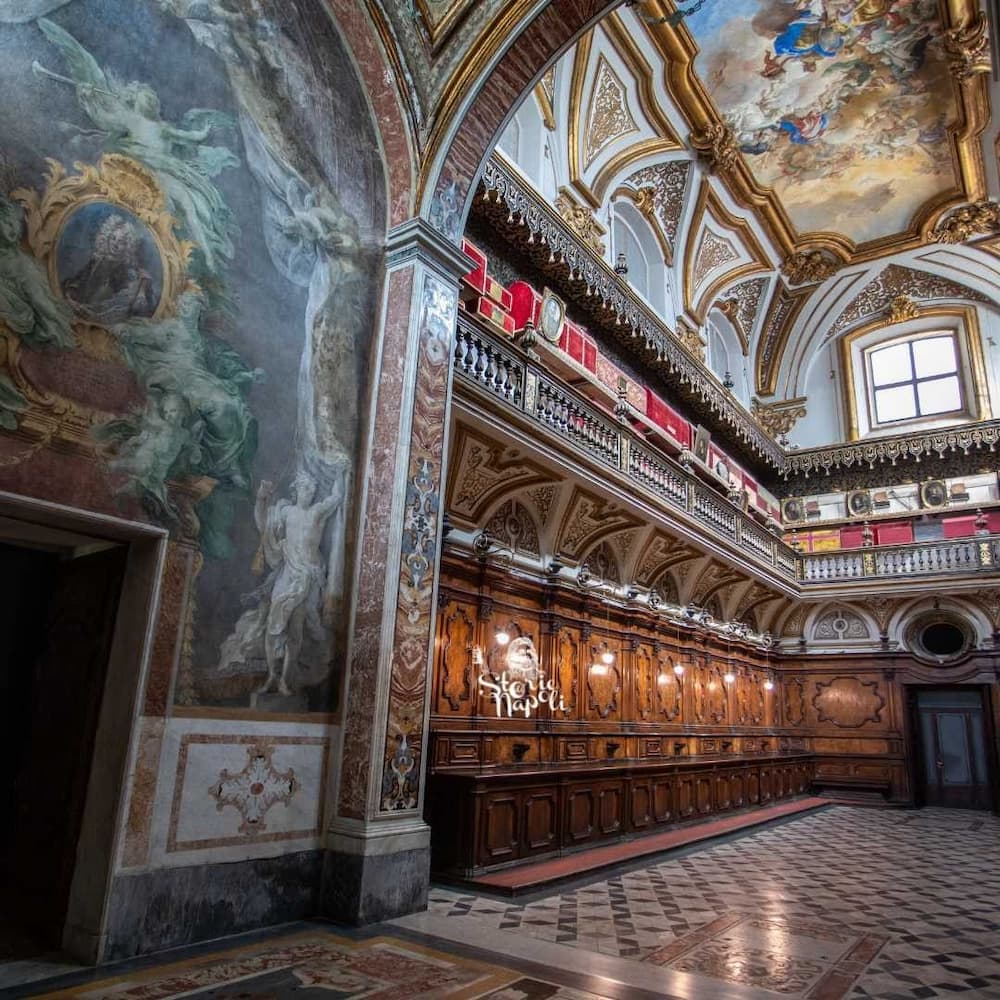 Another of the most beautiful churches in Naples is San Domenico Maggiore. It was founded by Dominican monks and built in 1324. The church is located in the center of the Old Town of Naples, near the university and the metro station Dante.
The exterior of the church may not impress you much, but the interior is incredibly beautiful with its gold-paneled ceiling and the main altar, a truly stunning masterpiece of art.
There are some Renaissance works of art and sculptures in the church. There is also a "treasury" which contains many religious artifacts, clothing, accessories and other items.
12. Duomo
The Duomo (in Italy, so called the main cathedral of the city) in Naples was built in the 13th century. It is located on Via Duomo and can be reached by metro (station Museo).
The cathedral combines many styles including Gothic, Renaissance and Baroque. This is because the building has been subjected to many restorations and changes since it was built over a long period of time.
The exterior of the cathedral's facade is decorated with a large central tower and decorative marble sculptures.
Be sure to visit the richly frescoed St. John's Chapel. Here in the center is a beautiful altar with a bust of St. Januarius in silver and gold. And the main treasure of the chapel is the vessel with the blood of St. Januarius.
13. Santa Lucia neighborhood
To really get to know Naples, immerse yourself in its culture and feel like a local, head to the district of Santa Lucia.
Just west of Piazza del Plebiscito, this neighborhood has lots of cute, narrow streets descending to the sea, with lots of souvenir stores, craft shops, restaurants and cafes.
Here you experience real Neapolitan life at its best – locals walking the streets going about their daily business, clothes hanging on clotheslines in the street, and children playing peacefully and unsupervised right under your feet.
14. Royal Palace
This magnificent palace is in the center of Piazza del Plebiscito opposite the Basilica of San Francesco di Paola.
At the base of the main façade are two tiers of windows symmetrically placed in dark frames, which gives the building a formal and solid appearance.
Also the main façade of the palace is decorated with 12 statues of the greatest rulers of Naples, symmetrically placed in neat dark niches, from Roger of Sicily to the Holy Roman Emperor Frederick II.
Inside this sumptuous building are many ornate halls. The hall and grand staircase are decorated with beautiful ornaments of pinkish marble. Be sure to visit the throne room and the court theater.
15. Take a boat ride to the island of Capri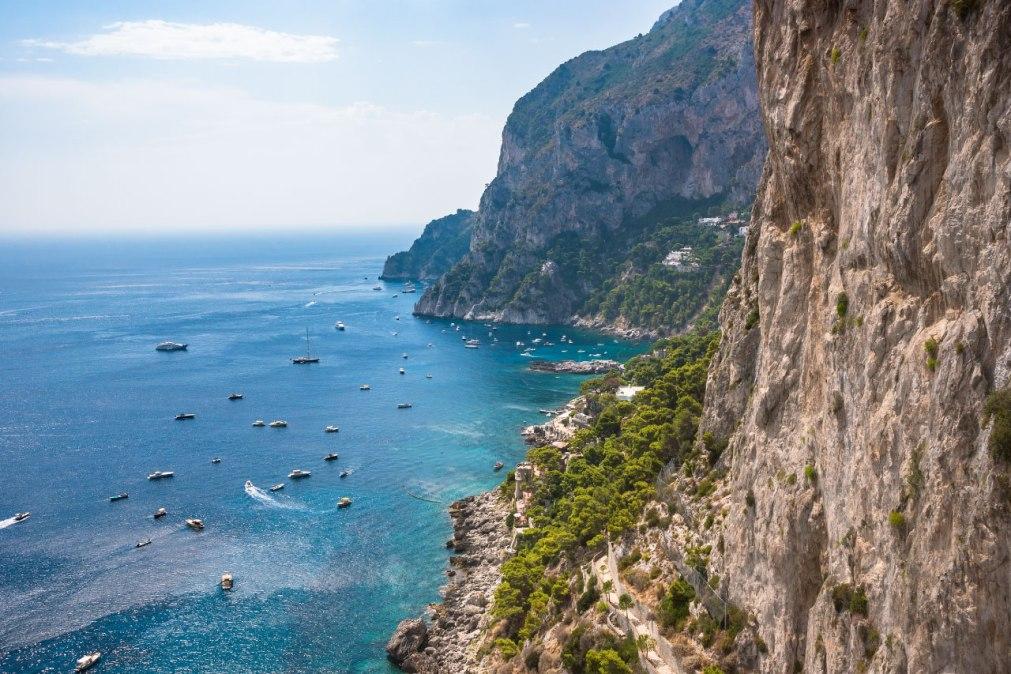 Capri is a small island famous for its picturesque scenery. Capri's coastline is dotted with beautiful caves and charming Italian villages.
A boat trip from the port of Naples to the island of Capri takes less than two hours. There are regular ferries that run between the island, the mainland, and the neighboring town of Sorrento.
Stroll through the wonderful Marina Grande harbor, admire the boats in the harbor, and then head out to explore the island of Capri itself.
I recommend taking an excursion to the Blue Grotto, one of Capri's main attractions, or an excursion to Monte Solaro, which offers magnificent panoramic views.
That's all, thank you for finishing this. I wish you a great vacation in Naples!
Great to know all the sights of Italy. In his spare time, he travels around the country and is willing to share his experiences in articles on Italy-Insider.