Fishing in Thailand: who and how to catch in Thai waters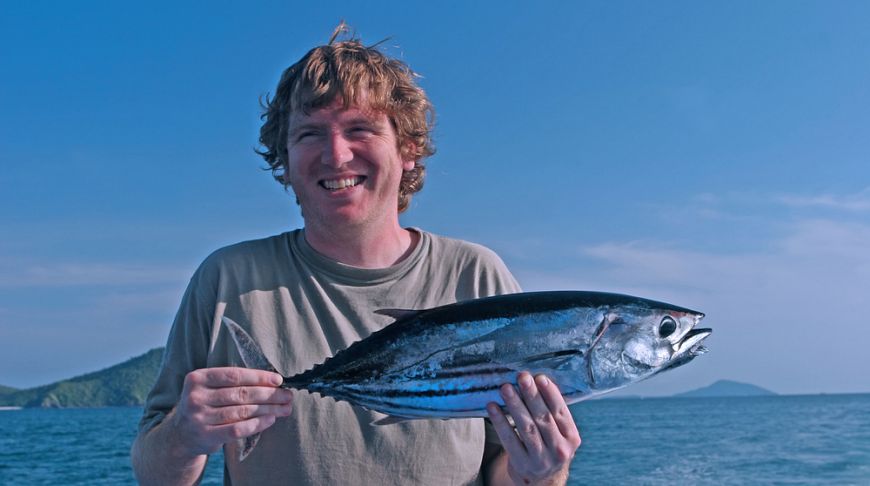 The river monster, the Mekong catfish, the peaceful oily fish, the legendary black marlin, the beautiful dorado and good old tuna are the most typical inhabitants of Thai waters. Want to meet them in person? We'll tell you where and how to do it in the Kingdom
Fishing season, one for the whole of Thailand, does not exist. In Phuket, they hunt from November to April, in Pattaya – from December to February, and the longest in Samui – from December to September. And that's just the south and only in general terms, regardless of the type of fish.
Although the most exotic inhabitants are found in the Andaman Sea, curiously, Thailand sets records for freshwater giant fish. Lucky Britons recently caught a 100-kilogram Siamese carp and were included in the IGFA (International Game Fishing Association) ranking.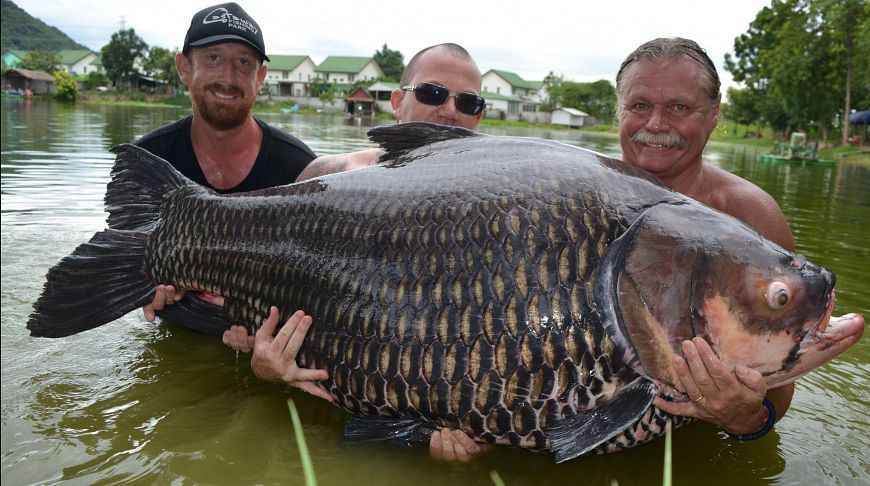 Record 100-pound carp caught by British fishermen in Thailand in 2016. Photo: i1.wp.com
Spearfishing, sport fishing and conventional fishing are available in the Kingdom. All of these can be done "wild," or you can take an excursion or tour for a few days. Now the details.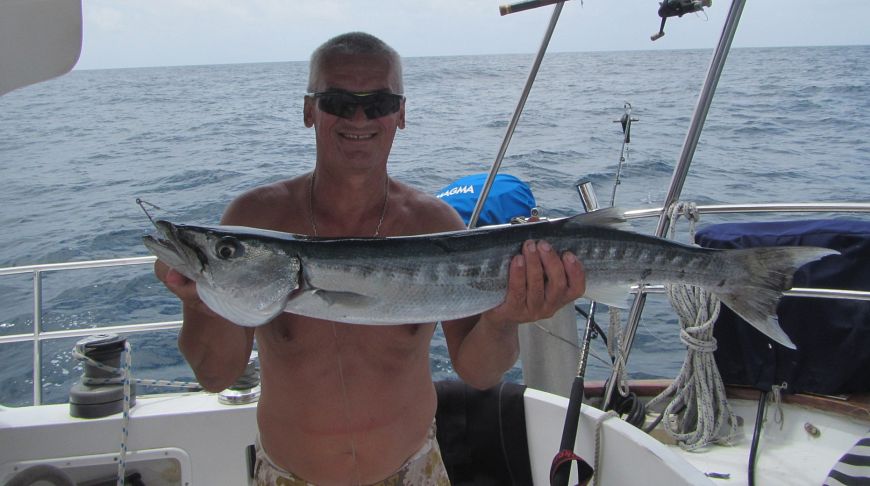 Yachtsman Victor Pshenichny with his catch – a 5 kilogram barracuda. Photo: personal archive 1
Why go to the distant Thailand to catch fish?
Of course, if you like a land holiday, it makes no sense to change your mind. But seafarers, sea lovers and fish addicts definitely get their fishing rods in Thailand for the most unusual species of fish. Here you can catch at least half a dozen exotic inhabitants.
Of course, in the Land of Smiles, most tourists do not hunt for the catch, but for pleasure. If you're lucky, your eyes will tire of watching a twitching float. This happens most often when fishing for tuna in the sea or carp in rivers and creeks.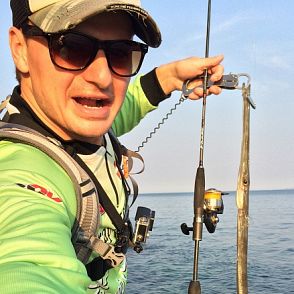 Andrey Pitertsov, Master of Sport, four-time world champion spinning, author of the blog "Coastal Fishing on Phi Phi Islands":
If you plan to visit these places as a tourist, I strongly recommend you to take spinning. The most interesting places – it is the rocks: where quite large depths approach directly to the shore. Here will hold a completely different fish. In shallow bays, too, you can catch
Fishermen-experts say that their friends and acquaintances often come to Thailand exclusively to fish in secret places.
Tackle, food and drinks are usually provided by the tour organizers, but don't forget to bring sunscreen and long-sleeve clothing to protect yourself from the sun.
On Phuket, there are just as many fish. On the islands of Racha Noi, Racha Yai and the Andaman coast of Phuket during the so-called "quiet season" (from September to March) even organize competitions in sport fishing.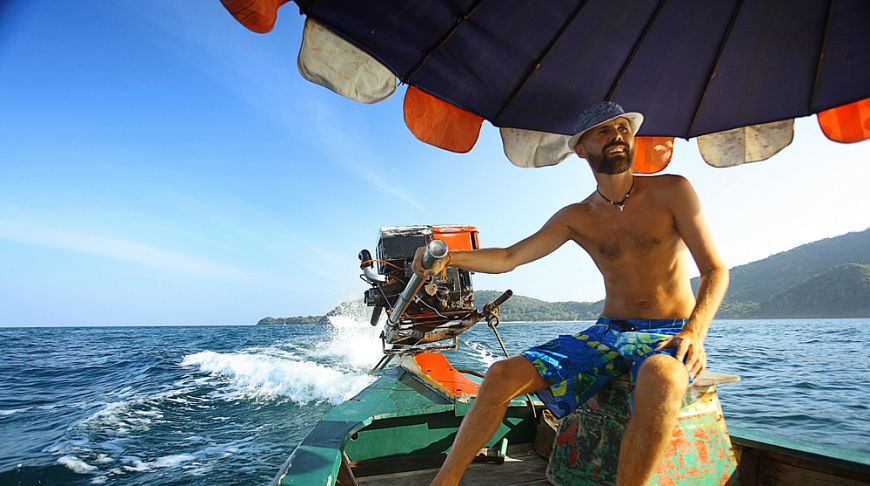 Photo: Shutterstock 2
Who and where can you catch in Thailand?
A moment of statistics. In Pattaya and in Phuket you can meet: giant karankas, giant grouper, squid, shark, wahoo, cobia, sailfish, barracuda, marlin, yellowfin tuna. And this we named only the most valuable and beautiful underwater inhabitants.
Experienced fishermen joke: "Only trout are not found in Thailand! The diversity of species in these waters strikes the imagination of both diving enthusiasts and avid anglers.
If you want a special catch, you're welcome to Pattaya. The waters off Koh Khram are home to the gentle creature blue bastard (or blue bastard). This fish is so nicknamed for its character: it is strong and aggressive. An adult fish is up to one meter long and can cause serious injury to humans!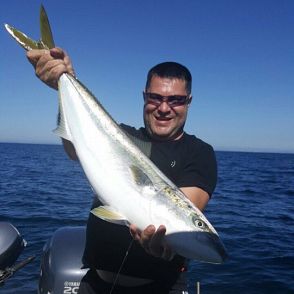 A friend of mine recently caught a blue bastard near Koh Kohram. This is a very rare fish. It is caught only at night. By day there are kingfish and barracuda for trolling. And the blue bastard fish is like salmon – fat and tastes fabulous. It is worth looking for!
Dmitry Shusharin says that in the vicinity of Pattaya there are a lot of other fish. "A lot of different coral, like small perch. Catch squid, mostly during the day. Predators and stingrays are caught at night. On coral reefs sometimes caught grouper. This is such a perch, also surprisingly tasty. Fishing for live squid is also interesting. In my opinion, the best fishing near the island of Khram. Cobia are caught here – a large fish of 20-30 kg. I also come across mahi-mahi, but very rarely and it's a good luck", says the fisherman.
Photo: personal archive Photo: personal archive Photo: personal archive
In Pattaya, fishing on Monster Lake has recently become very popular. The lake is a two-hour drive from the resort. Here you can find not only Thai fish, but also specimens from Australia, Africa, Asia and South America – about 30 species.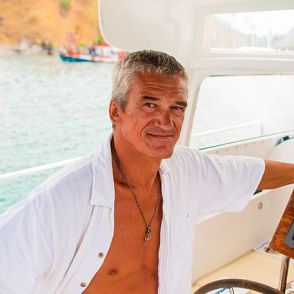 I fish mainly with trolling (silicone bait, I let it astern while the boat is in motion). I catch mostly tuna. Less often – dorado, wahoo, king mackerel. When I came back from Langkawi a week ago I caught a five-kilogram barracuda. If we are anchored, it's easy to catch smaller fish by dropping the rod right over the side. On a garland of five hooks I put a cut squid or octopus
The very word "shark" causes a rush of adrenaline, well, to catch a sea predator – it is extremely worthy. And in Thailand it is possible! However, only on the night fishing. Catching sharks is not prohibited, but their meat is not to your liking. Gourmets eat fins, and people ordinary taste whatever reminds: from soap to salt lollipop. Either way, catching a shark is a sporting interest.
"At night, predatory fish are caught when you are anchored," says Dmitry Shusharin. – There is a strong current around the boat, and the fishing rod unwinds sharply, as if you were swimming at a speed of 10 km/hour. You stand not far from the corals and cast the rod in their direction. The rod is dragged directly on the reefs – and there are biting predatory fish.
If everything is fine, but there is no bite, do not be surprised: the fish are caught when the water moves – at high tide or high tide. When the water is still, it stops biting.
Saltwater fish are much stronger than river fish, so if you are going to pull some out of Andaman waters, get a thicker tackle.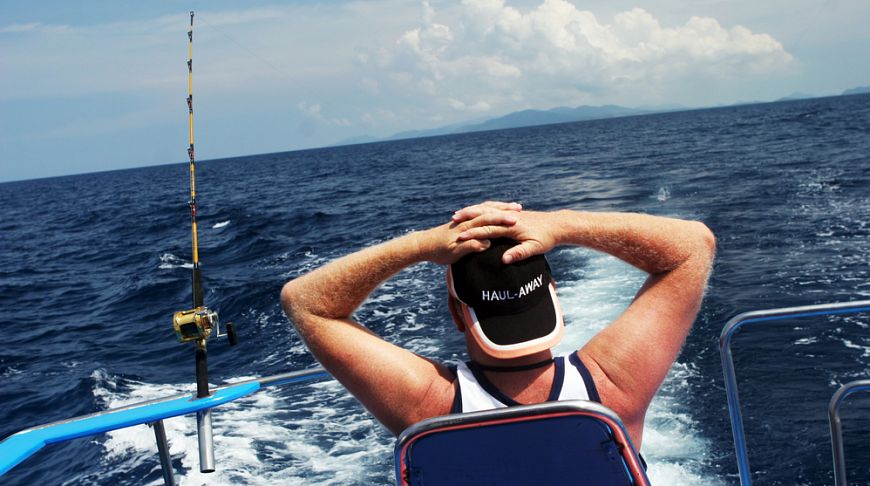 Photo: Shutterstock 3
How can you fish and how much does it cost?
Let's start by distinguishing between saltwater and river fishing. If you are going to go on a ready-made tour – you will, oddly enough, be offered not the sea, but a river or lake. Often it is fishing from the shore.
Fishing on the shore.
In the river you can catch giant Mekong catfish, arapaima, giant carp, Australian barramundi, alligator fish. Very popular with Thais spinning for snakehead (plachado, plachon). But you will have to let the catch go – this species is protected, and fishing on it is only sport.
Knowledgeable guides will help you separate endangered species from those that "can be fried".
Not as extreme, but also unusual would be to fish at Amazon Fishing Park. It is interesting because the local lake contains species from the Amazon basin.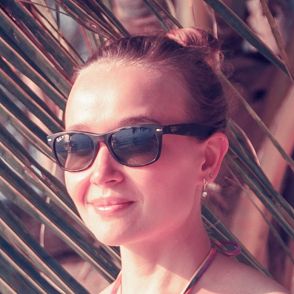 In a small lake near Pattaya of unknown origin (most likely artificial) you can catch a giant arapaima – one of the largest freshwater fish in the world. Adults reach a length of 2.5 meters and weigh up to 200 kg. Interestingly, the species has not changed in 135 million years!
If you catch a big one yourself, it is guaranteed to be released. The giants in Thailand every year are less and less, and all of them are under control.
The undoubted advantage of freshwater fishing – lower price: 700 – 1000 baht for the organization, equipment and lunch.
On freshwater in the Thai outback, you can also find unusual fishing activities. For example, get on an authentic fishing. Blogger portal "Zagranitsa" Alex 24 this way describes the process: "From one pond in the other pumped out almost all the water, until it is very liquid mud. Four or five volunteers dived into the "therapeutic bath" and tried to fish the few fish out of the pond with their hands". By the way, the entertainment is completely free!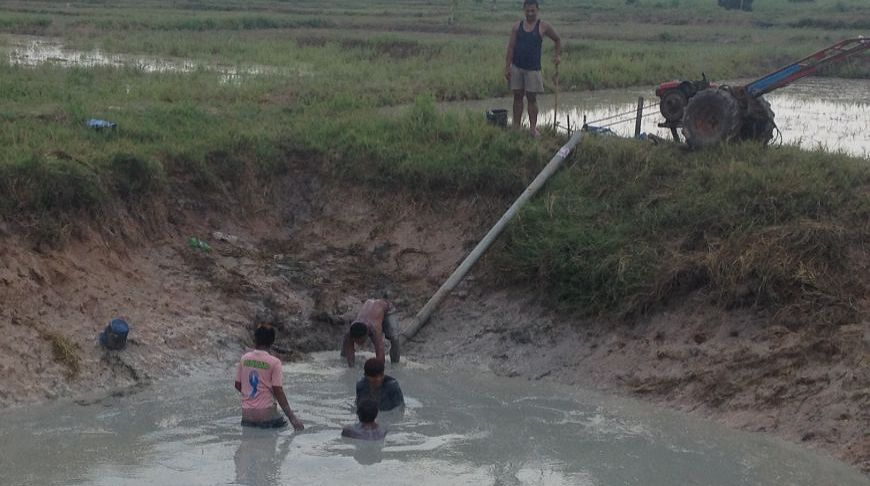 Photo: zagranitsa.com
Independent fishing in the sea
The most interesting thing is, of course, fishing alone. Here the most expensive is to rent a boat: the pleasure costs 10,000 – 15,000 baht per day. Therefore, it is better to take in the joint and with an experienced fishing captain. Boats are usually designed for 4-15 people. Transport can be rented from an hour to a week.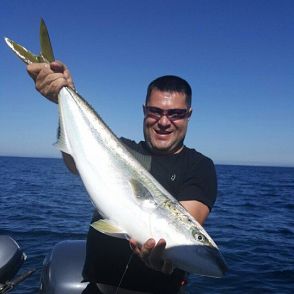 You can get together in the Network, it's easier. We have a group where everyone who wants to fish in Pattaya. We hire a boat and go fishing. Really, I almost don't participate in this now, since I have my own boat
Sea Safari.
This is already a long, for three or four days, a trip to the places of pecking. Thailand mainly offers sport fishing, so on the fish excursions you can only catch by spinning. Catching a net is prohibited, and if this is part of the program, it is worth abandoning the trip. By the way, any transport – yacht, boat, barge – must be certified, otherwise fishing is considered poaching. It will cost you up to 10 000 baht to take the tour with all equipment, breakfast-lunch-dinners and registration.
Night Fishing
On night trips most often catch squid. These inhabitants of the depths of prey are allowed, so the excursion usually includes a dinner from your catch. For such a pleasure you will pay about 2000 baht.