Bicycle tourism in Tenerife
With the onset of the era of automotive boom in the second half of the XX century, as they bought a personal car almost every family on the planet has established the view that the days of the bicycle is literally numbered – as a means of transport and probably as a hobby.
However, all the experts who predicted the bicycle's near oblivion were obviously mistaken, because cycling has never lost its popularity. The emergence of the computer games industry has also not prevented teenagers in the manifestation of interest in the bike as a means of outdoor activities, and the desire for a healthy lifestyle has turned it into an indispensable attribute of every person concerned about their own health.
By the way, if you – the supporter of modern bicycle technology, then you can visit the store electric bike, which will find a huge range of aforementioned means of transportation. And it will not just bicycles with a motor, and really ideal technical units that can surprise even the most sophisticated buyer.
So, let's continue. In recent years, the active development has received and biking tourism. This kind of traveling is usually associated with local walks or trips to nearby countries. However, the most "chic" style bicycle tours are long distance. Let's try to figure out why this type of recreation is attractive.
Bicycle tour in the Canaries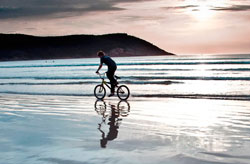 Consider a very famous among bicycle tourists to the island of Tenerife Canary archipelago. So, why would a proponent of bicycle tourism would make a road half a world long?
Tenerife has excellent climatic conditions for biking. Temperatures don't change much all year round, which is why this island is preferred by seasoned cyclists for training in winter and by all year round cyclists for exploring the island's beautiful scenery. However, it's not the weather – or rather, not just the weather – that makes the island an ideal cycling destination. The main distinguishing feature of the island is its topography, which can be summed up by the phrase "downhill to downhill" or more precisely "to the volcano and down through the barranco".
The ideal cycling trip in Tenerife is like this – for two days, those who truly appreciate the fresh air and a little – extreme, go on the road. You can literally take nothing with you, but you really could use a small snack (from simple sandwiches to a picnic bag) and accessories for swimming. And, of course, a bicycle – individual fans bring their own, but the island has an excellent rental system.
If you're an experienced cyclist or even a cyclist, one of the many companies providing specially designed routes of different categories of difficulty is at your disposal. If you are an ordinary amateur, it is advisable to visit Mount Teide, where you can climb to a height of 2,100 m in a 35-minute cycle tour.
Initially, the road runs along the plain (particularly along the south and west coast of Tenerife), combined with the occasional local ravines with the quaint name of "barranco". The journey can last all day, and light snacks and swimming in the sea make for a more varied and informative experience.
Moving on. Whether you opt for a professional or amateur route, your journey takes you through the mountains. Nature itself has scattered hundreds of trails suitable for cycling up and down the island, and your efforts on the uphill are handsomely rewarded.
In conclusion, it's a good idea to have a good relaxation after a strenuous walk – you'll need a full, at least one day's vacation to do this, and as Tenerife represents one of the most spectacular beach destinations on the planet, why not stay here for a whole week? Sand, sea and sun, and most importantly, a bike at your side, and endless opportunities to travel at a moment's notice.
In general, if you prefer an active holiday, and in particular – a bicycle – you should definitely go to Tenerife. And be sure to appreciate the chances for a vacation for the whole family – thus, and your family will enjoy such a great beach leisure, and you – from your active. Have a great holiday in Tenerife!