Lanzarote
The blackest canary island, almost without forests. Known for its Martian landscapes, great surf spots, black hole vineyards and the creative experiments of the great Cesar Manrique.
Lanzarote – the island of fire-breathing mountains
Lanzarote, the fourth largest island of the Canary archipelago, is located 125 kilometers off the coast of Morocco and 2,000 kilometers from the Spanish mainland. Also referred to as the "island of fire-breathing mountains", Lanzarote is home to three hundred volcanoes.
Travelers are mesmerized by the local and unusual scenic landscape, a truly "lunar landscape". Much of the island is covered in molten lava, with multicolored volcanic cones of varying sizes towering between the lava fields.
My report on Lanzarote
What time to go to Lanzarote?
The extraordinary landscapes of Lanzarote
The best time to go is September or October. But other months are also very comfortable. The average annual temperature ranges from +20 ° C in winter to +26 ° C in summer. The water temperature is 20-23 ° C, the warmest in September and October.
Island beaches
Caleton Blanco sandbar (Photo: Joseba Palacios Sáez)
Of the 250 km of coastline, the beaches with white, black and red sand cover 30 km. They are all municipal and free. The best beaches with crystal clear waters and snow-white sand are in the bay of Papagayo on the south coast of the island. Windsurfers will love Playa de Famara with its constant winds.
Caleton Blanco, a sandbar on the north coast, is great for children. Nudists can sunbathe near the resort of Playa Blanca on Playas de Papagayo beach.
Cities and resorts in Lanzarote
Arrecife
Arrecife is the capital of the island. The city is located in the eastern part of Lanzarote. It is a commercial and passenger port where commercial ships and cruise ships are moored. The city grew up on the site of a settlement founded in the 14th century by the Genevan merchant Malocello. Arrecife has long been a haven from storms for travelers and pirates.
Here are the main historical sites of Lanzarote – the old fortresses of San Jose and San Gabriel. The coast of Arrecife has several excellent beaches, awarded by the EU "blue flag". In the city's restaurants you can enjoy dishes from fresh fish caught by local fishermen and taste wine from vines grown on volcanic lava.
Costa Teguise
The resort town of Costa Teguise (photo: zbiada)
Costa Teguise is a cozy resort town 10 kilometers from Arrecife. This resort in the seventies of XX century was built specifically for tourists. Cesar Manrique has participated in the architectural design of Costa Teguise. His main creation is the center of the town – a stylized fishing village of Pueblo Marinero with restaurants, bars and a traditional weekly fair. In Costa Teguise is one of the residences of the Spanish king. The entertainment here includes golf courses, tennis courts, water sports training centers, and a water park.
At the end of February, there is a wonderful carnival with processions in medieval costumes.
Puerto del Carmen
Puerto del Carmen is the tourist capital of the island (photo: belperskelter)
The tourist capital of Lanzarote is Puerto del Carmen. It stretches for seven kilometers along the southeastern coast of the island. On its main street Avenida de las Playas, packed with restaurants, nightclubs, hotels and stores, life is in full swing day and night. Around the harbor is the old city center with a maze of streets. This area retains the atmosphere of the small fishing village of La Tignosa, where the present resort began. Around Puerto del Carmen you can visit the Zoological Garden "Rancho Texas".
At the end of July, the Fiesta de Carmen, a colorful celebration dedicated to the town's patron saint, is held here.
Puerto Calero
Puerto Calero Resort (Photo: Robert)
Puerto Calero is a quiet and peaceful resort. Here there are no crowded beaches, there is no usual evening entertainment for European resorts. This is an exclusive village, built for respectable vacationers. Puerto Calero port serves as a parking lot for private yachts, the starting point for marine excursions and recreational diving on the yellow submarine. There is a whale and dolphin museum (Museo de Cetáceos de Canarias).
Playa Blanca
Playa Blanca is the southernmost resort in Lanzarote
Playa Blanca is located on the southern coast of Lanzarote. It is the newest and most actively developing resort on the island. Playa Blanca is ideal for family holidays: its beaches are suitable for young children and for fans of active water sports. Developed infrastructure of the resort will appeal to holidaymakers of all ages. From the local port, you can make an excursion to the island of Fuerteventura.
Las Coloradas
Las Coloradas resort village (photo: darekw)
Las Coloradas is a village located near Playa Blanca. A 400-meter strip of beach, covered with volcanic sand, stretches along the coast. Above the beach towers a monument of military architecture – the fortress of the 18th century Castillo de las Coloradas. Along the coast of Las Coloradas is a beautiful, romantic promenade with welcoming bars and restaurants. Within walking distance of Las Coloradas are the most beautiful wild beaches of Lanzarote – Playas de Papagayo.
La Santa Sport
La Santa Sport Resort
In the northwest of Lanzarote, close to the picturesque La Santa lagoon, you will find the sports resort of La Santa Sport. This place is a true paradise for active people. Regardless of age and ability here everyone can find something to their liking. The resort has all necessary conditions for practicing numerous kinds of water sports, martial arts, sports games (badminton, tennis, golf, basketball, volleyball, handball, soccer). In addition, there are areas for fans of athletics, fitness, aerobics, Pilates, yoga. There are numerous routes for hiking and biking. And of course La Santa Sport has all the necessary entertainment of the resort area: stores, restaurants, bors, swimming pools, discos, beaches, spas.
Attractions in Lanzarote
Timanfaya National Park
Timanfaya National Park
In the western part of the island is the main attraction, the Timanfaya National Park (Parque nacional de Timanfaya). Its unusual landscapes enthrall every visitor. The highlight is a visit to the unique restaurant El Diablo located at the top of the active volcano where they cook mouth-watering dishes on a volcano grill. Read more…
Lake Charco de los Clicos
To the south of the village of El Golfo there is a wonderful lake with an unnatural acid-green color, Charco de los Clicos. Like frozen waves, it is surrounded by bizarre cliffs. On the black pebble beach, tourists can be found looking for olivine (chrysolite), an olive-green semi-precious stone. Read more…
Volcanic Caves Jameos del Agua
The Salt Lake in the Cave of Jameos del Agua
The complex of volcanic caves Jameos del Agua is a unique landscape that consists of underground tunnels and grottoes. This complex became a tourist attraction thanks to the initiative of the artist Cesar Manrique. The first cave with a luxurious tropical garden and an artificial reservoir is called Jameo Grande. A little further is Jameos del Agua, a concert cave with unique acoustics and the entrance to the crater called Jameo de la Cazuela. The animal life of Jameos del Agua is interesting, the most famous representative of which is the white blind crab, which has become the symbol of this cave complex. Read more…
Cueva de Los Verdes
Los Verdes Cave
The Cueva de los Verdes (Los Verdes Caves), which are more than 6 km long, appeared several thousand years ago. At one time in its intricate galleries local residents fled from the pirates. Today, the tourists can enjoy the kilometer long part of the tunnel with the winding corridors and spacious high halls. Learn more…
Cesar Manrique House Museum
The César Manrique Foundation
This amazing house of the famous artist, built and decorated by the artist himself, is currently the office of the Fundación César Manrique and the museum of the famous artist, which houses his works as well as his personal collection of Tapies, Miró, Picasso. Read more…
The Mirador del Rio
The Mirador del Rio
The well known Cinijo Archipelago can be admired from the observation deck of the Mirador del Rio (470 meters above sea level). Read more…
La Heria Vineyards
La Heria Vineyards
La Geria is a famous wine region with vineyards that climb even the slopes of volcanoes. Today it is a protected area, positioned, at the initiative of César Manrique, as an example of the harmonious coexistence of man and nature. The locally grown Malvasia is used to make a surprisingly delicious and fragrant wine which you can taste and buy in the local wineries. Read more…
Cactus Park
Park of Cacti (photo: tartandart)
The Park of Cacti (Jardin de Cactus) is an extraordinary park set in an amphitheater in a former volcanic ash quarry. It is located in the village of Guatiza. There are many unique representatives of the cactus family with a variety of shapes and colors. Read more…
Texas Ranch Park
Rancho Texas Park (Photo: Ute & Hans)
Rancho Texas Park is a zoological garden decorated in the style of the "Wild West", where you can see various representatives of the animal world contained in cages. Especially interesting for visitors is the birds of prey show with huge birds diving spectacularly in the pond. Read more…
Costa Teguise Aquapark
Costa Teguise Aquapark (photo: pipol)
The Aqua Park Costa Teguise in the resort town of Costa Teguise is most appreciated by children. Bright trampolines, inflatable "Castle Games", "Lake for Kids" with a variety of shapes and colors of slides, captivate children for the whole day. There are also water attractions for adults, such as "Eight Tracks". There are also souvenir shops, cafes and a cozy restaurant. Learn more…
Lanzarote maps
Interesting things about Lanzarote:
Do I need to rent a car in Lanzarote?
Public transport on the island is very poorly developed and many beaches and places of interest can only be reached by car. This is why I highly recommend renting a car right after arrival.
After the pandemic there is an acute shortage of rental cars, because of this increased the price of rental cars. Prices are comparable with those in Europe. There is also a high probability that there will be no available rental cars on arrival.
I recommend renting a car 1-2 months before your trip. In this period optimal prices and a choice of car classes will be the best.
Do I need an SUV in Lanzarote?
If you look at the non-satellite images, it will seem to you that without an SUV you will not go anywhere. In fact, you will not be allowed there. For tourists are available mainly only paved roads. Therefore, even the smallest car will take you to any point on the island. I recommend the VW Polo class.
Where to rent a car in Lanzarote?
Avoid Pluscar and Goldcar, despite the attractive prices I get a lot of negative feedback from readers. Find the right size and price car to rent with these services:
Pay attention to additional insurance. I recommend taking full coverage with no deductibles when ordering online. There's a little bit of a tip. Take an additional WWI insurance policy for a year to rent a car from any company.
How to get to Lanzarote
There are no direct flights from Moscow to Lanzarote. You must fly to Tenerife, the largest of the Canary Islands, from whose airport there are flights to all the islands of the archipelago. From the airport of Lanzarote, near the island's capital of Arrecife, there are buses to all resort areas.
The Island of Lanzarote, Spain: Interesting sights, how to get there, things to do, travel tips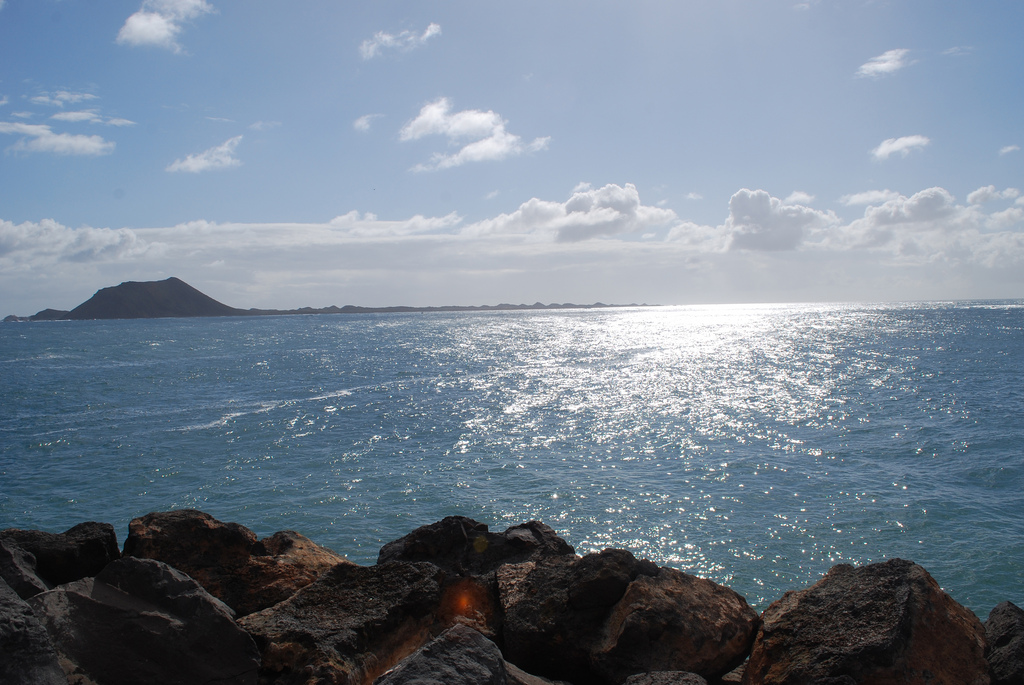 The picturesque island of Lanzarote, Spain (Photo © Sofia Weiber / www.flickr.com / CC BY-NC 2.0 license)
Lanzarote is the northernmost and most unusual and mysterious island of the Canary archipelago. Its beauties attract about 1 million tourists every year. Lanzarote can be called a big workshop of César Manrique, a native of the island, a famous painter and sculptor.
The colorful Martian landscape, snow-white beaches and crystalline ocean waters create a special contrast. The most coveted place to visit is the fire-breathing reserve of Timanfaya.
Volcanic ash has proven to be excellent soil for cultivating vineyards. The vines are planted in uncultivated volcanic holes and fenced off from the wind by a semicircular masonry of stone. Local wine has its own distinctive taste due to the abundance of trace elements in the volcanic soil and climate.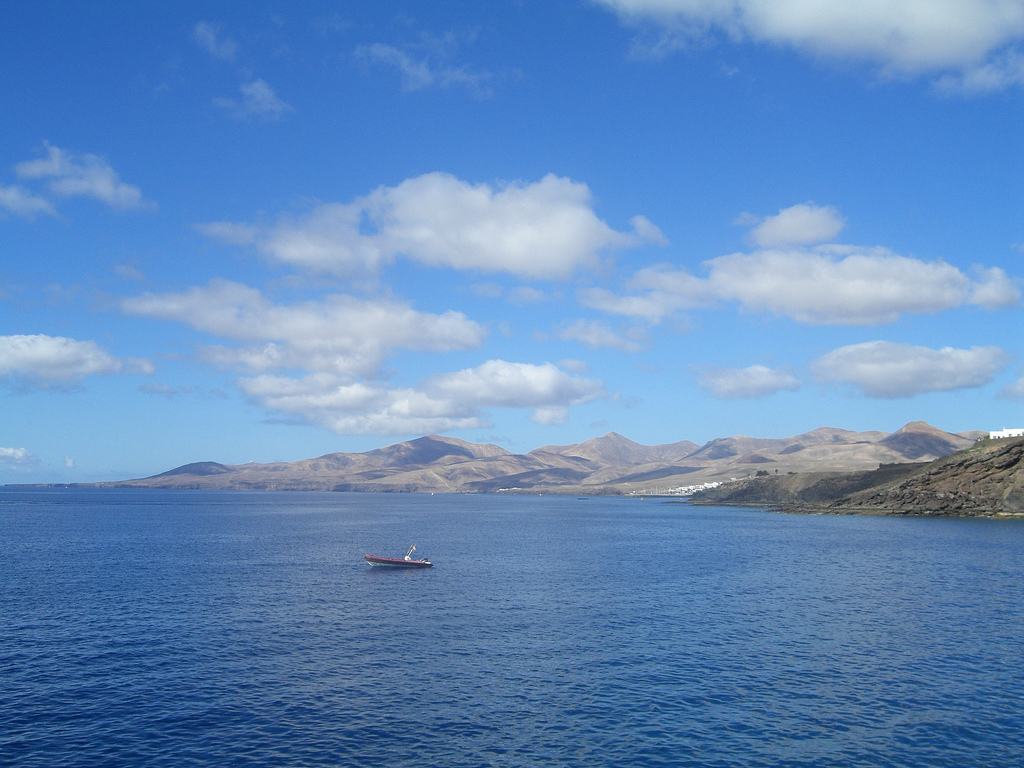 The picturesque island of Lanzarote, Spain (Photo© boybeattie/ www.flickr.com / License CC BY-NC 2.0)
Lanzarote Island Attractions
Timanfaya National Park
Parque Nacional de Timanfaya is an area of fire-breathing mountains with dramatic scenery over 5 hectares. The reserve owes its gray-orange landscape to a six-year sequence of powerful volcanic eruptions from 1730 to 1736. The most popular route to see the land of fire-breathing mountains is Volcanes.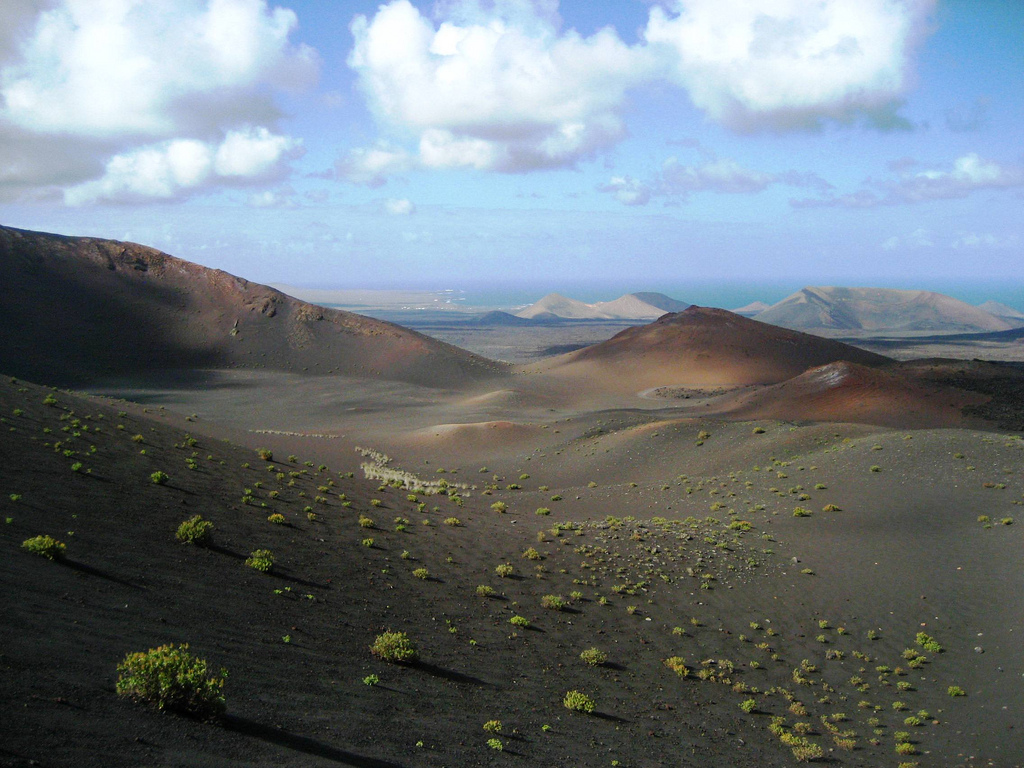 Timanfaya National Park on the island of Lanzarote, Spain (Photo© MrCaballero / www.flickr.com / License CC BY-NC 2.0)
Cesar Manrique House-Museum
The Fundacion Cesar Manrique house-museum in Tahiche is a stronghold and embodiment of the artist's creative nature. He adored these volcanic places, equipping them into a stunning dwelling with pools of frozen black lava, cacti, palm trees and contrasting white trim. Numerous works by the master can also be seen here.
Lagomar Museum
The Lagomar Museum in Nazaret is an original site that was created for Omar Sheriff by artist Cesar Manrique, but the actor quickly lost it at cards. The exotic villa, organically incorporated in a volcano, is a must-see for a visit to Lanzarote.
Santa Barbara Fortress
Castillo de Santa Barbara is located on the outskirts of Teguise. It is located on top of the volcano Gaunapai in the middle of an unearthly red landscape. From here you can see most of the island, visit the museum and walk the trail around the crater.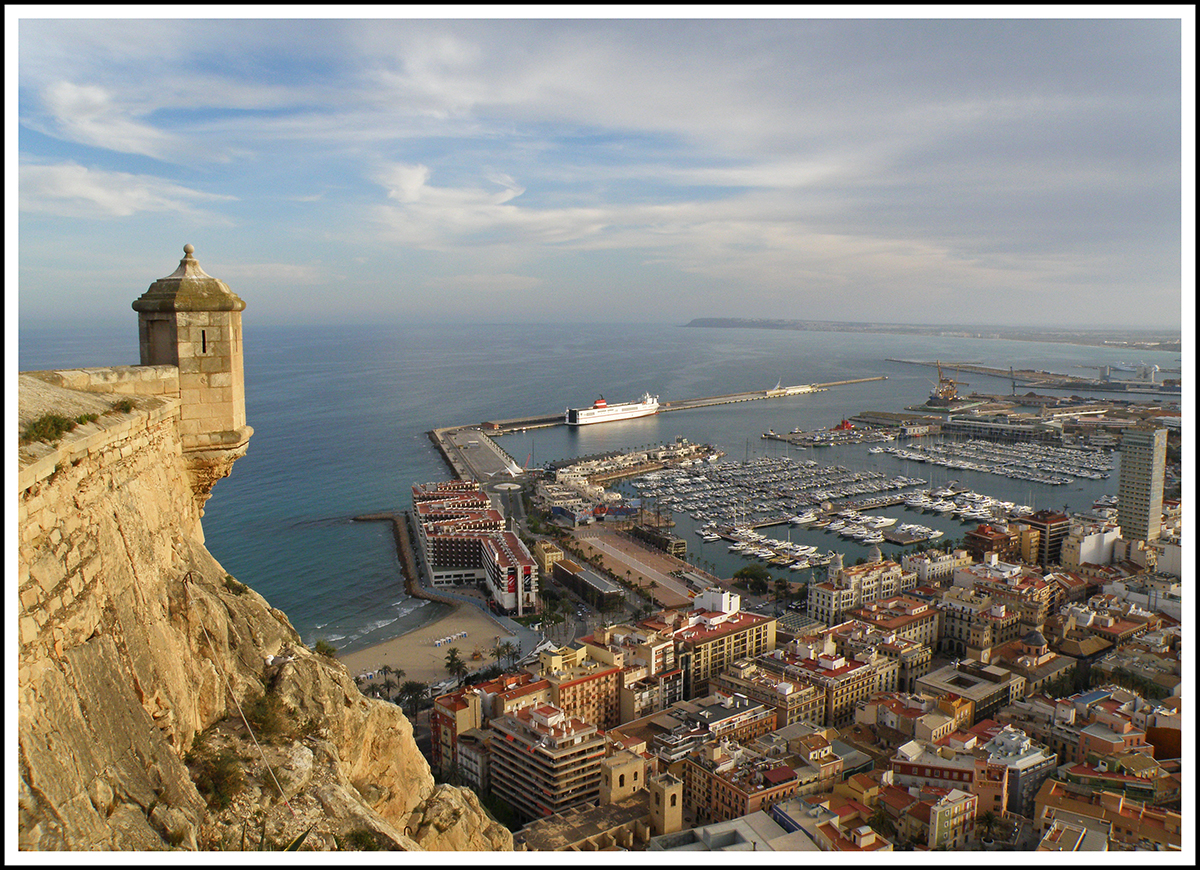 Santa Barba Fortress in Spain (Photo© manuel candal / www.flickr.com / License CC BY-NC 2.0)
Cactus Garden
The Cactus Garden (Jardin de Cactus) in Guatiza is a stunning botanical garden right on the volcanic lava, which was the last creation of César Manrique (1991). In one hour's walk you will see more than 1,000 species of succulents of all shapes and sizes. Then you can have something cold to drink at a local restaurant.
Jameos del Aqua Grotto
Jameos del Agua in Punta Mujeres is a popular spot that is a natural grotto with a lake. The place is transformed by the skilled Cesar Manrique, and there is a restaurant. Tickets must be purchased in advance.
Los Verdes Cave
The Cueva de los Verdes, near Jameos del Acqua, is formed by volcanic lava and has many interesting surprises. The cave can only be accessed as part of a guided tour – groups are formed on site.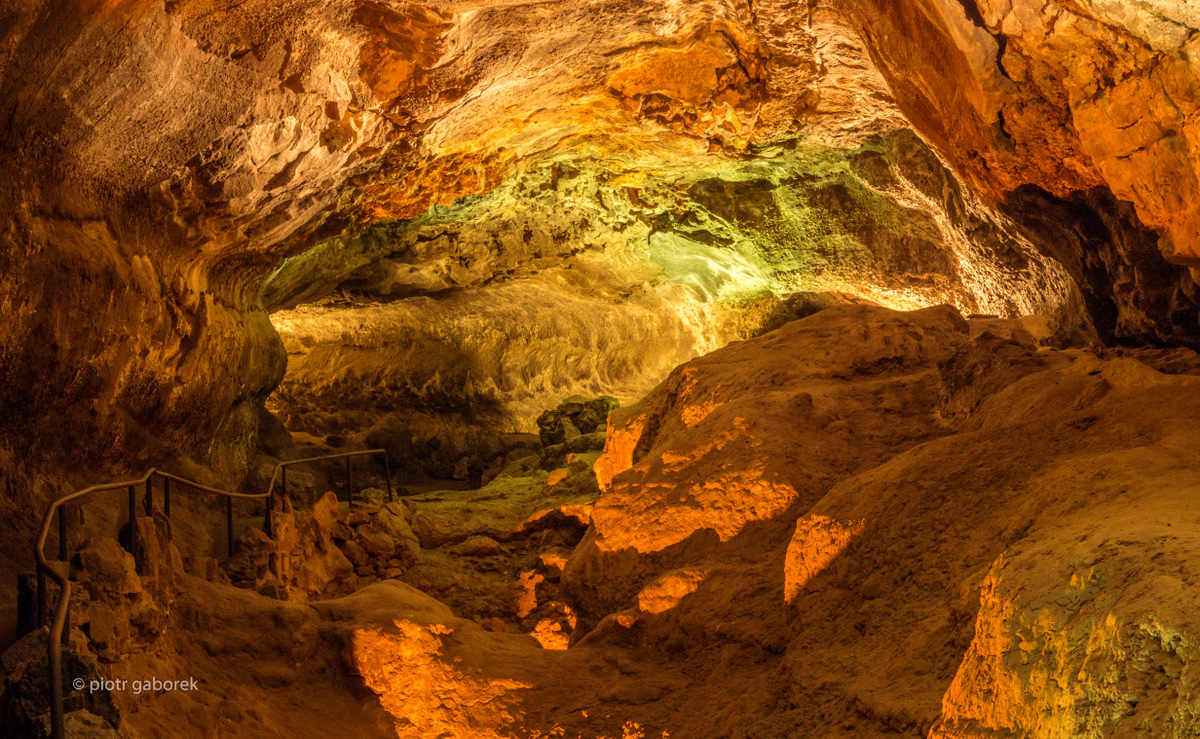 Los Verdes Cave Grotto in Spain (Photo© Piotr Gaborek/ www.flickr.com / License CC BY-NC 2.0)
Mirador del Rio
The Mirador del Rio lookout on North is known for its stunning views. In clear weather you can see the neighboring island of Graziosa from a height of 500 meters. For tourists there are cafes with large viewing windows, multi-level observation decks, lots of souvenirs for sale.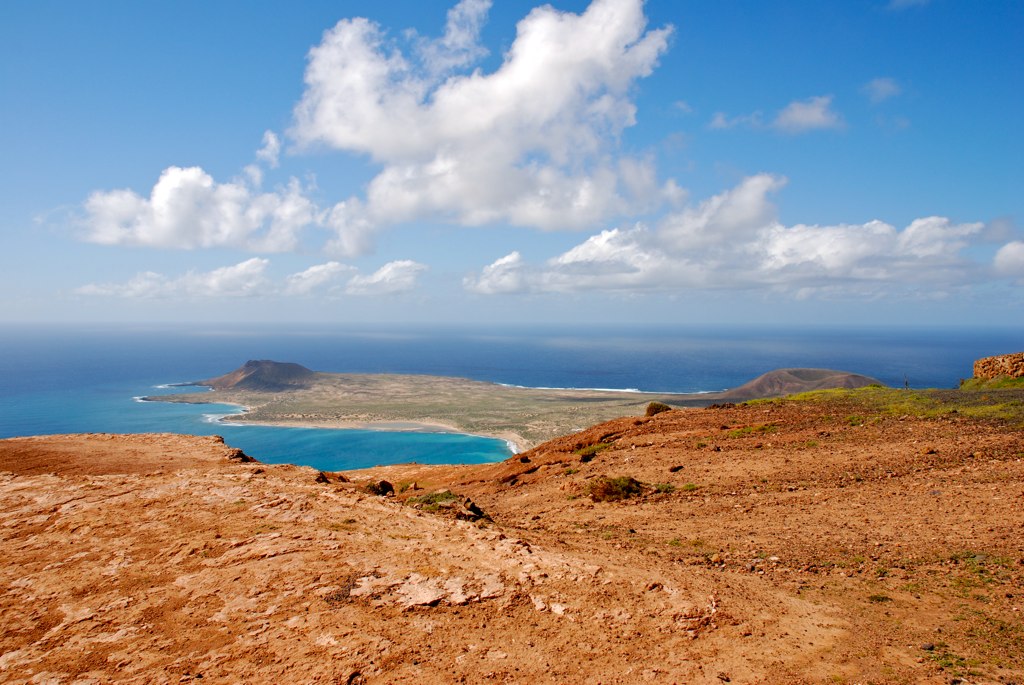 The Mirador del Rio Lookout in Spain (Photo© solproduct/ www.flickr.com / License CC BY-NC 2.0)
Fort San Jose
Fort San Jose (Castillo de San Jose) is best visited before leaving the island as it is close to the airport. The construction of the fort to protect against pirates provided work and sustenance for the population during the famine years of the late 18th century after a series of eruptions.
Bodega and El Grifo Wine Museum
Bodega El Grifo/Museo del Vino – here you can see the ancient devices of winemaking, taste the local varieties of wine in a cozy courtyard. Tourists are impressed by the ancient grapevine that grows here.
Beaches of Lanzarote
The beaches of Lanzarote are second only to the volcanic beauties, but you can find secluded, romantic spots. The best beaches are in the resort town of Puerto del Carmen.
The 10 best beaches on the island of Lanzarote:
1. Playa Grande in Puerto del Carmen – golden sand, stunning scenery, and palm trees. There are sun loungers and umbrellas;
2. Playa Chica in Puerto del Carmen – clean sand, excellent diving, well-developed infrastructure;
3. Los Pocillos (Playa de los Pocillos) – a very wide and long beach with soft sand and sun loungers;
4. Playa Flamingo in Playa Blanca is a nice beach, but stony;
5. Playa Dorada in Playa Blanca – a snow-white beach in a cozy bay, surrounded by palm tree hotels. Excellent infrastructure;
6. Parrot (Playa de Papagayo) – a beach in stunning rocky bays. Rest nudists;
7. Jablillo (Playa Del Jablillo) in Costa Teguise – a rocky beach with a natural lagoon;
8. Cucarachas (Playa de las Cucharas) – a good equipped beach.
9. Reducto (Playa Del Reducto) – excellent sandy beach in the center of Arrecife;
10. Janubio (Playa del Janubio) in Jais – on this beach you can find a lot of gemstone "olivine".
How to get to the island of Lanzarote
To get to any island of the Canaries, you must first get to Tenerife. Flights from Russia take about 7 hours. You can also fly from major cities in Spain, such as Madrid or Barcelona.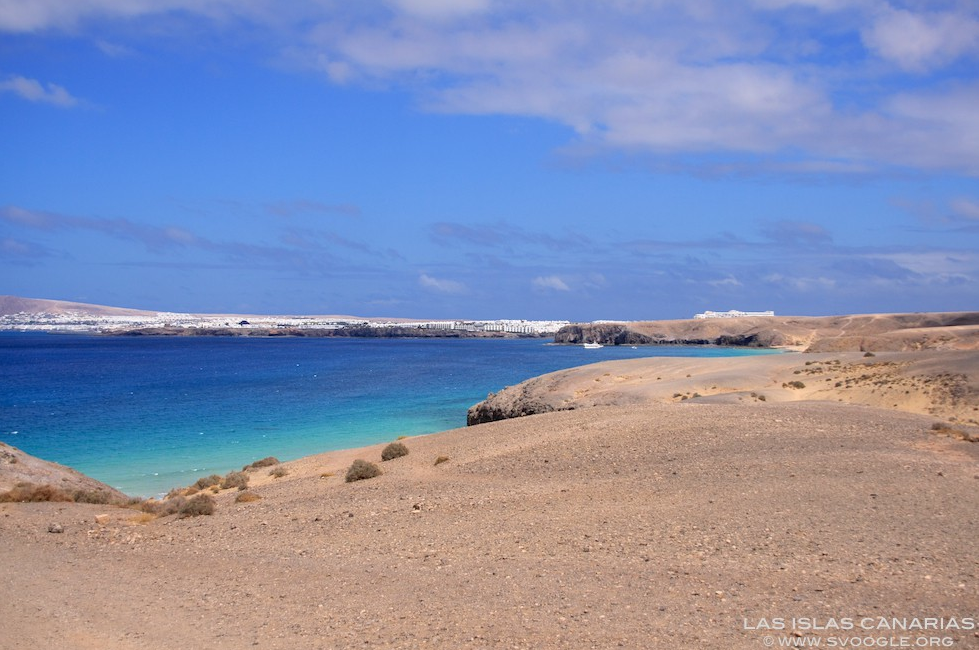 The picturesque island of Lanzarote, Spain (Photo© Canary Islands Photos/ www.flickr.com / License CC BY-NC 2.0)
Air
There are flights from Tenerife to Lanzarote – tickets cost about 100€. Tenerife airport is located near the capital of Arrecife.
Ferry
From the port of Tenerife to Lanzarote, ferry companies Naviera Armas and Transmediterranea. But because the islands are far away from each other, the trip takes about 8 hours.
Things to do in Lanzarote
10 things to do in Lanzarote:
Visit the fantastic fire-breathing world of Timanfaya Park;
Taste canary chicken fried over the crater at El Diablo restaurant;
See the volcanic interior at the Casa Museo César Manrique;
Dive into the world of winemaking and tasting at El Grifo Bodega;
Swim in the fresh ocean waters of Grande Beach;
Spend half a day in the world of cacti in Guatis;
Gather your olivine collection at Hanubio Beach in Yaïs;
Take stunning photos at the Mirador del Rio Lookout;
Buy a bottle of spicy white wine to take home;
Catch an artisan fair in Teguise.
When to go to Lanzarote
Lanzarote, like the other Canary Islands, has a perpetual spring, so you can come here year-round. But by virtue of being the northernmost and the easternmost of the islands, it is the first to face the ocean winds.
In summer the temperature on the island ranges from 21 to 26 ° C, and in winter from 14 to 22 ° C. If your goal is hiking, then feel free to choose the off-season and even the winter, when the air is fresher and the prices are lower.
What to eat in Lanzarote
In general, the cuisine of the island is very simple – boiled potatoes, soups, assorted seafood and simple fruit desserts. Boiled potatoes are seasoned with mojo sauce with white wine and olive oil. Braised rabbit with exquisite sauces is a favorite delicacy. Lamb and goat meat are highly esteemed. Fish and seafood in Lanzarote are also in abundance.
The most famous culinary place in Lanzarote is El Diablo Restaurant, where the food is cooked on a natural volcanic barbecue. The prices are reasonable, the service is pleasant, and the show with the infusion of water into the hot bowels of the earth will add to the experience.
In Puerto del Carmen, visit La Carmencita del Puerto restaurant – delicious food, large portions and good prices. Mardeleva Restaurant offers seafood and fish and a view of the ocean.
In Playa Blanca, try La Flamenca, where the fish of the day is freshly caught and perfectly cooked.
Some historical features of Lanzarote
Lanzarote is the oldest island of the Canaries, named after the Italian Lancelotto Malocello who arrived in 1312. The local Guanches called their island Titerogaet "the one that burns".
Lanzarote got its present form thanks to powerful volcanic eruptions that took place about 300 years ago. Numerous volcanoes did not subside between 1730 and 1736, burying many settlements and destroying many lives. According to legend, to stop the disaster, people put up a cross, and the elements stopped at its foot.
Tourist smart tricks
Water
In Lanzarote, you can't drink or cook with water and tap water. You have to buy water from a supermarket to avoid digestive troubles.
Shopping
Arrecife is the island's capital city where you can do some good shopping. The main shopping artery is Calle Real, which sells everything from souvenirs to brand name clothing. There's also Calle Leon y Castillo and Paseo Maritimo.
In terms of shopping will be of interest to the city of Teguise, where every Sunday there is a fair of local artisans. For wine, head to La Geria. The local wine is spicy and strong thanks to minerals from the volcanic soil.
What to buy in Lanzarote:
White wines — Malvasia and Moscatel;
Handmade products in Teguise;
Ceramics at the Juan Brito Hijo shop in Arrecimo;
Goat cheese.
Watch a video about the island of Lanzarote at the link below:
The picturesque island of Lanzarote, Spain (Photo© Sofia Weiber / www.flickr.com / CC BY-NC 2.0 license)
Apartment Rental Bonus 2100 rubles
Instead of hotels you can book an apartment (cheaper on average by 1,5-2 times) on AirBnB.com, a very convenient worldwide and well-known service for apartment rent with a bonus of 2100 rubles for registration