Swiss ski resorts Arosa
Recommended: families with children, beginners, freeriders, lovers of large ski areas.
Not recommended: to connoisseurs of spas, fans of rough nightlife.
Nearest airport: Zurich (2.5 hours).
Ski heights: 1750-2653m
Arosa: official website: arosa.ch
Prices for ski passes (valid in the combined ski area): For adults for 1 day / 6 days – 69/332CHF For children 6-12 years for 1 day / 6 days – 23/111CHF For teenagers 13-17 years: 46 / 221 CHF Discounts for people over 65 years, special rates for beginners.
Prices Classes with an instructor (in a group): CHF 55-70 (1 day) CHF 225-260 (6 days)
Routes: 225 km (together with Lencerheide, since 2013)
Related resorts: Lenzerheide
Arosa: how to get there
Arose is easily accessible by train (change in Chur) and 45 minutes by car from Chur, but 30 km of the road goes along a rather steep serpentine road. The nearest airports are Zurich, Friedrichshafen (there is a bus to Chur from this airport). Information about the state of the roads can be found at http://www.tcs.ch/de/auto-mobilitaet/verkehrsinfo/. Train timetables are available at sbb.ch. The train journey from Zurich (usually with one change in Kur) takes 2.5 hours.
Arosa: skiing
The opening of the combined Arosa – Lenzerheide ski area took place in 2013. The two resorts connected their slopes with a chairlift, making 225 km of slopes available for vacationers. More than 40 million Swiss francs were invested in the construction of two chairlifts and cabins, as well as to create the necessary infrastructure.
The new region is the second longest in the canton of Graubünden (after the Flims-Laax-Falera region, which offers 235 km of trails). Other regions of Graubünden, in particular, St. Moritz and Davos, can also boast large ski areas (350 km – at St. Moritz, 310 km – in Davos), but these resorts are not fully connected ski elevators, to move between areas need to use the bus or train. The new ski passes for Arosa and Lenzerheide include travel from Kur, the capital of the canton, to Arosa (by RhB train) or to Lenzerheide (by bus).
Arosa is considered one of the sunniest resorts in Switzerland: the town is located at an altitude of 1800 meters in a valley, protected from the cold wind. Excellent hotels with SPA-centers and all necessary for recreation, hiking trails and a variety of sports activities – not only skiers and snowboarders come to Arosa. Romantic walks around the picturesque Lake Obersee, good shopping, a large choice of hotels – Arosa is not accidentally considered a great family resort. Every week at the resort there are many events and activities, especially for families with children (free for all holidaymakers). Arosa traditionally offers many opportunities for interesting vacations – in addition to comfortable and quite simple pistes, these are swimming pools, equipped playgrounds, a special children's club and much more
Beginner skiers most often learn to ski at the top of Tschuggen, which is where the easy runs are concentrated. Blue runs are also located along the Plattenhorn elevator. Intermediate skiers will appreciate the long runs from Hornli, and the experts will enjoy the rather steep slopes of Weisshorn (2653m), and the black runs from Carmennahutter. For expert skiing is much more interesting the slopes of Lenzerheide – this resort often hosts the World Cup finals. The most difficult downhill in the region is the famous Silvano Beltrametti: this is the steepest women's downhill course in the world (located in the Parpan area, it is 2.45 m long and has a maximum slope of 65%.
Arosa: Hotels
Arosa is one of the oldest resorts in the Alps, the first hotels were there over 100 years ago. The historical hotel and one of the most famous "five" is Tschuggen Grand Hotel 5* (tschuggen.ch), it is also famous for its excellent wellness center.
The hotel has its own ski elevator, allowing for quick access to the slope. Another great five-star hotel Arosa Kulm Hotel is located in Inner-Arosa, has been welcoming guests since 1882 and offers many services for families with children, as well as a good spa with a pool and saunas. Arosa is also home to quite a few 3* and 4* hotels with good reviews. In particular, Sporthotel Valsana 4*, located by the lake, offers two tennis courts (indoor), swimming pool and sauna, and there is a mini club for children. Cozy hotel Vetter 3* will please fans of eco-style, besides this hotel is located next to the ski elevator and ski rental. One of the oldest hotels of the resort, opened in the late XIX century – Waldhotel National – is located just above the center of the resort, where Thomas Mann stayed. Many hotels, particularly the 3-star Alpensonne, have recently been renovated and offer comfortable rooms and good service.
PROS AND CONS
Pros: – Great views and ski area, cozy resorts – Good options for non-skiers and families with children. – Many interesting events – You can combine skiing and excursions (Cour, Lucerne). – Great choice of hotels (in Arosa). – Fairly short transfers.
Disadvantages : – Too many easy runs above Arosa – Limited opportunities for ski in / ski out – Arosa is quite a long resort, to the elevators often have to be moved on foot / by bus – Rather expensive resort
Arosa
Arosa – a popular ski resort in Switzerland, located in the east of the country, near Davos.
Arosa became famous in 1883, when Dr. Herwig-Hold, during his ski tour in the mountains south of the Kur, came across a remote village and decided it was the most suitable place to build a tuberculosis sanatorium. Over time, the sick gave way to sports enthusiasts, turning Arosa into one of the most famous ski resorts in the canton of Graubünden.
The road to Arosa runs from the Koor through the most picturesque mountains, past idyllic mountain villages. If the serpentine drive through the mountains is uninspiring, you can take the Arosa Express train from the Kur.
The weather in Arosa:
Getting Around Arosa:
The town of Arosa is divided into two parts.
Ausserarosa (Outer Arosa) is located around the station and the small lake Obersee.
Innerarosa – Inner Arosa is the actual old part of the village, located on the hills of the valley
The tourist office is located near the train station, a five-minute walk up the hill on Poststrasse. Inside the village, all buses are free. Travel by private car is prohibited from midnight to 6 am (except arrivals/departures).
Hotels in Arosa:
Some hotels charge extra for stays of less than three days. This applies primarily to the winter season. In the summer, prices can fall by half, plus free cable car fare.
To get to Arosa:
Travel time: 2:32-2:57. There is no direct transport from Zurich, all routes with connections in the Kure. Usually departing at 12 and 37 minutes hourly from platform 6 / 10, respectively. There is a direct train to Arosa leaving from the Kure at 8 minutes hourly.
Full fare information is at www.sbb.ch.
Ticket price: 36 CHF one way second class.
The sights of Arosa:
Arosa stands surrounded by three mountains:
Weisshorn (2653 m) is the highest and the most important. It is located in the west of the resort area.
Hörnli (2512 m) – the second highest, in the south.
Brüggerhorn (2401 m)-north of Arosa.
Winter in Arosa:
Ski slope – the slope is small, but the quality is high. Over 70 km of mainly blue and red slopes. There are also over 25 km of flat slopes and snowboarding elephants at an altitude of over 2000 km. Elevators run from Obersee to Weisshorn, from where you can go on to Brüggerhorn. At the top, from the Inner Arosa, there is another elevator to the very top – Hörnli. The ticket for the whole day or for 6 days costs about 55 or 256 francs respectively.

Summer in Arosa:
Numerous mountain trails for hiking are open in the summer:
From Mt. Weisshorn, a beautiful and easy 4-hour route through the Carmenna Pass and through the Urden Valley to Tschiertschen, from where you can take a bus to the Kur.
A 3-hour tour through the meadows from the Weisshorn middle station to Alpenblick and Lake Schwellisee and back to Arosa.
From Mt. Hörnli to Parpaner Rothorn (2861 m), from where you can take a cable car down to Lenzerheide, near Valbella, 12 km from the Kur, and then to the Kur by bus.
You can rent a mountain bike at the station and take one of the five provided circular route.
Save in Arosa:
You can use a special tourist ticket for the canton of Graubünden if you intend to ride only in one region.
GraubündenPASS tourist ticket
Unlimited free travel on public transport in all or part of the canton of Graubünden, plus 50% discount on selected mountain railroads + a number of additional discounts. There is also an option for cyclists, which includes transportation of the bicycle / motorcycle. From June 1 – October 23, 2016 – additionally, you'll be given a set of maps with 12 must-see attractions. You'll be able to see Graubünden while enjoying additional discounts.
Your choice of time:
2 days out of 7
5 days out of 14
Choice of area:
north of Graubünden
South of Graubünden
all of the canton of Graubünden
Public transport covered by the tourist ticket:
Rhaetian Railway (Bernina Express, section of the Ice Express), Swiss Federal Railways (SBB Chur – Bad Ragaz), Matterhorn Gotthard Railway, PostAuto postal buses (Disentis/Mustér – Oberalp pass), transport companies Davos, Engadin Bus, citybus Chur, Silvestri Bus Livigno, buses to Klosters, Scuol and St. Moritz or cable car Rhäzüns – Feldis. Since June 1, 2016 were also added routes: the Palm-Express postal bus ride from Lugano to Chiavenna in Italy, the pass ride from Splügen to Chiavenna, the Heidi bus route from Maienfeld to Heidi village and to Balzers, the panorama ride from Lugano to Tirano (Italy) on the Bernina Express Bus.
The cost is:
All zones / 1 zone, 2nd class.
2 of 7 days – 113 CHF / 75 CHF
5 of 14 days – 165 CHF / 110 CHF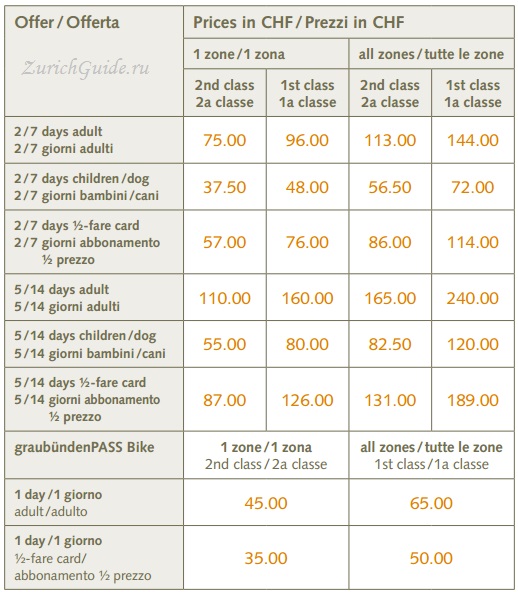 The validity period of the GraubundenPASS ticket: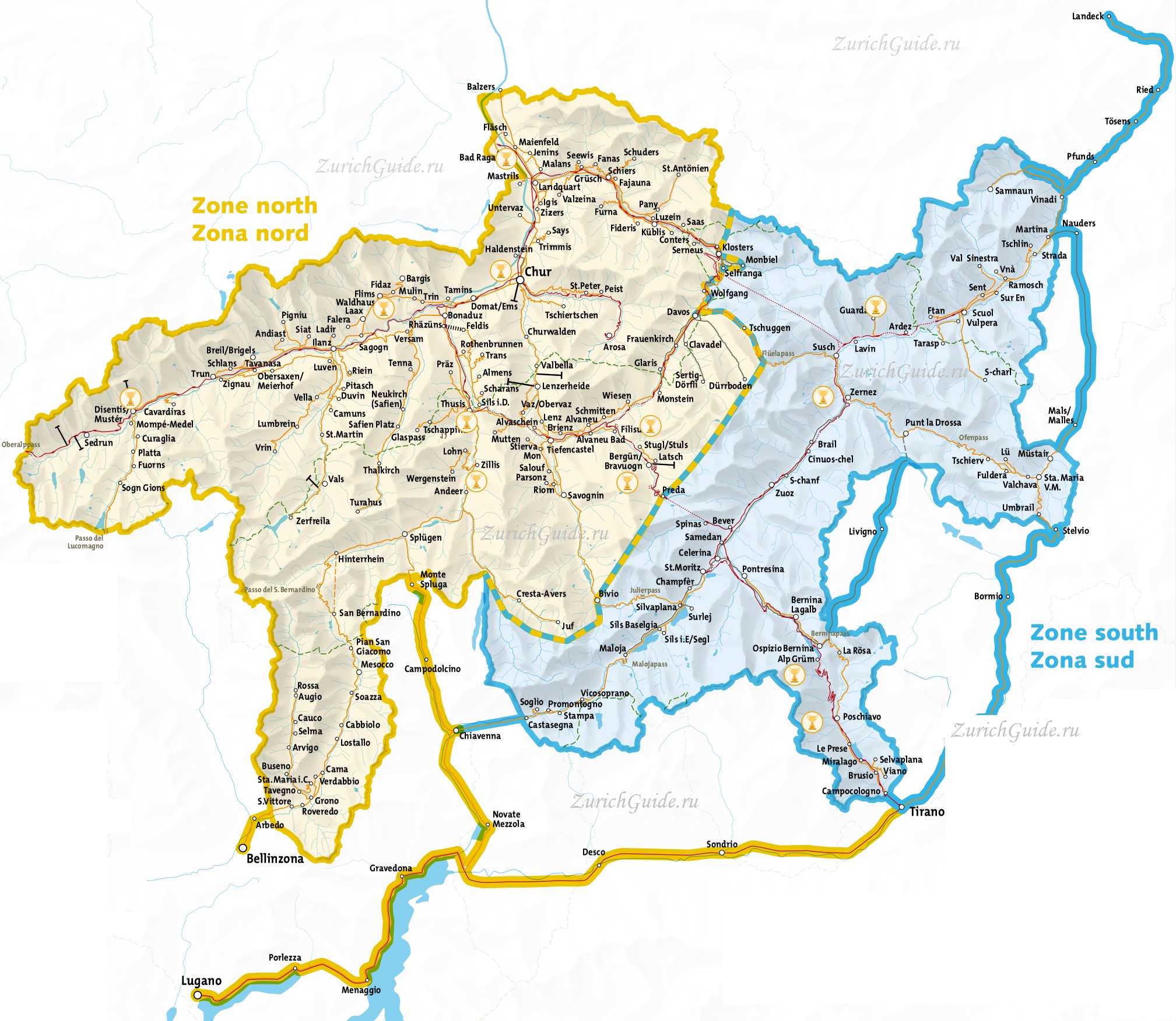 Did you like this article?
You can thank the author and help to keep this site going. As much as you can – we'd appreciate any help!