Sun-themed fantasy holidays in Florida
Florida is located in the southeastern United States . It is a peninsula of stunning beauty: it beckons with luxurious beaches and endless coral reefs. Whatever your age or taste, you'll find something to suit your tastes.
Brilliant Miami with its pastel colors and richness beckons and excites the imagination. Sumptuous interiors and breathtaking evening toilets, exotic cuisine and paradisiacal beaches, dream and reality – everything is here. Spanish is almost the main language in Miami – the city is located on the border with Latin America, and Cuba is only 90 miles away. The beaches are the best in Florida. Divers love to come to Miami – because there are many artificial reefs built here, and more than 30 ships have sunk off the coast. Popular local shore and for fans of surfing.
Florida Keys – this is a paradise for lovers of scuba diving. The chain of coral islands and shoals on the southernmost tip of the Florida peninsula stretches for more than 200 kilometers. Almost all of them are connected by an expressway that begins on the mainland. Here you can go scuba diving, snorkeling, fishing, or lazing on the beach, either way a good rest is guaranteed.
Fort Lauderdale, located on the Atlantic coast, is called the "Venice of the Americas". Numerous water channels with a total length of 270 km captivate everyone by their beauty. Travelling through them by a boat which can be hired leaves an unforgettable impression. The magnificent architecture, seductive stores, where you can find a million of the most exquisite things, will leave a satisfied even fastidious tourist. Evening light promenade – an indispensable attribute of local pastime. Thanks to its natural setting and excellent infrastructure, Fort Lauderdale attracts yachtsmen from all over the world. A boat show and parade is held here every year at Christmas.
The heart of Florida, Orlando is known worldwide as America's largest entertainment center. Visiting the many unique parks will bring a lot of experience not only for a child but also for an adult. The first park – Disney's Magic Kingdom – appeared here in 1971. Later it was joined by 3 more Disney World parks and Universal Studios park. In 2010, one of the most popular parks opened in Orlando, dedicated to one of the main movie characters of recent years – Harry Potter.
The most noble place of the "Gold Coast" of Florida is considered Palm Beach . Inexpensive cozy hotels along with the most chic hotels, striking luxury design and reception, many cafes and restaurants, more than 1,000 tennis courts and hundreds of golf courses . Much of the city is built in the Spanish style. The atmosphere of pleasant lightness and cheerful carefree can give an indelible impression of paradise on earth.
Sunshine fantasies – Florida vacations
Nature lovers can visit the famous Everglades, located in the southern peninsula near Miami. It is known for its abundance of plant and animal species – alligators and hummingbirds, herons and pelicans, among others live there.
Sunshine fantasies – Florida vacations
The average annual temperature in Florida is +22-24C . However, in the summer it is very hot and humid, besides, hurricanes and tornadoes are not uncommon here at this time of year. The best time to travel is in winter .
Florida Fantasy Festival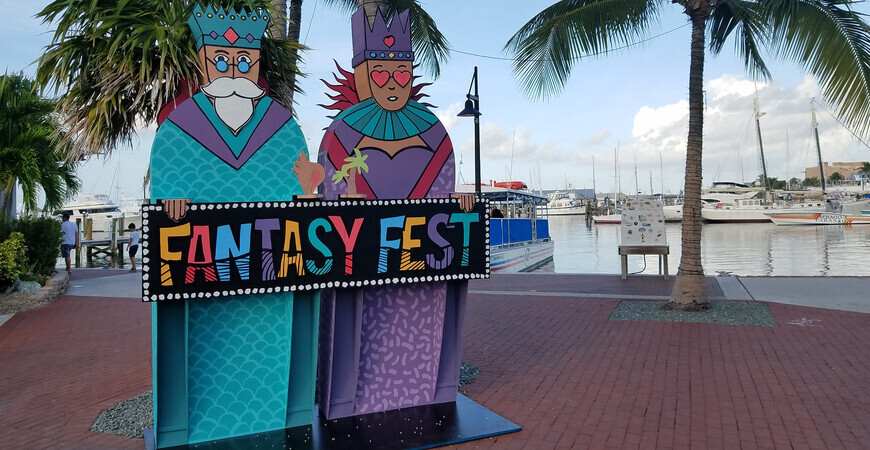 Fantasy Fest is an annual 10-day festival that is considered a local "adult paradise." The idea behind the creation of the party in 1979 by a small group of Key West locals was to draw visitors to the island during this usually quiet but beautiful time of year. And the idea worked – the Fantasy Festival has grown bigger and bigger every year since its inception and is now the most unbridled extravaganza in the world. Merry participants from around the world bring their creativity and imagination to the festival each year in October when they arrive in Key West for 10 days filled with a variety of costumes, parades, libations and excitement.
History
It seems like the Fantasia Festival has always been held on Duval Street in Key West, but that's not the case. Back in the 1970s, despite consistently great weather, October was a dead month in terms of retail and tourism. A group of local business owners began thinking about what they could do to change that by attracting visitors for an earlier start to the lucrative winter season. That's when they came up with the idea of creating a big party.
In 1979, they decided to hold a parade in Key West. That first parade, small but completely unusual, eventually evolved into Fantasy Fest, a festival of Key West-style costume parties. Over the years, Fantasy Fest has become a major costume extravaganza. The festival encompasses more than 60 parties, costume marches, street fairs and glamorous balls, as well as a spectacular centerpiece parade.

Since its inception, Fantasy Fest has continually boosted the region's economy by filling hotel rooms and generating revenue for local businesses, restaurants and bars. Drawing as many as 75,000 attendees each year, the event strives to extend visitors' time in the city by encouraging a variety of events. The festival provides an opportunity for each of its participants to showcase their creative and inventive spirit.
Many Fantasy Fest events are important fundraisers for local nonprofits, including the iconic King & Queen of Fantasy Fest campaign, for example, which raises money to help Monroe County AIDS patients. The main premise of the event is to enjoy your time in Key West so that you can plan to come back here next year for another exciting festival.
Events
The Fantasy Festival includes a wide variety of events, each with its own unique and unique spirit.

Bud Light
Each year the Bud Light Fantasy Fest parade winds its way down the world-famous Duval Street from the Gulf of Mexico to the Atlantic Ocean. Luxuriously decorated costumed participants entertain tens of thousands of spectators at the main Fantasy Fest event. Here Amelia Earhart swings on clouds with Al Capone, cyborgs dance with Duke Ellington or listen to Albert Einstein and aliens talk about how the theory of relativity applies in a parallel universe.
Parade nominations:
grand prize;
best interpretation of theme;
best in entertainment;
best costume;
directors' choice;
best architecture in Conch;
best company;
best bicycle;
best live music.
Reddy Ice.
The Reddy Ice Fantasy Facade contest identifies the winners among the best fantasy facades of Key West homes.
Contest nominations:
grand prize;
best commercial facade;
best private facade;
best hotel facade;
best large and small business facades.

Street Fair.
The Fantasy Fest Street Fair on famed Duval Street features crafts and food vendors, including local and out-of-town businesses. The fair is an exciting shopping adventure that includes food and deli trucks, whimsical crafts, one-of-a-kind treasures or just the right accessories for the final costume look.
The fair is also an opportunity to show off your costume and stroll down Duval Street. The ever-changing variety of vendors, partners and performers along the street entertain visitors for hours. The street fair runs from noon to midnight.
Masquerade March.
The Masquerade March is another hugely popular Fantasy Fest tradition, known as a parade of locals in creative costumes. It is an adult party with cocktails and dancing that begins at the Francis Street entrance in Key West Cemetery. Walking through Old Town to Duval Street, the party continues at The Green Parrot and other local bars.
Fantasy Fest Main Street
How to get to Fantasy Fest
Key West is an island with a width of about 6.5 kilometers, which means that all visitors – Fantasy Fest spectators and participants – can safely walk or bike here. It takes no more than 15 minutes to get from almost anywhere in the city center. Care should be taken in the city center during the street fair, the masquerade march, and the main festival parade.
The best way to get around town is by bicycle. There are many great bike rental stores on the island, the main thing to remember is that the rules of the road apply to cyclists, too.
There is also a free Duval Loop bus that runs along the main street of the festival during Fantasy Fest. For those who want to distract themselves and see the sights of Key West, we can also suggest a ride on the Conch Train or Old Town Trolley, as well as the Lower Keys shuttle. Maps showing bus stops and real-time arrival times are available on the official Key West transportation company website.
Road closures begin the first weekend of the festival and occur periodically throughout the festival. Regular bus service operates until the time of the main parade (possibly with delays), after which all city and intercity bus routes are converted to Safe Ride shuttles for the Bud Light Fantasy Fest parade. Regular bus service resumes as soon as the streets open.
Cab service is also available to get to the Key West Fantasy Fest: Key Lime Taxi, TaxiASAP, Key West Taxi, D. B. Taxi, Key West Express, Florida Keys and others. To alleviate traffic congestion and safety concerns, cab companies are encouraged to stay on Simonton Street to board and drop off passengers.