All about beach holidays in Albania.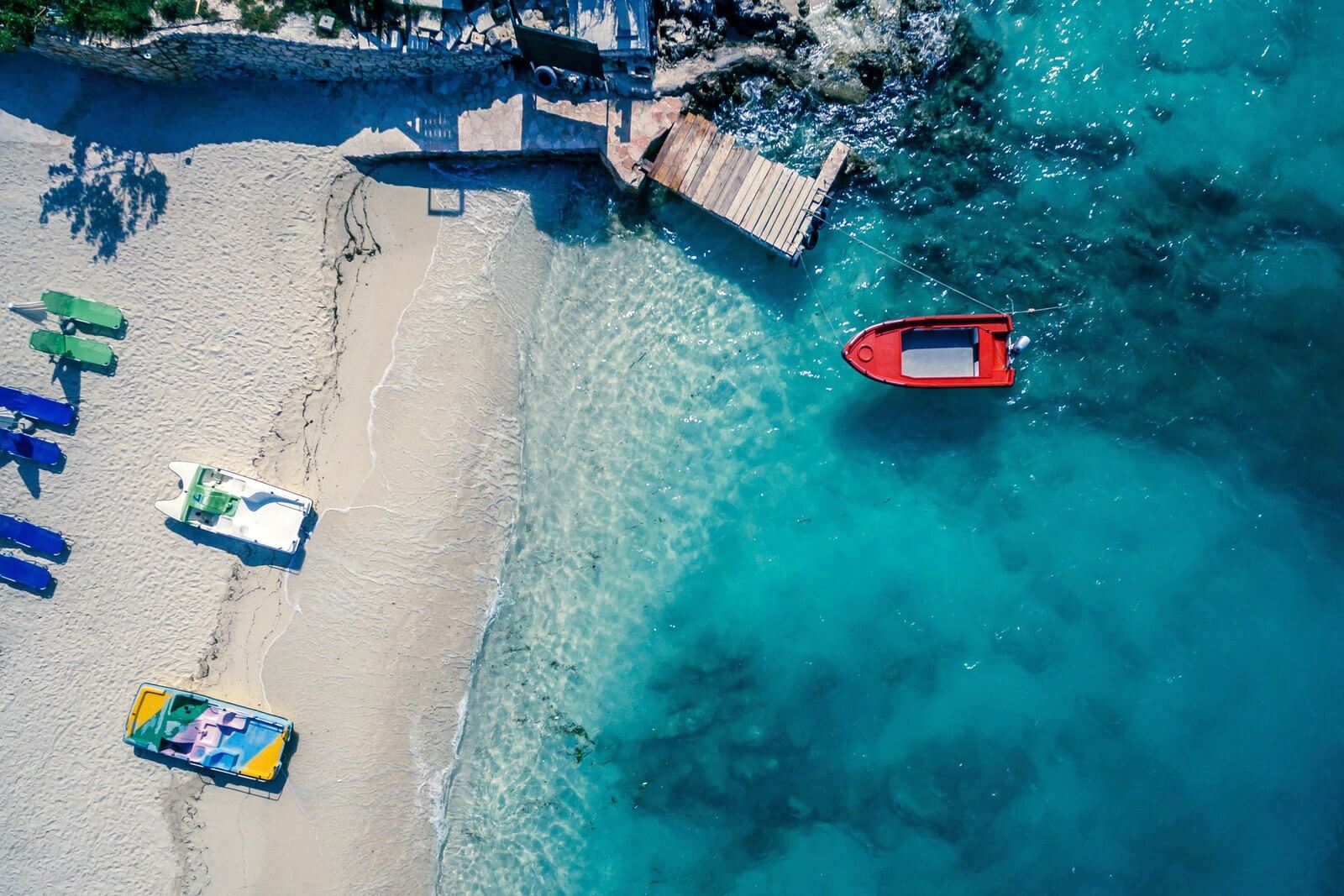 Albania is an unusual and new destination for our tourists. But in vain they pay so little attention to it! The beaches and the sea in Albania are gorgeous. Let's find out what this country has to offer in terms of beach holidays.
Albania is nestled on the coast between Greece and Montenegro, just opposite the Italian "heel. It is a picturesque country with a rich history, and at its resorts you can have a wonderful vacation. Due to years of isolation, the formation of tourism here began very recently, but the country is steadily developing and not the first year receiving tourists. All the infrastructure for a comfortable holiday is available, and its cost is low.
It is advantageous here:
– inexpensive tours – cheap tickets
Contents:
Entry rules
As of January 2022 Albania accepts tourists in the country with a choice of one document: certificate of vaccination, PCR test or certificate of covid disease. A mask must technically be worn, but no one abides by this rule.
Russia has a partial visa regime with Albania. It has become a tradition that the country abolishes visas for Russians every year. And 2021 is no exception: visa-free regime is from April 1 to December 31. It is necessary only to have a holiday in Albania not to exceed 90 days in a half-year. Visa regime is abolished every year for a different period, but it always captures the season of beach holidays. Most likely in the spring of 2022 the country will again introduce visa-free regime for Russians (follow the news). The rest of the time you need a visa, but you can also enter with an open Schengen, British or American visa.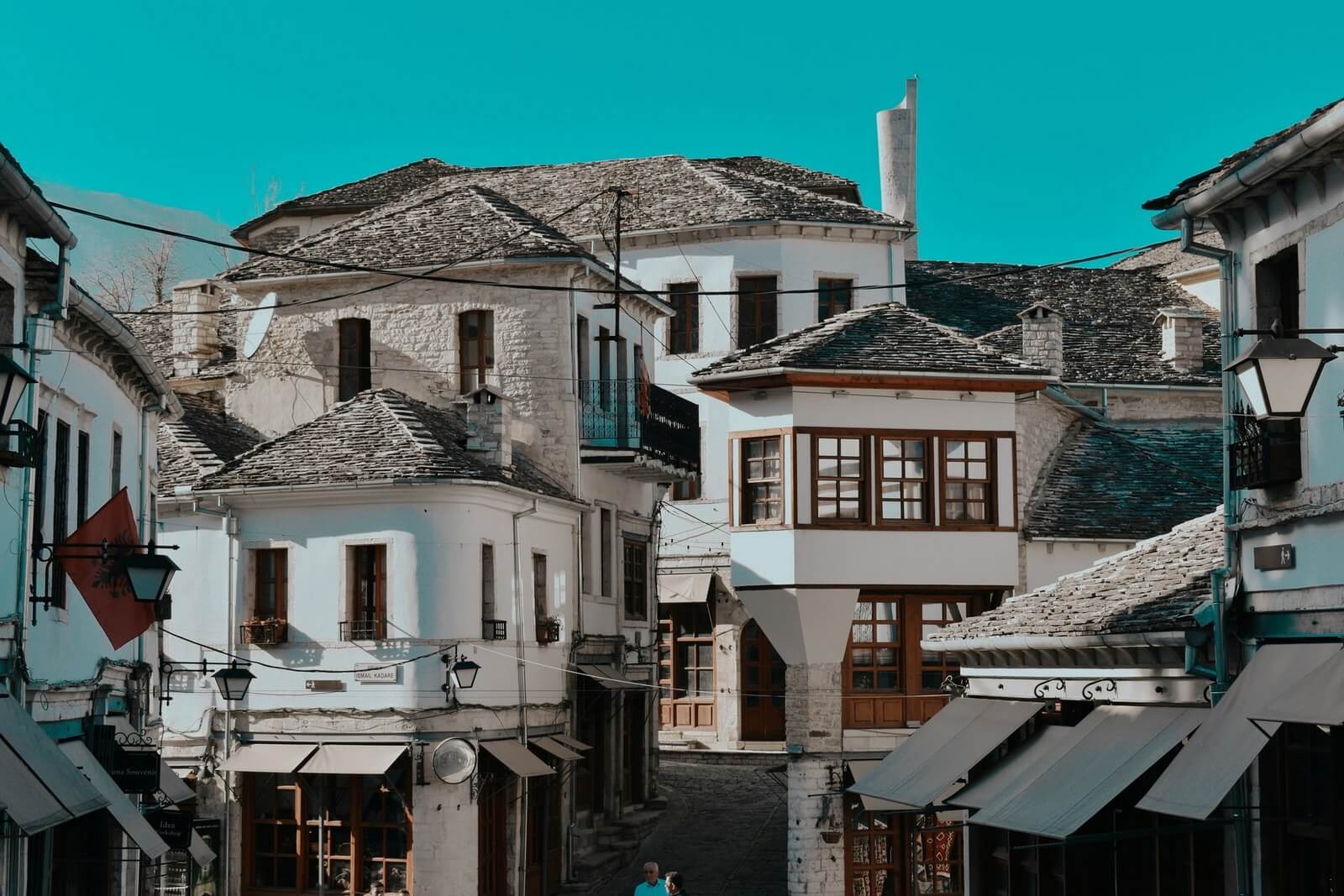 On vacation in Albania, you can admire these cozy houses and streets. Photo: henor teneqja / unsplash.com.
Airfare
The only international airport is located in the country's capital, Tirana. There are no regular direct flights, but you can easily reach it with connections in Istanbul and other European cities. However, during the summer months direct charter flights are available, for example by Ural Airlines. The best way to find tickets is through Aviasales. See the current prices for 2022 in the form below.
We suggest to book online transfers from Tirana airport to your hotel at KiwiTaxi. Upon arrival at the airport the car will already be waiting.
When it is better to spend your holidays at the sea
The beach season in Albania starts in June when the water gets up to +22°С. You can come in May if the water temperature of +18 ° C will suit you. In July and August the water gets up to +26 ° C, and in September it cools down only by a couple of degrees. Even in October, you can swim here: +22 ° C. This month, the beach season is officially over. In November, the water cools down to +20 ° C.
During the summer months, the temperature can rise to 40 ° C in Tirana, but the coast is much more pleasant. The coastal breeze forms the optimal resort temperature – about +25. +30°С. There is practically no rain in summer.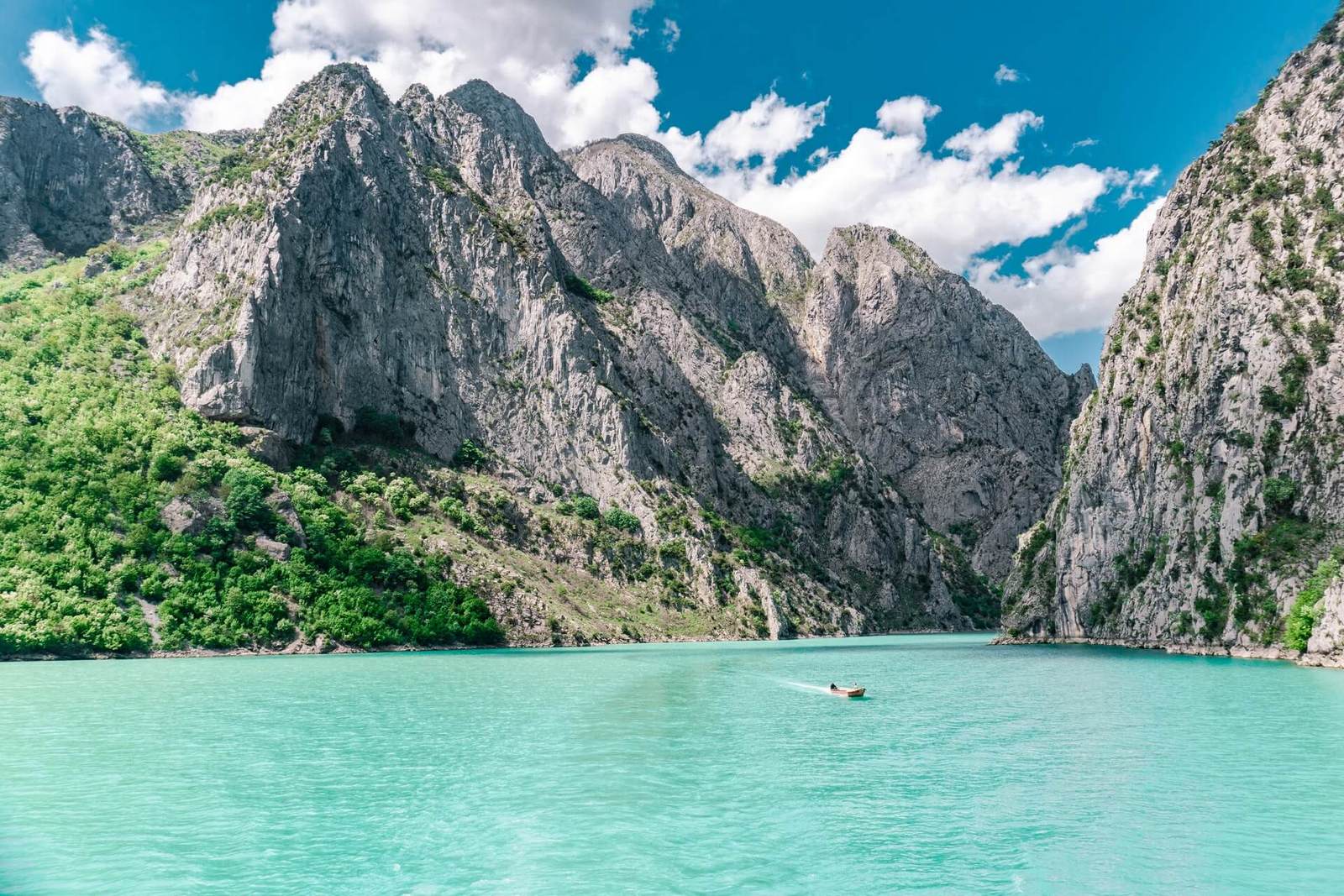 Albania boasts not only stunning beaches a la Maldives, but also picturesque lakes. Komani Lake is a particularly beautiful place which reminds many tourists of the Norwegian fjords. Photo: Johnny Chen / unsplash.com.
Tour Prices in Albania in 2022
Tours from Russia to Albania have recently appeared, and not every travel agency will offer you this destination. Therefore, it is better to look for tours online on the reliable and convenient services Travelata and Level.Travel. You can see 7 secrets of buying attractive tours and learn 10 ways to book a hotel cheaper.
Before the pandemic, the cost of a tour to Albania for two started at 70 thousand ₽. For this amount of money offered a trip for 7 nights in a 3* hotel. Now the tours to Albania are on sale, but for now they include only flights with connections. Unfortunately tour operators have not yet been given permission to include the existing direct flight by Ural Airlines in their tour packages. The situation may change at any time, so check the offers at the websites mentioned above.
In 2022, the cheapest tours to Albania from Moscow for 7 nights cost from 60 thousand ₽ for two in the velvet season and from 90 thousand ₽ in summer. For this money you can stay in 3* hotels with breakfast included.
Five-star hotels in Albania are just emerging. So far you can buy a tour to two such hotels: Grand Blue Fafa Resort and Gloria Palace. Both are located in Durres, just 40 km from the airport. Tours to these hotels cost from 90 thousand ₽ for two people.
All inclusive package is very rare in Albania. Only 7-10 hotels offer such tours at the level of 4 and 5 stars.
According to tourists' reviews, it does not make sense to expect a high level of hotels in Albania so far. The country is still gaining popularity, you just will not find here a high-class service. But if you want to relax in an unusual, picturesque and inexpensive place – you just come here.
It is interesting: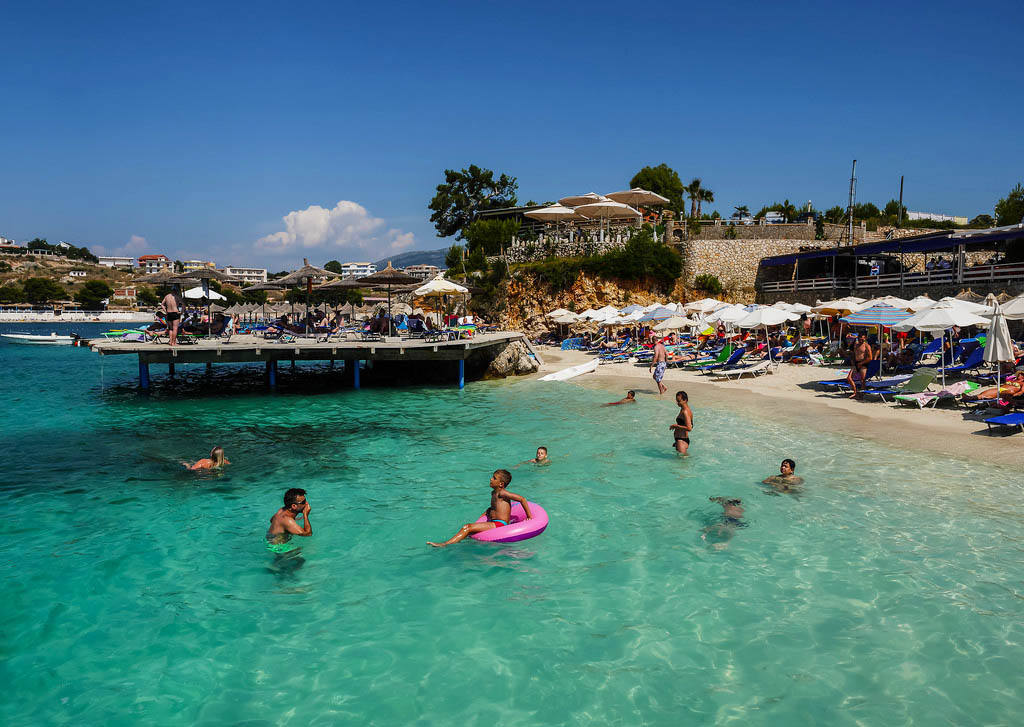 Turquoise water on the beaches of Albania. Photo: Mattias H / flickr.com / License CC BY-SA 2.0.
Prices at resorts.
The country accepts euros, but local currency is also available here.
Exchange rate: 10 Albanian lek ≈ 7 RUB.
Prices in Albania will definitely make you happy! You can have lunch in an inexpensive cafe for 650 lek and in a restaurant for a maximum of 2000 lek. Sandwiches are 200 lek and pizza is only 500 lek.
Drinks are also inexpensive. About 135 lek should be paid for a cup of cappuccino, and beer costs about 180-200 lek for 1.5 liters. Albania is known for its delicious wines. A bottle of table red wine costs about 300 lek and according to the reviews of tourists, they are really good quality drinks. A bottle of water of 5 liters costs 100 lek and we advise you to drink purchased water.
For 500 lek you get to use two sun loungers and an umbrella on the beach. However there are not many beaches equipped with sun loungers in Albania, so you probably won't have to pay for anything at all.
Transport costs also will not strike your budget: the fare on the city bus costs 40 lek, between settlements – from 60 lek. Just don't forget that Albania is hot and has a lot of serpentine roads – it's not always comfortable to travel by bus between the cities.
If you want to plan your own routes and not depend on public transport, then rent a car. With Rentalcars.com you can book a car in advance without overpaying. A liter of gasoline in Albania costs 170 lek. Learn about favorable car rentals abroad.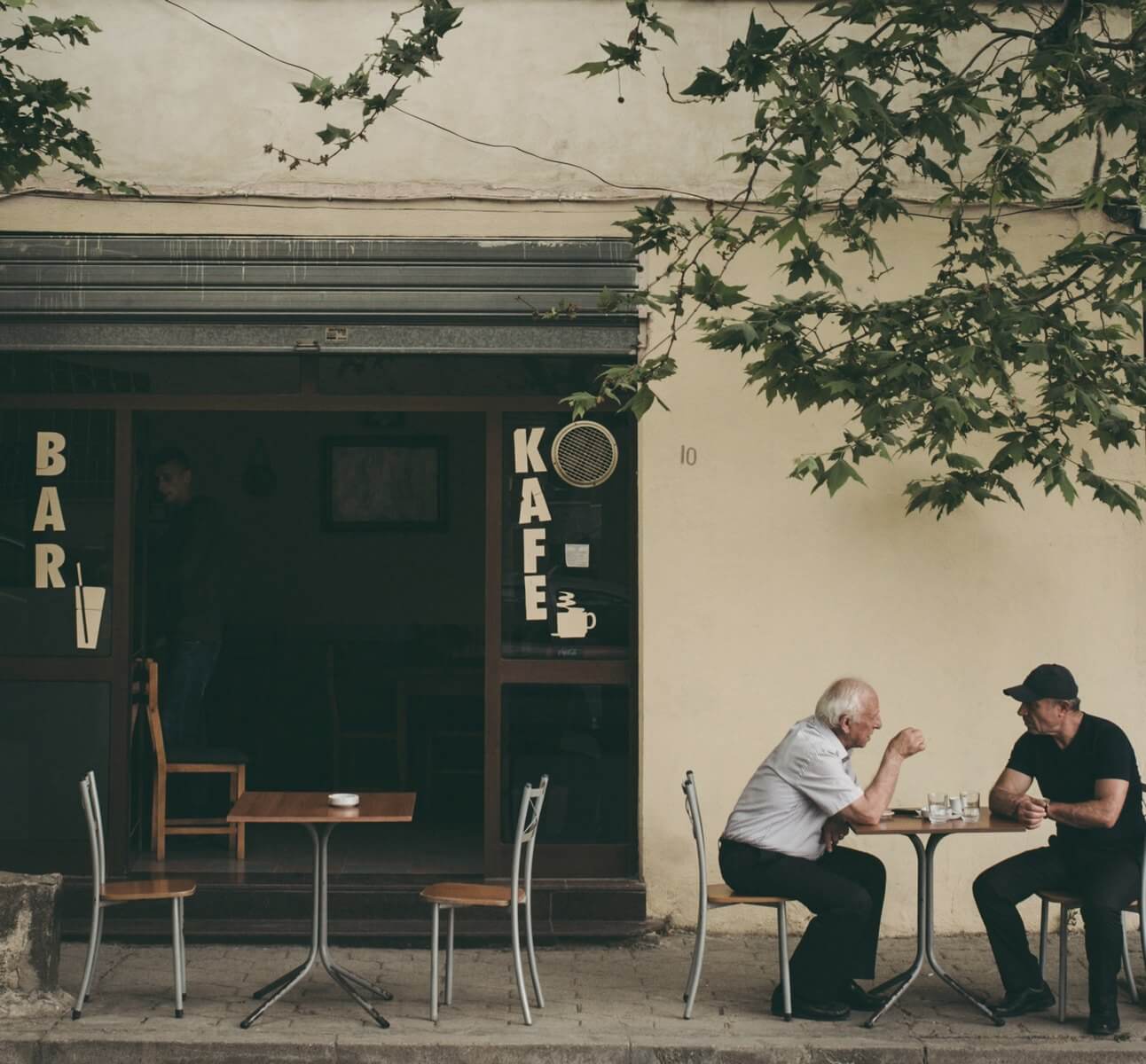 A cafe in Durres. Photo: Juri Gianfrancesco / unsplash.com.
What resort to choose for a holiday in Albania
Resorts in Albania are varied in both area and type: there are both sandy and pebbly beaches. It depends on which seashore the resort is located. Albania is a meeting place of the two seas, the Adriatic and the Ionian. According to tourists, the difference in water temperature and currents can be felt physically, if you go into the water at the beaches of the resort of Vlora.
Resorts on the Adriatic Sea
Durres
Durres is a major city on the Adriatic coast with a population of 200 thousand people. Interestingly, the big and noisy town is considered by the Albanians themselves, tourists from Russia, it does not seem as such. There are entertainments for any season and for different tourists. In Durres you will find large shopping centers, fitness clubs, pharmacies. And closer to the beaches – amusement parks, promenades, clubs, cafes and restaurants.
The coastline in Durres is about 15 km long, the seabed is flat, so the resort is ideal for holidays with small children. In the center and on the outskirts of the city looks differently: the rustic color gradually gives way to high-rise buildings, and the green scenery closer to the center neighbors with large hotels and stores.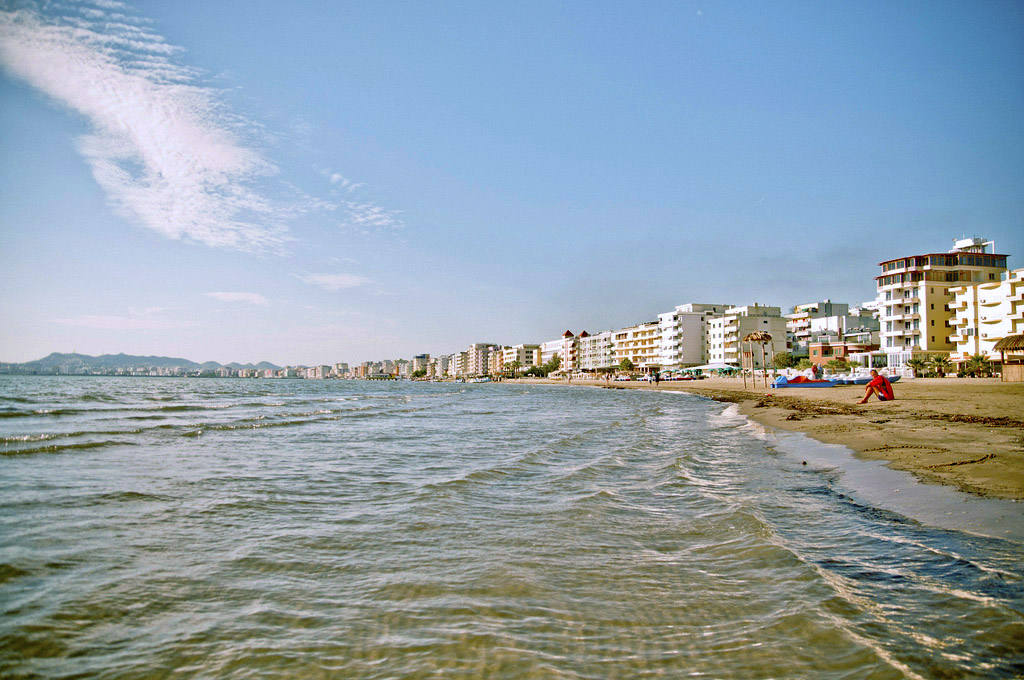 Durres is the country's second largest city and the largest Albanian resort on the Adriatic Sea. Photo: marcofieber / flickr.com / License CC BY-NC-ND 2.0.
Shengjin
Even 20 years ago, Shengjin was a small fishing village, and now tourists from all over Europe come here to relax. The resort suits those who go to the sea to improve their health: coniferous forests make the air therapeutic and the scenery – charming. Shengjin has well-groomed beaches and historical monuments.
Lyalzit Bay
This is a resort in central Albania, next door is Cape Kepi Rodonitis. The place is known for its white sandy beaches and coniferous forests that stretch along the coastline. Here you will find silence and peaceful relaxation.
Ionian Sea Resorts
Xamile
Tourists call this resort the local Seychelles, and no wonder! You do not have to fly to the ocean to see with your own eyes a real paradise beaches. It is these beaches of Albania included in the top of the best beaches in the world. The sand here is almost snow-white and gives the water a soft blue hue. Some small bays at the same time have a pebble bottom.
From Ksamil you can go to Greece on a trip to the island of Corfu, but you need a Schengen visa for that. And for lovers of secluded recreation tourists advise Monastic beach, located near the monastery of St. George.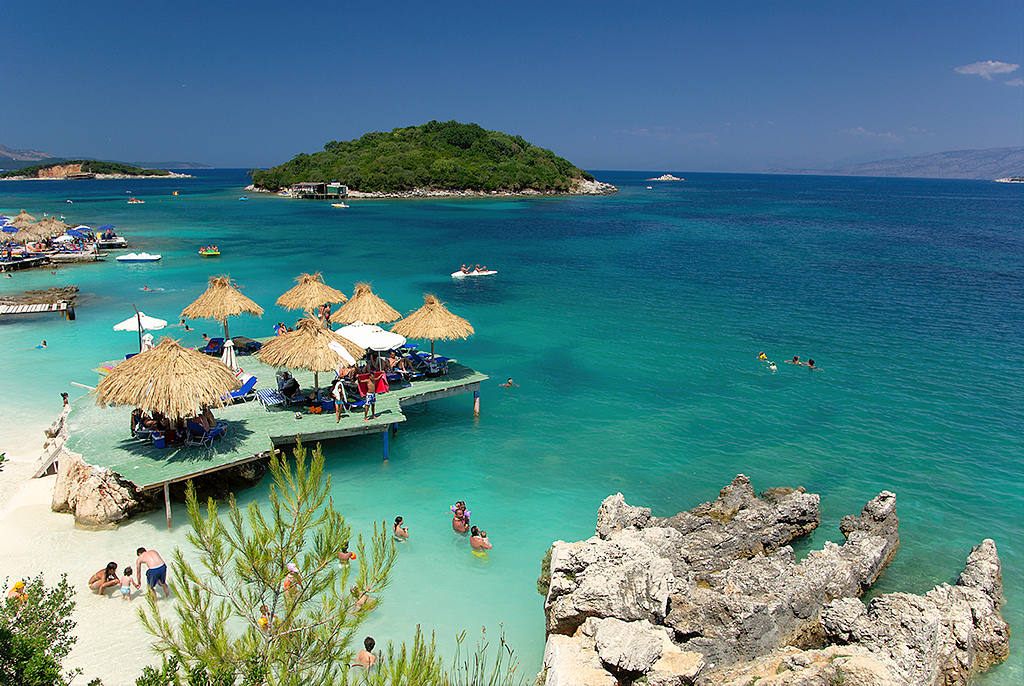 For the beautiful sandy beaches and clear sea, Ksamil is called the Albanian Maldives or Seychelles. Photo: Artur Malinowski / flickr.com / CC BY 2.0 license.
Saranda
Saranda is a small town with an excellent level of service. Here are the best hotels, well-developed excursion business. The most visited beaches in the city are Keparo and Lukova. The terrain here is hilly, and the bottom is mostly pebble. On these beaches with clear water come tourists from all over the world. Fans of underwater excursions are very pleased here, and residents of Saranda have even opened several diving schools in the city.
Not far from Saranda is a resort called Borsch. This beach in Albania is famous for the incredible blue color of the sea and scenery.
Tourists also recommend to visit the ruins of Butrint.
Saranda is a lively and picturesque resort. Tourists are delighted by the clean azure sea, good beaches, noisy and fun promenade, democratic prices for hotels and food. Photo: elionj / unsplash.com.
Vlora
This resort is interesting because of its location. It is located at the junction of two seas – the Adriatic and the Ionian.
It is quieter here than in Durres, a little less crowded. There are two types of beaches – sandy on the Adriatic and pebbly on the Ionian coast. The peculiarity of recreation in Vlore is the lack of hotels on the first line. It simply does not exist, because the beach is separated from the city by a wide road.
From here you can go to the Illyrian town of Apollonia and the monastery of Ardenica.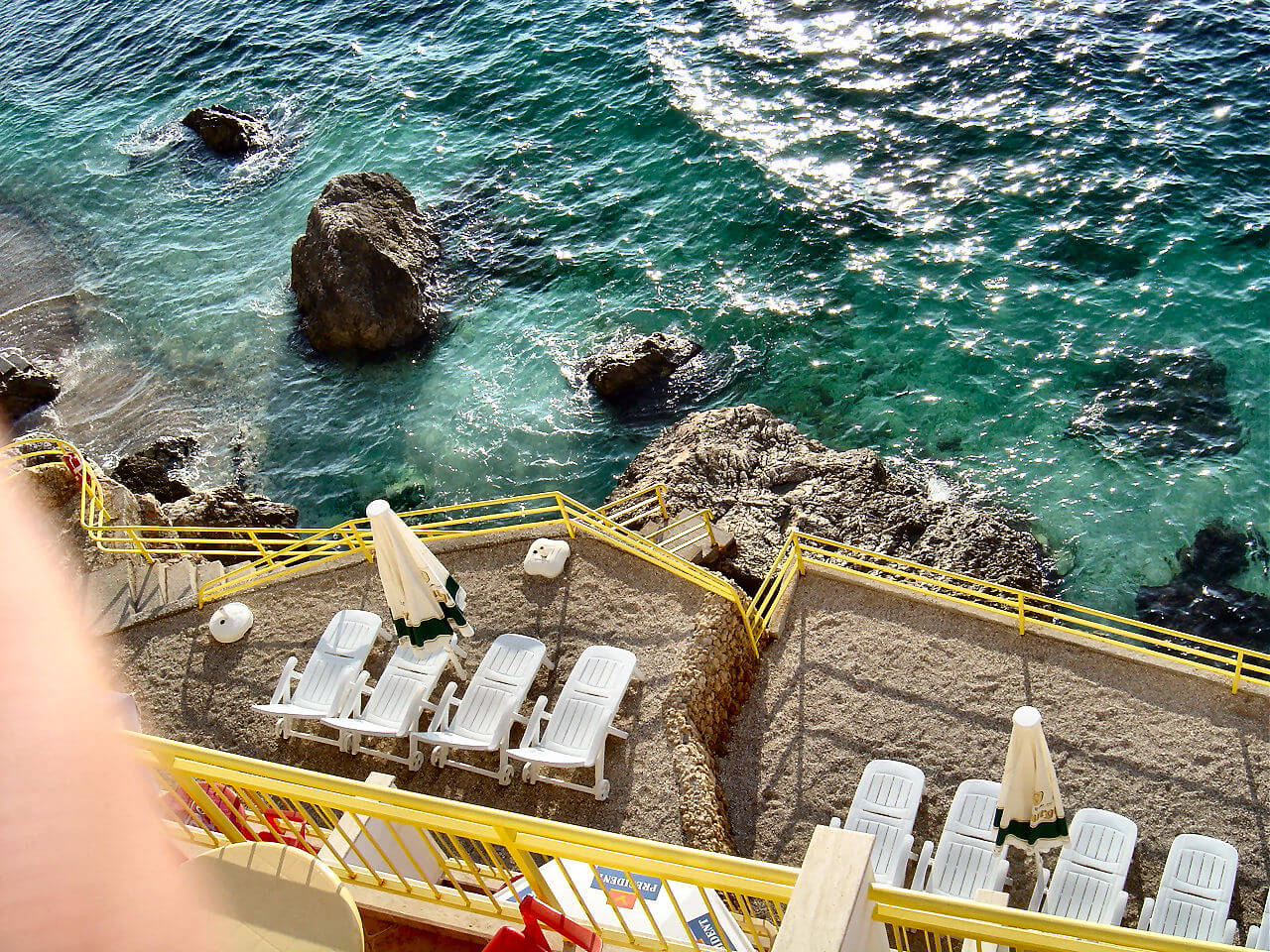 Small and cozy Vlora is a clean sea, good sand and pebble beaches, mountain ranges, coniferous forests and seafood restaurants. Photo: by -kÇ- / flickr.com / CC BY-NC-ND 2.0.
What to see in Albania
Despite the fact that in Albania there are not yet so many tourists and excursion activities are not well developed, there are enough unusual and interesting places in this country. There are the sights for lovers of nature, almost untouched by man, and for those who want to visit the cultural monuments and shrines.
Riviera of Flowers is a resort area between Vlora and Saranda. It is considered the most picturesque place in Albania. It is untouched by man beaches, clean and incredibly beautiful – in these areas it is forbidden to build high-rise buildings. You can live in the area of Riviera only in private small houses.
The ancient road Egnantia is an unusual attraction in Albania. This road is several hundred kilometers long and used to cross the provinces of Rome. Now the road is partly ruined and overgrown with grass, but it still looks impressive.
Venetian Tower in Durres. The ancient Byzantine tower is majestic and free to visit. There's a bar and cafe right inside the tower, which will make the walk even more pleasant – we've already said about the low prices in Albania.
The capital city of Tirana . It is convenient to go there from Durres for excursions – the distance is only 30 and a little kilometers.
On vacation in Albania in 2022, visit Karaburun-Sazan National Marine Park near Vlora resort. Here you can go scuba diving, and what you see will not leave you indifferent: in addition to the rich flora and fauna you will see the remains of ancient ships and vessels of the Second World War.
Also tourists advise to visit Kruja fortress city with centuries-old history and Shkoder city located on the shore of lake. Beautiful mountain Daiti is 2600 m high. In Albania there are a lot of churches and fortresses, and you will see them not far from the chosen resorts. For example, there are thirty Orthodox churches near the beach of Dhermi (city of Saranda).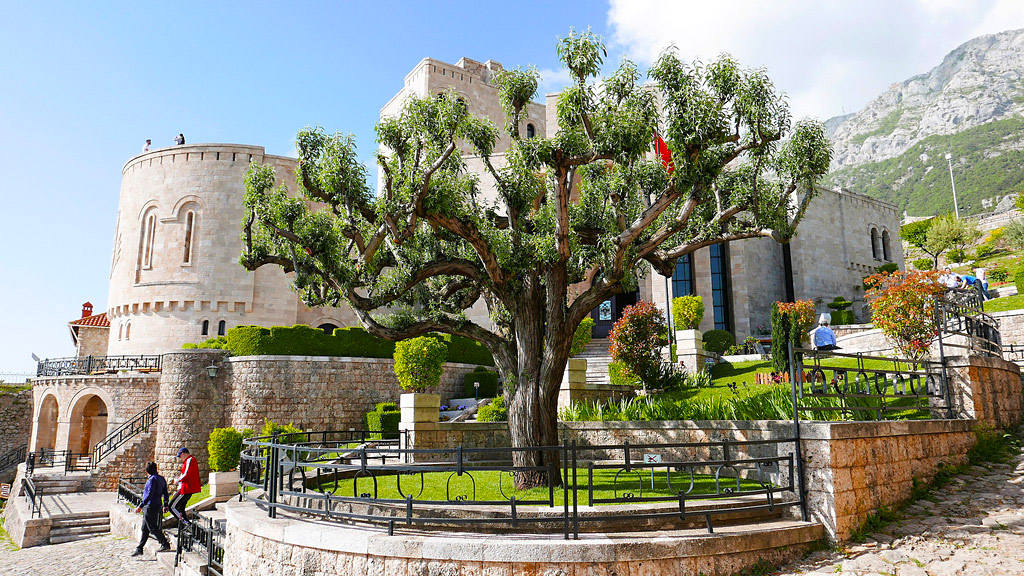 The fortress-city of Kruja. Photo: ipfinder / flickr.com / License CC BY-SA 2.0.
Reviews about holidays with children in Albania
Holidays in Albania with children is a controversial topic. Many tourists are not advised to take children with them for several reasons. This is the intense heat, and the lack of high-level hotels (many prefer a holiday with a child on an all-inclusive system, and in Albania it is almost impossible). Also here it is difficult to move around by any means of transport.
It is better to go with a child to the major resorts in late August – early September. At this time the sea is already very warm, and the heat subsides a little. However, there is another side – in June, there are fewer tourists, and therefore at night is quieter, which will be a big plus on vacation with a child.
Tourists with small children are advised to choose resorts where there are beaches with a flat bottom – Shengjin, Durres, Lyalzit Bay.
Unfortunately, Albania does not yet have a full-fledged infrastructure for recreation with children – water parks and amusement parks have not yet been built. But the warm sea, white sand and numerous underwater inhabitants will please the child no less!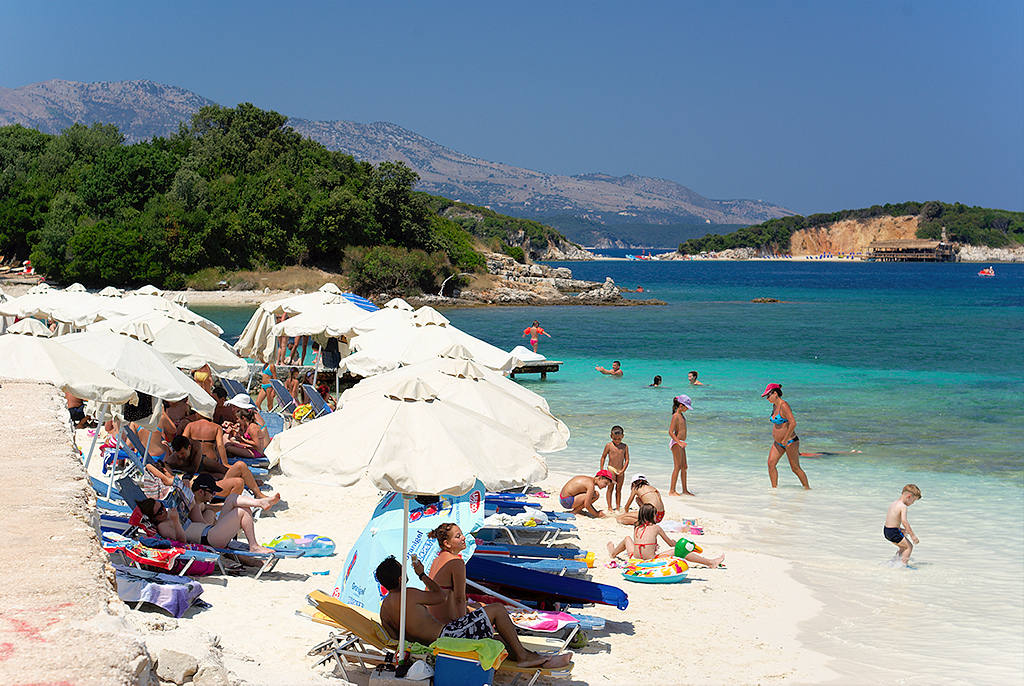 Children swim on the beach in Xamile. Photo: Artur Malinowski / flickr.com / CC BY 2.0 license.
Reviews and tips from tourists
Tourists note that hotels, despite average prices and location by the sea, sometimes do not quite meet expectations. Therefore, many advise to take a hair dryer, mosquito repellent, a spare towel.
Go on holiday in Albania in 2022 is better with at least minimal knowledge of English.
Albania has recently become known as a tourist country, and many of its resorts are developing in parallel and at approximately the same rate, so it is quite difficult to select the best.
Some tourists in general compare Albania … with Cuba! Or with more understandable to the Russian tourist Abkhazia. Incredibly beautiful nature and a standard of living that many of us have already forgotten. But perhaps the charm of resorts of Albania is in it?
What is the attraction of a holiday in Albania for Russian tourists?
Tips for travelers
A relatively new destination is considered a holiday in Albania. We will describe the tips, prices for accommodation and food, as well as provide feedback from tourists who have been to this European country. And although many people think that the service and hotel business is not yet well developed, for not very fastidious, this is a great alternative to the Turkish or Egyptian resorts.
Most of all captivates nature in Albania. The beaches in some places consist entirely of white sand, although in other regions you can find and pebble, rocky coast, and the sea pleases the eye with a perfect blueness. It is here you can take stunning pictures, looking like postcards of paradise.
General information
Albania is located on the Balkan Peninsula and is washed by two different seas – the Ionian Sea and the Adriatic Sea. Accordingly, the beach vacation on each coast is different. The state borders on several countries – Italy, Greece, Macedonia, Kosovo and Montenegro.
Due to this location, the climate is very pleasant. It is Mediterranean and the weather is often the same as in the more famous resorts. For example, in Greece there are up to 300 days of sunshine a year. And Albania can boast the same. The beaches, though less well-maintained than those of its "neighbors", still admire beautiful scenery.
In summer the temperature reaches 30 degrees. It's hot and dry, though at sea there is a slight breeze and humidity, which makes the stay at the resort more pleasant. Winter is relatively mild and very short, the temperature rarely drops below +5 … +10 °. Because of this the beach season starts here in April and lasts until the end of October.
And only in the mountainous areas of the country the climate is a little different. Thus, the winter on the higher elevations is very cold, falling snow and in some areas stays until the summer. But the rains are rare here.
David Stanley / flickr.com
Is it worth traveling to Albania and for what? Here is a magnificent beautiful nature, untouched by man in some places. Be sure to combine a beach vacation with fascinating excursions, nature reserves, natural parks, and try the local cuisine based on ancient recipes.
It is necessary to mention the visa regime. Russian tourists can stay in Albania for up to 90 days without obtaining any permit. But this applies only to those who go here to enjoy a beach holiday at the seaside in the summer season. All other time from September to May you should apply for visa similarly to other countries.
Where to have a rest?
Let's list the most popular and interesting resort towns in Albania, among which you can find a place to your liking. The first thing to note is that the coast itself and its features differ depending on which region we are talking about.
David Stanley / flickr.com
Thus, the resorts on the Ionian Sea are similar to those in Europe and are often called the "Riviera of Flowers". There are old mansions, cozy boarding houses, beautiful nature, pebbly beaches and rocky coves. People come here for a thrill, for active recreation, such as diving or mountain climbing. The area extends from Saranda to Vlore.
The second part, from Vlore to the Lyalzit Gulf, is less sandy and the descent to the sea is milder. This area is preferred by those who come on holiday with children. Comfortable and safe shallow waters, snow-white Adriatic coast, secluded bays – all this will please guests. However, the infrastructure is much worse, there is practically nowhere to walk around at night, and there are very few modern-day attractions.
Artur Malinowski / flickr.com
Let's list briefly the best resorts on each coast:
Durres – located on the Adriatic Sea and is considered a major population center in Albania. However, for our tourists it will seem a quiet and peaceful town. And yet, you can find here a lot of entertainment, fitness clubs, hotels (such as 4-star Hotel Alion and Majestic), restaurants and cafes. Closer to the center, the beaches are well landscaped, but the farther to the outskirts, the landscape becomes more and more rustic.
Shengjin – is considered a health resort, which is rapidly growing. Due to the proximity of coniferous forests, the air itself is healthful and beneficial to the human body. There are also many historical monuments nearby. Ecotourism is very popular in these places. A couple of hotels came to mind: Twin Towers Hotel City & Beach Resort is a 4-star hotel located in the heart of Shenjin, 2.7 km from the beach. Carpe Diem Apartments-Hotel – located on the first line and also just 0.6 km from the center.
Lalzit Bay is located closer to the central regions of Albania. Cape Kepi Rodonit, which offers magnificent scenery, is also very close. The coast is a snow-white sandy strip, and thick coniferous forests are growing along it. People come here for peace, quiet rest and beautiful pictures.
Xamile – often compared to the Seychelles, as it is an amazing resort with paradise beaches. White sand and clear blue water create a stunning combination. Pebble bottoms can be found in some secluded coves. Due to the proximity to the island of Corfu, it is not uncommon to take day trips from here to this destination.
Saranda is a very developed resort by local standards. Here you can find the best service, well-kept beaches, luxury hotels. Tourists are offered a lot of entertainment programs and excursion routes around the city. It is not uncommon to come here for diving.
Vlora is an incredible resort, where you can take a dip in two seas – the Adriatic and the Ionian. It is here that you can compare the convenience and beauty of each shore. Another peculiarity – there are no hotels and residential buildings near the beaches, as the city is in some distance. Accommodation option: Hotel Liro is located on the first coast line. It has a private beach with free sun loungers and umbrellas. Breakfast is included.
Dhermi is recognized by the European elite as one of the best resorts in Albania and Europe. It is often visited by celebrities, actors, broadcasters, singers and just rich people. The village is surrounded by olive and citrus groves. Very attractive and the Pirate's Cave. If you are too lazy to choose a hotel: Llogora Tourist Village is a 4-star complex located in the Llogora National Park.
Pay attention to one particularity – on Ionian coast the coolness comes a little bit faster and in September all the beaches are empty. For bathing in this period it is better to choose shallow places, where the water has time to warm up. But closer to Lalzit Bay, the summer season lasts longer.
Other kinds of rest
You should not think that in Albania you can enjoy only a relaxing time on the beach. Even despite the beautiful scenery, secluded coves, white sand and clear blue waters of the sea, these resorts are still underdeveloped compared to the nearest Montenegro and Greece.
Steve Kellett / flickr.com
And what can really win the hearts of Albania, so it's ecotourism and active entertainment. The main kinds of sports are diving, rock climbing, mountain climbing, hiking, biking, rafting, horseback riding and so on. For underwater diving it is better to choose the Ionian coast, where you can see not only interesting fishes, but also old shipwrecks.
The pure unspoiled nature, hills and mountains, bays and rocky coast attract those who want to dive in the wild. You can walk around the country all day with a backpack and discover incredible corners and panoramas.
Attractions
And although Albania is strongly inferior to its "neighbors" in terms of excursion program, still here, too, there is something to see. The most interesting routes for tourists are considered:
Riviera of flowers – directly a resort area on the shores of the Ionian Sea. Here you will enjoy the beautiful beaches, heavenly corners, untouched by the hand of man national parks and nature reserves. The peculiarity of the region consists in the prohibition on the construction of high buildings, so you can find here only one-and two-storey houses.
The ancient road Egnantia – remains from Roman times, when it crossed all the provinces of ancient Rome. Although gradually overgrown and partially destroyed, the road is still of historical interest.
The Tower of Venice is more convenient to visit if you are staying in Durres. The building dates back to the Byzantine period and is considered an ancient monument.
Karaburun Sazan National Marine Park is situated not far from Vlora. The richness of the underwater world will amaze even the most experienced tourists. There are the remains of ancient ships at the bottom of the sea.
Kruja Fortress and the city of Shkoder will also amaze you with the traces of centuries-old history. Here are preserved many monuments and ancient buildings.
Cableway and mountain Daiti – reaches a height of 2600 meters and if you get to the top, you can enjoy the most beautiful scenery and panoramic views.
Welcome to Tirana! – an evening sightseeing walking tour of the Albanian capital.
Pero Kvrzica / flickr.com
Albania also has a huge number of churches, fortresses, military structures, beautiful temples, and ancient houses. Architecture, history and nature combine in an incredible way and surprise even experienced travelers.
The cost of recreation
If you buy a complete tour with accommodation and meals, it will cost an average of 300 euros per person. If you want to get the best service and to stay in the best hotel is to count on the amount of 500 euros per person. But pay attention to the fact that in Albania there is no such thing as "all inclusive". And even meals at the hotel is just a simple breakfast.
Chris Parker / flickr.com
It is much easier and more profitable to rent a room or apartment through private ads or online services. The rent will start at about $100, but the prices will vary from there. Then the cost will vary depending on the season, location, accommodation and number of people. Choose a suitable hotel room or other accommodation is possible with the help of booking.com. hotels.com or hotellook .
To calculate the full cost of the holiday for a family or couple, be sure to take into account the cost of everything, along with the flight. Remember that there are almost no direct flights to Albania, and especially to any resort from Russia. The exception is some charter flights that only fly during the summer.
To get to the country will have to change somewhere in Europe. The most common choice is Montenegro, and from there you arrive in Albania by plane or bus. The ticket price ranges between 9,000 and 14,000 rubles for a direct flight to Albania. The cheapest options are on Aviasales .
You have to pay for everything in the country in the local currency – lek. So you need to exchange money at the airport or at the nearest bank. Some hotels also offer such a service, but often at a not very favorable rate.
The cost of food and entertainment in Albania is low. For example, a full meal in a cafe for one person will cost 650-700 lek. A visit to a restaurant will cost a bit more – 2,000. On the street are often sold ready-made pizzas or sandwiches, for which you can pay only 200-500 lek.
Steve Kellett / flickr.com
Drinks are also cheap – 135 lek for a coffee or cappuccino, a large bottle of beer costs about 200, red wine a little more expensive. And all the food and dishes will turn out to be good quality and fresh. Transportation costs for trips to excursions are also not expensive.
If you are not very picky about the service, you can rest in Albania quite cheap. The result you get great photos, pleasant memories, see the interesting sights and enjoy the beauty of unspoiled Mediterranean nature. This is a good alternative to the more hyped and developed resorts of Greece, Montenegro, etc.
Reviews
Maxim: "I went here with my wife two years ago. At first, it seemed that I miscalculated with the trip, because the road and the village on the coast looked too desolate. But once in Saranda, we found ourselves in a real paradise. And the prices are so low that it's hard to believe.
Anastasia: "It was in Albania that I learned how to dive. The diving here is amazing and the underwater world is amazing with the abundance of fish, seaweed and other beauties. True, the hotel rooms are too plain and without luxury, even in the most expensive and prestigious, but almost no one rests in the room, because there is incredible nature around!"
Oleg: "Even cheaper to relax here is to rent a room from the hostess. Home comfort, good food in the morning and in the evening provide the proper comfort, and during the day almost all the time you walk around the neighborhood. I have come to Albania more than once and I want to come again.
What to do not to burn in the sun or if you have already burned. Last minute tours from Travelata.