Sukhothai Historical Park – how to get there, what to see, our hostel
As usual, a post to help independent travelers who want to visit Historical Park Sukhothai. Maps of the area, points marked on google maps, the places where I was, my hostel, etc. My experience of visiting this place you can read in the article Sukhothai – the cradle of Thai civilization and Buddhism. And in short, I can say that it is worth a trip, especially if you like the ancient temples with their energy.
The city of Sukhothai is located in the north of the country, roughly between Bangkok and Chiang Mai. And the historical park of Sukhothai is located west of the city, about 15 km, and is called the local Old City. So if you take a tuk-tuk or santeo, that's how you should pronounce it. The city itself is not worth to look, there is nothing interesting, well if only for fruit at the market to go. But the historical park is another thing!
A General Map of Sukhothai
To begin with a google map of Sukhothai for an idea of what we will talk about. It shows the bus station, our hosthouse, and temples that we think are worth seeing.
Hotels in Sukhothai
Where to stay
There are two options for where to stay: near the town itself and the bus station, or near the historic park. The second option is more convenient because you don't have to waste time taking yourself to the historical park, but I don't know that it is a little worse with lodging and prices, but there are a lot of nice cafes and the atmosphere is somehow more pleasant.
I chose to live next to the bus station in the 4T Guesthouse, and took a bike to the park, and a sngteo (20 baht per person to the old town). There was also another Garden House Guesthouse nearby closer to the main road and next to 7/11, where the cost was about the same.
Price and Description 4T Guesthouse
In this area, I can recommend my hosthouse in Sukhothai, which I got a tuk tuk from the bus station for 50 baht, and is a 10 minute walk away, if you walk straight ahead (marked with a blue line on the map). It's called 4T Guesthouse, you can book here, and it's better to do it in advance, it's popular, and often all occupied. The price – a room with a fan 300 baht, with air conditioning 400 baht.
My hosthouse I found through the reservation system, read the reviews, chose in advance, very convenient. You can also look at lodging in Sukhothai on the service RoomGuru.
Interior
There is a small pool, cafe, free wifi, and bike rentals at 250 baht per day, or 300 baht per day. Wifi only works in the cafe, or in the cabins right next door, so if you need internet in your room, ask next to the cafe.
Where is Guesthouse 4T?
How to get to and from Sukhothai
As it turns out, getting to Sukhothai is very easy. There are two options:
Looking for a direct bus to Sukhothai.
Exactly the buses go from Chiang Mai (Arcade bus station), Bangkok (Mo Chit), Khon Kaen. Accordingly, from Sukhothai you can also go directly back to these cities.
For 10 years, 16 hours a day, I made travel guides for travelers. One and a half years ago, a stroke almost killed me. I survived, but am struggling with paralysis.
If my blog helped you, I would appreciate a donation. You can pay with a card of 100 rubles, 500 rubles or 1000 rubles.
Since Sukhothai is small, the buses don't go very often. I drove from Chiang Mai, on the morning bus (ours was at 8:45, there were several buses in the morning), travel time was 5 hours, the cost 218 baht (218 rubles).
Phitsanulok is a bigger town, about an hour away from Sukhothai, small buses run every hour between the two towns. The cost is 40 baht (40 rub).
Phitsanulok has a train station, so you can also take a train from Bangkok or Chiang Mai. Buses are available to almost all destinations and go quite often.
If you want to know the schedule for Phitsanulok – Udontani bus (8:30, 10:30, 12:00, 18:00, 20:30, 23:00, 23:50, 24:00, 01:00, 02:00), travel time 6-7 hours, cost 280 baht (280r)
Sukhothai Historical Park
Map of the historical park
First, here is a map of the historical park (clickable). You will either get it at the hostel or you can pick it up at the booth where you can buy tickets for the entrance to the historic park.
In terms of sightseeing, you can easily fit in one day, get around quickly, take pictures of everything, and leave. However, if you want something more, then it's worth to stay here for a couple of days and spend near some temples for several hours, just resting from the vanity of the world. This historical park is a place of power after all, for hundreds of years people have been anointing these stones.
Cost to visit the park
Historical park Sukhothai (Historical park Sukhothai) is divided into three parts: central, northern and western. On the map I have circled them with a red line. The central part is open from 8 am to 6 pm, the northern part until 5:30 pm, the western part until 4:30 pm. There's also the southern part, but it's free and there are literally a few temples there.
Entrance to each of them costs 100 baht. There is no single ticket. The entrance fee with a bike is another 10 baht, with a motorcycle 20 baht. You can get in for free if you try hard. And in the western part of the booth is only on one road, and if you ride on the other side, so you do not know that it is necessary to pay (so it happened by accident).
Bicycle Rental
Near the entrance to the central part of Sukhothai Historical Park, there is a bicycle rental, at 30 baht per day (30p). If you are going to visit all parts of the park, it is worth taking, if only the central part, it is not necessary, it is not very big. The bikes, by the way, are so-so, walking-urban.
What temples are worth seeing
When you walk in the park Sukhothai for two days, the eye blurs, and the temples already seem similar to each other. So I often just hung out at one of them for a few hours to just sit and think and enjoy the moment. I managed to do that everywhere except the central part, because it was the most crowded. Although, it was a nice park with lots of nice places to relax.
Most memorable were the 4 temples:
Choosing insurance is difficult, so to help you out is my Top Insurance to Asia. I read forums all the time and use insurance myself. From experience, the best way to buy in Polis812. They accept Russian cards.
Large database of hotels are on Yandex.Travel. Keshbek 10-30% points Yandex. Also need to check prices on the Russian copy of booking Ostrovka. All accept Russian cards.
Sukhothai Historical Park: The Cradle of Thai Civilization
Sukhothai Historical Park is the ruins of the ancient capital of the Sukhothai Kingdom. Sukhothai has many temples, though, some in a dilapidated state, but still revered by Thais, people still come to some of the temples to pray to the Buddha. In this article I will tell about the main attractions Sukhothai, what is worth seeing and what you can miss, how to get around and share other useful information.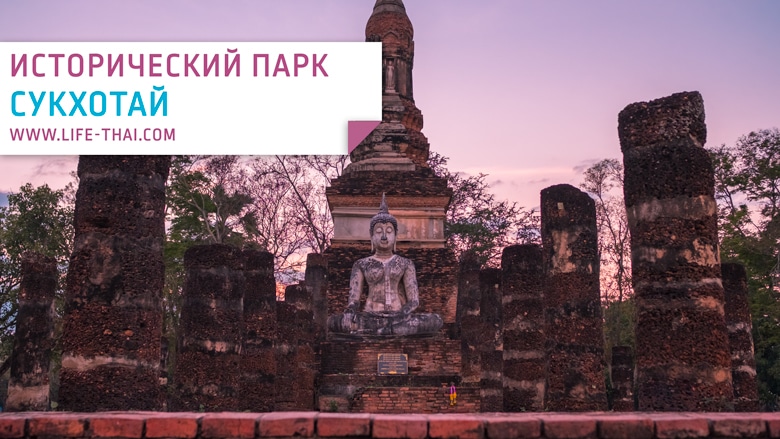 A little history of Sukhothai
Sightseeing Sukhothai
Ayutthaya or Sukhothai? Which is more interesting?
Cost, opening hours and other useful information
Hotels in Sukhothai
How to get to the park and what to do.
A little history of Sukhothai
I won't go into much detail about the history of Thailand, but only what matters.
The history of Sukhothai dates back to the Khmer settlement of "Dawn of Happiness" captured by the Thais and became the center of the kingdom of Sukhothai. It is believed that it was in Sukhothai that the foundations of the Thai state system were laid.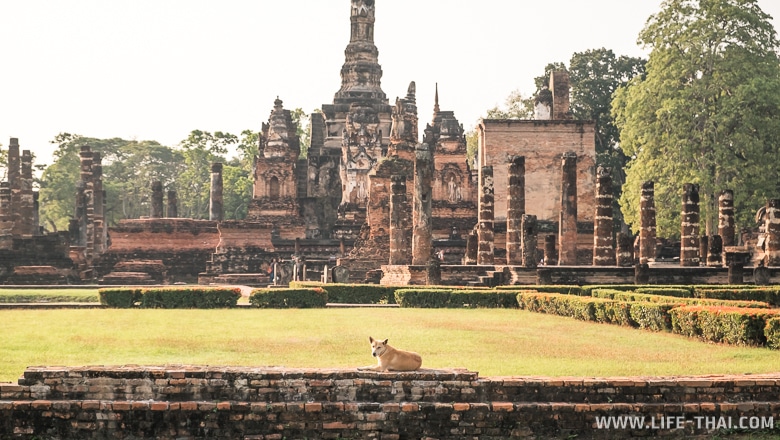 King Ramkampheng not only expanded the borders of the state to the banks of the Mekong and Ligor Rivers, but also proclaimed Buddhism as the state religion, invented the Thai alphabet, supported the development of craftsmen, developed political relations with China and brought porcelain masters from there.
It is said that King Ramkampheng said to set up a large bell in Sukhothai, which could be struck by anyone who was unjustly wronged. If the bell rang, the king would personally take it upon himself to judge who was right and who was wrong.
The Thais have great respect for King Ramkampheng and have called him "the great" ever since.
Sightseeing Sukhothai
The park consists of 3 parts: the central, western and northern. The largest number of attractions are concentrated in the central part of the park. If you have a desire, many small dilapidated temples can be seen outside the park.
What's interesting in the central part of the park
The central part of the park is the most easily accessible, most beautiful, and most visited. Everything within the walls of the old city can be considered the central part. It was here that the most beautiful temples, the royal palace, and the most beautiful park with ponds for walking were built.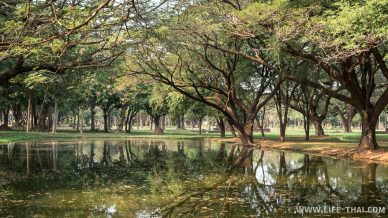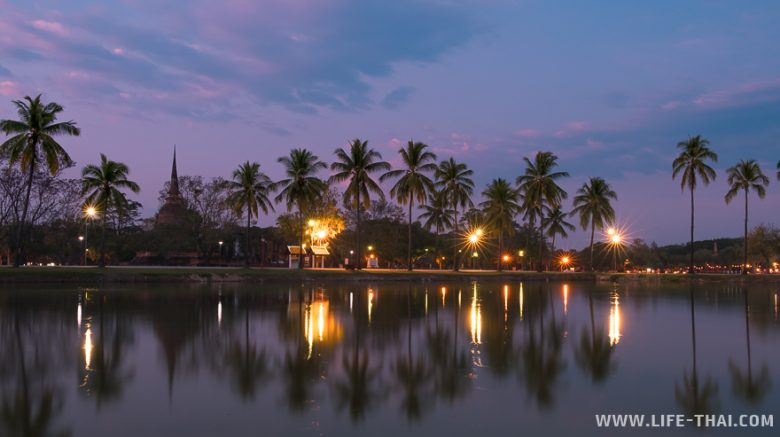 In the evenings on the shore of the magnificent pond (yes, so immodestly Thais called his pond) working evening market with food and souvenirs: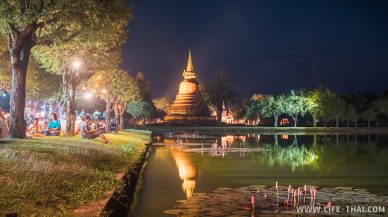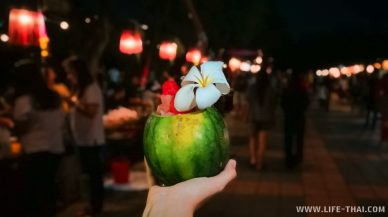 For those who like to take pictures: stupas in the park beautifully illuminated after dusk. You can take good pictures: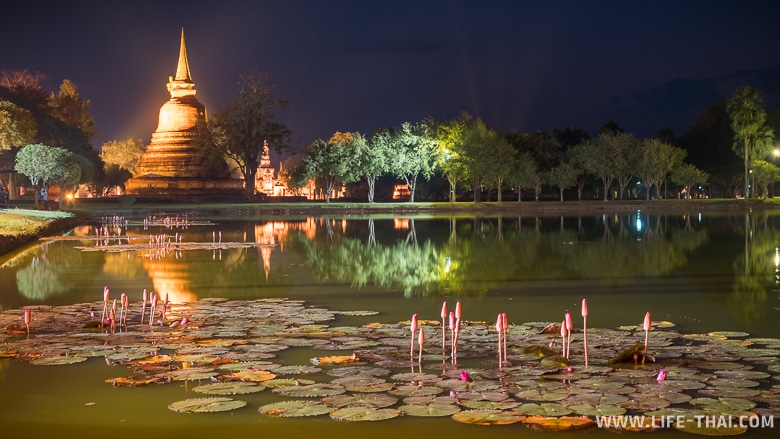 Landmark temples that are a must-see:
Wat Mahathat, the main temple of ancient Sukhothai.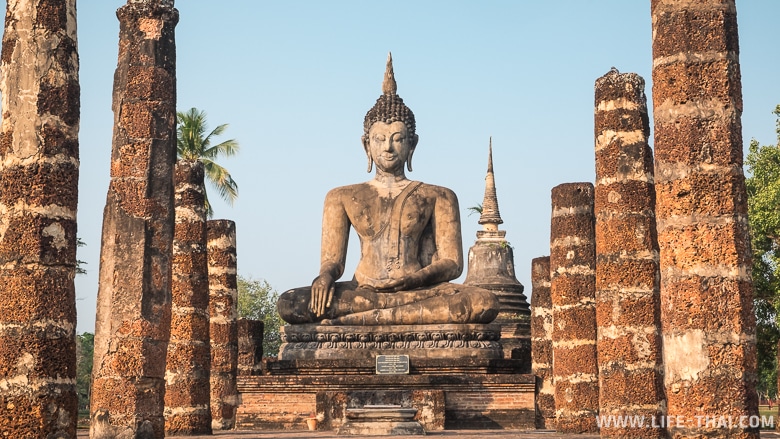 Wat Si Sawai is originally a Khmer temple with three prangs dedicated to Shiva and converted into a Buddhist temple. One of the oldest temples, founded in the early 13th century. Its walls are made of laterite.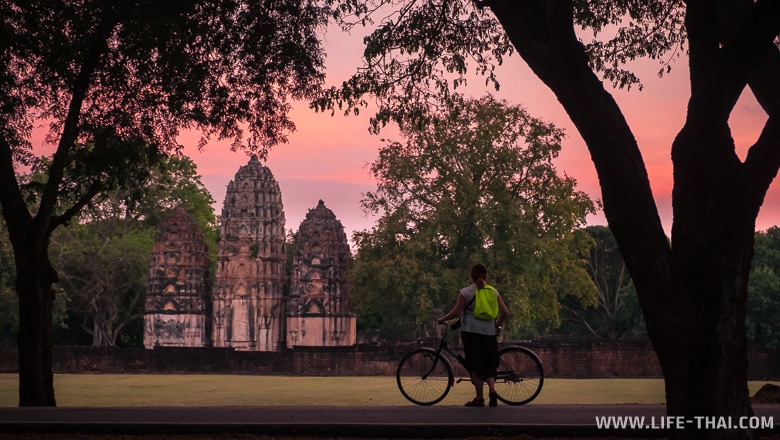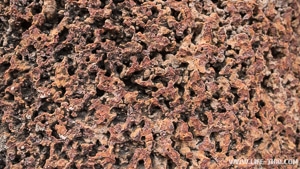 This is what laterite looks like: a porous rock, to the touch – you can even cut yourself.
Laterite is rich in iron and aluminum. The red hue is rust.
Laterite is characteristic of the tropics, where it is hot and humid. Laterite has been used in many places as a building material.
Wat San-Da-Pha-Daeng is believed to be the oldest structure in Sukhothai (12th century).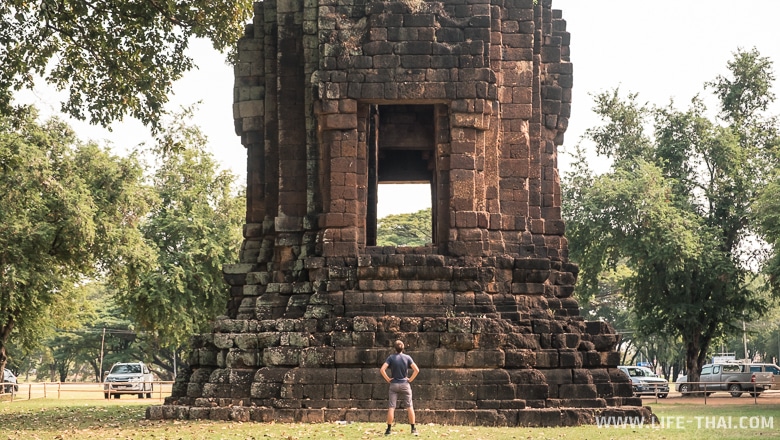 The iconic temple of the northern part of the park
Wat Si Chum is the most stunning temple. If you've been to Thailand, you may have seen a monk near the giant hand of Buddha on postcards. The same Buddha statue from the postcard is at the Si Chum Temple. The statue is called Phra Achan, and Thais come to worship it.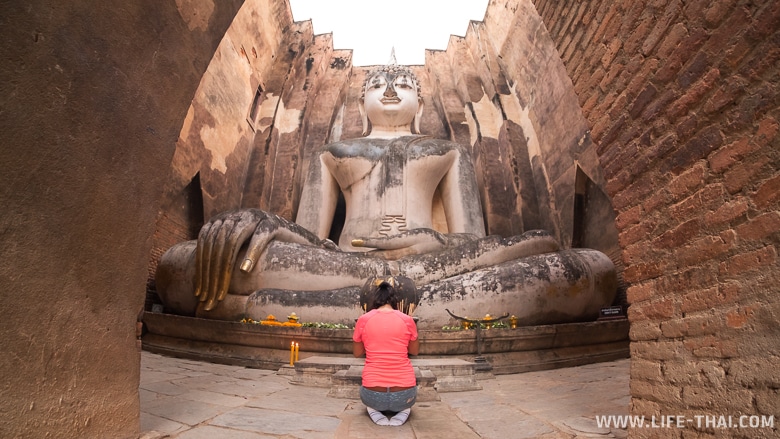 Wat Si Chum is the kind of place where you instinctively begin to speak in whispers, where tranquility pervades your whole body, and where you don't want to leave. For me, Wat Si Chum was the temple worth going to Sukhothai for.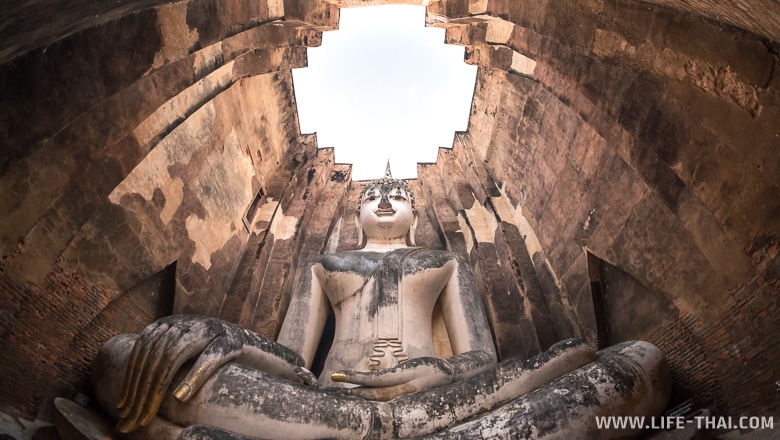 The western part of the park
Wat Saphan Hin – a temple with a huge Standing Buddha on top of the hill. Not particularly impressed, but from the top there is a panoramic view of the surrounding area. They say it's a good place to meet sunrises.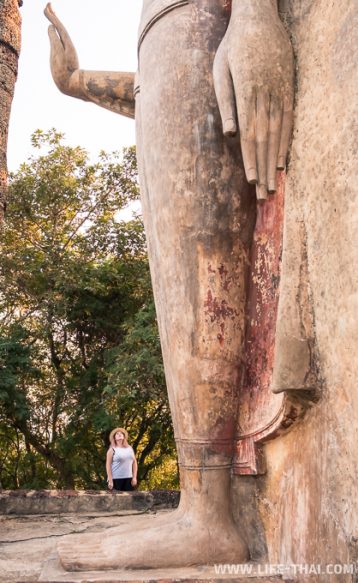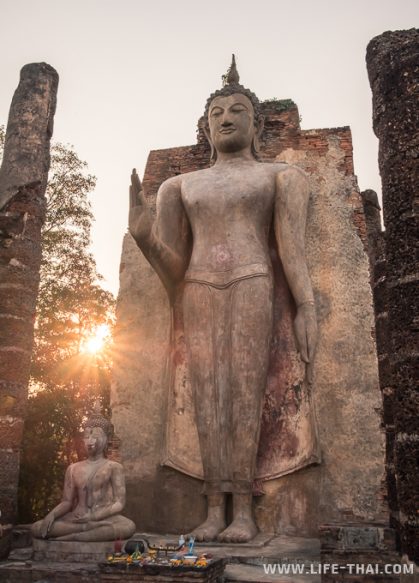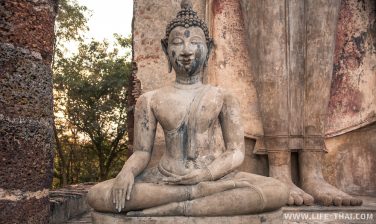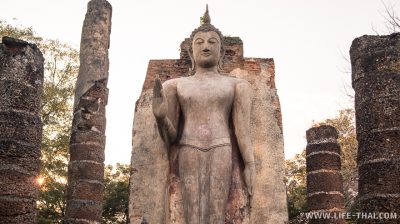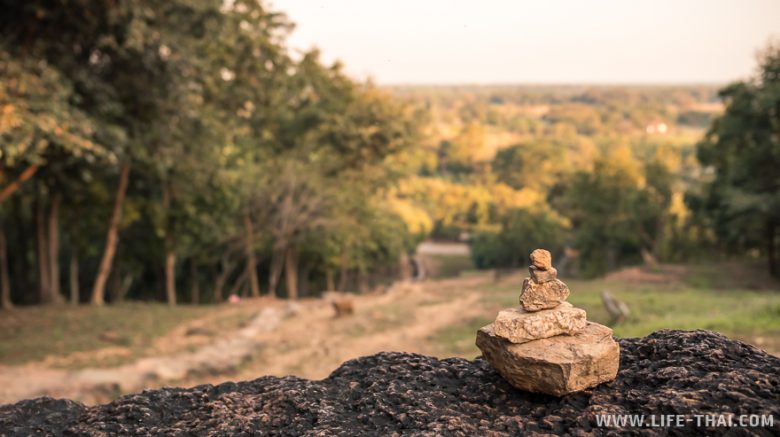 Temples outside the park
Outside the park there are many small, more or less well-preserved temples. We looked up what kind of temples they are on Google Maps. The only one that sparked interest was the elephant temple or Wat Chang Lom .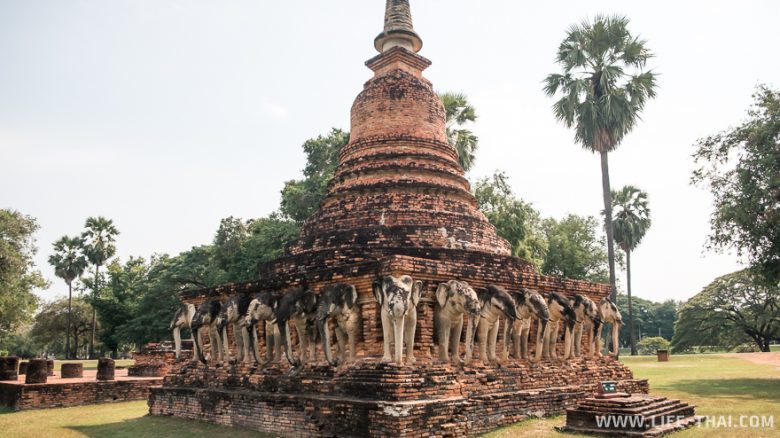 Ayutthaya or Sukhothai? Which is more interesting?
Sukhothai is often compared to Ayutthaya: both are ruins and temples. Is it worth going to Sukhothai, considering its location?
I can honestly say that Ayutthaya is more impressive. They even made movies there, everything is so entourage, and decapitated statues of Buddha left after the Burmese seized the city, it gives you goosebumps when you try to imagine what was happening there. One of Thailand's calling cards, the head of the Buddha braided with tree roots, is in Ayutthaya. But there's something you won't see in Ayutthaya.
In Sukhothai, there are several clearly Khmer buildings: they differ from all other buildings scale, immediately reminded of Angkor Wat.
Near Sukhothai is a stunning park Si Satchanalaya, and if you compare all 3 parks, Si Satchanalaya is the least known, but the most beautiful and most interesting. There will be a separate article about it.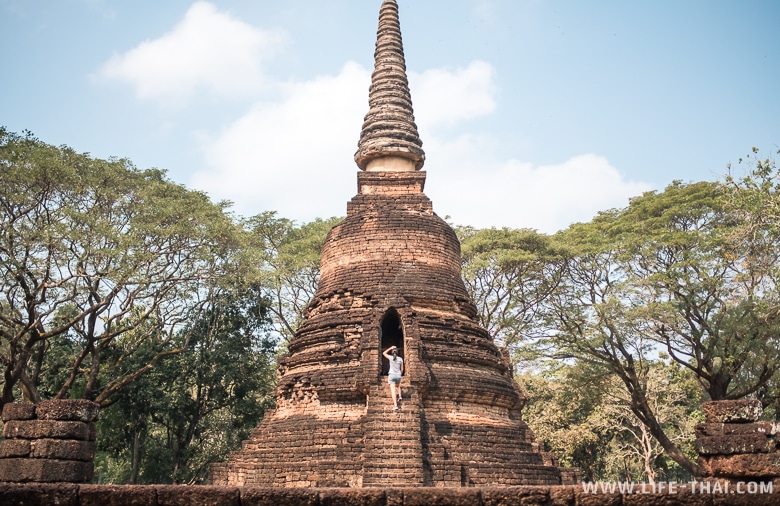 So where to go: to Sukhothai or Ayutthaya? If you have not been to Angkor Wat before, either park will impress you, choose the one that is easier to get to.
If you have already been to Angkor Wat, then Ayutthaya will be enough. If you are a particular fan of Thai history and culture, Sukhothai and Si Satchanalaya are a must visit.
Cost, opening hours and other useful information
The park consists of 3 parts: central, western and northern, each of which costs 100 baht to enter + 10 baht for transportation.
The park is open from 6-30 to 19-30. The best time to visit: before 11 am and after 4 pm. The sunset is beautiful to watch from the opposite side of the Magnificent Pond from the temple of Wat Sa Si.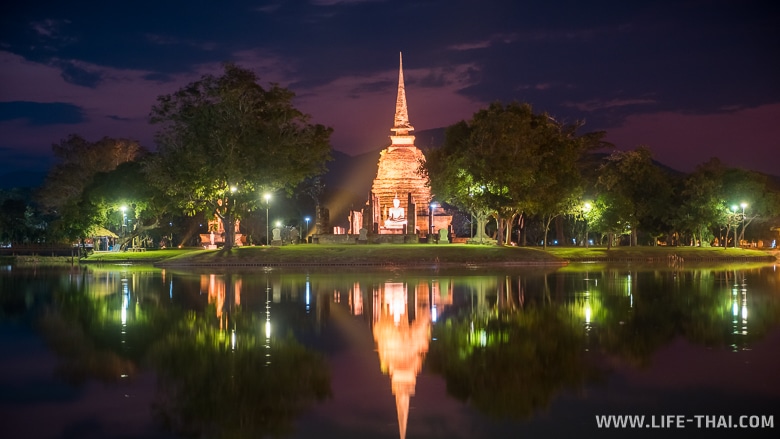 Lifehack: After 6 pm, tickets are no longer checked and you can go to any of the areas for free.
Plan of the historic city of Sukhothai. The areas that are charged separately are marked with different colors: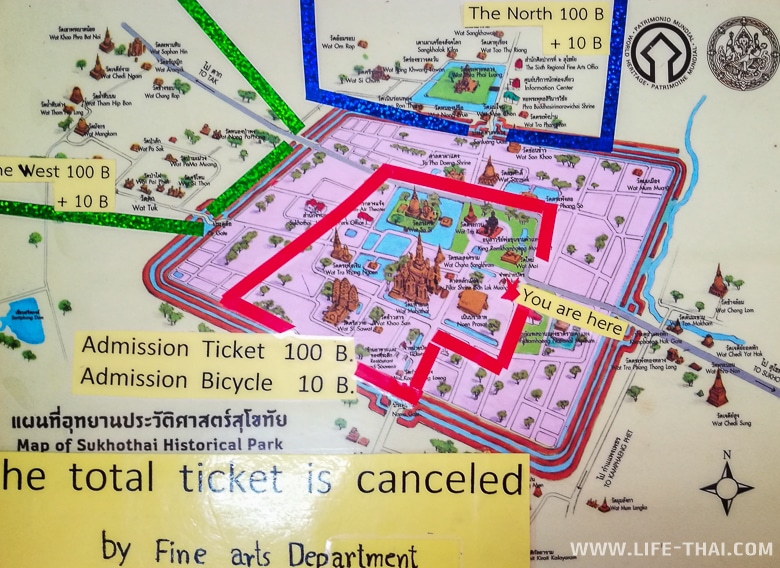 The entire park can be seen in 1 day. We walked around the park for a day and a half: one evening and one full day. Near the park there are beautiful rice fields and a natural national park: if you come to Sukhothai for a week, you can diversify the temples and statues with natural attractions.
Hotels in Sukhothai
The park is 12 kilometers from Sukhothai town, and if you go to Sukhothai for the historical park, it makes no sense to settle in town. We stayed next to the park at Baan Pasathai Geste. A double room with breakfast cost 690 baht ($22). The hostel has a very good location and clean, spacious rooms.
From Baan Pasathai to Sukhothai Park is only 15 minutes walk (1.6 km), and 5-7 minutes by bike. The hostel has free bikes, but not all are in good condition. A few more good gestas near the park:
Naracha resort – bungalow with fan and breakfast for $16, chalet with air conditioning and breakfast for $29. Very Reviews (rating 8.6)
Hotel De'Peal Sukhothai 3* – double deluxe with breakfast $24, rating 8.6
Old City Boutique House – Double room with breakfast $21, rating 8.3
How to get to the park and what to do.
If you stay near the park, you can either bike or walk to the park.
You can either walk through the park, though only in the central part, or ride bicycles: there are plenty of paths, and the distances allow you to ride.
To the temples, which are behind the square – the central part – it is better to get either by bike or moped / car.
Sukhothai Park on the map:
Hi, my name is Tatiana, and I'm happy to see you on the Life is Unpredictable! blog. I love to travel, and on the blog I share my experiences, tips and other helpful notes.