Welcome to our step-by-step guide on planting and growing redvein dock! Redvein dock, scientifically known as Rumex sanguineus, is a stunning perennial plant that is native to Europe. It is well-loved for its vibrant red stems and veins on its leaves, adding a splash of color to any garden or landscape.
Redvein dock is a relatively easy plant to grow, making it a perfect choice for both beginner and experienced gardeners. This guide will take you through the entire process of planting, caring for, and maintaining your redvein dock, ensuring its healthy growth and longevity.
Before you get started, it's important to know that redvein dock thrives in full sun to partial shade, and it prefers moist, well-drained soil. It can tolerate a wide range of soil types, including clay, loam, and sandy soil. With its bold foliage and unique appearance, redvein dock is an excellent addition to flower beds, borders, and container gardens.
In this step-by-step guide, you will learn how to select the ideal location for planting, prepare the soil, sow the seeds or plant the seedlings, and provide proper care for your redvein dock throughout its growing season. So let's get started and create a beautiful, colorful garden with redvein dock!
Choosing the Right Location for Planting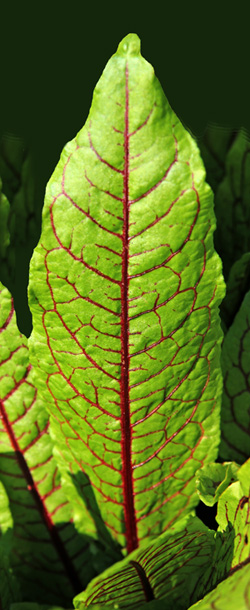 When selecting a location for planting redvein dock, it is essential to consider the specific needs and requirements of the plant. Here are some key factors to keep in mind:
Sunlight: Redvein dock thrives in full sun but can tolerate some shade. Choose a location that receives at least 6 hours of direct sunlight per day.
Soil: This plant prefers well-draining, fertile soil. It can tolerate a wide range of soil types, but it performs best in loamy or sandy soil with a slightly acidic to neutral pH level (pH 6.0-7.0).
Moisture: Redvein dock requires consistently moist soil. Avoid planting in areas that are prone to drying out quickly or become waterlogged. The plant can handle occasional periods of drought, but it will flourish with regular watering.
Space: Redvein dock has a spreading habit, so ensure that you have enough space for the plant to expand. Consider planting it in an area where it won't overshadow or crowd out other plants.
Climate: This plant is reasonably hardy and can adapt to a range of climates. However, it does best in USDA hardiness zones 4-8. If you live in a colder or hotter region, redvein dock may require extra care to survive.
By carefully selecting the right location for planting, you can provide the optimal conditions for your redvein dock to grow and thrive. Consider these factors and make any necessary adjustments to ensure the long-term success of your plant.
Preparing the Soil for Planting
Before planting redvein dock, it is important to prepare the soil to ensure optimal growth. Here are step-by-step instructions on how to prepare the soil for planting:
| | |
| --- | --- |
| Step 1: | Choose a suitable location for planting redvein dock. Preferably, it should be a sunny area with well-draining soil. |
| Step 2: | Clear the area of any debris, weeds, or grass. Remove any rocks or large obstacles that may hinder root growth. |
| Step 3: | Use a garden fork or tiller to loosen the soil to a depth of about 8-12 inches. This will help improve drainage and ensure proper root development. |
| Step 4: | Remove any large clumps or stones from the soil and break up any compacted areas. |
| Step 5: | Test the soil's pH level using a soil testing kit. Redvein dock prefers slightly acidic to neutral soil with a pH of 6.0-7.0. If the pH is too high or too low, consider adding amendments to adjust the pH level accordingly. |
| Step 6: | Amend the soil if necessary. If the soil is sandy, you may need to add organic matter such as compost or well-rotted manure to improve its water-holding capacity. If the soil is heavy clay, add perlite or coarse sand to improve drainage. |
| Step 7: | Once the soil is prepared, rake the surface to create a smooth and level bed for planting. |
By following these steps, you can ensure that your soil is adequately prepared for planting redvein dock. This will create an ideal environment for the plant to thrive and yield a bountiful harvest.
Planting Redvein Dock Seeds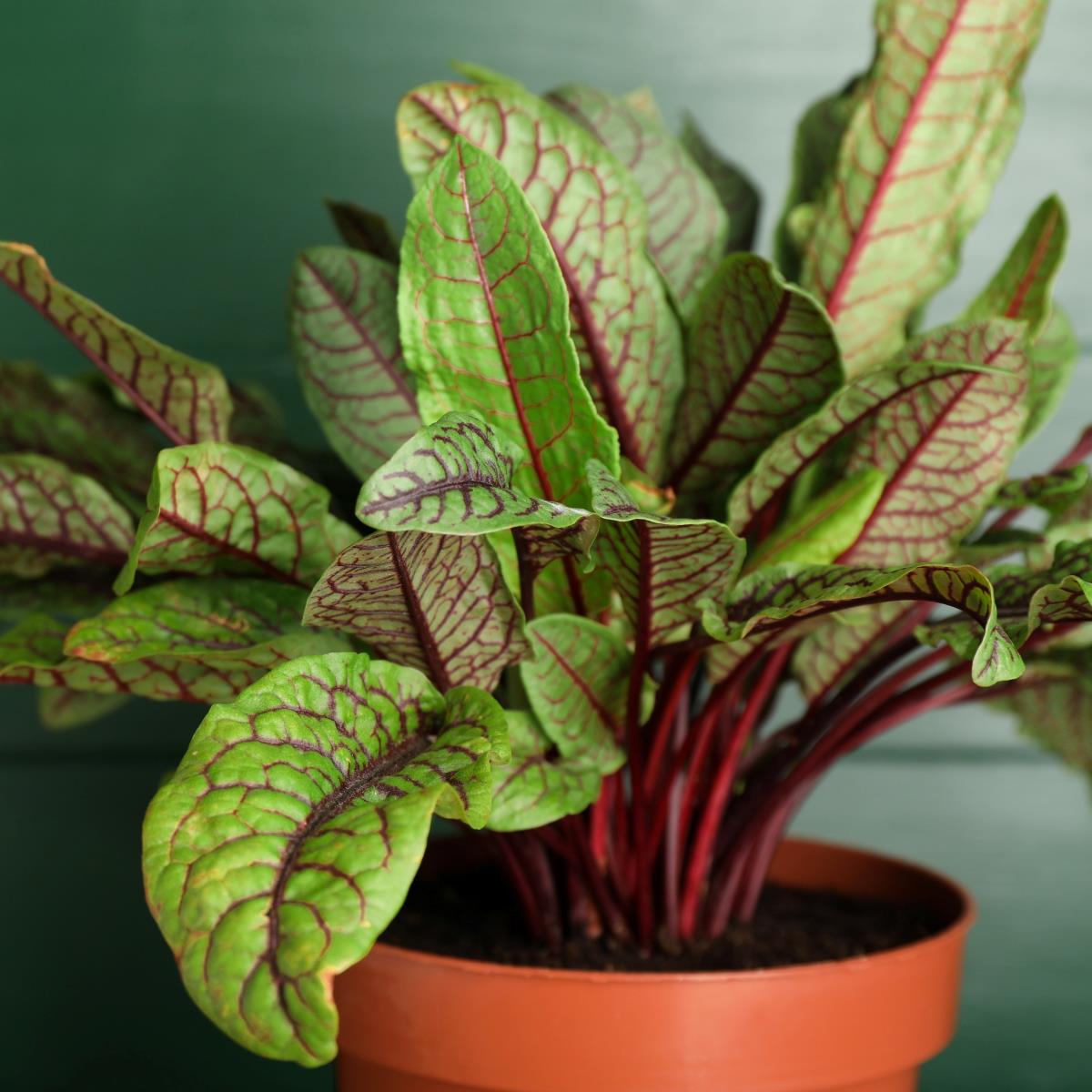 Redvein Dock seeds can be planted directly in the garden or started indoors. Follow these steps to ensure successful germination and growth:
1. Choose the Right Location
Select a location in your garden that receives full sun or partial shade. Redvein Dock can tolerate a wide range of soil types but prefers moist, well-draining soil.
2. Prepare the Soil
Loosen the soil in the planting area using a garden fork or tiller. Remove any weeds or debris that may interfere with seed germination. Add organic matter, such as compost or aged manure, to improve soil fertility and drainage.
3. Sow the Seeds
For direct sowing, sow the Redvein Dock seeds in the prepared soil. Scatter the seeds evenly, about 1/4 inch deep. Alternatively, you can start the seeds indoors in seed trays or pots, then transplant the seedlings outdoors when they are around 2-3 inches tall.
4. Watering
Water the seeds or seedlings gently to keep the soil moist but not waterlogged. Redvein Dock plants prefer regular watering, especially during dry periods.
5. Thin the Seedlings
If you sow the seeds directly in the garden, thin the seedlings to allow proper spacing. Remove the weakest seedlings, leaving about 12-18 inches of space between each plant. Thinning helps prevent overcrowding and encourages better air circulation.
6. Mulch and Fertilize
Apply a layer of organic mulch, such as straw or wood chips, around the Redvein Dock plants. Mulch helps retain soil moisture and suppresses weed growth. Fertilize the plants with a balanced organic fertilizer once or twice during the growing season to promote healthy growth.
7. Pest and Disease Control
Monitor the plants regularly for signs of pests or diseases. Redvein Dock is generally resistant to many common garden pests and diseases. However, if you notice any issues, try to remove the affected leaves or use organic pest control methods if necessary.
8. Harvesting Seeds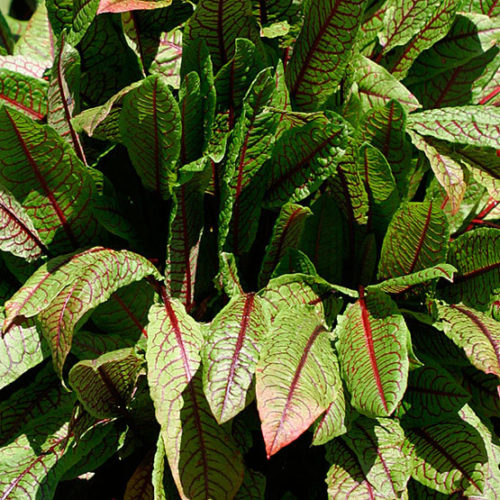 Allow some Redvein Dock plants to go to seed if you wish to collect seeds for future planting. Wait for the seed heads to dry and turn brown before harvesting. Remove the seeds from the seed heads and store them in a cool, dry place until you are ready to plant them.
By following these steps, you can successfully plant and grow Redvein Dock seeds in your garden. Enjoy the unique beauty of this plant and its edible leaves in salads or cooked dishes!
Caring for Redvein Dock Plants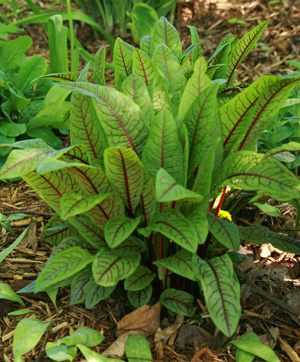 After planting redvein dock plants, it is important to provide them with proper care to ensure their healthy growth and development. Here are the steps to take care of your redvein dock plants:
Watering: Redvein dock plants require regular watering, especially during the dry periods. Keep the soil consistently moist but avoid overwatering, as it may lead to root rot. Water the plants at the base, directly onto the soil.
Fertilizing: Apply a balanced organic fertilizer to redvein dock plants in the spring or early summer. This will provide them with the necessary nutrients for vigorous growth. Follow the instructions on the fertilizer package for the correct application rates.
Weeding: Remove weeds that compete with redvein dock plants for nutrients and water. Regular weeding will help keep your redvein dock bed clean and reduce competition for resources.
Pruning: Redvein dock plants do not require much pruning. However, if you notice any dead, damaged, or diseased leaves, remove them promptly to maintain the overall health and appearance of the plant.
Pest Control: Monitor your redvein dock plants for any signs of pests, such as aphids or snails. If you notice infestation, use appropriate organic pest control methods to protect your plants. Avoid using chemical pesticides that may harm beneficial insects or pollinators.
Dividing: Over time, redvein dock plants may become overcrowded. To prevent this, divide the plants every few years in the early spring or fall. Dig up the clumps and separate them into smaller sections, then replant the divisions in well-prepared soil.
Winter Protection: Redvein dock plants are hardy perennials and can withstand cold temperatures. However, in areas with harsh winters, it is recommended to add a layer of mulch around the base of the plants to protect the roots from freezing.
By following these care instructions, you can enjoy healthy and vibrant redvein dock plants in your garden or landscape. Remember to monitor their growth regularly and address any issues promptly to ensure their continued success.
Harvesting and Using Redvein Dock
Harvesting redvein dock leaves is a simple process once the plant has reached maturity. The leaves are the most commonly used part of the plant, as they have a tart, slightly lemony flavor that can add a tangy kick to various dishes.
Here are some steps to follow when harvesting redvein dock leaves:
Wait for the plant to reach at least 6-8 inches in height before harvesting. This ensures that the leaves have developed fully and will provide the best flavor.
Choose leaves that are vibrant green and undamaged. Avoid leaves that are wilted, yellowing, or have holes or blemishes.
Gently pull the leaves from the stem, starting at the base. If the leaves do not come off easily, you can use a pair of gardening scissors or shears to cut them off.
Harvest leaves as needed, but try to avoid removing more than a third of the plant's leaves at a time. This allows the plant to continue growing and producing new leaves.
Once you have harvested your redvein dock leaves, you can use them in a variety of ways. Here are some ideas:
Salads: Chop the leaves and add them to fresh salads for an added zing of flavor.
Herb butter: Blend redvein dock leaves with softened butter to create a flavorful herb butter that can be spread on bread or used for cooking.
Tea: Steep the leaves in hot water to create a refreshing and tangy herbal tea.
Soups and stews: Add redvein dock leaves to soups and stews for a unique and flavorful twist.
Stir-fries: Sauté the leaves with other vegetables in a stir-fry for a tangy and nutritious side dish.
Smoothies: Blend the leaves into smoothies for a vibrant green color and an extra dose of nutrients.
Remember to wash the leaves thoroughly before using them to remove any dirt or debris. Enjoy exploring the culinary possibilities of redvein dock!
Question-answer:
What is Redvein Dock?
Redvein Dock (Rumex sanguineus) is a perennial plant that belongs to the family Polygonaceae. It is commonly found in Europe and North America. It is characterized by its distinctive red veins on the leaves.
How do I plant Redvein Dock?
To plant Redvein Dock, start by selecting a suitable location with well-draining soil and partial shade. Dig a hole that is slightly bigger than the root ball of the plant and place the plant in the hole. Backfill the hole with soil, gently pressing it down to remove any air pockets. Water the plant thoroughly after planting and continue to water it regularly until it is established.
What are the ideal growing conditions for Redvein Dock?
Redvein Dock thrives in moist, well-draining soil and prefers partial shade. It can tolerate a wide range of soil types but performs best in fertile soil. It is relatively low maintenance and can tolerate some drought, but regular watering is still recommended.
How do I propagate Redvein Dock?
Redvein Dock can be propagated through division or by taking cuttings. To propagate through division, dig up the plant and carefully separate the clumps, making sure each division has a few healthy roots. Replant the divisions in suitable locations. To propagate through cuttings, take stem cuttings from a healthy plant and place them in a pot with well-draining soil. Keep the soil moist and place the pot in a warm, bright location. Roots should develop in a few weeks, and the new plants can then be transplanted.
Video:
Beautiful Cement Crafts to Suprise Your Guests
How to Grow #Lavender (Complete Step-by-Step Guide)
How to Use CocoPeat for Plant Growth | A Step-by-Step Guide | Ugaoo
Reviews
Emma Smith
I found this step-by-step guide on planting and growing Redvein Dock really informative and helpful. As a passionate gardener, I love exploring new plants to add to my collection, and Redvein Dock seems like a wonderful addition. The article provides clear instructions on how to prepare the soil and choose the right location for planting. I especially appreciated the tips on ensuring proper drainage and sunlight exposure for optimal growth. The guide's detailed instructions on planting depth and spacing were also very useful. I like how it emphasized the importance of watering and maintaining moisture levels, as this is crucial for successful growth. The article also touched upon potential pests and diseases that could affect Redvein Dock and provided suggestions for prevention and treatment. Overall, this guide has inspired me to give Redvein Dock a try in my garden. I feel confident that I have the necessary knowledge and instructions to ensure its success. I look forward to seeing the beautiful red veins of this plant in my garden and enjoying its ornamental value.
JackRider
This step-by-step guide on planting and growing Redvein Dock is extremely helpful for anyone looking to enhance their garden or landscape. As an avid gardener, I found the article to be informative and well-written. The article starts by explaining the benefits of growing Redvein Dock, highlighting its striking appearance and ornamental value. I appreciate how the author goes into detail about the plant's unique red veins, which add a splash of color to any garden. The author also stresses the plant's ability to attract bees and butterflies, which is not only beneficial for the environment but also adds to the beauty of one's garden. The step-by-step instructions provided in the article are clear and easy to follow. The author starts by explaining the ideal growing conditions for Redvein Dock, such as choosing a sunny or partially shaded spot with well-drained soil. As a reader, this information is crucial for me to ensure the success of my gardening endeavors. Furthermore, the article provides detailed instructions on how to properly prepare and sow Redvein Dock seeds. The author emphasizes the importance of adequately spacing the seeds to allow for proper growth. I found the tips on watering and fertilizing particularly helpful, as they provide essential information for maintaining healthy and vibrant plants. In addition to the practical advice, the article also touches on the potential challenges that may arise when growing Redvein Dock. The author provides tips on how to prevent and treat common issues like pests and diseases. This information demonstrates the author's expertise and adds value to the article. Overall, I thoroughly enjoyed reading this step-by-step guide on planting and growing Redvein Dock. The article provides a comprehensive overview of this beautiful plant's characteristics, as well as practical instructions for successful cultivation. I would highly recommend this article to any gardening enthusiast looking to add color and vibrancy to their outdoor space.
Noah
Wow, this step-by-step guide on planting and growing Redvein Dock is just what I needed! As an avid gardener, I am always on the lookout for unique and interesting plants to add to my collection. I have heard great things about Rumex sanguineus and its vibrant red veins, so I can't wait to get started. The first step, preparing the soil, is crucial to the success of any plant. I appreciate the recommendation to choose a location with well-draining soil, as excessive water can be detrimental to the plant's health. Adding organic matter and compost will ensure that the soil is rich in nutrients, which is essential for the growth of Redvein Dock. The second step, planting the seeds, seems relatively straightforward. I like the tip about sowing the seeds thinly and covering them with a thin layer of soil. This will promote even germination and prevent overcrowding. I will definitely keep in mind that Redvein Dock thrives in full sun to partial shade, so I'll find a suitable spot in my garden. The third step, caring for the plant, is where the real work begins. I appreciate the reminder to keep the soil moist, but not waterlogged. This will help prevent diseases and encourage healthy growth. I will also be sure to mulch around the plant to retain moisture and suppress weeds. The fourth step, harvesting the leaves, is something I am looking forward to. The guide mentions that the leaves can be harvested throughout the growing season. I am excited to incorporate Redvein Dock into my recipes, as the leaves are said to have a tangy flavor. It will definitely add a unique twist to my salads and stir-fries. Overall, this step-by-step guide has provided me with all the information I need to successfully plant and grow Redvein Dock. I appreciate the detailed instructions and helpful tips. I can't wait to see the vibrant red veins of this beautiful plant in my garden!
MaxWalker
I really enjoyed reading this step-by-step guide on planting and growing Redvein Dock. As an avid gardener, I'm always looking for new plants to add to my collection, and this article provided me with all the information I needed to successfully grow this beautiful plant. The detailed instructions and tips were incredibly helpful, especially for someone like me who is relatively new to gardening. The article explained the importance of selecting the right location for planting Redvein Dock and provided useful guidelines on soil preparation. I appreciated the emphasis on the need for well-draining soil and the recommendation to add compost or organic matter to improve the soil quality. These tips will definitely come in handy when I start planting my own Redvein Dock. I also found the information on watering and caring for Redvein Dock very informative. The article mentioned the importance of keeping the soil evenly moist, but not waterlogged, which is something I often struggle with. The suggestion to mulch around the plants to help retain moisture and suppress weed growth was a great idea that I will definitely implement in my garden. Lastly, the article provided guidance on pruning and maintaining Redvein Dock, which will be beneficial as the plant grows. I was particularly interested in the information on propagating Redvein Dock from seeds or division, as I enjoy sharing plants with friends and family. Overall, this step-by-step guide was well-written and easy to follow. It provided all the information I needed to successfully plant and grow Redvein Dock in my garden. I'm excited to get started and see the vibrant red veins of this plant add a pop of color to my outdoor space. Thank you for this informative article!
Noah Jones
Great article! I've always been interested in gardening and this step-by-step guide on planting and growing redvein dock has been incredibly helpful. I love how detailed the instructions are, starting from choosing the right location to soil preparation and planting. The tips on growing redvein dock from seeds are especially useful. I appreciate the advice on stratifying the seeds in the refrigerator for a few weeks before planting to improve germination. It's great to know that a little extra effort can make a big difference in the success of my plants. I also found the information on caring for redvein dock very informative. Understanding the importance of regular watering, mulching, and fertilization will definitely help me keep my plants healthy and thriving. I'll be sure to follow the recommended spacing and thinning instructions to ensure proper growth and air circulation. The photos included in the article are fantastic! They give me a clear idea of what redvein dock looks like at different stages of growth and will serve as a great reference for monitoring my plants' progress. Overall, this article has given me the confidence and knowledge to start growing redvein dock in my own garden. I can't wait to see those vibrant red veins in my garden bed! Thank you for providing such a comprehensive guide.