[Personal experience] How I lived in France and why I came back to Russia
We've already told you about life in almost all European countries, but we haven't mentioned France. In general, it keeps a little aside – IT-engineers are not too eager to go there, and there are not many jobs for foreign specialists. But it is interesting to look around and see how life is going there.
Therefore we talked to Evgeny, who managed to work in two Parisian companies, but ended up back in Russia anyway. He tells us how life is in Paris, and why he still likes Moscow better.
How I came to be in Paris
I want to say straight away that I have never aspired to go to Europe. I like living in Moscow, so deliberately I don't look for open positions in foreign companies. But I have a profile on LinkedIn, and I regularly receive offers there, including from abroad. I don't usually accept them.
But once I was invited to work for a company in Paris. I had been to Paris as a tourist, I liked it there, so I accepted. We were in satellite technology, I worked as a DevOps lead and I came strictly for the project. The project was for the French army, and when it was over, I went back to Russia.
Then I got another offer from Paris – they called me as a DevOps engineer at a startup that did something like Avito, but for expensive vintage and used branded things. I decided to give it a try and went through a five-step interview process:
Screening from HR;
A technical interview with prospective colleagues;
interview with the head of DevOps;
interview with the head of IT;
interview with the CEO of the company – that's how he got to know all the people who work for him.
During my tenure, the startup grew into a unicorn – our CEO even spoke personally with the President of France. As a devops I was involved in automating development processes. We had many Kubernetes clusters for different regions, because the site worked in Europe, America, and Asia – almost everywhere except Russia. It was not possible to enter our market.
While I was working and living in Paris, I realized that life here is not as good as I would like it to be. I will tell you later in detail why. In the end, I quit my job and returned from France to Russia. And I don't regret either that I went, or that I came back.
What was wrong with Paris for me personally
I note that all of the following is true only for Paris – it should not be extended to the whole of France. On the other hand, the offices of IT companies are mostly concentrated in the capital, so if an IT engineer comes to France, he almost certainly ends up in Paris.
Housing is VERY expensive. A 10-square-foot room without its own toilet half an hour from the center will cost euros a month. I rented a cool two-bedroom next to the Arc de Triomphe for 1,800 euros. During the quarantine just walked in the arch – it was included in the allowed kilometers of walks during the self-isolation =)
In addition to rent you have to pay utilities and rent – that's also very expensive. And if you live in old historic buildings, of which there are a lot here, the whole house also pays for housing repairs.
It's hard to find an apartment. The demand for housing in Paris is greater than the supply. It is difficult to find a good apartment, and often rents just bare walls – you have to buy yourself even kitchen appliances.
At the same time, many houses are old, they have spiral staircases, and it is technically impossible to bring a large closet or refrigerator into the apartment. Therefore work special services, which come to the house on the elevator, so the bulky items can be unloaded through the window. And the prices for these services are enormous.
I was lucky: first the company rented an apartment, and then managed to extend the same contract. But if it had not been possible to extend it, I would have had to look for a long and painful search for an apartment. Because there are many tenants, the landlord chooses who will live with him. It's like a job interview – they may ask about marital status, income level, plans for the future. And if you do not like something – to refuse.
There is no proper heating. In Paris, most houses don't have central heating. Each house is heated separately, and the prices are gigantic. Residents decide for themselves when the heating season starts, and try to start later to save money. Because of this, in the fall and spring, it can be very cold in the houses. And in winter the heating is not very good, so you have to get used to walking in a warm jacket and socks.
Terrible Internet. I had a channel at 10 Mbps – and this is no joke. In fact, it was about 8 Mbps, and I shared it with my wife on two devices, and it was categorically insufficient. I tried to bend the repository from githab, or something to run – nothing worked. The Internet was 25 euros a month.
The processes of paperwork are not clear. In France there are several different sets of documents for applying for a residence permit, and they are constantly changing. Yourself in it do not understand it, especially if you do not know French. My wife and I did the paperwork agency, its services are expensive. They were paid by the company, but that is not always the case, and red tape can get someone down.
And according to official sources, you can get citizenship after 5 years of life in France. But in fact after 5 years no one will give anything, and you need to live at least 7.
You need to know French well. In France, you can not live comfortably, knowing only English. You will be able to communicate at work, but to make friends with the locals, use all the services, to communicate normally with the government, you need to know French. And the French are pretty aggressive to those who do not know French, or speak with errors and accent. And gradually "pull up" the language, communicating with the locals, will not work.
Love of homeopathy. While the whole of Europe is drowning in evidence-based medicine, in France at the state level is flourishing treatment with sugar balls. Even I got caught – I was prescribed medicine for a sore tooth, and in addition to the usual painkillers, homeopathy was included in the prescription. I bought it – it was expensive! – And only at home I realized that I was sold fuflomitsin. So you should be more careful.
High prices for services. In Paris, a barista without much training can earn almost as much as an IT engineer. And a cup of coffee made by him will not be cheap. The same goes for hairdressers, cab drivers, plumbers, and anyone else who provides services. Because of the prices of everything in Paris, I could afford considerably less than in Moscow – despite the seemingly high wages.
In the end, it was the high prices for housing, services and goods that influenced my choice. I realised that in Moscow I would earn less but live better, so I returned to Russia.
What I did like about Paris
A pleasant climate. There are no sudden changes in weather, in winter there are rarely minus temperatures, and in summer you don't suffer from a debilitating heatwave. We saw snow twice, and it immediately melted. Plus everything is even, not like ours – today it's +25 ° C, and tomorrow it's +6 ° C and the deluge.
It's beautiful here. This is Paris, and there is no need for arguments =). It's not for nothing that tourists come here: virtually every house is a work of art. The city is a great place to visit, and there is a large variety of museums and exhibitions, for those who love culture.
You have a good quality food. Even if you buy the cheapest products, they are delicious and of good quality. For example, I noticed that if you buy tomatoes, they go bad in a couple of days. Not like our store-bought ones, which last in the fridge for a month and don't even wilt.
I came to Paris with a little extra weight, and I literally lost 10 kilos in two months. But I didn't move more actively, didn't change my eating habits – so I think it's about the quality of food.
There are a lot of parks and a developed culture of leisure in them. In Paris, all the locals come to the parks on weekends, lay out plaids on the lawns, drink wine and eat cheese. I really liked it – it makes for a cool, relaxing vacation. In Russia you can't sit on the lawn in a civilized park, and you won't find a lawn in the wilderness, so you can feed mosquitoes only =) I generally give the parks the biggest plus, they are very beautiful and well-groomed. In Moscow I do not have enough of them.
P.S. And Eugene has an account about DevOps – here.
The disadvantages of Paris did not overlap for you pluses? Or maybe you have confirmed your desire to stay in Russia? Telegram bot @g_jobbot has many jobs from Russia and other countries, relocation/office/remote.рекламная пауза>
The standard of living in France is one of the best in Europe
One of the most famous countries with unusual culture, romantic atmosphere and unforgettable cuisine is called France. This country was one of the first to introduce the euro on its territory. For many years, it occupies a leading position in various economic indicators. The standard of living in France is considered one of the highest in 2021-2022.
But to achieve this, every time the government urges its citizens to save energy, water and other benefits of civilization. Nevertheless, today a lot of people want to go to France for permanent residence.
The famous Notre Dame de Paris – Notre Dame de Paris
The French economy, despite the rather serious crisis of recent years, is holding up quite well. Although there are many dissatisfied and a slight decline is still present, but overall the picture is optimistic. For example, the average wage in France is two and a half thousand euros a month.
Average salaries
And wages for low-paid categories of workers, mostly immigrants, is 1000 – 1200 euros per month. But this is not the limit, with special desire and certain capabilities foreigners can get up to two and a half thousand. True, it will not be easy to find work in France for foreign nationals.
But the distribution of salaries in France is uneven.
In Paris and its environs, salaries are higher than in other regions of the country. Provincial towns and small villages, located near the center of France, have the same high level of life, but the cost of living in them is much lower, as prices for food and housing are more affordable in the distance from Paris.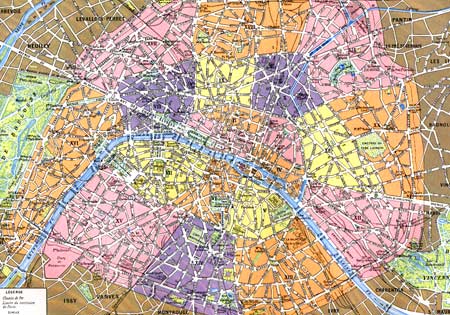 Detailed map of the center of Paris
Paris is considered the most expensive city in Europe in 2022. It is very close to Moscow in its rates and demands.
Average prices in France
Prices in France are relatively low. The French spend about twenty percent of their income on food. And the cost of going to restaurants is quite affordable for them. On average, every second resident of France allows himself to visit a restaurant once a week.
This video shows the prices in cafes and stores in Paris.
Regarding the prices of clothing, we can say that various sales are quite helpful here.
Boutiques allow more affluent segments of society to visit and buy things in them, because the prices there are much higher.
In general life in France without rent costs about 500 euros. But even despite the utilities and rent, it is quite possible to live on average wages. Not bad feel families in which both spouses are working, only then at a combined income can save something and allow themselves to relax.
A pastry store in Paris
Jobs and jobs available to foreigners
Unemployment in France is decent, but despite this, there is a certain area where workers are constantly needed. This is mainly the area of restaurant, hotel business, as well as the field of telecommunications.
In addition to these sectors, France is in dire need of linguists and competent translators, mainly specializing in English. Secretaries are also in demand, especially if there is knowledge of several languages. Construction workers are in demand, but not as well paid.
The educational system in France
France has quite a complicated educational system:
general pre-school – starts from age three to six;
Primary – from six to eleven years;
Secondary – from eleven to eighteen years. Upon graduation, graduates receive a bachelor's degree;
higher education.
Primary and pre-school education in France gives children basic concepts, prepares them for school, and teaches the basics of writing and reading.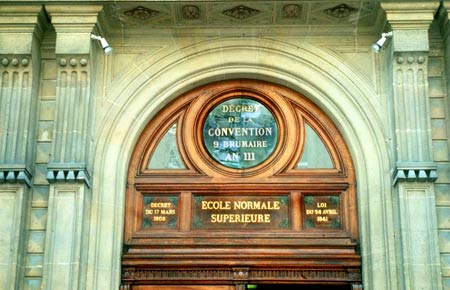 School building in Paris
Preschool education is not considered compulsory, but as a rule, many children attend kindergartens. Elementary and secondary education in France is compulsory.
The secondary level of education consists of two types: high school and college. The period of education at this level takes about seven years. College belongs to the compulsory category of education. During the four years, students are prepared for a specific vocational orientation.
At the end of their studies, they receive a diploma and choose one of three areas of further study:
technical;
vocational;
general.
After graduation from college, students choose a lyceum with a specific orientation. Lyceums with a general direction allow you to get a bachelor's degree, and having such a diploma allows you to get higher education.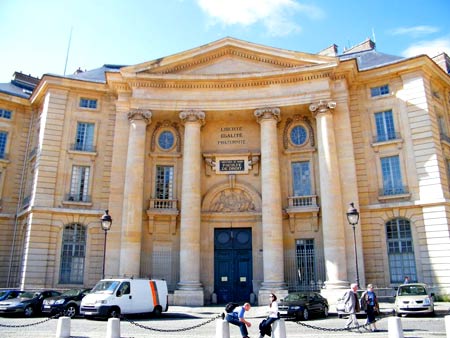 In a technological lyceum, a graduate receives a bachelor's degree with a technological focus. This makes it possible to get higher education with a corresponding direction. Vocational training in France allows you to get a document with a certain suitability of professional level, but does not allow further study in higher education.
Bachelor's degree opens the way to further study in higher education institutions. France has a rather complicated system of higher education institutions with a wide choice of specialties and disciplines.
Retirement System in France
One of the most complicated pension systems in Europe was adopted in France. On average, the pension in France is awarded after the age of 65. But there are a few categories that retire earlier. These are mainly miners and the military.
The pension system of this country is based on two principles:
The accumulation fund.
Payroll tax deductions. On average, merchants, artisans, and freelancers are required to contribute 16.35% of their wages.
Most wage earners contribute as much as businessmen, but their employer also contributes a fixed amount to the pension fund. The pension for the average Frenchman is fifty percent of the average salary for the last eleven working years.
The smallest pension in France is about 7 thousand a year, and the largest pension does not exceed 14 thousand euros.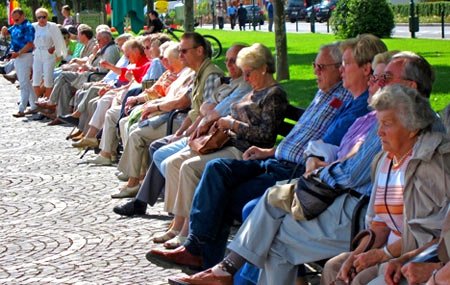 Thanks to existing laws, any foreigner who has lived in France for more than ten years, and had a small income can receive a pension of 800 euros.
And he can receive such a pension even on the condition that he did not work at all. This is extremely outrageous for the French, as some of their pensioners who have lived all their lives in France, can receive a pension of no more than 600 euros.
France's tax system
As in other developed countries, taxes in France are quite varied. When purchasing a home or real estate, in addition to payment of notary and realtor fees, the buyer also pays property ownership tax. For foreigners, property taxes are quite low and more affordable.
With any purchase, you must pay a registration tax of 5.81%.
If you buy a part of a particular company, this tax is 5% of its total value. The notary takes from 0.9 to 4%. VAT is 20%.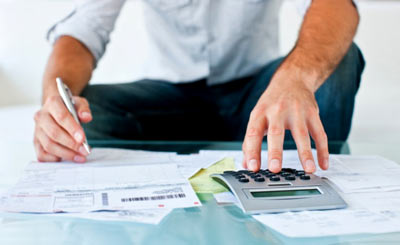 Each year, property owners pay a certain tax. He each municipality is different, depending on the monthly rent of such property. There is also a tax on the state. This type of tax applies to those who have assets over one million euros.
Income tax can reach forty-five percent, and for millionaires, this amount increases by three to four percent. But the minimum wage is not taxed, and from 5,963 euros the income tax is 5.5%. Legal entities pay an income tax of 33.33 percent.
Health Care System
The therapist in France is considered the most necessary and main doctor, as it is he who gives a referral to the necessary specialist. Insurance pays for doctor's services. Equipment of hospitals is very high, which is due to the latest technology and science. But the qualifications of doctors are not at a high level. Therefore, this industry is constantly in need of specialists.
Without a prescription it is impossible to buy the necessary medicine. The ambulance will come only in special cases, and you can not call a doctor at home, because there is no such practice.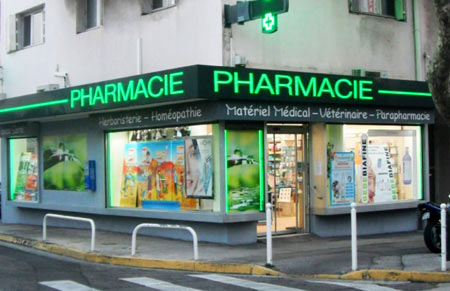 Pharmacy in Paris
In general, with all the technical equipment and all the achievements of science, medicine in France is not of high quality and highly professional.
But the French, despite this have a high rate of life expectancy. Their obesity rate is the lowest among other European countries. Although they spend considerably more on food in France than in other countries. In general, the French are very concerned about their health and pay great attention to their physical shape.
Life in France
Everyday life in France is quite ordinary: work, family life, and leisure. Weekend trips with family out of town or visiting restaurants. But life in Paris and other large cities is different from the countryside.
In the vicinity of towns, the inhabitants of small settlements get up much earlier and, accordingly, also go to bed. In addition, eating in the countryside is more measured and unhurried in contrast to city dwellers.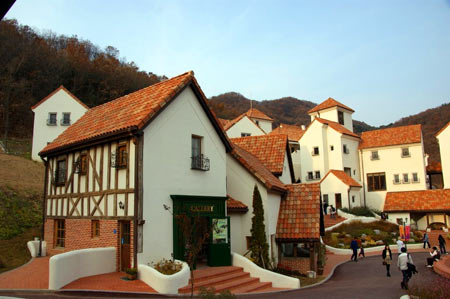 A typical modern French village
Some of the richest regions with good purchasing power are considered Ile-de-France and Rhône-Alpes. All others have figures much lower.
Due to the fact that many French people cannot meet their salary, they have learned to save money. Grocery prices, of course, are rising little by little, but they are not as high as in other European countries. The French will never save on food, because eating is a kind of cult of the country. Not without reason, France is considered the birthplace of modern cooking. There are the best culinary schools, which train cooks from around the world.
Prices in France have always been quite democratic, but the crisis has not passed them by. France has been struggling for decades with the immigration of Arabs, who flooded the country after the French colonies ceased to exist.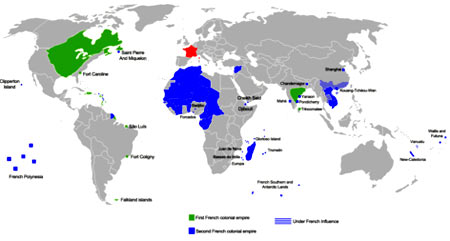 A map of France's former colonies
But despite this, food prices in France remain lower than in Britain or Spain. For example, Swiss residents in general come to buy products in France on a massive scale.
Because of these and other factors, the population, together with politicians, is making austerity in energy and economic resources.
Investing and buying real estate in Dubai. Guaranteed income of 7-10% per annum in foreign currency. All the pitfalls and personal experience of how to earn and not lose 40% due to wrong investments. All the details – subscribe to the verified telegram channel https://t.me/homeindubai. How to move to live in Dubai with your family: residency visa, bank accounts, housing choices, child's school, all from personal experience – https://t.me/homeindubai
The French began to actively participate in sales, use items that were used, actively use rental services, make joint wholesale purchases, began to grow their own vegetables and make homemade cosmetics.
Many French people have mastered Internet services. They began not only to use them, but also to offer their own: gardeners, cooks, nannies, plumbers, repairmen. Any services that are needed for a few hours became easy to order through the Internet services that appeared.
This approach to the economic sphere allows to reconstruct in difficult situations, preserving income and in their own way a usual comfort. Cases of bartering also began to spread. That is one master was helping another one on mutually beneficial terms.
The normal wages of the French are due to the fact that they know how to assert their rights and keep all the advantages they received. Any dissatisfaction of the worker results in strikes. Therefore, the high wages of workers have nothing to do with good labor productivity – it is the excellent work of the unions.
In this video you can see all the major attractions of the French capital, Paris.