6 places to visit in Barcelona
The capital of Catalonia, in addition to its spirit of independence, is also known for its unique architecture that strikes the imagination, mild climate and proximity to the sea. Millions of tourists visit Barcelona every year, charmed by the charm of the Catalan identity and seduced by the beautiful pictures of the gorgeous city. Brodude, in collaboration with OK Apartments, has prepared this short guide to the jewel of Spain, famous by Orwell and Hemingway in many works. Here you'll find the sights to see without letting your friends tell you that if you haven't seen them you haven't been to Barcelona.
1. Sagrada Familia
A masterpiece of Catalan genius architect Antonio Gaudi, construction of which is far from being finished, although it started almost 150 years ago. This slowness is due to the fact that the temple is being built solely on private donations and proceeds from ticket sales, and also to the fact that Gaudi once said: "My client takes his time," alluding to God's eternity and the inexhaustible supply of time that he has.
The bizarre architectural forms that punctuate the building's façade, the surrealist interior decoration, lead the layman to think of a set of substances that Gaudí fed his imagination when he came up with this not-so-beautiful something. But in fact it is necessary to look deeper and to be at least a little knowledgeable in the nuances of the architect's biography – it will help to understand what's what.
The fact is that Antonio Gaudi was a very religious man and got all his ideas from the concept of a fusion of the divine with the human. The Almighty gave people nature, the beauty and grandeur of which cannot be doubted, because everything divine is beautiful, and Antonio had to show it. The architect wanted the spires of his temple to remind people of the thick crowns of trees, through which the sunlight breaks through. On closer and more detailed scrutiny, this is exactly what the composition evokes. Experts and followers of the work of Gaudi point out how amazingly mathematically accurate and executed his decisions, because he was guided solely by his own imagination. Regularly crowds of tourists besiege the Sagrada Familia, organizing large queues, for which you must be prepared. Keep that in mind.
2. Camp Nou.
Soccer fans in general and Barça fans in particular should definitely visit this legendary structure at least once and fulfill your long-standing (or maybe not) dream. Some truly greats have played here – Cruyff, Koeman, Rivaldo, Ronaldinho, Xavi, Iniesta, Puyol and, of course, the current club captain Leo Messi. To see with your own eyes one of the best players in the history of soccer, to feel what the famous "more than just a club" means – is it not beautiful? If you're going to the game, make sure you get tickets well in advance: you can't get any at the box office on game day, and you have to leave both your kidneys at the damn dealers. If you don't make it to the game, visit the club museum and book a stadium tour – there's a lot to see there, too.
3. Mila's House
In addition to religious buildings, Gaudí also built residential houses. This commission from the Milla family was the architect's last secular work, after which he concentrated entirely on the Sagrada Familia.
Antoni Gaudi was an innovator and his creations were way ahead of their time, and this house is no exception. The building's intelligent design includes a natural ventilation system that helps get rid of air conditioning (on the Pyrenees, yes); the interior walls in the apartments can be rearranged at will, changing the layout of the rooms; the underground garage and patio are designed so that the living spaces get maximum sunlight and air circulation. And all this in 1910. A genius, just a genius. It is now home to the architect's museum and offices, and is still home to several Catalan families. You can also drink coffee and have a nice lunch here.
4. Las Ramblas
One of the main places of Barcelona that stretches from Plaza Catalunya to the Old Port. The boulevard is a pedestrian street paved with a fancy mosaic, which many craftsmen had a hand in creating. On the sides of it there are buildings of XVI-XVIII centuries, and in the middle of it the tourists are welcomed by the sellers of souvenirs, flower vendors and entertain mimes. Here are the iconic places for the Catalans – Liceo theater, the palace Vireina, Boquería market and perhaps a little less iconic, but no less interesting Waxwork Museum and Museum of Erotica. Connoisseurs of spirituality should pay attention to the many temples and cathedrals that stand there. The Ramblas are always crowded, so if you like to wander idly through the streets of unfamiliar cities, eagerly and without stopping to look around, you will definitely like it here.
5. Plaza Catalunya
The heart of Barcelona, the zero meridian, the Red Square in Barcelona, call it what you like. There's a big fountain and some smaller ones you can safely drink water from to come back to, a shopping center and lots of monuments. It's a popular meeting place for locals and romantic tourists alike for a warm evening stroll through the quaint streets of Barcelona. It also has the official outfit store of the soccer club of the same name. Notice how not a single administrative building made the list? That's because there aren't any. This is undoubtedly a massive plus.
6. Park Guell
The most famous park of the capital of Catalonia, built by "holy" as the locals say, Gaudi (frankly, we agree – so much good man did!) commissioned by his friend and patron Eusebi Guell. Antonio Gaudi and Eusebi Guell were like Karl Marx and Friedrich Engels: one created and admired, the other paid and admired. Initially, the project was supposed to create a fashionable at the beginning of the twentieth century green semi-residential area measuring 17 hectares. But after 14 years of construction, because of the non-progressive thinking of the inhabitants of Barcelona, the idea of a residential area-garden failed (only two buyers were found, one of whom was Gaudi himself). Guell decided to sell the park to the City Hall, and they, in turn, rushed to turn it into a public space, and today Guell's idea became a park named after him with an exhibition of Gaudi's architectural masterpieces and a UNESCO world heritage site.
OK Apartments offers apartments for rent in the city for any period of time: daily, weekly, monthly or even longer. Choosing one of more than two hundred apartments in any district of Barcelona, the client has the opportunity to experience the beauty of life in this beautiful place, to watch the locals and tourists rushing to the bus, lazily sipping their own brewed coffee in the morning. Also from the center if you stay there, which is also offered by OK Apartments, you can easily reach any corner of the city. From the balcony of the apartment you have an excellent view of the sights. You can sit there and gaze at the Sagrada Familia in the setting sun and think about eternity.
6 places to visit on your first vacation together
You can't claim to know someone until you go on a trip with them. This is especially important for young people: experiencing the world side by side with someone important to you is an unparalleled experience. You're getting to know a new part of the world and, at the same time, getting to know a new side of your partner's personality.
Simply put, a vacation reveals new aspects of your character. Sure, trips are fun, but they're also a source of stress – and how your significant other handles stressful situations can speak volumes.
If you decide to travel with your partner, it's very important where you go. In front of you are a few ideas you may want to consider.
1. Aspen, Colorado.
When choosing a place to vacation together with your loved one, you want to stay in a place that will leave scenic memories in your mind. The best option in this case is the ski resort of Aspen, Colorado.
Aspen has a lot to offer: the rich and famous stay here, its beauty is mesmerizing, and you can enjoy skiing here.
If you're not a fan of the slopes, you can take a trip to Glenwood Springs, 40 miles from Aspen. For the health-conscious, you can take a soak in a hot tub without any remorse.
2. Las Vegas, Nevada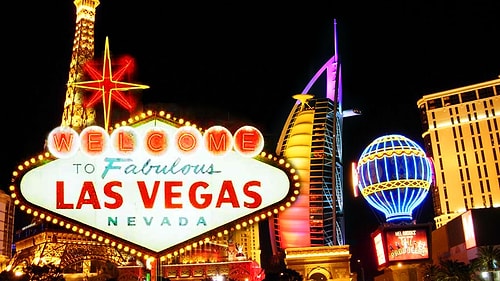 Honestly, Las Vegas is a strange place. It shouldn't exist at all-it's a ridiculously shiny mirage in the heart of an unfriendly desert.
But there's something that draws people there. After all, everyone can find something to their liking here. There are world class restaurants, casinos, entertainment, music and luxury everywhere. How could you not love it?
What many visitors miss out on, however, is the rugged beauty of the natural surroundings. Take Red Rock Canyon, for instance – it's as if it came from another world. It's perfect for those who love hiking. Make it an unforgettable memory by bringing a lunch basket!
3. Adirondack Mountain Range, NY
Adirondack Park is the largest park of its kind. The best thing about the Adirondacks is that it allows people of all sizes and skills to enjoy outdoor activities in one of the most beautiful places on Earth.
And when you've had your fill of the day, you can relax in one of the cute lodges scattered here and there, with a beer in one hand and a good book in the other.
4. Iceland
If you're determined, you should choose Iceland for your first trip with your lover. In addition to being rated above average by the OECD's Better Living Index, Iceland is also home to some of the most beautiful scenery on the planet.
Glaciers, hot springs, volcanoes, and northern lights are not uncommon phenomena in this cold country.
The only difficulty in visiting some attractions is the difficulty of pronouncing their names! For example, Reinisfjahr beach is the quintessential beauty, and the Mirdalsjökull glacier should be visited by every hiking enthusiast. Just please don't ask how to read these words!
5. Costa Rica
According to the International Happiness Index, Costa Rica is the happiest country in the world. Could you find a better place to celebrate new love?
Part of what makes Costa Rica such a harmonious place worth visiting is its deep connection to nature. While you're there, don't forget to visit Proyecto Asis, a place that provides shelter for animals as well as tours and meals for tourists.
If you like adventure, you need to go to Pura Aventura. You can take the Canopy Tour and walk the rope bridge or ride a horse if you feel more comfortable closer to the ground. Wherever you go in Costa Rica, it will bring a big smile to your face!
6. Corpus Christi, Texas.
In our humble opinion, this coastal town is one of the best in the southern states.
Swim with dolphins at the Texas State Aquarium, try your hand at windsurfing while enjoying the waves in the Gulf of Mexico, and end your day with a good seafood meal and live music.
If you and your date are history and science buffs, the Museum of Science and History has a lot to offer.
So, wherever you go, let this trip be unforgettable. If all goes well, you will be left with memories that will warm your soul for the rest of your life.
This article was created by the user Onedio. There have been no changes on the editorial side. You too can create your own articles on our site.