Holidays in Sicily with children: an overview of the best places
When we talk about Sicily, first of all we think of its rich architectural heritage, picturesque places, traditional festivals and exquisite cuisine. But besides all this, Sicily is also a great place for family vacations: local water parks, adventure parks, beaches and nature reserves will not let the little ones get bored.
Etnaland theme park in Catania
At the foot of Etna is one of the biggest amusement parks in Europe Etnaland that includes a water park, a dinosaur park and a theme park with rides for adults and children. Children together with their parents can go down the artificial river on the attraction "Crocodile mountains", overcoming obstacles in the form of animals, travel back in time to see dinosaurs and visit a small zoo with tigers and bears. Etnaland is open only in summer – from June to early September. The ticket price is about 20 euros for an adult and 12 euros for a child and children less than one meter tall can visit the park for free. You can get to Etnaland if you take the SS125 Misterbianco-Paterno highway, following the signs to ZOO.
Catania Museums
A museum can also be interesting for a child, for example if it is the Museo del Giocattolo toy museum in Catania. The museum collection includes thousands of amazing dolls, doll houses and toy furniture, antique toy cars, motorcycles and plush animals. A huge collection of ancient marionette dolls can be found in the museum Museo e Teatro dei Pupi Fratelli Napoli, there you can also see unique puppet shows that children can understand even without knowing the language.
Stabilimento Balneare Le Capannine beach in Catania
Sicily has a wide variety of beaches, but when vacationing with small children is better to choose sandy and not pebbly places, such as the beach Stabilimento Balneare Le Capannine in Catania. It is close to the airport (Viale Kennedy, 93) and has a beautiful view of Volcano Etna. The beach has everything you need for a comfortable holiday, with changing cabins, showers, sun loungers, cafes and restaurants.
Sicilian Water Parks
In addition to Etnaland, there are several other water parks in Sicily worth mentioning. The Monreale Aquapark, a few kilometers from the capital city of Palermo, offers entertainment for all ages, from extreme rides for adults to slides and pools for the youngest visitors. The small but cozy water park Acqua Verde in Cefalù is designed for the whole family: in addition to the main water rides there is a special children's area with animators and entertainment activities for the little ones. Europark Roccella in San Cataldo and Parco Acquatico Conte in Sommantino, in addition to the standard slides and pools, offer dance lessons and playgrounds. After swimming you can always grab a bite to eat or an ice-cream in the numerous cafés and picnics are also available. The entrance fee, depending on the season, is 3-7 euros for children and 5-13 euros for adults. Sicily's water parks open only for the summer season.
Palermo: nature reserve, planetarium and dinosaur park
The capital of Sicily has no better place to vacation with children than Palermo. Palermo is home to the Parco d'Orleans, a fabulously beautiful nature reserve where ostriches, parrots and other animals live in their natural environment. In Toy Park Beach you can have fun with the whole family – the park is equipped with a children's pool, swings, in addition, children are waiting for an entertainment program and a variety of workshops. Young travelers will also love the Zoological Museum with its rare birds, fish and animals, and the INAF Palermo Astronomical Observatory planetarium where children can admire the stars and planets through the powerful telescopes.
Madonie Adventure Park
The Madonie Nature Reserve is one of the favorite places of Sicilian travelers and wildlife enthusiasts. Here you can explore the high mountain trails, discover the ski slopes and watch the birds, of which there are many, including rare species. At the heart of the reserve is the adventure park Avventura Madonie. There are rope bridges and ladders, wild vines and a lot of adrenaline. You can pass the tests in the rope park at any age and with any level of training. Routes are perfectly safe, and equipment is securely fastened – the staff takes care of that. There are horse or donkey rides and a treasure hunt for children.
Modica: House of Butterflies and Chocolate Factory
Modica is one of the oldest and most beautiful cities in Sicily. But besides the beautiful scenery and Baroque architecture the city is also famous for its chocolate, made according to the ancient unique technology of the Aztecs. Handmade chocolate you can not only buy and taste, but also see the entire production process. There are several chocolate factories in Modica: in Via Mercè, 69 and Corso Umberto I, 159. The Palazzo delle Cultural is home to the Museo del Chocolat that offers an entertaining tour amongst the mouthwatering exhibits. When in Modica, visit the House of Butterflies in Piazza Matteotti for a walk in the tropics and enjoy the beauty and variety of these fluttering beauties. The museum is open seven days a week, but closes for a month in June.
Bioparko di Sicilia
All children are passionate about animals, and what could be more interesting than seeing tigers, zebras, kangaroos, monkeys and other amazing animals firsthand? Sicily Biopark is not just a zoo, but also a conservation area for rare animal and plant species. Park visitors can not only have a rest, but also learn a lot about the world of animals, many of which are listed in the Red Book. Also in the park is the exhibition "Land of Dinosaurs": 20 full-length sculptures of prehistoric animals – kids will love it! The Biopark is located at Via Amerigo Vespucci, 420 – 90044 Carini (PA) and is open seven days a week from 10:00 to 20:00.
Shopping at Sicilia Outlet Village
The Sicilian Village outlet is one of the largest shopping centers on the island. Visitors here can find fashion items at low prices from a variety of brands. The outlet offers a wide variety of children's clothes, shoes and accessories. Outlet is a great place to buy clothes for the beginning of the school year: during the summer season there are regular sales, thanks to which you can buy quality items at 50-70% discount. Sicilia Outlet Village has a playground especially for kids where you can leave the kids with animators. You can reach the outlet by road Palermo-Catania (A 19), also there are regular free and paid buses from Catania, Trapani and Palermo. The Sicilian Village is open seven days a week from 10:00 to 21:00.
A trip with children can be tiring, but not if you think out in advance a route that is interesting for young tourists. The variety of water parks, amusement parks and children's museums in Sicily will delight the little ones and delight their parents.
We wish you a wonderful and fun trip in Sicily with your kids!
What are the best things to do in Sicily?


Aleksandr
You, as a tourist visiting Sicily with children, will find something to amuse them: every child will find something to his or her liking. Adults, too, will not be bored – you just have to want and order what you want, and Sicily will do its best to please you, as long as everything is in accordance with the law.
Let's talk more about the entertainment options that guarantee a great time for tourists in Sicily as a family. If we mention the parks that are full of a variety of devices and activities for children's fun, it is worth mentioning the Etnaland. Here is a great place with rides suitable for children and adults who love to ride in the wind. Its location is the city of Catania, next to the legendary volcano. Then there is the Dinosaur Park with its prehistoric animals, extreme rafting on the river… Parks such as Fantasilandia and Kids & Families are not as chic, but they are also fun and interesting to relax in. There are trampolines, inflatable slides and other children's activities of this kind.
Speaking of Sicilian attractions for little tourists, it is also worth mentioning the water parks – they have dashingly twisted slides, water cannons, pools and toboggans, from which the most desperate daredevils fly straight into the sea. Throughout the summer, water parks like Castellana, Rochella, Altominico And also the grandiose toboggan at the Hotel Citta del Mare.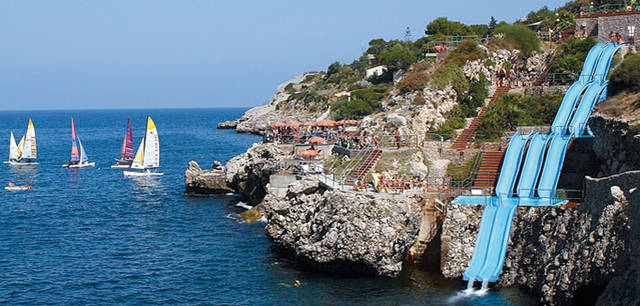 Animal lovers should visit the Biopark, close to Palermo. A rolling tiger, a majestic elephant, cheerful lemurs and other representatives of the animal world will be suitable characters for memorable photos of your exciting vacation in Sicily.
For lovers of the fragile and delicate beauty of nature we suggest a visit to the House of Butterflies, where these beautiful creatures flutter amongst the flowers. They use as a "landing pad" heads, shoulders and hands of admiring visitors.
In the evenings you won't be bored in Sicily either – for a good time, there are theaters and cinemas. The most famous of the theaters is without a doubt the Massimo Opera House.
Massimo Theater (Palermo)
It is the largest opera house in Italy and one of the largest in Europe. Work on its construction began in 1875, a process that took sixteen years. The building is decorated with columns, arched windows and patterned dome. The architects who designed it wanted the theater to bear a resemblance to the ancient Greek temples in Agrigento. The entrance is guarded by two figures of lions, which represent the main genres of theater – comedy and tragedy. The huge hall (it is shaped like a horseshoe), initially designed for three thousand spectators, can in fact hold only about half that number.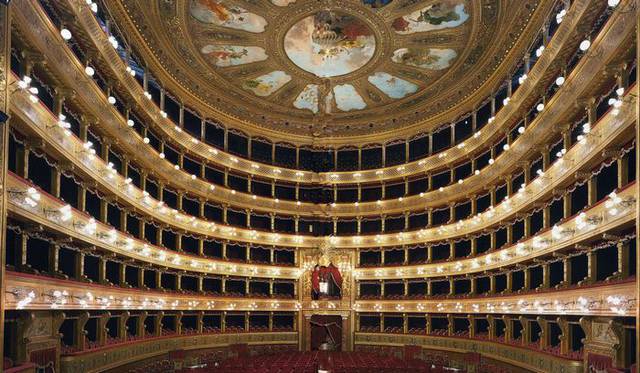 You can attend any of the performances or concerts, or you can go on a day tour (about half an hour): you will be shown the theater rooms, dressing rooms, etc. You can order a tour in advance by phone: +39 (091) 605-32-67, or by e-mail: marketing@teatromassimo.it.
There is a legend that the theater described by us was built on the place where there used to be the old cemetery and the ruined church, so at night there are hordes of ghosts wandering around, disturbing the silence with their moans. Believe it or not.
Taormina Theater
This Greek theater dates back to the third century BC. In order to build it, the mountain had to be leveled. During the construction they extracted and removed about one hundred thousand cubic meters of limestone. During the Roman rule gladiatorial fights were staged here. Despite the huge size of the theater, but thanks to the unique acoustics the actors' conversations (and then the moans of the fighters) were heard up to the farthest rows. The Greek theater was restored in the nineteenth century (Russian architects V.A. Kossov and M.E. Mesmacher took part in the work), and performances began to be given in the amphitheater again.
Nowadays the theater is used as a platform for festivals – many of them are organized here. In the theater in Taormina you can go to a concert, a play or other cultural action.
The working hours of this institution are Tuesday-Sunday, 10:00-13:00, 16:00-19:00, phone: +39 0942 51001. The theater is located at Via Teatro Greco, 59 98039 Taormina ME, Italy.
The Greek Theatre (Syracuse)
This theater was built in the fifth century BC. In those days there was no more ambitious theater in the ancient world. It had a seating capacity of 15000 spectators.
The Greeks used the building for its intended purpose, and also here were held folk gatherings and sacrifices. In Roman times… yes, gladiators fought here.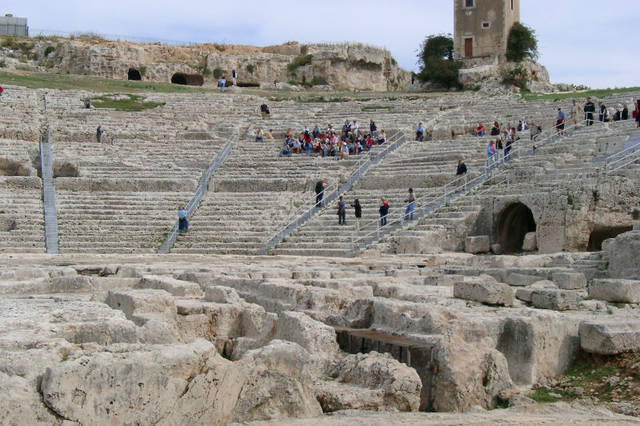 Nowadays in the period from May to June in the evenings there are ancient performances – by the light of torches.
The cost of a tour of the theater is ten euros. To see a performance will cost you from 26 to 62 euros.
Website of the theater: http://www.indafondazione.org/en.
Opening hours: 09:00-18:00 every day.
Tel.: + (39 931) 662 06
Located at Viale Paradiso 96100 Siracusa SR, Italy.
Not all cities in Sicily are equally rich in tourist attractions. To get what you want, you may have to travel around the island. For example, if you want to visit the original museums of toys and marionettes, you will need to go to the outskirts of Palermo. However, it is worth the effort. To admire the unique exhibitions, you can spend time on the way to the museum – if you are a connoisseur, of course.
Also Sicily, as well as other popular resorts, gives you the opportunity to dive, go horseback riding, participate in various sports games and do what many tourists like to "entertain" – we mean shopping and trips to bars and restaurants.
Romantics with a fat wallet can be advised a sea evening walk on a rented yacht – hoist the sail and carelessly go in the direction of the sunset … Those who like extreme, trekking in wild places and dangerous climbs can book interesting excursions to volcano Etna .