The 30 main attractions in Singapore
The Republic of Singapore is one of the most amazing countries in Southeast Asia. It attracts urban explorers and futurists to see the amazing Gardens by the Bay, the Universal Studios theme park, the Museum of Optical Illusions, and the Marina Bay Sands Hotel and especially its observation deck.
Those who love flora and fauna should not miss the Bukit Timah Nature Reserve, the Botanical Park of Singapore, the Oceanarium, the Butterfly Park, and the unique Jurong Bird Park. The local zoo will delight its guests not only with a vast exposition of animals, but also with various entertaining shows, among which the Night Safari is especially worth mentioning. Local attractions and markets of ethnic areas of Singapore will allow you to plunge into the Arab, Indian or Chinese culture.
Event tourists come to Singapore for the National Food Festival, Spring City Festival, Fashion Festival, and the Formula 1 Night Race. As a souvenir from this hospitable country usually take various electronics, shoes and knitwear, Indian spices or Chinese remedies.
What to see in Singapore?
The most interesting and beautiful places, photos and brief description.
Marina Bay Sands Hotel.
In the Central region of the country is one of the most famous attractions in Singapore – the Marina Bay Sands Hotel. More than 2,000 rooms are offered by this amazing 55-story building. It also houses a casino, a museum, several restaurants, and two theaters.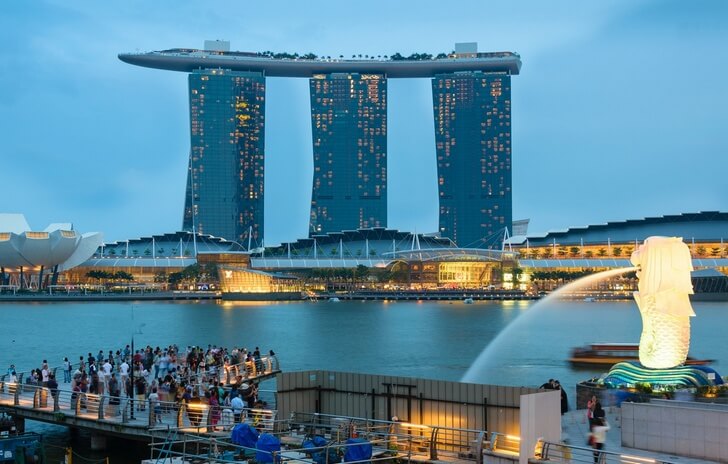 Changi Airport
One of the largest airports in the world, which has received more than 280 awards for service quality. Singapore Changi Airport consists of 5 terminals, including a budget terminal and a VIP area. Changi's conference facilities are often used for business meetings, exhibitions and festivals.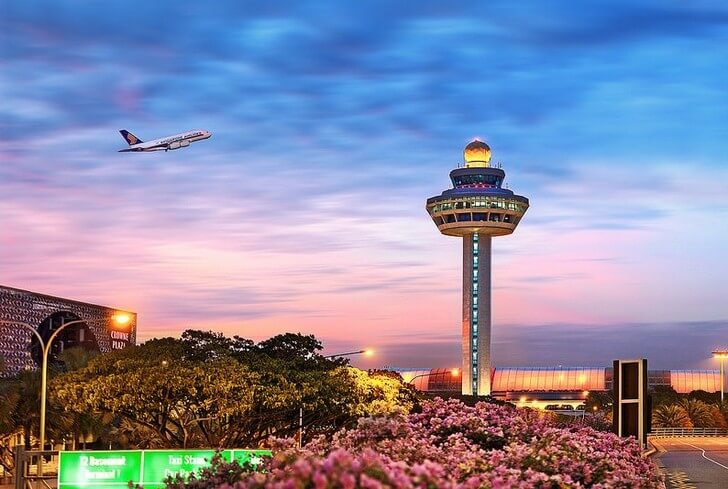 Sentosa Island
One of the most popular resorts in Singapore is Sentosa Island. Clean beaches, comfortable hotels and plenty of entertainment options guarantee an unforgettable holiday. There is also a large amusement park, an oceanarium, and the accessible Fort Siloso.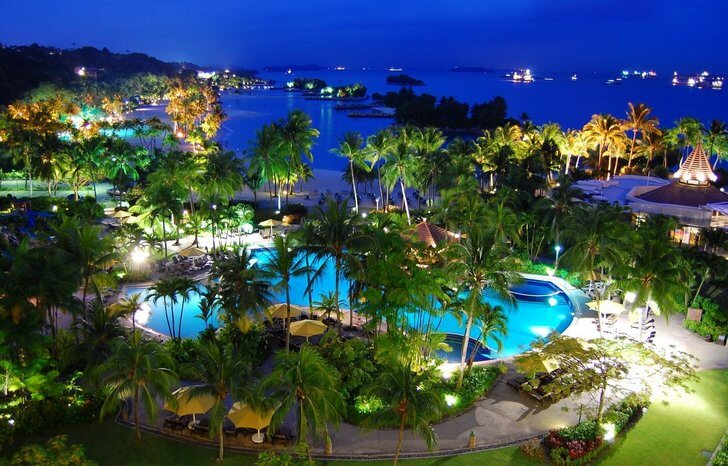 Bukit Timah
Bukit Timah Nature Reserve was founded in the late 1800s in central Singapore. This nature reserve is located on the hill of the same name, which is considered the highest point in Singapore. You can get to the top by asphalt stairs, surrounded by many benches for rest, or by a special sightseeing streetcar.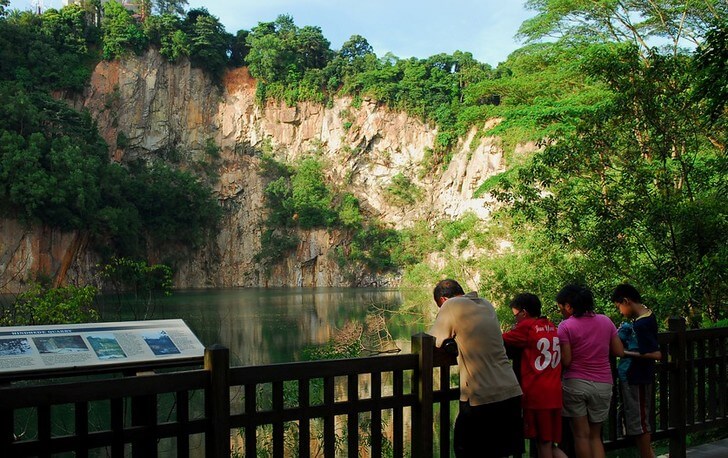 Klar Key Quay
In the latter part of the 20th century, the docks and wharves on Clar Kee Embankment were replaced by bars and clubs, which greatly helped make it a popular destination for Singaporean tourists. The promenade's broad sidewalks are air-conditioned, so even on the hottest of nights, it's a cool place to be. Riverboats also run regularly from Clar Kee for water excursions.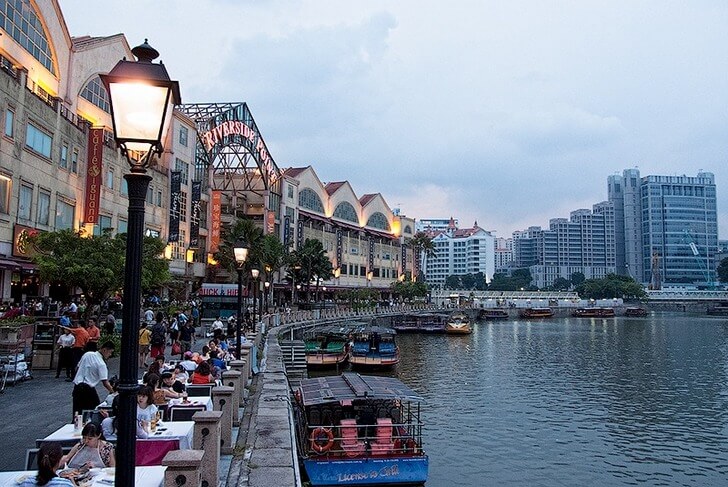 Gardens by the Bay
In the south of the country sits an amazing tropical park, Gardens by the Bay. The Garden's tree-like structures were specially built here for different purposes – some, for example, contain rare species of lianas, while others are used to collect rainwater. There are passageways between the "trees" that offer magnificent views. Gardens by the Bay also has two greenhouses, the Flower Dome and the Cloud Forest.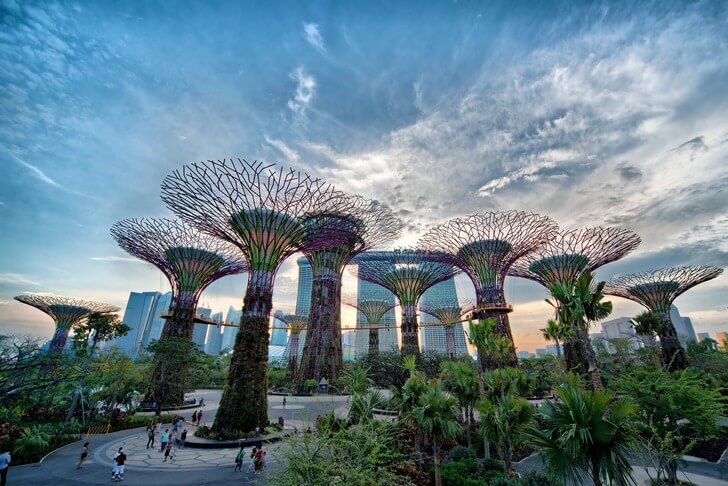 Singapore Flyer
A giant structure was built in the early 2000s. Almost every Singaporean tourist tries to visit this Ferris wheel. The popularity of the Singapore Flyer is not surprising, because each of its 28 comfortable capsules allows you to admire the beauty of the city from a breathtaking height of 165 meters.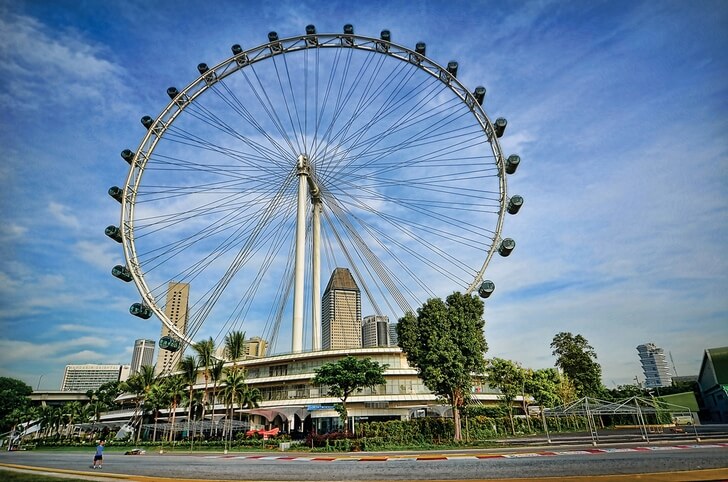 Esplanade Theater
Singapore's Esplanade Theatre is renowned for its acoustics. It hosts international stars, opera concerts and musicals, as well as conferences and exhibitions. Inside the Esplanade there are two concert halls, a library, and an exhibition hall.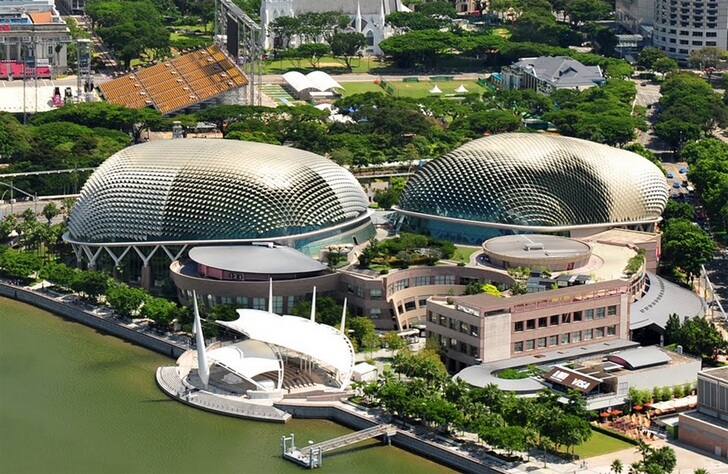 Museum of Art and Science
The original appearance of the Museum of Arts and Science attracts quite a few tourists. This museum aims to explore the creative process in science and art, as well as its impact on society. The 60-meter asymmetric museum building consists of three floors divided into 21 galleries.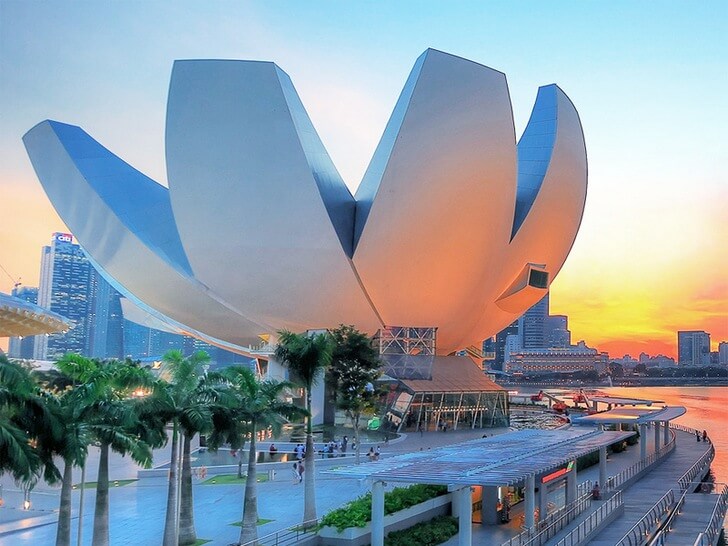 Raffles Hotel.
A historic hotel built in the late 1800s is located in the heart of Singapore. The luxurious rooms and chic restaurants make it a popular tourist destination. The Raffles Hotel, named after Singapore's founder, also includes a tropical garden, a landscaped courtyard, and a Victorian museum.
Orchard Road.
The center of commerce and entertainment, and a significant tourist attraction in Singapore, is Orchard Road. Local skyscrapers and entertainment venues are home to a huge number of stores and boutiques, offering a wide variety of clothing and footwear to suit all tastes and wallets. Orchard Road is considered one of the most exclusive neighborhoods in the country.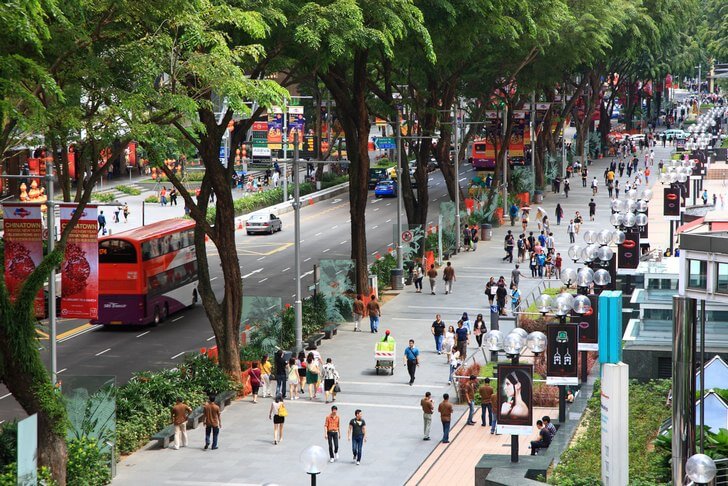 Little India
Singapore's Little India is a pretty compact ethnic neighborhood full of national colour. Here you can buy traditional clothes, spices, jewelry and souvenirs. Local cafes and restaurants offer guests a taste of national Indian cuisine. There are also several Hindu temples in the area.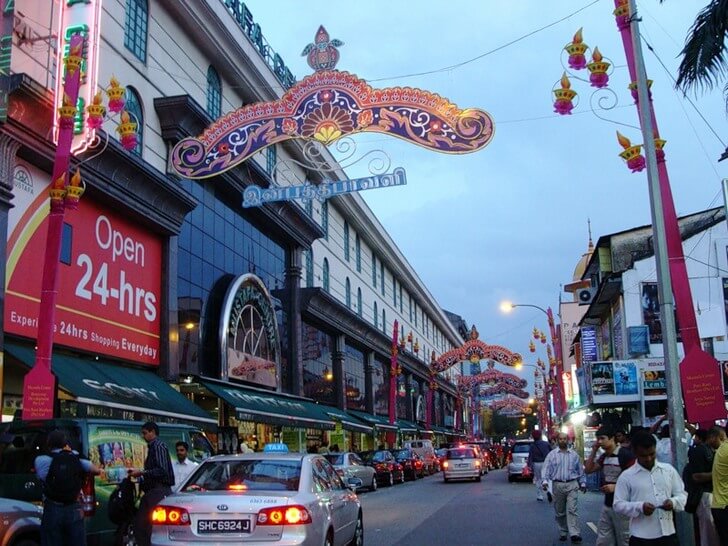 Chinatown
Once one of the most violent neighborhoods in Singapore, today this area is prized by tourists for its safety and national flavor. Chinatown is full of stores and drugstores, while Food Street features tea houses, restaurants and pubs serving a wide variety of traditional Chinese cuisine.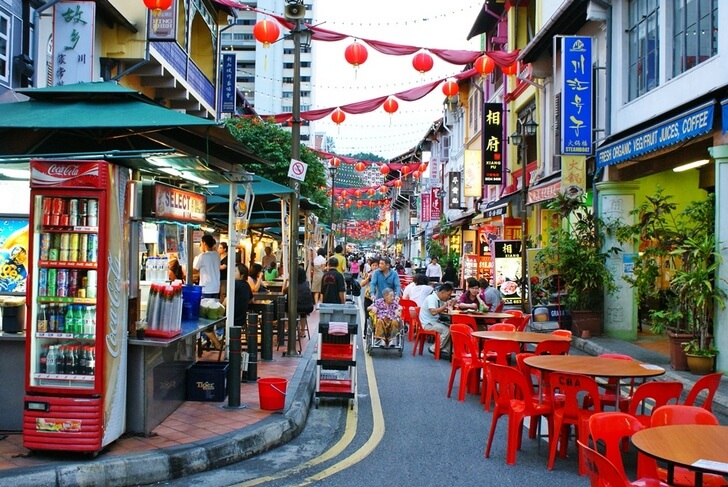 Singapore Zoo
The Singapore Zoo was created in 1973 and features animals in their most natural habitat. You can move around the zoo by streetcar, boat and even riding a pony. In addition to the animal exhibits themselves, there are several kinds of animal shows and special shows for children.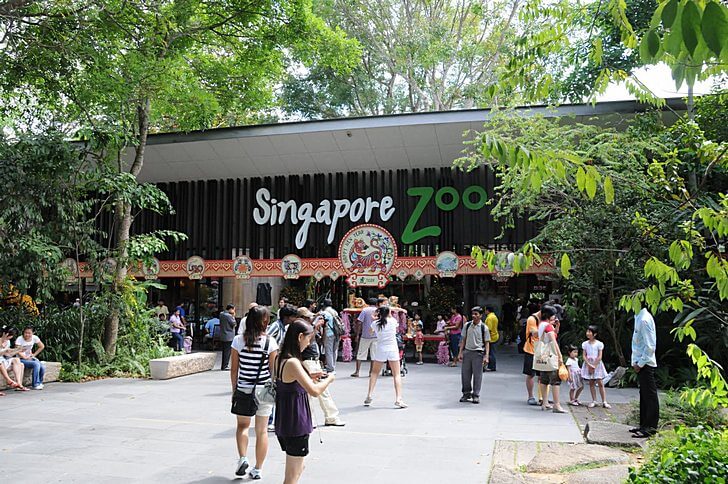 Butterfly Park
There are around 300 species of butterflies in a special park on Sentosa Island. There is also the so-called "insect kingdom", a 70-meter long cave where all kinds of bugs, scorpions, spiders, and millipedes are on display. For those who want to take away a few memorabilia, there is a souvenir store in the Butterfly Park.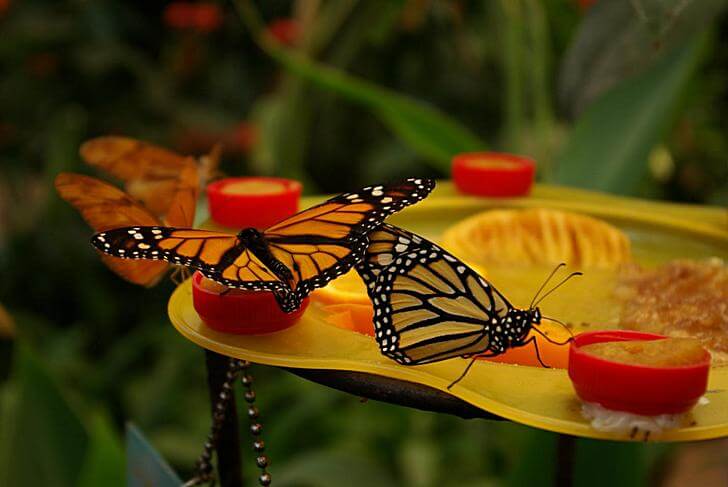 Night Safari in Singapore
Many tourists rush to visit Singapore's unique Night Safari after sunset. There are animals that are mainly nocturnal in nature. Special "moonlight" allows you to see all the inhabitants of this zoo perfectly, without disturbing their peace. For the convenience of visitors to the Night Safari there are excursion buses.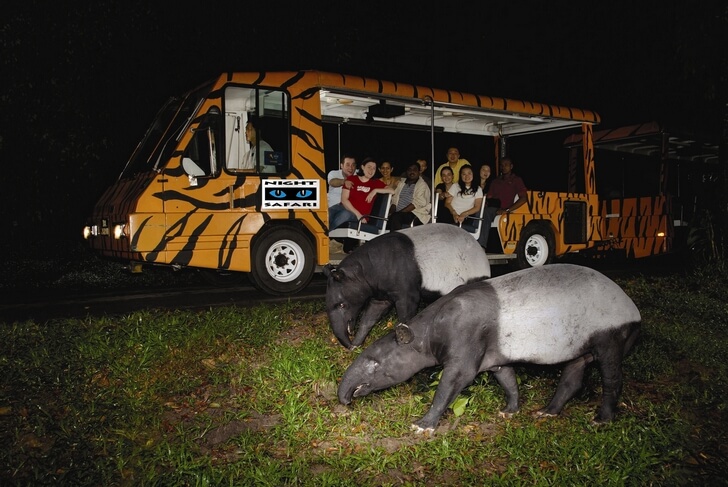 Marine Life Park.
One of the world's largest oceanariums was opened on Sentosa Island in 2012. "Marine Life" consists of the aquarium itself, divided into 10 zones, and an amusement park, where you will not be bored, both adults and children. In the oceanarium you can see such rare sea creatures as stingrays and cephalopods Nautilus pompilius.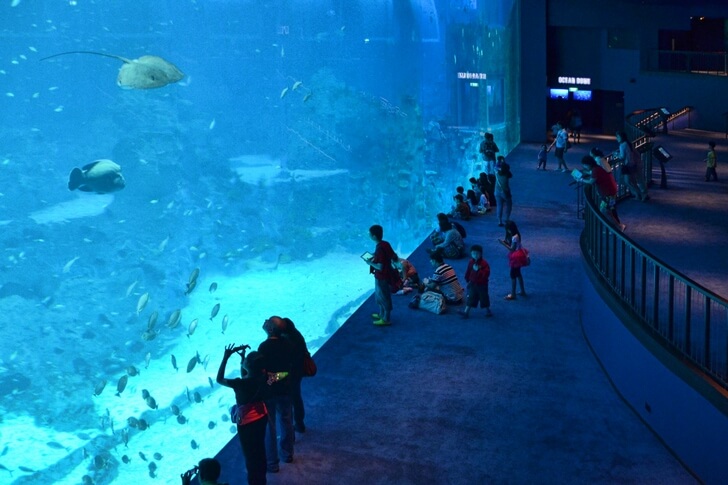 Singapore Botanic Gardens
Singapore's first Botanic Gardens were created in the early 19th century and have since incorporated all the variety and beauty of Singapore's natural beauty. Even the thickest tropical thickets of this garden are equipped with pedestrian walkways. The heart of the Botanical Gardens is deservedly called the National Orchid Park located on its territory.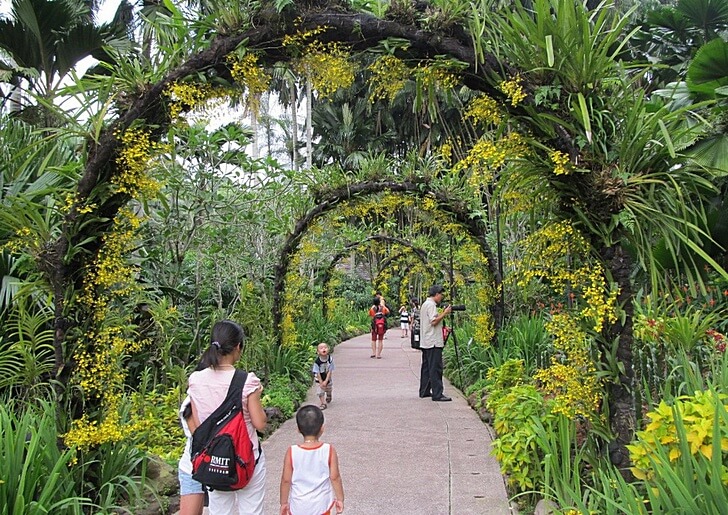 Jurong Bird Park
Close to the center of Singapore on the slopes of Jurong Hill is Asia's largest bird park with the same name. This park offers the most natural conditions for bird inhabitants. Jurong Park has more than 10 thematic areas, including World of Darkness – an aviary that creates semi-darkness at night during the bright day, Penguin Coast, where the temperature is constantly cool and a special amphitheatre where bird shows are held.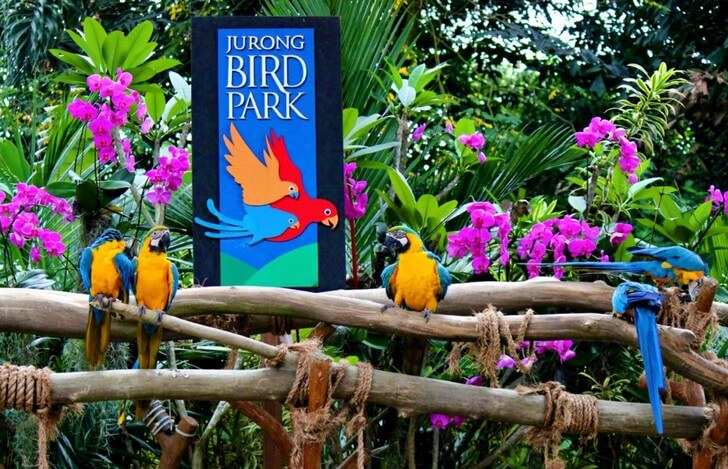 Sultan Hussein Mosque
Singapore's oldest mosque was built between 1824 and 1826 by Sultan Hussein. Almost a hundred years later, the old mosque building, which had by then fallen into disrepair, was replaced by a new mosque built in the Saracenic style. Since 1975, the Sultan Hussein Mosque has been considered a national monument of Singapore.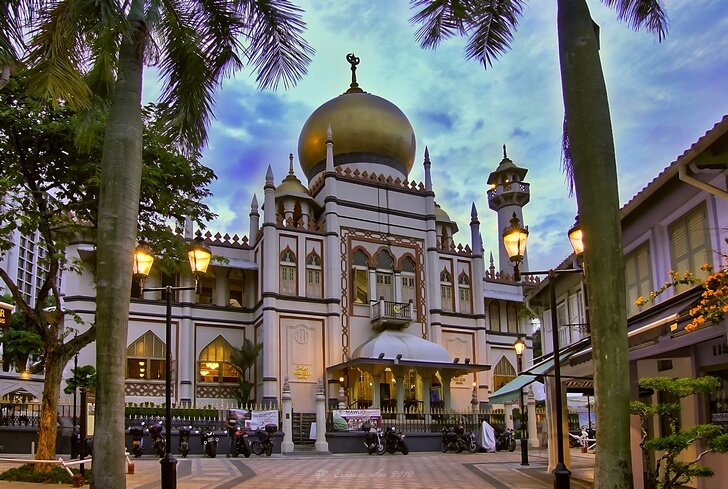 Sri Mariamman Temple
Singapore's oldest Hindu temple, Sri Mariamman is located in the center of Chinatown. Founded in 1827, Sri Mariamman is now considered a national monument. This functioning temple is open to the public completely free of charge. But a small fee is charged for the opportunity to photograph Sri Mariamman from inside.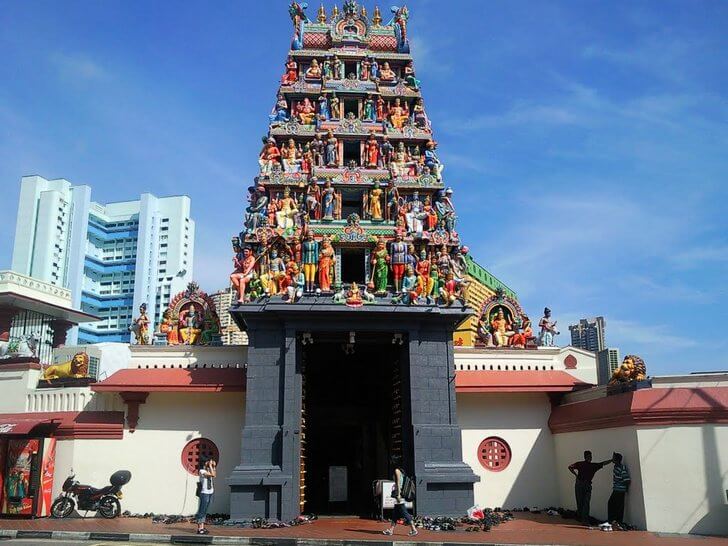 Temple and Museum of the shrine of Buddha's tooth
According to legend, after the cremation of the Buddha remained 4 of his teeth, which were taken by his disciples for storage in different countries. One such tooth is believed to have been brought from Myanmar to a temple in Singapore. Followers of the Buddha believe that the relic is now housed in a golden casket that is on display at the Temple of the Tooth in Chinatown.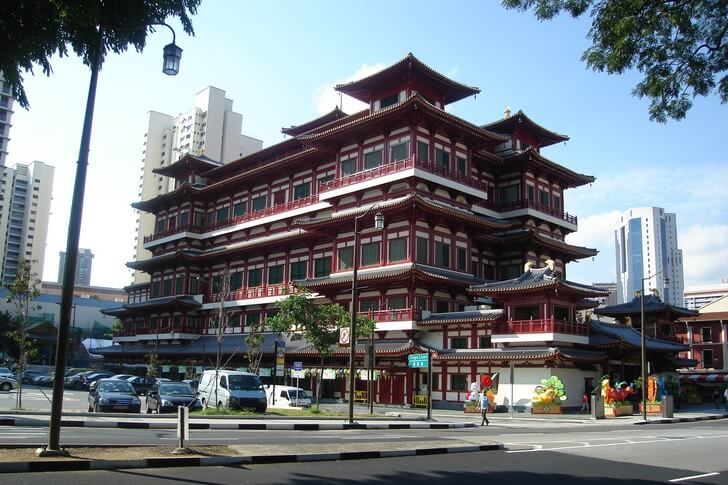 Peranakan Museum.
An informative ethnographic museum dedicated to the local Peranakan people is located in a 19th century building. Mixed Chinese-Malayan marriages resulted in a unique nationality with its own original culture, language and even cuisine. You can see antique Peranakan furniture, utensils and clothes and buy souvenirs in the museum.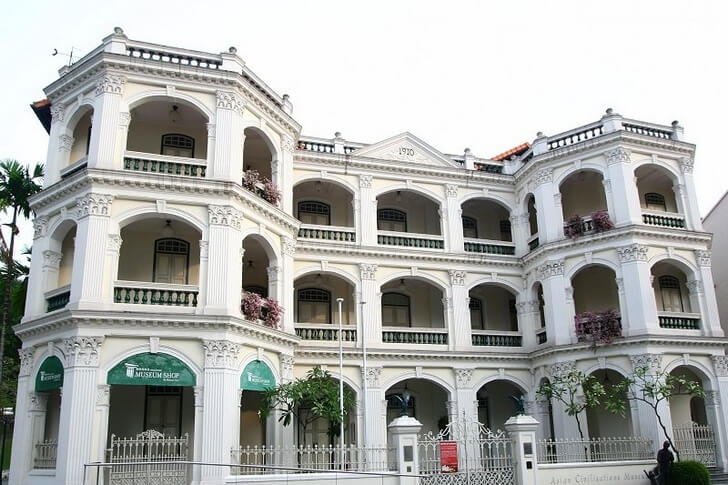 Universal Studios theme park
Sentosa Island is home to an unusual amusement park dedicated to the film industry. Several themed areas, each in the style of your favorite movie or cartoon, are sure to keep your guests entertained. Tickets are available at the box office, allowing you to visit Universal Studios several days in a row.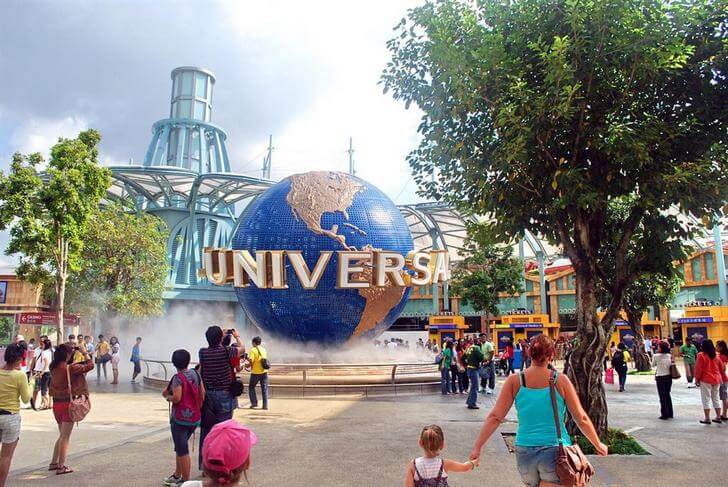 Museum of Optical Illusions
There are more than 100 3D paintings in the museum. All of the exhibits can be viewed up close or even touched. The museum is divided into six thematic galleries, which are daily accessible to all comers.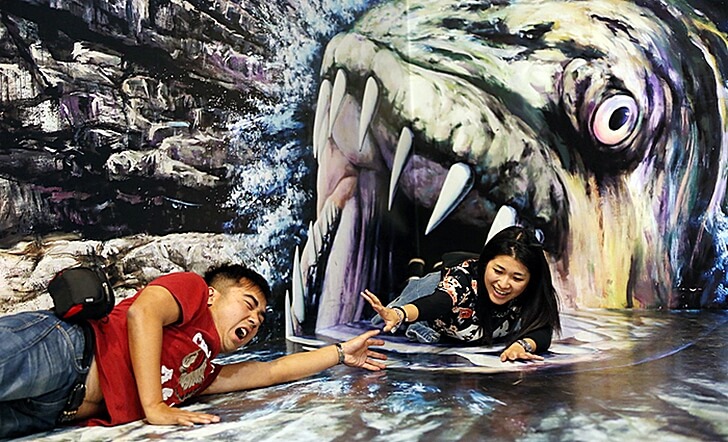 The Fountain of Wealth
Designed according to the rules of Feng Shui, the Singapore Wealth Fountain was listed in 1998 in the Guinness Book of World Records as the world's largest. It is believed that performing special actions near the inside of the fountain will bring wealth and prosperity. Especially for this purpose, at certain hours, the Fountain of Wealth is turned off, giving everyone the opportunity to perform a monetary ritual.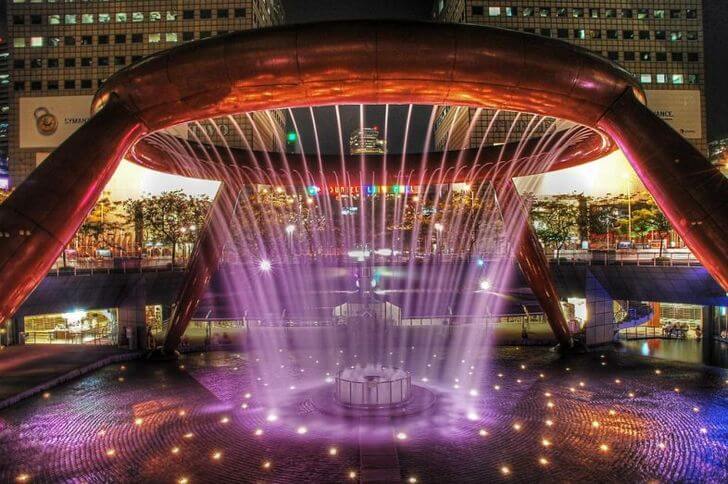 Formula 1: Singapore Grand Prix
Since 2008 Singapore has been hosting a round of the Formula One World Championship. This event attracts a lot of racing fans to the country. The Singapore City Circuit is unique in that the races are held at night with strong artificial lighting and the cars move counterclockwise.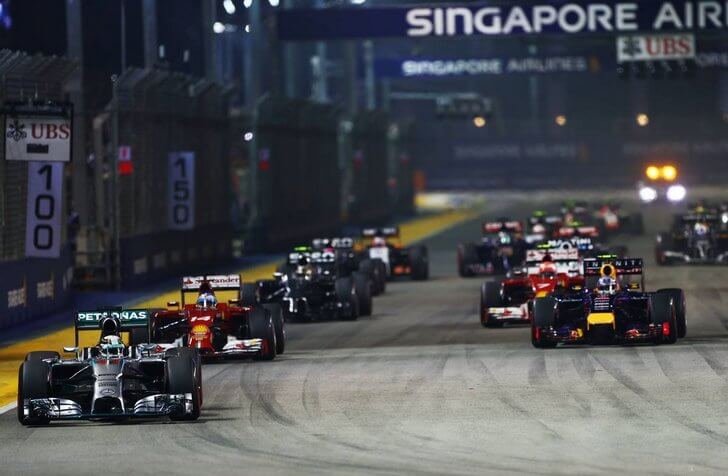 Marina Bay Sands Hotel Viewpoint
The observation deck is located on the roof of Marina Bay Sands Hotel. Despite the fact that there is a fee to enter it, this place constantly attracts many Singaporean tourists. The best time to go up here is in the evening, when the top of the hotel offers a stunning view of the city.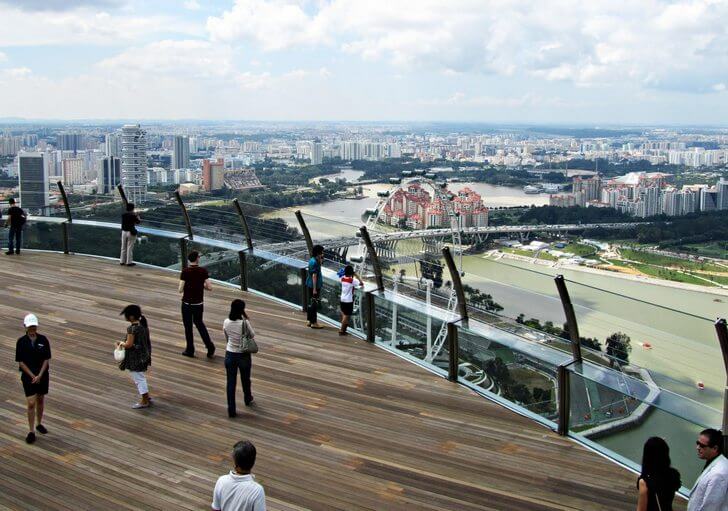 Songs of the Sea laser show
An amazingly beautiful light and music show taking place on Sentosa Island. This show combines a fountain and laser show, a musical and fireworks. Fountain jets dance to specially composed music and laser beams project images onto a special water screen in front of an excited audience. Regular volleys of fireworks complete the experience of Songs of the Sea.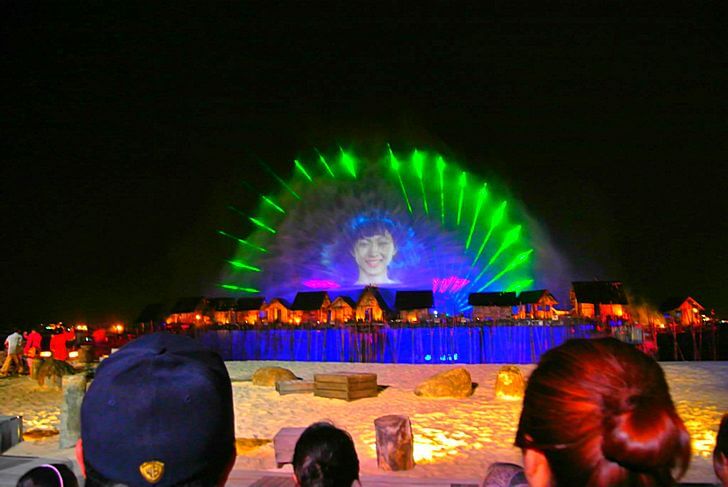 Merlajon – Singapore's Symbol
One of Singapore's most famous symbols is the mythical creature Merlayon, which consists of a lion's head and a fish's body. The "lion" part of this animal stands as a symbol of fearlessness and strength, while the "fish" part indicates the country's close connection with the sea element. The Merlayon statue is now located in the square in front of the Fullerton Hotel and is a very popular place among tourists.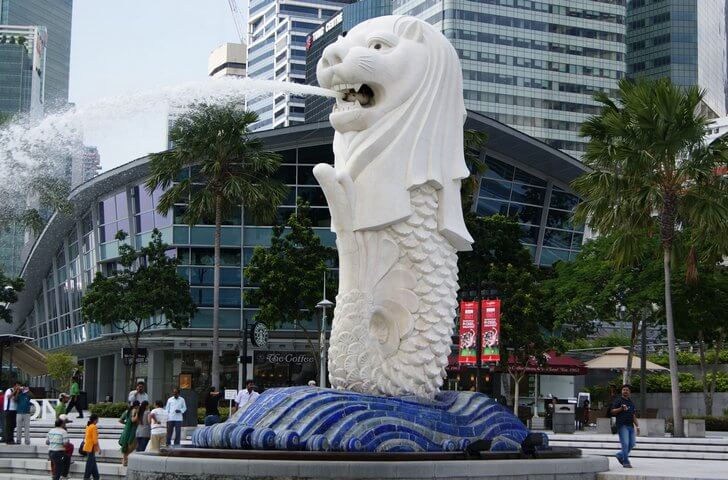 Complete the article by describing your impression of the city (country) or individual attraction.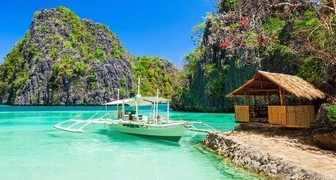 Philippines
The tourism industry in the Philippines is developing very fast. It is quite logical, because it has all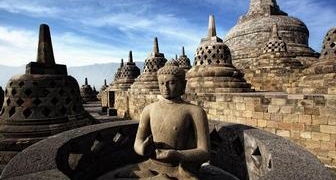 Indonesia
Indonesia is the largest island state in the world. The islands are washed by the waters of the Pacific and the Indian Ocean.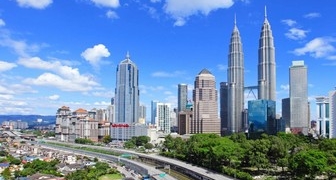 Malaysia
Malaysia is a hospitable country in South-East Asia which welcomes a lot of tourists from all over the world every year.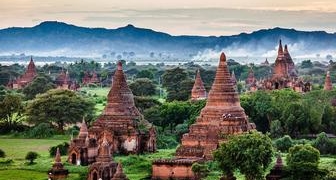 Myanmar
Myanmar is a state in Southeast Asia, located in the west of the Indochina Peninsula. Formerly it was called Burma.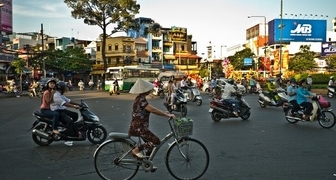 Vietnam
Vietnam is a promising and constantly developing tourist destination in Southeast Asia. The country attracts millions of travelers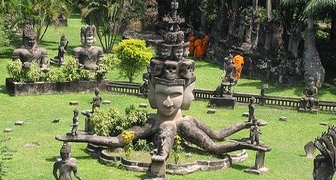 It is a state in Southeast Asia. It is not rich economically, but the exotic local natural beauties make up for it.
Singapore sights for tourists
The city-state of Singapore spreads out over 63 islands. One of the most technologically advanced countries in the world combines green forests and high-rise buildings. It's not hard to decide what to see in Singapore, there's plenty to see for nature lovers or modern day entertainment. Let's find out what the main attractions of this small country are.
What to see in Singapore in 1 day
Statue of Merlion.
The mythical animal merlion with the head of a lion and the body of a fish has been named the symbol of Singapore. The eight-meter tall statue stands on the shore of Marina Bay, releasing a stream of water from its mouth. If you don't know what is a must-see in Singapore, feel free to include the landmark in your travel itinerary.
Address: 1 Fullerton Rd (the statue is next to the mall).
Getting there: Bus 10, 57, 70, 100, 130, 162, 167(E), 196(E), 652, 660, 971 – Fullerton Sq stop, walk to One Fullerton Mall, walk along Esplanade Drive.
Sri Mariamman Temple
The city-state's oldest Hindu temple, built in the 1820s. The historic site is considered a national monument, carefully protected by the state. The temple is operational and services are held there. Tourists are allowed inside.
Address: 244 South Bridge Rd, 058793.
Timetable: Open daily, 08:00-11:00 – 19:00-20:15.
Directions: Bus 61, 166, 197 – Opp Sri Mariamman Tp stop.
Abdul Ghaffoor Mosque
This mosque is also called the Indian mosque. The building is interesting because of its unusual design. The mosque is a national monument.
Address: 41 Dunlop St, 209369.
How to get there: buses 2N, 4N, 48, 57, 131(A), 170, 851(E), 980 – stop Opp Rochor Stn; Metro Blue Line, Rochor Station.
See other places of interest:
Attractions in Jordan
Saudi Arabia
Abu Dhabi Top 17 Sights
Sultan Hussein Mosque
An ancient religious building that has been preserved since the early 20th century. The mosque is built in the Saracenic style and features numerous decorative elements. The monument of national heritage is among the most famous places in the country.
Address: 3 Muscat St, 198833.
How to get there: Take buses 2, 12, 33, 133 – stop Opp Stamford Pr Sch, walk along Victoria St. until the intersection with Arab St., continue along Arab St.; Metro Blue Line, Bugis Station, walk along Victoria St. until Arab St.
Changi Airport
Singapore's only airport is on the list of the world's largest airports. It is considered that the quality of service at Changi is high, for which the airport was awarded 280 times. The area is equipped with a conference hall for exhibitions and negotiations.
Address: Airport Blvd.
Directions: Metro Green Line, Changi Airport Station.
Little India Ethnic District
A small neighborhood in India with a touch of Indian folklore. There are Hindu temples, cafes with traditional food and stores with Indian clothes in a small area of the quarter.
Address: The intersection of Selegie Rd and Bukit Timah Rd.
How to get there: Metro Blue Line, Little India; buses 23, 64, 66, 131, 147, 857 – stop Tekka Ctr.
Chinatown
Another ethnic neighborhood in the multiethnic city-state is Chinatown. Tourists can sample Chinese cuisine and browse the quaint stores. Previously this area was considered criminal, but now Chinatown is safe.
Address: Between New Bridge Rd and Anson Rd.
How to get there: Subway purple, Chinatown; buses 2, 12, 33, 63, 124, 143, 190, 851, 961 – stop New Bridge Ctr.
Temple of the Sacred Buddha's Tooth
The temple takes its name from a relic kept on the fourth floor of the building. It is the tooth of the Buddha, which was found in 1980. Tourists are allowed to freely enter the temple and explore the three floors. The tooth of the Buddha cannot be seen.
The address is 288 South Bridge Rd, 058840.
Timetable: Every day 09:00 – 17:00.
How to get there: Bus 61, 166, 197 – Opp Sri Mariamman Tp.
The Fountain of Wealth
The largest fountain in the world is in Singapore. It was created according to the rules of feng shui. Locals believe that rituals near the fountain bring money. To make financial dreams come true, people make a wish, dip their right hand into the water and bypass the fountain three times.
Address: 3 Temasek Blvd, 038983.
How to get there: blue and yellow metro line, Promenade station.
Memorial to Civilian Victims of the Japanese Occupation
The memorial complex was established to commemorate the victims of the occupation of the Second World War. Unidentified victims of the conflict with Japan are buried under the monument. There is a park area around the memorial.
Address: War Memorial Park, Beach Rd.
Directions: Metro Yellow Line, Esplanade Station, cross Bras Basah Rd.
Where to go in Singapore for a tourist
Gardens by the Bay
A large recreational park located on the shores of Marina Bay. The most popular place – the structures in the form of trees built to collect rainwater and breeding of rare lianas. A must visit the park to see the famous "tree" system. Inside the Gardens are two greenhouses.
The address is 18 Marina Gardens Dr, 018953.
Timetable: Open daily, 05:00-02:00.
Directions: Bus 400, Gdns by the Bay; blue and yellow subway lines, Bayfront, take Sheares Link, cross Sheares Ave.
Orchid National Park
The park is located on the grounds of the botanical garden. There are 400 species of orchids and 2,000 orchid hybrids, what makes this collection famous as the largest collection of orchids in the world. They bloom all year round – you can visit the park to see the plants in bloom whenever you want.
Address: Singapore, SG Palm Valley Rd Lower.
Timetable: Every day, 08:30-19:00.
How to get there: buses 7(B), 75, 77, 105, 105, 123, 174 – Bef Tyersall Ave stop, walk down Tyersall Ave, turn right near the parking lot.
Museum of Art and Science
A futuristic lotus flower-like building stands on the shores of Marina Bay. The museum has three floors and 21 galleries featuring works of science and technology.
The address is 6 Bayfront Ave, 018974.
Mode of operation: daily, 10 a.m. to 7 p.m.
How to get there: 97(e), 106, 133, NR1, NR6 – Marina Bay Sands Theatre stop.
Night Safari Park.
This part of the zoo is outdoors. It is visited after sunset to observe the life of nocturnal animals in as natural an environment as possible. The park is divided into zones based on the animals that live there.
Address: 80 Mandai Lake Rd, 729826.
Schedule: Every day, 19:00-00:00.
Getting there: Bus 138, 927 – S'Pore Zoo stop.
Orchard Road .
The tourist center is surrounded by shopping malls, green recreational areas, and outdoor cafes. There are pedestrian tunnels under the road, connecting the streets and stores with each other.
Address: Orchard Rd.
Getting there: Metro Red Line, Orchard Station.
Singapore Zoo
Animals in the Singapore Zoo are kept in conditions as close to their native environment as possible. There are no cages; moats and glass enclosures are used. One-third of the species on display are considered endangered.
Address: 80 Mandai Lake Rd, 729826.
Open daily, 08:30-18:00.
Directions: Bus 138, 927 – S'Pore Zoo stop.
Mount Faber Park.
The park is located on a hill and is known as an observation deck among tropical trees. You can view the city from above by yourself or through telescopes. The circular-shaped observation deck allows you to see the city from all sides.
Address: Junction of Kampong Bahru Road and, Telok Blangah Rd, 099448.
Opening hours: 24 hours a day.
How to get there: buses 10, 30, 57, 61, 97, 124, 131, 143, 166, 188, 963 – Bef Seah Im Rd, behind the parking lot – Mount Faber Station cable car.
Marina Bay Sands Hotel.
The unusually shaped building has 55 floors. More than two thousand rooms are available to guests. Many tourists come to see this hotel from outside because of its design in the form of three columns, united at the top by an additional area. There is an observation deck at the top.
The address is 10 Bayfront Ave, 018956.
How to get there: Blue, yellow subway line, Bayfront Station, Exit B.
Butterfly Park and Insect Kingdom
The park contains live butterflies and birds that are native to Singapore. One of the areas shows the developmental stages of a butterfly in real time. After touring the aviaries, visit the Entomological Museum – a large collection of butterflies, beetles, and other insects are on display there.
The address is 51 Imbiah Rd, 099702.
Timetable: Tue-Saturday. 11:00 am – 6:00 pm, Sat-Fri. – Weekends.
How to get there: Take bus 123 to Sentosa Island then Sentosa Bus A to Imbiah Lookout.
Sea Life Aquarium
The world's second-largest oceanarium is divided into 10 zones that house marine life of different species. Among the inhabitants of the park are representatives of rare species. The area is equipped with a cafe and entertainment areas.
The address is 8 Sentosa Gateway, 098269.
Mode of operation: daily, 10 a.m. to 7 p.m.
Directions: Bus 123 stop VillageHotel.
Singapore's beautiful places to visit
Bukit Tima Nature Reserve
The nature reserve, based on the highest point of the city-state, is one of the main attractions. The natural area, designed like a rain forest, is located within the city limits. A place worth visiting to see the nature of the tropics.
Address: Hindhede Dr, 589318.
Open daily, 7 a.m.-7 p.m.
Directions: Metro Blue Line, Beauty World; buses 67(A), 75(A), 170, 184, 852, 961(M) – stop Southaven II.
Botanical Gardens
The 150-year-old garden is a UNESCO World Heritage Site. It covers 64 hectares and includes places of interest such as an orchid park, a spice garden and Swan Lake. The garden is equipped with pedestrian paths, recreational areas and concert stages.
Address: 1 Cluny Rd, 259569.
Open every day, 05:00-00:00.
Getting there: buses 7, 75, 77, 105, 123, 174 – stop S'pore Botanic Gdns; buses 48, 66, 153, 156, 170, 186 – stop Botanic Gdns Stn.
Sentosa Island
There's a lot to see on the island – it's the country's main entertainment venue. Much of the land is covered in tropical forests, thickets combined with amusement parks, museums, and equipped beaches. Sentosa is home to Fort Siloso, a World War II stronghold.
Address: The island is in the south.
Directions: Yellow and purple metro line, Harbourfront Station, walk to VivoCity Station, take the monorail or cable car.
Sungei Bulo Bird Sanctuary.
A marshy area in the northeast is set aside as a sanctuary for migratory birds and other amphibian animals. Visitors can watch bird life from hidden viewing areas. Sometimes crocodiles are found there. A place for nature lovers who don't know where to visit.
Address: 301 Neo Tew Crescent, 718925.
Open daily, 7 a.m.-7 p.m.
Getting there: Bus 925M, stop Sg Buloh Wetland Reserve.
Singapore River
Along the river there are many tourist sites – natural and historical. The water is very clean – there's fishing, even though the river runs through the center of town. The waterfronts of Boat Key and Clark Key are lively walking areas.
Address: The river comes out of Marina Bay and runs through part of the city-state.
How to get there: purple subway line, Clarke Quay station, exit E.
Dragon's Tooth Gate.
Rocks resembling dragon's teeth allowed sailors to navigate. The real protrusions were destroyed by the British soldiers, but the Singapore authorities installed copies as monuments to the history of navigation. Next to the cliffs is the Burleigh Lighthouse Tower, which is considered a national heritage site along with the Dragon Teeth.
Address: 12 Port Rd, 117630.
How to get there: yellow subway line, Labrador Park MRT Station, walk on Port Road, walk to Labrador Park; buses 10, 30(E), 51, 143, 175, 188 – Labrador Pk Stn, walk to Labrador Park.
Pulau Ubin Island.
Many Singaporean fishermen live in villages on the island. It is a verdant area with old Buddhist temples and a recreational park for mountain biking. A place definitely worth visiting for tourists who are tired of the active life of downtown Singapore.
Address: 40 Jln Endut Senin, 508291.
Getting there: Take a boat from Changi Point Ferry Terminal.
Jurong Bird Sanctuary
The staff at the Jurong Bird Sanctuary take care of 9,000 birds. It is home to not only native species, but also representatives of European and African fauna. The owls live in a dark area and the penguins are blown around by powerful air conditioners.
Address: 2 Jurong Hill, 628925.
Open daily, 08:30-18:00.
How to get there: bus 194, stop Jurong Bird Pk.
DNA Bridge
The footbridge was not created specifically to recreate the look of DNA. It was designed to look like a molecule. The bridge is equipped with several observation decks that allow you to admire the Marina Bay. In the evening the lights come on.
Address: Passes over Marina Bay.
Directions: Bus 97(e), 106, 133, NR1, NR6 – stop Marina Bay Sands Theatre.
Chinese and Japanese Garden
A park complex in the middle of a body of water, divided into two sections. A bridge runs between them. The buildings and decoration of both sections correspond to the gardening culture of the two Asian countries.