What to try in Sicily
Sicilian cuisine is known all over the world. It is rich and full, as it merges the rivers of different cultures. At the same time, the island itself is unusually fertile.
Olives, lemons, oranges, tomatoes, pistachios, grapes – and this is not a complete list of gifts of the Sicilian land. Or should we mention the abundance of seafood?
A trip to Sicily would not be complete without tasting the colorful and delicious local delicacies. Any good guide will tell you that. But, if you're planning to travel to the island on your own, be sure to read our review and be sure to download the app.
Street Food.
Not so long ago Palermo was named the European city of street food. It earned this title because of the different dishes you can try on its streets. Fast and cheap dishes are ideal for those who want to snack on the go.
Panelle bread
Pane con Panelle bread is the symbol of street food in Sicily.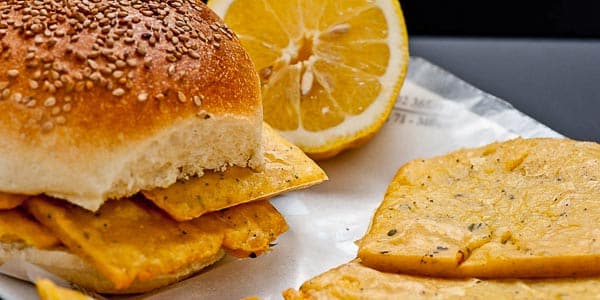 Panelle are pancakes made from chickpea flour. They are fried in oil and served between slices of bread or in a bun like a sandwich. Their second name is paneddi siciliano.
Cunzato bread
Pane cunzato bread is a Sicilian bread with different fillings.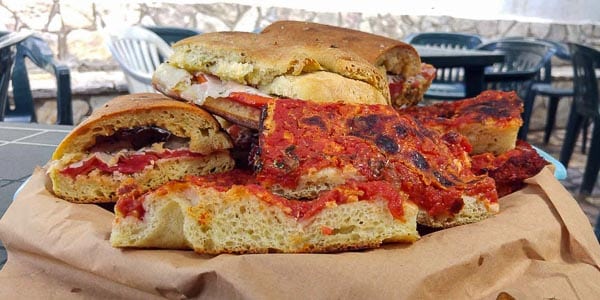 It is essentially a large sandwich filled with local ingredients. The dish originated in western Sicily.
Traditionally, cunzato bread is lavishly flavored with olive oil. It is then filled with tomatoes, Sicilian premium cheese, oregano and anchovies in oil. But there are other variations as well.
Often, typical Sicilian products are added for a special flavor: capers, eggplant, salted ricotta, olives, basil or tuna. Everyone can choose a filling to his or her liking.
Pani ka meuso
Pani ca meuso (Pani ca meusa) is a traditional street dish whose literal translation means "bread with spleen".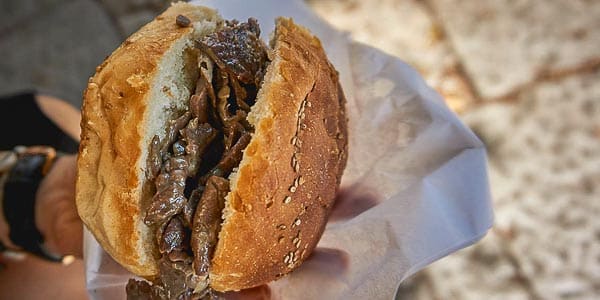 Typical of Palermo. It consists of soft bread vastedda sprinkled with sesame seeds and stuffed with chopped beef lung and spleen. The by-products are first boiled and then fried in lard.
Caciocavallo or ricotta is also added to the stuffing. In this case, pani câ meusa is called maritatu (literally, "married"). If the dish is served without cheese, it is referred to as schettu, meaning "single".
Appetizers
Sicilian snacks are rich in ingredients and so nutritious that they may well serve as a snack for tourists. Italians, on the other hand, eat them shortly before the main course is served.
Arancini
Arancini is Sicily's most famous snack.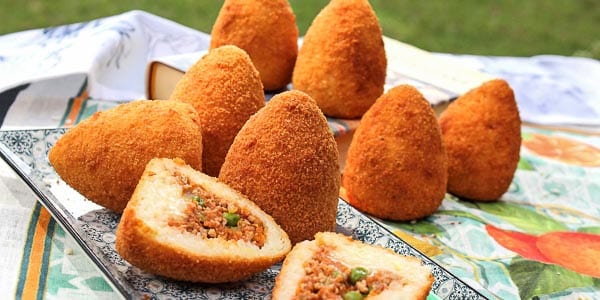 They are deep-fried rice balls, 8 to 10 cm in diameter. In the western part of the island, the dish is called arancina, and in the eastern part, arancino. Most often they are filled with meat, mozzarella or ham.
There are also vegetarian fillings. Saffron is often used in cooking the rice to give it a golden color.
The Ministry of Agriculture lists arancini as a food item in traditional Italian cuisine. The dish is often purchased as a snack on the go.
Caponata
Caponata is a typical Sicilian antipasto that can be found on most menus.
The recipe varies from restaurant to restaurant, but caponata always contains eggplant, pine nuts, raisins and lots of vinegar. It is served at room temperature. There are several basic types of caponata:
Caponata agrigentina is a version of a dish whose homeland is Agrigento. Ingredients: eggplant, Ramiro peppers, tomatoes, white or red onions, celery, green olives, black olives, capers, vinegar, honey, sugar, garlic, oil and chili pepper, basil, pine nuts or almonds and dried raisins.
Caponata con peperoni – caponata with peppers. It is common in the municipalities of San Biagio Platani, Santo Stefano Quisquina and Magazzolo. There are two versions. The first (Ciancianese) includes artichokes, peeled tomatoes, green olives, lemon juice, celery and onions. The second (Bivona) combines all the basic ingredients of caponata with local peaches and seasonal pears.
Caponata trapanese is a dish from the province of Trapani. Toasted almonds, peppers, onions, ripe tomatoes, celery, green olives, capers, vinegar and sugar are added to eggplant.
Caponata catanese is a caponata common in the Catania area. It differs from other types by the predominance of eggplant and tomatoes combined with pine nuts and fresh basil.
Caponatina is the progenitor dish of caponata. There is no sweet and sour sauce added to the caponatina. Basic ingredients: eggplant, peeled tomatoes, peppers, potatoes, onions, garlic, oil, salt, pepper, sliced raguzan cheese and white wine. In some recipes, the vegetables are not roasted, as in the classic caponata, but baked in the oven.
caponata messinese is a variant of the recipe from Palermo. It differs in the presence of chopped peeled tomatoes instead of grated. Thus, tomato sauce does not soak into the rest of the ingredients. Consequently, the vegetables have a much brighter individual taste. The context of flavors is easily discernible. Caponata messinese is garnished with basil leaves before serving.
Parmigiana di melanzane
Parmigiana di melanzane (Parmigiana di melanzane) is eggplant with parmesan.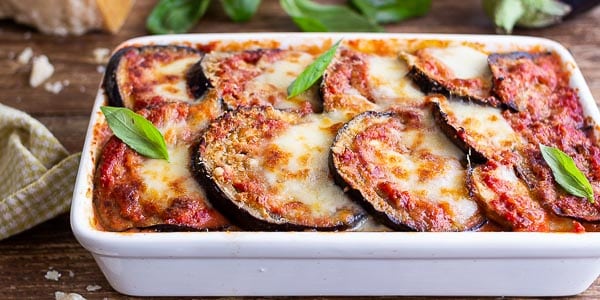 The place of origin is not precisely defined. Emilia-Romagna, Campania and Sicily are competing for the right to call this dish home.
The dish is a casserole of layers of pre-fried eggplant alternated with tomatoes, basil and Parmigiano cheese.
Zuppa di cozzese
Zuppa di cozze (Zuppa di cozze) is a mussel soup, especially popular in the western part of the island.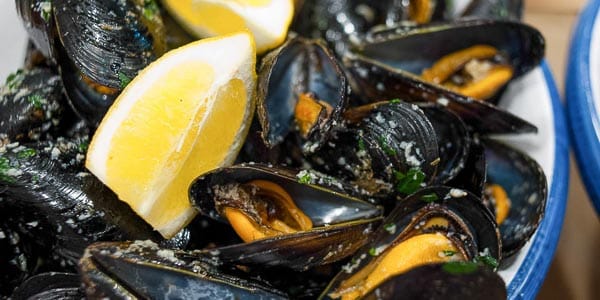 Mussels are cooked in different types of broth, such as tomato and seasoned with various spices as well as lemon.
Pasta
Traditional Sicilian cuisine is quite different from that of northern Italy. This is due to the greater proximity to Tunisia than to Rome, as well as to the influence of foreign invaders (Greeks, Arabs, Normans and Spaniards). But the love for pasta is unchanged throughout the republic.
Buziate alla Trapanese
Busiate alla Trapanese (Busiate alla Trapanese) is pasta from the city of Trapani.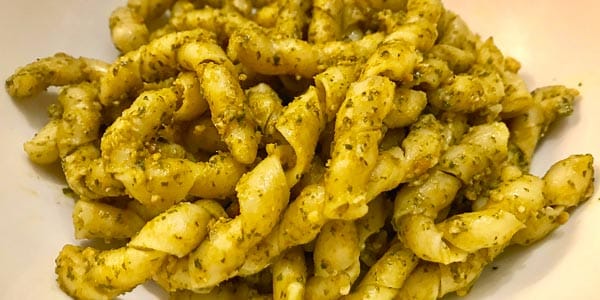 Buziale is a long spiral-shaped pasta. Traditionally it is made by winding a thread of pasta diagonally around a sprig of ampelodesmos (a local plant). The pasta is served accompanied by pesto sauce, almonds, tomatoes, garlic and basil.
Pasta alla norma
Pasta alla norma (Pasta alla norma) is the most famous pasta on the Sicilian menu, a symbolic dish of the cuisine of Catania.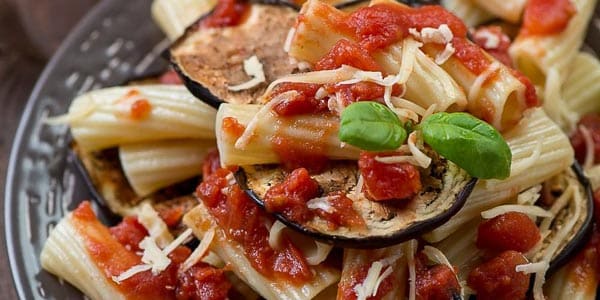 This particular city is considered its birthplace. Although numerous variations of pasta with eggplant were already widespread in the south of the country before the official birth of the dish in Catania.
The original recipe includes pasta, tomatoes, roasted eggplant, grated cheese and basil. The name of the pasta is believed to come from a phrase by Italian writer Nino Martoglio, who, after tasting the dish, exclaimed: "This is the real 'Norma'!" He compared it to Vincenzo Bellini's marvelous opera.
Pasta con le sarde
Pasta con le sarde is the fish equivalent of pasta norma.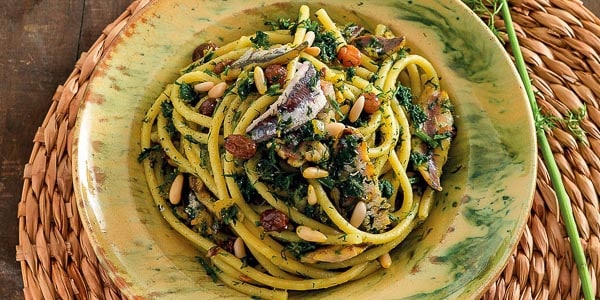 Sardines, salted anchovies and fennel are transformed into a sauce with a distinctly North African flavor through the addition of pine nuts, raisins and saffron.
Bucatini (long spaghetti with a hole in it) is taken as pasta. In many restaurants in Palermo, con le sarde is sprinkled with fresh bread crumbs to give extra texture. Sometimes white wine or almonds are included.
Pasta cu maccu
Pasta cu maccu (Pasta cu maccu) is a type of pasta with mashed beans.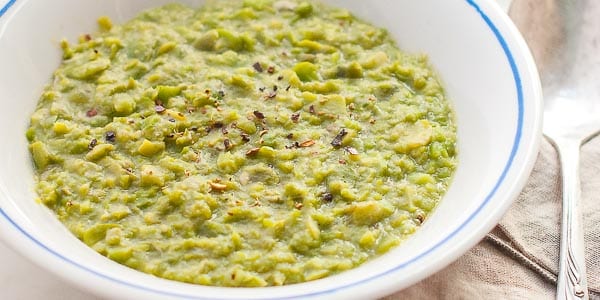 In Catania, it is usually prepared for the feast of St. Joseph on March 19. The beans are pre-soaked for 12 hours and then cooked until fully cooked. They are mixed with the passaged onions, carrots, celery and puréed. At the end, the bean puree is combined with the cooked pasta and flavored with cheese. Serve the dish hot.
Spaghetti ai rici
Spaghetti ai ricci – pasta with sea urchins.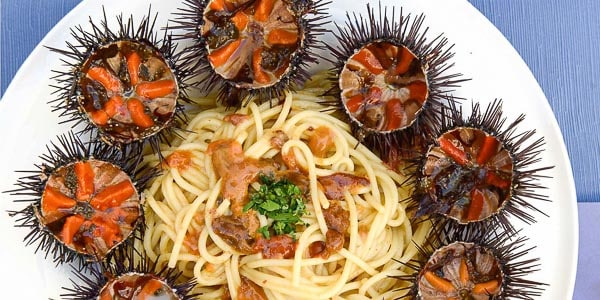 They look simple enough, but they take a long time to prepare. The cook has to cut the sea urchins in half, avoiding spines, and take out only the "good" part of the meat.
The dish is very expensive, because often about 15 sea urchins have to be cut up for one serving of pasta.
The second course
It is not hard to guess that Sicilian second courses are mostly seafood. But there are also options for meat-eaters.
Involtini di pesce spade
Involtini di pesce spade (Involtini di pesce spada) are swordfish rolls.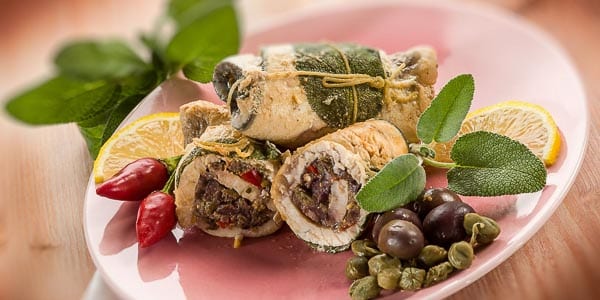 Thin slices of swordfish are coated with capers, pine nuts, raisins, olives and lemon, then rolled into a spiral and fastened on a skewer. They are then baked or grilled. Sometimes the rolls are rolled in breadcrumbs before grilling.
Involtini alla sichiliana
Involtini alla siciliana are Sicilian rolls of veal, onions, tomatoes, raisins and pine nuts.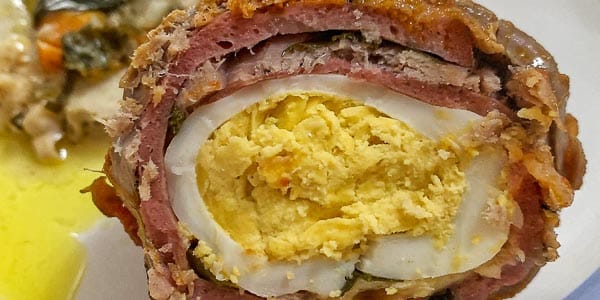 Chefs use a bay leaf as a seasoning. The involtini recipe is augmented with different ingredients from city to city.
Polpo bollito
Polpo bollito is boiled octopus.
Sprinkled with olive oil and lemon and sprinkled with parsley before serving. Tender octopus meat requires a meticulous approach during cooking.
Sarde a beccafico
Sarde a beccafico is a dish made with sardines.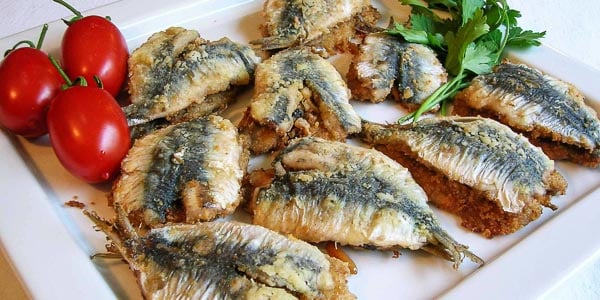 Sicily is famous for its sardines. Tons of these fish are fished from its shores every day. They are cooked in all kinds of ways, but one of the most popular is beccafico. In it, sardines are baked with pine nuts, raisins, and breadcrumbs.
Desserts
If you have a sweet tooth, Sicily will seem like heaven to you. Sicilians take pride in their desserts. Local lemons, almonds, pistachios and chocolate make their sweets unique.
Brioche con gelato
Brioche con gelato is a sweet sandwich consisting of a soft, buttery bun filled with generous amounts of ice cream.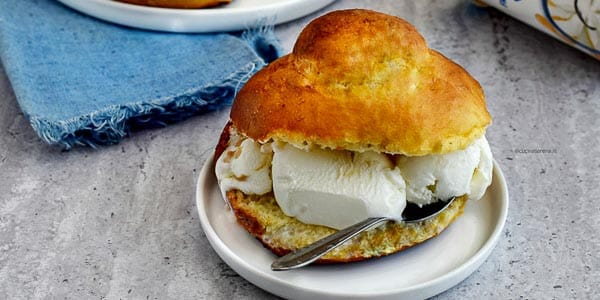 If desired, the filling is sprinkled with chopped nuts and a pinch of powdered sugar for extra flavor. The dessert is especially popular during the hot summer months. Often Italians eat it for breakfast in the heat.
Granita
Granita is a frozen dessert made of sugar, water, and various natural flavors.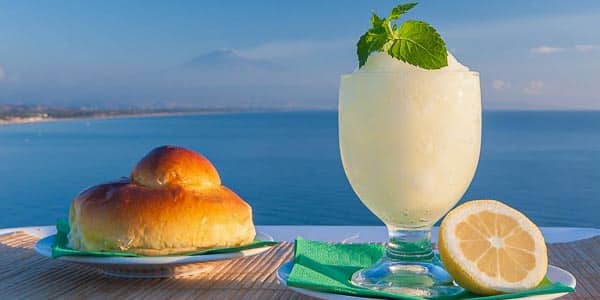 It is believed that lemon granita was one of the first versions of the dish. It is made with lemon juice, water and sugar. Lemon zest is often used as a flavoring. The mixture is frozen and then stirred with a fork to partially break up the ice crystals and give the granita its characteristic grainy texture.
Whatever the flavor of granita, it is usually accompanied by a Sicilian brioscia. Sicilians prefer to enjoy the dish as a sweet breakfast.
Cannoli
Cannoli are crispy fried pastry tubes filled with buttercream.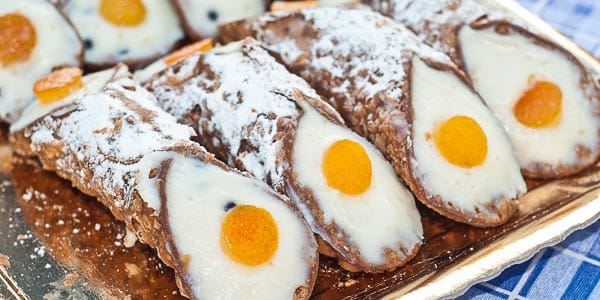 They are perhaps one of Sicily's most famous desserts outside of Italy. The cream inside the Sicilian straws is not cream, but freshly whipped ricotta flavored with a little sugar and lemon.
Legend has it that cannoli were first made by the women of the ancient city of Calat-en-Nisa (modern-day Caltanissetta), who served in the harem of a Saracen emir. Later, the recipe somehow made its way to the monasteries of Palermo, where the nuns prepared this sumptuous dessert during the carnival season.
See the itinerary for 10 days in Sicily – there you will find the addresses of the most delicious places to try traditional cannoli.
Cassata
Cassata is a Sicilian cake.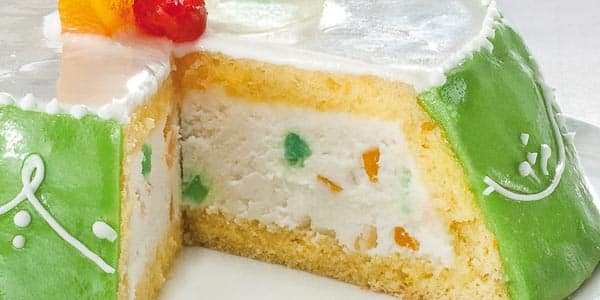 It consists of a liqueur-drenched biscuit with a layer of sweet ricotta and fruit. Its surface is decorated with a coating of marzipan and bright candied fruits.
It is traditionally a winter and spring dish, and is most often served at Easter. The cake is usually refrigerated for 3 hours before serving. In the 14th century, cassata was the dessert of the aristocracy. Even today, few people without culinary training dare to make the exquisite dessert at home.
Frutta Martorana
Frutta Martorana are marzipan sweets, in the form of fruits and vegetables, from the provinces of Palermo and Messina.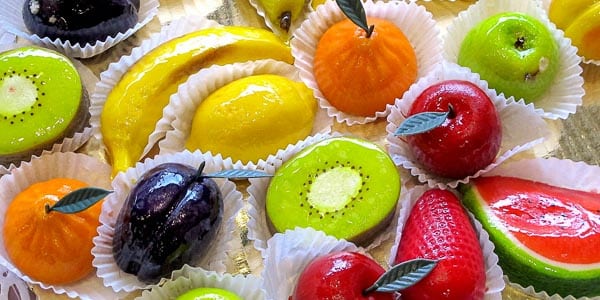 They are realistically colored with vegetable dyes. They were first made in the convent of della Martorana in Palermo.
Back then, the nuns used to decorate empty fruit trees with marzipan fruits to impress the archbishop who visited them at Easter. They were usually placed by the children's beds on All Saints' Day.
Our tour of Sicilian cuisine is over. We hope that after reading this article, the question "What to try in Sicily?" will no longer stir your mind. Have a delicious trip!
Traditional Slovak dishes
Slovak cuisine is a mix of Slavic and Western European gastronomy. The influence of the neighboring Czech Republic, Austria and Hungary is evident. The national dishes of Slovakia, like many other cuisines of the world, originate in peasant traditions of cooking. Simple, hearty, designed to nourish with a minimal set of ingredients. But not without a flight of fancy. Meat, dairy products, vegetables are varied by spices and intricacies of the recipe, which differs in different regions of the country.
If you want to taste authentic Slovak cuisine, look for Koliba. This is the name of the establishments with traditional food. Many dishes are cooked right in the hall in front of diners on an open fire.
Meat is eaten a lot, with pork being especially revered. Meat is roasted or stewed in pots, and often served in the same pots. Of vegetables in dishes one can almost always find potatoes and cabbage. Sauerkraut is one of the most popular side dishes. Only boiled potatoes can compete with it. The most striking and favorite dairy product is sheep's milk bryndza. It has its own brand on the territory of the European Union – Slovenská bryndza. Yes, of course, many people make bryndza – a kind of brine cheese – but Slovak bryndza is distinguished by its unusual tenderness, creamy texture and salty-spicy taste. The first mention of Slovak bryndza dates back to the mid-15th century. Bryndza began to be widely produced at the end of the 18th century, when two factories were opened. It is eaten simply as cheese and added to many dishes: salads, soups, hot dishes, pastries.
Brynza is assigned a name festival in the summer schedule. The main entertainment is a competition in eating bryndza dumplings on speed.
Soup – no dinner without it
Traditional Slovak cuisine is unthinkable without soup. The most popular soups are kapustnjak, or cabbage soup, and garlic soup.
Kapustnitsa is a mix of sour cabbage soup and solyanka. This hearty soup in the classic version includes sauerkraut, smoked meats, mushrooms and vegetables, including potatoes, carrots and paternoster. In some regions, potatoes are replaced by beans. It is seasoned with bay leaf, black pepper and allspice. Slovaks love this soup so much that they are not willing to give it up even during Lent. So they simply make it without meat, but with galushkas.
Garlic soup, or garlic chaff, could be called a very elegant soup – it is so light and delicate. However, the garlic flavor puts the elegance into question. For the soup, a broth is boiled over a lot of garlic, and then cream and flour are added. This is the base. Next come variations: eggs, melted cheese, fennel, mushrooms, and potatoes. This soup is served very appetizing in a loaf of bread.
A rich goulash soup comes to Slovakia from the friendly country of Hungary. As the garlic soup, it is also famous for its taste and beautiful serving – in a metal kettle placed on a spirits. The soup bubbles in the cauldron and spreads a breathtaking aroma. Demikat is a soup made of feta cheese. This soup contains the broth left after brynza kebabs cooking: brynza cheese, onions, shredded potatoes, sour cream and spices.
Meat, dumplings and pstruh
Let's start with the last one: mysterious prstrukh. Although all the mystery vanishes when you realize that this is the name of a river trout in Slovakia. It is either steamed with melted butter and salt – prstruh in oil. Or grilled over charcoal, which is pstruh on the grill.
Dumplings, or dumplings, are eaten as a separate dish or served as a side dish. Slovak dumplings are about the size of German dumplings – a confident, often palm-sized, oval piece of dough. They are either made only with wheat flour, or potatoes are added to the flour. They are boiled in water or steamed.
Brindzin galushki with sheep cheese (to be placed as a filling inside the galushki) and strapachki with stewed sauerkraut stand out as a separate kind of galushki.
And now for the meat!
Spiska slutka is contraindicated for gluttonous eaters. They take lots and lots of meat goulash, mix it with spicy sauce (mushrooms may be added) and put it between two thick pancakes of potato dough. That's not all – the top pancake is sprinkled, not stingy, with grated cheese. And into the oven to fry.
The second obligatory tasting dish is roast duck with stewed cabbage. The duck is roasted separately, poured with milk – for an amazing golden color of the skin. Some chefs prefer to stuff the duck with rice and walnuts. Duck can be accompanied with stewed cabbage or sauerkraut. If you really want to have enough of them, you can have galushki as well.
For dessert
If you are still alive after a hearty Slovak lunch, the final chord is dessert. Slovaks offer sweet dumplings – with apricots, cherries, or strawberries – to those who are not satisfied with ordinary dumplings. Lovers of buns should try coves. Sweet buns are baked in the oven or steamed. Fillings are varied: cottage cheese, plum jam, poppy seed, vanilla cream.
A dessert with the delicately named laskonki is a meringue divided into two halves, between which is drenched with butter cream and crushed walnuts.
And to practice their articulation, the Slovaks invented skalicky trdelnik, which has become one of the most famous Slovak dishes. These sweet tubes of yeast dough, like many things in Slovakia, are cooked over an open fire. The dough is put on a special spit, trdlo, which gave the dish its name.
The dough wrapped around the spit has a symbolic meaning and is associated with St. George, whose holiday is celebrated on April 24. The spiral is an association with snakes, which are the ones that come out of the ground precisely on April 24.
The recipe has remained virtually unchanged since the 18th century, when it was brought to the town of Skalica by a retired Hungarian army general, Josef Gwadani. They are eaten hot, sprinkled with cinnamon and powdered sugar. At the annual Trdlofest in Skalica, the longest trdelk is baked. Its size increases year by year and has now passed the two-meter mark.