What to see in Vancouver or 18 top attractions in the city

You'll never run out of ideas for spending time in Vancouver, no matter your budget or location. Whether you want to stay in the city or head to interesting places away from the hustle and bustle of the city, you'll always have a spectrum of activities, institutions and nature in and around Vancouver in front of you. What to do, go and see in Vancouver? For a full list of places, see our B.C. Tourism section . This article covers recreational and cultural options, and we'll take a look at Vancouver's main attractions.
Vancouver Attractions.
Local Oceanarium.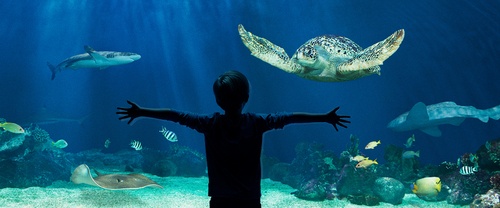 The Vancouver Oceanarium, located in Central Park, is one of Vancouver's top attractions and provides an excellent way to spend (especially if it's rainy) a day off. Here, you can see belugas, dolphins, alligators, sea otters, and many other ocean creatures among the diversity of marine life.
Museums and Cultural Recreation in Vancouver
If you are in search of a museum or any other cultural institution, it is worth looking in Vancouver. There are many museums and galleries of various themes and focuses.
Vancouver's top cultural meccas include the famous Vancouver Art Gallery, which has about 8,000 exhibits. The most notable museum in the city is the Telus World of Science. A visit to this place can have both entertainment and educational value.
Below is a list of Vancouver's major museums and galleries.
Vancouver Museum
Address: 1100 Chestnut Street, Vancouver, British Columbia (BC), Canada
Phone: +1 604 736 4431
Web site: https://museumofvancouver.ca/
This museum is the first museum dedicated to natural history. Both local and world-renowned exhibits are on display here. The museum is divided into several categorized sections, each dedicated to a different collection. Open from 10:00 to 17:00, Thu 10:00 to 21:00.
Science World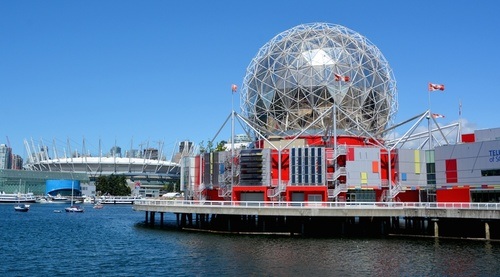 Address: 1455 Quebec Street, Vancouver, British Columbia (BC), V6A 3Z7, Canada
Phone: +1 604 443 7440
Web site: https://www.scienceworld.ca/
The visually arresting Telus World of Science is a venue for interactive exhibits and installations that aim to showcase the different facets of science that surround us. There is also the OMNIMAX Cinema, which shows educational programs throughout the day.
Open when: Mon-Fri from 10:00 to 17:00, weekends from 10:00 to 18:00
Museum of Anthropology – University of Columbia
Address: 6393 NW Marine Drive, Vancouver, British Columbia (BC), V6T 1Z2, Canada
Phone: +1 604 822 5087
Web site: http://moa.ubc.ca/
The Vancouver Museum of Anthropology is a delightful place containing a rich collection of cultural works that includes ethnic wood carvings and sculptures as well as artifacts from the past from the northeast coast.
When open: Wed-Wednesday, 11 a.m. to 5 p.m.
Vancouver Art Gallery.
Address: 750 Hornby Street, Vancouver, British Columbia (BC), Canada
Phone: +1 604 662 4719
Website: http://www.vanartgallery.bc.ca/
This corner of culture is not just a museum, but one of Vancouver's most famous attractions. It's not just a gallery, but a treasure trove of classical and contemporary art. In addition to permanent pieces by historically renowned artists, it also showcases contemporary art from artists who have exhibited in the gallery.
Opening hours: Fri-Fri, Wed 10am-5:30pm, Thu and Thu 10am-9pm
H.R. MacMillan Space Centre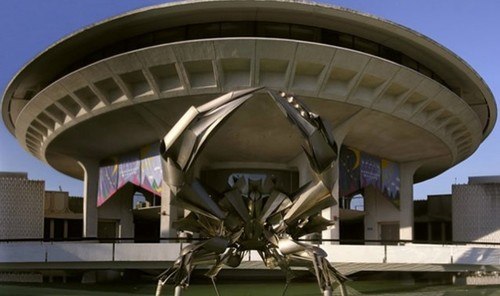 Address: 1100 Chestnut Street, Vancouver, British Columbia (BC), Canada
Phone: +1 604 688 7323
Web site: http://www.spacecentre.ca/
One of Vancouver's most famous attractions is the H.R. MacMillan Space Centre is not just an exhibition hall, but a museum, planetarium, and observatory under one roof. Housed in the iconic dome-topped building that has become a Vancouver landmark, this museum is adjacent to the Museum of Vancouver mentioned earlier in this list.
Natural attractions in Vancouver
Grouse Mountain.
This mountain overlooks Vancouver and has conditions for winter sports (skiing, snowboarding, winter hiking, ice skating) as well as hiking and camping in the summer. There are two ways to get here – by gondola elevator or by hiking the trail called "Grouse Grind".
Grouse Grind
Want a real challenge? Try this trail, which is 2.9 km long. The challenge is not for beginners, but it is well worth the effort.
Granville Island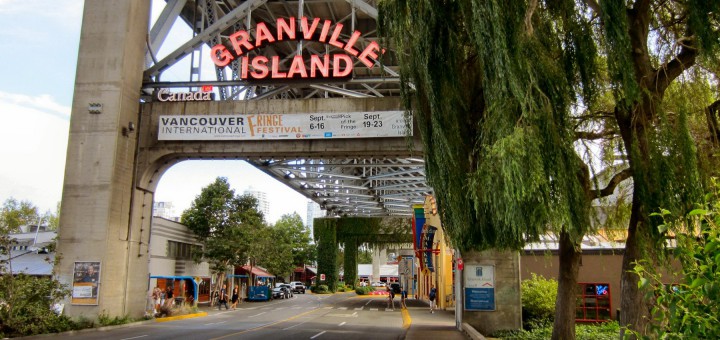 The picturesque island of Granville has a pleasant atmosphere of bustling markets. Here you can buy locally grown produce, visit notable restaurants, and other family-friendly spots.
Stanley Park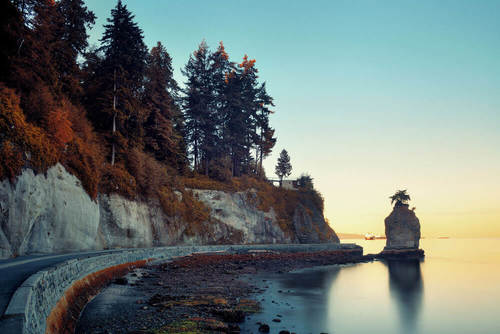 Vancouver's Central Park is recognized as one of the best in the world. It is a 400 hectare evergreen oasis located in close proximity to the city center. The natural West Coast environment, adorned with a landscape of yew, cedar and conifers, captures the attention of visitors and transports them to an environment full of tranquility. There is always something going on in the park – events, performances, and more. We have a separate article about the park on our site: "Stanley Park: History, Rewards and What to Do in Stanley Park".
Lynn Canyon National Park.
This preserve, accessible by public transportation, is great for spending a day outdoors away from the hustle and bustle of the city. The area can be traversed either on foot or by bicycle. A local landmark is the suspension bridge.
Capilano Suspension Bridge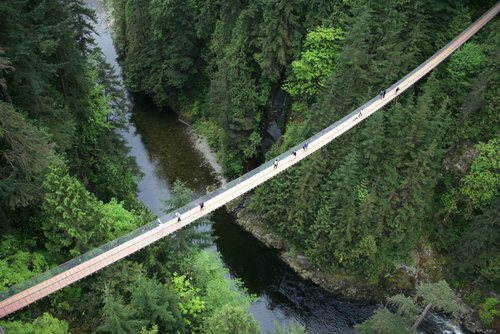 If you haven't been to the Capilano Suspension Bridge, you need to visit this Vancouver world landmark right away . At exactly 450 feet (137m) long and 230 feet (70m) high, Capilano Suspension Bridge has been inspiring visitors since 1889. Located in one of Vancouver's most beautiful locations, the Capilano Suspension Bridge Park will give you an experience unique to British Columbia.
Vancouver Beaches
Living in Vancouver means having the luxury of enjoying gorgeous beaches. Notably, you can find more than one beach right in the city center. Vancouver has about 18 kilometres of beachfront property right in the city limits.
English Bay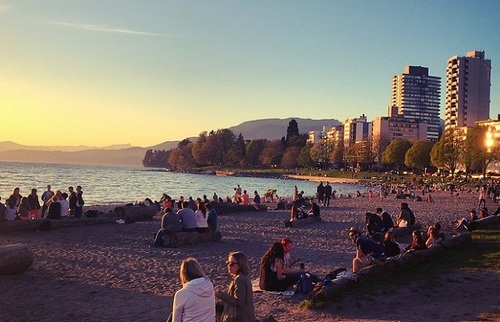 This beach swarms with visitors during the summer months because of its convenient location near the city center. It is also the site of the famous Celebration of Light fireworks show every year!
Kitsilano (Kits) Beach
Kitsilano is the most visited beach in Kitsilano. On sunny days the beach is full of holidaymakers. Here you can find picnic areas on the north end of the beach.
Second Beach
This beach is in the back of Stanley Park and is therefore quieter. There is a swimming pool, playground and picnic places. By the way, this is one of the few places that have open air movie nights in the summer months.
Jericho Beach
A little farther west of Kitsilano Beach is this tranquil beach. During the daytime everyone from small to large relaxes here and in the evenings during the season you can enjoy the local folk music festival.
Wreck Beach
Vancouver's only nudist beach. For more open-minded people, this beach will be an interesting discovery. Here, where clothes are not a must-have attribute, you can often find free-spirited people and nudists.
Third Beach
A little further along the Central Park promenade is this quiet, tranquil beach where you can often watch a beautiful sunset. The beach is a great addition to the trail that runs along the park's waterfront.
Read more about Vancouver's beaches in our article, Vancouver Beaches.
So, now you know exactly what to see and what Vancouver attractions to see first? And that's just a small part, the list could go on and on.
Strange Events and Unusual Sights in Vancouver
Vancouver has some top-notch world-famous events and attractions, but sometimes hundreds or even thousands of people gather to participate in something slightly extraordinary. So what are Vancouver's quirky events and unusual attractions?
An outdoor event, a unique place that is historic for pop culture, some sporting event or a celebration that brings different cultures together – Vancouver has a place for it all and that is why it is never boring in this city.
World Naked Bike Ride (June)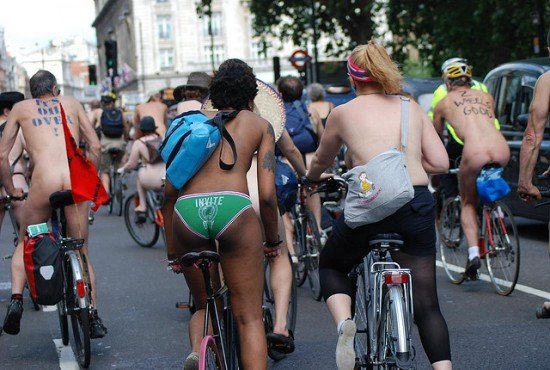 Get naked for a bike ride around Vancouver! Decorate your bike to your liking and enjoy a leisurely ride through the streets of the city in what they say is your mother's clothing. This global event began in Europe, where it was first held in 2001. Today, such races are held from Oakland to Apeldoorn. Vancouver joined in 2010.
Underwater Hockey (May).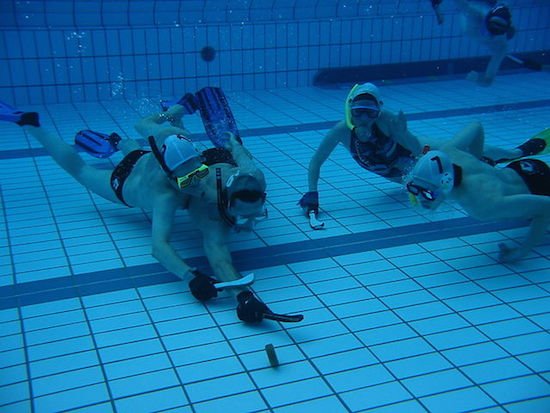 This is Canada and people here love hockey in any form. Ice rink hockey, outdoor hockey, basketball field hockey, ice pond hockey. What about pool hockey? Sure! Vancouver even recently held competitions in this "sport," and there are even clubs devoted to this wacky pastime. There is even a Canadian Underwater Games Association that holds sports competitions in underwater hockey, underwater rugby, underwater orienteering and underwater target shooting.
Along the waterfront to Pink Floyd (June)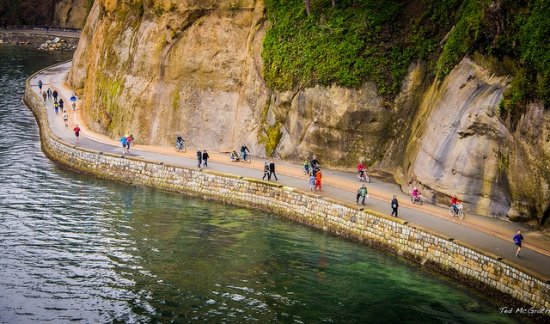 Another themed custom involving bicycles is "Pink Floyd the Sea Wall," the essence of which boils down to riding to music from The Wall album along the waterfront. The event culminates in a beach party. Decorating the bike with lights is welcome.
Vancouver's Unusual Attractions: Jimi Hendrix Temple (open June to September)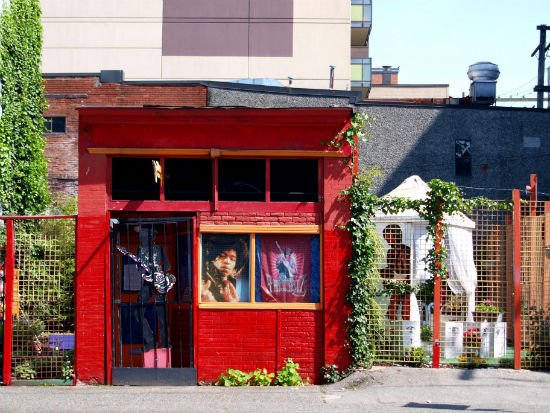 One of Vancouver's most notable curiosities, the Jimi Hendrix Temple (207 Union St.) opens its door every summer in the place where the famous musician's grandmother once lived. Nora Hendrix lived in an African-American neighborhood not far from the infamous Hogan's Alley in Strathcona. In the years when Jimi was a young boy, he spent summers with his grandmother, who owned Vie's Chicken and Steakhouse, the restaurant where the "temple" is located today. The restaurant, by the way, often played host to famous black musicians who stayed for dinner after their concerts, which apparently could not help impressing young Jimi.
World Pillow Fight (April and August)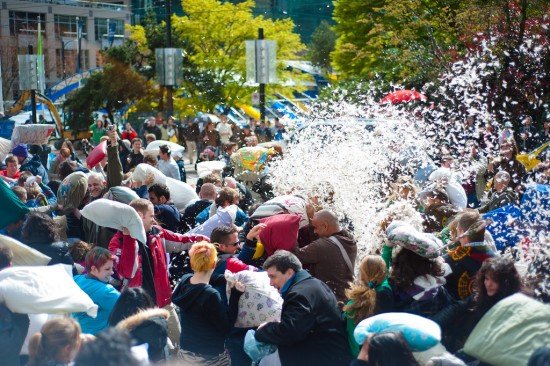 Vancouverites are a very kind and helpful people, but still a few times a year you can see locals start attacking each other with water and stuffed pillowcases. This event is a staple of Stanley Park's summer program. And when it's a dry summer, getting wet (literally and figuratively) is encouraged.
Zombie Procession (September or October)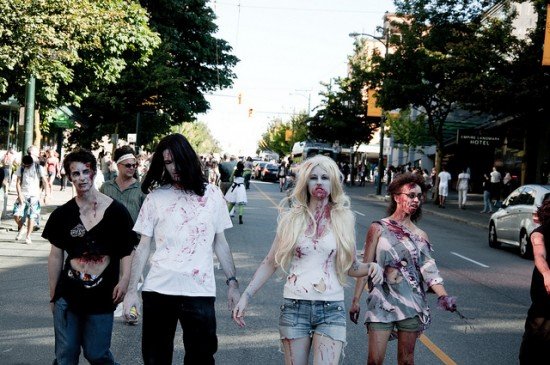 As much as Vancouverites love cycling, they also love walking. In particular, walking through the streets while disguised as the living dead. The annual zombie parade is held in several cities and acts not only as entertainment, but also as a way to raise money for charity.
BCMP Vapor Lounge and Amsterdam Cafe (open year round)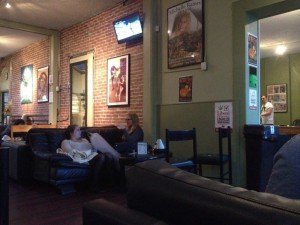 You've probably smelled the strong smell of marijuana as you walk past this place. Yes, you can come to this place and smoke marijuana in complete peace, without fear of the police (buying/selling is illegal, you pay $5 an hour to sit in this establishment). The owner of the place is Mark Emery, a local activist who fights for the legalization of cannabis. It's a free speech kind of place – where people express their protest and support Mark at the same time. The issue with the police was solved simply – you don't create a disturbance and we don't touch you. The first puncture, we shut you down right away. The place has been up and running for over 5 years and recently opened a new branch on Davie St. That's how it is, Vancouver.
Gung Haggis Fat Choy (February).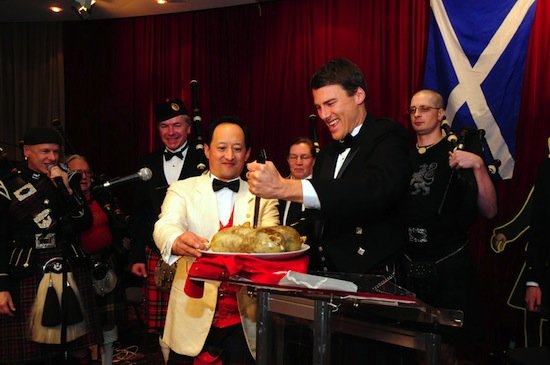 "Gung Haggis Fat Choy" is a highly original event featuring poetry, kung fu, heiland to the sounds of sheng, and delicious fried veal dumplings. This celebration is an annual Vancouver tradition that combines Chinese New Year and Robbie Burns Day into one event.
Movie screenings at the Police Museum (not open during the summer months)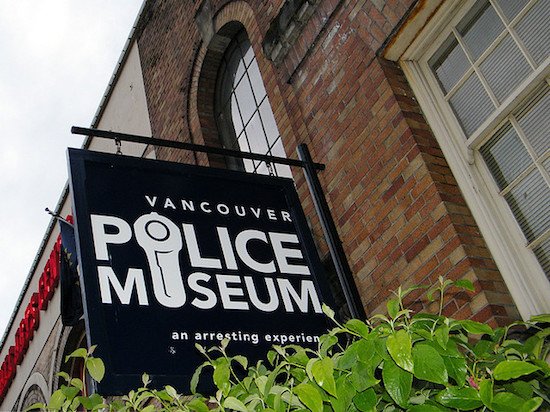 Photo by insidevancouver.ca
The Vancouver Police Museum, located in the old morgue building at 240 East Cordova St., hosts various exhibitions and tours as well as movie screenings. Visitors are invited to sit among the old evidence boards and stainless steel cabinets and enjoy a movie with a bucket of popcorn.
Overnight at the Vancouver Oceanarium (available year-round)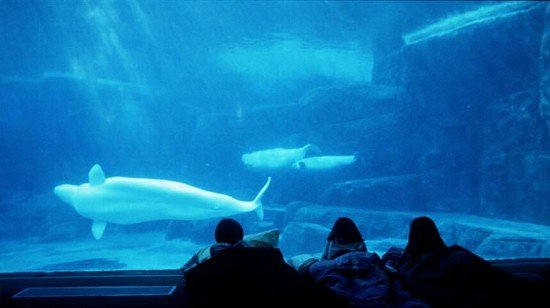 Photo by insidevancouver.ca
Watch sea otters, sharks and many other sea creatures at Canada's largest aquarium, the Vancouver Oceanarium, which also features a 4D cinema. The oceanarium holds special events on a regular basis. It's so interesting you won't want to leave, and you can even stay overnight! After the oceanarium closes, you and your friends can spend the night next to the huge aquarium. In the morning, a light breakfast will be served.
Polar Bear Swim (January)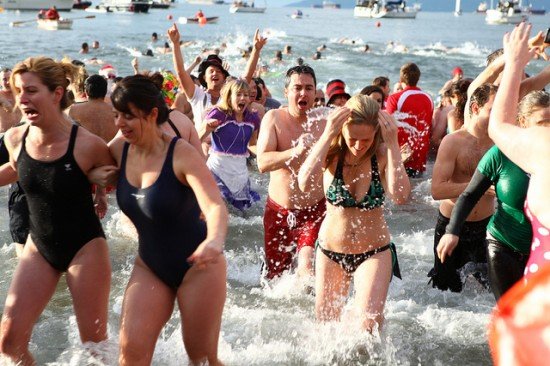 Photo by insidevancouver.ca
In 1920, Peter Pantages founded the Polar Bear Club and since then there has been a tradition of swimming on the first day of the new year. To this day, Peter's family continues the New Year's Day swim tradition by organizing the event, which is held in the same location, English Bay. Each year, about 2,500 people participate in the swim, and three times that number accumulate as many observers.