Shopping in Berlin – popular streets, shopping malls and stores
Shopping in Berlin is not as popular as in Milan, Paris or New York. But each year in the German capital more and more shopping malls, designer boutiques and flea markets open.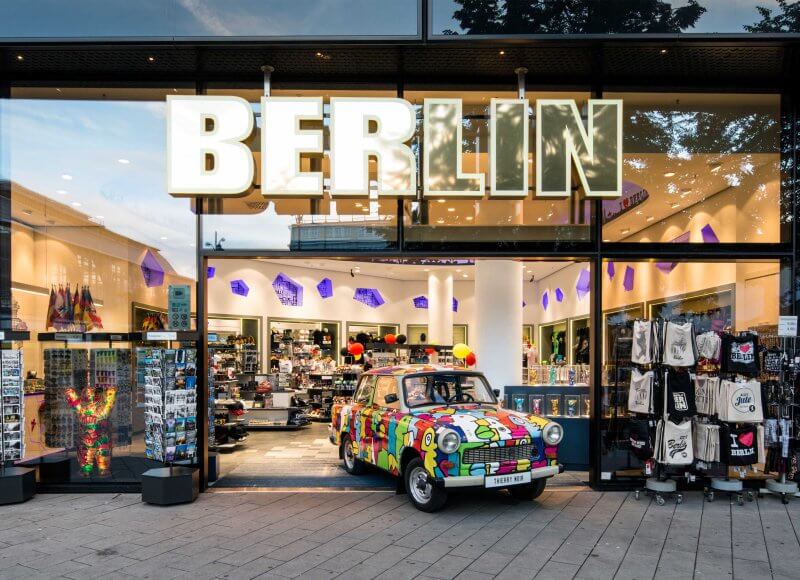 It is impossible to calculate the exact number of stores and markets in Berlin, because there are so many of them. The most popular boutiques are located in Kurfuerstendamm (west Berlin), Schloßstraße (south Berlin), Alexanderplatz (center), Wilmersdorfer Strase (center) and Friedrichstrasse (center).
If you are in the German capital, while shopping, it is worthwhile to do the following.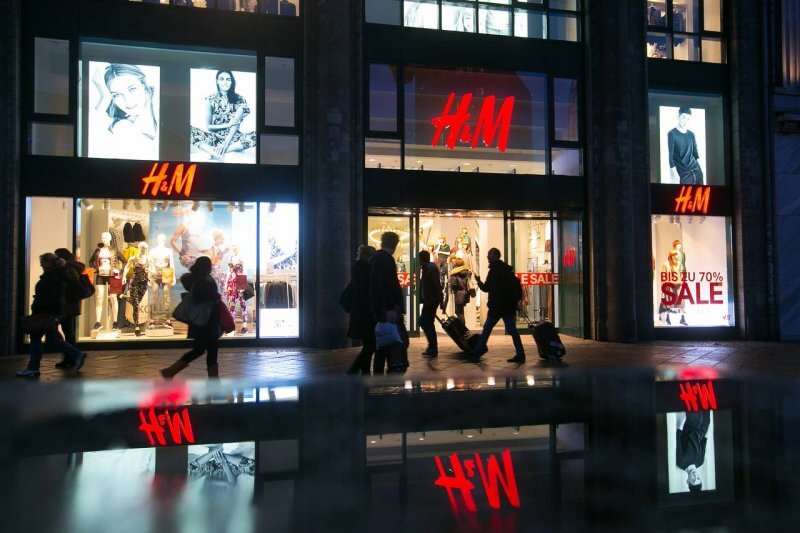 There are dozens of boutiques both in the middle price range (H&M, Calvin Klein, Puma, Tom Tailor) and more expensive options (Chanel, Dior, Gucci, Valentino).
Footwear made in Germany has always been famous for its quality, so pay attention to the following brands: Rieker, Tamaris, Pellcuir and others.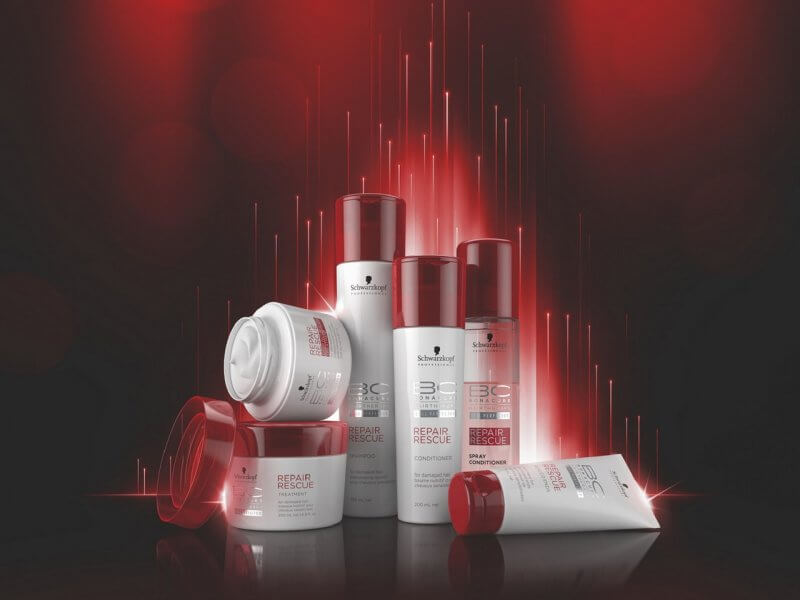 In addition to well-known German cosmetics brands (Schwarzkopf, Essence, Nivea) you can also buy products made in other European countries: Rimmel London, Dior, Saint Laurent.
Perhaps this is the only purchase that you can not buy outside of Germany. Even if you have no chance to buy a product, be sure to visit a branded store – you won't be disappointed.
Kurfuerstendamm
Kurfuerstendamm is the most popular shopping street in western Berlin. Apart from the famous boutiques (there are a hundred of them) tourists love this area for its authenticity and vintage spirit: buildings from the late 19th century, huge bright store windows and cozy cafes, many of which are more than a hundred years old. As for outlets, the following shopping centers are located here: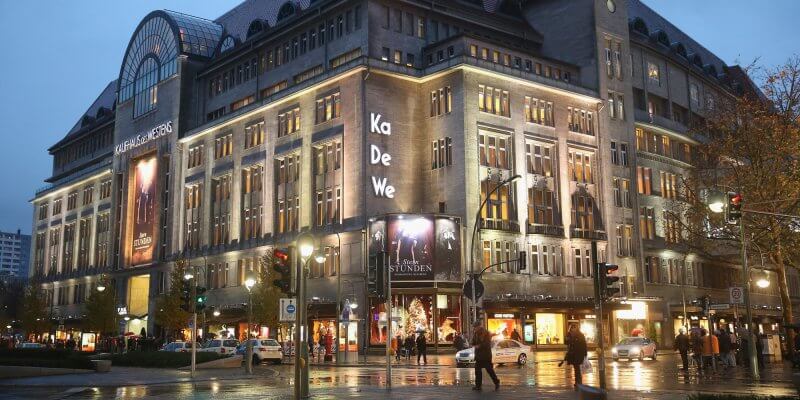 In terms of importance and popularity, this shopping center, which translates from German as "Trading House of the West," is comparable to Moscow's GUM. The locals rarely come here for shopping, as everything here is tourist-oriented: designer boutiques, expensive restaurants, and exclusive perfume stores. The prices are appropriate.
But even if you do not have enough money to buy clothes from Valentino, Gucci or Dior, still go to KaDeWe to admire the architecture and the beautiful windows.
Opening hours: 10 a.m. to 8 p.m.
Official website: www.kadewe.de.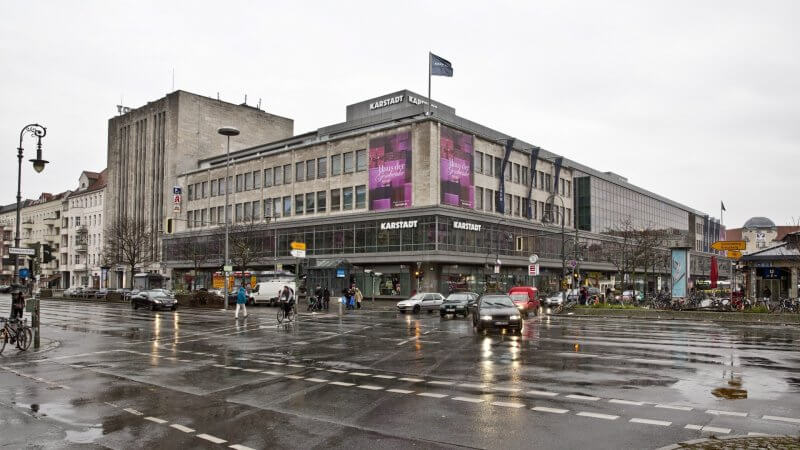 This is a chain store where you can buy clothes, technology, cosmetics and household goods. Prices are not higher than the average in the city, so here you can safely buy the goods you need. On a number of things there is a permanent discount, often there are sales.
Opening hours: 10.00 – 21.00.
Official website (online shopping is possible): www.karstadt.de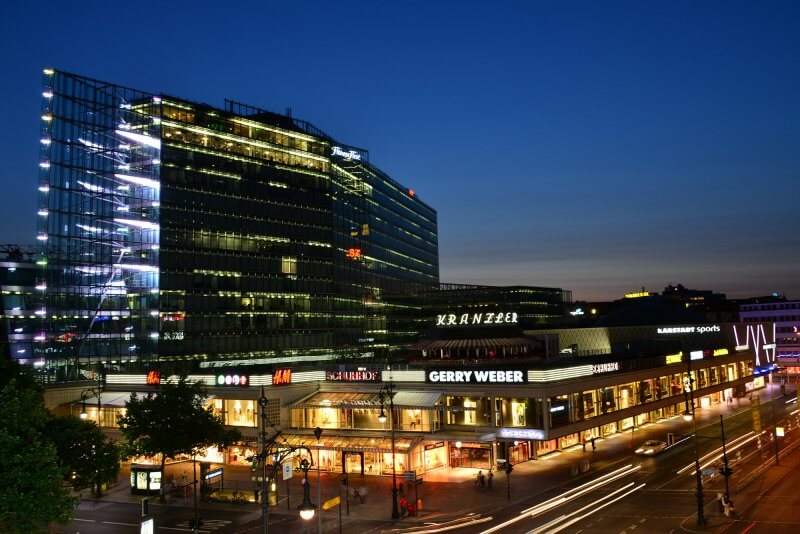 This store is aimed at a young audience, so the brands are appropriate: S. Oliver, Mango, Tom Tailor and others. There is also one of the most famous cafe in the city – Kranzler. Neues Kranzler Eck is one of the few places in the city where both tourists and locals like to shop.
Opening hours: 09.00 – 20.00.
Official website: www.kranzler-eck.berlin
Peek & Cloppenburg is one of the favorite shopping destinations for locals. Prices are quite low and the quality of goods is high. Here you should buy shoes of German brands and cosmetics.
Opening time: 10.00 – 20.00.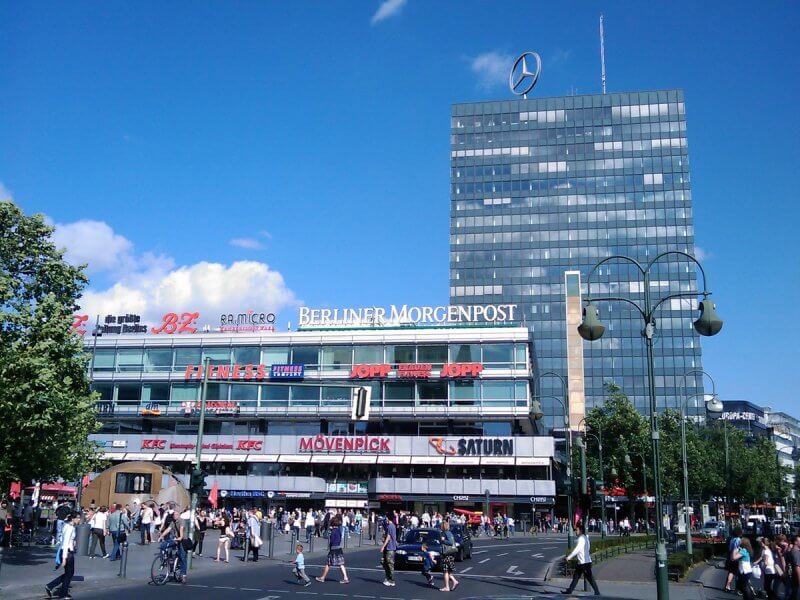 TC Europa-Center – another shopping center in the medium price category. On the territory of the store there are dozens of boutiques, where you can buy the following things: cosmetics, household goods, sweets, and, of course, clothes.
The building where the shopping center Europa-Center is located deserves special attention – it appeared on the map of Berlin back in 1965 and confirmed the economic prosperity of Germany. The main attractions are in the lobby – a dancing fountain and a water clock.
Opening hours: 24 hours (boutiques are open from 10.00 to 20.00).
Official website: www.europa-center-berlin.de
Schloßstraße
Schloßstraße is located in the southern part of Berlin, so there are fewer shops here, but the prices will be much lower. This area is mostly used for shopping by residents of the capital.
This shopping center, the name of which is translated from German as "Castle", is loved by local residents, because in spite of the luster of the shopping center, all stores are very affordable prices. In addition to the glitz and glamour of the stores, there is a variety of mid-range brands to choose from such as New Yorker, H&M and Mexx. In addition to clothing stores, the shopping center in Berlin sells electronics and perfumes.
Opening hours: 10 a.m. to 10 p.m.
Official website: www.dasschloss.de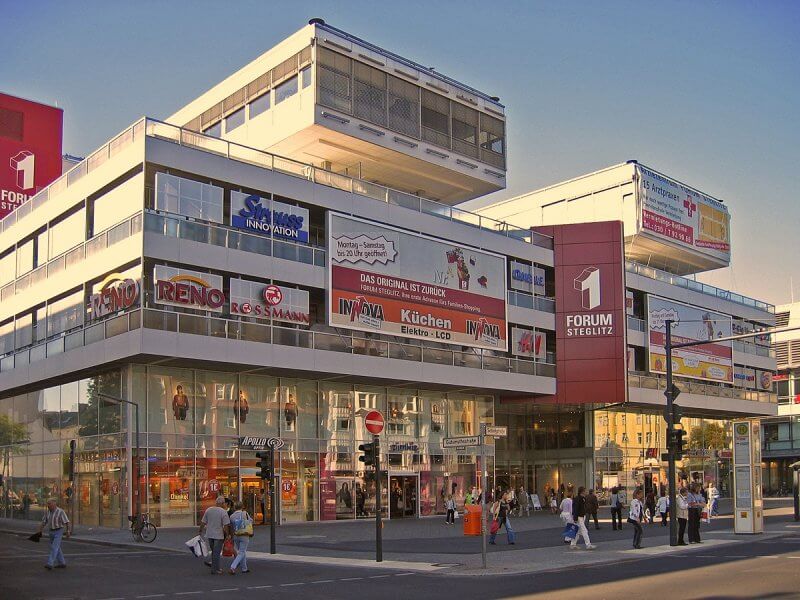 Forum Steglitzz is an economy-class store that is not very popular among tourists shopping, because most of the shopping center is occupied by stores selling sports equipment, electronics, household goods and building materials. In a smaller number of boutiques selling clothing and accessories.
Opening hours: 10 a.m. to 8 p.m.
Official website: www.forum-steglitz.de
Alexanderplatz
Alexanderplatz square is located near the railway station of the same name, so stores in this area are always full of visitors. Prices are higher than in other places.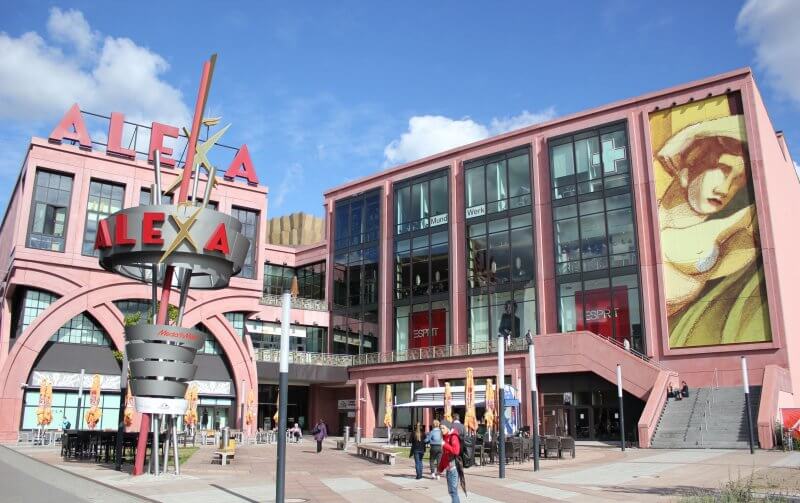 Alexa is one of the newest shopping centers in Berlin, opened in 2007. You can find there: men's, women's and children's clothing, accessories, perfumes, cosmetics and jewelry boutiques.
Alexa's popularity was brought by small specialty stores. For example there is a shop for confectioners, a store for handmade goods and sportsmen.
Opening hours: 10.00 – 21.00.
Official website: www.alexacentre.com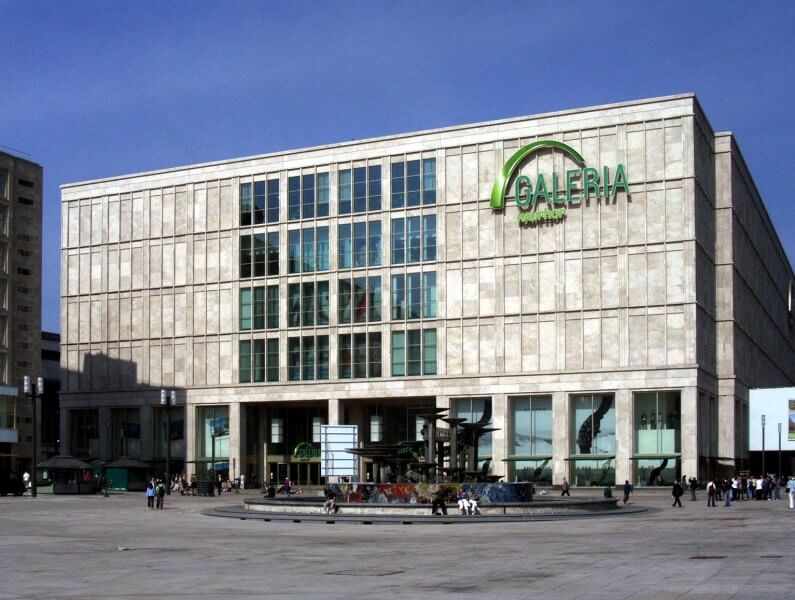 Galerei Kaufhof is very popular among tourists, because the store is located right near the bus station. On six floors you can make the following purchases:
The first floor – perfumes, jewelry and restaurants;
second floor – women's clothing, accessories;
third – men's clothing;
fourth – children's clothes, toys;
Fifth – shoes, sports equipment.
Working time: 09.30 – 20.00.
Official website: www.galeria-kaufhof.de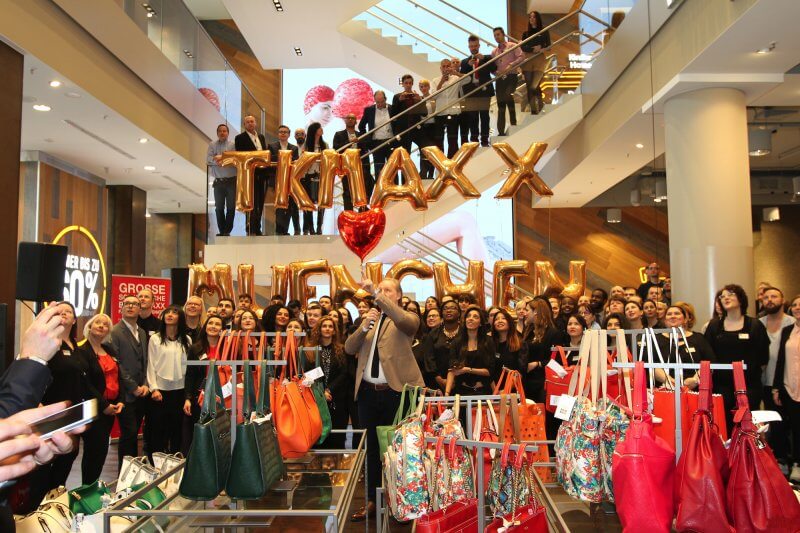 All experienced tourists, who were shopping in Berlin, advise to go to outlet TK Maxx if you want to buy favourably. Here you can buy clothes of well-known and not very popular brands at discounts ranging from 30 to 70% of the original price. The choice of products is very large: men's, women's and children's clothing, underwear, bags, cosmetics and a small stand with perfumes.
Opening hours: 9 a.m. to 9 p.m.
Official website: www.tkmaxx.de
Friedrichstraße
Friedrichstraße is one of the most expensive streets on Berlin's shopping map. Here are boutiques of famous and expensive brands: Lacoste, Swarovski, The Q. Among the shopping malls worth noting: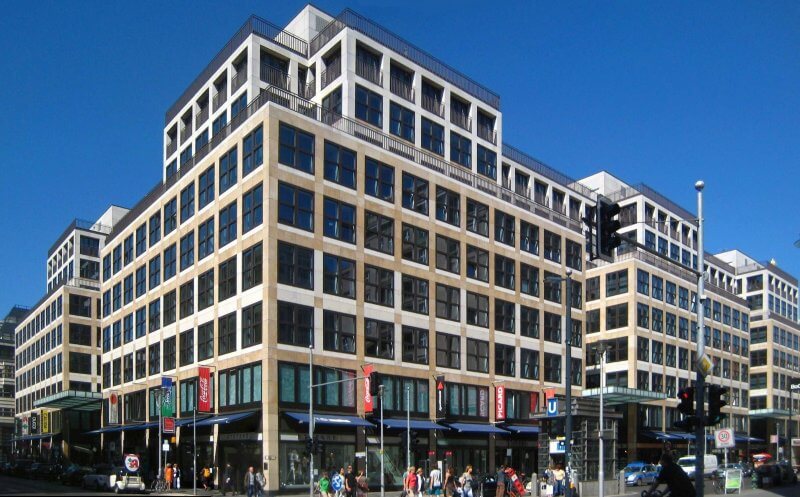 This is the smallest of the local malls, with a tea shop and a luxury lingerie store worth visiting. You can also buy clothes of famous European brands.
Opening hours: 10 a.m. to 8 p.m.
Official website: www.quartier-205.com
One of the most elite shopping centers in Berlin. Here you can buy perfumes (very large selection) and visit the eco-products department. Also note that on the first floor is a store called Last Season, which buys up last year's collections in famous boutiques, and then resells them at lower prices.
Opening hours: 10 a.m. to 8 p.m.
Official website: www.departmentstore-quartier206.com.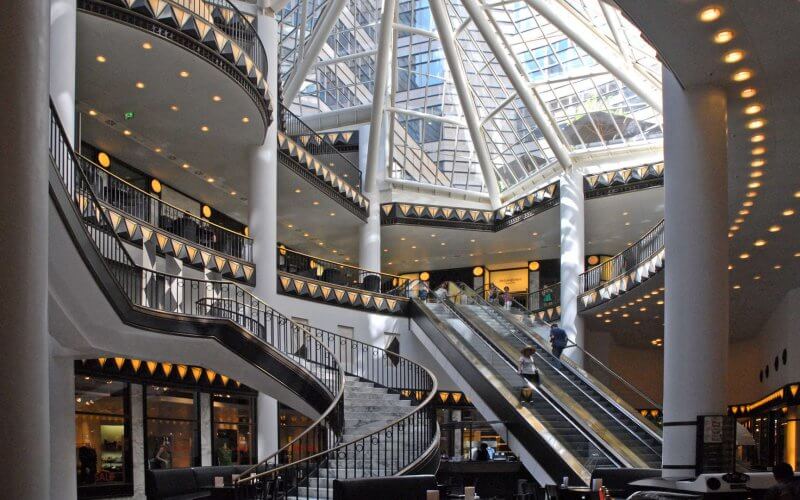 Shopping center Quartier 207 is an analog of Paris gallery, where you can buy high-quality German shoes, leather bags, jewelry and high-end perfumery. Be sure to stop by the Russian or French restaurant on the first floor.
Opening time: 10 a.m. – 8 p.m.
Useful tips
Since in the German capital most of the boutiques of European and American brands are regularly held sales. If you want to get the best bargains, visit the stores at the end of summer or a few days before Christmas – at this time they sell out the old collections at minimal prices.
Do not forget about souvenirs. From the German capital you can always buy a Berlin Bear, a piece of Berlin Wall, a model Trabant, a beer or a chocolate.
If you want to make a bargain in Berlin, visit outlet stores. Typically, their prices are 40-60% lower than in conventional stores.
If shopping in the malls is bored and you want to buy something unusual, go to a flea market. The most famous is Kunst-und Flohmarkt am Tiergarten. Here you can buy antique crockery, interior decorations, and rare technology.
Shopping in Berlin is an opportunity to buy quality items from world famous brands at low prices.
A visit to Berlin's shoe stores during their sale period:
Author: Maria Protasenya
Updated: 23 Mar, 2022 Shopping in Dubai is one of the favorite…
Updated: 5 Apr, 2019 Even those who aren't big fans of shopping,…
Updated: 24 Jun, 2019 Charlottenburg in Berlin is one of the most beautiful…
Updated: 17 Jul, 2019 A variety of epithets are appropriate for Berlin -…
Shopping in Berlin: stylish and cheap
Many sincerely wonder why go shopping in Berlin, if London and Milan have long been recognized as the fashion capitals. However, fans of the German capital know when and where to get high-quality and stylish items at huge discounts.
Before you go to Berlin, you need to know a few rules:
It is necessary to plan the time in advance, because shopping usually goes for a maximum of 2-3 days;
If these days include a Sunday, you can devote it to walks around the city, because all the stores are closed, even grocery stores. The exception is periods of grand seasonal sales;
groceries can only be bought during the day, there are no 24-hour supermarkets. If absolutely necessary, you can buy in the night shops, which are called Sp? tkauf.
Spring shopping
Despite the fact that the discount seasons are in summer and winter, spring is also worth going shopping, because you can get to the unofficial sales, which are associated with the closing of the season. Usually they begin in May and are 20-40% on winter clothes and about 10-30% on spring clothes, but it is not always and not in all stores, although in most cases a huge range allows you to buy a lot of things even in the spring quite cheaply.
Summer shopping: sale season
Summer shopping in Berlin each year increasingly attracts tourists from different countries, including Russia. It is announced the official date (for example in 2013 – July 22), when the sale starts, it is the last Monday of July, the duration – 2 weeks.
Shopkeepers announce the discounts with a sign Reduziert, Sale and a % icon. But do not rush to Berlin, better go to the second week of sales, discounts are at a maximum and reach 80%. In the first week they are 20-30%.
The only thing that can cloud the summer shopping is high airfare, which is associated with the vacation season.
Thermal springs and attractions of Karlovy Vary.
Not sure what to bring back from Berlin? Read this article about shopping in the German capital.
Autumn Shopping
Autumn shopping will not please the sales, but at this time you can buy stylish items from the new fall and winter collections of famous fashion designers. If you buy tickets to Berlin in advance, you can save on flights, and the close of high tourist season allows you to find a cheap hotel room. As noted by many tourists, even in the fall, prices for items and other goods are lower than in Moscow and other big cities in Russia.
Winter Shopping
For shopping in Berlin, winter is the time of Christmas fairs and sales. You can really save on everything:
airfare (if you buy in advance, from Moscow to Berlin and back – no more than 5 thousand rubles);
hotel, because prices are almost halved in comparison with the tourist season;
The shopping itself.
The period of winter sales – the end of January, when discounts reach 70%. As in summer, it is better to go for the second week. It is important to remember that the stores will be closed on Sundays, on the other days the opening hours of most – from 10 to 20 hours, some start 1 hour earlier.
What to bring from Berlin?
Going to Berlin for shopping, you should immediately think about what to buy in this city for yourself and bring as a gift to your loved ones.
Standard souvenirs, including trinkets, magnets, glasses, mugs and more. They have pictures of local attractions, made inscriptions in German. The most popular are soft toys – bears with hearts, on which is written a declaration of love to Berlin. The price depends on the size of the toy – from 5 to 30 euros.
Also not neglected are handbags, key chains and wallets with the word Berlin, the price starts at 5 euros.
Antiques are also popular and for their purchase is worth a look in Suarezstrasse, a complex that houses 30 antique stores.
Berlin's shopping malls and stores
When planning your shopping trip, you need to know well in advance which shopping centers and stores are worth visiting.
[stextbox caption=»Совет от любителей шопинга в Берлине»]Гостиницу для проживания нужно выбирать недалеко от Kurf?rstendamm – главной торговой улицы[/stextbox]
KaDeWe department store
Kaufhaus des Westens (abbreviated as "ka-de-weh") is one of the largest department stores in Berlin, located on Kurf?rstendamm, the longest shopping street, stretching more than 4 km. This center opened in 1907 and has become popular worldwide. On six floors of the building are stores of accessories, handicrafts, women's, children's and men's clothing, etc. Here you can find absolutely every luxury brand.
Business hours: Monday through Thursday from 10 am to 8 pm, on Friday until 9 pm, on Saturday from 9:30 am to 8 pm.
Department store "Europe-Center".
It is located next to KaDeWe, on the roof is a large Mercedes company badge. In the 60s and 70s it was the most successful and popular center, now it has given way to other department stores, you can go here to buy jewelry. There is also the famous Tiffany's Café, which resembles a winter garden.
Quartier 206
This shopping center is located in the eastern part of Berlin, and perfume lovers will be particularly pleased with the selection of fragrances that is not simply huge, but also exclusive. Its stores can be compared to a luxury department store, where only luxury brands are available. New items are on the second floor, while the ground floor is reserved for last season's collections.
How and how long does it take to fly to Goa? Instructions for the right flight to the sunny beaches of India.
Documents required to obtain a passport through the state services website. Read the review article here.
Lafayette Gallery
The gallery is located on Friedrichstrasse, its exterior is particularly attractive, it resembles a glass funnel, which is exactly what architect Jean Nouvel wanted. On the first floor you can buy various accessories and cosmetics, on the other floors there are boutiques with clothes, bags, glasses and designer brands, but not as many famous as you would like.
Arcada Gallery
Potsdamer Platz, where Britney Spears prefers to shop when she comes to Germany. There are a total of 130 stores selling accessories, clothes, cosmetics, electronics and books, and you can also relax in the café, restaurant and bar.
Berlin flea markets
In Berlin flea markets is unlikely to buy something of quality and valuable, but you can always indulge yourself with nice little things: books, records, antiques, toys, watches, etc.
One of the famous flea markets in Berlin – Berliner Antik- and Flohmarkt, consisting of a large number of shops located near Friedrichstrasse square. Market works from 11 to 18 hours, you can buy a variety of small items "from grandma's chest," jewelry, watches and lamps. There are a lot of bars and cafes nearby.
Berliner Kunst- und Nostalgiemarkt is also located near Friedrichstrasse, you can buy souvenirs, inexpensive clothes, books and relics of the GDR. If you decide to buy something here, you should bargain, because the prices are markedly inflated. The market is open only on Saturday and Sunday from 11 to 17 hours.
If you have time, it is worth visiting Hallentroedelmarkt Treptow – the largest flea market in Berlin, located on the territory of the old factory. Mode of operation – from 10.00 to 16.00. Here they sell old clothes, books, furniture, electrical appliances, etc.
The most famous and old market – Troedel- und Kunstmarkt, most traders are professional collectors, so there are almost no cheap prices here. The market is open from 11 to 17 hours.
Young people prefer Flohmarkt am Arkona Platz, it sells things from the 60s and 70s, the prices are quite reasonable compared to the other markets. Open only on Sundays from 10 to 17 hours, in winter – until 16.
Tips for shopping
It is better to go during sales – in January or July, when the discounts reach 80%;
buy tickets in advance to save on flights;
book a hotel near the shopping streets and centers;
choose in advance which shopping centers and stores you want to visit;
if there is time, go to flea markets, you can find a lot of interesting things there;
do not forget to buy gifts and souvenirs for your family and friends.
[tp_search_shortcodes origin="" destination="BER" hotel_city="Berlin, Germany, 1538, 9510, city, Germany" type="avia_hotel" subid=""]
For comfortable lodging in Berlin, there are many hotels for every taste. Take your pick: