Sharm el Sheikh in Egypt – The Best Sights.
Attractions in Sharm el Sheikh are not only nightclubs, restaurants and bars, but also national parks, a beautiful underwater world and the Old City.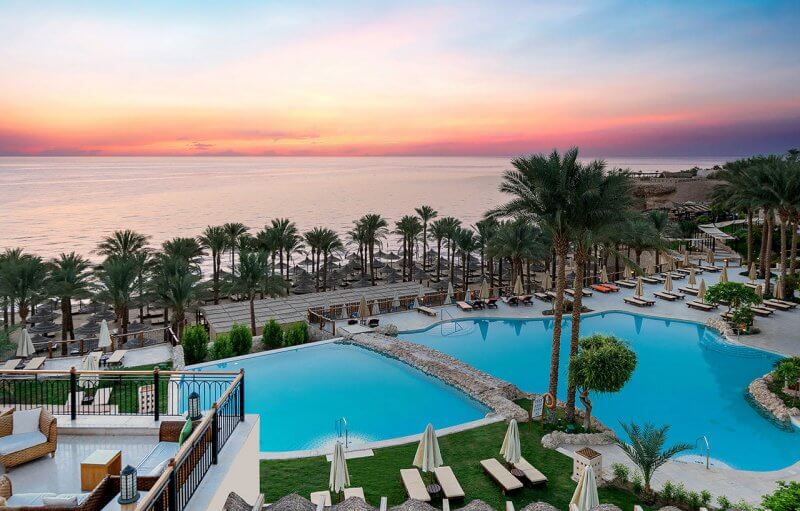 Sharm el-Sheikh is the second most popular resort in Egypt, located in the southeastern part of the Sinai Peninsula. Each year, this place is visited by more than 1 million tourists. Despite the relatively young age of the city, there are several interesting sights that will be of interest to many travelers.
Below you will find a list of the 8 most interesting places to see in Sharm el-Sheikh, Egypt.
Ras Mohammed National Park
Ras Mohammed is a national park in Sharm el-Sheikh, known for its beautiful landscape and many natural attractions. This place is in many ways unusual because tourists can see here as the underwater world of Egypt (i.e. to dive into the Red Sea), and just walk along well-groomed paths.
More information about the reserve can be found on this page.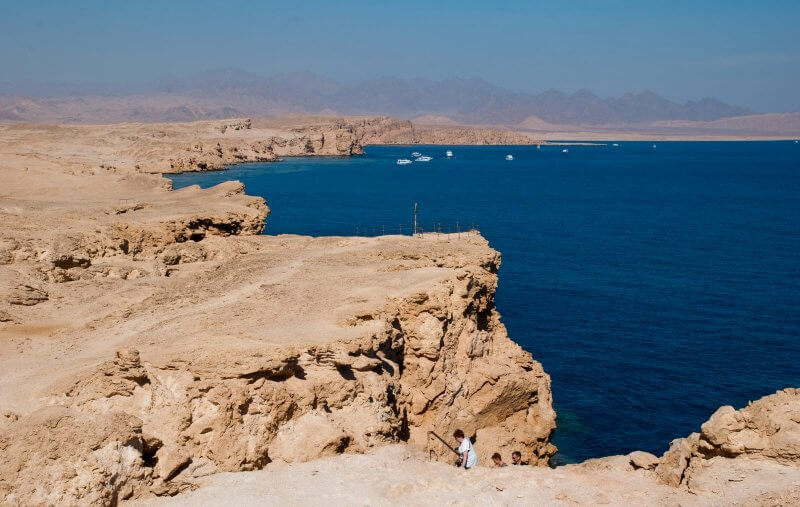 SoHo Square and the Singing Fountain
Soho Square is one of the main squares in Sharm El Sheikh, well known for its many lighted garlands, sculptures, and a singing fountain. There are always a lot of tourists in this part of town, but the maximum number of people come here in the evening to enjoy the show.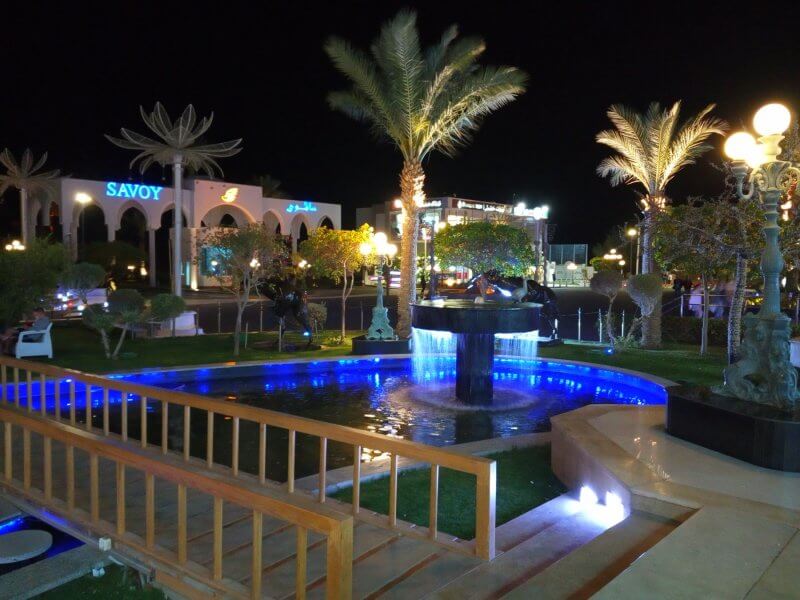 Vacationers say the singing fountain in SoHo Square is an interesting and picturesque place, but it does not differ from similar attractions in other countries. It's not worth the trip just to see the show. However, if you are in the area, you can take a look at the show.
Location: White Knight Sharks Bay, Sharm El Sheikh.
Old Market
The Old Market of Sharm El Sheikh is a shopping mall located near the newest mosque in the city of Al Sahaba. It is extremely crowded, and most of the buyers are tourists. Locals almost never shop here, because the prices are higher than average.
In total there are about 300 stalls where you can buy at the market:
Markets in Eastern countries are not only rows of shops where you can buy something, but also places where you can relax, watch performers or see trained snakes. Foreigners should come here not just for shopping, but for the atmosphere and good mood.
Some useful tips:
Do not buy in the stores at the entrance of the bazaar. The further into the Old Town you go, the lower the prices.
Be sure to haggle because they are exorbitantly priced.
At one of the oil and perfume stalls.
Open from morning till midnight (each shopkeeper works as long as he/she likes).
Location: Sharm el Sheikh, Sharm el Maya, Old Town area.
Naama Bay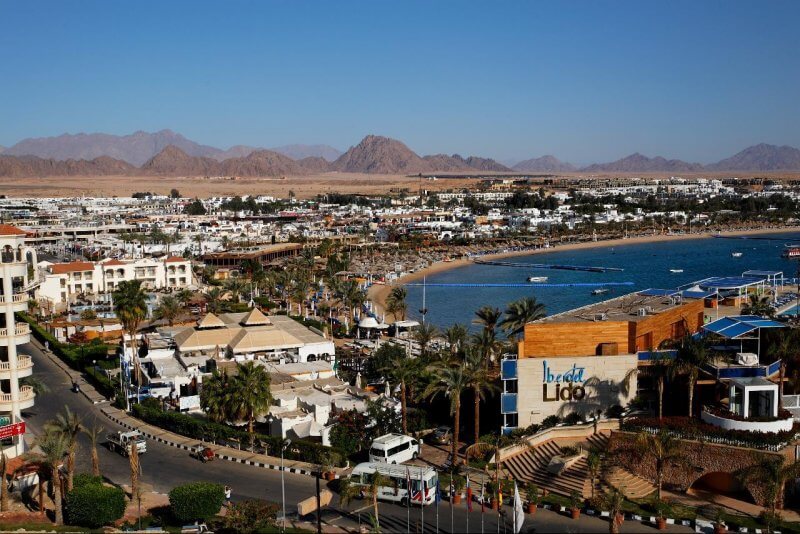 Naama Bay is a favorite vacation spot for tourists and locals. It has rapidly developed from a small village by the sea to the tourist center of Sharm El Sheikh.
In fact, it is a mini-city, which has everything for a comfortable holiday: a lot of stores and boutiques, cafes and restaurants with national cuisine, nightclubs and bars, hotels and guest houses. Here you can find the best diving centers and offices of leading travel companies in Egypt.
Naama Bay has five beaches, which are clean and beautiful. All of them are free – the only thing you have to pay is to rent a deck chair or umbrella. For an overview of other beaches in the resort, see this page.
Most people come out to Naama Bay in the evening to walk along the promenade and look at the evening Sharm el Sheikh. Toward midnight, a temporary market opens with artisans selling their wares: paintings, panels, Egyptian pyramid figurines and leather goods.
Read more about diving in Sharm el-Sheikh here, and on one of the best reefs in the world near the resort in this article.
Coptic Orthodox Church
The Coptic Church is one of the original buildings, known as the only Christian church in the city. Tourists should see this attraction of Sharm el-Sheikh, because here the guests are treated extremely favorably, and do not seek to make more money on them.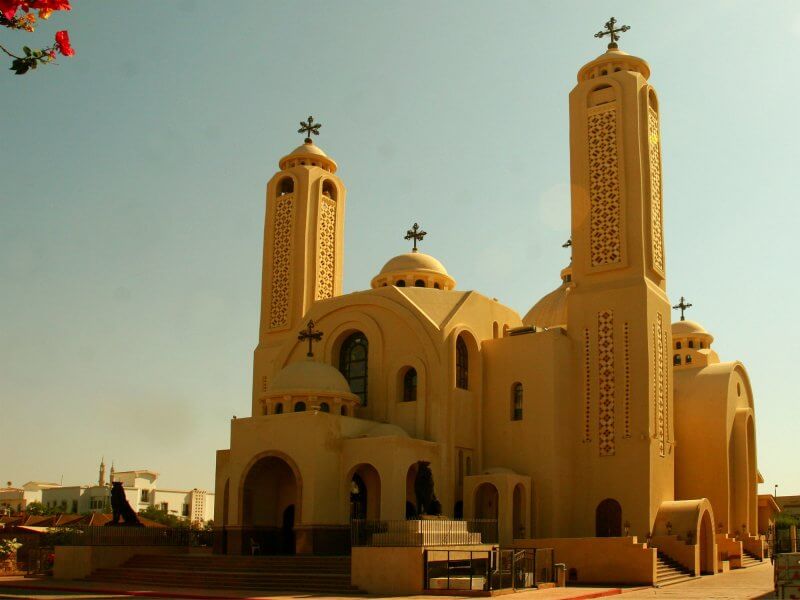 The Coptic Church is worth visiting not only for believers but also for those who simply want to learn as much as possible about this branch of Christianity.
A detailed description of the temple with photos you will find in this article.
Mustafa Mosque.
Among the things to see in Sharm el-Sheikh on your own is El Mustafa Mosque, one of the newest mosques that appeared on the map of the city in 2006. The attraction is located in the northern area of Delta Sharm, which makes it far from everyone to get here.
The mosque is built in the shape of a square and flanked by two carved minarets of gray marble. At night, the mosque is illuminated, making it look snow-white. Around the monument laid out a large park with benches, small arbors and beautiful flowerbeds.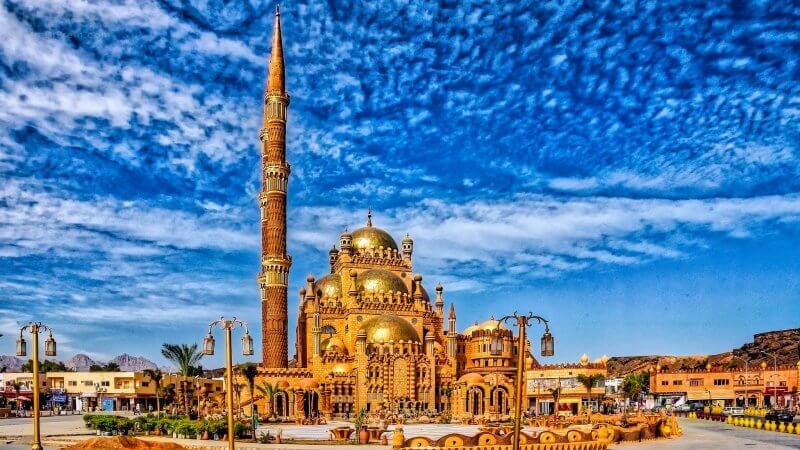 Everyone can visit El Mustafa, but you have to observe the following rules:
Entrance for men and women is separate, and men can explore the main hall, and women can explore the rooms on the second floor.
It is necessary to take off your shoes.
The main mass of believers comes to the mosque in the afternoon, so travelers are better to come here in the morning – so you can not only look at all the details of the interior, but also be able to take a couple of pictures.
Remember about the dress code.
If you are lucky, the muezzin (the same as a church minister in Christianity) can give a free tour of the mosque and tell unexpected facts about the history of Islam. It is interesting that many of the volunteers working at this site in Sharm el-Sheikh, Egypt, know Russian.
Working time: 8.00-20.00.
Location: South Sinai Governorate, Sharm el-Sheikh, Hay Al-Nour area.
Dolphin Park
Dolphin Park is one of the most famous dolphinariums in Egypt, located in the center of Sharm El Sheikh. There are regular performances, as well as the opportunity to swim with the dolphins.
Reviews of travelers are contradictory. Most remain delighted with the quality shows and the opportunity to take pictures with dolphins, but this institution has several significant disadvantages.
First, the water in the pool is sometimes very cold, and if you have already paid to swim with a dolphin, you will not get your money back. Secondly, the costumes, which are issued to all visitors, you have to put on immediately after the previous person takes it off – it's not very nice, and, in addition, it is problematic to put on already wet clothes.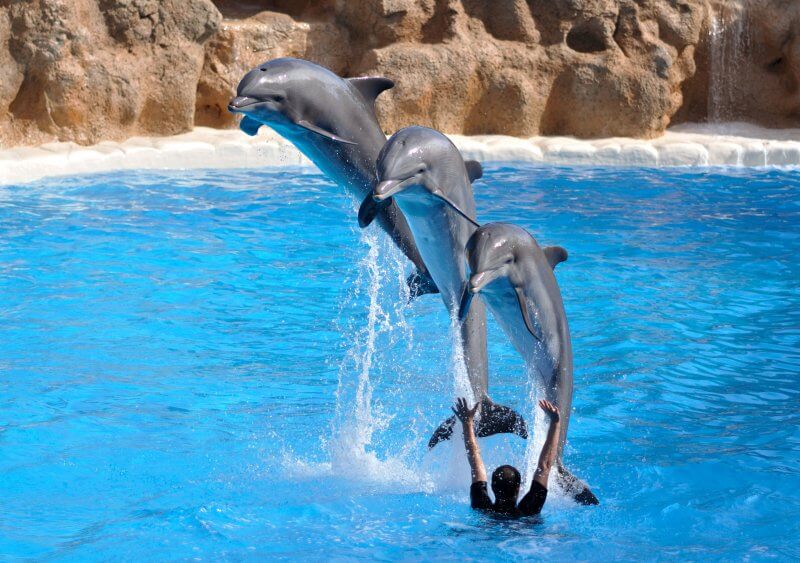 Thirdly, many visitors say that the declared 15 minutes of swimming with a dolphin is not true – most of this time is spent on posing in front of the camera and taking videos.
Finished photos and video are charged separately. One picture costs $8, a video (15 minutes) costs $35.
Opening hours: 9 a.m.-6 p.m.
Hollywood Sharm El Sheikh Park
Hollywood Sharm El Sheikh is a famous and once very popular amusement park in Sharm El Sheikh, which is now going through its not good times. There are a lot of sculptures of characters from American movies and a lot of small cafes, slot machines and a concert stage where artists perform in the evenings.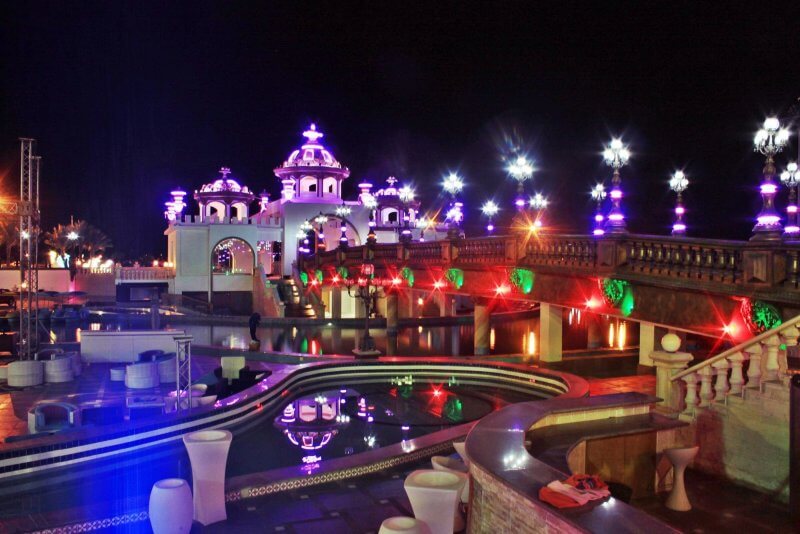 Once the most popular club in Sharm el-Sheikh, located in the park, has closed for more than three years, and the flow of people slowly but surely dries up. As for the singing fountains, now they do not turn on full power, so the spectacular show is not possible.
Travelers recommend to go to Hollywood Sharm El Sheikh, if you are nearby – it makes no sense to go to this place purposefully.
Opening hours: 9 a.m.-6 p.m.
Cost: 6 dollars.
Location: Peace Road, Sharm El Sheikh.
Official site: http://hollywoodsharm.com
Desert Excursions
Sharm El Sheikh is surrounded on all sides by desert and a trip to this natural area is incredibly popular. You can go on your own, but much more interesting to go with a professional guide, who will tell a lot of interesting information and will not let you get lost.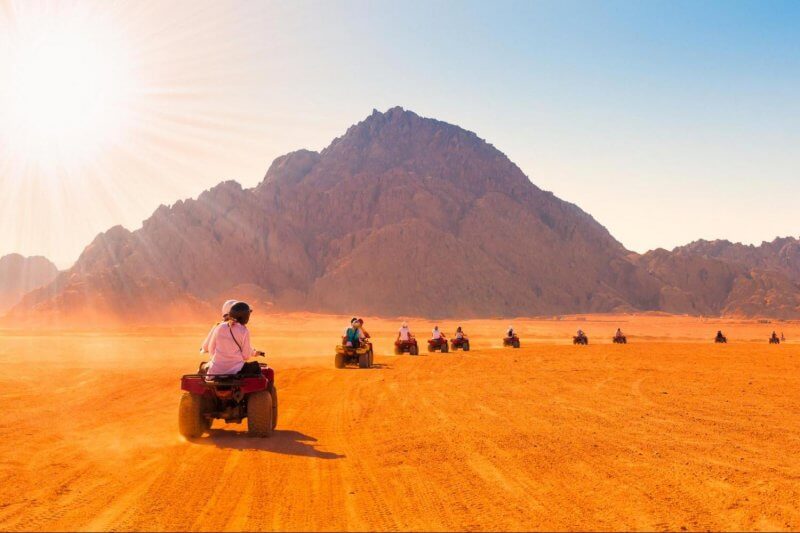 One of the most popular tours in the desert is a safari on quad bikes or buggies. The trip lasts only a few hours, so tourists do not have time to get tired of the heat. The approximate plan of the trip is as follows:
09.00 – boarding the bus in Sharm el-Sheikh;
09.40 – arrival to the base in the desert, boarding on quad bikes (buggies);
10.00 – drive on quad bikes to Bedouin village;
10.30 – breakfast in the village (tasting of Bedouin tea and traditional Egyptian dishes);
11.00 – return to the base by ATV;
12.20 – arrival in Sharm el-Sheikh.
Cost: $15 for ATV and $35 for a buggy ride.
Perhaps the most atmospheric and interesting excursion program, allowing a day to turn into a Bedouin and travel on camels.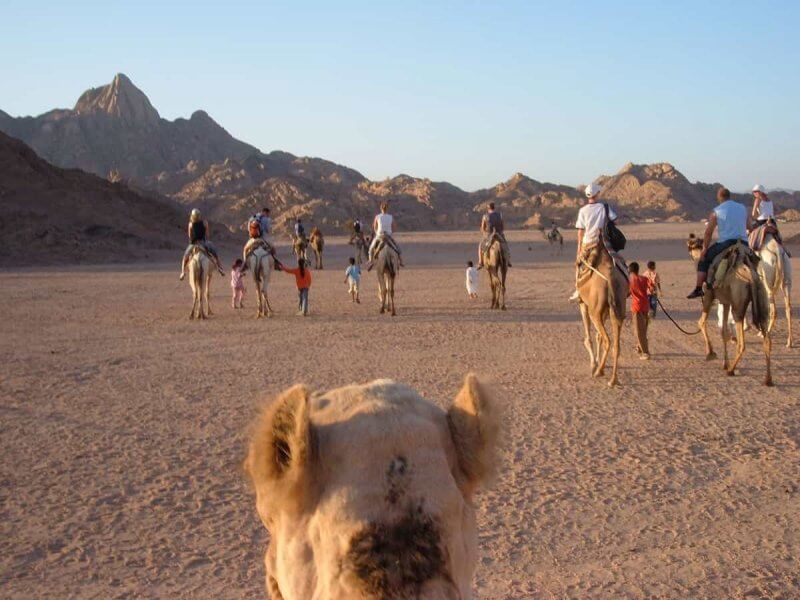 7.30 – Departure from Sharm el-Sheikh by minibus;
8.30 – Arrival to the Color Canyon, walk;
10.00 – arrival by minibus to Bedouin village, rest and tasting of local teas;
11.00 – camel ride along the Red Sea to the coral reefs;
11.30 – snorkeling (masks provided);
13.00 – lunch;
14.00 – arrival in Dahab, shopping;
18.00 – arrival in Sharm el-Sheikh.
Cost: $20 for adults and $10 for children.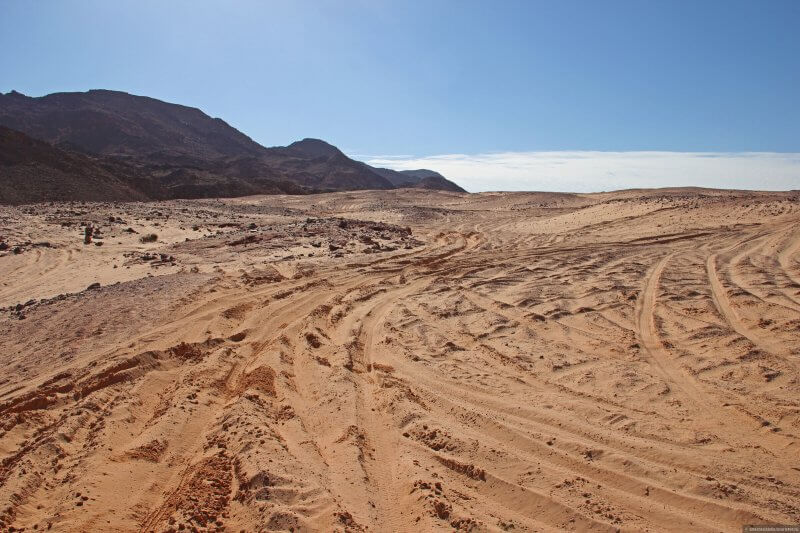 This is one of the least known, but certainly very interesting excursions from Sharm el-Sheikh. Trip plan:
07.30 – boarding the bus (or jeep);
10.00 – arrival at the area "The Lost Land" (this section of the desert, located at an altitude of 1000 meters above sea level);
10.00-13.00 – long walk during which you will see rocks of unusual shape, long tunnels through the canyon walls, dunes and ancient rock paintings;
13.30 – lunch at Bedouin's;
14.30 – arrival in Sharm el-Sheikh.
Cost: $30.
This is an excursion from Sharm el-Sheikh, where you can look at the starry sky and enjoy the silence of the desert. The trip begins at 6 pm and ends at sunrise:
6 p.m. – boarding the bus;
19:30 – arrival in the desert, stopping near the base where there is a telescope;
20.00 – Bedouin dinner;
21.00-03.00 – stargazing and "excursion" to "sights" of Sharm El Sheikh sky.
Please note that you should bring warm clothing, as it is cold at night in the desert.
Cost: $25.
Mandatory conditions for all of the above excursions are:
headgear;
comfortable clothing and shoes;
swimwear (relevant to the second tour);
sunscreen;
It is recommended to take a handkerchief, if you will go on quad bikes in the desert.
In addition to the above excursions, very popular are boat trips with a transparent bottom – so those who do not want or can not dive into the water, will be able to see all the beauties of the underwater world.
Attractions in Sharm el Sheikh are very diverse, so will be of interest to different categories of tourists.
Prices on the page are listed in March 2020.
The most interesting tours in Sharm el Sheikh:
Author: Maria Protasenya
Updated: 24 Mar, 2020 In Egypt, from the south side of the Sinai Peninsula is located…
Updated: 7 Apr, 2020 The beaches of Sharm El Sheikh are among the most popular resorts in…
Updated: 28 Mar, 2022 The Coptic Church, one of the youngest attractions in…
Updated: 26 Mar, 2020 In the second half of the 20th century, Egypt entered the…