The most beautiful country in the world – Scotland
Every country has its own unique kind of beauty, and just because a country is not one of the most popular tourist destinations does not mean that it is not a gem in its own right. Rough Guides, based on reader votes, has figured out what the most beautiful country in the world is, and it is none other than Scotland.
The northernmost of the four countries that make up the United Kingdom, Scotland's dominance of the list should come as no surprise to anyone who has ever been there.
Why Scotland is the most beautiful country in the world
Gorgeous castles and quaint fairy tale-like villages, relatively unspoiled beaches and gorgeous lakes characterize this magnificent country. There are also many fascinating things to do on a trip through the country, from discovering ancient history and tasting Scotch whiskey, to taking advantage of great opportunities to explore by car, bike or on foot.
With so much to do and so many places to see, it's no wonder Scotland is the most beautiful country in the world.
1. the Isle of Skye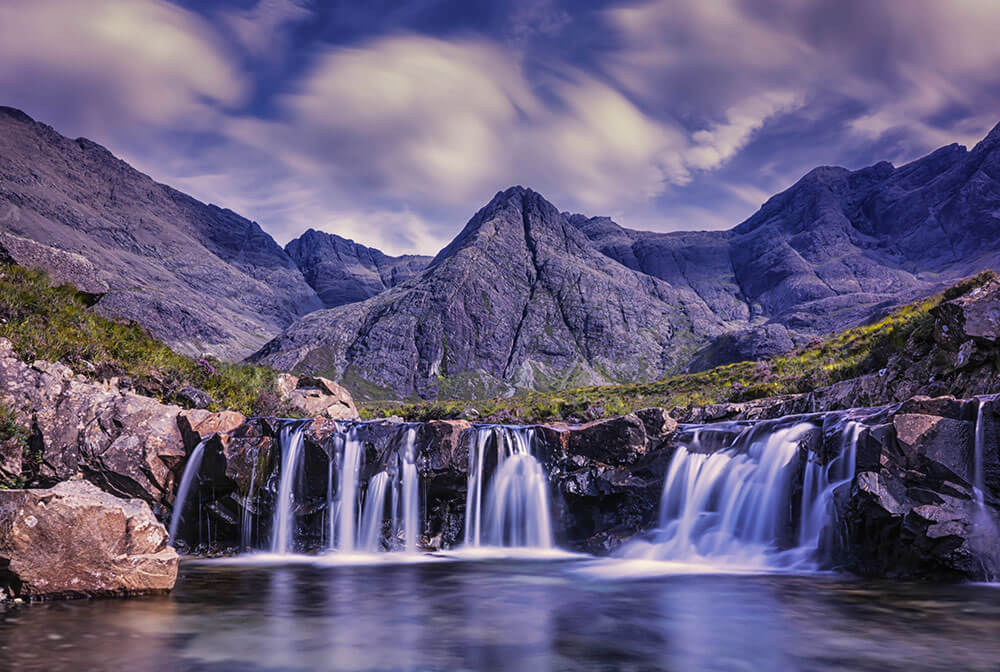 The largest island in the Inner Hebrides, the Isle of Skye has some of the most incredible scenery in the world. Historic castles dot the island against a backdrop of mountainous scenery, and famous landmarks include Old Man Storr – a rocky cliff rising from grassy slopes – and charming fairy pools made up of beautiful blue and green waterfalls and natural pools in which you can swim.
2. Rannoch-Moore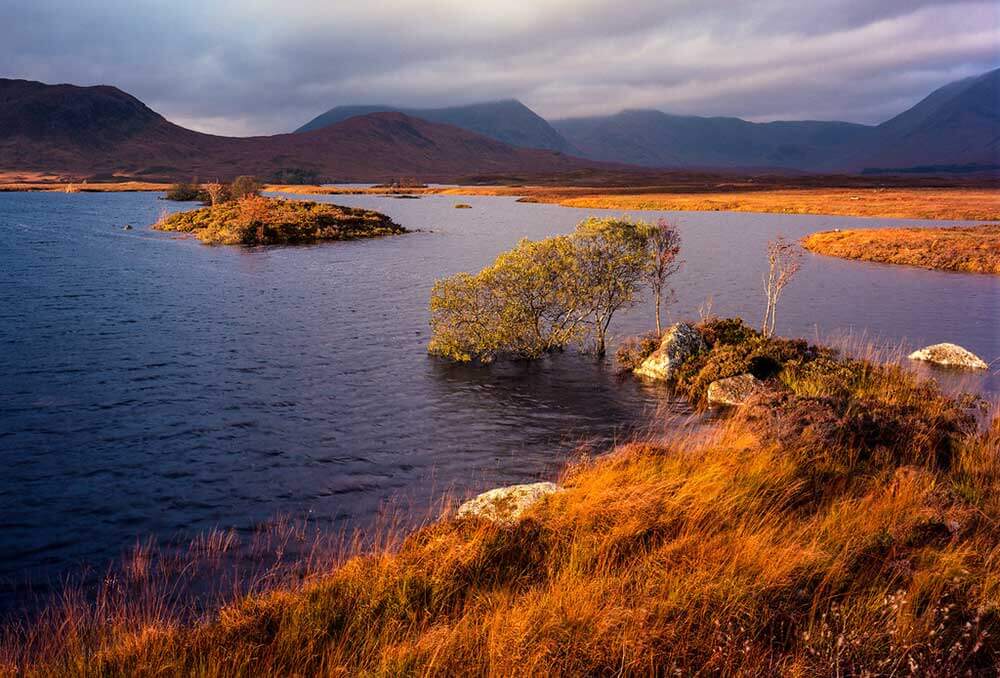 Rannoch Moor is in the middle of a 50-kilometer marshy heathland that is home to all sorts of interesting and unique wildlife. You can see beautiful deer in this relatively barren space.
3. Loch Lomond.
Located in the southern part of the country, Loch Lomond is the largest inland body of water in Great Britain. Both mountainous terrain and lowland surround the freshwater lake, which lies right on the shore between them. Here you'll find tranquil landscapes filled with oaks and deer, as well as hiking and biking trails on the east side of the lake for you to explore.
4. Dunnottar Castle.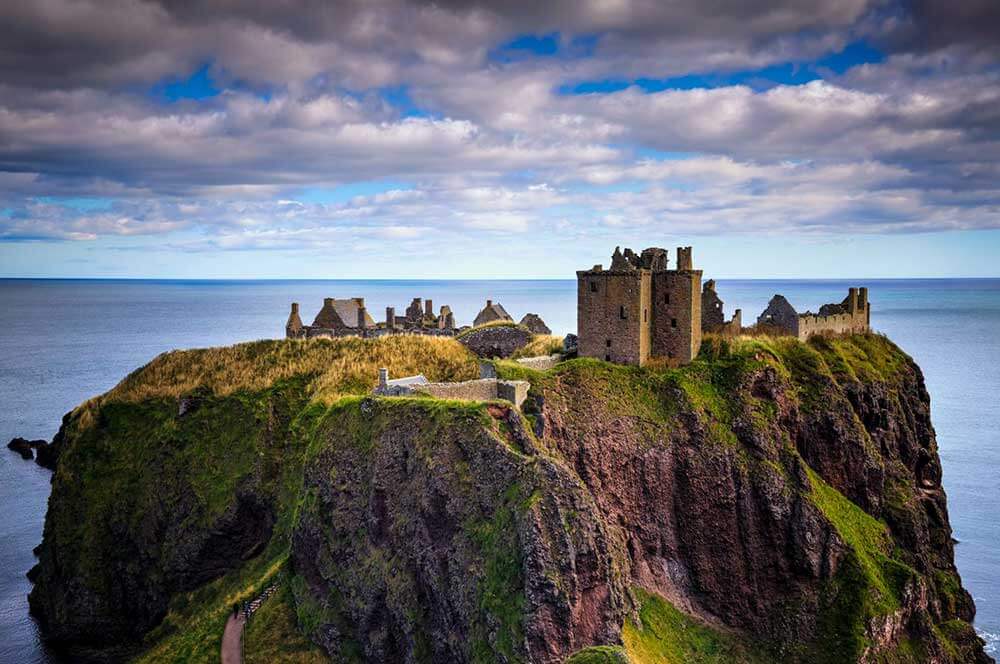 Along the northeast shore is Dunnottar Castle, a ruined medieval fortress consisting of remains from the 15th and 16th centuries. It is important in Scottish history because of its advantageous location. Although the castle fell into disrepair after playing a major role in the 1715 Jacobite Rebellion, it was rebuilt in the 20th century and is now open to tourists who want to see this piece of history and the breathtaking scenery surrounding it.
5. Aiona Island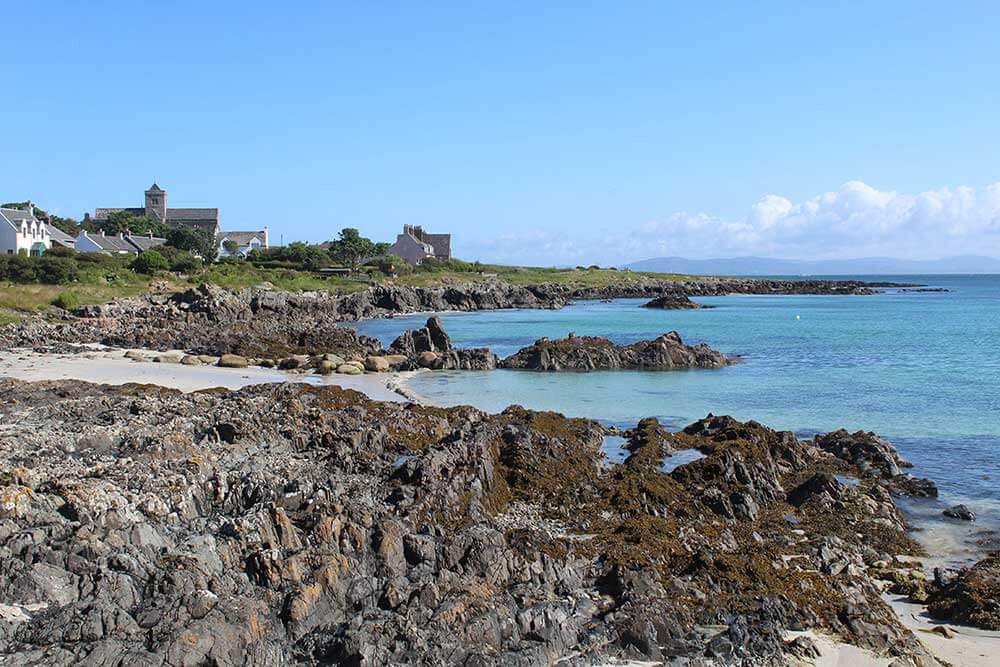 Aiona Island is one of the smaller islands of the Inner Hebrides, and a tranquil place where many people go for spiritual retreat. Its quaint abbey is now a church, but remains a feat of medieval architecture of interest to visitors interested in both history and religion.
6. Glencoe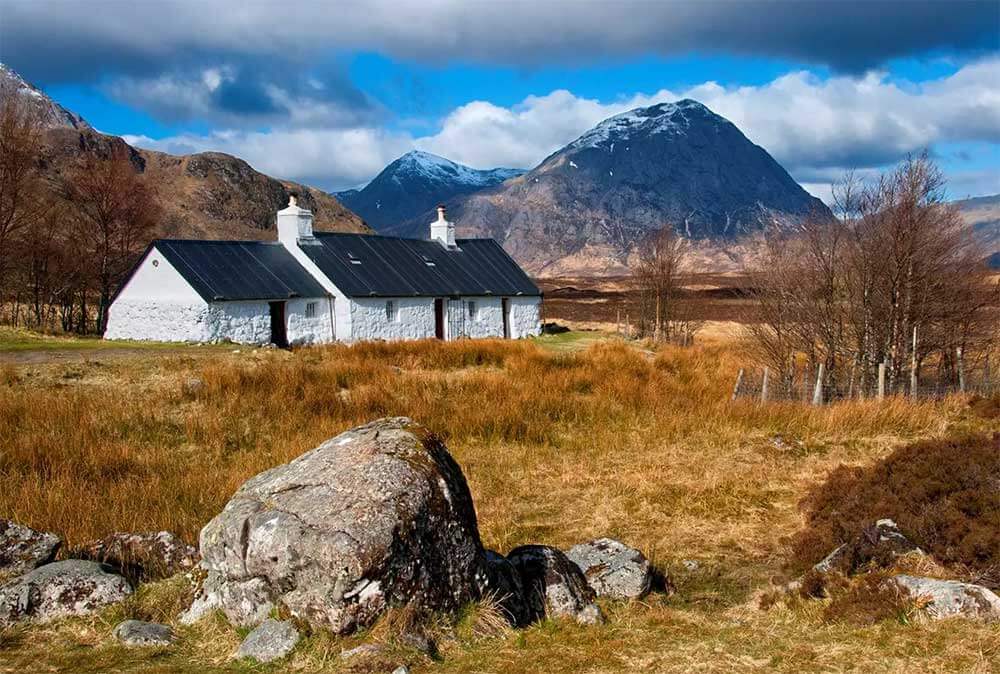 Glencoe, a village of fewer than 400 people in the Scottish Highlands, is full of gorgeous green scenery and mountainous landscapes. Located in the northwestern part of Glencoe, the village is nestled along the Coe River where it flows into Loch Leaven. Get a breathtaking view of the entire area from the summit of Glencoe Pap, a scenic enough spot to visit.
7. Bilach on the Ba.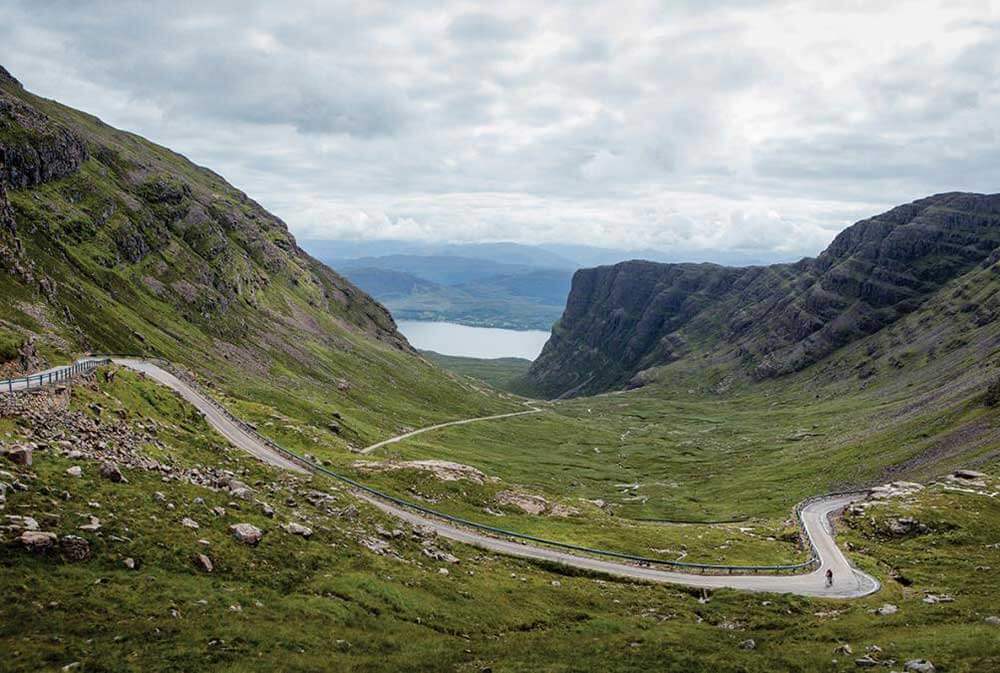 Bilach on Ba is a mountain pass that was built in 1822. It connects the towns of Applecross and Torridon. It is known for its hairpin bends and the steepest gradient of any road in the United Kingdom. It's not for amateur drivers, but still a great experience for those who want to take an exhilarating drive.
8. Orkney Islands.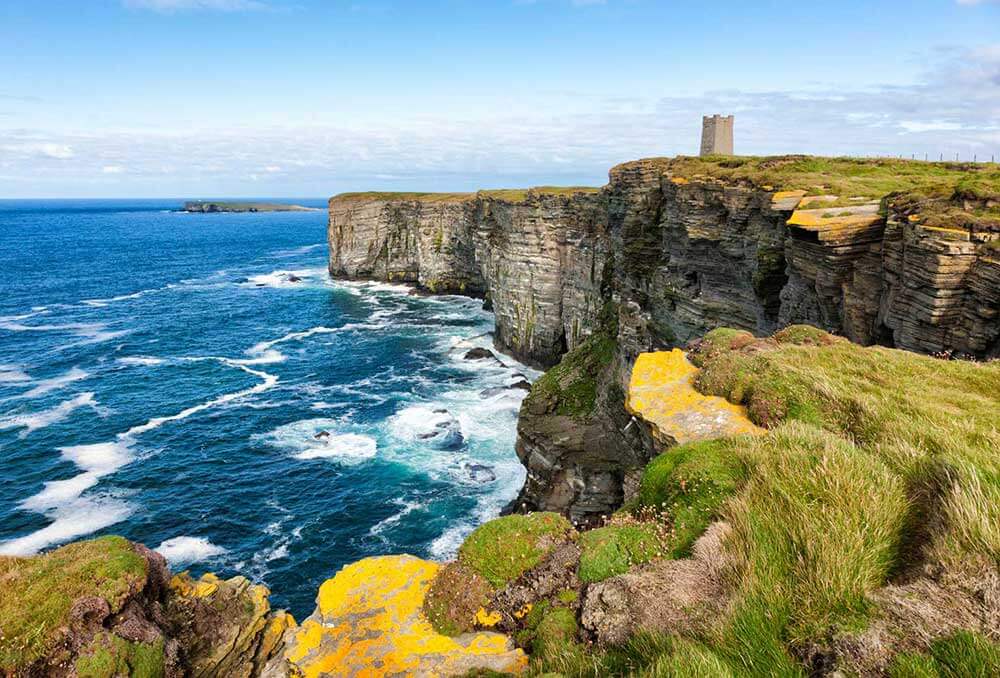 The Orkney Islands, a group of islands off the northeast coast of Scotland, are home to majestic whales and ancient history. Here you can find Neolithic sites, particularly a group of sites on its largest island that is more than 5,000 years old, such as Meshaw, a cemetery with Viking carvings from the 1300s and Skara Brae, a preserved ancient village where you'll find a reconstructed house from the era.
9. Crale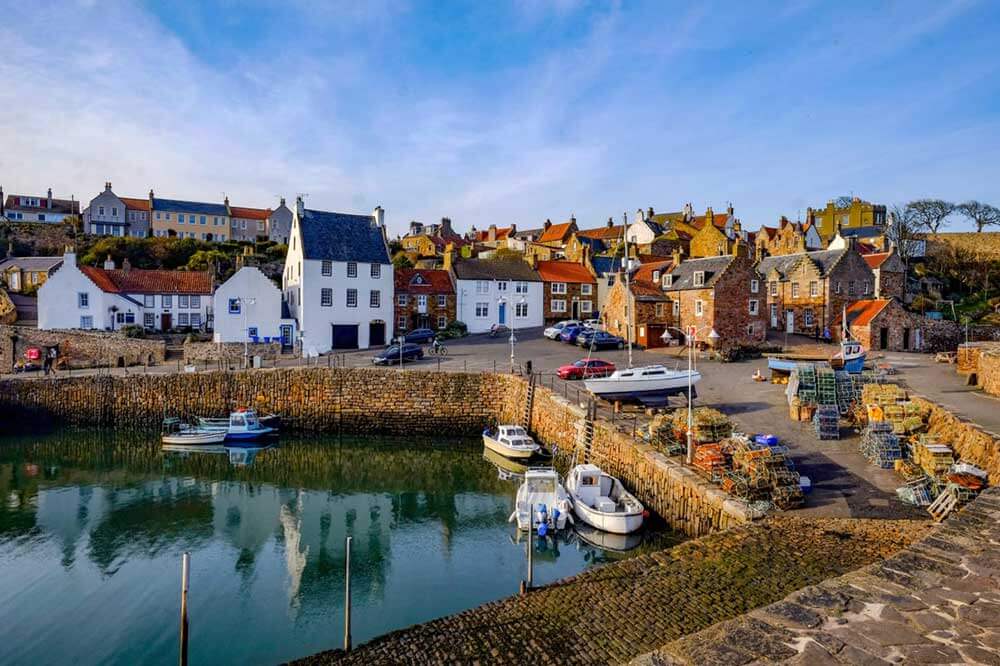 The picturesque county of Crail on Scotland's west coast is known for its architecture and picturesque location. A historic fishing village with many 17th-century buildings, many of which have been restored thanks to the National Trust for Scotland, it's ideal for strolling through the cobblestone streets.
10. Finnich Glen.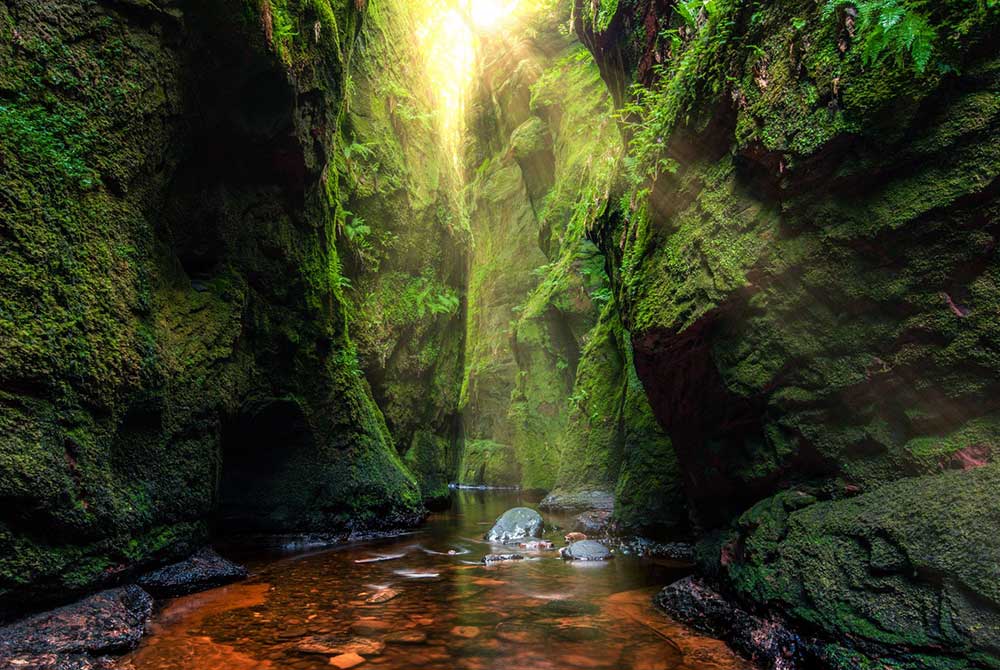 Finnich Glen is a 20-foot high valley located in Stirlingshire, near Craigat Wood. The round rock in the valley is known as "The Devil's Stand," and the steep staircase, built in 1860, is known as "The Devil's Steps." Hidden under a small stone bridge that people cross to enter the neighboring village, Croftamie is a mysterious gorge made of sandstone that sometimes makes the water look red, making a striking contrast to the moss-covered walls.
11. edinburgh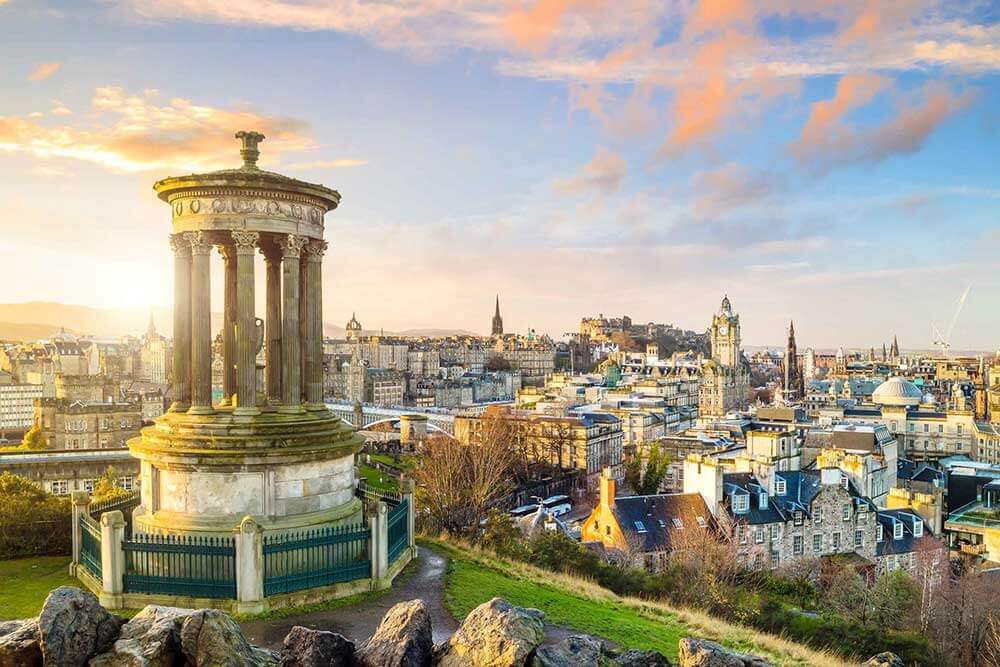 The Scottish capital is an interesting mix of tradition and modernity, with modern architecture standing alongside Gothic churches and medieval palaces. Both the new and old cities of Edinburgh are UNESCO World Heritage Sites, the latter being home to the famous Edinburgh Castle, which towers over the city from one of its highest points.
12. the Isle of Mull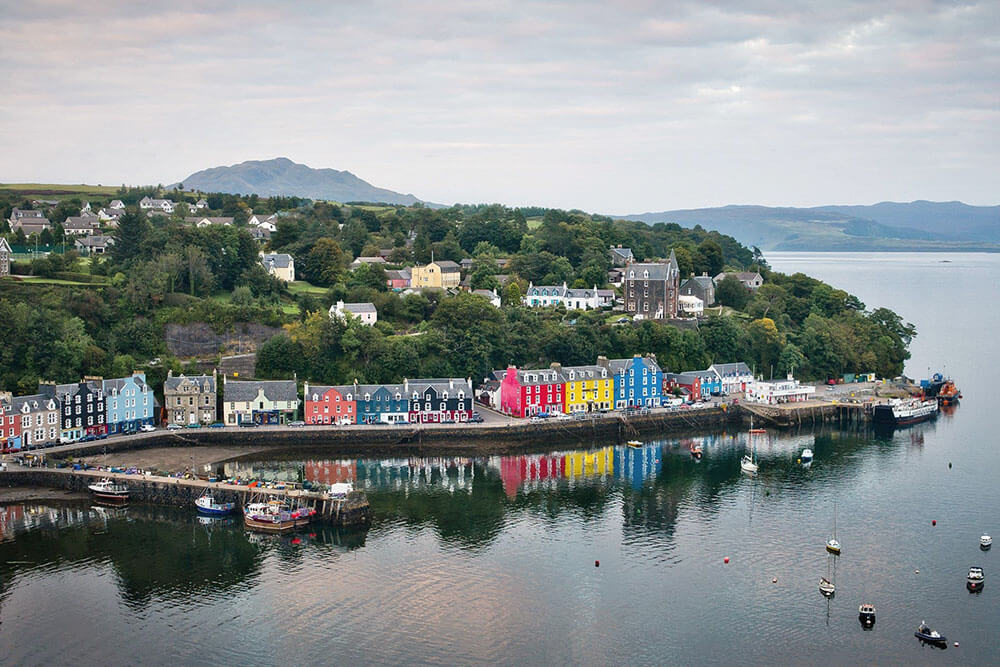 The main attraction of the Isle of Mull is its capital, Tobermory. It is a coastal town that is home to the island's only single malt Scotch whiskey distillery and a main street filled with brightly colored buildings with some great stores and restaurants.
Mallet also has great beaches, beautiful hills, and fascinating wildlife, and it is there that you will find the beautiful Griboon Cliffs.
13. Loch Ness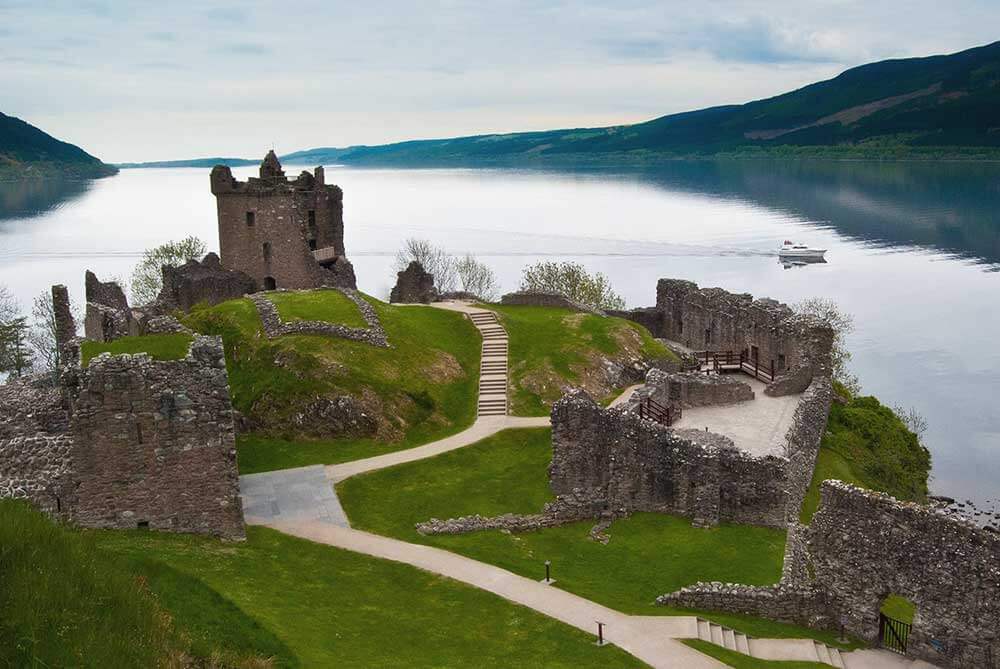 You may not be able to discover the famous monster of Scottish legend, but a trip to Loch Ness is still full of mystery and wonder at the beauty of this large and deep freshwater lake surrounded by beautiful scenery in the Scottish Highlands.
Visit the ruins of 13th-century Urquhart Castle, which overlooks Loch Ness on its western shore, to learn a little about Scottish medieval history.
14. Allapool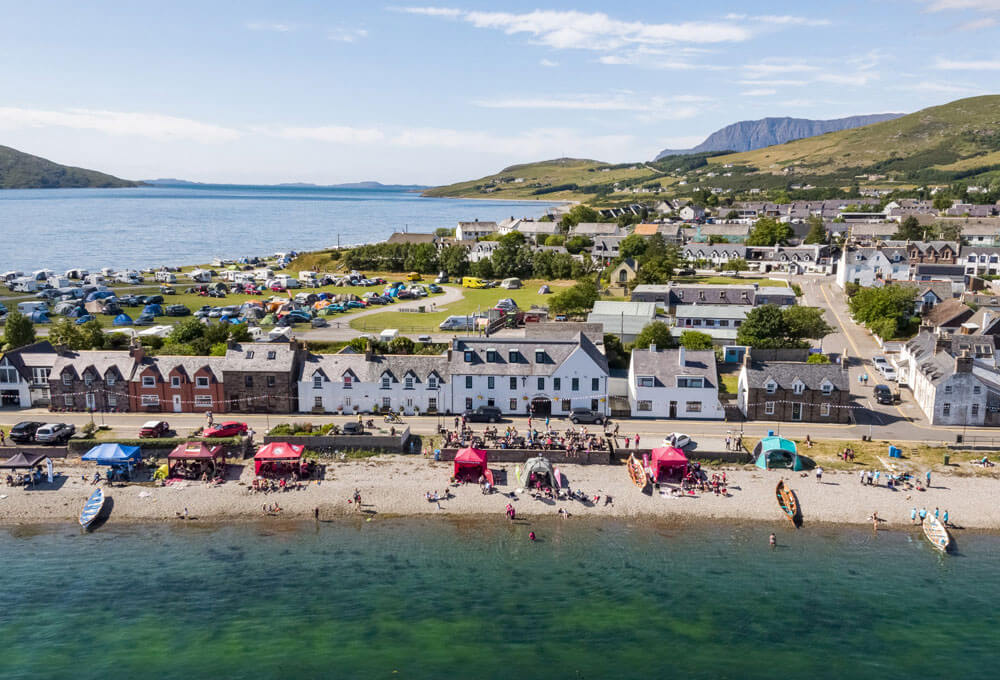 The New Zealand cabbage trees in the village of Ullapool are often mistaken for palm trees, and the moderate temperatures of the North Atlantic drift here make this tiny destination somewhat of an oasis. The Ullapool River runs through the village, and the surrounding countryside is surrounded by rugged mountains that offer breathtaking views for brave travelers.
15. Pitlochry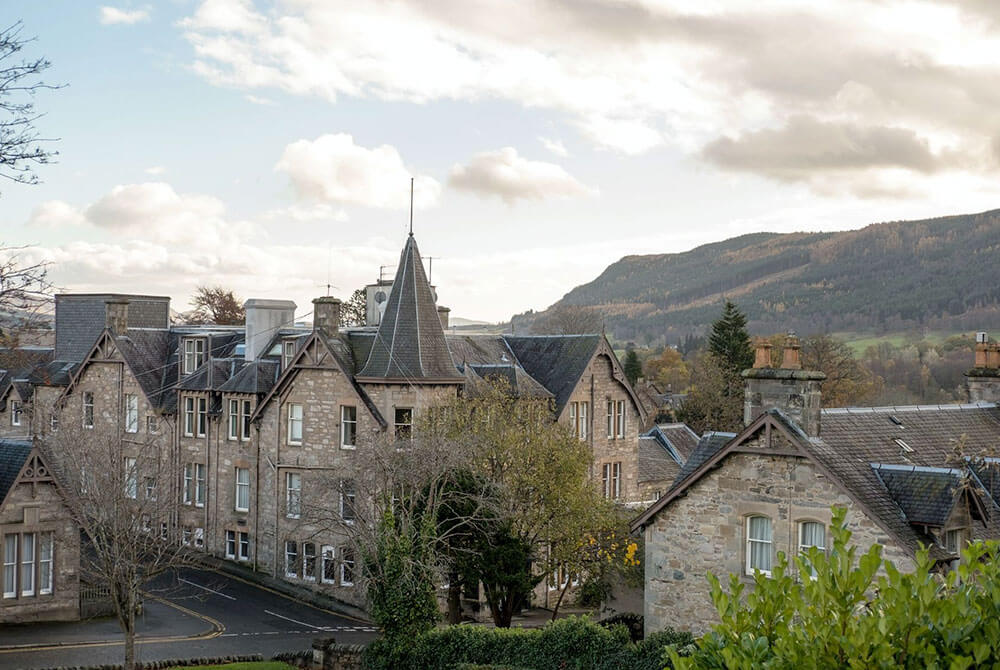 The town of Pitlochry, which is located right along the Tammel River, stands out for its Victorian atmosphere. A tourist resort since Queen Victoria visited the area in 1842 and the construction of the railroad in 1863, it is known both for its historic architecture and the surrounding hills and mountains, perfect for a great hike.
All these beautiful landscapes, castles and other and architectural masterpieces assert unquestionably that Scotland is the most beautiful country in the world.
Scotland
Scotland is a country which needs no introduction. Despite the fact that it does not offer luxurious beach resorts with golden sands, every year it is visited by more and more travelers. It has its own, special atmosphere, which you enjoy, even just walking down the streets. There you can see the bagpipers, men in kilts, various souvenir shops and numerous breathtaking sights. The best place to start is Edinburgh, not only Scotland's capital, but also its main historical and cultural center. Join those who've already visited this marvelous country and you won't regret it for a minute. Apart from the main capital, there are numerous other places to visit.
The famous castle in Edinburgh.
This is the most famous and most visited landmark. And no wonder, because Edinburgh Castle is known for its beauty all over the world. Its grandeur and beauty is simply mesmerizing. The castle was built for defensive purposes and has come down to this day in almost its original state. The interesting thing is that it was built on an inactive volcano.
The fortress of Broch of Mawes.
In Scotland, there is a small island of Mawes, which at first glance is unremarkable. But besides the wonderful nature, there is still one attraction, which attracts many visitors of this country. It is a fortress, which is well preserved from the Iron Age. You can use it to tell what kind of defensive constructions were built in Scotland.
Sky island.Scotland.
The most fabulous place in the whole country. Once you get to the island you feel like you're in heaven. The road to this place leads either by ferry or by the bridge with the same name. Just to walk here is an unbelievable aesthetic pleasure. But on the island you can also climb Mount Kulin, which offers an even more fabulous view. There's also a castle here that belongs to the nationally renowned McCloud family.
Royal Mile. Edinburgh
This is the name of several Edinburgh streets, which are located in the heart of the city and surrounded by the most important historical monuments. It's impossible to miss, and you don't have to. The most important landmarks are here, the beautiful architecture is here too. Even sitting in a cozy cafe on this street will be interesting, because, everything that is around is really impressive.
Loch Lomond.Scotland
This lake is a favorite place for the local population. They like to come here for a picnic and have a good time, surrounded by delightful nature. In terms of area, it ranks first in the whole country. Loch Lomond is also loved for its many water sports. Also, closer to its south side, there is a good club for golf fans.
Holyroodhouse Palace in Edinburgh
Since Scotland is part of Great Britain, it is not unreasonable that on its lands would be the residence of the royal family itself. One of the most important castles in the country was chosen for this purpose. With its appearance, it certainly deserves the title "royal". Only one month of the summer this castle is closed to tourists, as it is the residence of Queen Elizabeth. The rest of the time it is completely open to the public.
Luskentair beach, Scotland.
There are some really beautiful beach places in Scotland. Luskentair is a perfect example of that. On the whole coast of the Caribbean, it is ranked among the most beautiful beaches. It looks especially wonderful at low tide. Its clear blue waters, reflecting the powdery sand and blue sky, look gorgeous and no worse than the Bahamas.
Aiden Donan Castle.Scotland
If you want to know the history of the real Scottish clans, go to Aiden-Donan Castle. There is a museum inside it that will familiarize the tourist with this information in enough detail. The castle was built back in the 13th century. After several centuries, it served as a defensive fortress, so it was quite damaged. But it was restored without losing its original appearance.
Loch Ness Lake.Scotland
Have you ever heard the name Nessie? And the Loch Ness Monster? Well, this is the lake where it lives, if legends and eyewitnesses are to be believed. It is the deepest lake in the country. Millions of tourists try to see even the slightest hint of Nessie in its dark waters. Some succeed according to their words, but scientists still do not believe in its existence. But there is no stopping people, that is why they go to these places.
National Museum of Scotland.Edinburgh
Every country has a main museum that tells its entire history. In Scotland, such a museum is located in Edinburgh. Most of the time such places are quite boring, but this is not the case. It will be interesting not only for history buffs, but also for ordinary people and even children. They can look at the stuffed animal of the famous Dolly the sheep while you look at the chess from the Isle of Lewis. There is also a chic restaurant where you can have a good rest and a good meal.
Sterling Castle, Scotland
This castle is the pride of all the Scottish people. It is astonishing in its size. It once belonged to the Stuarts themselves. This building fascinates not only with its architecture. It's a castle which has withstood many important battles, but it survived and survives almost to this day in its original glory. It was here that Mary Stuart was crowned. There are legends about the wandering ghost of this famous person.
Cairngorms National Park, Scotland
There are no bigger parks in the entire country than Cairngorms. But it's not just the size of the park that impresses, it's the sights too. What to see is the Glenshee Valley, which is nothing short of awe-inspiring. Throughout the park there are hiking tours. Also, tourists have the opportunity to rent a bike and enjoy the park. Another interesting thing is that you can meet rare animals in their natural habitat.
Ben Nevis Mountain.Scotland.
This mountain is the highest point in all the islands of Britain. It reaches a height of more than 1,300 meters. It takes eight hours to climb this mountain. But when you get to the top you have a mind-blowing view. There are also different sports like skiing and snowboarding that tourists can do here. Every year tens of thousands of visitors climb this mountain.
Urquhart Castle, Scotland.
Loch Ness is known not only for its monster, but also for the oldest castle on its shore. It is difficult to call it a castle, as only ruins remain. At one time it has survived a lot of battles, so only a small part of it survived. But guided tours to these ruins spend and tourists are quite a lot. The history of the castle is really unique, so lovers of such attractions and go to this place.
Isle of Arran, Scotland.
If you are looking for resorts on the coast, then you need to find the island of Arran. This is where the views are remarkable. But it is not the only thing this place is known for. It really has a very interesting history. There are many sights to tell about the ancient times. And this for a second goes back to the Neolithic times. Also, at one time, many different diasporas lived here, after which they left their monuments of architecture.
Calzin Castle, Scotland.
This castle, due to the fact that it stands on a hill, looks really chic and majestic. The architecture of the castle itself is striking for its antiquity and preservation. Inside the castle is just as chic. There is even a brewery, which attracts many visitors. Some rooms are still available to stay in. There is a deer reserve on the castle grounds.
Melrose Abbey.Scotland.
This monastery was erected in the 12th century. It is made in the Cistercian style. It is here that the heart of the famous Robert the Bruce rests. In its time, this monastery has survived many fires and destruction. But there have always been rich people who have not spared money for its restoration. So the building even today looks very beautiful.
The settlement of Skara Bray.
This is a favorite place of all archaeologists, because even today they find historical treasures from the Neolithic period. It is a small settlement that has partially survived from those times. On the territory of Skara Bray there are still half-destroyed houses from those centuries. The place itself is also very beautiful, as it is located on the shores of the Orkney Islands.
Isle of Mull.
There is no road to this beautiful island. Only water traffic. Tourists get here by ferry, enjoying the magnificent nature on the way. There is a beautiful town with houses of different colors. It looks very interesting and unusual. But the main attraction is the castle, which stands proudly on the island. It once belonged to the famous McLean clan.
Dunvegan Castle, Scotland
There is another very popular architecture on the Isle of Skye. It is Dunvegan Castle. Lucky the owner who has this building in his collection. Yes, people still live in it. There are so many stories and legends associated with it. Here you can often hear the famous bagpipers, and the story of the Fairy Queen. Festivals of Scottish folk music are held here every year. Local bagpipers and musicians take part in them.