Savusavu tours, Fiji
The onset of winter marks the beginning of a snowy and cold period in the countries of the northern hemisphere. Often there are times when you want to throw off the warm clothes and for a couple of weeks to be on a sun-drenched beach, laze on the warm sand, swim in clear blue water.
Fijian Islands – a paradise with blue lagoons and evergreens, located in the middle of the Pacific Ocean. The island state consists of slightly more than three hundred islands, and about a hundred of them are inhabited, the rest are peculiar areas of untouched nature. The largest islands of the archipelago are Viti-Levu (it occupies up to half of the entire island area), Vanua-Levu (it has one third of the total area).
Viti Levu is home to about 80% of the total population of the islands, here is the capital city Suva and international airport Nadi. The real resort pearl of Vanua Levu – Savusavu town, which has been dubbed the "hidden paradise of Fiji. A small, extraordinarily beautiful town rightfully bears this name. Rare trees, fragrant flowers, azure harbor and dispersing clouds of steam from the thermal springs create the impression of fairy tale magic.
Savusavu tours, Fiji
Savusavu is located on the south coast of the island and has a single street, which is the center of business life of the entire southeastern side of Vanua Levu. It is home to offices, a market, stores, banks, restaurants, a hospital, clubs, a library and a yacht club. The town is home to friendly indigenous Fijian tribesmen. Among the attractions of the city may also include the 110 km long Hibiscus Highway with a panorama of pristine landscapes .
All over the world, recreation in the Fiji Islands is considered one of the most luxurious and expensive tourist destinations. Perfect tourism infrastructure, excellent natural conditions, unique cultural traditions of Fijians-cannibals, who used to inhabit the islands, are the prerequisites for the development of beach, cultural and eco-tourism, as well as water sports – diving, snorkeling, surfing, windsurfing, kiting, snowboarding, rafting, yachting and many others in the state.
Savusavu tours, Fiji
The rather humid and hot weather in December (the air temperature stays at +27 ° C and the water a little higher – about +29 ° C) does not prevent to spend time in comfort: sunbathing on the beach or practicing diving, golf, volleyball and other sports, and also to go hiking in the surrounding islands and capture the local attractions . Only it is not recommended to go into the open sea: there may be storms, and it is dangerous to life.
Tour operators offer a wide variety of tours to Fiji – from individual to group (economy class and luxury category). Diving, snorkeling and surfing tours to the Fijian Islands will be of interest to lovers of outdoor activities, and combined tours combining relaxation and extreme will not allow boredom to anyone. Romantic wedding tours with elements of the local marriage rituals in the bosom of wildlife will interest both the newlyweds and married couples who have been married for years and want to refresh their feelings.
Savusavu tours, Fiji
Lasting tours, as well as conventional ones, are a complete 1-2-week vacation at a fairly low cost. Hotels can provide visitors with different level of service for every taste. Fijian elite resorts can choose 3 and 4 star hotels, where you can relax and rejuvenate, because the main thing – the tropical flora and fauna, snow-white beach and the ocean. Buy cheap tours to Fiji and enjoy a beach vacation in a tropical country in the middle of a snowy winter.
Find hotels in Savusavu
Select dates to see current prices and deals on Savusavu hotels
Check information about travel restrictions. Only travel for a specific purpose may be permitted, in particular travel for tourism purposes may be prohibited. Learn more
All Filters
Number of stars
Review ratings
Select dates to see current prices and special offers. Select dates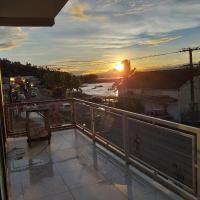 Bay View Barbers Lodge
Savusavu Town Hotel
Bay View Barbers Lodge is located in Savusavu. It features a restaurant, a terrace and room service for food and drinks. It offers free private parking and free Wi-Fi. The location is perfect. Close everything.
Naveria Heights Lodge
Featuring an outdoor pool and a sunbathing terrace, Naveria Heights Lodge B&B is located in Savusavu. It offers stunning panoramic ocean views. The location is breathtaking with great views. The rooms are fantastic and well appointed. The host Sharon is very welcoming and goes out of her way to ensure your stay is memorable and is there to assist.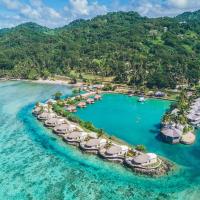 Koro Sun Resort & Rainforest Spa
Koro Sun Resort offers air conditioned bungalows and luxurious villas with sweeping ocean views. Great food, great service, great place
Daku Resort
Overlooking Savuzavu Bay and the mountains, the Daku Resort is situated on a coconut plantation. The resort offers an outdoor swimming pool, Wi-Fi and kayak and boat rentals. Fantastic views. Close to the sea.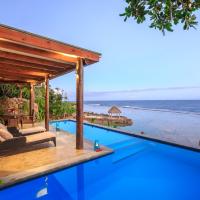 Savasi Island Resort
The Savasi Island Resort is just a 10-minute drive from Savusavu Airport on Vanua Levu. The food was excellent, the staff were fantastic , supportive caring helpful and extremely polite. The fishing with event team staff was fun and enjoyable at the resort.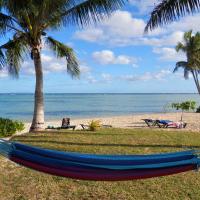 Sigasiga Sands Boutique Resort
Overlooking the ocean, Sigassiga Sands Boutique Resort is located in Savusavu. It features 3 seating areas with hammocks and awnings, free Wi-Fi and free private parking. Best place near Savusavu. Amazing whole house stay. All amenities in house: kitchen, AC, fans, screens, great front porch sitting. Short walk to beach, beautiful views. In 25 years coming here this was the most relaxing stay. Cheers to owner Gene and caretaker Subash. Also hired taxi man Bablu always available for pickup, very friendly. Will return soon, for more days next time.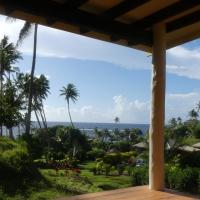 Fiji Lodge Vosa Ni Ua
Pet-friendly Vosa Ni Ua Lodge is located in Naindi, a 12-minute drive from Savu Airport on Savu Island. Free private parking is available on site. Clark and Delisa were super helpful, friendly and relaxed. They did everything they could to meet our needs. The location of the property was amazing with a short walk to the beach. The room was very comfortable and clean with a huge bed and a fully equipped kitchen. Overall great value!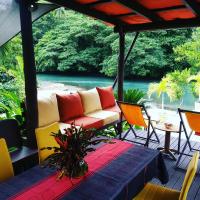 Salt Lake Lodge
Overlooking the Emerald River, Salt Lake Lodge is a 20-minute drive from Savusavu Airport. It offers a shared, fully equipped kitchen and barbecue facilities. This place is very special. The remote location that is just beautiful, and the staff are amazing. We had the place to ourselves and once we worked out how the food was arranged, and we realised that Oscar the chef was ours and he would cook for us, it was just wonderful. Going to the markets, the local villages and road side stall for ingredients was a treat in itself and the food was magnificent. Solo. LiLi and Simon were wonderful hosts