Sardinia: God's footprints on earth.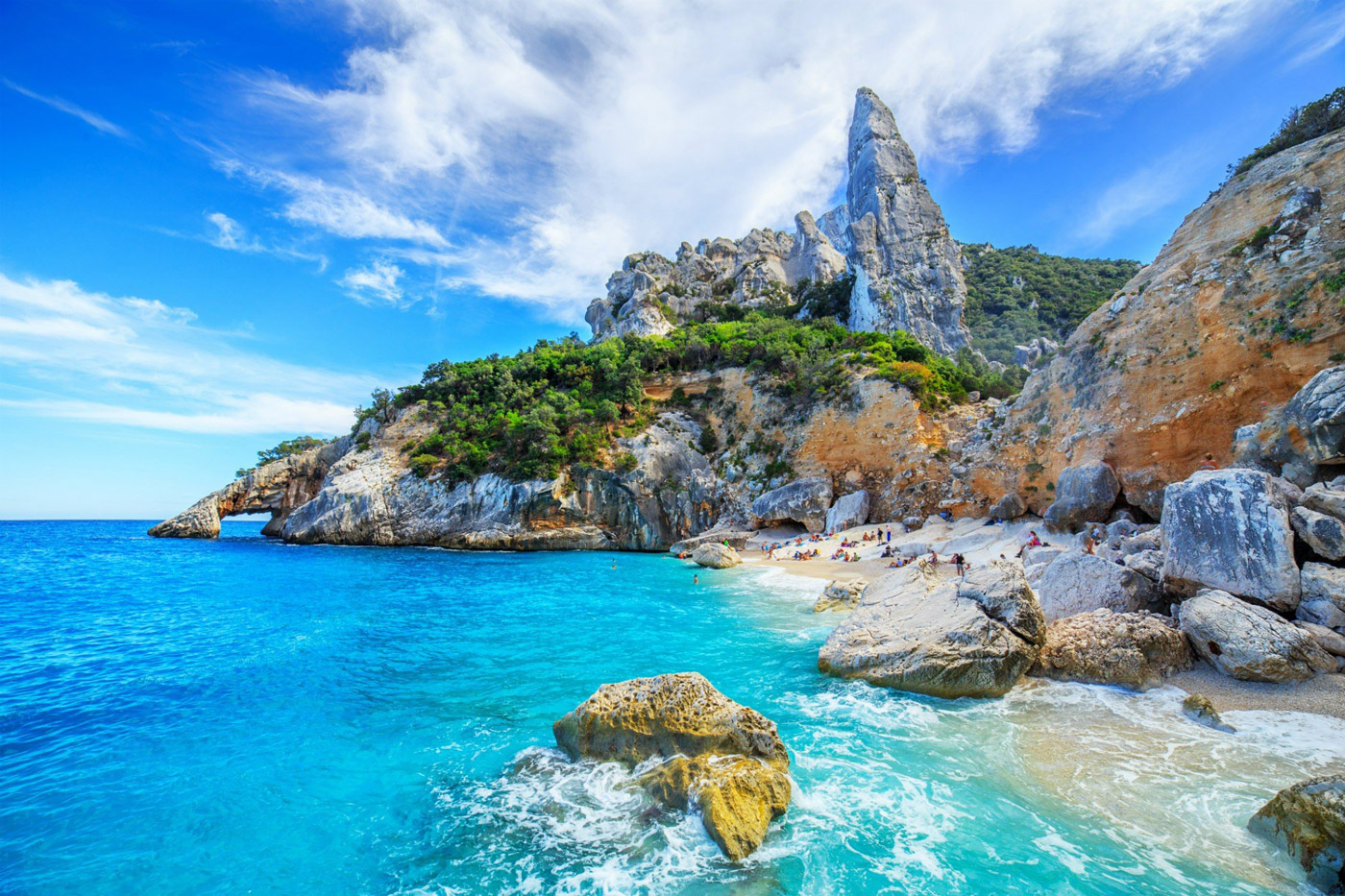 There's only one country in the world where Italian is spoken. Without a doubt, it's Italy! There is only one place where Sardinian is spoken … and that, of course, is Sardinia!
Sardinia is an island you can't help but fall in love with! Emerald sea, secluded beaches, pine groves, walks on the beach at sunset … Sardinia is a paradise for lovers … It is on Sardinia pink flamingos fly in the spring to find their pair. Sardinia is home to St. Valentine, but your love will never find peace here.
A slice of heaven on earth.
The Island of Sardinia
Sardinia is truly a slice of heaven on earth. Perhaps the higher forces together with the natural conditions have been created such a corner on Earth, in order to make mere mortals understand in the best way that beautiful things surround people every minute. According to the legend, while creating the Earth, God stepped with one foot on the smooth surface of the ocean, after which he left a footprint, which became the island of Sardinia. It is a paradox, but if Italy has an outline similar to the shape of a boot, the shape of Sardinia clearly resembles a sandal. Even in ancient Greece, the area was called nothing other than "Sandaliotis."
Costa Paradiso
Sardinia is unique in that in addition to the developed infrastructure and a network of fashionable hotels for a comfortable holiday, here you can always enjoy a secluded, measured, quiet holiday – escape from everyone to a secluded quiet place and revel in the unearthly beauty. To explore Sardinia from cover to cover, most experienced tourists recommend renting a car and hit the road immediately.
The perfect place for a romantic trip
Sardinia at sunset
Sardinia… An island known as a lovers' paradise. It's the perfect place for a romantic trip for two. Wildlife and emerald coves seem to invite you to spend an evening with your loved one and a bottle of wine. It is Italy's second largest island, located in the heart of the Mediterranean Sea. Its varied coastline stretches over 1800 km and its most important advantages are the sandy beaches, the rocky cliffs, the fabulous bays and the beautiful emerald-clear sea.
Lovers in Sardinia
Sardinia is considered the warmest place in Italy. Small lagoons provide an excellent opportunity to see flamingos, cormorants and seals. Tourists are also attracted to the island by the fact that one of the local churches keeps the relics of St. Valentine.
A paradise for diving enthusiasts
Beaches of Sardinia
The sea has brought the greatest popularity to Sardinia. The sea off the coast of the island and the beaches are considered the most beautiful in Italy. From the air, it seems that some crazy artist mixed on his palette of the most fantastic shades of blue. A boat frozen on the sea surface seems unnaturally floating above the seabed, the sand of the beaches – scatterings of gold, and the coastal cliffs – frozen fabulous animals.
Cala Luna
It's a paradise for snorkelers – the warm and gentle sea off the coast of the island is considered the standard of transparency, and the fauna is unique. Just as unique is this amazing island in the middle of the Mediterranean Sea, halfway between Europe and Africa.
In Sardinia you will plunge into the sea of love. Who knows, you might even meet… the love you've been looking for all your life!
Island of Sardinia – useful information for tourists
Resorts
Sardegna is an island which amazes with all its natural contrasts, its ancient traditions and pristine, wild nature. This remote piece of Italy is attracted by its natural beauty – rocky shores, beautiful rivers and lakes, deep bays and capes.
The most populous provinces of the island are Cagliari and Sassari.
The most spoken language is Sardinian.
The locals are very friendly and polite and love their island and its traditions. Festivals and celebrations are a good reflection of this, as well as food and delicious typical products. Although this can be said about the inhabitants of other regions of Italy.
Attractions of the island of Sardinia
The island of Sardinia has a lot of attractions to visit.
Cagliari – besides the cleanest beaches the city is also known for the fact that here is an archaeological site listed as a World Heritage Site of UNESCO – Barumini Nuraghe. There is also a national archaeological museum – which exhibits reflect the life of ancient Sardinia.
Alghero – boasts beautiful beaches, which are just 5 kilometers from the historic city center. Nearby Alghero, are very popular with tourists places – excavations Nuraghe Palmavera dating from 1500 BC Also you can take a mini cruise to the beautiful cape Capo Caccia and see the cave of Neptune. This place is the highest lighthouse in Italy. This mini cruise will cost about 45€.
Do not miss the village Castelsardo with its medieval castle Doria.
A very beautiful place is the small island of Capo Testa which is connected to the mainland by a narrow isthmus.
The ethnographic museum of Nuoro is famous all over Italy.
Another popular attraction in Sardinia can be called the Gorge Gorropu (Gola di Gorropu), it is located in the province of Oliastra and is one of the deepest in Italy, and in Europe, too.
Airports in Sardinia
Sardinia has three international airports:
Alghero – Fertilia (located 10 kilometers from Alghero).
Olbia – Costa Smeralda (located 3 kilometers from the center of Olbia, the second busiest airport in Sardinia).
Cagliari – Elmas (located about 6 kilometers from Cagliari, it can be reached by bus which leaves from the train station). The price of a cab to the city center is about 40 €.
From all airports you can get to any major city in Italy or Europe. Although communication between airports within the island is limited.
Find an inexpensive airfare:
Sardinia's Beaches and Resorts
The beaches in Sardinia are very clean, and this applies to both wild secluded coves and lively city beaches.
Costa Smeralda is a stunning resort, located in the northeastern part of Sardinia. It is a famous vacation spot among movie stars and very rich people from around the world. Costa Smeralda is also popular with fans of sailing.
Porto Cervo is one of the best resorts in Sardinia, famous for its crystal clear waters and is ideal for diving.
Gennardzhentu suits lovers of mountain scenery. In winter, fans of snow and skiing flock here.
Stintino is a very beautiful town that offers endless opportunities for a leisurely holiday: diving, horseback riding, cycling, walking around town.
Archipelago Maddalena – is an ideal place not only for sailing but also for horseback riding and mountain biking, includes 7 islands.
A very popular resort in Sardinia is the town of Chia, famous for its white sandy beaches.
Hotels in Sardinia
Surely an unforgettable holiday in Sardinia depends on the right choice of accommodation, so start the search or compare prices for hotels in advance with the most popular service Booking.
Transport in Sardinia
Sardinia is the only region of Italy without highways. But all roads are in excellent condition, with clear markings and signs. The only downside is that in some places, they are very narrow, especially scary to drive on the steep mountain bends. Speed limits in built-up areas are 50 km/h, on the highway 130 km/h.
For those who do not want to rent a car, the best way to explore the island are buses and trains. But it is worth considering that the sparsely populated towns have no train stations at all, and buses can come only once a day. And in very remote villages can only be reached by car. Therefore, you should consider renting a car going to Sardinia – because it will be possible to see a lot more remote and charming places.
Demand for rental cars usually increases in July and August, so it is better to book it in advance. Today you can online, and in our experience the best car booking sites are:
Many gas stations accept only local credit cards or only cash at all.
And yet, if you decide to use public transport (buses), you can buy tickets at the train station cashier's office, at Western Union points or in the bars nearest to the stops. If for some reason you did not have time to buy a ticket, you can buy it directly from the driver. And another thing, the schedule of flights may be limited on Sunday.
Railroads in Sardinia are served by such operators as Trenitalia and ART Gestione FDS.
Culinary traditions of the island of Sardinia
Sardinia's sausages and cheeses are considered some of the best in Italy. Especially pecorino Sardo cheese, made from the milk of local sheep.
Although the local cheeses are very tasty and appreciated in Italy, there are also not so common. One of them is Casu Marzu, its peculiarity is that it contains live insect larvae (cheese fly). Many of our fellow citizens have no idea what it is, because in our cuisine you will not find such a thing, so I suggest you watch a short video about cheese Casu Marzu:
One of the traditional dishes of Sardinia can be called Porceddu – a pig roasted on a spit. However, its weight should not exceed 5 kilograms.
Of course seafood, especially clams, tuna, mullets, lobsters and squids play an important role in Sardinian cuisine.
The traditional pasta of Sardinia is malloreddus, with different sauces, but the pasta itself remains unchanged.
Another dish that any good hostess on the island knows how to prepare is culurgiones. It is somewhat similar to our dumplings, but the toppings are potatoes, pecorino cheese, fresh mint and garlic.
Don't miss the local bread, Karasau, which is not even bread, but a crispy flatbread.
Also be sure to try the liquore di Mirto (liquor di Mirto), which is native to Sardinia, though you can buy it in stores throughout Italy.
More Sardinians are very big fans of beer, so in many cities are regularly held beer festivals.
Recreation and excursions in Sardinia
Of course mainly choose Sardinia for recreation, thanks to the clean sea and beautiful beaches. And yet there are tourists who prefer a more active form of recreation. For example, for climbing suit area Domusnovas. Also very common entertainment for tourists is horseback riding and horseback riding.
Popular in Sardinia service – rental yachts and boats. Rent a boat will cost about 70-90 € (one day). Yachts are a little more expensive and most likely rent for at least a week.
Also do not miss the opportunity to take a boat cruise around the archipelago Maddalena, food tasting tours, as well as visiting a real Italian family and get a master class on cooking dinner – for more information on all the excursions in Sardinia, see here.
Porto Pollo is a great place for water skiing, windsurfing and kitesurfing. Also the island of Sardinia is a great place for sailing and diving.
Souvenirs
Sardinia is famous for its artisan stores and local delicacies, so it's not that hard to find something to bring from the island. Different areas are famous for their craft traditions. Very common are the baskets woven by local women.
Ceramics is an integral part of the history of Sardinia, with very popular are pottery painted in blue on a white background. You can find them in almost any gift store on the island.