Rotorua is a city in New Zealand on the North Island

Content:
Hi, my name is Dimitri. I came to Rotorua with my wife and daughter in early February 2019 to study at the local Toi Ohomai Institute. Rotorua is a small city located on the North Island of New Zealand. In three months we had time to settle in this cozy little town and had a small, but extremely useful experience, which I want to share with future immigrants and give useful tips.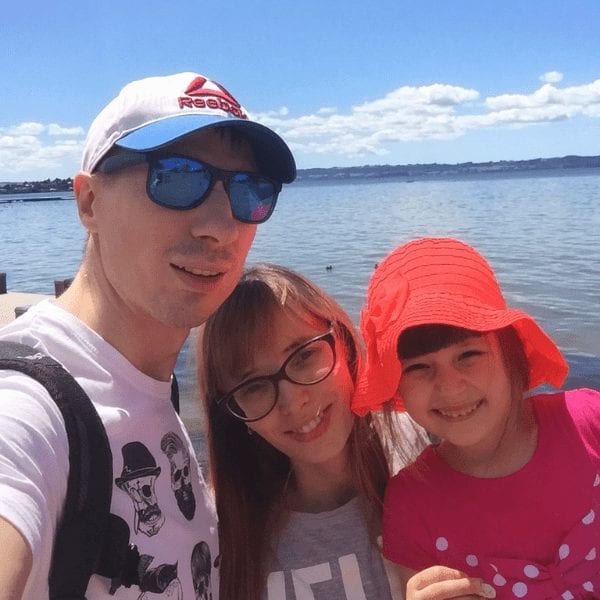 What you need to do before you arrive
The best online resource on Rotorua that helped me prepare for my move. You'll find almost everything about the city on this site. But I'll add a few facts about Rotorua from myself:
There are 72,000 locals in the city as of 2019, but the tourist flow is about 3 million tourists a year. That makes the city a great place to start a career in Hospitality and Tourism. Plus, there are plenty of jobs in that field. But other areas, especially IT, are extremely affected and it will be difficult to find work outside of tourism.
The large number of geysers and natural hot springs throughout Rotorua is not only noticeable visually, but also very tangible by smell. The hydrogen sulfide makes itself felt, and in the first few days the smell can be a little tense. After a few weeks, you get used to the smell and your brain begins to ignore it. Some people even begin to like it.
The air in Rotorua has a great effect on metal surfaces – rust and corrosion are very common, as you can tell by the blackened nameplates on the local cars and the silver that tarnishes over time.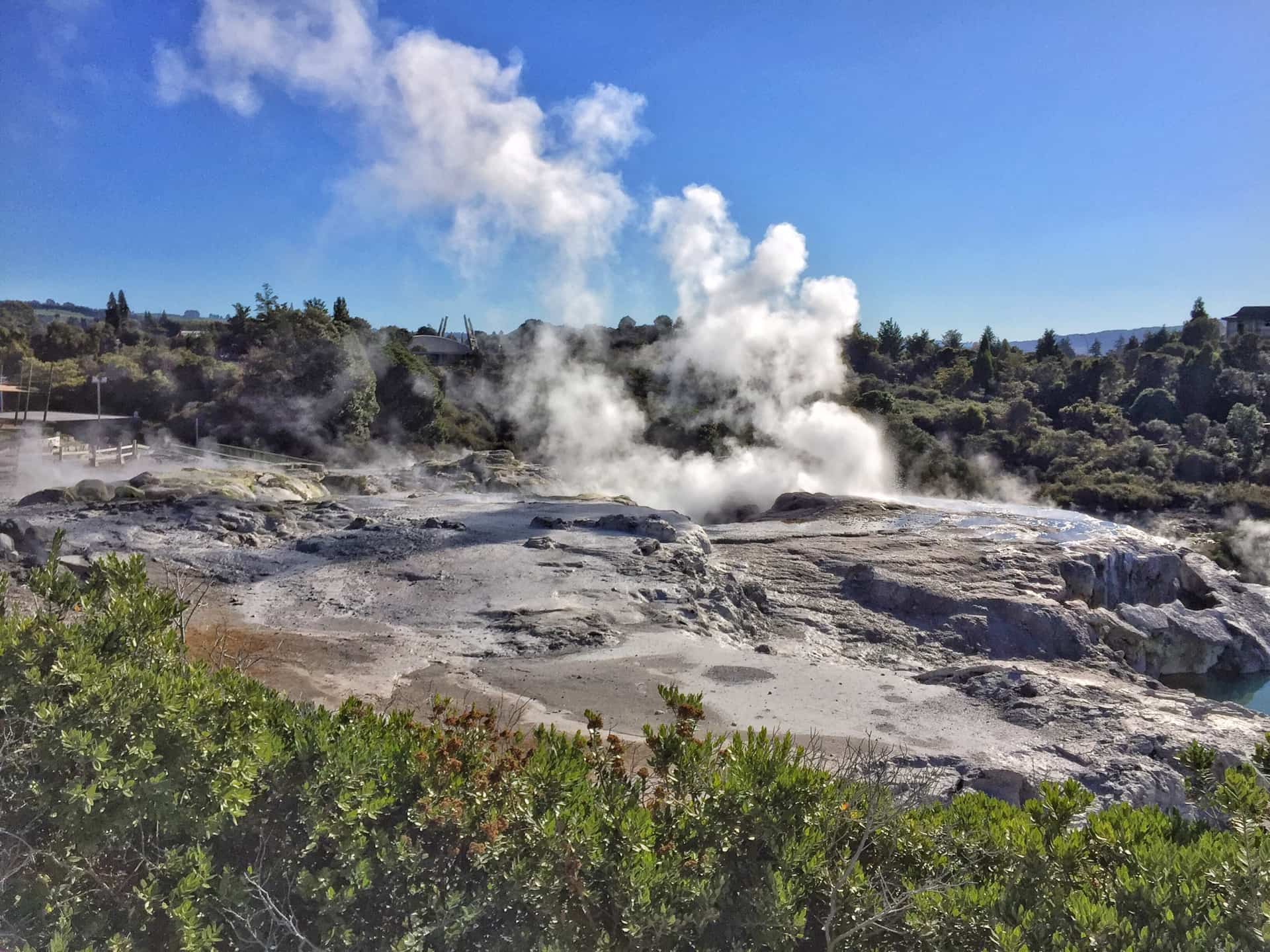 Hot springs and geysers are common in Rotorua.
Tip
It will be helpful to do a little prep work in advance to save time when you arrive:
Book transportation for yourself and your belongings from Auckland airport to Rotorua;
find temporary housing while you look for permanent rentals;
open a bank account;
choose a cellular carrier;
mark points of interest and useful places on a map to visit.
Transportation from Auckland Airport
If you're a Toi Ohomai student, a free shuttle from Auckland Airport to Rotorua is available for you, but additional family seats will have to be paid separately at the institute's box office after you start your studies. You can also book the shuttle yourself, options are plentiful and all are easily found on Google by the phrase "Auckland – Rotorua shuttle".
Temporary housing
Among the temporary accommodation options, hostels are the cheapest option. Hotels and Airbnb options are much more expensive. Finding long-term rentals right away is almost unrealistic. Consider that finding a permanent rental can take a considerable amount of time. Our example is more of an exception to the rule. We arrived in Rotorua on February 6, had already signed a rental contract on the 8th, and moved in on the 11th. A total of 5 nights in the hostel.
Local hostels (backpackers) are a great place to stay for the first time, especially if you are traveling alone. The most famous ones in town are YHA Rotorua and Rock Solid Backpackers. We stayed in the latter. An important clarification for families with children – hostels can only put you in a private room where there are no strangers with your child. Because family rooms (2+1 beds) in hostels are almost always bought out, we had to pay for a room with four bunks.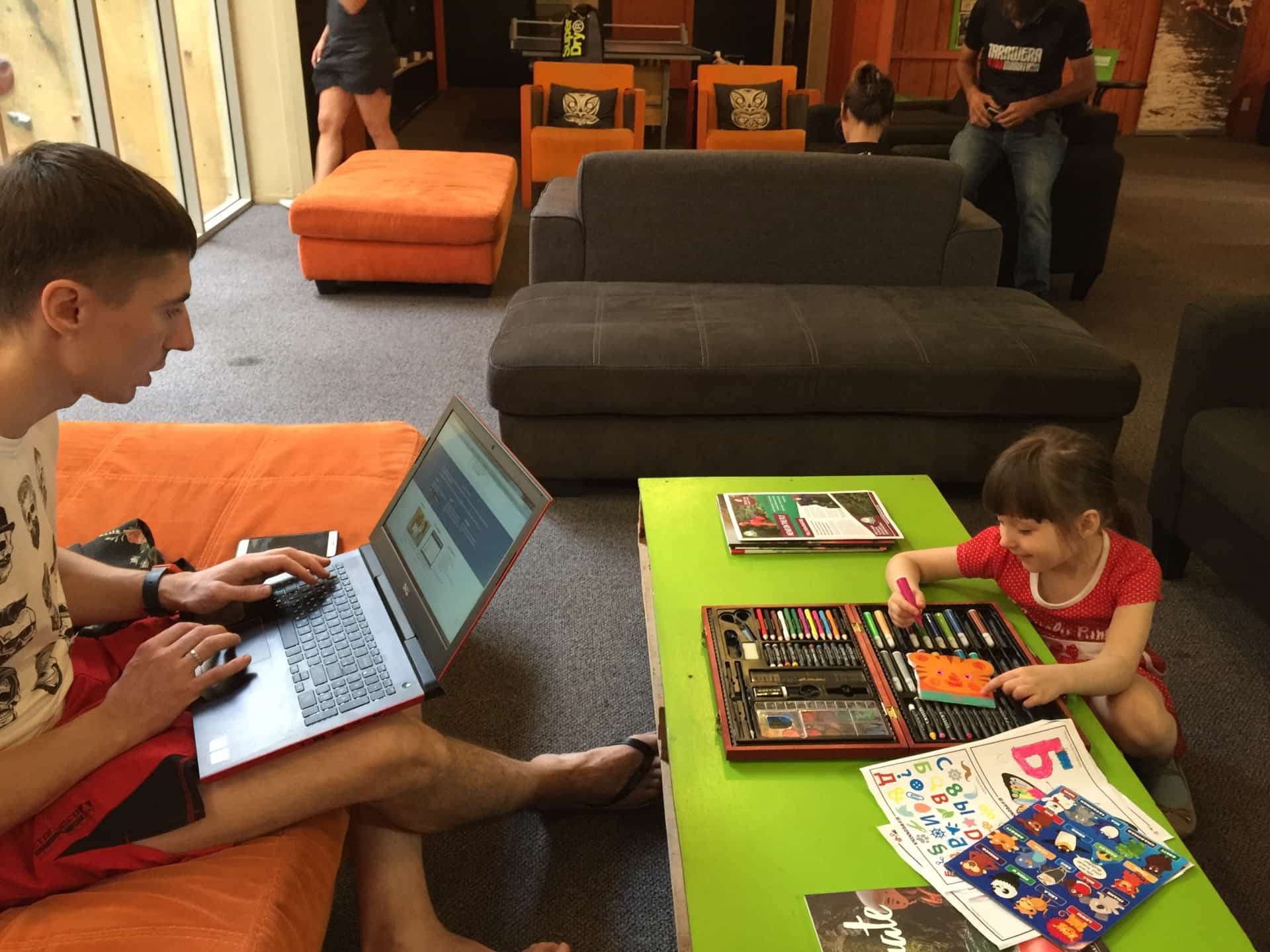 The hostel had a very nice atmosphere and, of course, free Wi-Fi.
Bank account.
You will need a bank account to get a local TIN and to get a job. To save time, you can apply for an account in advance while in Russia. But for the account to become fully operational, you must confirm your identity at your local bank branch when you arrive in New Zealand. When choosing a bank, pay attention to promotions for new customers and student bonuses.
I chose the Jumpstart account from ANZ bank – it has free maintenance on both my account and bank debit card for students and people under 21.
Choosing a cellular provider
It's a trivial task, but it's better to be prepared in advance and go through the websites of major mobile operators (Vodafone, 2Degrees, Spark) to compare tariffs and see the promotions. Save time when you arrive.
I chose 2Degrees for the most part because of the opportunity to use the Internet for free one hour a day using their special application Data Clock, and their prices were more pleasant than those of competitors.
Points of interest and useful places
Attractions and useful places in Rotorua, you can mark in advance on Google maps, so when you arrive you will know the location of the main objects of your interests. I marked the locations of the right bank, cell phone store, hostel, real estate agency, supermarkets. Also, don't forget to download the right sections of Google maps so you can use them offline.
What you need to do after you arrive
Upon arrival at the airport, if you have U.S. dollars in cash with you, you can immediately change a small amount into local New Zealand dollars. A hundred or two hundred NZD is enough for the first couple of days, the rest of the money you can exchange at any bank in Rotorua at a favorable rate.
After you have settled in your temporary accommodation be prepared to spend the first twenty-four hours in a "crumpled" state. A long flight and a drastic change of time zones is not uncommon. Allow your body time to recover and then hit the road.
Public transportation
The only public transportation in Rotorua is green buses. There are 12 routes in total; look for the numbers next to the ticker above the driver's side window. For timetables, fares and other information on city transportation, visit the official website.
Buses almost always arrive right on schedule. Pay special attention to the fact that the buses run until about 6:30 pm. This was quite unexpected for us and we had to walk back from the store at 7pm.
The fare is paid to the driver at the entrance and in cash only, but this is the most expensive fare. If you want a lower fare, buy an electronic Smart ride card from the driver for $10. This money is put on the card balance, and you can immediately pay for your ride. Then you can recharge the card from any driver, but at least $10. Remember to show your student ID before paying for your ride for an additional discount.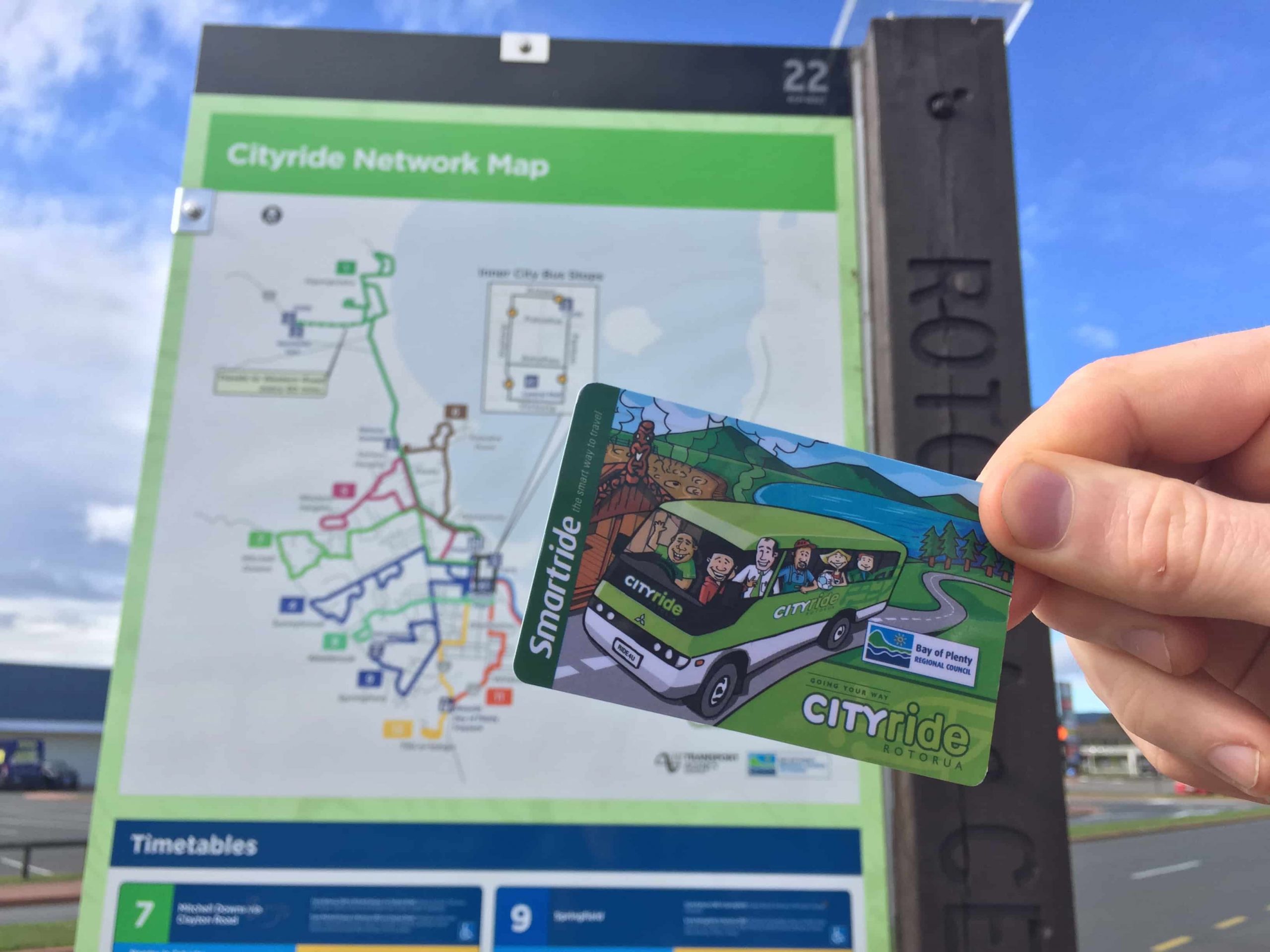 The Smartride card and the seemingly terribly confusing bus schedule.
Stores and malls
The Central Mall Rotorua area has all the stores, local cell phone companies, and banks you need. You can buy a SIM card, open an account or confirm your identity at a bank and do your grocery shopping in one place.
Groceries are best at the larger CountDown or Pak'n'Save supermarkets. Almost all non-grocery shopping can be done in The Warehouse (there in Central Mall Rotorua) or in KMart (1 km from the center).
Own transportation
To move around Rotorua comfortably, you can aim to buy a car right away. You can buy a car in satisfactory condition here for a very comfortable price – from 1000 to 2000 NZD. If you are not planning to buy a car, you can buy a bicycle. Riding bikes in Rotorua is very comfortable, almost all roads have a dedicated lane, plus many mountain bike trails and stunt parks. Don't forget to buy a helmet as well, it is a must when cycling here.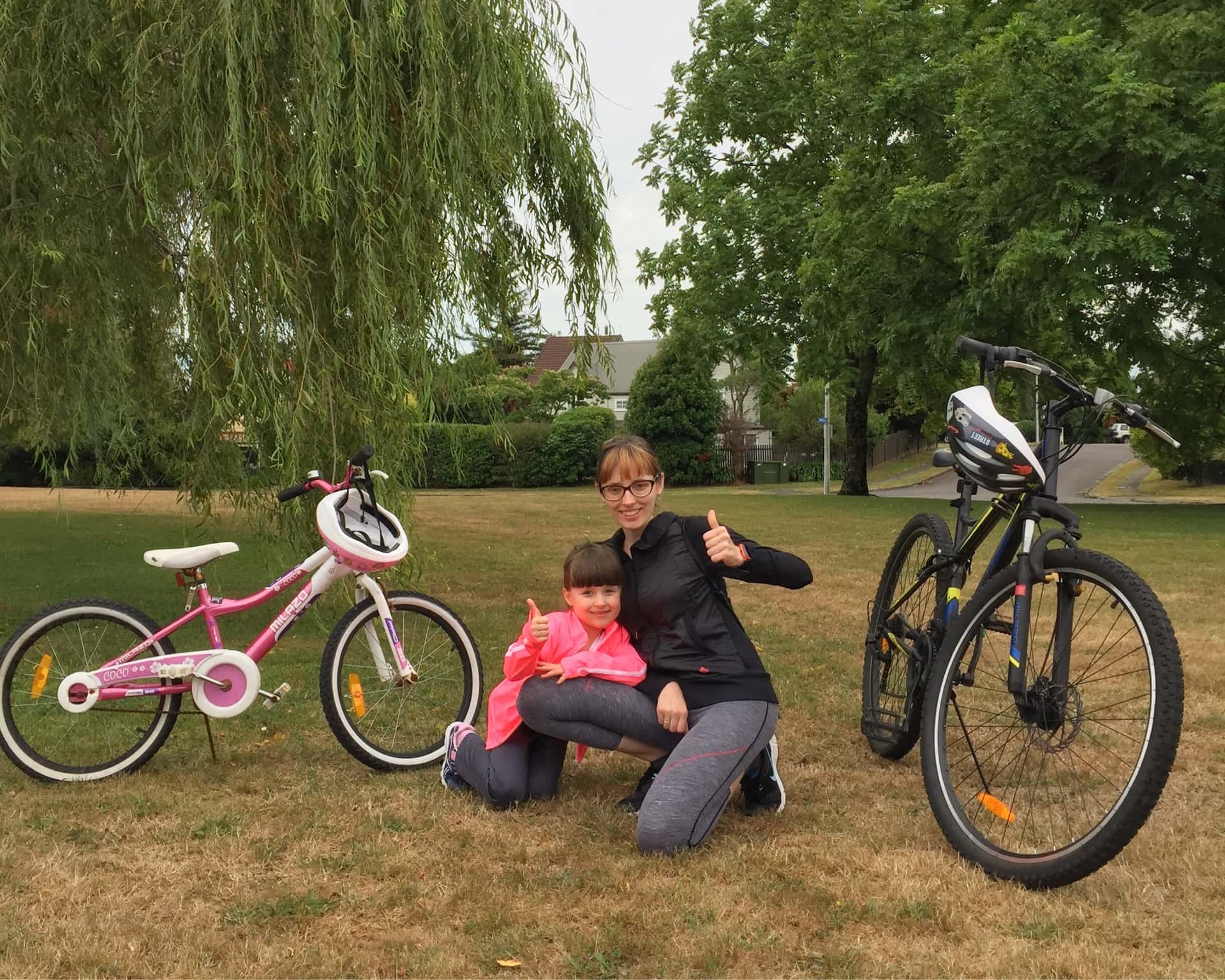 Family bike rides in Rotorua are very popular.
Look for a car at https://www.trademe.co.nz/motors. There are plenty of them in Facebook groups, too, and they are easily found by searching for "rotorua cars" or "rotorua buy sell." Choose the ones with a thousand or more people in them.
If you want to see cars in person right away, there is a permanent people's auto market in Rotorua. They bring cars to it and leave them for viewing with data about the car, price and contact details of the owner. There aren't many cars, but as an option to consider. The place is located here.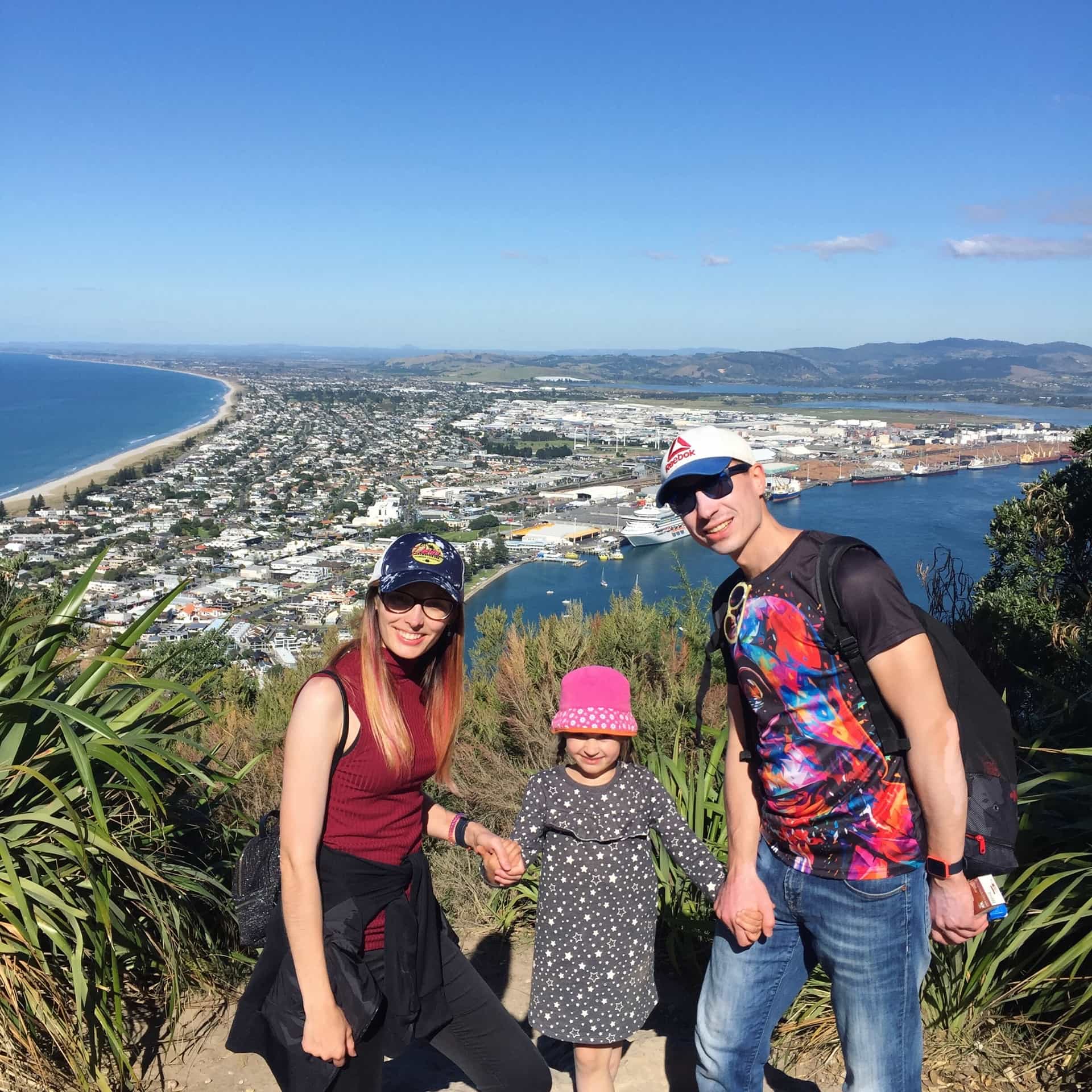 Once a car is available you can start touring the nearest towns. This is us in Tauranga admiring the view of the city and the ocean.
Housing
In fact, you can start looking for permanent housing a few days before you arrive in New Zealand. At the very least, look at options, prices, neighborhoods, etc.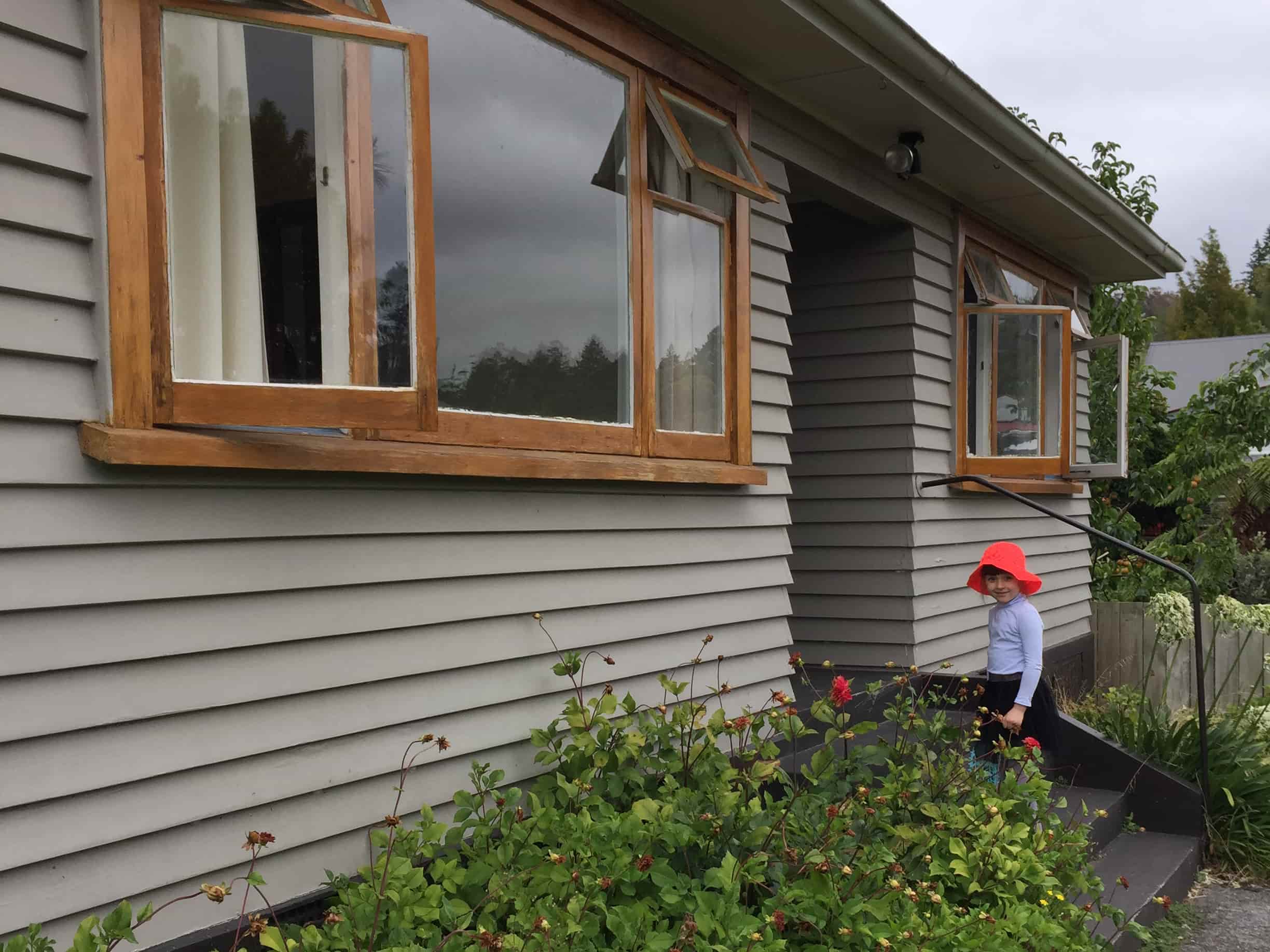 Our house we rented, almost without thinking and very quickly.
As in Russia, you can rent a house in two ways: through an agency or directly from the landlord (property owner). In either case, you'll need to be sure to sign a lease agreement. We found a place through an agency, although we have seen a house directly from the landlord.
Tip: Start your search online with the following resources:
In addition to searching online on your first day, go to the major real estate agencies and find out what they have available. You may be able to see vacant houses right away, or you may be able to schedule a viewing date. They will also put you in the database and contact you if there are any options. This is where a list of marked locations on Google Maps will help you (search the Rotorua map for "house rent").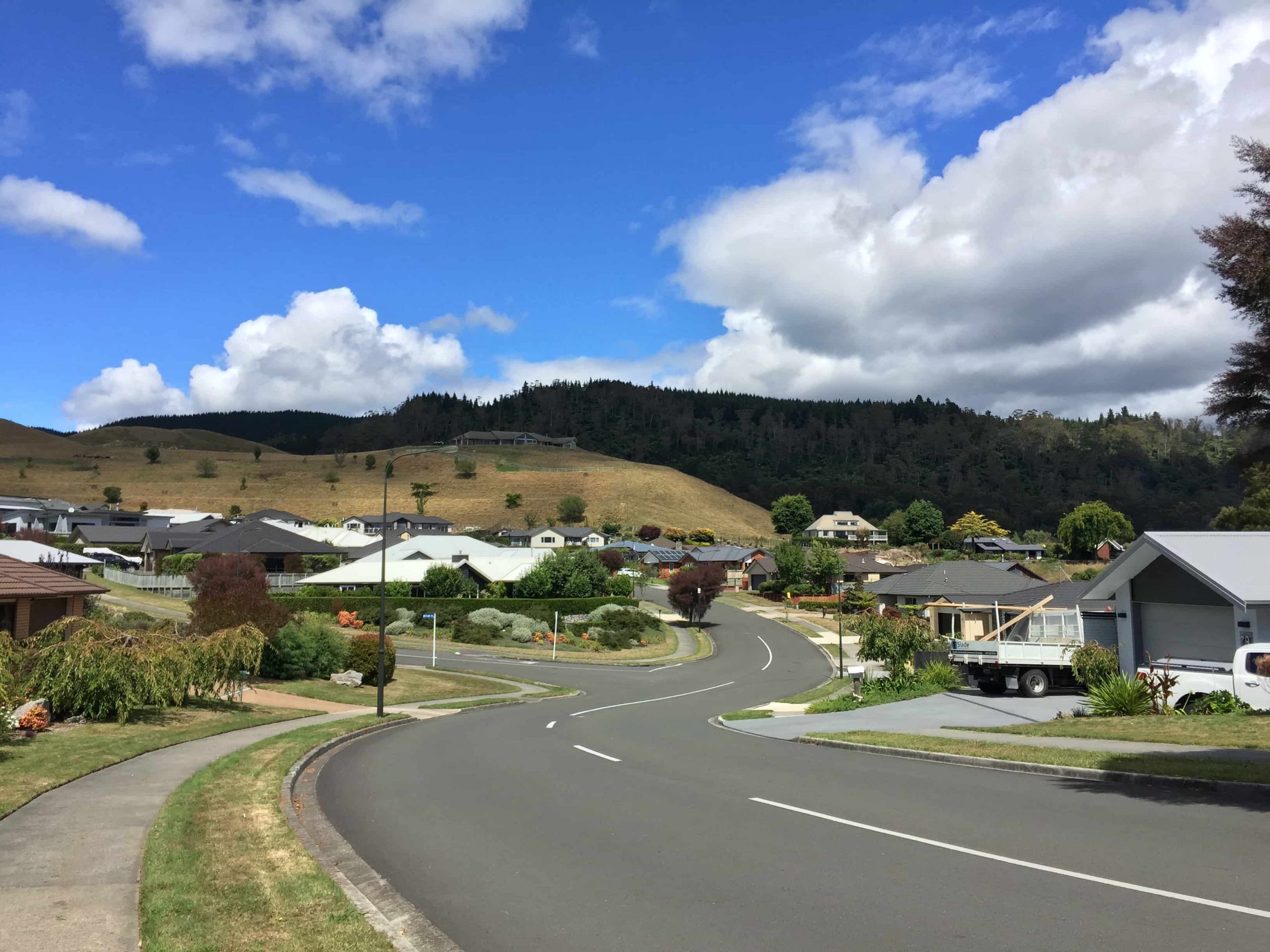 Lynmore is the neighborhood in which we settled.
Some things about rental housing
Since there is no central heating in Rotorua, and fall and winter nights are cold, when choosing a house pay special attention to the quality of the window frames and the windows themselves, as well as the presence of heating devices in the form of gas fireplaces, heaters, split systems, etc.
Rental Costs
Calculate your rent money correctly. In addition to the weekly rent, you will need to pay monthly electricity and internet bills. Electricity bills per month can range from NZ$80 to NZ$120 in the summer and NZ$120 to NZ$250 in the winter. ADSL Internet will cost about $70 to $90 per month, with a high-speed line costing more.
By the way, in order not to waste time, apply for electricity and internet connection to the house in advance, immediately after signing the lease agreement.
Large operators make everything online quickly and easily, and most have their own applications for smartphones that help you keep track of costs.
Buying furniture
Most houses are rented in Rotorua without furniture or appliances. So if you didn't bring a container of housewares with you from Russia, you'll have to buy everything locally. In this you can help the local garage sale and groups with ads on Facebook. The latter are a treasure trove of cheap and even free items: from dishes and household items, to appliances and fittings.
With free ads, you need to act very quickly, literally within the first few minutes of posting in a Facebook group things are already either being held for someone or just being picked up. Pay attention to the text of the ad. If they write FIFS (First In, First Served) or No holds – then who came first is first to pick up. If it doesn't say that, you can try texting the owner on Facebook Messenger to get them to hold the item for you. Many can deliver the item you want for an additional fee, usually $20 within the city.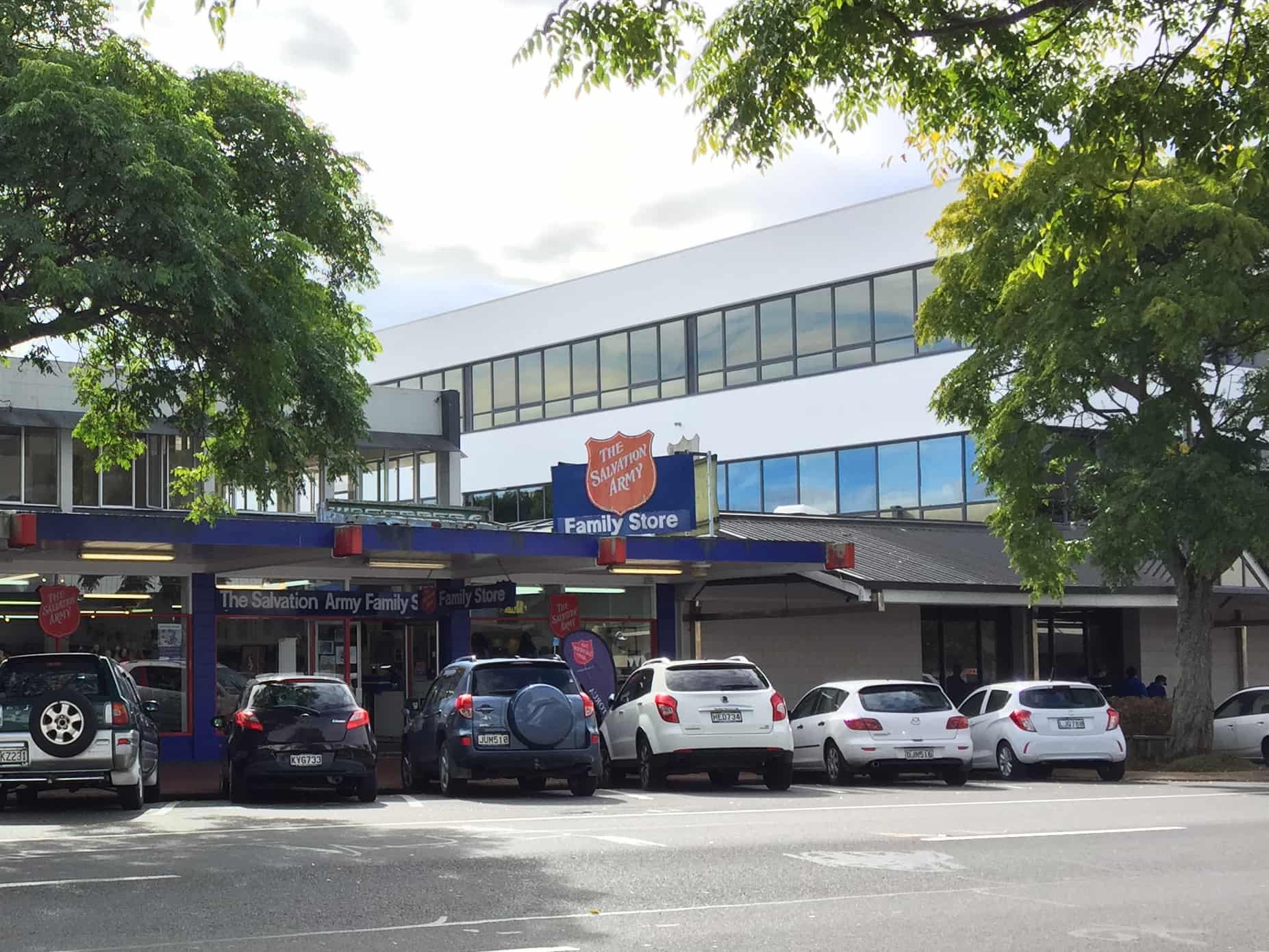 This one such store is The Salvation Army, which is located in the heart of Rotorua.
Another place to buy your first inexpensive necessities can be your local charity shops. They sell used items, the proceeds of which are sent to charity. The owners donate items to these stores, and shopkeepers are usually volunteers. You can find cheap kitchen utensils, furniture, furnishings, antiques and much more. There are several such stores around the city, search on Google Maps for the phrase "Hospice shop" and "Rotorua Recycling center".
And last, but very important – do not hesitate to ask for help from the local Russian-speaking community. It is small, but very responsive (Facebook group). Good luck and see you in New Zealand!
Rotorua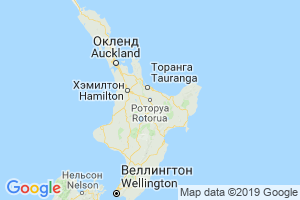 Sitting 60 kilometers south from the region's capital on the shore of Lake Rotorua, the city of Rotorua with the population of 56,000 people is one of the country's main tourist centers and a great thermal spa. The Maori settled in the area since ancient times and the first Europeans did not arrive until the 20s of the 19th century. In 1883 it was decided to develop this place as a spa resort, declaring it a "special district," and soon connected to Auckland by rail and express train. The emphasis on the tourist component of the region was a very astute decision, and today Rotorua, with its geysers, mud baths and thermal springs, is considered a very popular holiday destination for New Zealanders and visitors alike.
Every year about three million vacationers come to Rotorua. They are not deterred even by the persistent sulfuric smell, which reigns in the city and strongly resembles the smell of rotten eggs. Because of this, Rotorua has even earned the unofficial nickname of Sulfur City. Nestled among volcanoes right on what is known as the Pacific Ring of Fire, Rotorua functions as a year-round resort. Many of its bubbling mud pools, hot thermal springs, and geysers are right within the city limits, which only adds to the convenience of vacationing in this wonderful place. Here you have everything you need to improve both physical and spiritual health – bathing in hot springs, spa therapy, mud baths and much more.
In addition, even without geysers with natural pools there are enough interesting places. For example, the dead village of Te Vayora – a small European-Maori village, which in 186 suffered the fate of Pompeii due to the volcanic eruption of Tarawera. About 120 people died then, and today many partially preserved village buildings are accessible to the public and are located directly within the city limits. Or the beautiful botanical park known as the Government Gardens, which is one of the main points of pride of local residents. In addition, there are seventeen wonderful lakes in the Rotorua area, which every summer become popular centers of outdoor activities – water-skiing, swimming, fishing (especially trout fishing), and others. By the way, the lakes of Rotorua in 2007 held the world water-skiing championship, which says a lot.
Rotorua is generally known as a place for active and even extreme holidays, not just as a thermal resort. For example, such a very New Zealand sport as zorbing is very popular here. Zorbing is an extravagant ride on different surfaces (from hills to river smoothness) inside a large ball consisting of two polyurethane spheres, called a zorb. The space between these spheres is filled with air to cushion the impact on unwanted objects. In the case of the aquazorb, designed for riding on water, then there is no inner sphere. In the vicinity of Rotorua you can try all kinds of this, frankly, an amazing sport. Other outdoor activities include skydiving, canoeing, rafting, and more.
Talking about Rotorua, it is impossible not to mention the Maori culture, because the representatives of this people, who began to settle here 600 years ago, and now make up 35 percent of the population of the city, and Rotorua is often called one of the centers of Maori culture. It is, in fact, one of the centers of Maori culture. It is here, in the neighboring village of Tamaki, you can learn the traditional crafts of Maori – a unique woodcarving and weaving, and enjoy the spectacular dance and song shows of this amazing people. Especially popular is the hangi, food cooked in the traditional Maori way, on the heated stones in an earthen oven. It is worth noting that this method of cooking is used only on special days.
In general, the combination of all these factors – unique nature and rich cultural life – and have turned Rotorua into one of the main tourist attractions of the country, whose popularity and does not think to wane. You can see the photos of New Zealand sights in the relevant section by clicking on the link.