Paris for lovers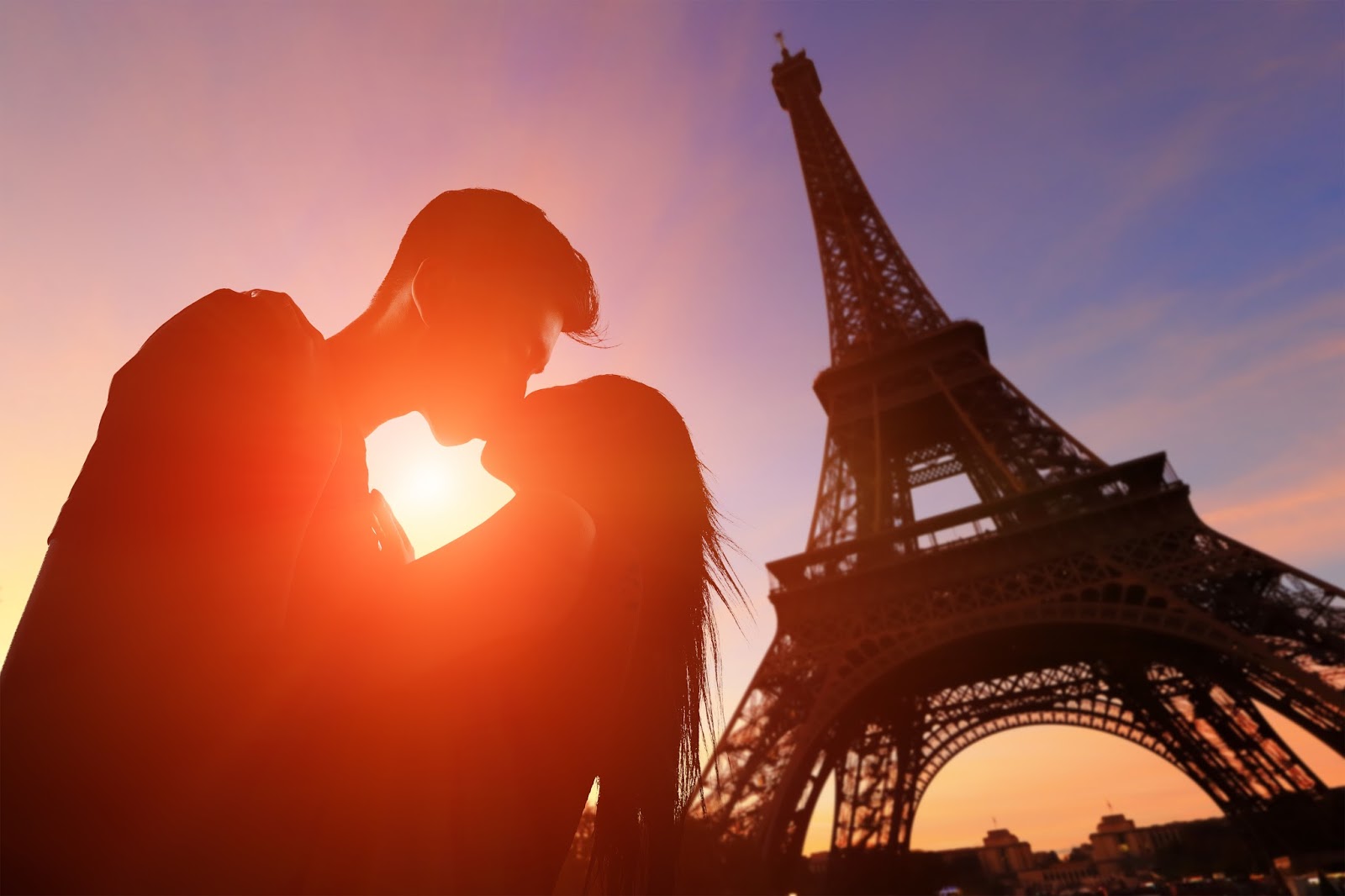 Paris is so multifaceted that it is impossible to learn it in one visit or in ten – each time it reveals a different side of its unique world. Paris is woven of history, art, fashion, business life, street cafes, cabarets and, of course, romance, and there are countless romantic corners in this city, and everyone can find their unique and unrepeatable one.
Paris is often called the city of love, and it is not without reason, because the city for centuries absorbed love stories, its stone walls still keep someone's heart secrets and love dramas tangled in intrigues.
Lovers in Paris
The tomb of lovers Eloise and Abelard
The tomb of Heloise and Abelard in the Cemetery d'Orient is the pilgrimage site of all lovers in Paris. The strength of their love is admirable even 900 years later. Abelard, the famous philosopher, scientist and theologian of the 12th century, had no memory of falling in love with his student – 17-year-old Heloise, who reciprocated his feelings. Heloise was famous not only for her beauty, but also for her subtle intelligence, she spoke several languages and had a profound knowledge of the natural sciences, which in those days for a girl was a rarity.
The tomb of Eloise and Abelard in love
The happiness of the lovers did not last long, the difference in estates and the post of bishop did not allow Abelard and Heloise to meet openly. They fled Paris to Brittany, where they were married in secret, and Eloise gave birth to a son. But their happiness together ended there. Eloise voluntarily sacrificed her feelings so as not to interfere with Abelard's scientific activities. She became a nun (after her secret husband was castrated by her angry uncle) and Abelard was deprived of his clerical rank and entered the service of a monastery as an ordinary monk.
But, as we know, love cannot be imprisoned, and it culminated in the famous correspondence between Abelard and Heloise. Their joint grave was moved to Paris in the 19th century, the place where their love story began. Lovers from all over the world leave notes with wishes and requests for eternal love in the crypt of Abelard and Heloise.
Chopin's grave in the East Cemetery
The East Cemetery, better known as Père Lachaise, is probably the most famous tomb in the world. The East Cemetery of Notre Dame de Paris is probably the most famous cemetery in the world and the last resting place of H. Balzac, P. Beaumarchais, J.B. Moliere, O. Wilde, F. Chopin, J. Bizet, E. Delacroix, Maria Callas, Edith Piaf, Jim Morrison and others.
Notre Dame de Paris
The quiet alleys of Père-Lachaise preserve other stories, real and fictional. The most famous and tragic love story of Paris belongs to Victor Hugo – Quasimodo and Esmeralda. The hunchbacked bell ringer fell in love with the beautiful gypsy girl. The beautiful soul of Quasimodo, encased in an ugly body, managed to touch Esmeralda's heart, but it was not enough to save her.
Notre Dame de Paris
The cathedral's bell ringing still carries love vibes over Paris. The walls of Notre Dame de Paris have also witnessed many real-life affairs of the heart. Here, for example, Napoleon and Josephine were married.
Moulin Rouge : the sweet nightlife of Paris
But Paris is not just full of sad love stories. It gained its fame as the city of love for its many cabarets, which clustered around the Montmartre hill. Located near the red-light street, cabarets lured not only love-hungry and coquettish fashionistas but also talented artists, poets, and musicians at the turn of the 19th and 20th centuries. Sweet "gypsy" life of bohemia, drowning in endless revelry and carefree fun and "roaming" in the Parisian cabarets, inspiring to this day.
Moulin Rouge
The doors of the earliest cabarets – Moulin Rouge, Lapin Agile, Folies Bergere – are still open for visitors today. Although you won't see Picasso or Toulouse-Lautrec here, or hear songs sung by Frank Sinatra or Edith Piaf, a great show is guaranteed and numerous souvenir stores around Montmartre offer reproductions of Belle Epoque cabaret posters.
Parc Bagatelle is a great place for seclusion
Parc Bagatelle
Another reason Paris has been heralded as the city of love is fashion. French tailors have been famous since the Middle Ages, but it was Parisian craftsmen who achieved the art of dressing women in such a way that the opposite sex invariably wants to undress them. That is confirmed by the provocative lace, secretive lush crinolines and daring necklines.
A stroll through a boutique with your lover can't be a romantic moment, but the tranquil walkways of a park are a great place for retreats. One of the most romantic parks in Paris is Park Bagatelle (metro station Pont de Neuilly). The park owes its appearance to a bet made between Marie Antoinette and Count Artois. As a result in two months a magnificent castle and a park with lakes, grottos, bridges and waterfalls have grown on the place of the abandoned hunting hut.
The blooming gardens of Bagatelle Park
The park has undergone only minor changes since the 18th century and today you can immerse yourself in its romantic aura.
Place du Vosges, ideal for a walk in hand
Place du Vosges
There are a surprising number of romantic spots for quiet walks in Paris. Place des Vosges in Le Marais is one of them. Immaculate square surrounded by old buildings is considered to be the oldest square in Paris and used to be called Royal. The arcade around the perimeter of the square makes it an ideal place for a walk in hand.
Place des Vosges fountain
The spirit of amorous affairs also hangs here: the courtesan Marion Delorme, a sung by Hugo, once lived in a house, and Victor Hugo himself also lived on the square (although in a different era), and his house is now a museum. Cardinal Richelieu and Theophile Gautier also spent several years of their lives on the Place des Vosges.
A Romantic Dinner in Paris
A Romantic Dinner in Paris
The fact that the way to the heart is through the stomach is known to every Frenchman, maybe that's why the French cuisine is so sophisticated and refined. The scientists have also scientifically confirmed that some dishes are the real aphrodisiacs, and the first place among them is taken by champagne and the famous French oysters. And what can be more romantic than a romantic candlelit dinner with a view of moonlit Paris at night to a quiet French chanson!
Prices in restaurants in Paris are often biting, but enjoy a glass of wine, try a divine French cheese and a cup of coffee you can in any outdoor cafe.
Love Patrol
Lovers in Paris
The romantic spirit of Paris is so fragile and ephemeral that modern business hustle and bustle of the streets can simply scare it away. Fearful of losing the proud title of the city of love, Paris City Hall even organized the so-called Love Patrol, whose task was to set an example for couples in love (kissing by the subway, hugging in squares, etc.). But love is blind, as they say, so nothing can stop true lovers from feeling the spirit of Cupid hovering over Paris.
Paris can be compared to a stroppy beauty: it takes a lot of effort to open a generous soul. This is why many first encounters with Paris are disappointing, and the Japanese even have a disease called "Paris Syndrome".
Paris cannot be conquered by a blitz tour in a few days, you have to return to it, discovering new sides of its character each time and falling more and more in love with it. Try to discover its romantic side and find your intimate corner!