Where and how to vacation with a dog in Catalonia (Spain)
Spain is gradually becoming more pet-friendly, and especially dogs. The leader of such changes is Barcelona and Catalonia in general. Life with a dog is becoming more and more active and varied. Here are a few places in Catalonia where both pets and their owners are welcome.
Hotels and Restaurants
The Derby hotel chain has positioned itself as pet friendly. The Claris (Carrer de Pau Claris 150, Eixample), which is part of the chain, recently hosted a Pets Party, a celebration of pets, where dogs of all different breeds gathered in the hotel lobby. This is a five star hotel, the price for a standard room starts from 300 euros, so that you and your pet are guaranteed a luxury service.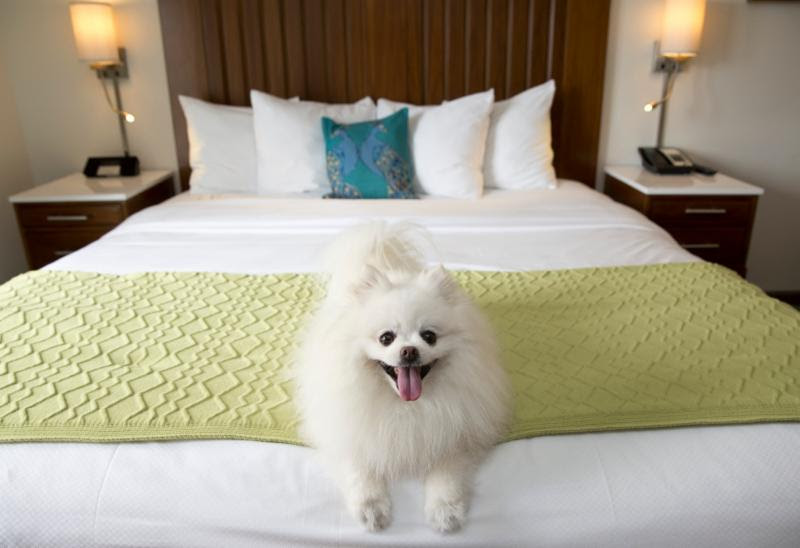 There are several hotels in Barcelona, and each has a restaurant with a fairly high quality cuisine (Mr. Kao, El Regulador, Restaurante 3, Palosanto, Kokka), so if you want to have a good meal or drink a few cocktails, you don't have to leave your pet at home.
There are currently more than 600 bars and restaurants in Barcelona and more than 30 hotels where both the dog and the owner are welcome. A complete guide to these places can be found on the blog www.srperro.com.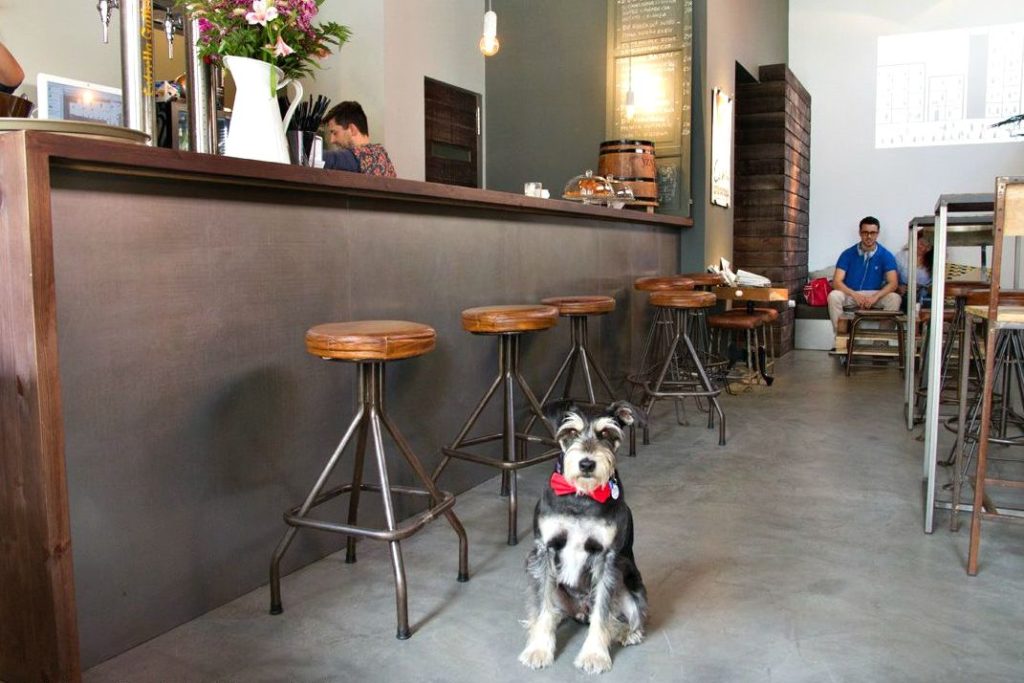 Check out some of them now.
1. Can Solé (Carrer de Sant Carles, 4, Barceloneta) is one of Barcelona's historic restaurants, specializing in rice and seafood dishes. The staff is always nice and polite, even if you come with your dog. Average bill is 50 euros.
2. Bar Calders (Carrer del Parlament, 25, Sant Antoni) – Very dog-friendly, they offer water and snacks. The indoor space is quite small, so your dog would probably prefer to stay on the terrace. The cuisine is Spanish and Mexican. The average bill is 20 euros.
3. Bar Lobo (Carrer del Pintor Fortuny, 3, Raval) is a tapas bar with lots of snacks and a wide terrace. Cuisine: Spanish and Italian. Average bill: 25 euros.
4. Sol i Lluna (Carrer de Verdi, 50, Gracia) – Here your dog will be 100% satisfied. There is a water tank for the pet at the entrance and French vegetarian cuisine and cheeses for the owner. The average bill is 30 euros.
Beaches
There are several beaches in Catalonia where entry with dogs is allowed. Cala Vallcarca beach (Sitges) is the closest of them. It is a small wild beach with no showers or toilets. But it has beautiful views and the water is calm enough for swimming. There is no public transport.
There are two beaches on the Costa Brava. One of them is Rubina beach (Ampurdan, near Empuriabrava). The length of the beach is 1.8 km. Here you can not only swim with your dog, but also go kitesurfing. On the beach there is a sailing school for adults and children.
Another one is the beach Platera (L'Estartit) . It is about 2 km long and 70 m wide. Famous for the fact that it is never crowded. You can only get there by car.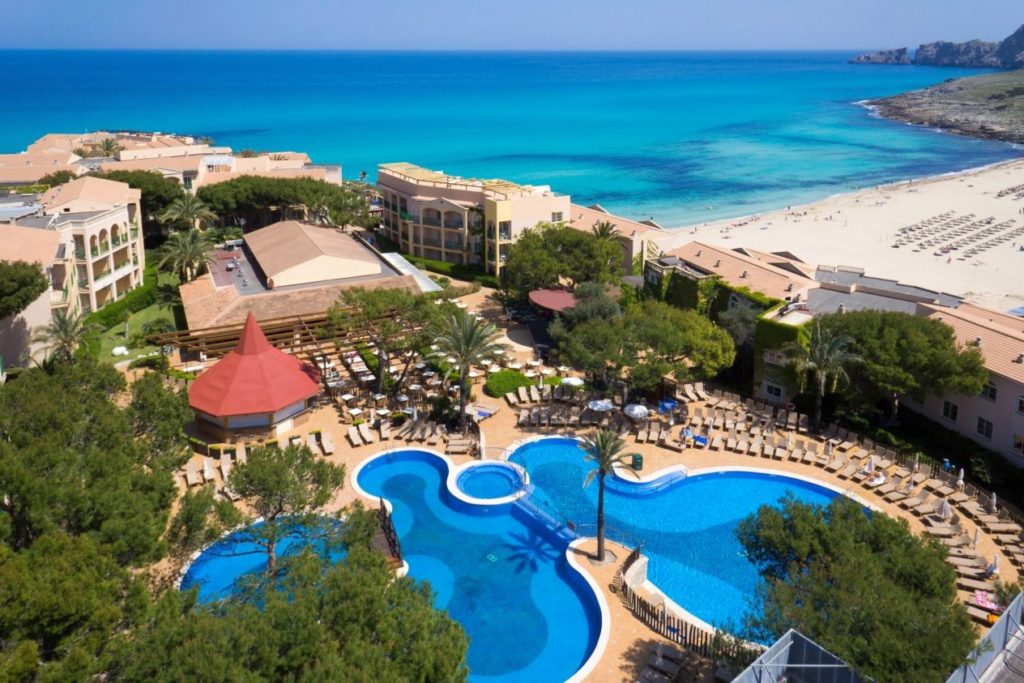 In Barcelona itself, there are no beaches where you can freely come with animals. From April to October it is strictly forbidden, and from November 1 to March 31, dogs are allowed to enter the beaches until 10:30 and after 19:30.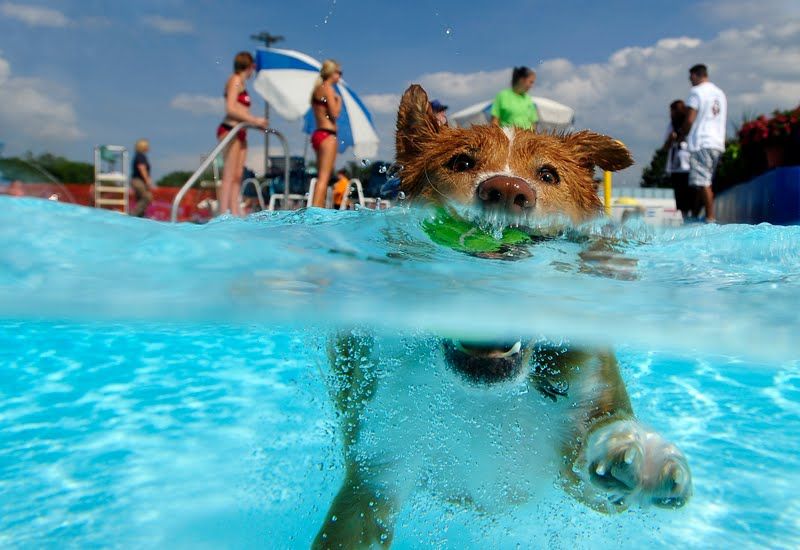 In 2014, the citizens of Barcelona began collecting signatures so that the city government would organize a beach for dogs within the city limits. From June 2016, if everything is done as planned, the City Hall will allocate a small area of 1,200 square meters in the Levante beach (Avenida del Litoral, 114, Barcelona), where it will be possible to be with dogs during the summer as well. It is a pilot project, so it is up to the pet owners to respect all the rules and show that the initiative is worth developing.
Metro
Since October 2014, public transport in Barcelona is allowed to enter with pets who have a chip and are on the municipal register. However, it is not so simple, you need to follow certain rules in order not to be fined. From September 11 to June 24, you can travel with your dog not during rush hour. From 7 a.m. to 9:30 a.m. and from 5 p.m. to 7 p.m., it is prohibited. On weekends, you can travel all day. During the summer, there are no restrictions.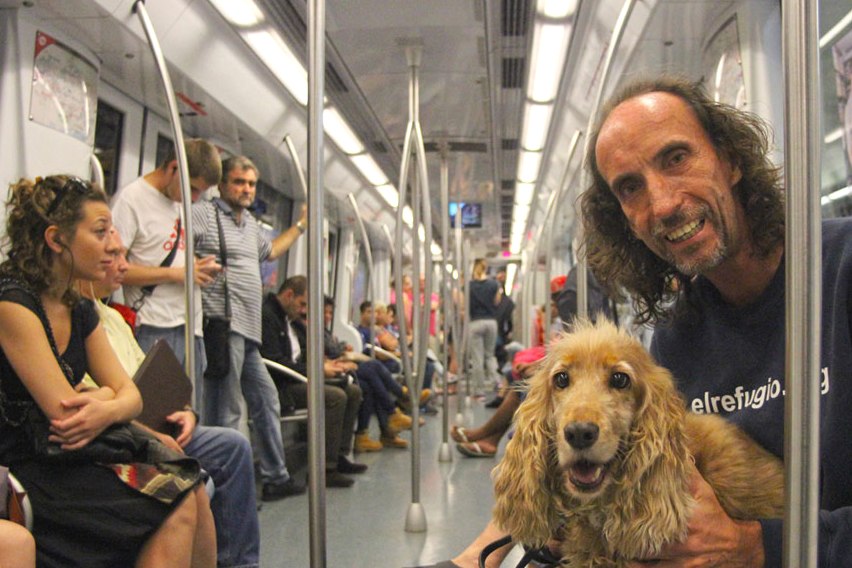 You can only take one dog per person, it must be on a leash shorter than 50 cm and a muzzle, and this is not only for "potentially dangerous" dogs. Dogs are not allowed on the escalators or on the seats. You may take the stairs or the elevator down the subway. Children under 16 years of age must not be in the subway with a fighting dog, which requires a special license.
These rules must be followed in the case of medium-sized and large dogs. Small animals in a special carrier may travel in the subway at any time.
Parks
There are plenty of parks and squares where you can walk with your dog in the Catalan capital – more than 120 dog friendly areas in total. Each such place has gloves and excrement bags, fountains where dogs can drink and bathe, and places to hide from the sun.
In 2014, the Barcelona government launched the first phase of a strategic plan to create more areas for dogs: each neighborhood must have at least one special area of at least 700 square meters. For example, l'Estació del Nord park will triple the number of dog areas, and new ones will be built in Ciutat Vella, Les Corts, Sarrià-Sant Gervasi, Guinardó Horta, Nou Barris y Sant Andreu.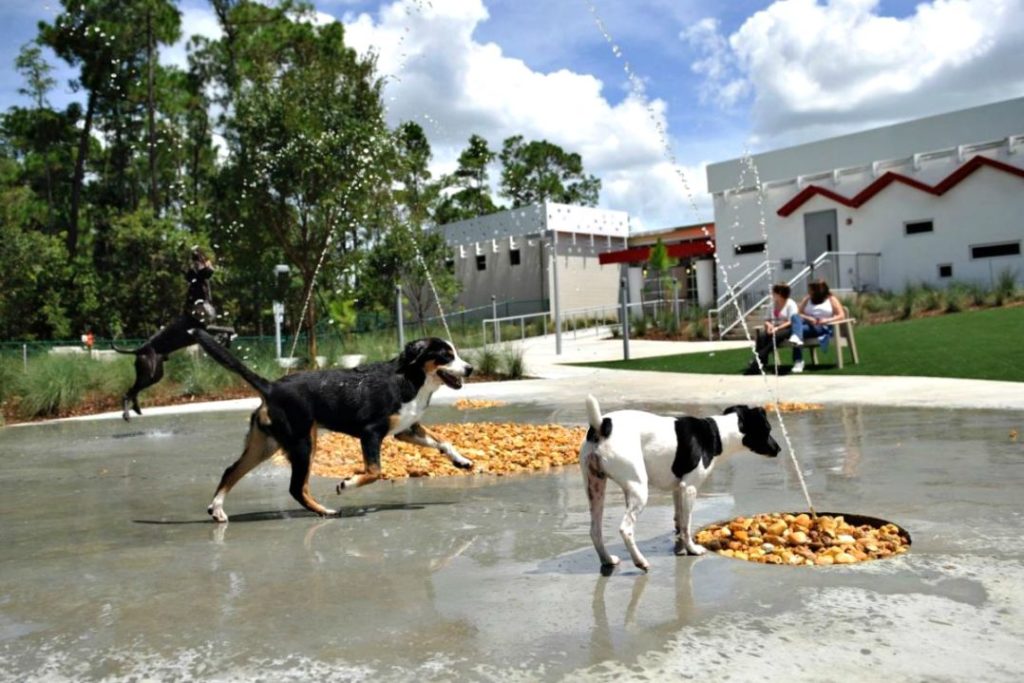 Here are some parks where you can have a great time with your pet:
1. Parque Citadella (Paseo Picasso, 21) is a beautiful park, one of the best places for a dog with lots of green areas and long trails for jogging. There are boat rentals and yoga classes.
2. Joan Brossa Gardens (Plaza de Dante) – not only is it great to walk with your dog, but also to admire the city.
3. Park l'Estació del Nord (Carrer dels Almogàvers, 27-61) is a huge sunny park on two levels. The lower level has dog playgrounds and a children's area, while the upper level has land-art sculptures.
4. Collserola Park (Carretera de l'Església, 92) – more than 8,000 square meters of natural and protected area – a paradise for dogs.
5. Parque Barceloneta (Paseo Marítimo) – a large green area with access to the sea.
6. Parque Carlos I (Avenida de Icària, 90) – Good for walks among the cypresses and canals.
Camping and water parks
Camping Barcelona is a campsite and beach located in Mataro, about 45 minutes from Barcelona. Although dogs are not welcome on the beach itself, you can have them on the campsite with no problem. Campgrounds in Catalonia are quite friendly, this one is no exception. There is a tub with hot water for washing dogs and a bus from the city center to the campsite.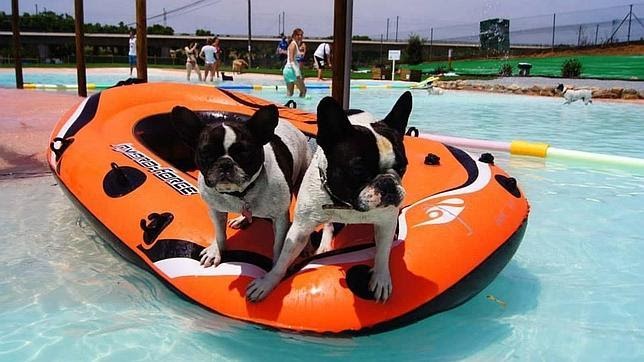 The Can Janè dog water park can also be a great option. Slides, pools, fountains are every dog's dream in the summer heat. It's a dog-friendly residence throughout the year, and in the summer it opens its doors for owners and their pets to relax together at the water park. Located about an hour from Barcelona in Roca del Vallès, it's a great place to spend a whole day with your pet. The dogs have a lot of fun here, and so do the people.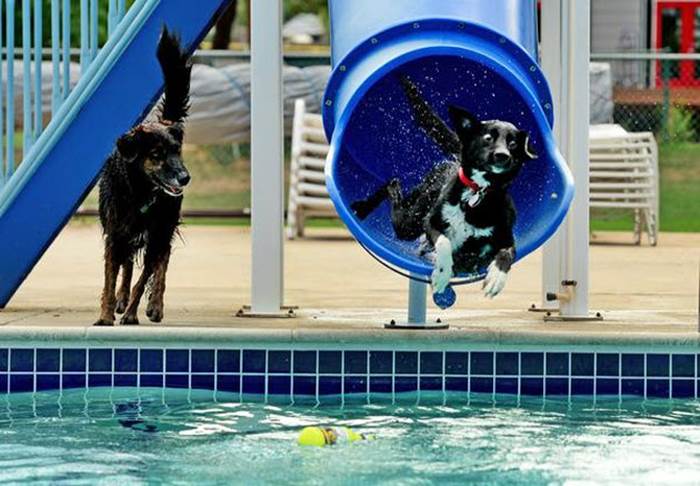 Retrieved from: http://www.espanarusa.com
All images courtesy of Google Images, Yandex Images, Pinterest, or where noted otherwise.
Spanish establishments under the sign of pet-friendly.
Spain belongs to those European countries where pets are loved and allowed: you can, for example, go shopping with your favorite dog or have a glass of wine in a cafe under the soothing purr of a cat. And before that, don't forget to head to the beauty salon to get your pet ready to go out in public 100%.
In one of our articles, we told you about the rules that should be observed in Spain when walking with pets, as well as what vaccinations are mandatory and which beaches are allowed to enter with dogs. In this article, you will learn another side of the "difficult" Spanish life of our little brothers.
Keeping an eye on your dog or cat's appearance in Spain is sometimes a vital necessity. In summer, with the high temperatures and humidity, a poor, unshaven animal is unlikely to enjoy a walk. Many veterinary clinics have separate offices where professionals will give your pet a new haircut, wash, clip claws, clean teeth. If you want, you can also go to specialized beauty salons for pets, where creative hairdressers are ready to please even the pickiest customer, so he can go to a dinner party afterwards.
Haircuts and Spa Treatments
Can Can Spa Barcelona
This is a specialized wellness center for pets. In addition to a boutique featuring well-known accessory brands and a hair salon, there are various spa treatments for dogs and cats, such as relaxing baths with Dead Sea salt, and chromotherapy, in which animals are placed in an enclosed booth where they are exposed to colored lights – a procedure believed to help pets with mental health issues. Another bonus of this facility is a "daycare" for dogs. If you are often on business trips or your busy schedule doesn't always allow you time for morning walks, Can Can promises to take care of your dog.
Address: Calle Johann Sebastian Bach, 14, Barcelona.
Opening hours: Monday to Friday 9:30 to 14:00 and 16:00 to 20:00; Saturday 10:00 to 14:00.
Beethoven Pet Barber & Supplies.
At the peak of a trendy barber shop that teaches young people how to groom their beards and moustaches them how to do it right, a pet-friendly establishment has opened. The logo features an ironic image of a "bearded" rissenschnauzer. The salon has a showroom with the latest canine and feline fashions and the Beethoven Pet Barber team regularly holds events to help homeless animals.
Address: Plaza de San Amaro Portal 1, local 3, Madrid.
Hours of operation: Monday through Friday, 9:30 a.m. to 2 p.m. and 5 p.m. to 9 p.m.; Saturday, 10 a.m. to 2 p.m.
Entry with pets is welcome
The leader in the number of bars and restaurants where you can not only come with pets, but where there is even a special menu for them, is Madrid. One can feel the open-mindedness of the capital, where more and more people want to integrate animals into their leisure time. Barcelona is not inferior to Madrid in this new trend. The trend of spending as much time as possible with pets is gaining popularity all over the world, so why not go out for dinner together at a restaurant or a trendy pub?
In 2016, a special app for cell phones, Mascotas Bienvenidas, was created where you can find bars, restaurants, pubs or eateries where entry with pets is welcome. When searching, there is a selection feature: places only for cats, only for dogs, or all at once. This way you can spend Friday night in a new way, and maybe accidentally meet a soul mate for your pet.
El perro y la galleta
The name of this Madrid restaurant speaks for itself: "The Dog and the Cookie". The creator Carlos Moreno Fontaneda was inspired by his dogs Pipa and Coco, both breeds of Jack Russell Terrier.
The designer managed to build a comfortable space for both humans and animals while maintaining an elegant style. The restaurant's menu includes risotto with parmesan, tomato tartare and creamy yogurt with cookies and seasonal fruit for dessert.
Address: Calle Claudio Coello, 1, Madrid.
Open Sunday to Wednesday 10:00 to 00:30, Thursday 10:00 to 01:00, Friday and Saturday 10:00 to 01:30.
Can Solé
One of the classics of the Barceloneta area where, at first sight, you wouldn't be allowed to go with your pet. But you're more than welcome! The staff are always friendly to visitors with pets. Of course, they will serve your pet as well – they will bring him a bowl with fresh water and maybe a small treat. The most important thing is that both owners and pets have a great time at dinner.
Address: Carrer de Sant Carles, 4, Barcelona.
Opening hours: Tuesday to Thursday 1 to 4 p.m. and 8 to 11 p.m., Friday and Saturday 1 to 4 p.m. and 8:30 to 11 p.m., Sunday 1 to 4 p.m.
Espai de Gats.
This is the name of Barcelona's first cafeteria where you can come in the company of your cat or cats. It's not just a place to relax with a cozy purr, but also a serious project to find a new home for homeless animals. You can always meet little kittens at this place and find out how to take them home with you. The Espai de Gats team organizes educational seminars, courses and conferences on the health and proper management of pets.
Address: Carrer de Terol, 29, Barcelona.
Opening hours are Monday and Tuesday from 5pm to 10pm, Wednesday, Thursday and Sunday from 10.30am to 1.30pm and 5pm to 10pm, Friday and Saturday from 10.30am to 1.30pm and 4pm to 10pm.
Claxon Palma de Mallorca
The first establishment on Mallorca that not only welcomes entry with dogs, but also prepares a special menu for them. The restaurant's chef, Rafa Nadal, the namesake of the famous tennis player, wanted to emphasize that going out was an equally important event for the owner and the pet. Dogs are served beef or chicken pate with vegetables and a bowl of fresh water. We recommend that you let us know in advance if you would like to visit the restaurant with your pet in order to achieve maximum comfort for all those present.
Address: Carrer del 31 de Desembre, 9, Palma.
Opening hours: Monday, Tuesday and Wednesday from 1:00 to 18:00, Thursday, Friday and Saturday from 1:00 to 18:00 and from 8:00 to 01:00.
Service Center in Spain
Need help in Spain? Service Center "Spain in Russian" – more than 100 services in Russian language in any region of Spain.
Tags: dogs, food, shearing, cats, maintenance, pets in spain, cafe for cats, restaurant for dogs