Turkish Kemer – why it is so loved by tourists from Russia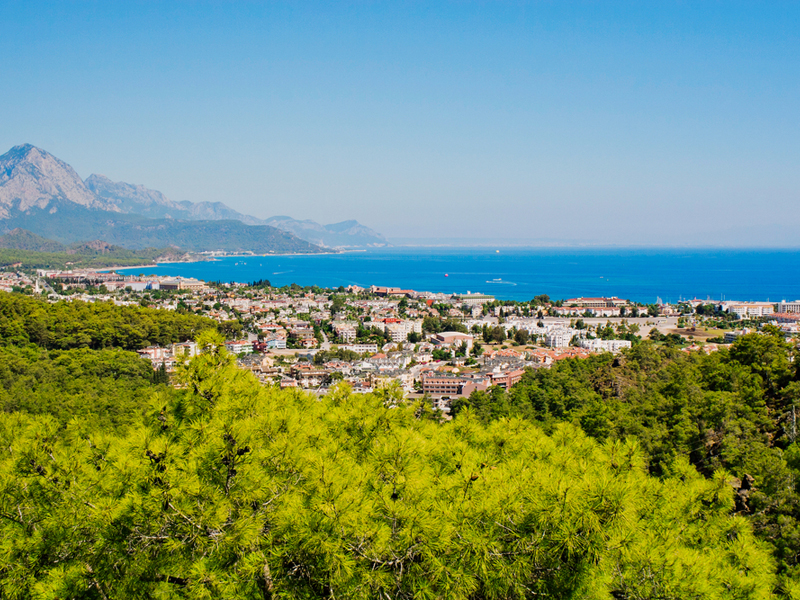 Kemer has everything that makes you never want to leave: clean beaches, excellent diving, interesting attractions, developed infrastructure, a vibrant nightlife and many family hotels with animators and entertainment for children.
Editor Viassan
Content
Features of the resort
Perhaps Kemer can really be called the most "Russian" resort in Turkey – here you are sure to meet your compatriots, who came from the heart to have fun, sunbathe, breathe the mountain air and relax in the style of "all inclusive". Reception staff in Kemer hotels quite well Russian-speaking, so the "difficulty of translation" here is not likely to occur.
| | |
| --- | --- |
| | Going to have a rest in Kemer? Just leave your request! |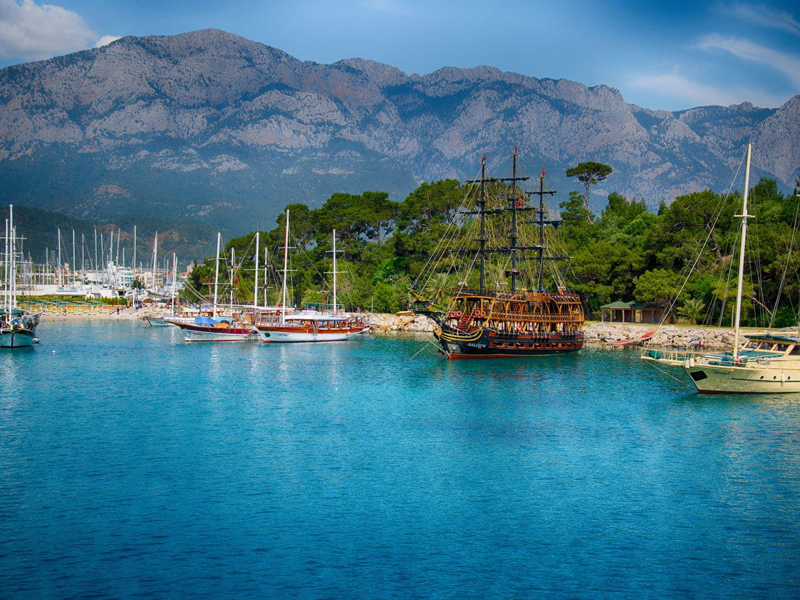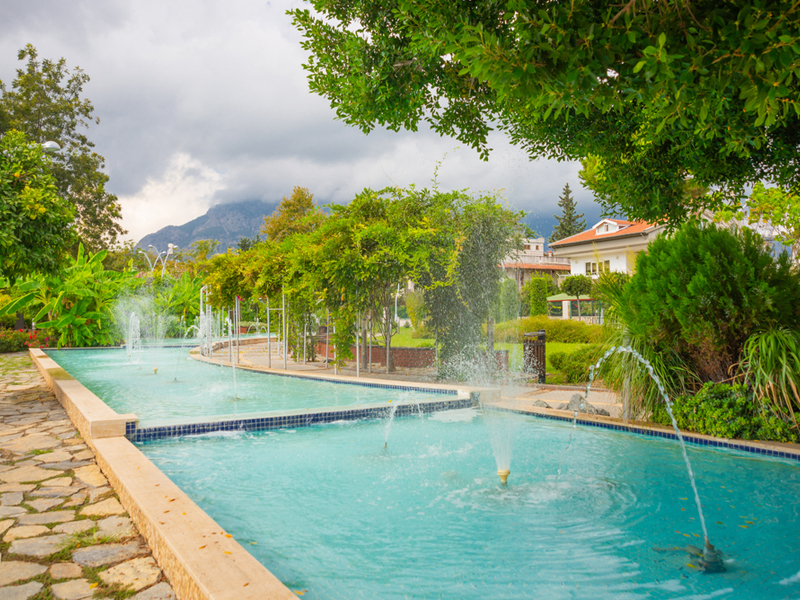 When is the best time to go to Kemer?
The tourist season in Kemer starts in May and lasts until the end of October: in these months you can safely go on vacation and do not fear the rains and cloudy weather. In summer the temperature often reaches +40 ° C at the resort, and the water on the coast warms up to +26 ° C. Most holidaymakers here in the summer months, as well as in September, during the "velvet season".
Neighborhoods of Kemer
Kemer resort area is the city itself with adjacent seaside villages (Tekirova, Geynyuk, Beldibi, Kirish, Cirali and Chamyuva).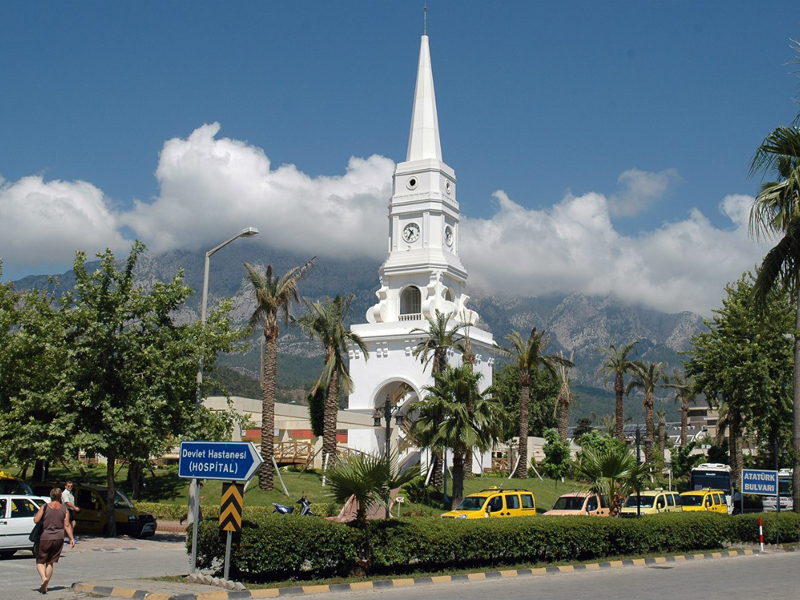 The center of Kemer is a real tourist magnet, because the most interesting things happen here. If you want to visit the best places of entertainment in the resort and spend time shopping, you are definitely here.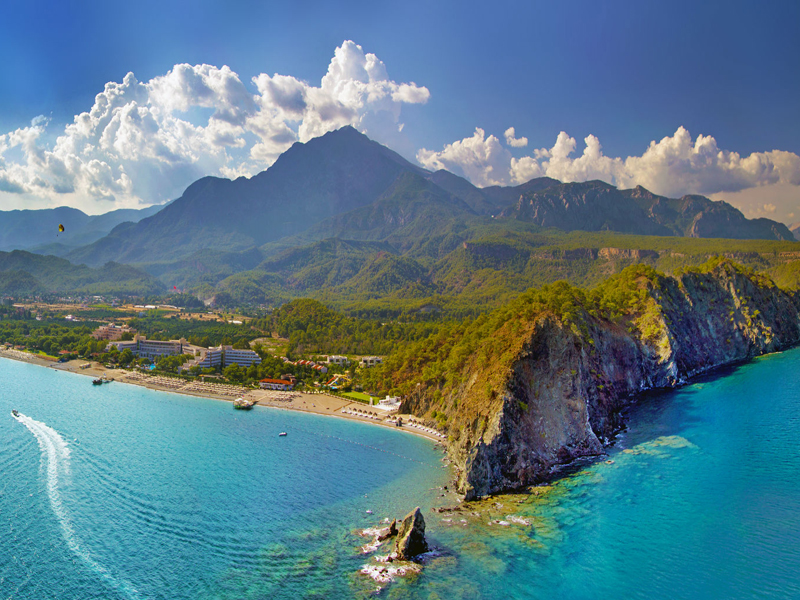 Tekirova is located 10 km north of the center of Tekirova. It is a nice quiet area with sandy beaches, considered the best in the resort. Tekirova with its mandarin plantations, pine groves and underwater caves where you can see dolphins is often chosen by tourists with children, and the lack of nightlife in the area only adds to the appeal.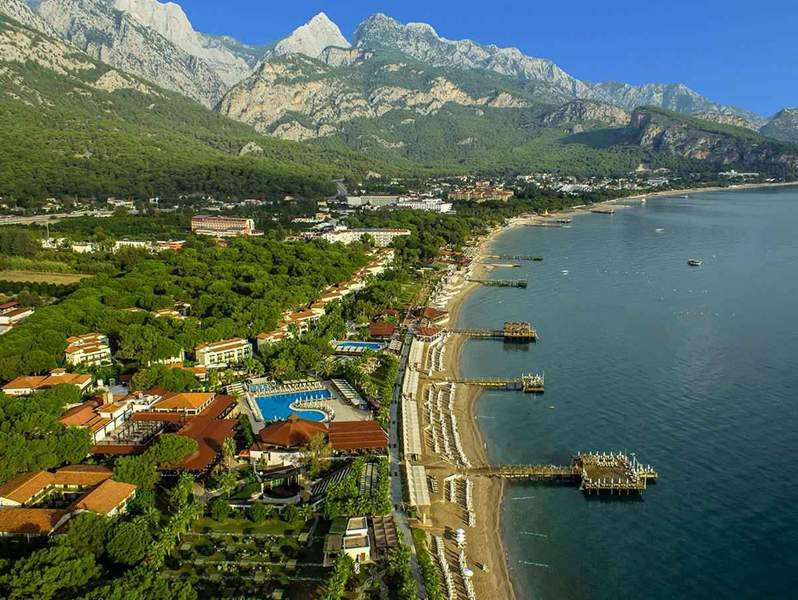 Another suitable place for those who value a quiet holiday – Beldibi . However, unlike Tekirova, the beaches here are mostly pebble, and only some hotels have managed to bring sand for their beaches. Lovers of active and extreme holidays will definitely like it in Beldibi: the local mountain river is often used for rafting.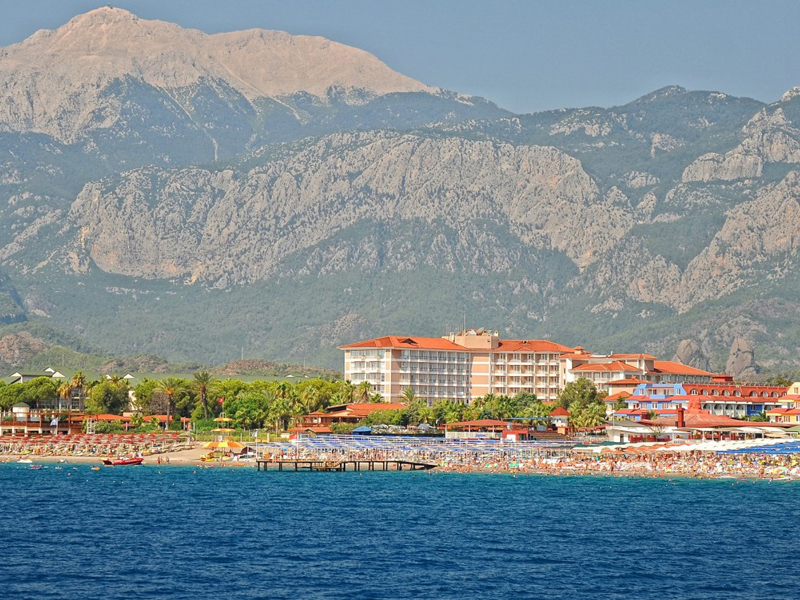 Couples and tourists with children will appreciate the region of Kirish: the atmosphere here is very quiet, and the picturesque beaches are strewn with fine pebbles.
Geynyuk is known for its beautiful views and fish restaurants. From the local mountain Tahtali, which can be reached by cable car, offers an incredible view of the surrounding area, and at the foot you can swim in bays with clear water. In Heynuka worth to visit and family tourists – look at the biggest dinosaur park in Europe, where "live" dinosaurs. They are made life-size, and some move and roar!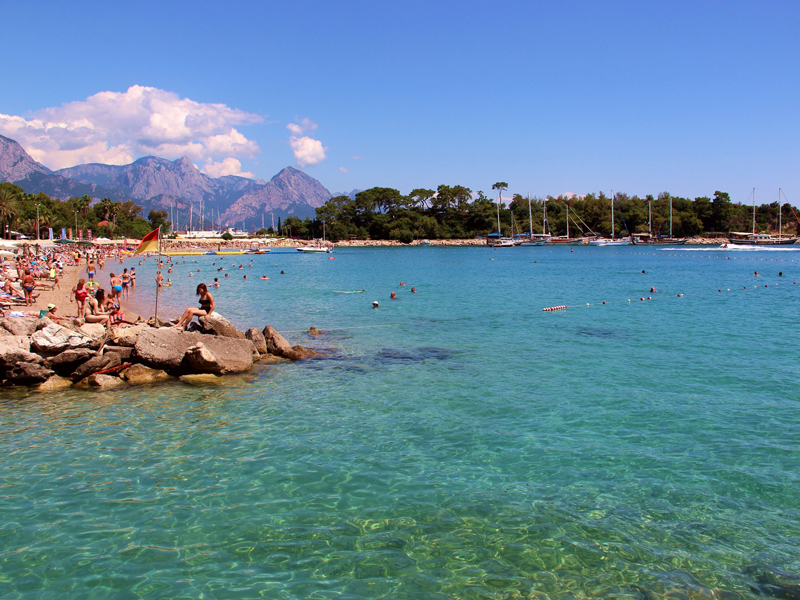 Chamyuva region is famous for its "Paradise Bay" (one of the most beautiful in Turkey), and a special kind of clams that make the local waters glow thanks to the phosphorus contained in their chitinous cover. One of the main local attractions is quad biking and jeep safaris through the mountains. Worth a try!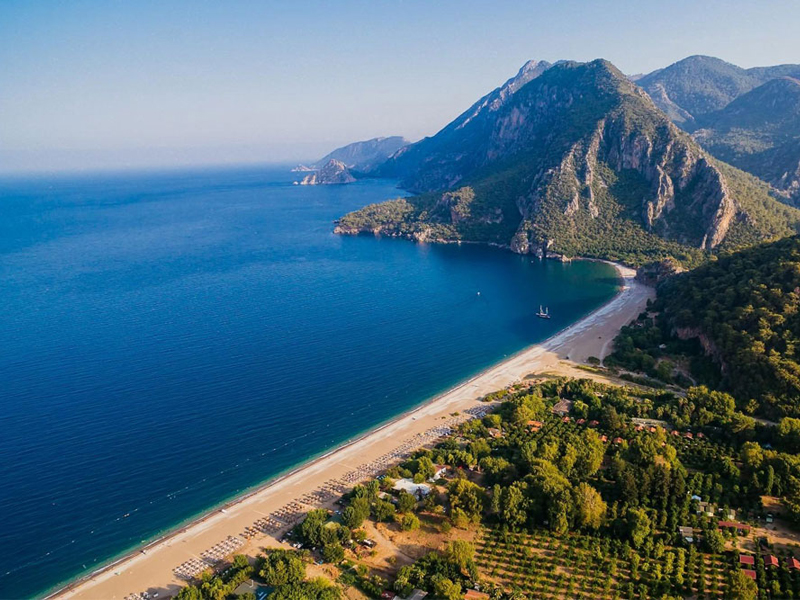 Cirali is the quietest village of Kemer. Beaches here are almost always half empty, and discos are prohibited. However, it is worth coming here to see the local Caretta sea turtles, which have chosen Cirali as a place to lay their eggs.
Things to do in Kemer
Beach Holiday
Pebble beaches predominate in Kemer, all of which have been awarded the Blue Flag for the cleanliness of the water and coast. Some hotels (mostly five-star) can boast sandy beaches, but even at the entrance to the sea there are still pebbles. However, the pluses here are also: the water on beaches with pebble bottom unusually clear.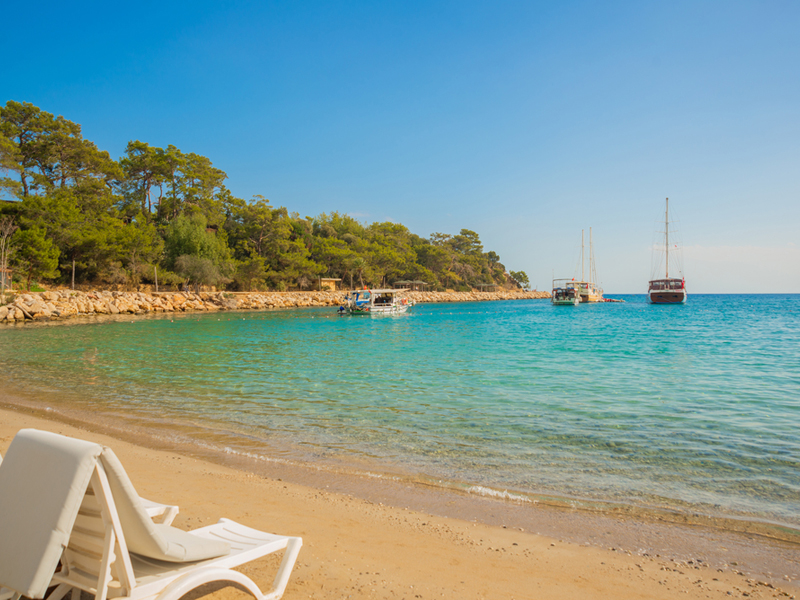 In the city of Kemer there are two beaches: central and the beach "Moonlight". Both beaches are free. The central beach with a pebble surface is well landscaped and gives the eye a stunning view of the mountains. However, you should be prepared for a large number of holidaymakers – it is not very cozy here with children. In recent years, some parts of the central beach were divided between local hotels, and those who are not their guests, have to pay for sun beds.
The beach "Moonlight" has sand and pebbles, here often tourists with children (in addition, there is a park "Moonlight" nearby). As with the main beach, there is a pay zone (near the bar) and a free zone. There are also scooter rentals, motorboat rentals, surfing and paragliding equipment for visitors to Moonlight.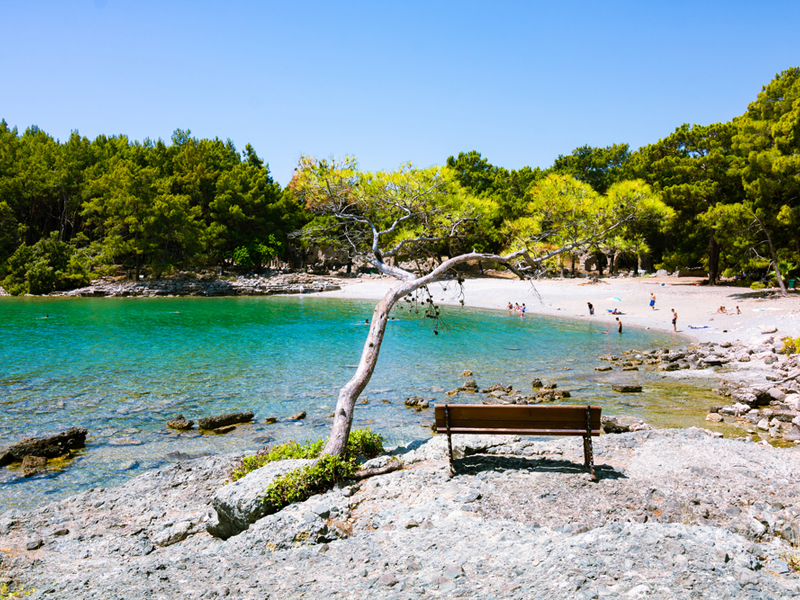 Faselis wild beach
The beaches of Geynyuk, Chamyuva, Kirish, Tekirova, Chiraly are not inferior to Kemer's city beaches: tourists can count on beautiful views, gentle entrance to the water, umbrellas and sunbeds. The only difference is that they have a quieter atmosphere. If you want to visit a wild beach with a view of ancient ruins, pay attention to Fazelis between the villages of Tekirova and Chamyuva – a place though not landscaped, but very romantic.
Excursions
Kemer is the right place for those who want not only to lie on the beach, but also to feel the spirit of antiquity. Just 16 km from the center of the resort there are the ruins of Fazelis, which once began the settlement of the Mediterranean coast of Turkey. Here the foundations of an ancient amphitheatre, Roman baths, aqueducts and squares are well preserved.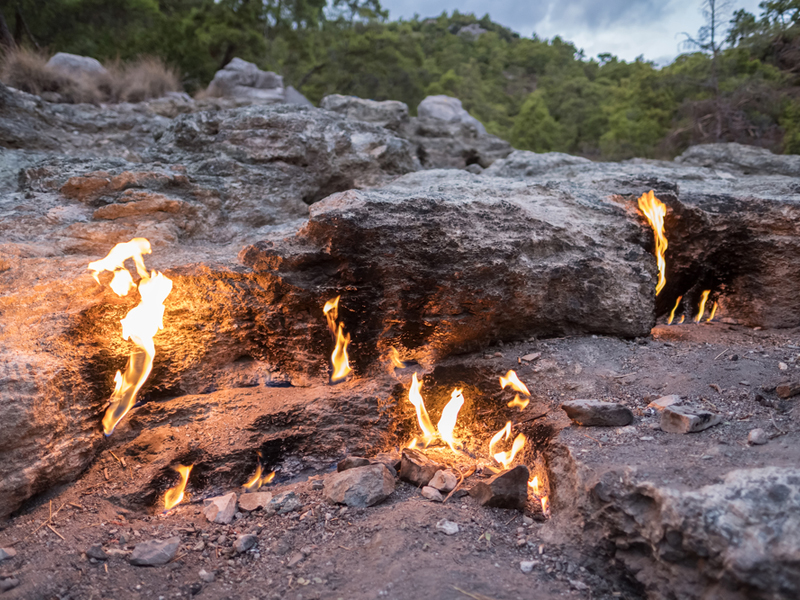 The "eternal lights" of Yanartas Mountain
Mysticism fans will enjoy a tour of the Yanartas Mountain known for its "eternal lights". The secret of this phenomenon is simple: the hollows of the local rocks are filled with natural gas, which periodically comes to the surface, forming small lights.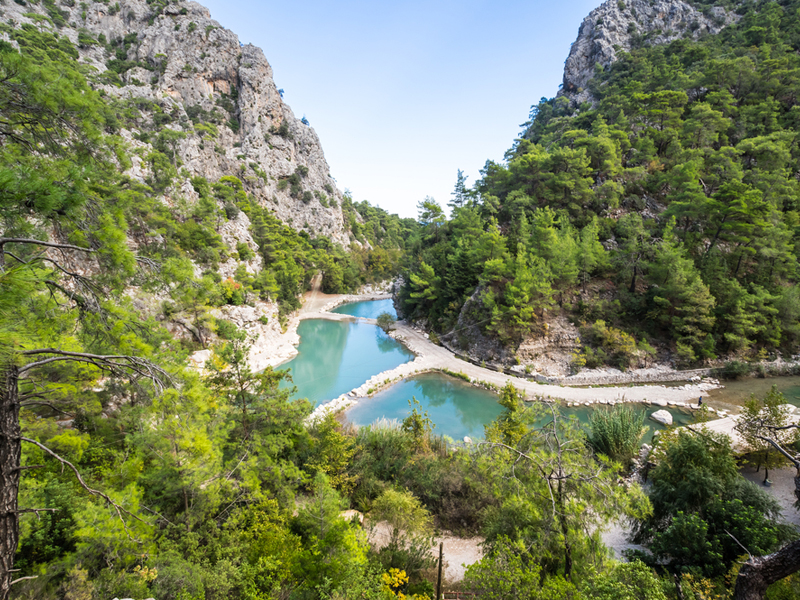 A very beautiful place that will appeal to lovers of natural attractions is the canyon of Geyniuk . Journey to the land of pomegranate trees, oleanders, mountain rivers and lakes will leave bright impressions, but is more suitable for adult tourists – with children can be difficult.
In the northern part of Kemer is Yoruk Park, a vast open-air museum that tells the story of the way of life of nomadic tribes. Here you can see the homes, household items and utensils of the nomads, their workshops and even taste the traditional cuisine.
Holidays in hotels in Kemer, many have time to visit nearby Antalya, and the most restless go ballooning in Cappadocia, or in Pamukkale – to see the famous thermal springs.
Hangouts
The noisiest parties are concentrated in the center of Kemer – this is where the famous club "Aura" is located (admission is free for girls). The place is very popular, and there are always a lot of partygoers. In the village of Beldibi there is another center of entertainment – the club "Fly", which belongs to a hotel, but takes guests from all over Kemer and the surrounding area. It is worth to visit the club "Inferno", where they arrange parties with different subjects (foam, neon) and ignite the best go-go dancers.
Diving
Kemer is a favorite vacation spot for divers. One of the most popular dive sites in the resort is the Three Islands Bay near the village of Tekirova. There are large underwater caves where you can see sucker fish, octopuses, squids, rays, sea turtles and dolphins.
Those who recently discovered the world of diving should start with a tour of the bay "Aquarium" between Kemer and Kiriş village: it is sheltered from all sides from winds and strong currents, and at a depth of 3-5 meters you can see sea stars, urchins and octopuses. In the bay "Lighthouse" at a depth of 10 m there is a tunnel in the rock, which can be explored, and the dive site "Kabardzhyk" will appeal to experienced divers: at a depth of 18 m there are two caves, which are inhabited by barracuda fish and rock fish.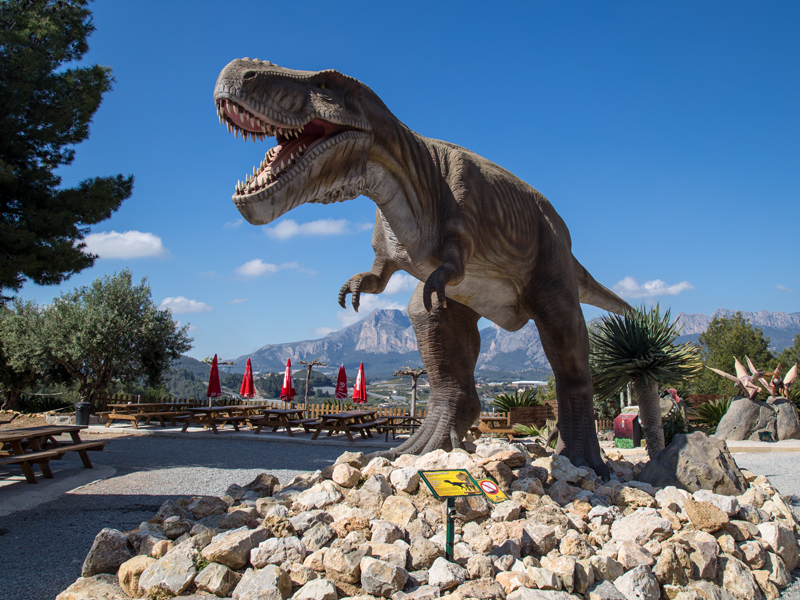 Dinopark in Kemer
Holidays with children
Kemer, as well as Alanya, is a great family resort, especially if you choose an area away from the center (Tekirova, Beldibi, Kiris). Here are a few of the most interesting places to go with children:
What to bring from Kemer:

– A hookah or a painted robe as a reminder of Turkey.

– Cotton or bamboo bed linen, which is very cheap in Kemer.

– Turkish candy (Turkish delight, baklava, halva) to treat your friends at tea.

– Handmade ceramic products – they are very beautiful here.

– Turkish soaps based on olive oil – inexpensive and practical.
Hotels in Kemer
Hotels in Kemer are of two types: for family tourists and fans of relaxing holidays (located in nearby villages), and for young people who want to be close to the noisy parties (located in Kemer).
Most hotels of Kemer have extensive territory and are located on the first beach line. There is not much difference between four-star and five-star hotels, almost everywhere there is a meal "all inclusive" (and sometimes "ultra all inclusive") and a lot of entertainment for adults and children.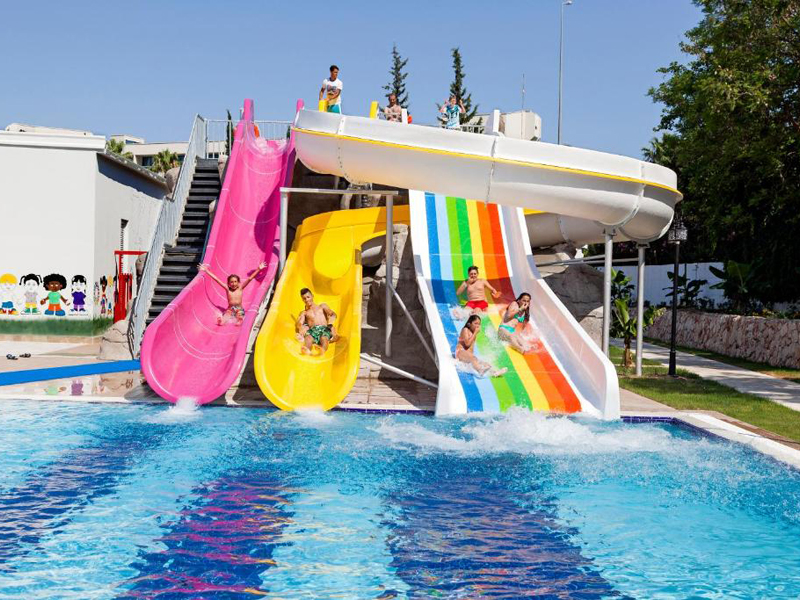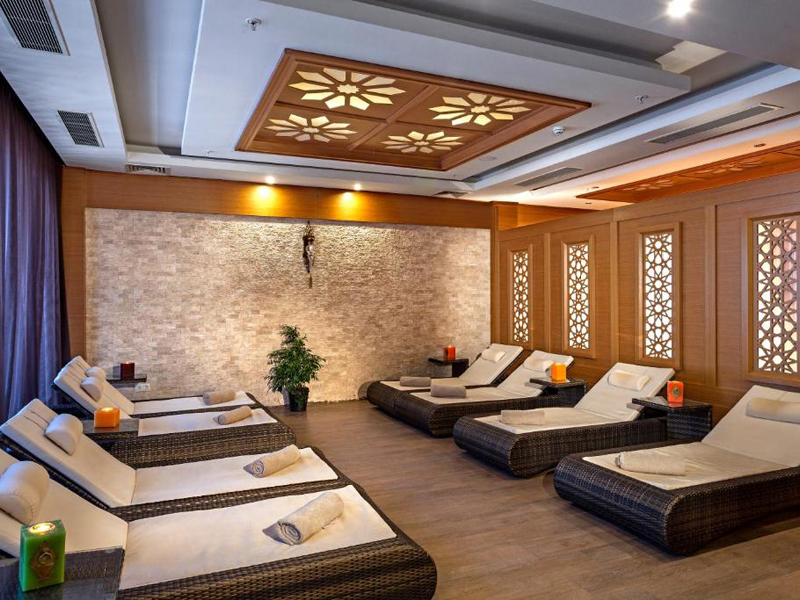 The best hotels of the resort are considered:
As for the prices of recreation, the rest in Kemer for two can be from 24,045 rubles. For comparison: the prices for rest in neighboring Antalya start from 28 023 rubles for two adults, and in elite Belek – from 35 448 rubles.
How to get there
Tourists get to Kemer through Antalya airport. The flight from Moscow takes about 3.5 hours. The distance between the airport and Kemer is just over 40 km, and they can be overcome in different ways:
– Take a shuttle bus or a cab to the bus station in Antalya, and then take a bus to Kemer
– By Sea: There is a ferry that takes you to Kemer twice a day (at 9:00 a.m. and 4:00 p.m.) from the old Antalya Bay to the resort and you can take a boat trip along the way in about 40 minutes.
– It is also possible to rent a car and drive it about 40 km on the highway D400 between Kemer and Antalya
You can leave a request for a tour appointment with our specialists.
Before the trip don't forget.
Buy tours online.
✈️ Buy flight tickets
Book a hotel room
☂ Take out insurance
Make an appointment for a tour
Subscribe to our Instagram and Vkontakte communities, so you won't miss anything! And we publish the current hot tours in Telegram-channel.
Tours in Kemer from Moscow 2022

The main thing for us is the sea. Golden Lotus has its own small beach, where you go down from the food court. A few steps – and you're on deckchairs. If you come after 10 a.m., places will be only in the sun (were in a velvet season), it is necessary to consider. Small pebbles, there is a gangway, and who does not like it. Kemer has remained in memory during the first arrival in Turkey that water here is more salty than Antalya and consequently holds even better – almost floating
Very cool! The food is bearable, sometimes thick, sometimes well not empty, but sad by choice. There were a lot of dishes, just not really suited for me: salads and sauces with fat mayonnaise and sour cream, porridge and cereal with cow's milk, which my body is not on good terms with. Sausage sausages are unpalatable, but chicken and turkey are tasty. Every breakfast you can get fried eggs separately, pancakes – not in the general buffet area, but in the open kitchen. For dinner, too, they do some interesting cooking there. Grilled chickens, fried fish, shawarma. The soup is always the same, also sad, one liquid almost. But a lot of desserts, you can slip :)) And delicious buns. What is definitely memorable is how many cats there are! They come to the dining room all the time, begging around the clock, kittens play and fuss, all different and beautiful! Under the tables, keep your eyes peeled to avoid stepping on them
Attention: The red cat with the red thread on his neck – no teeth :'( You have to feed him only small pieces or something grinded. Aolna feeding mother – white in black spots – from hunger and belligerence in this period can pull off his fingers, you have to throw food on the floor ? But I'm thrilled, like I was living in a catcafé. Cleaning – every day, but when you need it. We asked every other day, for not really dirty everything. The floor was not cleaned, in the corners was left debris. This is a minus. But so the mattresses are normal, pillows, too, blankets as blankets in the heat of the most important thing. The air conditioner was good. The room had a balcony, overlooking the neighbouring hotel. Noise isolation both outside and inside is excellent! No animation, that was a plus for us! I was in the next room, I don't know how people slept there. Very rough. We didn't need to, and just wasn't ) Only drunken compatriots one night yelled "Sanya, I'm on vacation!" so violently that the Turks tried to calm them down half the staff )) The staff all know Russian at a very good level. And German and English, too, but worse. Friendly, but not excessive. Good communication in a human way. Small services can be asked to do without paying. For example, there is no iron in the rooms, but there is a price for ironing, but you can arrange at reception to give it to you for an hour. Or weigh your suitcases in the backyard. The location is great – 7 minutes to the center, 7 minutes to the square the other way, with Starbucks, Macs, cafes and shopping aisles too. LC Waikiki in the shopping street we will have t-shirts for 70 lira )) It will be boring for kids, it will be boring for party people too. But for us, the main thing is the sea and quieter, just chic. On the downside, very poor wifi everywhere (in the lobby, and in the room) and totally dull playlist. The misery of Western pop singers like Sam Smith or Billy Eilish around the clock ) We will definitely come again!
It is not my first time in the hotel, but it was the first time in the high season. I was alone from 21.08 to 31.08. The hotel is a bit tired, but it was due to the high capacity. Bathroom was in the B block, windows on the side, so it was quiet enough. Bathroom was amazingly well maintained and the staff were amazing. The cleaning was ok, but I didn't have to do it every day and I put on "do not disturb". At breakfast there was a steady modest choice, but more than enough for me! There was a queue for pancakes, but it was a brisk one. For lunch I ate only fruit. For dinner quite a decent choice. There was chicken and fish and meat, grilled every day. Garnishes, vegetables, salads. It is quite possible to reach the grown-up man! The beach a pebble. Small. Since 10h a problem with sun beds. A little shade! The sea was clean, but sometimes boats were nagovalit. Who have sensitive feet, better slippers for the sea. Towels are not free. The staff was great! Reception as before excellent guys, help in everything. The bartenders do their best. In the restaurant guys are working hard. The cats live there for a long time and like owners! They are fed and the kids play. The territory is nice and well-groomed. But tourists themselves everywhere crap! Is it really difficult to throw a glass and a plate behind themselves, not to throw napkins and the remnants of food around. The hotel is very well located and there is a wide range of facilities on the beach. I did not think you would like to stay at this hotel, it was worth the money.
Users often search for
Tours to Kemer are chosen by those travelers who want to get acquainted with the quiet non-mainstream resort life of Turkey. In a small cozy town there is a little bit of everything – well-groomed beach areas, shallow safe sea, secluded five-star villas and affordable chain hotels. But most importantly, what this place has to offer – curative mountain air, saturated with relict pine forests, growing here for hundreds of years.
Rest in Kemer. What does the resort offer?
If you have chosen a holiday in Turkey for the first time, Kemer can be an ideal starting point for getting acquainted with the hospitable republic. The city itself is small, it is constantly inhabited by no more than 20 thousand people, and in the summer it is difficult to find native Turks among the crowds of tourists. The underlined provincialism is a distinct advantage, especially for tourists who want a relaxed vacation, away from the round-the-clock noise of Antalya or pompous promenades of neighbouring Belek.
Wellness destination is the second reason to retreat among the centuries-old Turkish pine trees. Of course, any full-cycle treatment is not the question, but the healing atmosphere of soaked pine air literally helps to improve the condition after the polluted metropolitan areas. Female half of holidaymakers will certainly appreciate the SPA-salons at five-star hotels, where experienced beauty experts, and some treatments carried out directly on the beach.
When to go to Kemer?
A holiday to Kemer is valid all year round, although starting from October, only those who dare to swim in the sea here will be desperate and extreme. Due to its isolated location from the north winds, the summer in the city is warm, but without dramatic heat spikes. The downside of the classic vacation season – the need to book lodging in advance, hotel base resort is not the biggest.
Features of a holiday in Kemer
The city of Kemer itself is modest in size even on the scale of Turkey, so the tourist life here is centered around a stretched suburb of five resort areas:
Beldibi, a concentration of extreme tourists, huge opportunities for rafting, high-speed rafting on the mountain river and multi-day hikes through cedar groves.
Tekirova – once a farming area with mandarin orchards, now in addition to fruit markets there are quiet villas for family tourists with children.
Kirish is an ideal place for archaeological diving, near the bay is one of the sunken ancient cities.
Geynyuk – a foothill area known for its small pebble beaches with picturesque views and the longest panoramic cableway in Turkey.
Çamyuva is a young village with an ecologically protected area of red-listed clams known for their glow-in-the-dark shells.
Finally, a summer tour to Kemer may well be used as a transportation hub to visit major neighboring resorts, including Antalya, which is only an hour away by bus. On the opposite west side are two other iconic resorts, Fethiye and Dalaman, which also have things to do and see besides beach holidays.
Seasonality and weather
Kemer has a classic Mediterranean climate with dry, hot summers and relatively warm, rainy winters. Surrounded by mountains, the area does not just block the north winds, it creates a good, monsoon-protected belt. Even in the forty-degree rise the heat is not felt as much. The official bathing season starts in mid-May, although the "first swallows" check in coastal hotels by late April.
From the second half of October hotels slowly close for the vacations, but tourists are not in a hurry to go home. Late autumn is a great time to just stroll the streets, admire the natural sights or book a rejuvenating spa treatment. In winter, daytime temperatures rarely drop below +15 ° C, the only thing that spoils the many hours of walking in the air – the constant cold rain that lasts for weeks.
Prices for tours in Kemer.
When tour operator compares inexpensive tours to Turkey, Kemer among them occupies one of the leading places, which is absolutely deserved. Stay All Inclusive for two with a flight from Moscow and guaranteed accommodation in a hotel from 3* and above costs about 75,000 rubles, not including special discounts. Closer to the fall season price tag is noticeably reduced.
Types of rest
Shopping in Kemer will suit those who finally get tired of the measured admiration of nature, but it is an occupation from power for a couple of days, because within the resort there are no large shopping malls. The pedestrian Ataturk Boulevard is alive and well with market hawkers, small souvenir stores, and handmade leather and wooden crafts. The nearest boutiques are in the Migros malls, and buses go to them from the city, the return trip is free.
Rest with children in Kemer is much better organized, the search for interesting places for active entertainment will not take much time. Start with the beach Moonlight, which is equipped with a good club with animators, there is even its own dolphinarium. Look at the show of moving dinosaurs offers Geynyuk, and in Tekirova year round eco park with live reptiles – snakes, lizards and crocodiles.
What to do in and around Kemer?
The first thing that posters offer tourists literally at the entrance to the resort area is diving in the calm waters of the local bay. The city has several professional clubs, including with Russian-speaking instructors, so that to get a diver's license will be as easy as possible. Impressions promise a lot, from acquaintance with the incredible underwater fauna to the exploration of Greek sunken settlements, of which there are many in the Anatolian abyss.
Beaches of Kemer
The central beach of Kemer is the only one in the city and is free, with all that it implies. To literally snatch a good place in the sun with a sun lounger rental, you have to go here early in the morning. Much better deal with the beach Moonlight, which owns the park with the same name – the entrance is also free with adequate prices for rental equipment, but the entertainment infrastructure is much more convenient, there is even a rental sailboats.
The surrounding coastal areas are much more spacious than at the resort itself, but not all are suitable for beginner swimmers. The best place for a safe holiday with children is the beach Tekirova, where the gentle entrance to the water, and the bulk sandy areas as comfortable as possible. The other villages are not so lucky, because almost everywhere you can find gravel with boulders that are not suitable for kids, especially for kids.
Important: Be sure to clarify the conditions at a particular coastal area. About half of the sectors with free entrance, but with paid deck chairs and umbrellas. Some beaches offer conditionally free service for the purchase of a cocktail from the bartender.
Attractions of Kemer
Even the most budget tours in Kemer from Moscow necessarily include informative excursions, though, to get acquainted with the ancient heritage, tourists will have to book exit routes. The most of the ruins, including the amphitheatre and the remains of the baths of Ottoman rule, are located at the foot of Mount Olympos. Allowed here strictly organized groups, to somehow protect the antiquities of the human streams.
Of natural sites must visit the caves Beldibi, concealing genuine traces of the Stone Age. Not far from them there are several picturesque waterfalls, which we are strongly advised to go only with local guides, so as not to get lost. In general, around Olympos dozens of popular routes, including rafting on the rivers or jeep safaris for those who do not want to walk for miles on the wild rugged terrain.
Cuisine of Kemer
The national Turkish cuisine is represented in the city by dozens of establishments that serve exclusively local dishes. The main emphasis in the resort area is on seafood, after all, the current territory has been considered a fishing region for centuries. The meat dishes "minimum" include assorted mezes, ragout with mutton or beef kebabs, and there are so many variants that one will hardly have energy left for European cuisine restaurants.
Useful information
Even the most enjoyable vacation is bound to include utilitarian moments, which you should always keep in mind so that a profitable tour does not turn into an ordeal:
Kemer – the most comfortable and safe city to move on foot, for other cases, use dolmusha shuttle buses, going all the way to Antalya.
If the selection of hotels is difficult, trust experienced travelers – review, supported by photographs, is rarely false.
Do not overpay for beach services that you will not use – the open areas of the coast can safely walk at least all day.
Going to the clothing market, be prepared for a long and confident haggle, you would not believe how big a discount will be when the seller gives up in favor of the buyer.
Stock up on cash liras – dollars, though they are accepted everywhere, but the price tags in foreign currency is not always favorable.
Site 1001 Tours offers to buy tours in Kemer online with flight from Moscow at the best prices. We will find you last minute trips, early booking and other inexpensive options to spend your long-awaited vacation. Our managers are ready to help you daily with all questions and help with paperwork.