Slovakia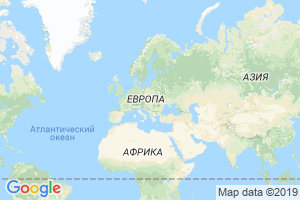 Slovakia is located in Central Europe, its capital Bratislava. This state borders Poland, Ukraine, Czech Republic, Hungary and Austria. The territory of Slovakia is 49,035 km² and is divided into 8 regions, which are named after their administrative centers: Bratislava, Prešov, Košice, Trenčín, Banská Bystrica, Trnava, Nitra and Žilina. The regions are in turn divided into districts, of which there are about 80. Popular among tourists cities and resorts of Slovakia are Bratislava, Banska Bystrica, Tatranská Lomnica, Jasna and Piešťany.
The country has a high tourist potential, the most popular places to visit are Bratislava and the High Tatras. Although Slovakia is not very popular among Russian tourists, its beauties and attractions are no less than those of the neighboring Czech Republic, which has long been fancied by "our people".
The main tourist advantage of Slovakia is its nature. And even if there is no sea, but there are still parts of nature, untouched by man: the mountain peaks, national parks and old architectural sites in the form of castles and fortresses, complementing the picturesque scenery.
There are in total 25 national parks and protected areas, of which the most popular are: Slovak Paradise, Veľká Fatra, Tatra, Malá Fatra, Slovak Karst, Muránská Planina, Poloniny, Low Tatras, Pieniny. On the territory of many parks there are also ski resorts. One of the most beautiful national parks is High Tatras, the main part of which is covered with coniferous forests and numerous lakes. On the territory of the park there are several climate resorts and well-developed tourist infrastructure.
A popular trend for a holiday in Slovakia is to combine relaxation with therapeutic procedures in the spas and health resorts, which are based on thermal and mineral springs. There are more than 1,000 such springs and over 20 specialized spas in Slovakia. Popular therapeutic spas include: Piešťany, Smrdáky, Dudince, Rajecke Teplice, Bardejovske Kupele.
Western Carpathians surround Slovakia, the highest point of the country – Gerlachovský Štít peak reaches 2655 meters. Those who love mountains and active rest should visit the ski resorts of Podbanské, Tatranská Lomnica, Smokovec, Štrbské Pleso, Jasna, Ružomberok and Donovaly. If you are interested not only in skiing but also in snowboarding, you can go to Otupne, where there is a real snow park with pistes for amateurs and professionals. Another place for snowboarders is Mlynicka Valley complex, which offers all conditions for freeride skiing. There are also snowboarding tracks in Tatranská Lomnica ski resort.
Extreme athletes will find something to their liking in Slovakia. There are a lot of mountain rivers that allow you to go rafting. The most rough and tricky river for rafting is Bela, and beginners should first tackle the easy descent to Orava. You can also go rafting when visiting the Pieniny National Park.
Capital city: Bratislava Area: 49 035 km 2 Population: 5 445 087 (2018) Language: Slovak Official website: http://slovakia.travel/en
Flight time: from Moscow – from 2 hours 45 min. from Saint-Petersburg – from 5 hours 45 min. (1-3 connections) from Kazan – from 6 hours 50 min. (1-4 connections) from Ekaterinburg – from 10 hours 30 min. (1-4 connections) from Novosibirsk – from 12 hours 30 min. (1-4 connections)
No less extreme activity for tourists is descent to the caves, of which there are about 4000 in Slovakia. Only 12 of them are open to the public, and especially popular are Dobsinska, Okhtinska, Jasovska, Gombasetska and Domica – some of them are on the list of UNESCO World Heritage Sites. There is no sea in Slovakia, but there are excellent conditions for diving: on lakes Hulashka, Golden Sands, Strkovetsky and Seneca.
How to get there
By plane
Russians and citizens of CIS countries need a Schengen visa to visit Slovakia. Directly from Moscow to the capital of Slovakia you can fly several times a week (arrival point – airport of Miroslav Stefanik) or you can get there via Prague and Vienna.
By train
You can also take a direct train from the Russian capital to Budapest or Vienna. In Slovak cities there are buses, trolley buses and streetcars, the fare in which is paid by tickets, you can buy them from the machines at bus stops and then paste them in the bus cabin. You can read about transportation in the largest city, Bratislava, here . About how to travel between cities in Slovakia, read below .
We compare all available flight options for your request, and then direct you to the official airline and agency websites for purchase. The airfare you see on Aviasales is the final price. We've removed all the hidden services and tick boxes.
We know where to buy airline tickets cheaply. Airline tickets to 220 countries. Search and compare airfares among 100 agencies and 728 airlines.
We cooperate with Aviasales.ru and do not take any commissions – the cost of tickets is absolutely the same as on the site.
Weather in Slovakia
Local weather
+24
The climate of Slovakia is continental, which means that winters are quite cold and snowy, and summers are warm and humid. The average temperature in January in the capital of Slovakia is -1 ° C and in July +21 ° C. At any time of the year tourists will feel comfortable here – both in winter at the ski resorts, and in summer, exploring the many attractions of this country. Although 80% of Slovakia is located at an altitude of 750 meters above sea level, to the south of the Carpathians lie fertile valleys and the Mid-Danube lowlands with numerous rivers flowing through them, which flow into the Danube – the main breadbasket of Slovakia. And in the mountains there are areas of alpine meadows.
Weather in Slovakia by Months
Reviews by Month
Photos of Slovakia
Cities and Regions
Slovakia consists of 8 regions, which have names according to the names of their administrative centers (in parentheses – the number on the map to the right): Bratislava (1), Prešov (7), Košice (8), Trenčín (3), Banská Bystrica (6), Trnava (2), Nitra (4) and Žilina (5).
The Banská Bystrica region borders Hungary. In these areas there are both mountains (the Tatras) and plain (southern part). Banská Bystrica is known for its picturesque landscapes, because there are three national parks and many wildlife refuges.
The Bratislava region is the smallest in terms of area compared to the others, and at the same time the most densely populated. The region consists of Danube and Zahorskaya lowlands, which are divided by Small Carpathian Mountains. The region borders three countries at once: the Czech Republic, Austria and Hungary.
The Košice region shares a border with Hungary and Ukraine. There is a lot of fertile land, so winegrowing is developed and excellent wine is produced. Also in Kosice is developed industrial production, transport infrastructure and has its own airport.
Nitra region borders with Hungary and is characterized by a flat landscape. It is also favorable for viticulture and agriculture. There is a small airport and a shipyard in Komarno.
Through the region Prešov crosses the border with Ukraine and Poland. It is a mountainous area, in the west of which there is a national park "High Tatras". There is an international airport in Poprad and 40 km from Presov there is Košice airport, thus tourists can easily travel to the region.
Trencin region borders on the Czech Republic. On the territory of this region there are mountains Karpaty and Javorniki. Trencin is a major economic center of the country and one of the most industrialized, like Bratislava. The textile industry is particularly developed here, as well as the mining industry. Forests make up half of the territory here, so forestry is also important for the economy of the region.
Areas of the Trnava region are bordered by Austria, the Czech Republic and Hungary. The region has an excellent transport infrastructure: there is an airport, as well as railway and highway connections. And the capital of Slovakia is only an hour away.
Žilina Region borders with the Czech Republic and Poland. There is nature and terrain to suit all tastes: from lowlands and valleys to mountain ranges. More than a half of this region belongs to nature reserves, sanctuaries and national parks. For tourists is convenient that this region is actually a crossroads of different transport routes of Slovakia, Czech Republic and Poland. And the local airport provides a connection both within the country and with European countries.
Meanwhile, Slovakia is divided not only into administrative regions, but also into tourist regions. If, for example, Bratislava, the Tatras or Kosice are well known to Russian tourists, then there are mysterious corners of this country, where you can make an equally fascinating journey.
The region of Spisz in the northeast of the country includes the castle of Spisz Hrad and the old town of Levochu, famous for its craft industries. Šariš is a region rich in medieval architecture. One can visit the ancient towns of Prešov, Bardejov and Stara Lubovna. Moreover, this region is the center of brewing in Slovakia. Liptov region boasts one of the best ski resorts in the country – Štrebské Pleso. Tourists can also visit Ružomberok and Mikuláš.
Turyec is the attractive region for tourists. There is a town called Martin, famous for its ancient rural architecture, and famous local resort Turcianske Teplice. Novohrad is partly in Slovakia and partly in Hungary, and the Hemer area is between Novohrad and Spisz. It is famous for its medieval monuments, which remained here from the times when precious metals were mined in this region. The main towns of this region are Rožnjava and Rimavska Sobota.
The other regions are not so much architectural as natural enclaves, which will be interesting for tourists in terms of active rest and hiking. For example, Zagorje, Dolny Zemplin, Pogronje and Horní Zemplin are famous for excellent opportunities for ecotourism. This is where you can get to know the real Slovakia – its nature, traditions and hospitable locals.
The cities of Slovakia, which are remarkable from a tourist point of view:
Recreation in Slovakia: resorts and attractions
Tiny Slovakia has collected in its tiny spaces a considerable number of natural attractions, and also has excellent conditions for active pastime. The Javorníky, Lesser Fatra, Ore Mountains, the Tatras, and the Lesser and White Carpathians are world-famous mountain ranges that amaze with their grace.
There are medicinal hot springs scattered all over Slovakia, and the picturesque scenery is complemented by thick forests, above-ground and underground cave formations. These old towns, steeped in the spirit of the past, are a great treasure for the lovers of history and architectural gems. In the summer period the country offers unforgettable excursions to ancient places, and in the winter period – local ski resorts open their doors.
Recreation in Slovakia: resorts and attractions
Nature has generously endowed the Slovak land with the natural treasures in the form of countless clear rivers and lakes and mineral waters. Dozens of balneological spas are based on these life-giving springs. They enjoy immense popularity.
The Bardejovske Kupele resort has been receiving its first guests since the 18th century. Unique springs with mineral water, combined with a comfortable climate and fresh air have a beneficial effect on the recovery and strengthening of the body. In his spare time from the preventive measures of leisure perfectly diversify visits to cinemas, bars, cafes, swimming in the heated pool. And for active people are available tennis courts, sports fields and miniature golf courses.
Dudince Spa is situated in the south of Central Slovakia, at the altitude of 150 meters above sea level. It is famous for its mineral water which is unparalleled in Europe. It is enriched with hydrogen sulfide and carbon dioxide.
Recreation in Slovakia: resorts and attractions
The locality of Piestany is a thermal spa, which specializes in the treatment of injuries. Trenčianske Teplice is situated close to a sulfur spring, which helps with foot ailments.
The Tatra and Pieniny parks, situated on the Pieniny and Vysoké mountain ranges, the majestic Chopok mountain and the Demjanovská valley are natural beauties, which were not created by man.
The spirit of the past is imbued with the ancient buildings, built in the past centuries. For example, Spis Grad Castle was built in the 12th century and its majestic towers stand out against the adjacent slopes. Every year, unparalleled knightly tournaments are held there. Other interesting features include Bratislava Castle, Trenchanský Hrad, and the ruins of Devín castle, which dates back to the 10th century.
Recreation in Slovakia: resorts and attractions
One of the oldest towns in the country is Nitra. The most interesting attractions are the Franciscan Church, the magnificent Castle ensemble, the Palace, the Colonnade and the Abbey Library hidden in the walls of the Old Seminary of the XVIII century.
In Košice there are buildings in the Gothic style. The huge Cathedral of St. Elizabeth stands out as a unique Gothic temple.
Fans of skiing will be pleasantly surprised by the magnificent resorts located on the slopes of the Low and the High Tatras. The most favorite places for tourists are Smokovtsy, Štrebské Pleso, Tatranská, and Lomnica. The tracks and slopes along Chopok mountain will delight tourists indifferent to strong emotions.
Recreation in Slovakia: resorts and attractions
All slopes are equipped with the latest chairlifts and offer varying skill levels of skiers. Tale, Donovaly, Jasna, as well as other snowy brethren, offer a wide range of services and opportunities for skiing on flat and mountainous terrains.