10 ancient castles you can still live in
The dream of living in a medieval castle in the 21st century is not so unrealistic. Today in the world there are hundreds of ancient structures converted into luxury hotels. The best of them – in the review of Forbes.
Castle Alarcon
Location: Alarcon, Spain
Whispers of ghosts and sounds of battle can be heard at night in the Spanish hotel Castle Alarcon. The thing is that the history of the citadel has more than 13 centuries, and during this time the castle has managed to change many owners and withstood more than one siege. The original building of the castle was built by the Moors at the turn of VII-VIII centuries. In the 12th century the fortress was in the possession of King Alfonso VIII and later became home to the Marquis de Villena, followed by the writer Don Juan Manuel. Today, Château Alarcón is also home to people, as it was converted into a state-owned parador hotel in 2003. Anyone can stay here in one of 13 rooms. All are in the main tower and are modestly sized, with only a small viewing window in each. The large hall of Alarcón Castle serves as a dining room, the walls of which are decorated with armor, medieval weapons and paintings.
Gritti Palace Hotel
Location: Venice, Italy
For centuries the Venetian Grand Canal has been the main traffic artery of the city. Magnificent mansions were built on its banks, among them the Gritti Palace. The palace was built in 1525 for the Venetian Doge Andrea Gritti – the ruler of the city. Over the years, the palace hosted ambassadors from the Vatican and members of the noble families, and in the 20th century it was turned into a hotel. It took a little time for the hotel to become famous and high-ranking guests began to stay here. Winston Churchill, Graham Greene, Andre Malraux, Igor and Vera Stravinsky, Luchino Visconti and Orson Welles were among the Gritti Palace's guests of honour. And Ernest Hemingway made this entry in the hotel's guest book: "Gritti Palace is certainly the best among the magnificent hotels of Venice". Piano with fine hand-paintings, stained-glass windows, mosaics, luxurious carpets create amazing atmosphere of old Venice. But the main thing, of course, is the landscape outside the window.
Royal Mansour
Location: Marrakech, Morocco
One of the most fascinating hotels in North and West Africa is located in the fabulous Marrakech, as if from the pages of "A Thousand and One Nights". The Royal Mansour Hotel was built on the site of royal gardens in the heart of the old city. The hotel spreads over 3.5 hectares and is surrounded by a tall ochre-colored wall, part of which was built in the early 12th century. Royal Mansour is called the city in the city, and it is not by chance. The hotel is built following the canons of classical Maghreb residential architecture and is a separate house-riads, buried in the green Moorish gardens. The walls of the rooms are covered in traditional Moroccan plaster and decorated with intricate fine ornaments. And the furniture is an exotic "cocktail" of several cultural layers: Moorish, Arabic, Berber and European. In Royal Mansour chandeliers of Murano glass, Victorian chairs, mirrors in the Louis XV style and carved furniture decorated with camel bone are in harmony.
Dromoland
Location: Clare, Ireland
Ireland, for its relatively small size, boasts a significant number of ancient castles. In all, there are some 2,000 sites of medieval heritage in the land of the trefoil: from watchtowers to complete, well-preserved ancient structures, many of which have been turned into fashionable hotels today. One of these is the Dromoland Castle Hotel in Clare. The castle, built in 1475 and then rebuilt in 1826-1832, was owned by the powerful O'Brien clan, direct descendants of King Brien Borough of Ireland. In 1962, because of financial difficulties Donag O'Brien was forced to sell the castle. American Bernard MacDonagh became the new owner and paid £66,000 for the future luxury hotel. Today Dromoland is considered one of the best hotels in Ireland. The majestic castle with carved wooden panels, statues and antique furniture situated by the lake offers its guests its own golf course and stables.
Schloss Fuschl Resort & Spa
Location: Salzkammergut, Austria
Austria's Schloss Fuschl Resort & Spa, which has several times made the list of the best European Castles & Hotels by Conde Nast Traveller, is the choice of travelers who long for aristocratic ambiance, at least in memory. The castle was built in the XV century on the shore of the picturesque lake Fuschl am See and once served as a hunting lodge of the Archbishop of Salzburg. And in the early 1950s it became a fine hotel, where at different times stayed such famous guests as Audrey Hepburn, Jawaharlal Nehru, the Swedish princess Madeleine, and many others. Today the Schloss Fuschl Resort & Spa has preserved all the attributes of a luxury residence. The hotel has its own art collection, gathered with the help of Munich's Bernheimer Fine Old Masters Gallery, as well as a collection of personal belongings of Empress Elisabeth of Bavaria. Among other things, Schloss Fuschl is the only hotel in Europe that offers its guests the unique opportunity to take a ride in any car from its collection.
Castello di Casole
Location: Tuscany, Italy
One of the most "expected" hotels opened last year in Tuscany, Italy. Five-star hotel Castello di Casole is located in an ancient castle of the X century, lost among the vineyards and olive groves, spread across the estate of more than 1,500 hectares. Until 10 years ago the site of today's luxurious hotel was just the ruins of a once magnificent castle, the walls of which were overgrown with grass and weeds. It could go on like this if the abandoned building was not noticed by the investors, who decided to turn it into a hotel. The restoration lasted seven years, during which the stone ruins were transformed into a first-class boutique hotel. The hotel has 41 rooms, each decorated with medieval materials and antiques found during excavations on the estate. In case our guests get bored of the idyllic surroundings, which is unlikely to happen, they can reach Siena in 20 minutes from the Castello di Casole and Florence in 45.
Ananda in the Himalayas
Location: the state of Uttarakhand, India
The Himalayas are said to have mystical powers. It's here, at the foot of the sacred Ganges River, that one of the world's finest spas, Ananda in the Himalayas, boasts not only excellent body treatments and personalized yoga classes, but also a history. The five-star hotel occupies a palace that used to be the residence of the Maharaja of Tehri Garhwal. Locals believe that the wholesome aura of the ruler's spiritual mentor is still present in these parts. The Ananda in the Himalayas has at various times hosted members of royal families and prominent politicians, including the Indian prime minister Indira Gandhi. It was and is still receiving a truly royal welcome. The hotel offers its guests the use of the former library of the Maharaja, a billiards room and a lounge where five o'clock tea is served. Each guest at Ananda in the Himalayas is also given a personalised course of health treatments on check-in.
Hotel de la Cite
Location: Carcassonne, France
Carcassonne is a charming chateau town, well known far beyond the borders of France. From the beginning of the last century it was beloved by the European high ranks, who loved the landscape and the unhurried pace of life in the region, and filmmakers often chose it as a location for their productions. Today in Carcassonne you can not only wander along the ramparts and narrow medieval streets, but also stay in the hotel-castle Hotel de la Cite. Built in 1909 on the site of the former bishop's palace, it was later expanded and rebuilt twice. In the 1920s, the Hotel de la Cite became a fashionable stop on the way from Nice to Biarritz or from Biarritz to Barcelona. The hotel was closed during the Second World War and did not reopen again until 1945. The fifties were the heyday of the hotel, as evidenced by the hotel's Golden Book. In the sixties, however, it began to decline, and in 1987 it closed altogether. The second life of the hotel began a few years later, when it was reopened under the management of a local businessman. Today the Hotel de la Cite is considered one of the best castle hotels in France.
Amberley Castle
Location: West Sussex, United Kingdom
Amberley Castle has stood for centuries in an idyllic setting among the hills and lakes of West Sussex. Located just 100 km from London, it impresses with its seclusion and tranquility. The first mention of buildings in the local places dates back to 1100, and the appearance of the castle dates back to the middle of the 16th century. During its history, Amberley Castle has changed a few owners and hosted monarchs. So, from the end of the XVI century and up to 1749 the castle was rented by the English crown. It is believed that King Charles II stayed here twice. Until recently, only a few people had a chance to see the treasures hidden behind the walls of the castle. But in 1988 the owners of Amberley Castle were Joy and Martin Cummings who turned it into a fashionable hotel. The hotel has a total of 19 rooms furnished with authentic antique furniture. The hotel's guests already include those who return here again and again.
Pousada de Obidos
Location : Obidos, Portugal
Fashion for conversion of ancient castles into expensive hotels did not pass over Portugal. And for hotels located in historic buildings here even invented a special term. Castles-hotels, which have preserved their original flavor, are called posadas. And this is the name of the Portuguese hotel chain, which includes more than forty hotels, scattered in different parts of the country. One of them is Pousada de Obidos, located in the castle of Obidos, which is called one of the seven wonders of Portugal. The magnificent structure was built in the XII century. However, six centuries later it was partially destroyed by an earthquake and then attacked by Napoleonic troops. The castle remained abandoned until 1932, when reconstruction began. And in 1951 a hotel was opened here. By the way, if you think about getting out of the castle for a while, you should definitely try the liqueur "Ginzinha" in Obidos. It is served in little chocolate shot glasses with which to snack on the drink.
Top 20: Affordable palaces where tourists can live like in a fairy tale
If you've ever dreamed of visiting an incredible castle that has stood the test of time in faraway lands, you'll love this list because you can afford to stay in these beautiful buildings that once housed royalty.
There are historic places around the world with breathtaking architecture and a glittering past, such as the famous Lough Inagh Lodge in Ireland. It's not a palace, but a lakefront estate built in 1880. Estates are bigger than mansions, but castles and palaces are even bigger than estates! Since we are not interested in mansions or estates, you won't find them here. This list exclusively includes castles, and if you're lucky enough to stay in one, you'd be very surprised that in the process of booking one of these magnificent accommodations, your wallet will only get slightly lighter. We believe that the only downside to staying in one of these amazing and affordable castles is the fact that you won't want to leave, and it will be difficult to spend your next vacation away from the castle.
Change the routine, book a flight, and you can call one of these amazing castles your "temporary home."
20. CHATEAU DU PONT D'OYE – A CHATEAU WITH ITS OWN PRIVATE FOREST AND RESTAURANT!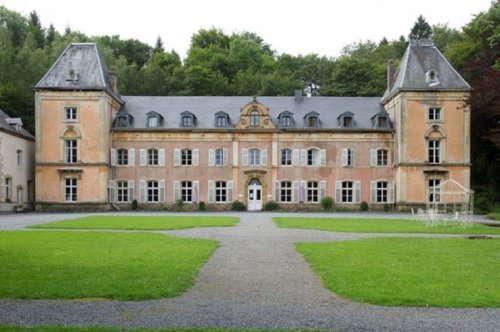 With a price of only $64 per night, this French chateau might be at the top of this list in terms of affordability. Despite the low price, you will find that it is not lacking in hospitality. You can stroll the grounds and find the hotel's coveted pond or go for a quiet stroll in the serene woods adjacent to the chateau. After working up an appetite, head back to the castle for lunch in its restaurant! Staying in this castle will certainly allow you to experience living in a real castle combined with all the comforts you are used to in a large hotel.
19. DORNRÖSCHENSCHLOSS SABABURG, GERMANY – A TRULY LEGENDARY CASTLE!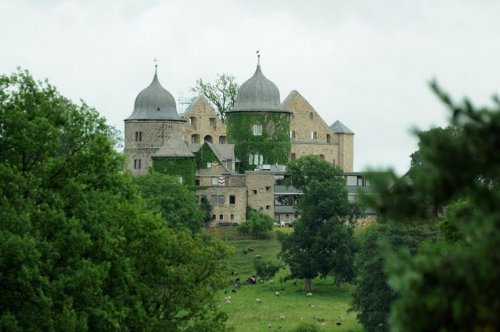 Dornröschenschloss means "Little prickly pink castle," but we think something got lost in the translation, because there is nothing small or unusual about this beautiful castle! Numbering 675 years old and capable of offering 17 large rooms, this castle is not small at all when it comes to its legend! Rumor has it that the castle, located on Fairy Tale Road in Germany, inspired the Brothers Grimm to create "The Tale of Sleeping Beauty." Whether you believe it or not, you'll be simply enchanted by the four-poster bed in your room, the cathedral-like high ceilings, and the stone walls-all for the magical price of $120 a night.
18. CABRA CASTLE HOTEL, CAVAN, IRELAND – A BOUTIQUE HOTEL WITH A ROYAL TWIST!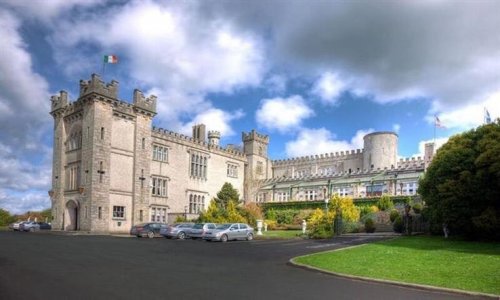 This castle is an Irish dream. Just an hour from Dublin in the Dun a Ri National Forest Park is the majestic Cabra Castle Hotel. The Cabra Castel is known as a boutique hotel that offers a wide range of services designed to make your stay as unforgettable and comfortable as possible. The castle in the photo is actually Cabra Castle Hotel II, as the original castle, which dates back to 1699, lies in ruins. The ruins are near the wishing well. The castle, standing firm today, was built in 1808. It's full of history and beauty, not to mention it's a heck of a deal-just a couple hundred bucks a night in a place like this!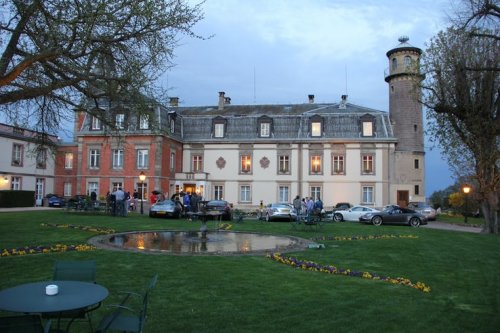 17. CHATEAU D'ISENBOURG, FRANCE – TURKISH BATH, SAUNA AND PRIVATE WINE CELLAR AT YOUR SERVICE!
For only 191 dollars a night in a room decorated in rococo style, enjoy a wholesome Turkish bath, a luxurious sauna, taste wine from the 12th century chateau wine cellar or just realize that you can sleep in the same room where Dagobert II slept in the seventh century! If you decide to have tea outdoors, know that the castle has a large pool and offers views of the medieval town of Rouffach, the Black Forest and the Vosges foothills, so you'll have no shortage of amazing views!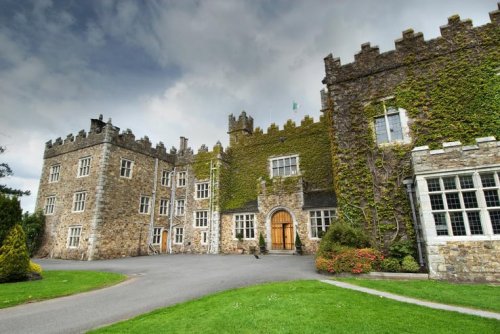 16. WATERFORD CASTLE HOTEL, IRLAND – FANTASTIC ROOMS WITH STONE WALLS WAITING FOR YOU!
Imagine owning 1.25 square kilometers of beautiful land on a private island. On this island is an ivy-covered 16th century castle that has been transformed into a luxury hotel with all the modern conveniences you could dream of, while the castle itself boasts a rich history. Does it look like a piece of paradise? For just a couple hundred dollars, this piece of paradise can be yours for a night or two! Waking up in a masterfully designed room with stone walls of your own choosing is just part of the real fairy tale.Each room is even more fabulous than the next, and the dining room will make you feel like a member of royalty.
15. CLONTARF CASTLE HOTEL, DUBLIN, IRELAND – THIS CASTLE HOTEL IS AN IVY-COVERED DREAM!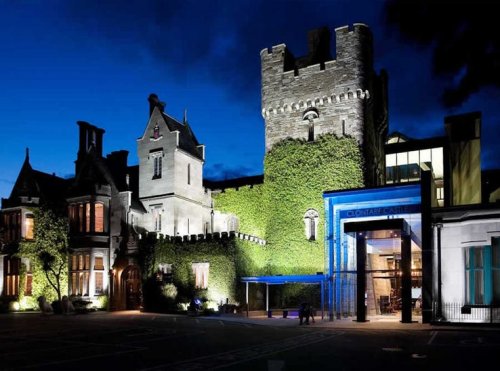 Clontarf Castle in Ireland has been a sight to behold since 1172. And it's worthy of admiration! Over the years, the castle became a haven for the Knights Templar, was the center of the Irish Rebellion and served as the center for Cromwell's conquest – these are just a few facts of its history. While the castle is an important part of Irish history, it now offers visitors accustomed to a variety of lifestyles (not just royalty and knights) a luxurious place to relax and unwind. Since 1997, the castle has been open to the public as a high-end luxury hotel, but it is still available for less than $200 a night. Only fifteen minutes from Dublin, this castle has it all!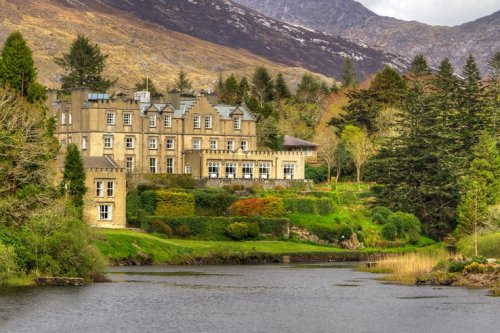 14. BALLYNAHINCH CASTLE, CONNEMARA, IRELAND – THE RIVERSIDE CASTLE IS LIKE SOMETHING OUT OF A FAIRY TALE!
Ballynahinch Castle in Ireland is something out of a fairy tale. Since the 18th century, the castle's claim to fame is that it once served as a refuge for pirate queen Grace O'Malley, writer Margaret Atwood, and Sir Ranjitsinhji "Ranji" Vibhaji Jadeja, the famous cricket player. If these famous names don't impress you, perhaps the 1.8 square kilometers of forest on the Twelve Bens mountain range in Ballynahinch will. If not, you can always see the mountains and the river gently rolling its waters right past the castle in the background.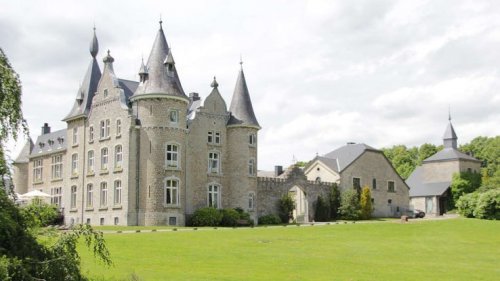 13. CHATEAU D'HASSONVILLE, BELGIUM – FEEL LIKE LOUIS XIV!
If you are the type of person who likes turrets in castles, this one is for you! It's a 17th century chateau with spacious rooms that start at just $169 per night. The rooms have bronze busts, cozy wallpaper, thick curtains, and each room has a personal fireplace. You can feel like King Louis XIV relaxing in a castle. To complete your royal fantasy, you can order a complimentary decanter of port to your room! Don't forget to go down to the traditional dining room for a five-star meal.
12. CHATEAU DE MIRAMBEAU, FRANCE – SPAS, POOLS, PRIVATE PARK, MARBLE BATHS AND MUCH MORE!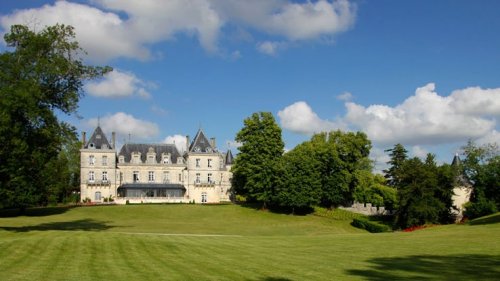 You won't miss anything of your real life when you enter this 19th century Renaissance chateau. Those who love wine should know that Château de Mirambeau is located between the vineyards of Bordeaux and the Cognac region. If you like the benefits of civilization, the château has recently opened a spa, there are as many as two swimming pools, a fitness room and a private park of 80,000 square meters. For those who prefer to see life from an unusual perspective, the common theme of the rooms is marble baths and four-poster beds. You won't want to leave! And all for the price of $290 a night!
11. BROUGHAM CASTLE, CUMBRIA, ENGLAND – A CASTLE WITH A SERIOUS PAST!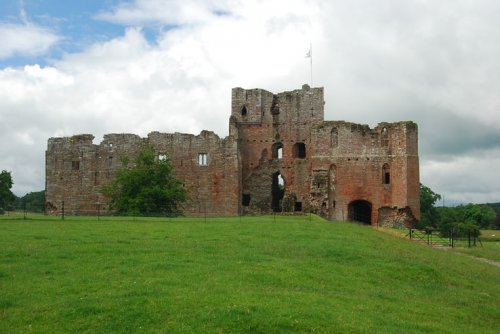 If history is your thing, then this is the castle for you. Built by Robert de Vieuxpont, agent of King John in 1214, Brougham Castle is situated near the beautiful Eden Valley, not far from the rivers Eamont and Lowther in Cumbria, England. The special location chosen for this castle helped Northern England to withstand attacks by the Scots. In 1268 the castle was purchased by the reputable Clifford family (Cliffords), who restored the castle and completed it. The Cliffords did not limit themselves to the aesthetic side, but also touched on the issue of protection. They added a southwest corner tower, called the Tower of League, to the castle's defense system. Rumor has it that anyone can stay here for about $1,100 a week.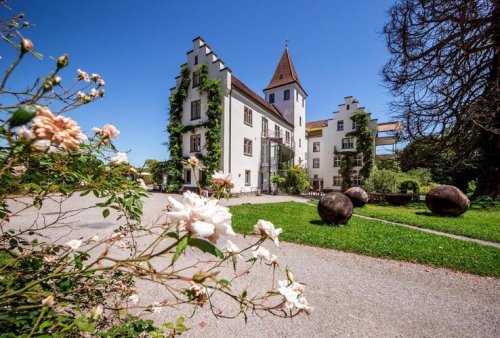 10. WARTEGG CASTLE, ST. GALLEN, SWITZERLAND – A ROYAL VACATION!
If you're tired and want a break from the cruel, brutal world, this 16th-century castle in Switzerland might be the ticket your soul needs to renew itself. If you decide to stay at this charming castle, you can enjoy organic pears – Appenzeller cheese pâté – and a peaceful rest in the castle's antique bathtub, installed in 1928 and made entirely of turquoise! At night, snuggle up on natural Japanese cotton mattresses or Husler mattresses lying on a light wood bed. Swiss-made Fischbacher bedding completes a magical bedroom setting. For just $160 a night, you can look out the same window that Zita of Bourbon-Parma, the last empress of Austria, looked out when she stayed at the castle.
9. SKIBO CASTLE, SUTHERLAND, SCOTLAND – THE CARNEGIE CLUB OFFERS MANY ACTIVITIES!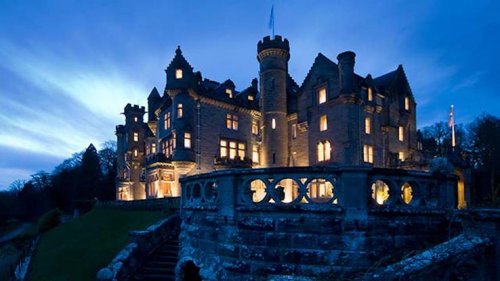 This incredible castle has existed since at least the 1200s, but in the early 20th century, industrialist Andrew Carnegie, called this beauty his home. Back in 1898, £2 million was allocated to renovate the castle. This renovation included the addition of Loch Ospisdale, an indoor pool with pavilion and a golfer's dream: a 9-hole course. In 1982, the Carnegie family sold the castle. The castle then got a new name, but stayed true to the Carnegie, becoming the Carnegie Club, open to members only. It offers a range of activities such as tennis and golf. Prices range from $897 to $2,095.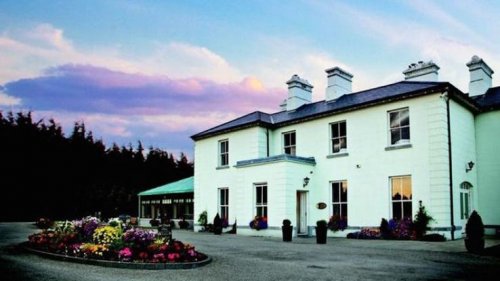 8. ASHFORD CASTLE LODGE, ASHFORD CASTLE MANOR, LISLOUGHREY, CONG ISLAND, CO. MAYO, IRELAND – SUPERIOR ROOMS EVERYWHERE!
You just have to know that when the least expensive room in a castle hotel is called a "Deluxe Room," the pleasure of staying in it will only increase. Each successive room will be better and better. This castle has the Superior Deluxe, Duplex Suite, Quay Suite and crowns the crown with the Lake View Suite. You can choose from 26 Deluxe Bedrooms, 12 Superior Deluxe Bedrooms, 12 Duplex Suites, 8 Quay Suites and 6 Lake View Suites. These stunning rooms feature heavy carpeting, king-size beds and traditional casement windows. Prices range from $338 to $669.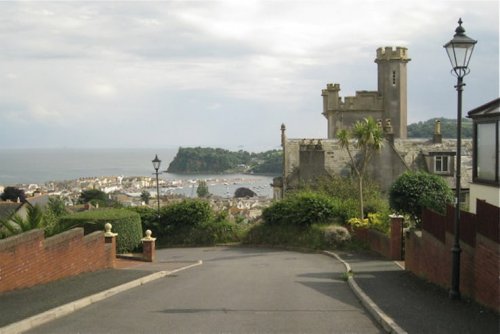 7. YANNON TOWERS CASTLE, TEIGNMOUTH, DEVON, UK-GOTHIC CASTLE WITH SPECTACULAR VIEWS!
For only $269 a night, you can get the English royal treatment when you stay at Yannon Towers Castle. Actress Vivien Leigh, who starred as Scarlett O'Hara in Gone with the Wind, preferred to vacation at Yannon Towers Castle. This 19th-century Gothic castle has spectacular views and is suitable for traveling with pets, so your pet shouldn't miss out on this best experience of his life! In fact, traveling with pets is encouraged by the staff because they understand that it's hard to leave your best friend at home! It's called a "self-catering castle," and there's a wide variety of activities for visitors to do to make the day interesting, if you can tear yourself away from this incredible view, of course!
6. BALLYSEEDE CASTLE HOTEL, TRALEE, KERRY, IRELAND – IT'S GOT IT ALL, INCLUDING A FRIENDLY GHOST!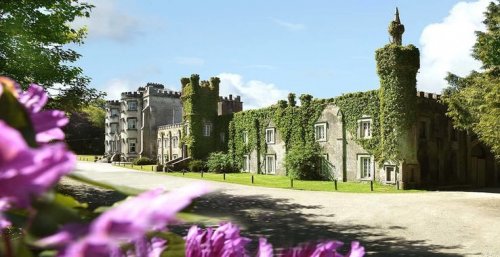 If you're planning to visit Ireland to see the famous Ring of Kerry hiking trail, you should stay at the nearby Ballyseede Castle Hotel in Tralee, Kerry. With 23 beautiful and comfortable bedrooms, you'll relax beautifully in this magnificent castle set in 121,000 square feet of Irish woodland. The price per night is only $200, and the only downside to this castle is a ghost named Hilda. Although, if you are interested in the otherworldly, this is by no means a drawback for you. Hilda is considered a friendly spirit, as only one couple has been frightened to meet her.
5. CHATEAU ABRAHAM, MUNICH, GERMANY – A SKIER'S DREAM!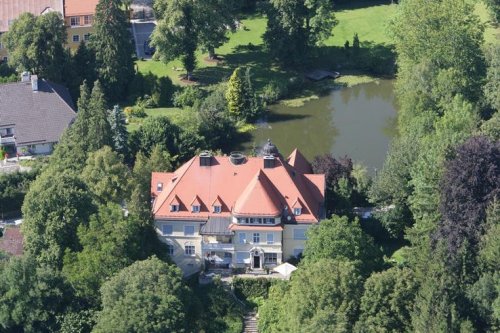 One of Germany's treasures is called Chateau Abraham, and it is located on the shores of a lake. The castle has all the amenities we are accustomed to, such as free Wi-Fi, free parking, a well-kept and spacious garden, and lush greenery surrounding the castle, so from any point of the castle has a beautiful view. Castle Chateau Abraham offers rooms on three floors with private and shared bathrooms, depending on the price. This castle is near a popular mountain that is perfect for skiing. If you're a fan of skiing, this castle is just the perfect place for you – make sure you book your room here at the right time! Considering the price per night is $64, this is probably one of the most affordable German castles to stay in.
4. RIETERSCHLOSS, KORNBURG, NURNBERG, GERMANY – A MOAT AND A BIG GARDEN!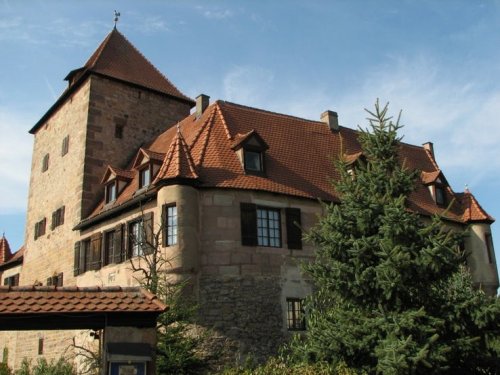 If the main prerequisite for your stay in a German castle is its charm, then pay attention to the Rieterschloss, which seems to have emerged from a fairy tale book. You will live in a fully furnished apartment, about 70 square meters in size and it has a bedroom, a large living room and its own kitchenette. Perhaps one of the best features of the castle that contributes to choosing it is the castle moat and the large garden, which is perfect to let go of all your worries and worries. The castle was built in 1276, and you'll spend an unforgettable vacation here for only $250 a night.
3. BARSCOBE CASTLE, DUMFRIES AND GALLOWAY, UK – A 17TH CENTURY SCOTTISH CASTLE THAT YOU CAN RENT FOR THE WHOLE FAMILY!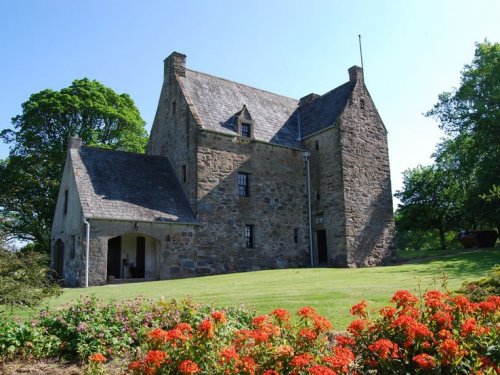 A night at Barscobe Castle costs only $321 for your entire crew! That's right, you can rent it in its entirety; it's designed for up to nine guests. If you don't want to share your territory with anyone, Barscobe Castle is the place to be! It's a Scottish tower that was built in the mid-17th century by architect William Maclaren and is considered "top notch." Staying in a castle alone is the dream of many, and imagine being able to rent an entire castle for your next trip! Together with your close friends and or family, you can reenact your favorite scenes from Iceheart, play the most amazing game of hide-and-seek, or just have an incredible time in your own rented castle!
2. LOUGH ESKE CASTLE HOTEL, DONEGAL, IRLAND – UNTOUCHED!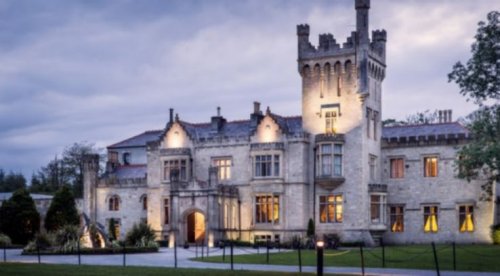 Located near the town of Donegal by the lake, this Irish castle boasts a rich and long history dating back to the 1400s. The first family to own the castle was the O'Donnells. The O'Donnells became the founding fathers of Donegal. The castle remained in caring hands after it passed from the O'Donnell family, and there are regular renovations to keep it in its original form. For only $315 per night, you can enjoy the pristine castle hotel and the lake views and rustic scenery surrounding this beautiful building.
1. KINNITTY CASTLE HOTEL, IRELAND – UNIQUE ROOM DESIGN AND MOUNTAIN SCENERY!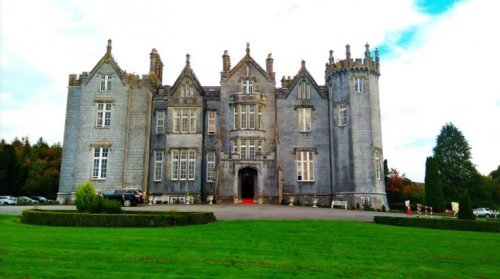 If you're going to Ireland and want to feel like an Irish King or Queen, don't leave without booking a room at the Kinnitty Castle Hotel. This Gothic Revival castle has a complicated past. The first Kinnitty Castle was destroyed and burned to the ground in 1213, and in 1928 it was restored to its former form. Stay at this beautiful castle in the Slieve Bloom Mountains and you can choose from 37 amazingly decorated bedrooms – each one different from the rest. One bedroom has brick walls with a cozy window seat, while another has a bed with hand-carved decorations. The average price per night is $270.