Rafting in Panama – extreme adventure for the whole family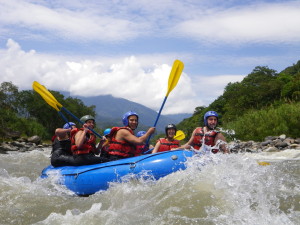 Panama has long been a country that is considered for extreme vacations. Today, there are several companies that are happy to organize adventure tours for people who are not used to lounging on the beach. You just have to choose the places and activities that you want, and you can consider that the extreme journey has already begun. Panama is one of the few countries in the world with many beautiful yet different rivers. This is why rafting has become one of the most popular extreme tourist destinations. Panamanian rivers significantly differ in complexity, so it will be interesting here, as for beginners and experienced tourists. Usually agencies provide absolutely everything for rafting, from equipment, transport, guides to safety personnel. So if you have never been rafting, but want to try, Panama is the right place for it. In addition, this extreme adventure will make your trip truly unforgettable.
It is worth explaining that rafting is rafting on the river with an inflatable boat. Sometimes rafting is also engaged in other bodies of water. Ideally for this sport fits the so-called white water (reservoir with a fast stream, where laminar flows are formed and a high level of turbulence) or rough water of different degrees (usually this term is used for rivers with a large number of rapids). It is because of this that it is very difficult to steer the boat. Rafting became popular in the mid-1970s and almost immediately became widespread in Panama.
Panamanian rivers available for rafting are divided into five classes. Class One: Moving water with small waves (ideal for beginners). These are the rivers that tourists who have never been rafting before are trained in, so there is no need to be afraid. Class Two: Rivers with rapids up to a meter in height. Some maneuvering skills are needed for a clean, unobstructed passage. The rafters' leader must be able to steer the course. Class Three: Rivers with irregular waves where you must be able to guess the behavior of the stream, have the skills of complex maneuvering, avoiding hidden obstacles. On such rivers it's difficult to control the rafting as well as steer the boat. Class Four: Long, complicated rapids with narrow passages. Swamping is also possible. Only experienced rafters are allowed in this class as it is quite dangerous to raft in such rivers. Class Five: Fast and high rapids. Accurate maneuvering and professional knowledge of the river flow is a must when rafting.
Interestingly, these classifications are based on Panamanian standards. Experts believe that they are somewhat understated compared to American and other world classifications. For example, during the rainy season, Panama's Class Three is easily comparable to America's Class Four. However, that is why fans of extreme sports come to Panama, and those tourists who simply want to experience thrills always have something to do in this country.
There are several rafting schools in Panama these days and they are not too difficult to find. As a rule, the training takes place on very calm bodies of water and only then beginners are allowed on rivers of a higher class. If you already have some rafting experience, Panama offers some great options. You can start with the Rio Gariche, though rafting here is only available during the rainy season. This river is the second and third class depending on the location. Its advantages are abundant vegetation, exotic birds, pristine waterfalls and numerous monkeys, which are sure to delight any tourist. Therefore, the Rio Gariche is ideal for extreme travel. As previously mentioned, it consists mainly of class two and three rapids, presenting a beautiful quintessence of pure tropical beauty and spectacular white water for the whole family.
Another very good option for rafting is the lower Rio Mahagua. It is again only available during the rainy season, with second and third class rapids. It will especially appeal to tourists vacationing near the town of David, as the river is located in close proximity to it. Rio Mahagua is ideal for family extreme vacations, adults and children will certainly enjoy the spectacular white water of this river, and will be able to swim in the quiet backwaters fed by Rio Mahagua. However, rafting in Panama can also be really extreme, so some rivers should not be taken by young children. For example, the Rio Fonseca, which has class four rapids. It is located on the Ngobe Bugle Indian Territory. During the rainy season, it is probably one of the most challenging rivers in Panama, untouched by hydroelectric construction and similar projects. This river is ideal for families with older children with rafting experience. Natural pools of crystal-clear water are found along the Rio Fonseca, where you can take a great break from the challenging rafting. Native American guides are being trained today, so soon the extreme journey to the Rio Fonseca will become even more interesting.
The Rio Grande in the Cocle area is further proof that rafting in Panama does not stand still and is constantly evolving, gaining more and more fans. Until recently, rafting on this river was not carried out, because it is quite calm, there are only rapids of the second class. However, with the development of tourism and the growing demand for extreme travel, beginner's training began to be organized here. Rio Grande is ideal for those who want to try rafting, but do not feel confident in their abilities. The more turbulent Rio Chiriqui Viejo is also popular with rafters with little experience. This river is near the Costa Rican border and is a favorite among families who want to go rafting in Panama. The river has continuous rapids, so the rafting is interesting and exciting.
Of course, these are not all the Panamanian rivers available for rafting, but they are suitable for beginners in this extreme sport. Also note that most rafting tours have a restriction – they must involve at least four people, because otherwise the boat will not have enough weight and it is easy to overturn. However, in some cases, three people are allowed. In addition, both day and night rafting is available in Panama. Rafting the river at night is a truly magical experience. Imagine, stories around a campfire on the river bank in the middle of the virgin rainforests of Panama and of course the amazing rafting in the light of the bright stars and the moon. This experience is impossible to describe in words and only Panama can offer it. You can also consider night rafting combined with two day rafting, it is perfect for tourists who love camping romance. With all this, the prices for rafting in Panama are quite democratic, the usual cost for such tours – a hundred to two hundred dollars per person, the necessary equipment, guide services, food and transportation are usually included.
Rafting in Panama
The ideal direction for ecological and extreme tourism in Panama is rafting.
Geographical features of the country are characterized by vast territories of tropical forests, unique terrain, an abundance of rivers and cascades of waterfalls, due to which many fans and professionals of kayaking, rafting and tubing choose Panamanian sport tours.
Rafting in Panama
The number of rivers carrying their waters from steep mountain ranges exceeds 500. Rafting is practiced mainly in the province of Chiriqui on the Chiriqui Viejo River and in the province of Panama on the Chagres and Mamoni . When choosing a water sports tour one should take into account the rainy season in the tropics from May to December, with a peak in September-October, and the dry season in January-May, since depending on the time of year and the amount of rainfall, the difficulty classes vary from I to V.
Panama's best rivers for rafting
Mamoni
Running parallel to the Pacora River east of Panama City in the province of the same name. It has three sections: the Upper Mamoni (classes I and II), Mamoni Canyon (classes III and IV) and the Lower Mamoni (class II). For safety reasons there is a possibility to make a drag crossing in some places. Groups are for adults only.
Pakora
The closest river to Panama City, characterized by class III rapids . It has the following sections: the upper section to San Miguel and the lower section from San Miguel. The rafting takes a total of 6-7 hours and includes shore excursions.
Pakora
Chiriqui Viejo .
Descends from the highlands of Chiriqui province between mountain villages and indigenous Indian communities, and is 128 km long. It is characterized by class III, IV and V rapids, strong currents and waterfalls . The rafting lasts 6 hours and it is possible to schedule excursions to the communities and to La Amistad National Park.
Chiriqui Viejo .
Groups are made up of experienced participants, but can include children over the age of 12 if they already have river rafting experience.
Chagres
Flows through the Chagres National Park in Panama Province. Characterized by difficulty classes II and III. The tour includes a visit to the community of Embera, camping, and tours of the park. Groups are formed of participants over 12 years old.
Chagres
Boqueron
It flows 40 km from the town of Colón, in the northwestern part of the Chagres National Park. It is characterized by rather calm waters and class II rapids. The tour is suitable for lovers of wildlife watching: on the banks of this river there are monkeys, iguanas, otters.
Boqueron
Dolega
The tour starts from David, the provincial capital of Chiriqui, and lasts about 4 hours. Technically, the river is considered fast, characterized by class II and III rapids , but is only available for rafting between July and November.
It flows through the province of Chiriqui. The upper reaches of the river are class II with fewer rapids and waterfalls, while the lower reaches are class III. The upper section is great for family recreation and swimming, while the lower section is difficult to maneuver.
Organizers of rafting routes warn all tour participants about safety measures. It is important to notify the instructors of the diseases and take medications, as well as consider their physical fitness, as rowing for a few hours can be tedious. We recommend that you bring sunscreen, sunglasses with a clip-on in case you lose them, a bathing suit, waterproof sneakers and beach slippers, and clothing for overcast weather.