Port Said for tourists.
Port Said is a fairly young city in the country, not yet promoted by travel agencies, so there is not a lot of mass tourists.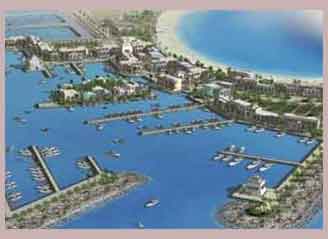 It was founded in 1859 along with the Suez Canal. The city is located 200 km northeast of Cairo. The population according to the census of 2004 exceeded half a million.
It was intended to serve the canal, but later became a free port, Egypt's second seaport after Alexandria. Port Said is certainly worth a tour for the tourist interested in history, it has many buildings from the 19th century, thanks to which it retains a touch of colonialism.
By the way, Port Said, in addition to its main purpose is also considered a beach resort, but because it is not at all untwisted, the prices of hotels and other infrastructure will cost you much cheaper than in other resorts, and restaurants and cafes are quite enough.
You can choose a good hotel HERE . Choose the number of stars, price, and dates, and pick what you like.
Goods are a lot cheaper too, as Port Said has been a duty free zone since 1976, so shopaholic tourists will love it.
Р. Kipling, who gave us Mowgli, wrote this about Port Said: "If you really want to see someone you know and who also travels, then there are two places where you're sure to see him sooner or later: the ports of London and Port Said, you just have to sit and wait.
The Red Sea coast stretches for a thousand kilometers. The interesting thing is that no river flows into it. Because of this sea is very warm and clear. In summer, the water temperature reaches +27 degrees. As a result, the sea has a unique underwater flora and fauna. There are about 150 species of coral and more than a thousand species of fish, which attract tourist divers from all over the world.
Attractions of Port Said.
Tourist's note:
It was here that the very same American Statue of Liberty was supposed to be installed, and it was called The Light Of Asia, but the Egyptian government decided that it was a bit too expensive, and gave up on the statue.
Tourist's note:
The city is a twin city of Volgograd in 1962, as in 1956 it repulsed attacks by the British and French during the Suez War, after which it was nicknamed the Egyptian Stalingrad. But it was worth it, the Suez Canal brings the country $2 billion a year.
Naturally, the Suez Canal itself, a length of about 162 km, through it every day passes about 50 ships, and over it at a height of 70 meters (twenty km from the city) stretches picturesque suspension bridge.
Embankment of the Suez Canal .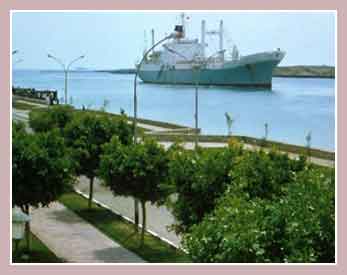 Unfortunately, the entire canal is a closed military zone where photography is prohibited, and all rules are strictly enforced. But there are places where the tourist can more or less calmly take pictures of this landmark:
The waterfront itself, which is part of the canal, ferry crossing number 6 (the most "photogenic place") and Port Toufic. But of course you have to be very careful what you do.
National Museum ,
where you can see objects of Egyptian material culture from pre-Pharaonic times. A similar museum in Cairo is still in the planning stages, so hurry up!
Military Museum .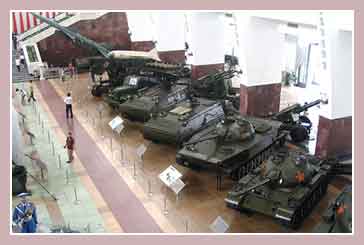 Tourist here can learn about the history of the wars from the pharaohs to the Israeli wars. Located on Sharia 23rd of July, right in the center, open Saturday to Thursday from 9:00 to 16:00, the ticket costs 5 pounds, shooting is 2 pounds.
To the west of the city, the sailors of the Russian cruiser Peresvet, which exploded here in 1917, lie in the Greek cemetery on the waterfront. In all, about a hundred died and about thirty are buried.
How to get to Port Said.
Airplane .
Port Said Airport is located five kilometers from the city center. You can only get here by domestic flights. Check-in for the flight usually starts 2 hours and ends 40 minutes before departure.
To register for a flight, you need a ticket and passport. If a tourist bought a ticket online, then only the passport. You can find the tickets to Port Said by using this finder . You enter Cairo, the city of departure, and look for the right flights on the right dates.
Train.
The route Cairo – Port Said, second class cars, travel time – 5 hours, not the most convenient for tourists.
Bus.
From Cairo again, the price is 15-20 pounds, depending on comfort, the trip takes 3 hours.
From Alexandria the bus takes 4 hours, the ticket costs about 22 pounds, from Hurghada, respectively, 7.5 hours and 45 pounds.
And of course, to visit all the sights will be more convenient to rent a car. It will be possible to rent it in advance on this aggregator.
The climate of Port Said.
The high season for tourists is from May to October.

General Information.
You can change money and withdraw cash at the National Bank of Egypt and Banque du Caire.
The American Express office is on Sharia Palestine, open from 9:00 to 20:00 with a break from 14:00 to 18:30, there is also a post office from 8:30 to 14:30, a long-distance telephone around the clock and an information office (open from Saturday to Thursday from 9:00 to 18:00, on Friday till 14:00).
You can use the internet at Compu.Net near the post office for £3 an hour from 9:00 to midnight.
You may also like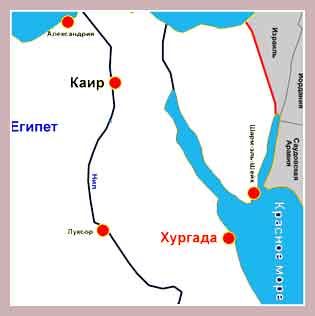 Hurghada for the tourist.
09.05.2013
Prices in Egypt.
10.04.2015
All about rest in Port Said
Port Said – a resort town in Egypt, located in the north-east of the country, on the Mediterranean coast. By the standards of Egypt, is considered a very young city. It was founded in 1859 and began to grow rapidly thanks to the sea connection with other cities and countries. About what a rest in Port Said today, prices, entertainment and attractions, we will tell in this article.
Fun fact: The Statue of Liberty was originally planned to be installed in Port Said, but since it was very expensive for the country, it was decided to move the statue to the United States.
Climate in Port Said
The climate in this region is about the same as in all the cities by the sea of hot Egypt. The winter months are the coolest, with an average temperature of 17-19 degrees. The hottest months are the summer months, July and August. Temperatures can reach up to 40 degrees in the shade. For people who can not stand the heat, the most comfortable will be spring and fall.
How to get there?
You can get to Port Said from Moscow by plane.
Port Said on the map:
To date, only flights with connections are available. Now you can make a connection in a third country, and in the near future, direct flights on the route "Moscow-Cairo" are going to be resumed, which means that you can make a connection in the capital of Egypt. You can read more about the issue of air service between Russia and Egypt in a separate article.
First of all you have to fly to Cairo. The railroad connects Cairo with Port Said, so you can take the train. But their trains are very uncomfortable, so it's better to take a bus. The trip takes 4 hours and the ticket costs 25 Egyptian money. If you're flying on an "all inclusive" tour, the cost of the tour includes transfers from the airport to the hotel where you'll reside.
When ordering tickets it should be borne in mind that a domestic flight on weekdays from Monday to Friday will be cheaper than on weekends. You can also fly to Alexandria and then take a bus or train to your destination. The train will take about five hours, while the bus will take one hour less. Tourist feedback suggests that the second option is preferable, because rail travel in second-class cars implies significant limitations in comfort.
Transport
Those who want to travel by car should keep in mind that the traffic in the city center is quite lively. There are often traffic jams, so it is recommended to leave somewhere by car in advance.
The city has the largest seaport, where you can look at the snow-white cruise ships.
Those who want to explore the main sights of the city, it is recommended to move on foot. You can book an individual or group walking tours under the guidance of an experienced guide at any hotel. It is better to walk in the evening, when the heat subsides, but you should still bring a hat to protect you from the sun and bottled drinking water.
Hotels in Port Said
Since the city is not very developed in terms of mass tourism because of the small number of sandy beaches, this fact has no effect on the hotel business. Hotels have much lower prices than the developed resorts, and the quality of service is much higher.
Hotel Resta Port-Said – location is very convenient, on the beach. It takes only 3 minutes to walk to the beach. There is a restaurant and an outdoor pool. The restaurant serves Egyptian and Italian cuisine;
El Jamel Armed Forces Apartments – beautiful grounds, large garden, open swimming pool. In rooms everything you need for a good rest: TV, bathroom, hairdryer, air conditioning;
Apartments Port-Said hotel – a nice cozy place for a quiet family vacation. The hotel starts its season in March. Separate and comfortable rooms, friendly staff, good cuisine, will make your stay memorable.Around all the hotels, open a lot of different restaurants and cafes. You can drink coffee or enjoy Egyptian cuisine.
The main advantage of this resort is that the cost of living in local hotels and hotels is quite low compared with other resort towns in Egypt and the Middle East as a whole.
According to feedback from tourists last year, hotel service is at a high level and will satisfy even the most discerning guest. Most likely, the low cost of living is due to the fact that Port Said is not as popular with European tourists as, for example, Sharm el-Sheikh.
The most popular hotels of the cheapest: Noras Style Beach Hotel (6700 rubles per night), Armed Forces Club & Hotel (2177 rubles), Mercure Ismailia Forsan Island (5000 rubles).
Features of national cuisine
In Port Said you can dine in cafes or restaurants (in the city center, on the hotel grounds, in museums) and try national street food, such as the famous oriental shawarma – meat roasted on a spit, with vegetables, wrapped in a crispy flatbread.
Here are some of the local dishes that are a must-try:
Kebabs and kebabs cooked on an iron grill;
Beef jerky, generously seasoned with spices. You can either try it on the spot or take it with you, or buy it in local supermarkets. It is quite a spicy dish, so you should not give it to children;
Local lentil soup. It is well satiated and perfectly suitable for those who observe the Orthodox Lent or stick to vegetarianism;
Baklava is a pastry made of puff pastry filled with walnuts. This sweet is quite fatty, so you should not abuse it. It can also cause an allergy to those who can't stand nuts.
The locals usually prefer a light breakfast and lunch, because you don't want to eat in the heat. But the dinner at the Egyptians is quite dense, namely in the evening account for the bulk of food consumed during the day.
In Port Said the fried pigeons are a must. Do not be afraid to catch avian flu or other infections because in Egypt there are special pigeon farms, where they breed birds for food, as in Russia – chickens and ducks.
Attractions of Port Said
Going on vacation in 2022 in Port Said, be sure to take a tour of local attractions.
In the central square of the city stands an obelisk to the memory of soldiers-defenders of the triple aggression of 1956. The fate of the city of Port Said is largely similar to the fate of Stalingrad, which later became known as Volgograd. Soon after 1956, the cities became twinned. Port Said has a square and a street that bear the name of the Russian city;
Military Museum – it features giant paintings, photographs, and drawings of the military battles of Sinai. The museum was opened in 1964;
National Museum – it displays unique examples of medieval Egyptian culture, statues, paintings;
Mosque – located in such a way that it can be seen from anywhere in the city;
Unique bridge over the Suez Canal – it is suspended, under it can pass a ship of any height;
Holy Virgin Cathedral – the building was built in the early 19th century, but became operational just recently. Once here, you will notice how well the ancient spirit and atmosphere of that time is preserved;
Coptic Church – here is an ancient artifact, a chip from the cross on which Jesus Christ was crucified.
Even just walking around the city, you can see a lot of interesting things, houses with the national colors, exotic plants, women in traditional clothing.
Souvenir shops and boutiques
Leaving home from Port Said, every tourist wants to please their loved ones with a memorable souvenir. As in any resort town, there are plenty of temptations for shopping lovers. From traditional fridge magnets, depicting the sights of this town, to beautiful handmade national costumes, fabrics, rugs, jewelry made of precious stones and glass.
The city of Port Said is declared a duty-free zone, so all goods here are much cheaper.
Port Said has both large shopping centers and old, colorful oriental bazaars. It should be borne in mind that in bazaars it is customary to haggle. If the buyer pays the established price immediately, the seller may even be offended and take it as a lack of attention to his own person. You can also bring from Port Said:
Oriental sweets;
Dried fruits;
Local tea;
Hookahs and smoking blends;
Jewelry;
Handicrafts.
Excursions by sea, by land
If you want to go on a day trip to Cairo or Alexandria, you can go on your own, by train or shuttle bus. Alternatively, you can contact a travel company that will take care of all the organization for the trip. Such excursions usually cost from $40, depending on the places you visit and the food along the way.
A boat trip to Alexandria along the coast will not be forgotten and interesting.
Connections
There is a post office (open 8:30 a.m. to 2:30 p.m.) in the center of town on Sharia Palestine, an intercom center where you can use a landline and order international calls (open 24 hours, no holidays or lunch breaks), a multifunction service center and an information desk (open daily from 9 a.m. to 6 p.m., Friday 9 a.m. to 2 p.m.). Opposite the post office building is the Compu.Net Internet Café, where you can use high-speed internet. It's open daily from 9am to midnight and costs £3 an hour.
Holidays with children
Children's recreation in the city is organized, mainly in the hotels. Those who go to Port Said with children are recommended to choose hotels with water parks and animation programs.
Order excursions to Egyptian antiquities is not worth it, because the long road will tire not only the child but also a teenager. It is best to just go to the beach to splash in the water, watch the locals catch fish and play volleyball, since most beaches are specially equipped sports fields.
And boys of all ages will certainly enjoy a visit to the Military Museum, where you can see unique samples of military equipment and learn that today's Egyptian army is one of the most powerful in the world.
Tourist Safety
Port Said is one of the most tolerant cities in the Muslim country of Egypt, so it is safe to come here for tourists of all colors and sexual orientations. So you have to keep in mind that in the streets, especially in the evening, you can meet the most motley crowd.
The city was once considered the capital of local smugglers and a "nest of vice", but a lot has changed since then. Tourists can now go out and have fun without fear. But before choosing a bar or nightclub, it's better to consult a local guide.
Also, beware of pickpockets, and the girls should not wear too revealing clothes, so as not to provoke local Muslim residents.
Rest in 2022 at the resort of Port Said will bring you a lot of positive emotions and memories. This place is considered by environmentalists as one of the cleanest on the planet. We wish you good luck and have a nice rest. Holidays in Port Said are a great option for those who want to feel the true spirit of the East and enjoy a vacation with European comfort.