Going to El Salvador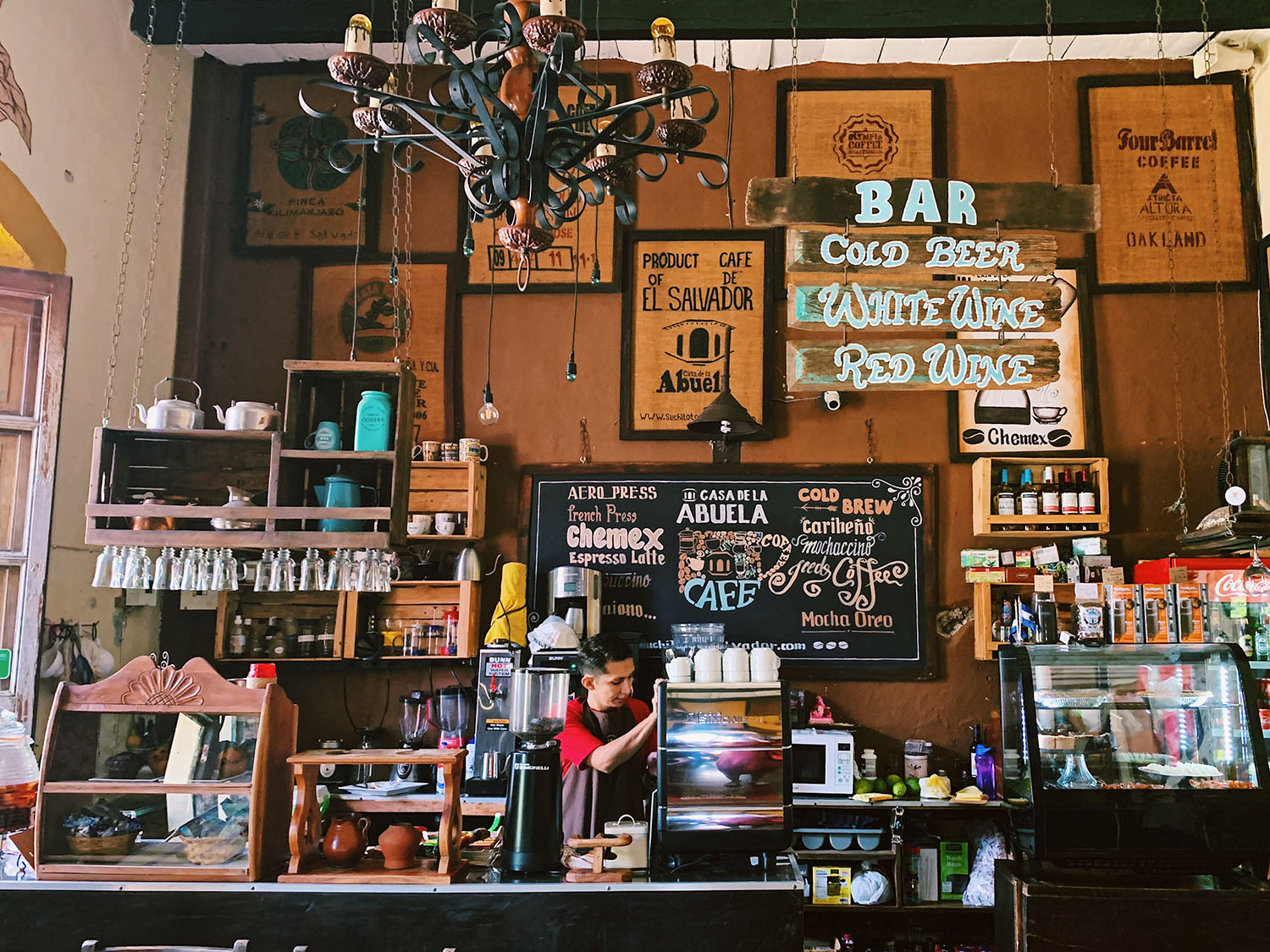 Nika Savchak is a polyglot and foreign language teacher. She has lived in New York for five years, travels to hot countries and is preparing for a big trip to Asia. This winter she went on a long trip through Central America and at first planned to travel around El Salvador, but then she decided to go against the statistics and discovered another face of "the most dangerous country in the world" – with waterfalls, volcanoes and beautiful colonial towns.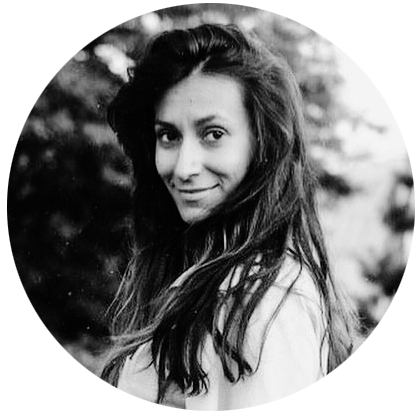 The itinerary of most travelers in Central America is the same: Guatemala, Belize, Roatán Island in Honduras, Nicaragua, Costa Rica and Panama. It doesn't matter whether it's south to north or north to south. The countries of Central America are arranged in a convenient chain: just move from one to the other. But there's almost always a gap in this universal list: the small Central American country of El Salvador. Most travelers, with their eyes squeezed shut with fear, try to skip it on the shuttle without even looking out the window. The reason for this is El Salvador's dubious reputation and fame as one of the most dangerous countries in the world (in 2019, the country ranked first in homicides per capita according to UN statistics).
This winter I embarked on a long trip through Central America and, like everyone else, planned to drive around El Salvador the tenth way. However, when I met some people in Guatemala who had just returned from El Salvador and were praising it, I changed my mind. I wanted to take a risk, to go against the statistics and the negative news, to discover another face of "the most dangerous country in the world. And I was not mistaken: El Salvador became one of my favorite countries in the region. I spent three weeks there, traveling exclusively by local buses. El Salvador won me over with its orange sunsets, great surf beaches, coffee plantations, and the friendliest people in Central America.
El Salvador is one of the most comfortable and convenient countries in Central America to travel. It is very small in size; the local currency is dollars; and the unflattering reputation has the flip side of the coin: non-tourism. After Guatemala, where you have to move from one location to another with a crowd of other backpackers, El Salvador is easy to breathe. In addition, the locals are so appreciative of each visitor that treat them royally: sincerely give advice, protect and try to help in any way they can.
Itinerary: Coast of La Libertad – La Ruta de las Flores – Santa Ana Volcano – the capital city of San Salvador – the colonial town of Suchitoto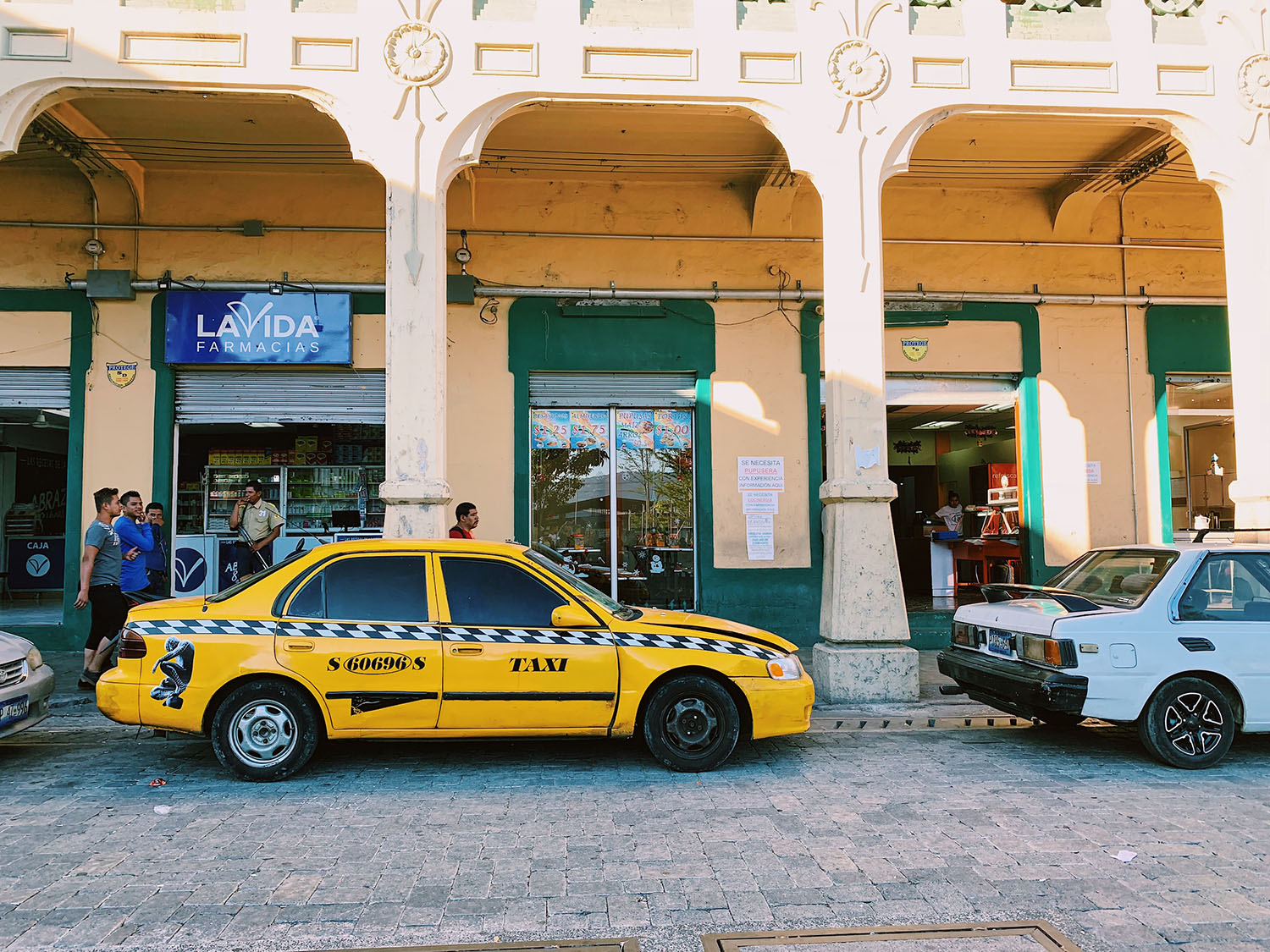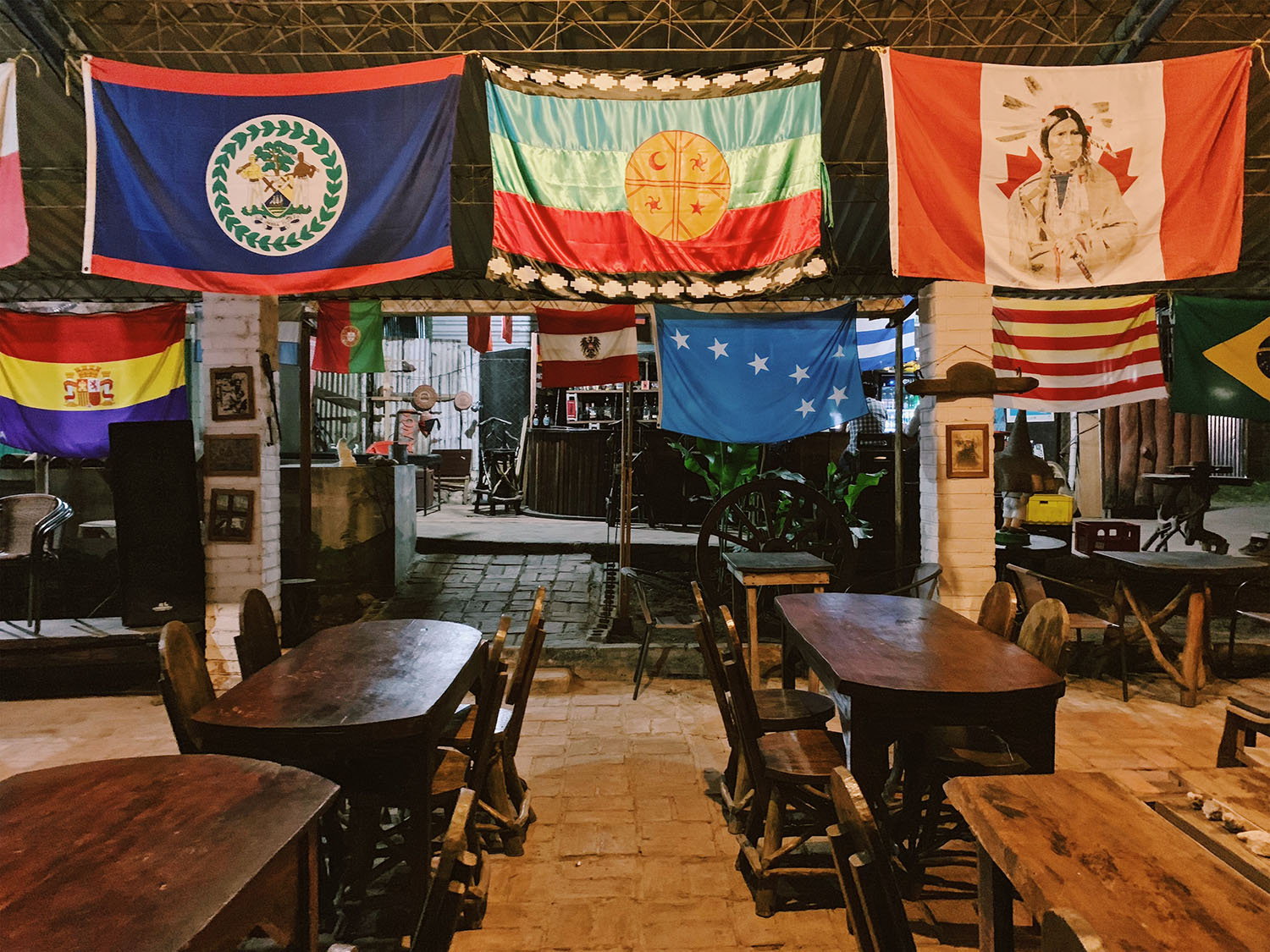 Visa, transportation and border with Guatemala
If you're traveling to El Salvador from Guatemala, you have two options: local chikenbassa buses or a tourist shuttle. Most tour companies offer shuttles either to El Salvador's capital city or to its coast, the most popular town, El Tunco. I chose the latter option. The trip takes about 4-5 hours, the ticket price is about $ 15. Since the destination is not a popular one, I was alone on the bus and it was a breeze!
The Guatemala-El Salvador border is very easy to cross. Guatemalan border guards stamp your passport and give you a ticket to leave the country. Salvadoran border guards look at the passport and give it back without any stamp after 20 seconds (only Chinese citizens are checked the longest for some reason).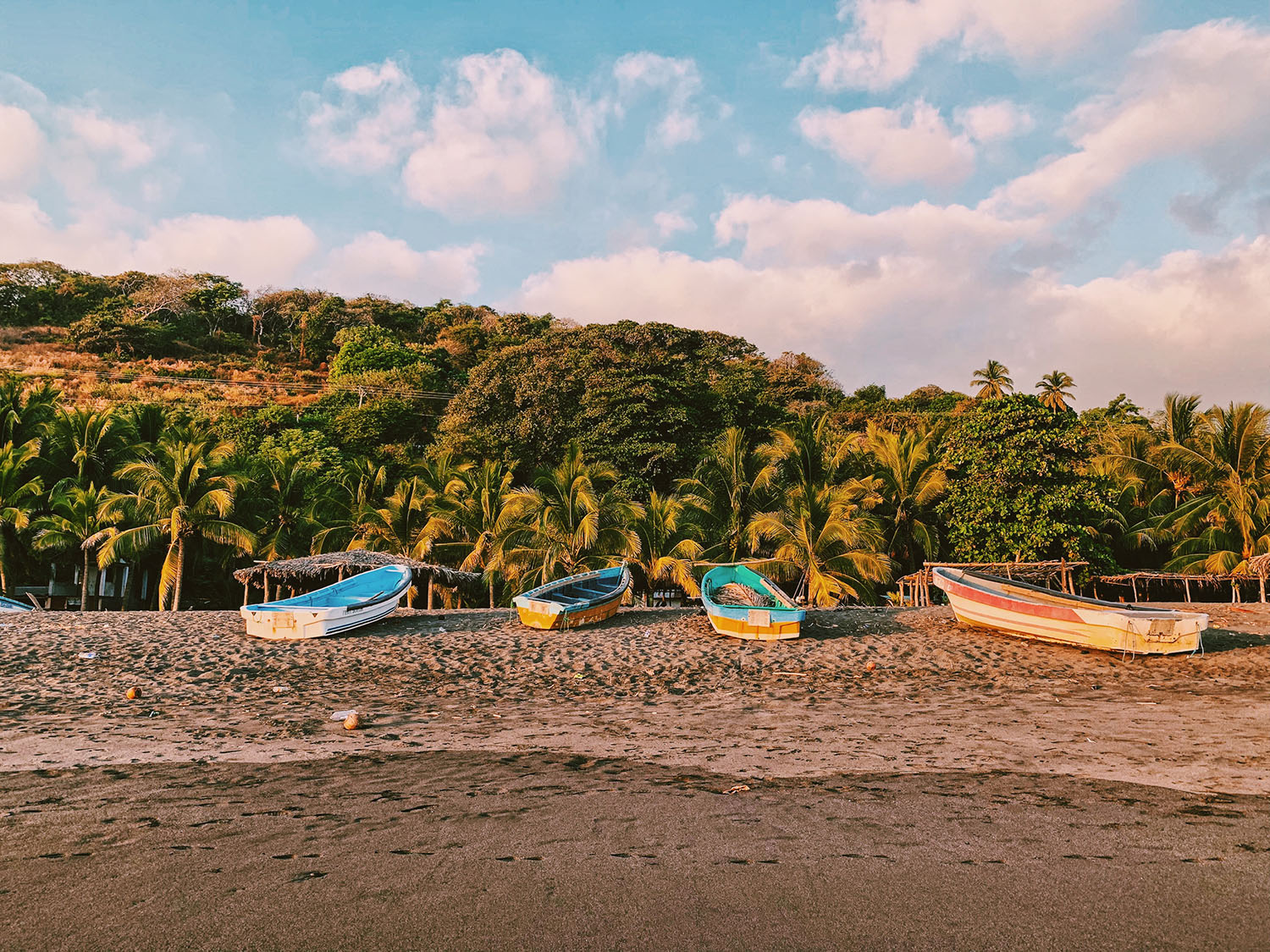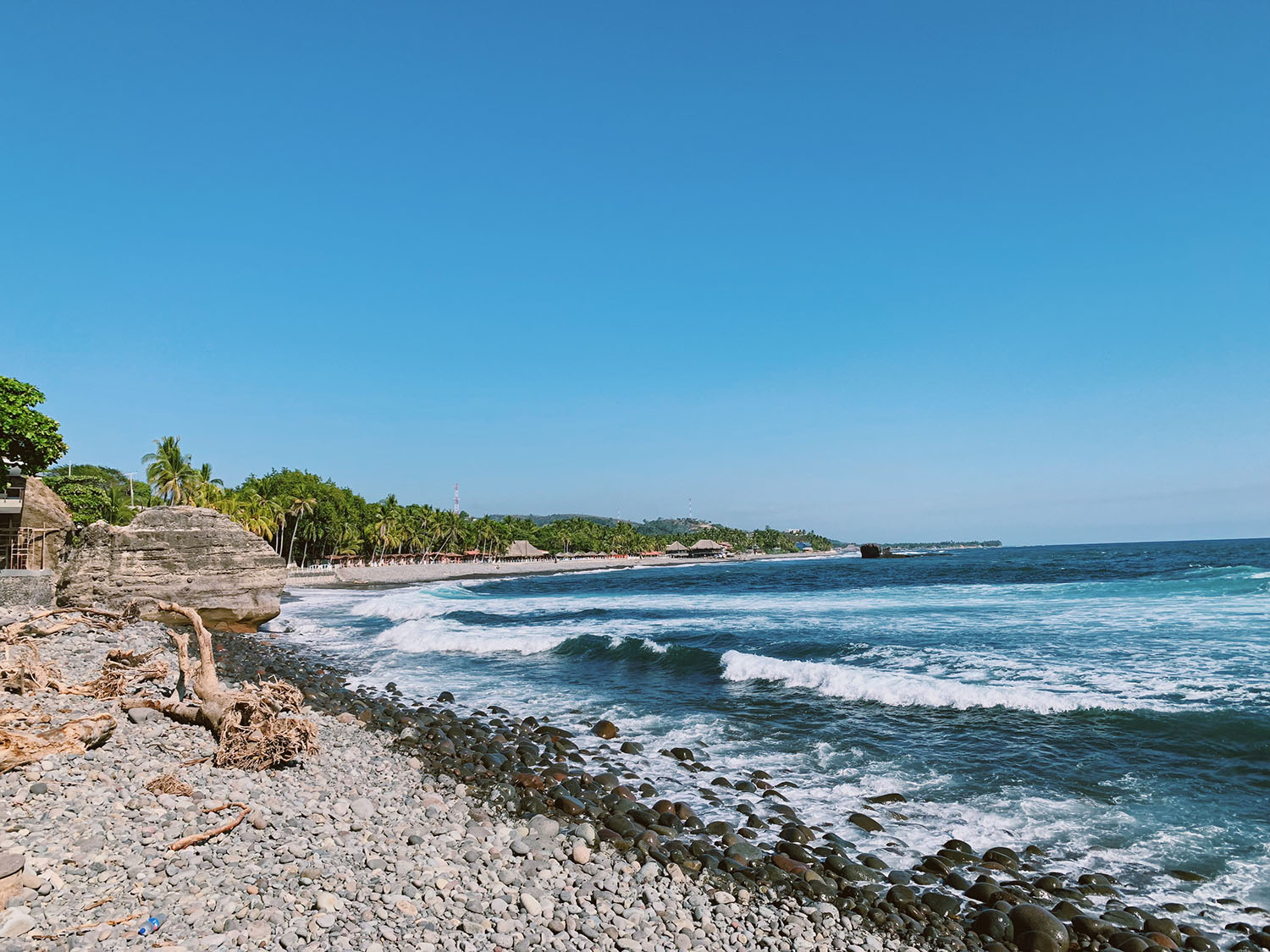 "El Salvador won me over with its orange sunsets, great surf beaches, coffee plantations and the friendliest people in Central America."
La Libertad Coast
The most popular destination on El Salvador's coast is the town of El Tunco. But I decided not to stay there for several reasons. First, I wanted to take surf lessons, and El Tunco is good for those who can already do it, not for beginners, who are better off not getting into the water anywhere near El Tunco. It's better to try the beaches of San Blas and Masanta. Secondly, El Tunco is a very touristy (and therefore not cheap) village, and I try to avoid such places if possible.
My choice fell on Sunzal, a village ten minutes walk from El Tunco. I stayed in the hostel El Balsamico (Calle a playa sunzal, 01101). The bed in the dorm was $8 (in El Tunco the prices are twice as high). Cold showers, fans instead of air conditioning, working internet, the ability to order a hearty breakfast for $2 and a pleasant staff – what more do you need for a traveler!
The coast of El Salvador is a typical party place for surfers. Many people go there to surf for 2-3 months. But even if you're not an avid surfer, there's still fun on the coast for a couple or three days. Forty minutes away by bus are Las Tamaniques waterfalls, which are worth a look (but go there only with locals – the way to the waterfalls is known for robbing tourists). A 10-minute drive in the other direction is the capital of the department, the port town of La Libertad. You should go there for a dinner of fresh seafood (the average price of a meal is $6). The local remote beaches of San Blasi Mesanta are good for beginner surfers, and the sunsets I saw there are still number one among all my Central American sunsets. I was lucky enough to be driven to all of these places by a local couchsurfer in his car, but buses go to each of the spots I named. The ticket is about $1.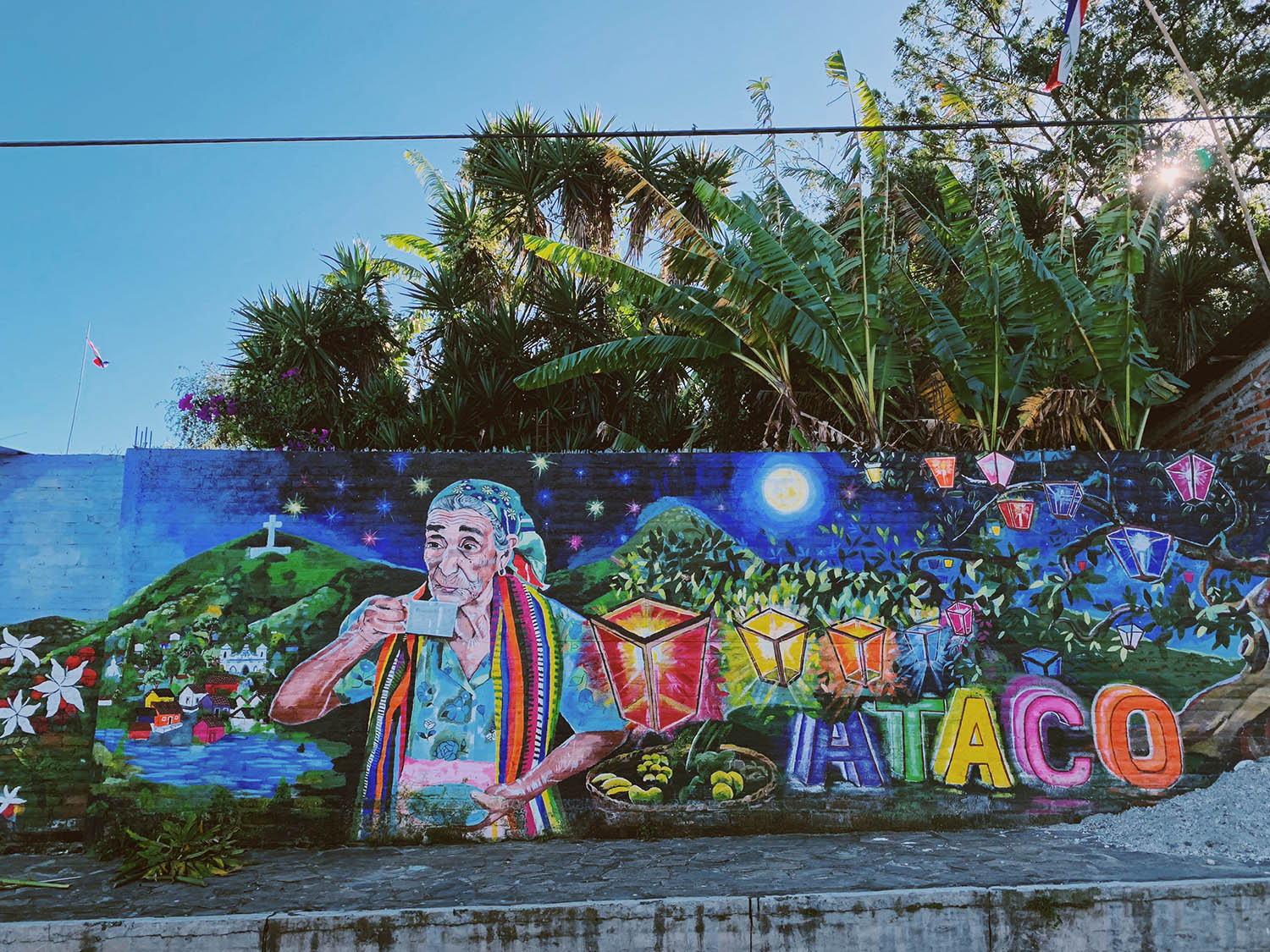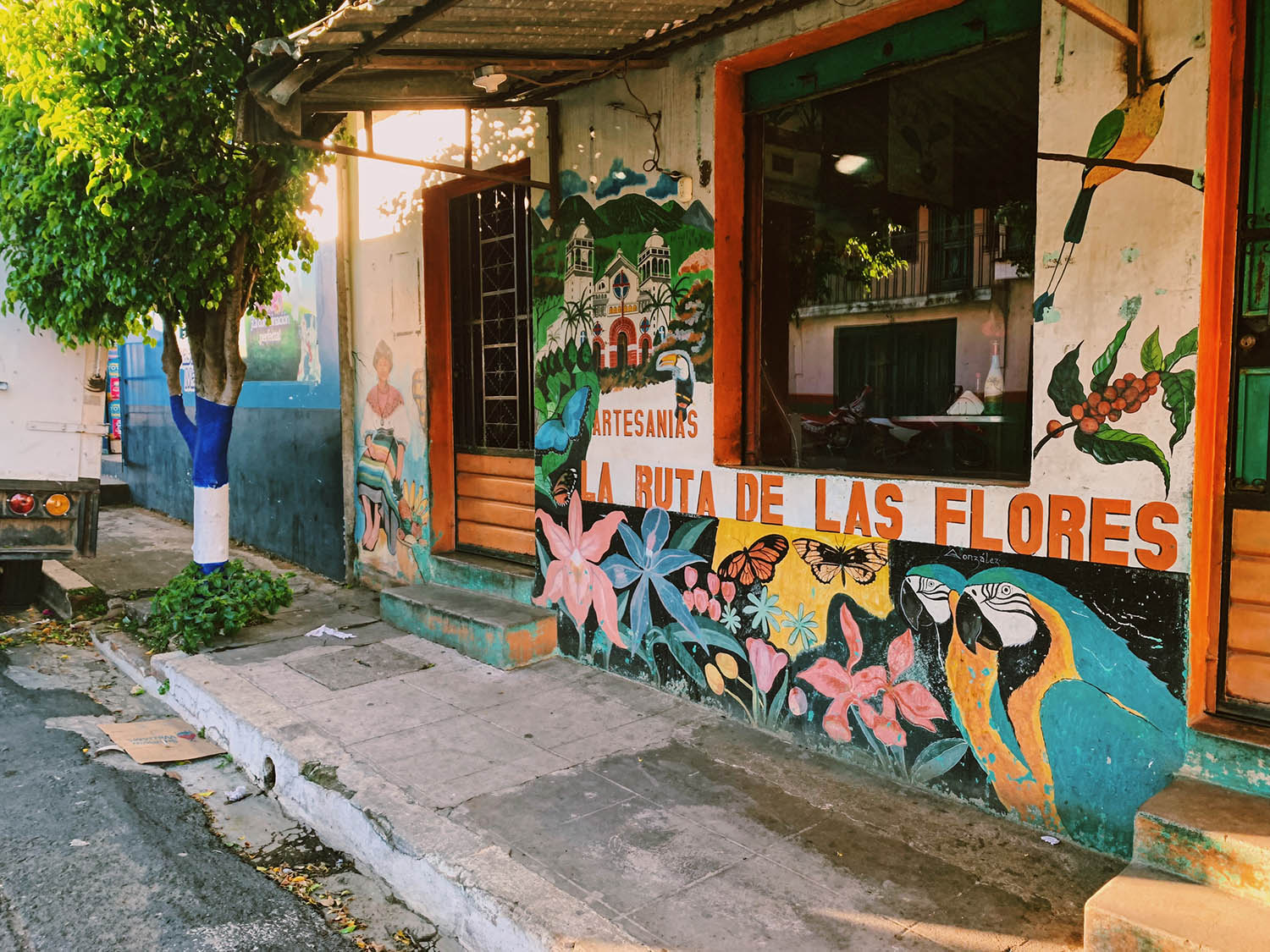 La Ruta de las Flores.
Early on the morning of the fourth day, I left the cozy Balsamico Hostel and went to the local bus stop. Tourism in El Salvador is much less developed than in Guatemala, so your only mode of transportation will be exclusively the local chikenbuses. Gather up the courage and dive in.
My route was to the west of the country. There, among the volcanic valleys, lurks a string of tiny, picturesque villages called La Ruta de las Flores (Spanish for "the flower path"). The 32-kilometer trail consists of many coffee plantations and five colonial towns: Nahuizalco, Salcoatitan, Apaneca, Ataco, and Juayua. You can get to any of these from the capital or from La Libertad on bus 287. Get off at Sonsonate. Buses are scheduled and few in number, so find out the right departure time in advance.
From La Libertad to Sonsonate it takes no more than an hour. In Sonsonate, get off and take another bus at the same bus stop, which goes directly to La Ruta de las Flores. I decided to stay in the village of Huayua, where I found a great hostel through couchsurfing, although each of the villages has a cheap hostel for the night. In Juayúa, Hostal Casa Mazeta (2 Av Nte 22, Juayúa CP 2301) is very popular. A bed in a dormitory there will cost $10. Instead of driving from one neighborhood to another, stop at one of them and take a bus (# 249 and #53) to explore the neighboring neighborhoods. A few days will be enough for that. By the way, La Ruta de las Flores is one of the safest neighborhoods in El Salvador. Even late at night you can take a stroll there without fear.
In addition to the picturesque blooms of a variety of native plants from November to February, the towns along the route, located in the volcano valleys in the vicinity of the coffee plantations, have a unique charm. Catch a chikenback and maneuver between colorful murals, colorful churches, and numerous enticing coffee shops.
On weekends, Huayua hosts a food festival, and on Thursday or Friday evenings (check with locals), Nahuizalco hosts an authentic fair where you can not only sample local viands but also buy distinctive Salvadorian souvenirs. There are several waterfalls on La Ruta de las Flores: Los Chorros de Callera, a small waterfall a half-hour walk from the center of Huayua, and the 7 Waterfalls Hike (I have not been there, but I heard that this hike takes about 6 hours). And if you want to take a tour to a coffee plantation – ask at the hostel reception or a local coffee shop. The price is $10-$25.
"Catch a chikenbass and maneuver between mottled murals, colorful churches and numerous tempting coffee shops."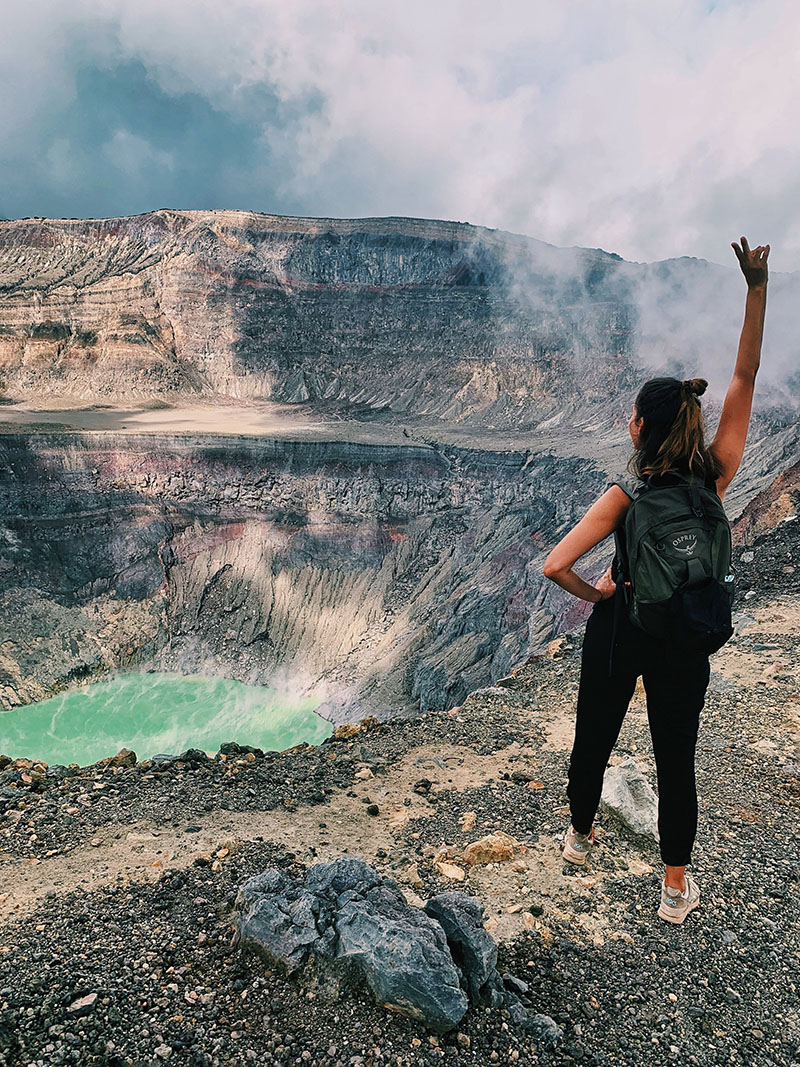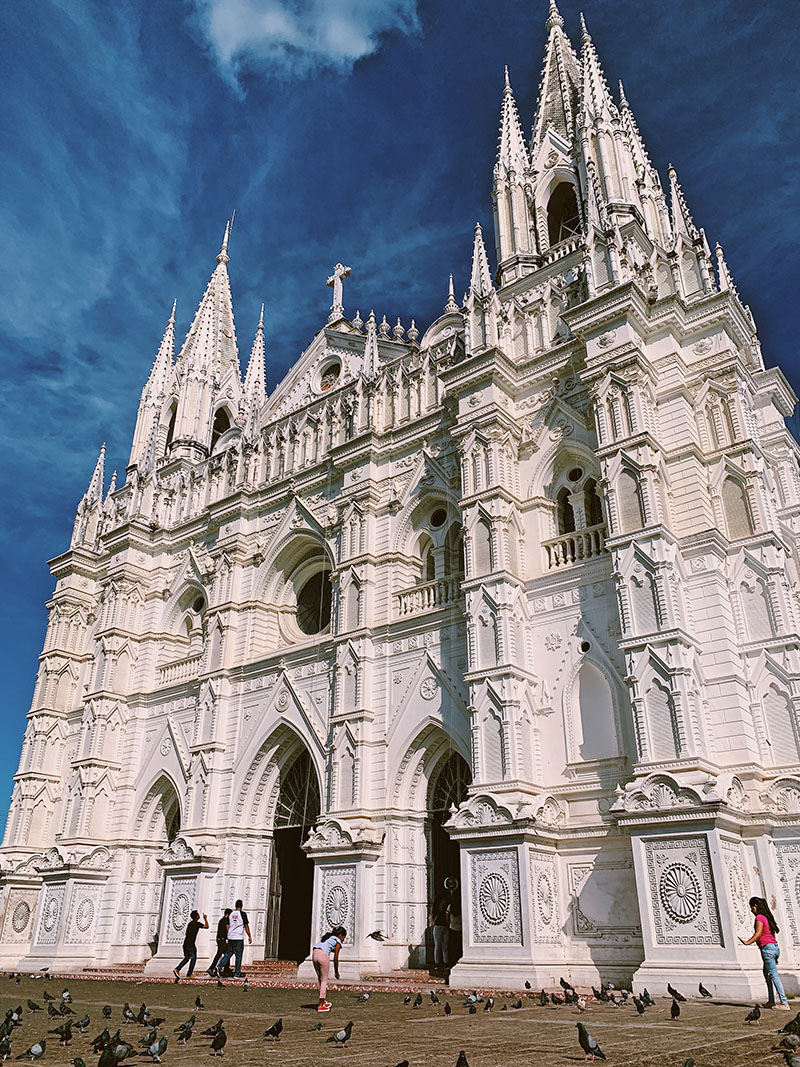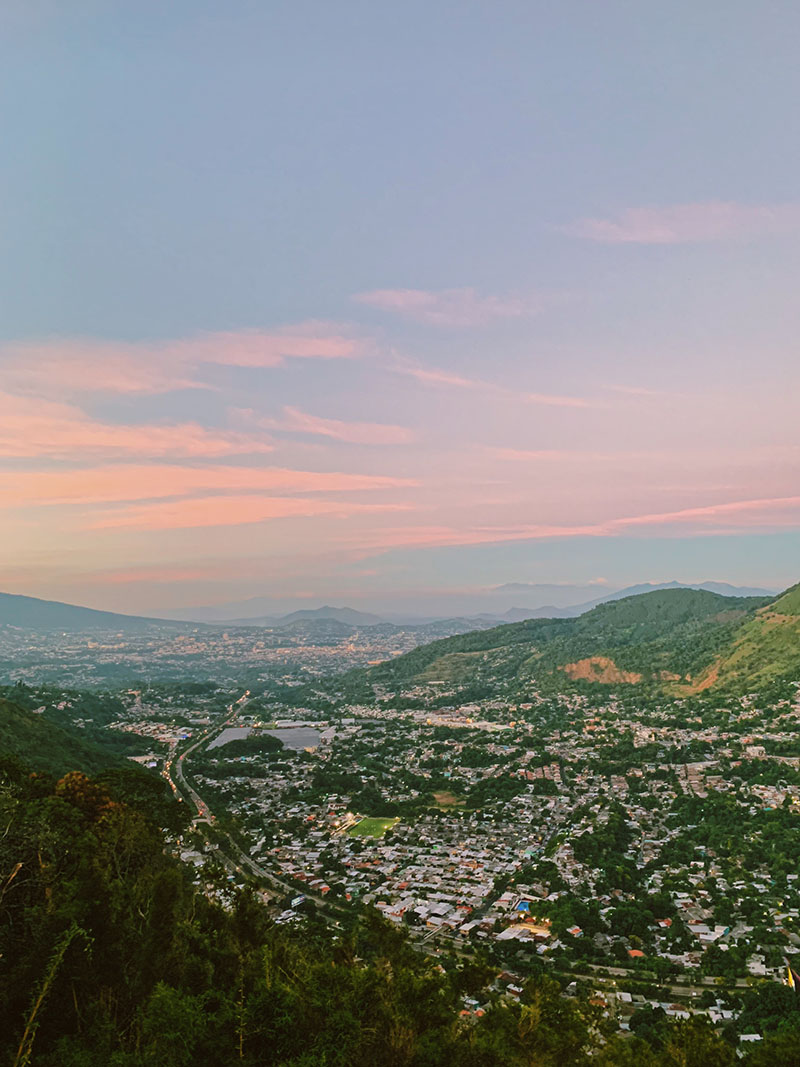 Santa Ana Volcano
The next point on my Salvadoran itinerary was the city of Santa Ana. It is where one of Central America's most beautiful volcanoes, Santa Ana Volcano, is located! It took about forty minutes to get to the city center from Huayua. Again, I stayed with a couchsurfing host, but I heard great reviews from him and other travelers about Hostal Casa Verde (7ª Calle Poniente, Entre 8 y 10 av. sur. #25) .
Santa Ana is not the most remarkable city. In the center there is a very beautiful snow-white church (if the roof is not under restoration – you can go up and admire the panorama of the city), and… that's it. The city is not known for safety – so keep your ears open. But there is a lot to see outside the city. In addition to the volcano, there's a picturesque lake called Coatepeque about a half-hour drive away. It is not as mesmerizing as Lake Atitlan in Guatemala, but also very beautiful. There are many restaurants near the lake, so you can sit and admire the view in the evening.
Local buses to the foot of the volcano leave from the bus station around eight in the morning. The ride is just over an hour. The ticket price is about $2.50. Once you get out at the foot, you must buy a ticket ($ 4) and wait about an hour to assemble a group for the ascent. We do not recommend climbing on your own for safety reasons. The way to the top takes about an hour and a half. The road is very scenic, with views of Lake Coatepeque and several other volcanoes nearby. It is easy to walk, only near the top you have to go uphill a little and exert yourself. The crater itself is a very unusual and fascinating sight. The azure lake looks like something from outer space!
On the way back, be prepared to wait a couple of hours for the bus back to town (most of the time everyone returns from the summit around 2pm, and the bus leaves at 4pm). And if you don't want to wait, on the highway where you finish the hike, stop any car and drive to the town of El Congo. There you can ask the locals for a bus to downtown Santa Ana or Metrocentro, a big shopping mall in a safe part of town. You'll be in the city for about four hours.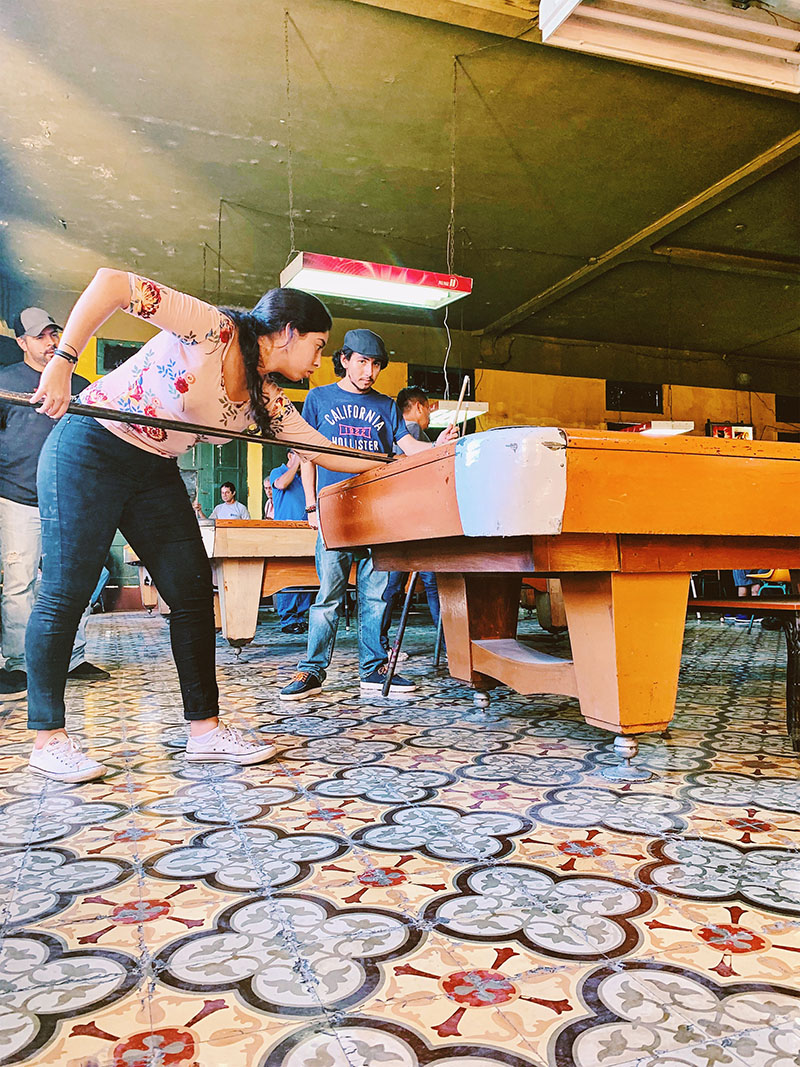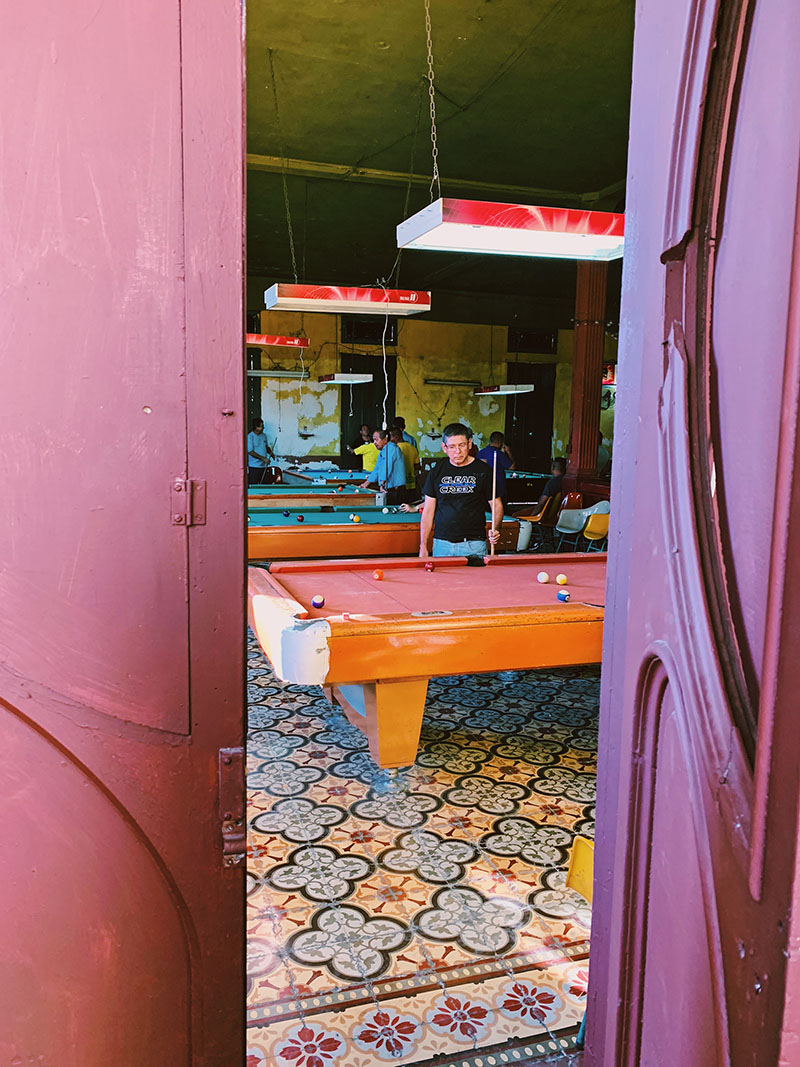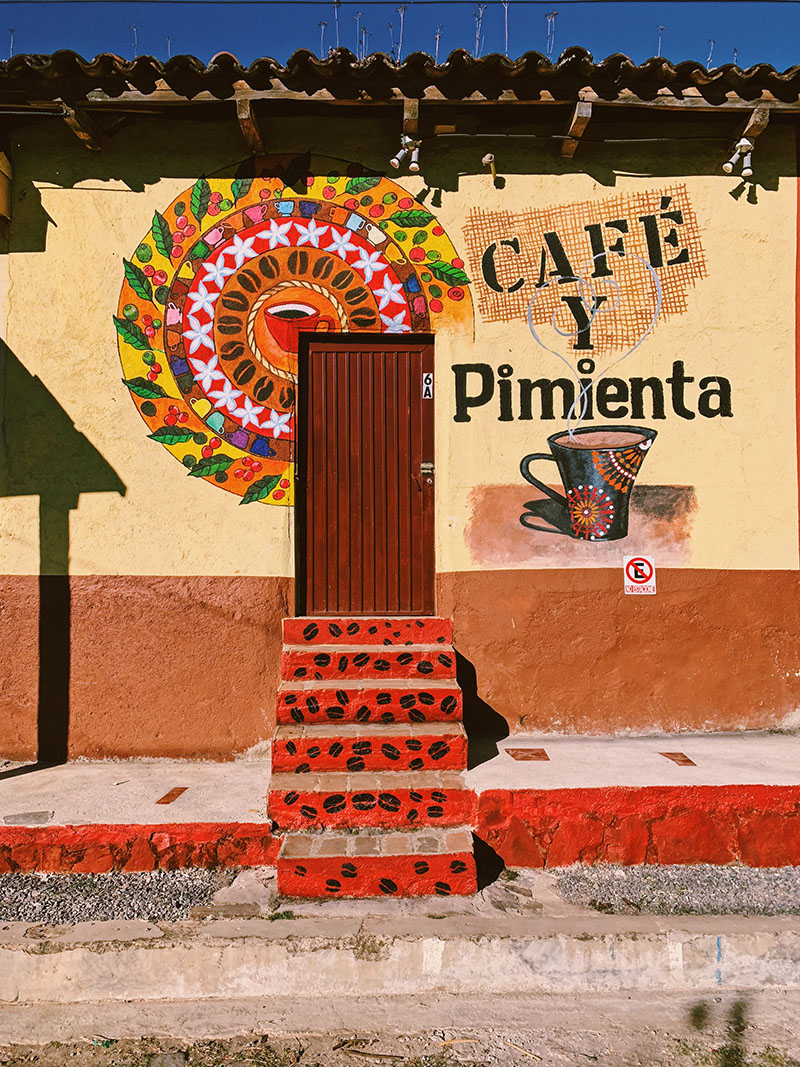 After spending two days in Santa Ana, I went to the capital city of San Salvador.
The new host lived in a suburb of the capital, Santa Tecla. It is one of the safest neighborhoods in the city, close to a big new park, supermarkets and a hangout street with lots of bars and restaurants. I was driven to the center and the nearest attractions, but then again – the city is teeming with public transportation and cabs. So you can get anywhere if you want to.
San Salvador is not the most picturesque or pleasant of all the cities in Central America. But there's a lot to see there, too. Head downtown to admire the gorgeous cathedral and the square across from it. Try a few of the delicacies the locals sell in the square – many of which you won't find in other parts of the country. Have a coffee! Coffee Tempo (Calle Delgado) is where I had the best coffee of the previous two months of travel. And be sure to go to one of the oldest billiard rooms in Central America – Club de billares mas antiguo de El Salvador (2a Calle Oriente) . Inside you will find yourself in another era – as if you were in Havana at the beginning of the twentieth century! It used to be not only a billiard room, but also the center of cultural life of Salvador, where local bohemia gathered: artists, actors, poets and writers. Literary evenings and shows were held there. Nowadays the premise is primarily used as a billiard room, but culturally advanced youths still gather here occasionally and hold a variety of evenings. The place is very picturesque.
After leaving the billiard room, take a walk on the small square across the street. There is an unusual church with a semi-oval roof made of multicolored glass.
In the evening, go to the viewpoint a few kilometers from the city, the Planes de Renderos. There you will not only admire the panorama of the city, but also enjoy the varied types of the most popular local Salvadoran food: pupus (tortillas with different fillings). On your way back, stop at the Parque El Principito (Little Prince Park) . Few people know that Antoine de Saint-Exupéry was very fond of Salvador and it inspired the writer to write his most famous work.
One of my must see's in El Salvador was the open-air museum Joya de Cerén (Carr San Juan Opico – Agua Escondida Km 32). Admission is $3. This is a unique archaeological museum of Central America, where you can see the excavation of an ancient Mayan village. The museum is small because the excavations are still underway (much of the village is still underground), but I still highly recommend a visit.
Salvador
El Salvador is a fairly small country. But that has not stopped it from containing many interesting places, cultural, natural and architectural attractions. Every year the influx of tourists is only increasing. This leads to the fact that the country is ennobled and improves its infrastructure. El Salvador is a country that is very rich in colonial architecture. Walk through the old streets, go to a local restaurant and try the national cuisine, or go outside the city and enjoy the beautiful, unspoiled nature. Or you can go on a real adventure, and visit the places where lived the Maya or climb one of the volcanoes and enjoy the gorgeous views. Every tourist will find something to do in El Salvador.
Where to go first in Salvador and what to see?
Tasumal Salvador.
This city is very famous for its history, namely its first inhabitants. It was here, thousands of years ago was a large Mayan settlement. Until today, in this place, there are some architectural objects that can be considered by the traveler. There is a huge platform, where, according to scientists, were held various ceremonies of the tribe. It is striking in its size, because how can you build such a structure without any machinery? It is still a mystery.
City of San Salvador
The popular capital of El Salvador is located in a very picturesque place. It is surrounded by national parks, the volcano of the same name and the Amacas River. Back in the 1500s, the Spaniards set foot on this land. These years are the period of its foundation. Many of the country's historical and cultural sites are concentrated here. The city's architecture is represented by modern buildings, which look great against the backdrop of ancient landmarks.
El Boqueron Park
The next point of the route may be this amazing park. It is in its territory that the very volcano San Salvador is located. The park is very rich in beautiful, pristine nature and diverse wildlife. Here tourists can go up to the crater of the volcano, or just walk through the park on specially paved trails and enjoy all the views that open before their eyes. You can rent a bicycle here.
Lake Ilopango in El Salvador
This is an amazing volcanic lake. Back in the 5th century, the volcano San Salvador powerfully thundered once again and wiped out several Mayan cities. After that eruption, this lake was born. It is like a breath of fresh air after a terrible event. It is located high above the capital of the country. It is a very beautiful place that many travelers come to see.
El Imposible National Park
This is a magical place with many species of butterflies, deer, toucans, and hummingbirds. In 1989, the authorities of the country opened this stunning national park, and a few years later, it was already included in the list of UNESCO sights. By the way, it is the largest compared to all the other parks in the country. Fans of eco-tourism will love this amazing place.
City of Santa Ana Salvador
This is, in the literal sense, the city of the rich of El Salvador. The weather is always favorable here, the lands are well-fruitful, and the nature around is breathtaking. That is why the rich people took a fancy to this place and started to improve it. Now there are good restaurants, rich houses and villas, interesting architecture, wonderful museums and much more. The developed town attracts tourists with its cleanliness and status.
Caldera Coatepeque
A very long time ago a volcanic eruption happened on the territory of El Salvador. After that, several natural sites and places of interest appeared. One of them is this large lake. If you dive into it, sometimes you can feel the temperature difference. All this is due to the fact that it is located on the hot springs. In the middle of the lake there is a small island, which was considered sacred by the ancient Maya.
Santa Ana Volcano
If you want to find the highest point in the country, you must go to this volcano. Now it is sleeping and does not disturb the locals, although its last eruption was relatively recent, in 2005. The height of this monster reaches 2.3 thousand meters. Its peak offers a stunning view, although to get to it will be really very difficult.
City of Suchitoto
City of flowers and birds. That is how the name of this corner of paradise sounds in translation. In terms of size it is very small, but this has not affected its picturesqueness and beauty. Some say that there is no more beautiful city in the whole country. It is very cozy and quiet. The city has a lot of interesting and beautiful architecture. And it is here that you can taste the most delicious traditional dishes.
Chihuatan .
Another monument of the Mayan civilization is located near San Salvador. Lovers of archaeological sites and monuments can walk here all day. There are many things left behind by this mysterious tribe. These include various structures, entire stadiums, statuettes, and more. The date of its creation dates back to the 10th century. It is also interesting that the name of the city is translated as "settlement of women".
Volcano San Miguel
Another powerful volcano you can meet on your way if you drive east. It is only 200 meters lower than the Santa Ana volcano, but that does not diminish its mighty appearance. It erupted several years ago, but reminds you of itself very often. Sometimes you can see ash or lava splashing out of its crater. At its foot is a small town where travelers can stay.
Lago de Güija
This lake, which created not an eruption of the volcano, but nature itself. And this creation is beautiful. It is quite large and occupies more than 40 square kilometers. Around the lake is very beautiful nature. There is a view of several volcanoes. On the lake you can sail on a rented boat, and get to the island, where there are excavations of interesting ancient relics.
Hoya de Ceren in El Salvador
Once upon a time back in the year 600, there was a terrible eruption of the Caldera volcano in El Salvador. As a result, one ancient Mayan settlement disappeared under numerous layers of ash. After a very long time, in the mid-70s, a long excavation began. It was as a result of them that this city was found, which is very well preserved. Now, a visitor to these places can see many buildings and even streets where the Mayans lived.
Fonseca Bay
This bay is named after the enemy of the famous Columbus. The fact is that it was noticed and discovered by the Spanish conqueror, which is why he gave it this name. Its area is very large, which allows it to wash the shores of two neighboring countries. On its shores there are entire cities. There are good excursion routes here, by taking it, you can enjoy the rich nature around the bay.
Church of El Rosario
This church was not wanted to be holy. The Pope himself had to be persuaded for a long time. That's because it's not built like the usual shrine. It has the appearance of a large hangar, with semi-circular walls inside, which are all decorated with colorful stained glass. Because of this, it is as if the hall is constantly on with light and music. In this church, after all the services are over, you can hear cheerful songs.
Los Cabanos Beach
Well, if you are a fan of a fun beach vacation, then follow to this beach. It has all the conditions for a good time with friends or family. Good hotels, beautiful restaurants with excellent national cuisine. Around the beach with clean, coffee-colored sand, there are gorgeous views of the mind-blowing nature of El Salvador. What more do you need for a good vacation?