Where to go in Phuket. Which area of Phuket to choose for a vacation
July 2016 (updated: 28.09.2021) 98
Even last year, being on the island, we were faced with the question – where to go to Phuket? What area to choose? Where to stay so that the surroundings were exactly what we needed. What is the best neighborhood in Phuket? After 7 months of living on the island, we've been able to explore Phuket's main neighborhoods and will now take a brief look at the most popular ones to find out which neighborhood would be best for you.
Phuket Neighborhoods
To decide where to go in Phuket, read the description of each area, look at photos of beaches, compare the advantages and disadvantages of each of them. Let's start with the most popular destinations among our tourists. We ourselves when we first arrived and were still inexperienced, we thought we would live on Karon or Kata.
Karon – a huge beach and Russian tourists
Karon area is almost always filled with tourists, because many people love this place. It is crowded, developed and not boring. There are many restaurants and bars on the right and left side. There are stores, drugstores, stalls with excursions and everything else a tourist might need on his vacation.
There are 2 markets, one of which is in the temple area. The nightlife is not as well developed as in Patong, the most party district of Phuket, but you will not be bored here, because in the area rings Karon there are always a couple of places to go in the evening.
Karon Beach Karon Town
Karon has a diverse crowd. All decent, inadequate noticed. A lot of Russians, a lot of European pensioners, but also a lot of young people and even tourists with children. Although the waves in the vicinity of Karon are not children's. For more information on beach holidays, read the article – Karon Beach.
Patong – the noise and crowds of tourists of all nationalities.
No less popular than Karon, to be exact, Patong is the most hyped place on the island. Here the crowds of tourists and this is where you can meet all nationalities of the world.
Patong area is the most developed. There and the waterfront, and a large shopping center Jangceylon, and a huge number of cafes with rows of shops.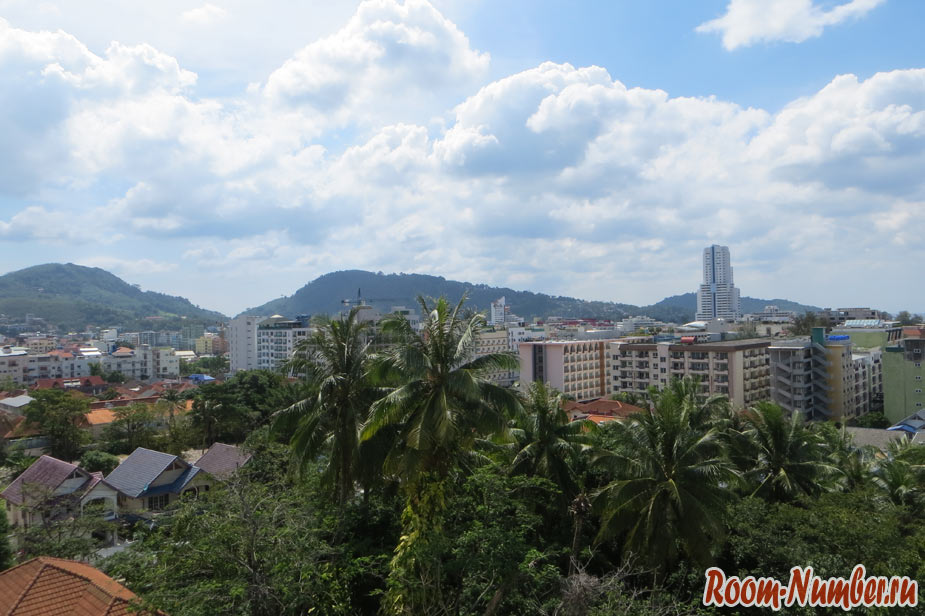 View of Patong
There is a lot of action even at night. After all, Patong is the famous Bangla Road – an analogue of Walking Street in Pattaya. It is bustling, crowded, and there is always somewhere to go. The nightlife is open until dawn. We advise all those looking for youth incendiary rest with discos and nonstop motion – choose Patong, it's just for you.
Bangla Road
Holidays with children we would advise this area on the contrary, as too noisy and the sea can be not very clean. By the way, the best place to swim in Patong is the right side of the beach, the water is always cleaner, even in low season. We swam in Patong and it is ok in general. For more information about the beach, see the article – Patong Beach.
Photos of Patong beach in high season (January) Patong in low season (May)
Kata – another Russian area
This is where most Russian people are, especially those who come to Phuket on a package tour. So, don't be surprised that Russian signs will occasionally flash before your eyes. The area is developed, many bars and restaurants, there is a small supermarket Makro and a few Tesco Express, a few markets. The Kata and Karon areas are almost identical and not much different unless you compare the beaches.
City of Kata Beach Street on Kata
The family vacation here is preferred by quite a number of people, despite the fact that Kata, like Karon, is not the calmest sea, especially for young children. The neighboring beaches, Kata Noy and Karon, can be reached on foot. If you stay on the right side of Kata, the beach will have to walk along a very smelly river. The sea on the right stinks because the river flows into it at the end of the beach. So the left part of Kata is preferable. For more information about the beach, see the article – Kata Beach.
Photo of Kata Beach
Kamala – a relaxing vacation on a beautiful beach
Kamala is a very nice and quiet area. Less developed than the previous. Fewer tourists at times. There are virtually no Russians. But still there is one big supermarket Big C and an average Tesco Lotus Express, a marketplace working twice a week, stores and clothing tents. The Kamala area is an excellent option for those who don't want to spend their vacation in the epicenter of noise and traffic, but at the same time want to be in civilization. The beach is one of the best that we consistently recommend for young and old alike. Read more about the beach here – Kamala Beach.
Photo of Kamala Beach View of Kamala Main Road in Kamala
Bang Tao is a quiet resort, ideal for vacations with children
Bang Tao area is very different from everyone else. Here everything is like in the village. Roosters and chickens walk the streets, cows graze in the meadows, small one-story houses. In Bangtao live mostly Muslims. The local people are friendly and helpful. It is very quiet and peaceful. Like Bang Tao area for those who want only silence, singing birds and roosters in the morning. Well, of course, who enough just a few small stores in the area. The beach is also excellent, as in Kamala. For children there is no more ideal beach, as the sea is always calm, the waves are small, a lot of natural shade. Read more in the article – Bang Tao Beach.
Bang Tao Beach Photo Central Street at Bang Tao Beach Street Bang Tao Village
Surin – considered a VIP area
It is considered an elite area, and prices for tickets here just off the scale. This is because there is a good beach with clear water and a lot of expensive hotels on the nearby hills. Despite the fact that the beach is cool, the sea in the area is often turbulent, high waves almost all year round. The infrastructure is not too well developed. There is no big choice of cafes and restaurants, as well as no market. The contingent of holidaymakers is mainly Europeans. I would recommend Surin area to young couples. Read more about the beach in the article – Surin Beach.
Photo of Surin Beach The descent to Surin Beach on the right side of Surin Street Condominium in Surin
Nai Harn – the southernmost beach for a relaxing holiday
Like Surin, Nai Harn Beach has been awarded the title of not only an expensive resort, but also the most beautiful beach in all of Phuket. Not awarded by us, but we partly agree with this opinion and believe that the beach Nai Harn worthy of attention. Here a peculiar cove. A lot of moms with children, a lot of those families who have settled here for a long time. The area is poorly developed. There are no shopping centers, not very many cafes and stores. Near the beach is a Russian restaurant, periodically glimpsed posters with the inscription "KVAS". Not a bad neighborhood and suitable for those who value above all silence and relaxation, rather than the nightly noise under the windows. Read more at the link – Nai Harn Beach.
Nai Harn Beach Beach Street Nai Harn Village Lake and condos in Nai Harn
Yanui – A tiny beach in the middle of the mountains
Neighborhood Yanui can be called a stretch, because the beach itself is sort of considered an extension of the district of Nai Harn, or the western part of Rawai. Janui is buried in verdure, with small mountains on both sides. There are only a few hotels. Only one hotel is on the beach, the others are either on the hills or closer to Rawai beach. The sea at Yanui Beach in the season is ideally clean. Many come especially for snorkeling. You can swim with children, as the sea is calm. But the infrastructure is almost zero. To eat only in the hotel and there is nowhere to go. We will have to go to Nai Harn area, which is very close and convenient, or even closer to Rawai area. Read more – Janui Beach.
Photo of Janui Beach in high season Beach Street Lots of greenery
Ravai is not a swimmable beach.
There's plenty of life in the Ravai area, though it's not exactly hectic and colorful. There's a good seafood market, stores, and simple cafes. It takes 10 minutes to get around the places that have life. When it gets dark, everyone goes to bed, except for a couple of bars, and there will be no fun here. And most importantly, there is no beach! Or rather, you can't swim, it's shallow and dirty, a lot of fishing boats. For more information on the beach, more photos and videos, see the article – Rawai Beach.
Photo of Rawai Beach Beach Street
Chalong – bad beach, boat dock
The Chalong area has a beach that is essentially nonexistent. Chalong has a pier from which boats and boats to the islands near Phuket depart. Therefore, settling in this area, do not count on swimming, as the beach is very dirty. Also here is shallow, during the low tide water goes away, exposing the muddy bottom. But don't forget that there will be a shopping center, cafes with low prices and tents with excursions. If you are more or less an independent traveler with a personal auto-motor transport, this area is acceptable. But you should not consider it as a variant for rest. Read more in the article – Chalong Beach.
Chalong Cove Chalong Ring – traffic circle road junction to Karon, Kata, Ravai beaches and Chalong pier
Katu – No Sea
District Katu popular among the winterers and other "long-timers" in Phuket. It is far from the sea, in the heart of the island, the nearest beach from this area is Patong. The advantages of the area is that in Katu in any season low prices for housing, there's normal Thai prices in the markets and cafes without the tourist nakrutok. Many locals do not speak English. A 10-minute drive will take you to Macro, Big C, Tesco and Central Festival shopping centers with a large selection of food and clothing. The Catu area is not suitable for vacations or vacation rentals, as it is more likely to be rented by the month. In our experience, this is the most unsuitable area for a vacation. Only if you have your own transportation.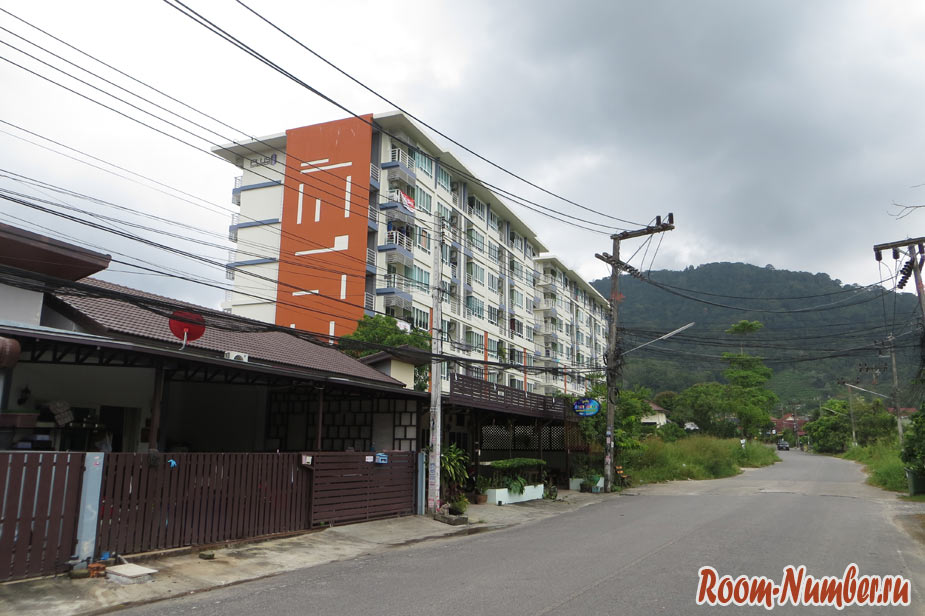 Condo Plus in Kathu
Phuket Town – No Sea, No Tourist Life
The central area where all the life of the local population is concentrated. Apart from the old town center, Phuket Town can be called a non-tourist area. There is an excellent public catering, many cafes, macashnikas, stores and markets for locals, developed public transport in the form of pink buses. There are several condominiums in the town, where you can rent an apartment at a good price in any season. The main shopping malls are also in Phuket Town.
View of Phuket Town.
But there is not a single beach in Town, so this area, if you are a tourist, will suit you only if you are not embarrassed every time to get to the beaches of Phuket not on foot, but by transport. If the public, it is not the most pleasant occupation. So, without your own transport is also better not to consider.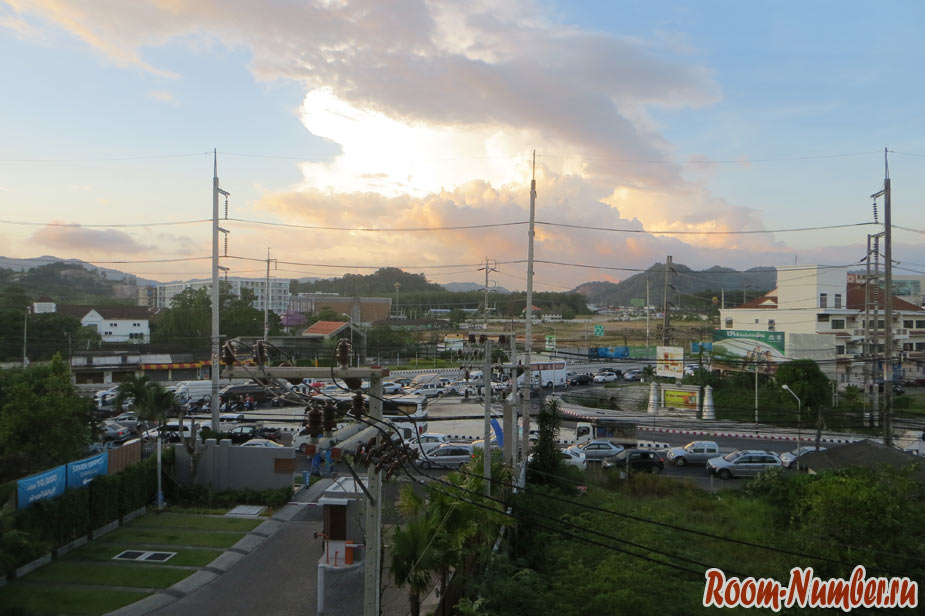 Evening traffic jams in the town.
A brief summary of Phuket's neighborhoods
While you're pondering the question "Where to go in Phuket," I'll summarize and summarize the main point for each area of the island.
The most bustling, partying, and developed area is Patong.
The most touristy area with lots of restaurants and cafes – Patong, Kata and Karon
The most family-oriented neighborhoods are Bang Tao and Kamala.
The area with expensive hotels – Surin
The most quiet and undeveloped area – Yanui
Neighborhoods with many Russians – Nai Harn, Karon, Kata.
The most undeveloped areas are Phuket Town, Katu, Chalong, and Talang.
Which beach to choose for a vacation in Phuket?
Which beach do you want to use? It all depends on how you want to rest.
10 areas in Phuket where to stay for your holiday
Whether you're interested in beaches, nightlife, or would just like to relax and unwind in silence, you're sure to find out all this in this guide. It will tell you where to stay in Phuket for your next vacation.
Phuket is a popular tourist destination with a plethora of lodging options. Choosing the wrong place, you can not get a complete vacation. Weigh carefully the pros and cons we've listed for each area of Phuket, and decide which one is best for you.
There's a wide variety of accommodations on the island, including great hotels and budget hotels.
Phuket neighborhoods on a map
Patong Beach District
Patong is known for its Bangla Road, which is Phuket's highest concentration of bars and clubs. In fact, it is a paradise for nightlife lovers. It is a great choice for those who are interested in having restaurants close to the beach.
Are there any downsides? We have to say that yes. It's a place where life is vibrant. And that means that you will not have the opportunity for a relaxing vacation, if a vacation without worries is what you are looking for.
Why stay near Patong Beach?
If you are a tourist who is interested in nightlife and a variety of parties in bars, then this is your place. Here you will find excellent accommodation, luxury restaurants, and a lot of clubs.
Patong is a great place for shopping. This beach is just for you if you like to party in the clubs, want to find budget accommodation and would like to be in the center so that everything is easily accessible.
In Patong life is always bustling. The nightlife can be not only varied, but even a little extreme. This means that you will not find the opportunity for a few moments of tranquility for yourself.
If you are traveling with young children, then, you better continue reading this guide and find a better place for yourself than Patong.
What to do near Patong Beach?
Nightlife on Banlga Road, the busiest party zone;
"Zhang Ceylon" – a large shopping center;
Liberty Beach – a typical white beach for the island;
Paradise Beach, a small beach with party spots;
Patong – surf center;
Katu Falls – several waterfalls.
Best hotels near Patong Beach
Budget:
Mid-range:
Premium:
Kata Beach Area
Are you a surfer? This place might be the best beach for you if you visit between May and November.
There is also a large coral reef here for you to explore. The beach is quite long and there is a buzz of life here, which means you can combine great nightlife with good restaurants and shopping.
It's a great place for young travelers and for families looking for a reasonably good time.
The beach is much quieter than Patong and much better for families with children. But it can't be called isolated.
Why stay next door to Kata Beach?
It is a great place for families with children who are looking for fun. It is also a fantastic stretch of land and sea for surfers and learning to dive.
The beach here is perfectly equipped, you will find a good selection of stores, restaurants and activities. There is no raucous nightlife here.
If you are a couple with children, you will not want to vacation in this place and look for something more secluded and romantic, where there are far fewer families.
Although there are opportunities for sports and other activities, there are few places in the area that are rich in attractions. It's a long drive from most hotels to the beach.
Things to do near Kata Beach
Karon Kata is an observation deck that overlooks neighboring beaches;
"Surf House Phuket – Surf center;
Kata Noi, a tranquil beach located 5 minutes from Kata;
snorkeling, scuba diving, sap surfing, surfing;
Kata night market – indoor shopping area.
Best hotels near Kata Beach
Budget:
Mid-range:
Premium:
Karon Beach area.
Are you a beach lover? If so, then Karon is one of the best places to stay in Phuket.
Karon is the third longest beach on the island. It is a place where you will find many great hotels surrounded by nature and exotic plants.
Karon is sometimes called the little sister of Patong. All it means is that Karon also has a vibrant nightlife.
Why stay in a neighborhood near Karon?
Karon is a great place to stay if you want nightlife entertainment, but not that close to you. The beach is not too quiet and not too noisy, something in between.
For beach lovers, Karon is a great place to stay. Although it is quite crowded during the season, the beach is big enough and there is enough room for everyone.
If you are a fan of markets and supermarkets, Karon has a lot of fresh produce for fans of shopping. The beach is quite large and clean. Here you will find many nice souvenir stores and stores. The hotels are equipped with spacious rooms and are well decorated. You will have a choice of many budget restaurants in the market.
There are not many luxury restaurants here, if you don't count those in the hotels. Although the target audience of the restaurants is budget tourists, few of them are of great quality of food.
You won't have much to do outside of the beach. Attractions are quite far away from it.
What is there to do around Karon Beach?
Wat Karon is a Buddhist temple;
Siam Nirami Show;
Nagara Statue – a statue of the Golden Dragon;
Karon Park with a lake.
Best hotels near Karon Beach
Budget:
Mid-range:
Premium:
Ravai Beach District.
Rawai is a relatively quiet and tranquil beach with a local flavor. It was the first tourist spot in Phuket, where the local color still remains with a village of gypsies and long-tail boats.
From here you can go to the islands: coral and Racha. It's a really quiet and peaceful place, especially when compared to Patong.
Ravai is a great place if you are interested in local life and want to be away from crowded places and tourist trails.
Why stop at Ravai?
If you would like to explore all parts of Phuket, then Ravai is a great place to get to other parts of the island easily and quickly. It is also close to the beaches of Nai Harn and Chalong, which makes Ravai a great place to reach sites like Promtep Cape and Big Buddha.
There's also a sense of local color here, with great seaside restaurants and a sea gypsy fish market.
If you're looking for shopping opportunities and a diverse nightlife, this is not the place for you. Quiet nights with few restaurants and stores await you.
Ravai is for travelers who are looking for a quiet getaway and want to explore the neighboring islands.
What things to do on Rawai?
Laem Ka – A charming beach on the east coast;
Orchid Farm, a large orchid greenhouse;
shell museum;
Promten Cape, a picturesque cape that is a must-see;
Wat Sawang Arom, a Buddhist temple.
Best hotels near Rawai Beach
Budget:
Mid-range:
Premium:
Nai Harn Beach Area.
This is the best place for snorkeling fans – fans of snorkeling. The beach is quite beautiful, although equipped traditionally. Nai Harn is one of the most popular among the locals.
You will not find here a lot of hotels, which turn the place into a perfect place for beach lovers. Those interested in nightlife have no choice here.
On Nai Harn, the rhythm of life does not change. The beach is surrounded by amazing nature.
Why stay near Nai Harn Beach?
You should visit the beach if you prefer beach vacations, the lagoon, and great viewpoints.
You can also go surfing and snorkeling. The beach has a nice atmosphere, serene nature all around, and enough activities to keep you entertained.
However, there is quite a distance from the airport. If that bothers you, you'll want some other location.
There are no gourmet restaurants, nightlife establishments or shopping in the area. But you can always rent a car and explore the island on your own.
What things to do around Nai Harn Beach?
Ao Sein is a hidden rocky beach;
Elephant Temple on Promthep, surrounded by wooden elephant statues;
Kanchanaphisek sanctuary and lighthouse;
Buddhist monastery on Nai Harn;
Mill Viewpoint with panoramic views of Yia Nui Beach.
Best hotels near Nai Harn Beach
Budget:
Mid-range:
Premium:
Mai Khao Beach area.
Honeymooners are not forgotten either. If you're in search of romance and have chosen Phuket, then you're better off staying at Mai Khao Beach.
This is the longest beach in Phuket. 11 km of incredible sand. The beach is not only long, but also deserted. Imagine, you stroll, holding hands, with your beloved and admiring the groves of pine trees and tropical plants on the sand.
In return for the beautiful views, Mai Khao is not a landscaped area. There are no shopping opportunities or nightclub entertainment here.
However, if you want to relax, enjoy yourself on the beach or admire the beautiful views during your honeymoon. This beach in Phuket can be a great place for you.
Where to stay near Mai Khao beach?
There is no doubt that this beach is for beach lovers. You can consider it for your honeymoon. Or as a luxury lover you can afford a swanky hotel.
This is the place for people seeking complete silence to just get away from everything. The beach is near Sirinath, a national park that is considered the only place in Phuket where you can see the giant sea turtle Ridley.
If you are a budget tourist who is interested in cultural or nightlife in Phuket, then this is not the place for you. Besides spending time on the beach and enjoying the beauty of nature, you will not find here a variety of activities.
What to do around Mai Khao Beach?
Sirinat is a national park that is home to the Ridley, a giant sea turtle;
"Splash Jungle, a water park;
"Turtle Village," a shopping complex;
Wat Mai Khao – Buddhist temple.
Best hotels near Mai Khao Beach
Budget:
Mid-range:
Premium:
Phuket Town
Phuket City, the capital of the island, is a great place with lots of restaurants, stores, and attractions.
The interesting news is that Phuket City is a great place for those people who are interested in history and culture, as well as hikers looking for traditional cuisine.
The bad news is that tourists are quite far from the beach. In Phuket, you'll feel like you've escaped to the city from a beach vacation.
Of course, you can always go back to the beach. Phuket is well connected by transport to most beaches. You can even hire a cab if you don't want to rent a car for the day.
Why stay in Phuket town?
The old town is quite beautiful. Here you will really feel the atmosphere of the area. The markets are open for you, the attractions are working, and great hotel options are available. If you like to eat out, then Phuket City is definitely for you.
The prices are affordable for tourists with any budget. You'll find plenty of fresh produce at the local market, so you can create your own meals if you're on a tight budget.
Although you will have the opportunity to do all sorts of cool things, you will be pretty far from the best beaches. You will encounter heavy traffic on the roads. If you're in search of nightlife, this is not the place for you.
During the weekends, Phuket town is generally quiet. A compromise might be to spend some time in Phuket town and a few days on the beach.