Excursion from Cairns with a Russian guide in Kuranda and the jungle with a ride on a cable car and an amphibian
Что Вас ждет на этой экскурсии из Кернса с русским гидом: поездка в Куранду на фуникулере Skyrail над джунглями (самый длинный фуникулер в мире длиной 7,5 км), экскурсия по лучшим местам в Куранде, водопад Баррон, поездка и вход в парк аборигенов, катание на машине амфибия по джунглям, представление аборигенов с танцами, уроки метания бумерангов и копий и игры на диджериду с аборигенами, обед-барбекью (по желанию) и катание на паровозе (по желанию), свободное время в Куранде для шоппинга или кафе. >>> Reserve a tour in Kuranda
Description of the tour in Kuranda: In the morning, our Russian guide in Cairns meets you at your hotel and you head to the world's longest cable car Skyrail. This cable car stretches 7.5 kilometers in length high above the tropical jungle and the world's oldest rain forest. Slowly climbing up the mountains, you see the panorama of Cairns and the magnificent seascape of the Coral Sea, where you can often see the tropical Green Island on the horizon. On the way you can also get off the cable car at two stops and walk along the path through the rainforest. You will have a magnificent view from above of the powerful Barron Falls, which is particularly striking in the summer months (December-March) with its abundance of water and power of flow. Arriving in Kuranda, you will see the different attractions of this small mountain village, which was once home to only Aboriginal people. Only here you can see a Christian church with images of an Aboriginal man in the form of Christ or a mosaic with Aboriginal designs, as well as the remains of a World War II warplane that crashed in these parts. There are also quite a few cafes and souvenir stores, where you can relax with a cup of coffee or buy local souvenirs. If you want you can also visit a butterfly reserve, which presents all kinds of butterflies, including unique species of this region, such as the blue butterfly Yulisis (admission extra).
Next you will take your guide to Rainforestation Aboriginal Park, located near the village of Kuranda. Here you will ride an American Amphibian ATV through a tropical jungle and lake in the forest and learn interesting facts about the unusual and dangerous plants that can be found there. You will also see a dance show by the local Pammagirri Aboriginal tribe to the sound of the traditional Aboriginal musical instrument, the Didgeridoo. Our guide will explain to you the content and meaning of these dances. After this show, one of the Aboriginal people will demonstrate for you his skill in throwing boomerangs and spears, and tell you about how the Aboriginal people hunted, lived and made the didgeridoo. If you want, you can try your hand at playing the didgeridoo or throwing the boomerang. There is also a tropical plant garden and a small Australian animal park where you can see koalas and kangaroos, dingoes and cazoos. And if you wish, you can also have your picture taken with a koala in your arms for an extra fee.
After a barbecue lunch, we will return to Kuranda where you will have free time to walk around the town, have coffee, buy souvenirs (or your guide can take you to see the waterfall and the river) before heading back to Cairns. From Kuranda you can also take the vintage Kuranda Scenic Railway on the very scenic mountain railroad back to Cairns past some waterfalls (for an extra fee of AUD$55/person). After arriving in Cairns, your guide will take you to your hotel or restaurant in Cairns. The tour is conducted from any hotel in Cairns or Palm Cove. If you are staying in Port Douglas, we can do the tour for you for an additional fee of AUD$200, and the tour will last about 2 hours longer.
Tour time: 09:00 – 17:00
Cost for Russian guided tour:
The cost of the tour is given in Australian dollars AUD (not USD!) per tour (not per person) and depends on the chosen transport (car sedan, minivan, minibus). Entrance fees and lunch are not included, pay extra.
The best price – guaranteed!
Order from us 2 or more excursions and get a discount of 5-10%!
IF YOU FOUND OR WERE OFFERED BETTER PRICES THAN MINE, LET ME KNOW AND I'LL BEAT THESE PRICES BY 10% MORE !
How did you find the Best Cairns tour in Australia – Great Barrier Reef, Kuranda Village, and the Night Market?
As I continue to introduce you to the beautiful Australian state of Queensland, I wanted to share my experiences from my trip to Cairns. The review will be quite lengthy, with lots of photos. I will explain how to get here, what to do there and show the city from different angles. The review will include crocodiles, Aboriginal art, and the Great Barrier Reef. Let's go!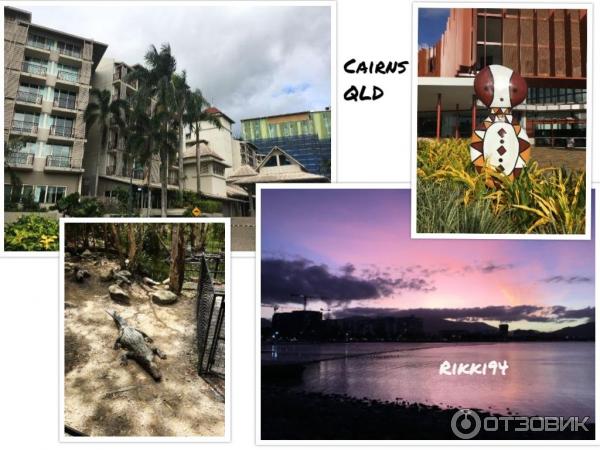 Cairns is a small town in tropical Queensland, which is easy to get to because most Australian airlines fly to Cairns, including the low-cost Jetstar (which is what I recommend to you – save money!). The airport in Cairns is small but comfortable and convenient; you can rent a car right at the airport if you want to continue traveling in Australia by it, which is what many tourists do, by the way. My friend and I did just that: on arrival in Cairns we rented a car and drove straight from the airport to Port Douglas – a one day trip. After that, we returned to Cairns and spent 4 days there.
The first question tourists may have is where to stay in Cairns? We stayed at the Novotel Cairns Oasis Resort, but I personally did not like this hotel, despite the insanely cute interior and pink pillows. My complaints about the hotel are described in the review about the hotel itself, but I will say this: not every tourist has the same requests for a hotel as I do, so look for yourself.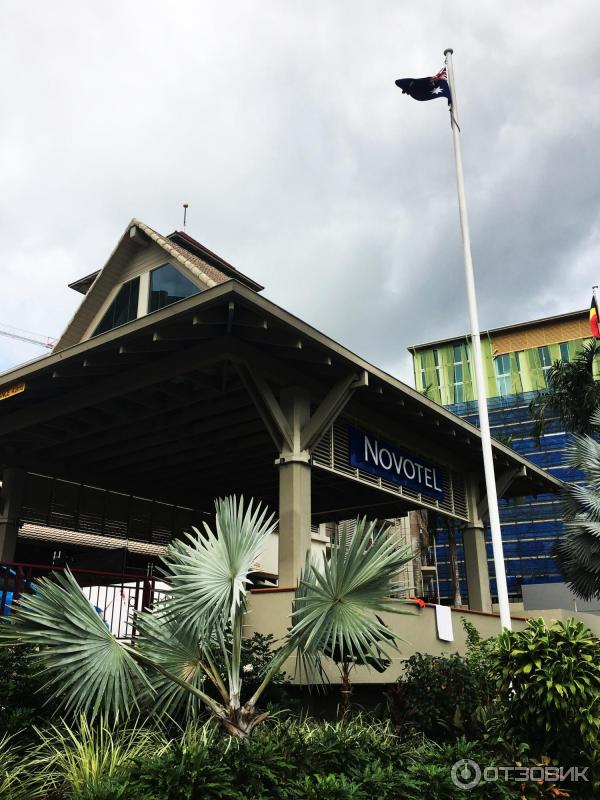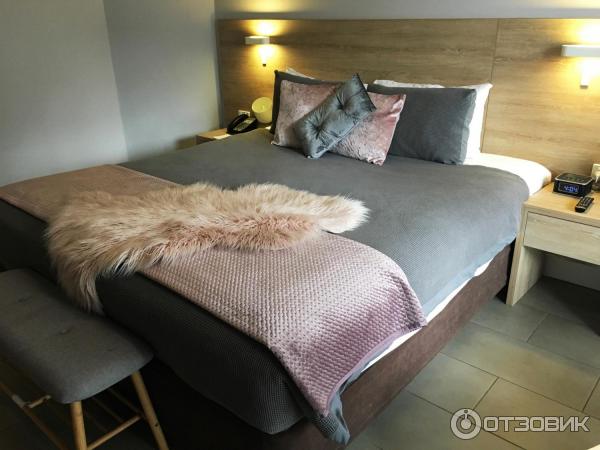 I will start the review with the sights that are outside of Cairns. Why? Because they are still considered attractions in this particular city, as they are closer to it than other Australian cities.
Between Cairns and Port Douglas, my friend and I stopped at the Rex Lookout. The site is small, not on the highest mountain (just on a hill), and the view here is the most expansive, but the tropical scenery is still insanely beautiful, so if you can, stop and enjoy the tranquility of the Australian tropics: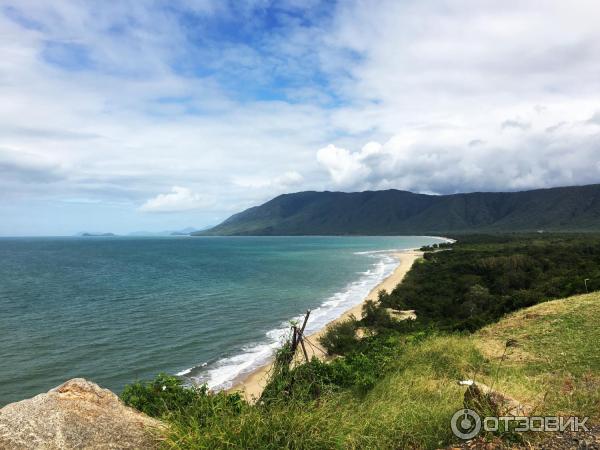 In the pictures below is Kuranda station. Kuranda is a tourist village in Queensland and the easiest way to get there is from Cairns. It is a kind of 3-in-1 tourist attraction: you go from Cairns to Kuranda village on an old, bombastic-looking train – one, you go through the rainforest – two. You take a cable car back to town – three! All in all, it will cost you a pretty penny, but it's one of the main attractions in Cairns, so don't pass it by.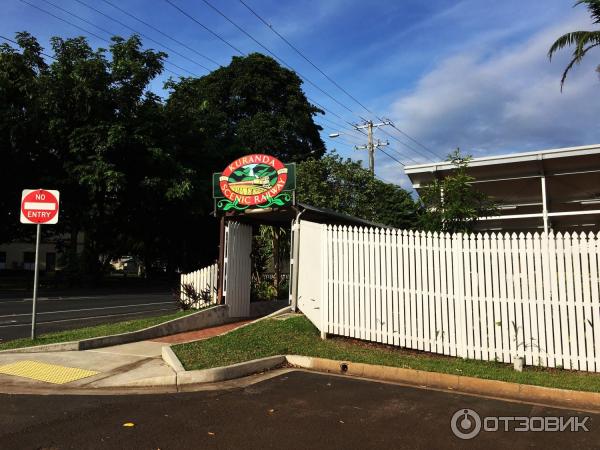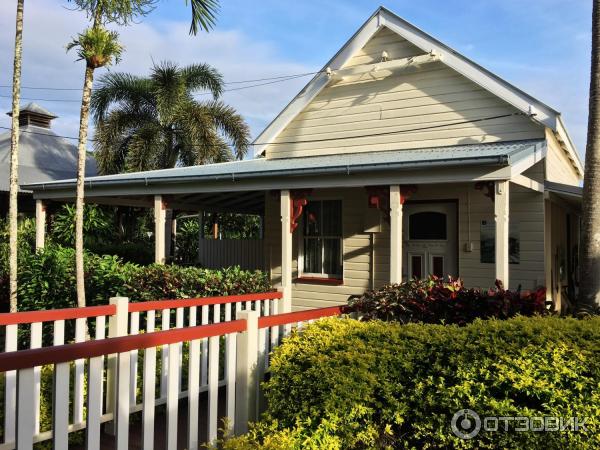 On the way from Cairns to Kuranda, we made a stop at the beautiful Barron Waterfalls – the power of the waterfall depends on what season you come to Cairns, but I will say this: it is always beautiful, even when not "working" at full capacity.
You are given free time to view the falls and take pictures. The observation deck near the waterfall is huge and will fit all the tourists who want to see it.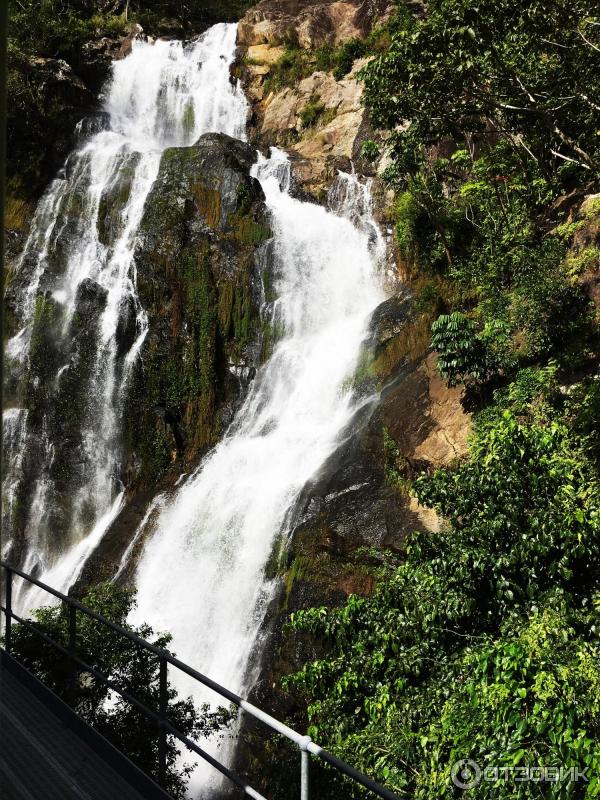 We took the cable car back to Cairns – we loved it. I know there are cabins with a transparent, glass floor, but you have to pay a little more for them – I wanted to, but the greed strangled us, so we chose a regular cabin. You fly over the rainforest that you rode in Kuranda and over the tropical rivers that are teeming with crocodiles. It's one of the most beautiful cable cars I've seen: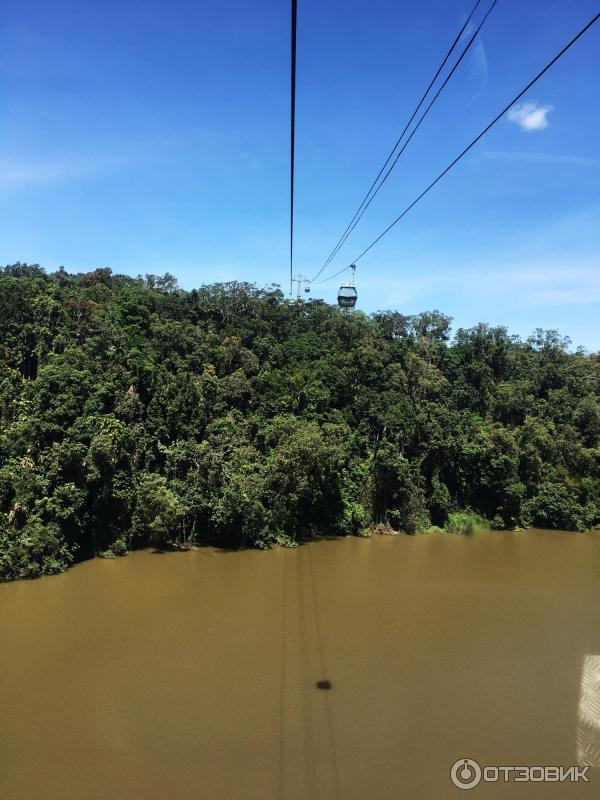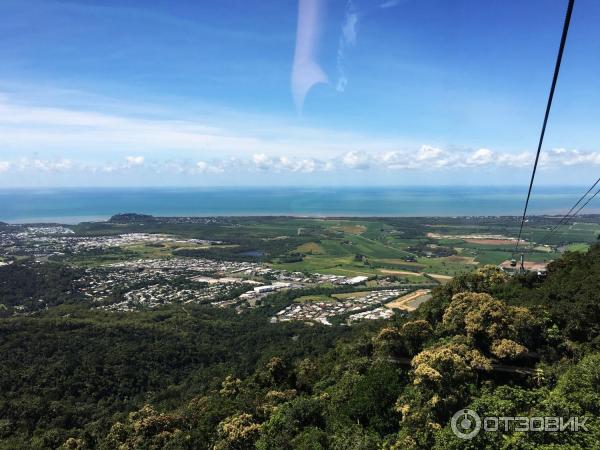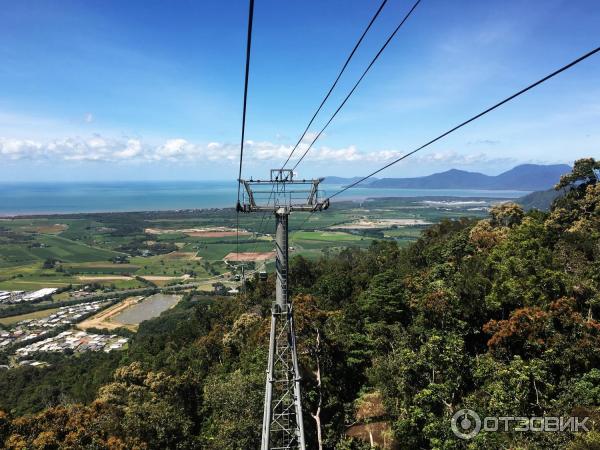 A little further along in the review are pictures I took at Hartley's Crocodile Adventures Wildlife Park, which is about 30 minutes from Cairns. I went to this park mostly for the crocodiles, but the park not only features them, but also other Australian birds and animals, including koalas and cockatoos. It's not a zoo, it's a wildlife park. There are special shows for the public, and the shows are very informative, interesting and funny, enjoyed by adults and children alike.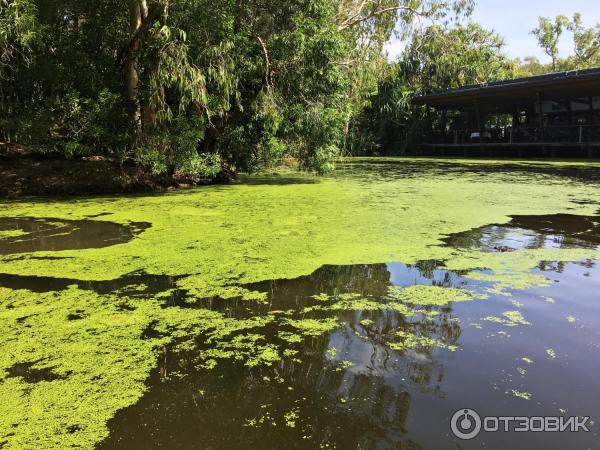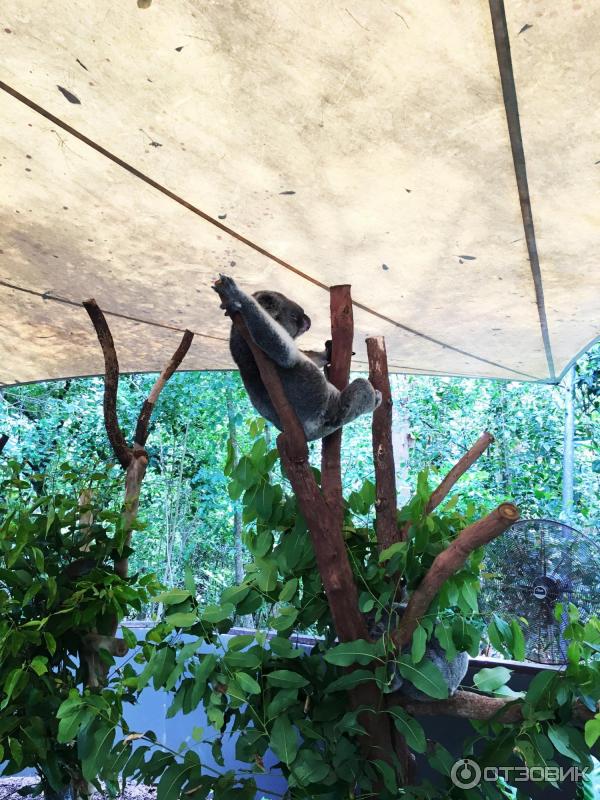 Why crocodiles? Because it's the tropics. There are crocodiles in the tropics of Australia, it's downright iconic. But few people would want to encounter a crocodile in the wild – or, for example, on a beach where they are found. So many tourists avoid beaches, and go to wildlife parks to meet crocs, as I did. Cairns is one of the best towns in this regard.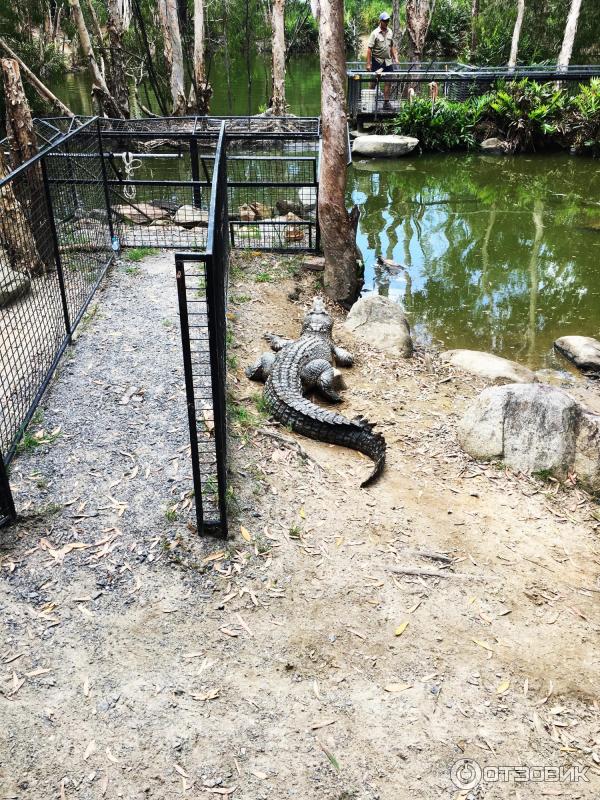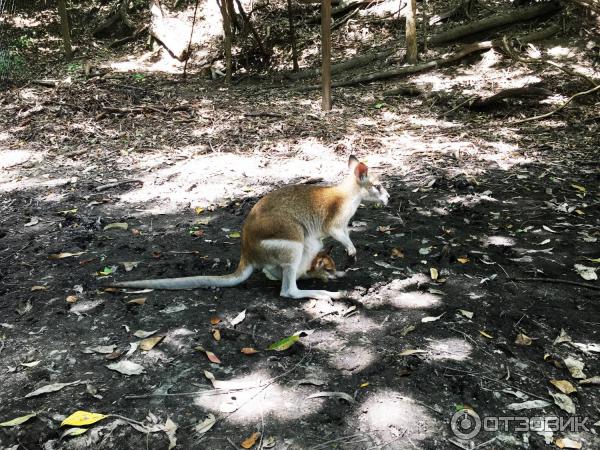 We've talked about the sights outside of Cairns, now let's see what the city itself delights us with. I love museums and art galleries, I don't usually miss them. In Cairns, I've only had a chance to visit the city's art gallery, which you can see pictures of in the collage below. It is not the only museum in town, but the only place that I personally encountered. There is a separate review about the gallery.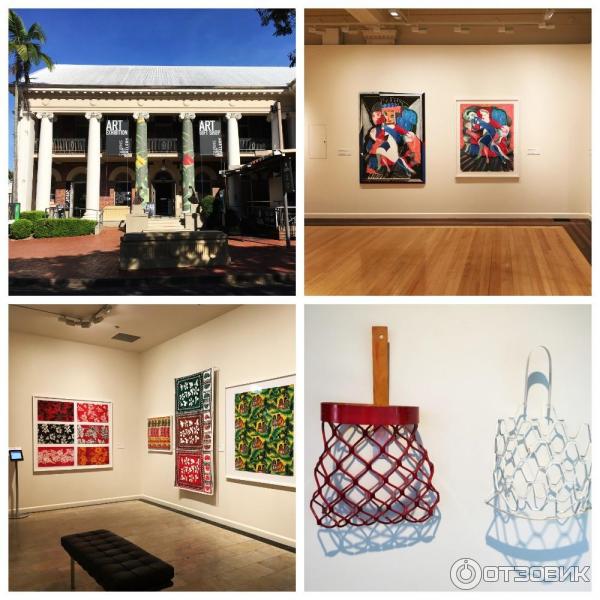 Another attraction is the night market, which is called the Night Markets. It is located in the center of Kearns, it is easy to get here (the city is small). I can not say that the night market made a lasting impression on me, but here I bought some souvenirs, which I was very pleased.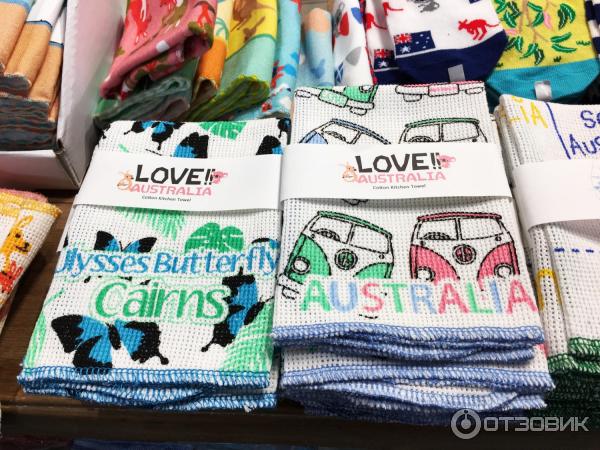 Like many other cities in Australia, every beach in Cairns is a special natural attraction. I've prepared photos for you of several different beaches, including Holloway Beach. The only problem here is this: if there are no lifeguards, you can't swim. In the tropical waters off the coast of Cairns, there are all sorts of marine life that people should not encounter. So the rule is simple:
– You can only swim where there are lifeguards.
In Kearns, this is out of the question.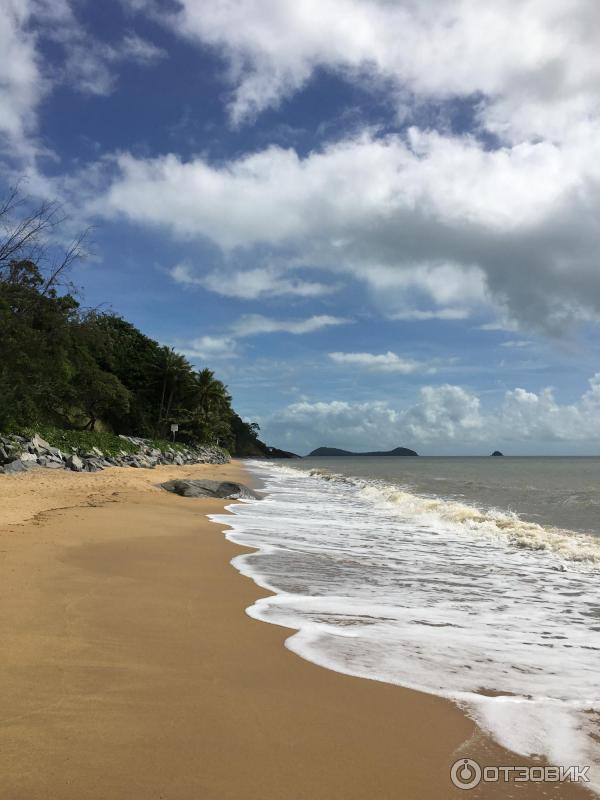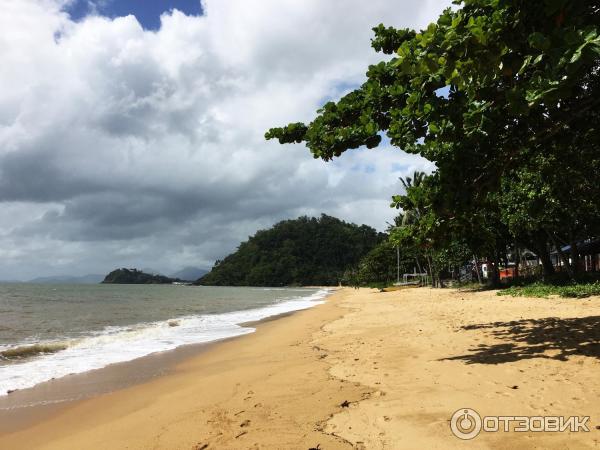 What difference does it make whether there are lifeguards or not, they won't protect you from jellyfish, will they? – Someone will ask me.
It's not a question of whether lifeguards will protect you from jellyfish. It's about whether the beach has a special swimming pool that won't let sharks or crocodiles or jellyfish in. There are usually lifeguards sitting near such mesh pools.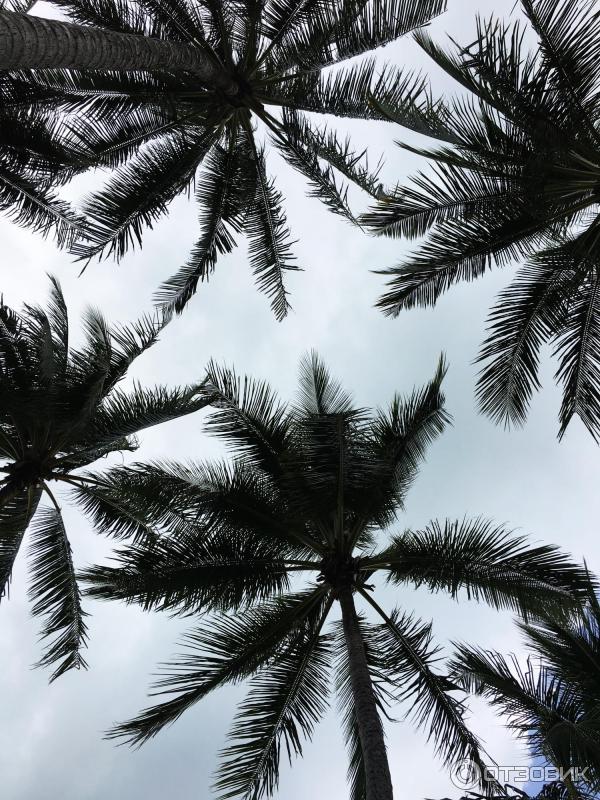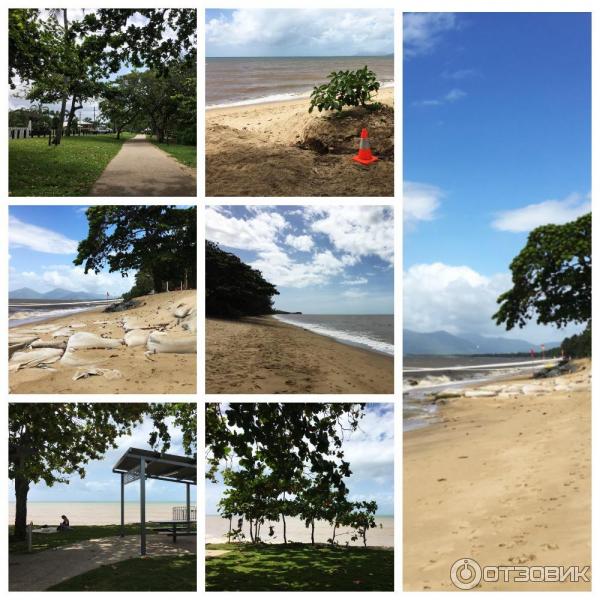 If you are still scared, if even a mesh pool and lifeguards don't reassure you, there is another option – right in downtown Kearns there is a free public beach pool. It's exactly the kind of pool people created. It's right in the middle of nowhere. And you don't have to pay to get in. Come here then, there are 100% no sharks or crocodiles, just kids.
We've talked about the main city attractions. Now I would like to show you some pictures of the city itself.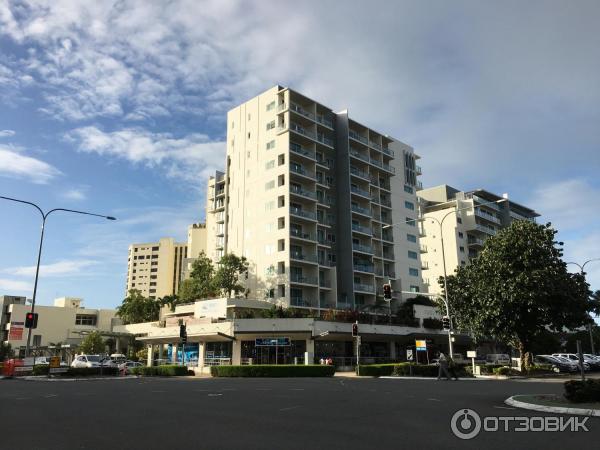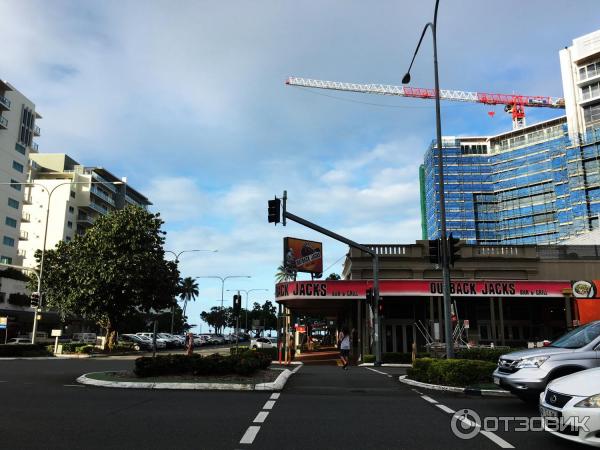 As a city I personally did not like Cairns very much – old, ramshackle buildings even in the city center, no high-rise buildings, no atmosphere in the city either. I liked all the sights individually, I liked the parks and the decorations, everything I saw, but as a city I was not impressed with Cairns.
But it has amazing vegetation, flora and fauna – there are even more bats than Sydney.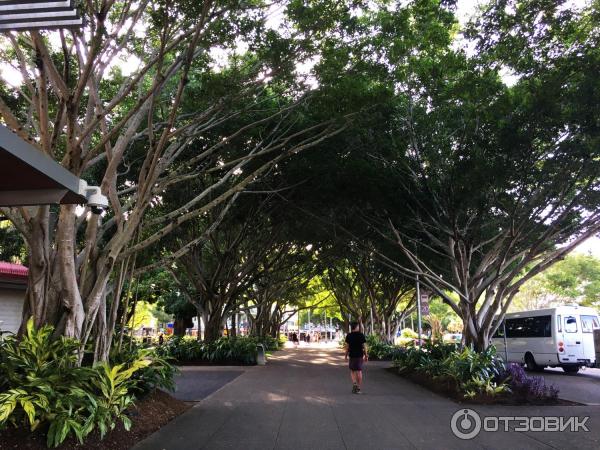 The city is decorated with graffiti like that: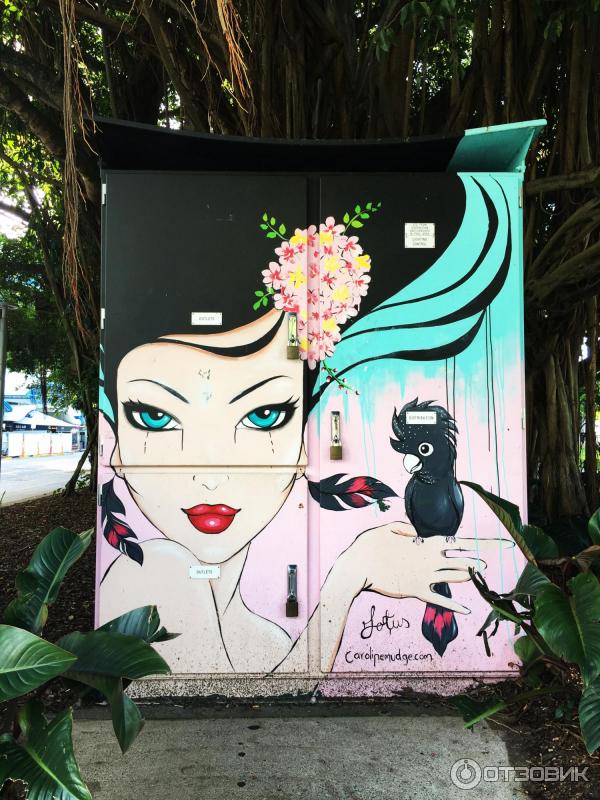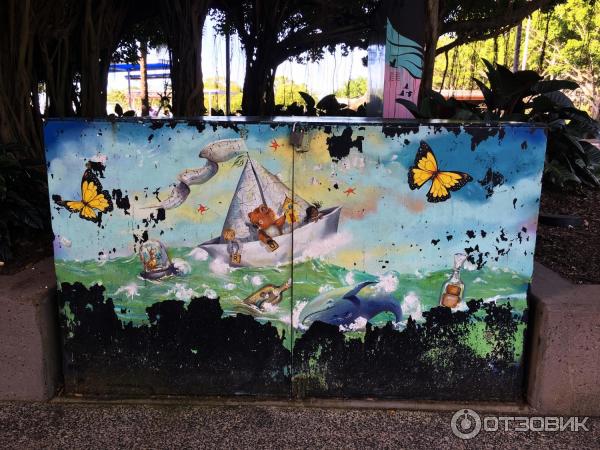 There are a lot of stores in the center that are related in one way or another to Aboriginal art and customs (there are quite a few of them in Cairns in general):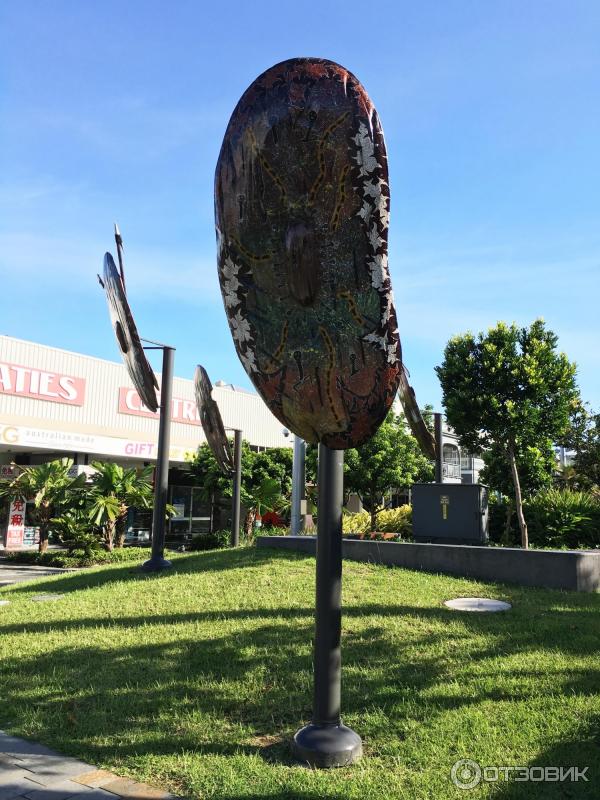 What I liked was the presence of statues and sculptures in downtown Kearns and its parks/scapes, and this is where the largest concentration of Aboriginal art is. Personally, I liked it a lot.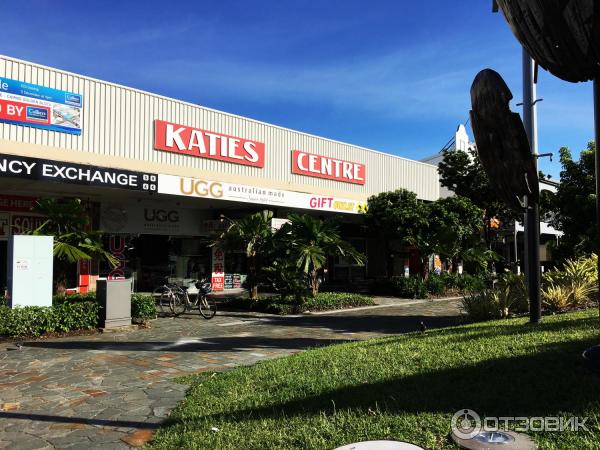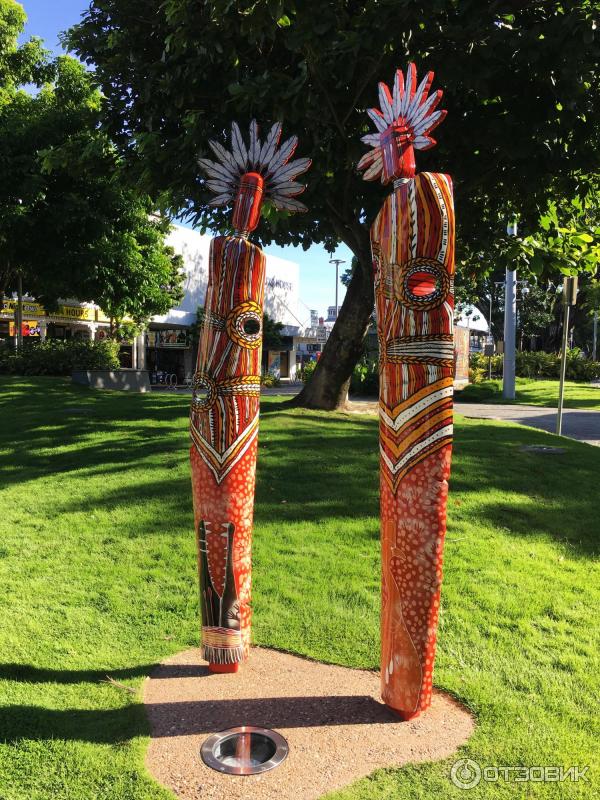 The town itself is clean and neat, only the shabby, boring, ugly buildings spoil the whole picture. Cairns has a lot of parks where you can relax:
And there are some extremely funny benches and benches, like the one pictured above. The photo below is one of the hostels in Kearns: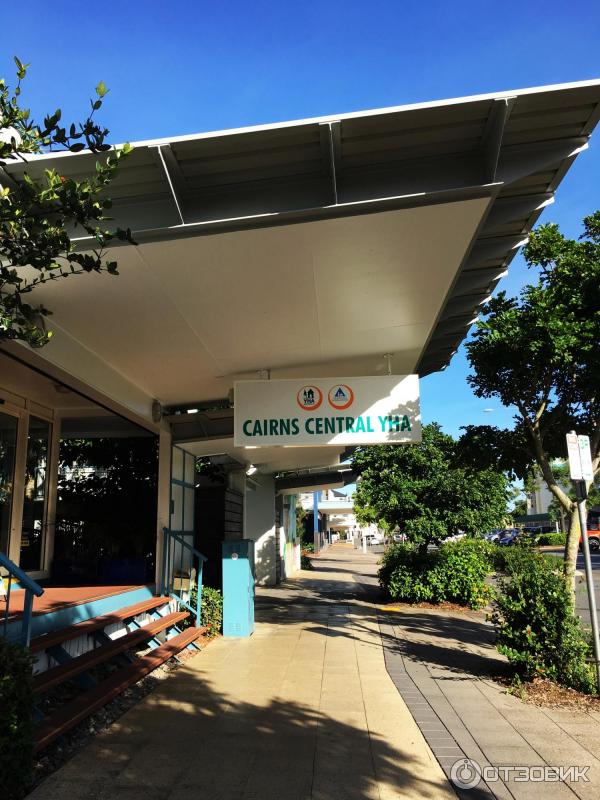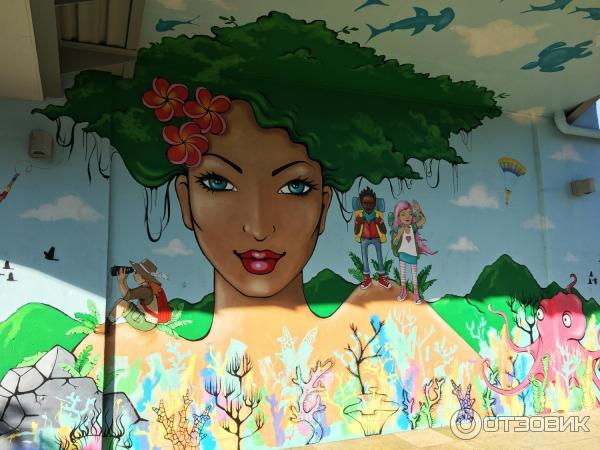 There's also a large aquarium in Cairns, but I couldn't go there – the high ticket price stopped me, and I was already well spent on a trip to Kuranda. But maybe you have enough money: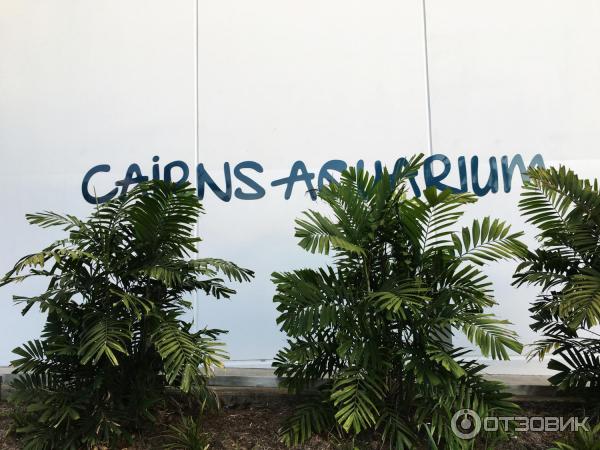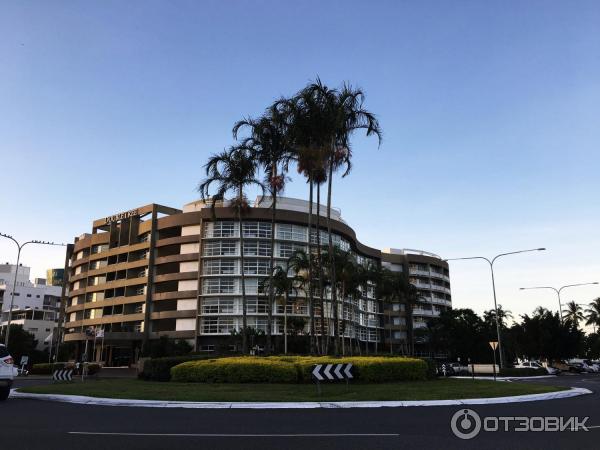 There are no particularly interesting stores in Cairns. I've explored the main shopping alley downtown, visited the Stockland Cairns mall on the outskirts of town, but nothing special in terms of shopping there.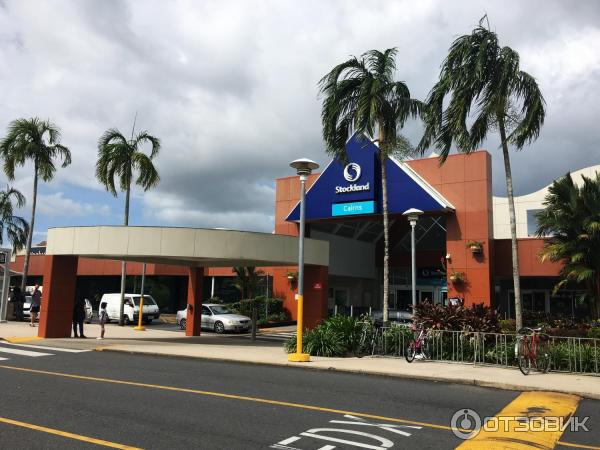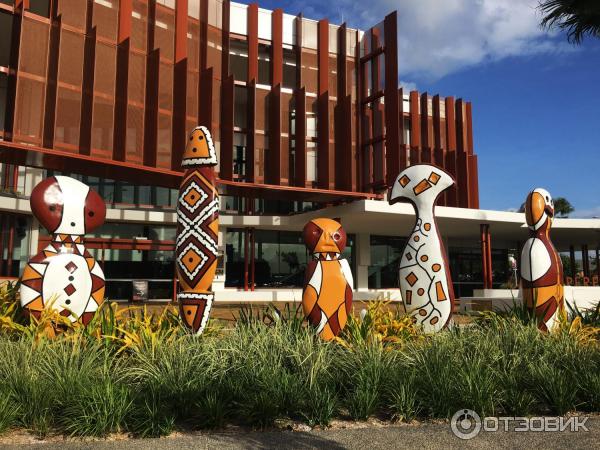 Now we come to one of the main parts of my review. Cairns is not just a city on the coast of Australia. It is one of the main ports from which you can get to the Great Barrier Reef. It was from Cairns that I went to the reef for the first time in my life. We booked a one day excursion, departed from Reef Fleet Terminal, and returned there late in the evening. It was really worth it: we had a lot of time for snorkeling, the reef was amazingly beautiful, we didn't even want to swim back to town).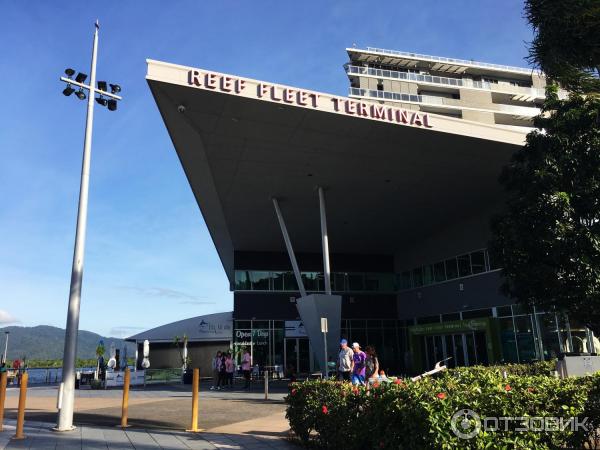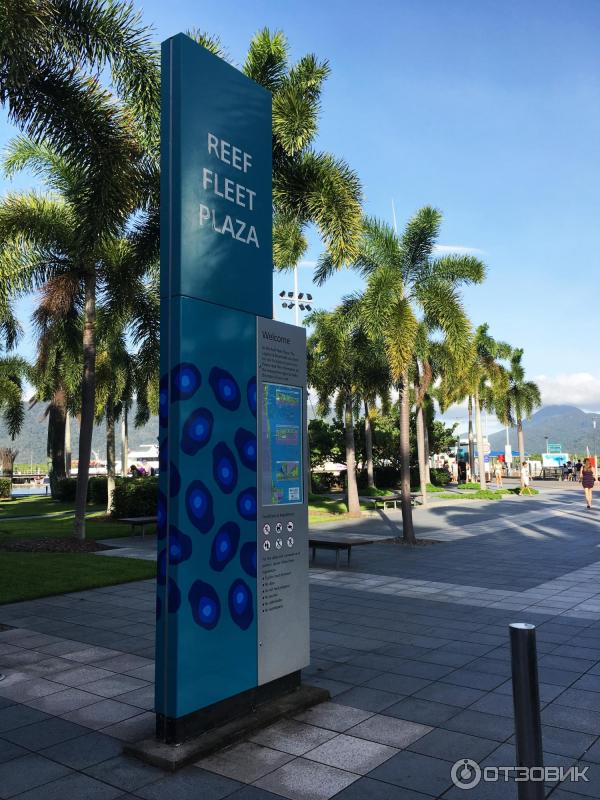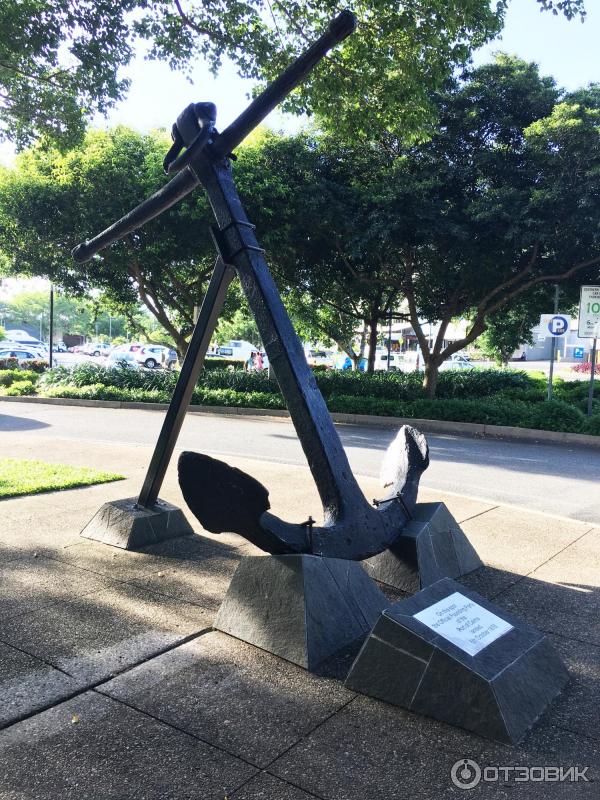 In the pictures below is the reef itself, though it's underwater.)) But even in the pictures you can see the reef as it changes the color of the water a little bit: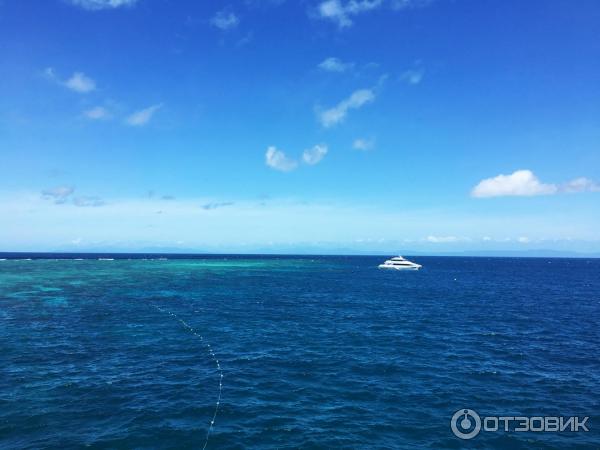 The next photo was taken from a "submarine" that we bought admission to separately – we were given a little tour of the reef, which we viewed from the window of the submarine. Honestly, I would have rather spent that time in the water. I regretted buying this excursion. Snorkeling is so much better.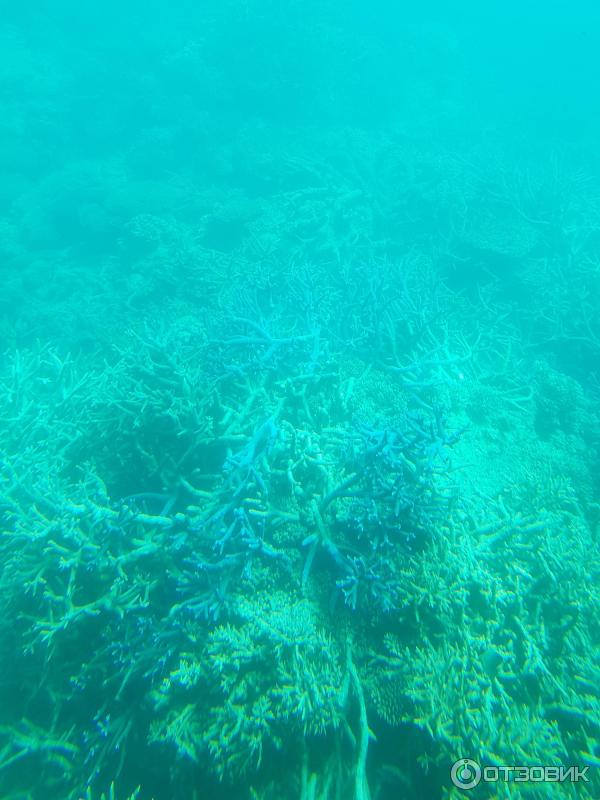 I want to end my review with food in Kearns. I have been to several different restaurants and cafes in the city, but to be honest, I have positive emotions exclusively from Devine Gelato ice cream shop in the center of the city (the last picture in the review). The ice cream is insanely delicious, not very expensive, and the range is wide. If I go back to Cairns, the first thing I'll do is go for ice cream at Devine Gelato. The other restaurants and cafes weren't really to my liking.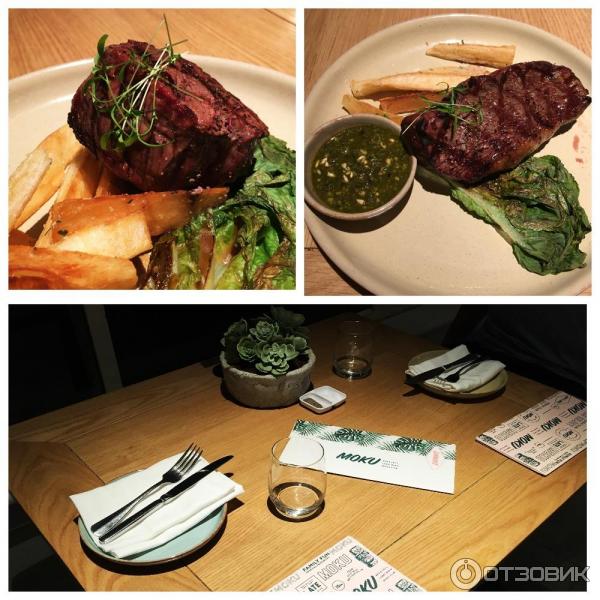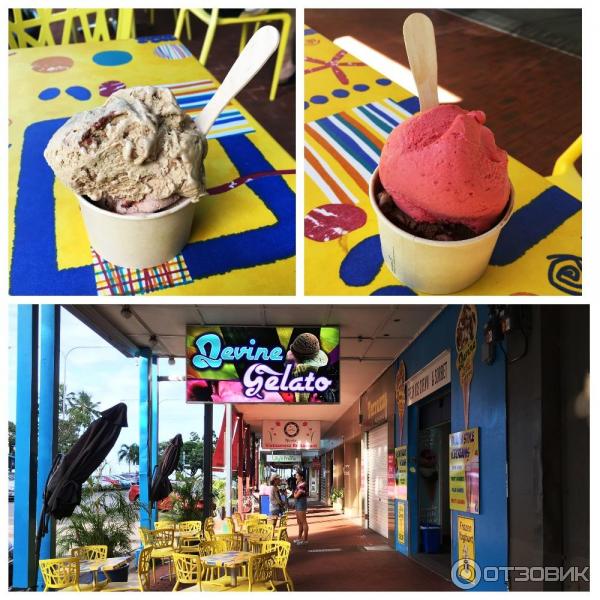 If you're planning a trip to Queensland Australia and want to experience the Great Barrier Reef, Kearns is the place to stay. Although the town itself isn't very pretty, there are a huge number of amazing sights here, including a train ride through the rainforest, a cable car over the rainforest, endless tropical beaches – with crocs, right – and the cozy village of Kuranda. I loved it in Cairns, so – yes, I recommend it. Thanks for your attention and more travels soon!