Peculiarities of Spanish cuisine
If you have already been to Spain, you will certainly agree that traveling in this country is incredibly fascinating and interesting. Your tourist trip was filled with visiting countless museums, significant historical places, getting acquainted with the monuments and architecture of the country. And for sure, you have included Spanish national cuisine in your list of attractions in Spain from the first days of your stay in this country.
The basics of Spanish cuisine
Spain belongs to the Mediterranean countries, for this reason many believe that it is based on a "Mediterranean diet" consisting of vegetables, fruits, rice, cereals, greens and, of course, seafood. But the reality is that meat dishes predominate on the Spanish table. Their typical representative in traditional Spanish cuisine is ham ham, which is so beloved by the Russians.
All in all, the national cuisine of Spain incorporates ancient Roman and Moorish traditions with elements of French and even African cuisine.
The basis of the traditional Spanish cuisine consists of herbs, sweet bell pepper, onion, garlic, sage, and, so typical for the Mediterranean region, olive oil. Basic cooking techniques include grilling, stewing in wine, and baking with sheep's cheese.
Regional Culinary Traditions
Despite the fact that the general attributes of the cuisine for all regions of Spain are the same, yet each region (and there are seventeen – where to go on vacation in Spain, decide for yourself) has its own culinary traditions and stands out for some of its dishes. By the way, one of the dishes of Spanish cuisine (which, no doubt, is associated with this country for anyone who is even slightly familiar with its traditional dishes) – paella – has about three hundred different recipes for its preparation!
The North Atlantic coast of Spain is famous for its exquisite sauces and interesting soups. Cantabrian cuisine delights travelers with dishes from sardines, trout, malsusk, as well as "Santander-style rice" (a dish of rice and salmon). Asturian cuisine is famous for its thick white bean soup with ham and sausage ("Fabada"). The Basque cuisine combines the traditions of French and Spanish cuisine, it is considered the most exquisite in Spain. You will definitely want to try the glass eel fried with chili peppers and garlic (Angulas) or sea snails (Karakelas). You will definitely find chili sauce made of tomatoes, onions and peppers in Aragon dishes, but in Rijas and Navarre you will have to try vegetable sauces and side dishes. Pork shanks with rutabaga leaves, merlan fish stewed in a clay pot, and boiled octopus are all representative of Galician cuisine.
The basis of the Catalan cuisine are sauces. There are four main sauces: picada (garlic, fried almonds and herbs), sofrito (onion, garlic, tomatoes, peppers, herbs), samfiana (peppers, eggplant, tomatoes) and ali-oli (garlic and olive oil). Vivid representatives of Catalan cuisine are also: stew of pork shanks and pork head, sea devil ear, fried pork sausages with white beans in boiling pork fat.
Andalusia is famous for its olive oil and deep-fried dishes. Murcian cuisine is unthinkable without the hearty cosquido, Murcian meat pie and various rice dishes.
Extremadura and Castile are considered a "roast zone". Try roast lamb in Burgos and Soria and roast suckling pig in Segovia. You're sure to be dazzled by Salamanca's delicacy of braised veal tail. Cuisine of Madrid is famous for cocido – thick pea soup and rube with blood sausage morsilla. Cheese lovers should head to La Mancha. But for marzipan, go to Toledo.
The ritual of tapas
It is impossible to imagine the Spanish cuisine without tapas – snacks, which are necessarily served with beer and wine.
There are two versions of the origin of this tradition. According to the first, it is thought to have originated in one of the bars of Seville, where a glass was covered with a piece of ham, which at first was served for free, but as a variety of new snacks appeared – for a fee. According to another version, glasses of beer and wine were covered with small plates from pesky flies, which over time began to be piled with various delicacies, mostly spicy, to make drinkers want to reorder. Anyway, the Spaniards clearly do not intend to give up such a pleasant tradition – to devour hot drinks together with tapas.
Among the favorite appetizers are olives – ordinary or stuffed with tuna, lemon or almonds. Also in tapas bars you'll find a variety of sandwiches, such as calamari. Popular with Spaniards as appetizers and fried shrimp, calamari, jamon, potato tortilla, pickled pork, cheeses.
Spaniards also include pies filled with fish, meat or vegetables as tapas. Of course, each region has its own ways of cooking. For example, on the Balearic Islands an open pie resembling a bird, stuffed with tuna, sausage or sardines is popular. But the "humble" Catalans stuff their pies with lobster meat.
Salads in Spain
As in many other countries, a meal with the Spaniards begins with salads. They are prepared with cooked or fresh vegetables, beans and seafood. As a rule they are dressed with olive oil (sometimes with diluted vinegar).
One of the most popular is the seafood salad. Shrimp, pieces of boiled squid, mussels and other "sea ingredients" are the "backbone" of this dish, but its composition may vary depending on the region and time of year. You can also sometimes find capers or mushrooms in a sea salad.
The Spanish could not do without a salad consisting of their favorite ingredients – tomatoes and garlic. They are sprinkled with herbs and dressed with olive oil. And it has a very original name – "tomatoes with garlic".
An exquisite and unusual taste has Malaga salad, which includes dried cod, olives, orange slices and onions.
Traditional Spanish dishes also include remichon, which also has orange slices in its composition.
First courses – not by count, but by value
A light salad is usually followed by soup. The most famous Spanish soup is the Andalusian gazpacho. This is a cold vegetable soup, which is prepared without heat treatment, and sometimes even served with ice cubes. It's very simple to prepare: you soak the bread in cold water, mix it with tomatoes, chopped garlic, olive oil and other spices, and it's ready.
Another cold cream soup, called ahoblanco, doesn't have tomatoes in it.
Rice is the head of everything
Special attention should be paid to Spanish dishes made with rice. At the beginning of the article we already mentioned paella, and that there are a huge number of recipes for its preparation. The classic paella includes 6-7 kinds of seafood and fish, chicken, herbs, spices and white wine. In some regions of Spain paella is prepared with beans.
Rice is also cooked with various vegetables (tomatoes, artichokes, and beans), with tuna, and black rice is cooked with cuttlefish ink.
Meat dishes
The most famous meat dish in Spain is jamon. This is a raw ham, which is the basis of the Iberian cuisine. Jamon is famous not only for its taste, but also for the fact that this dish has no cholesterol. To prepare it takes a ham (by the way, the Spaniards believe that the meat will be good if you feed the pig to acorns), salted, dried and dried in strictly defined conditions. This traditional Spanish dish can be found in almost any restaurant or bar.
In Spain, there are two basic types of jamon – Serrano and Iberico. They differ in the way they are prepared, as well as the breed of pigs and their "diet". They can be distinguished by the color of the hoof – Iberico is black and Serrano is white.
Sausages are also popular in Spain. One of the most beloved kinds is blood sausage morsilla. There are different recipes in different regions of Spain, but the most famous is the morsilla from Burgos. It is also popular smoked pork sausage with the addition of garlic and paprika. It is called chorizo. And in Mallorca they like a sausage made of dried minced pork.
As for poultry, in Spain the chicken is very popular. In Spain there are dozens of original recipes for its preparation. The chicken is roasted on a rack or spit, stewed in cider or sherry, stuffed with seafood and vegetables, baked, etc. Among the variety of recipes chicken stands out: in sherry, stewed with vegetables in wine sauce, in tomato sauce and in chilindron sauce.
In Galicia, they love the meat of the fattened castrated rooster, the capon. Its meat is considered more tender than chicken. Be sure to try capon stuffed with chestnuts or oysters.
In Navarre, on the other hand, duck is their favorite (probably influenced by the neighborhood with France). Traditional duck dishes in the area include duck pâté, duck liver in plum sauce, and smoked duck thighs.
Desserts and sweets
You certainly won't find your favourite Belgian delicacies here, but that doesn't mean that the Spaniards have nothing to offer for dessert. On the contrary, judging by the amount of sweets in traditional Spanish cuisine, the inhabitants of the country have a real sweet tooth.
Tourists love to buy as sweet souvenirs of turrón and polvorona. Both of these desserts were once prepared for Christmas, but because of the popularity they enjoy among tourists, they began to be produced year-round. Turrón is a nougat with nuts. The Spaniards inherited the secret of its production from the ancient Arabs, now in addition to the traditional ingredients (honey, nuts and egg white), airy rice, chocolate and dried fruits are used in making it. Polvorones are crumbly cookies, the name of which, incidentally, translates to "powder, dust." They contain roasted almonds, ground sesame seeds, and cinnamon, and are cooked solely in pork fat.
The same popular with Spaniards are various creams (for example, Catalan or almond cream) and puddings (Canary milk pudding, rice pudding).
The Avila area is famous for its special dessert, the yolks of St. Teresa. In Galicia, they love sugar-coated chestnuts and meringue with coconut.
Spain doesn't have a cheese championship (which is among the most unusual championships in the world) and rarely uses cheese in elaborate dishes, but that doesn't mean cheeses aren't popular in the country. It's just that they tend to serve it sliced or with slices of bread.
Each region of Spain has its own type of cheese. So, in Galicia it is tetilla of cow's milk, in Basque region – idiasabal, which is made from sheep's milk and smoked on beech coals, in Castile they also make sheep's milk cheese, and it is called "Manchego", in Catalonia they prefer cheese made from goat's milk, etc.
But perhaps the most famous type of cheese is Cabrales with blue mold. Once upon a time for its preparation the cheese was covered with animal excrement and wrapped in maple leaves, but today cheese makers have abandoned this extreme tradition.
Traditional drinks in Spain
The most consumed drink in Spain is, of course, wine. In 2011, it became the third largest wine producing country in the world, and the first by vineyard area. There are about 90 varieties of grapes grown in 60 wine regions. Spanish wines are appreciated all over the world.
The most famous alcoholic beverages are sherry and sangria. Sherry is fortified wine, which is made from three varieties of grapes. Sangria is made from dry red wine with the addition of spices and various fruits.
Cider, beer, various liqueurs and aguardiente (the strongest drink in Spain) are also very popular among alcoholic drinks.
Among the traditional non-alcoholic drinks is orchata, a drink made from ground and almond nuts, which has a peculiar sweetish flavor. And, of course, Spaniards appreciate a good variety of coffee and tea.
Top 10 Spanish dishes
Yes, Spanish cuisine is incredibly diverse, and it is simply impossible to try all the dishes presented on it. We've made a selection of dishes that every tourist who gets to Spain must try.
Top 10 recipes of Spanish cuisine:
Paella – a dish of rice with various fillings (such as rabbit and seafood)
Jamon – uncooked pork ham
Tapas – different appetizers
Gazpacho – cold soup
Chorizo – dried pork sausage with paprika
Zarzuela – seafood platter under fish broth
Malaga salad
Crema Catalana – sweet soufflé under caramel
Seafood salpicon
Churros – a dessert that tastes like donuts
And as a bonus, I give you a couple of recipes for traditional Spanish cuisine.
Classic gazpacho.
To make it you will need:
450 grams of tomatoes.
1 head of onion
1 cucumber
1 tinned pepper
Half a cup of coriander or coriander
0.3 cup wine red vinegar
1.4/ cup olive oil
Tabasco sauce (to be added to taste)
Chop half of the tomatoes, cucumber and onion into small pieces. In a food processor, puree half of the tomatoes and cucumbers, add the red peppers. Then transfer the mixture to a bowl and add the tomato juice, chopped coriander, vinegar, a few drops of Tabasco and olive oil. Stir to combine. Remove the seeds from the remaining tomatoes and cut them into small cubes. Also chop the cucumber and onion. Add it all to the soup. Season with salt and pepper and leave in the fridge for a while before serving.
Spanish style Dorada
This fish is very appreciated in Spain for its delicate taste. To prepare the dish we need:
1 kg of dorado
6 potatoes
1 head of onion
10 tbsp. olive oil
3 garlic cloves
Parsley
0.5 tsp. saffron
0.5 chili pepper
2 lemons
Salt – to taste
Clean and gut the fish. While the fish is drying out, prepare a marinade for it: in a blender, mix parsley, garlic, 5 tablespoons of olive oil, 4 tablespoons of water. In a half of obtained mixture we add the juice of 1 lemon. Then mix it. Then let salt and pepper the fish and pour the marinade on it.
In the remaining mass of parsley and garlic add salt, mashed saffron leaves and 3 tablespoons of water – and here we have already prepared a marinade for vegetables. Then we cut potatoes into 0.4-cm slices and onions into 0.2-cm rings. Mix the cut vegetables with marinade and put them on a greased baking tray (or other dishes). Place in the oven heated to 180°C for 20 minutes. Then put the dorado on top of the vegetables. Drizzle it with olive oil. And put the rest of the lemon on top. Cook for 15-20 minutes more. Make sure the fish gets juicy. Then take the fish out of the oven and sprinkle it with thin strips of lemon zest and chili pepper.
Traditional Spanish Cuisine – What to Eat in Spain
National dishes are one of the most colorful features of the Kingdom of Spain. Spanish cuisine does not seem traditional to the foreign traveler and it is not surprising that gastronomic tourism is widespread in this country.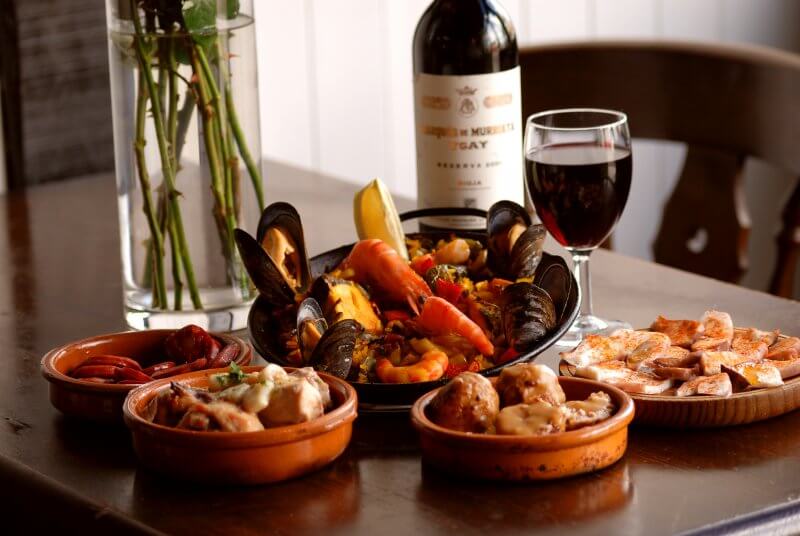 Peculiarities of Spanish cuisine
The national dishes of Spanish cuisine are characterized by a rich set of ingredients, but simple at the same time. The main components that have been used for centuries are garlic, onions, spices, lots of herbs, and olive oil. As for the cooking methods, they are mainly fried, baked or stewed.
It would be wrong, however, to consider the dishes of Spanish cuisine as something uniform, because in Spain the culinary traditions have been formed in different regions, taking into account the climatic conditions and customs. Therefore the traditional Spanish cuisine is unique and varied. The culinary national traditions were influenced by the Greeks and Romans, Moors and Arabs, Italians, historical aspects and climatic features.
Spaniards love and know how to cook fish and seafood, but in regions with an original Spanish character there are many meat dishes. By the way, traditional Spanish dishes, taking into account their belonging to the Mediterranean cuisine, are healthy. Spaniards use mostly rice, vegetables and fish. The only thing to keep in mind is that Spaniards are very fond of garlic and add it to many unsweetened dishes. So, what kind of dishes are prepared in Spain?
Tapas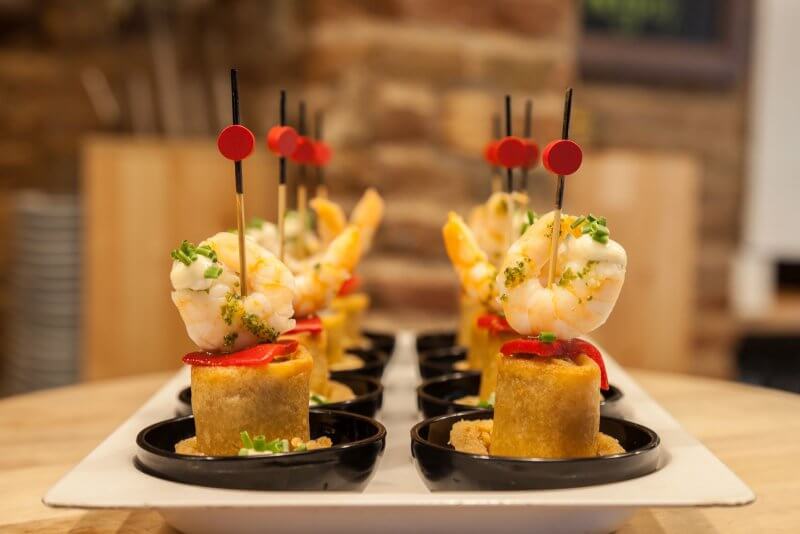 We can say with absolute certainty that Spanish national tapas dish is as delicious as pizza or pasta, but the mystery is why this snack has not become as popular in the world. Tapas is a small sandwiches, they are served hot and cold. There is an incredible diversity of ways to decorate and serve this dish: sandwiches in many layers, on slices of baguette or on toast, in sockets of unsweetened dough, in tartlets or on toothpicks with pieces of meat, seafood, vegetables, tubes with a variety of fillings.
Interesting fact! According to one version, this national dish appeared in the 13th century, when the reigning monarch issued a decree to serve spirits only with appetizers. After that, slices of bread began to be placed on the mugs with drinks, so the name translates as "lid".
While in the 13th century tapas consisted of only one bread, today it is a multi-component dish costing from 1 to 3 euros per serving. Tapas bars are widespread in the country and are open until late at night. For locals visiting such institutions is a special ritual, because in each bar you can try the author's recipes for snacks. The principle of service in tapas bars is as follows: stand at the bar, ask the bartender for a plate and fill it to your liking, moving along the bar.
Tip! Look at the plates next to each other and remember which tapas you are going to try next time.
Paella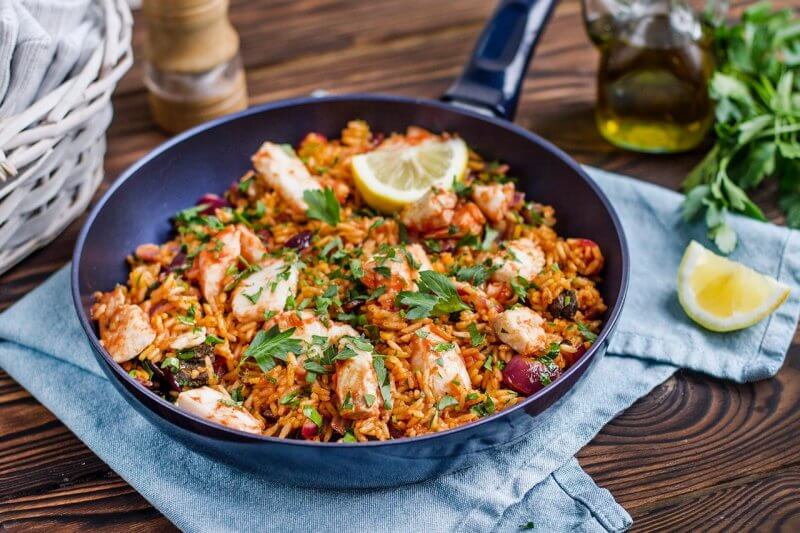 The list of popular Spanish dishes, of course, includes paella, which remotely resembles an Uzbek pilaf, since the main ingredient is rice with a bouquet of spices. It is believed that the traditional recipe first appeared in Valencia and was invented by the servants of the Moorish monarchs, who collected leftovers from feasts and added them to rice. That's why the name paella in Arabic means "leftovers". Another legend has it that a fisherman waiting for his wife would prepare a meal for her from the food he found in the pantry. According to this version, the name paella translates to "for her".
The main fiddle of this national dish is rice. It is chosen and cooked according to a specific technique, which tourists are not told. It is believed that the rice for paella can choose and cook only true Spaniards. Apart from rice, the spices are important, and in this dish it is saffron and gnora. It is impossible to cook high-quality and delicious paella without choosing the right broth, which is used depending on the additions to the rice – meat, fish or vegetables.
If we talk about the traditional, classic recipe for paella, seafood is added to the rice. Although today in the land of bullfighting one can taste avant-garde versions of paella, for example, with rabbit or shrimp.
Tortilla and potatoes
What's for breakfast in Spain? It's high time to order a tortilla. Simply put, it's an omelette fried with potatoes, a dish simple to prepare, quite hearty. Tortilla has retained the traditional recipe to this day.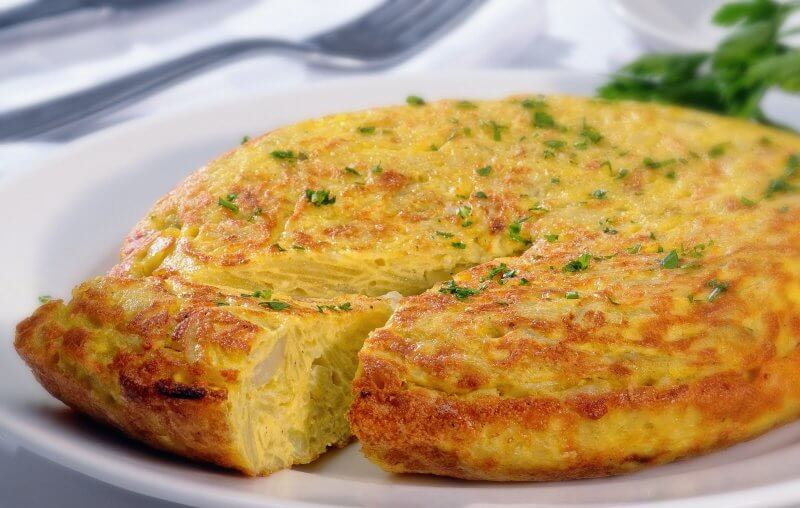 While the interpretation of the name is clear – it comes from a round shape, like a little cake, there's a lot of uncertainty about the origins of the tortilla. For the first time a similar treat appeared in the 15th century, but at that time the potato had not yet been discovered on the European continent, so the classic tortilla appeared only when Columbus brought potatoes from his expedition to America. The dish, in its classic version, did not appear until the early 19th century.
According to another version, General Thomas de Zumalazarregui invented the tortilla during the siege of Bilbao in order to feed a whole army quickly and nourishingly. There is another legend, according to which the dish was invented by chef Theodore Bardaggi Mas.
Interesting fact! In the late 19th century, the recipe for tortilla was listed on the menu of a Spanish restaurant that took part in the Paris International Exposition.
Gazpacho
What do you eat in Spain in hot weather? Agree, only the inhabitants of sultry Andalusia could come up with a dish that simultaneously replaced soup and refreshments. Gazpacho is a cold tomato soup made from grated vegetables, which perfectly saves from the heat. It is believed that this soup recipe is already modernized and augmented with some products. Originally, gazpacho was made with stale bread, olive oil, garlic and spices.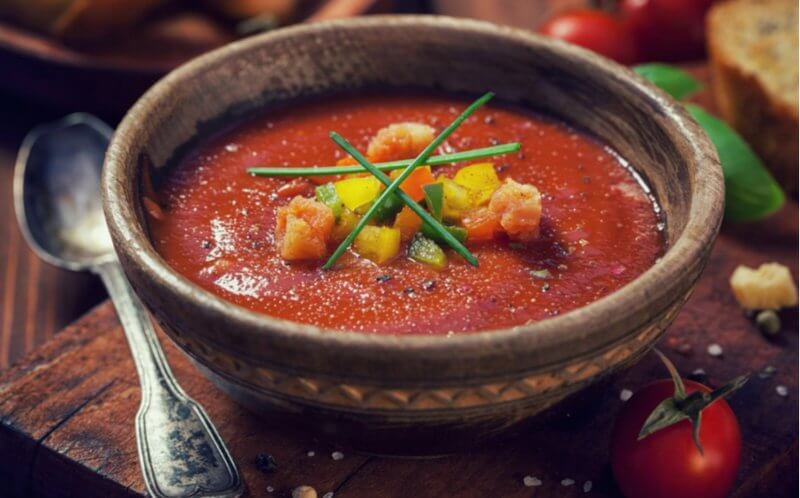 Today in the national cuisine there are a huge number of recipes for gazpacho. In the soup are added almonds grinded with water, the dish is called Ahoblanco. Also the recipe may include cucumbers, apples, anchovies and grapes.
Good to know! Traditional tomato gazpacho should be spicy, and apple or wine vinegar is sure to be added. If desired, it can be replaced with lemon juice.
Also, along with tomatoes, grated red pepper, a lot of greens, broth and olive oil are added to the soup. Before serving, it is infused in the refrigerator.
Olla Podrida
What to try in Spain from the food during the cold season? Olla podrida is a dish common in Galicia, as well as Castile, made of stewed vegetables and meat. Olla podrida has been known in traditional Spanish cuisine since the time of the Crusaders, its name meaning "mighty", because only wealthy people could afford such a treat because of the large amount of meat. Then, as a result of changes in spelling, the letter e was removed from the name, and a mishap occurred with the name – in translation it began to mean spoiled or rotten. The name is unsightly, but olla podrida is one of the Spaniards' favorite dishes. Just before serving, the dish is divided into two parts – chowder, meat. It is supplemented with egg tortillas. The dish is cooked from beans, carrots and tomatoes, onions, pork shanks and tails, ribs and ears, bacon, add garlic and sausage.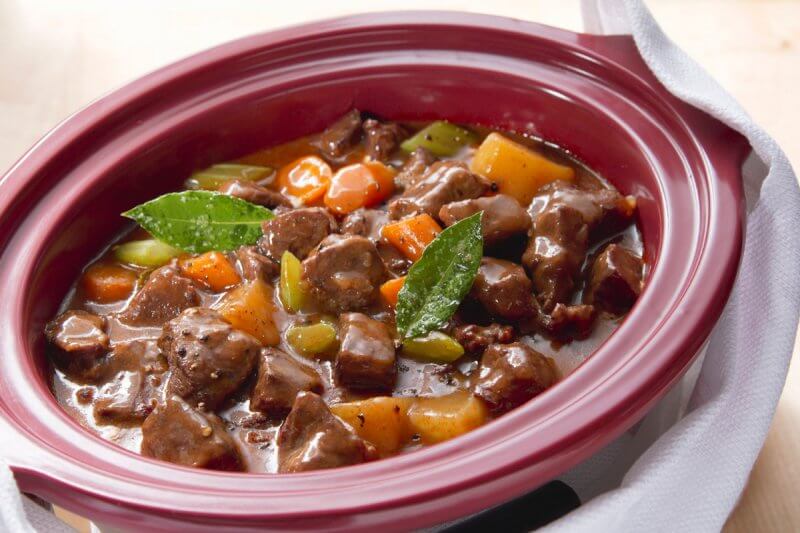 For tortillas, beat eggs, add breadcrumbs, salt, herbs, spices. Fry mixture on griddle, cut into portions.
Fish in Spain
The fish world off the Spanish coast is so diverse that the country is second only to Japan in the number of fish per capita. This diversity is reflected in the national cuisine. Experienced tourists recommend choosing predatory species. List all the different kinds of fish that are present in Spain, we can go on forever: tuna, red mullet, perch and pikeperch, sole and flounder, turbot and hake, monkfish and dorado. By the way, the Spaniards have invented a special recipe for sea bass – it is baked in a shell of salt.
The country has relatively strict laws governing the catch of predatory fish, as its number decreases every year.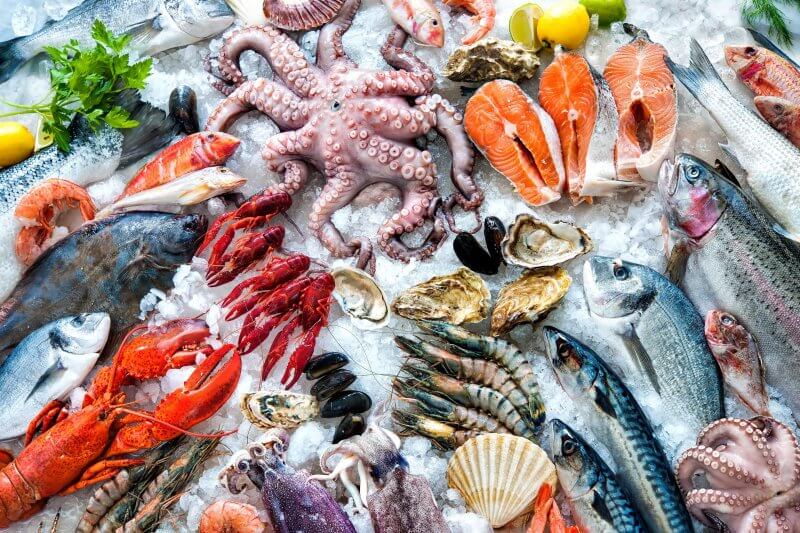 Be careful if you are offered a special kind of fish and be sure to ask about its cost as at the end of dinner you may be faced with an unpleasant surprise in the form of a cosmic check.
Restaurants and cafes offer mostly farm-raised predatory fish. Despite the fact that the name of the fish is as predatory, in terms of taste it is inferior to the real sea inhabitants.
As for freshwater fish, you can get it in two ways – catch it yourself or buy it. By the way, perhaps only in this country there is a special culture of consumption of trout. That trout in the Spanish stores is always there. The best in terms of taste is considered a trout caught in the region of Navarra, as well as in the mountain areas.
But the recipes for the preparation of fish in the traditional cuisine are as simple as possible – baked in the oven or on a grill, and also fried in olive oil. In some coastal regions add garlic, salt, parsley, and sometimes even abuse these spices.
The fattier the fish species, the stronger and richer the wine, but for light fish dishes and seafood choose floral, sweetish wines.
Seafood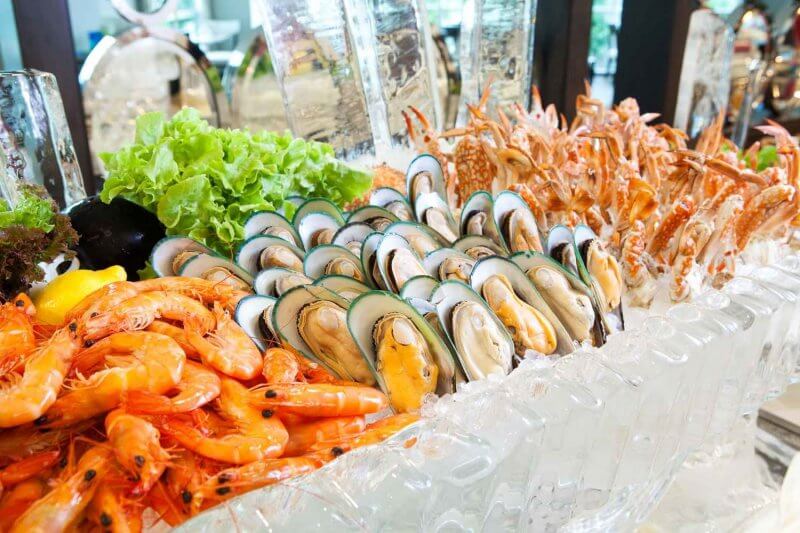 Seafood is an integral part of the national Spanish cuisine. Shrimp, oysters and mussels are perfectly prepared here. Seafood can be found in almost every traditional dish. The Spaniards themselves say they have a love affair with seafood. Not a single national Spanish holiday is without lobster.
Interesting fact! Even the Romans built factories here, where they dried and salted fish and seafood. This situation is quite obvious, because Spain is surrounded on three sides by water.
All the Spanish grocery markets and supermarkets offer a wide variety of shellfish: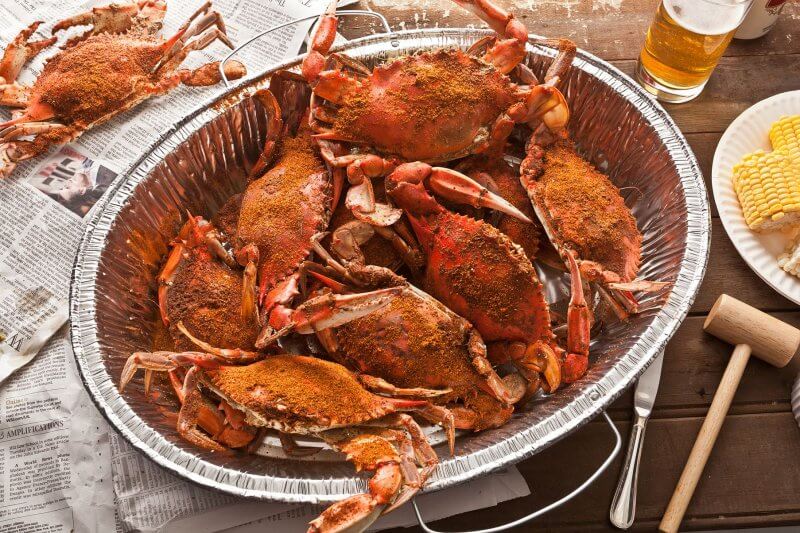 Lobster and langoustine – they are boiled and served with rice and sauce;
langoustine – smaller than lobster, orange-pink, up to 25 cm long, cooked on the grill or fried with herbs
crab – popular in the northern regions; big specimens weigh up to 8 kg; their meat is used for soufflés, croquettes, special cakes;
blue crab – this shellfish has little meat, but it is delicious; they cook blue crab in Galicia, just boiled in water with a bay leaf;
shrimp – cooked in different ways, most often grilled with lemon juice and salt, added to salads, made tapas;
octopus – cooked whole or in pieces, seasoned with olive oil, pepper, salt, tentacles are preliminary battered to soften the meat;
Squid – the most popular recipe – cut into rings and fried, served with rice, vegetables, bread;
oyster – Spaniards eat them raw or cook them in wine.
Spanish poultry dishes
Peculiarities of the Spanish cuisine take into account gastronomic preferences of meat lovers as well. Fish dishes are more common in Spain, but poultry dishes are served in all regions of the country. Spaniards prefer young chickens; cooking methods depend on the geographic location of the settlement. Poultry meat is fried on a spit, grill, stuffed with vegetables, even seafood, roasted over an open fire on a grill, marinated in sherry or cider.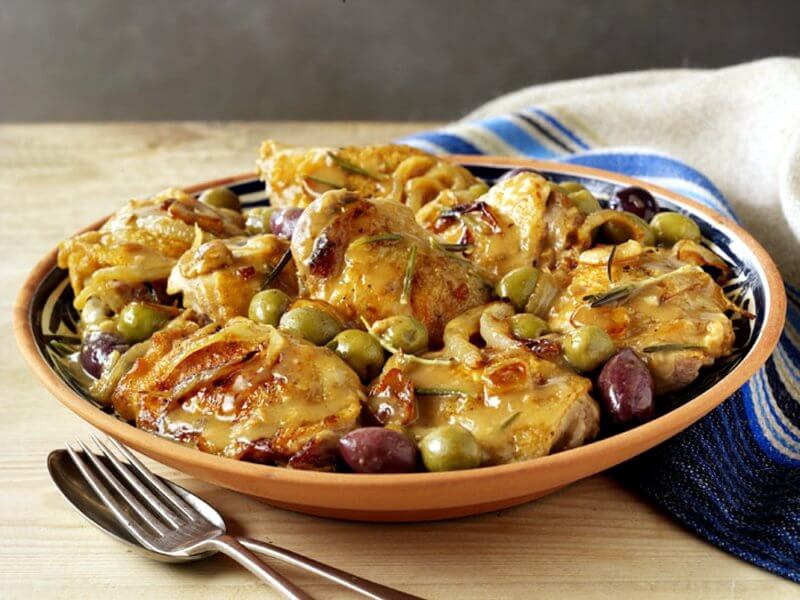 You must try the chicken in sherry, and the chicken with vegetable garnish stewed in wine is also worth a try.
The capon is excellent in Galicia. Capon with chestnuts and seafood is a specialty of Spain. The duck is wonderfully cooked in Navarre. Duck liver seasoned with cream sauce is especially popular.
Tourron
Turrone means "nougat," prepared from roasted almonds, honey, and protein. In some regions, fruit, popcorn, and chocolate are added.
The recipe for this traditional sweet was already known to the ancient Greeks. It was predominantly made for athletes participating in the Olympic Games. However, the real authors of Turon were the Arabs. But Spaniards categorically did not want the dessert to remind the Moors, so they invented the story of Scandinavian princess and almond trees.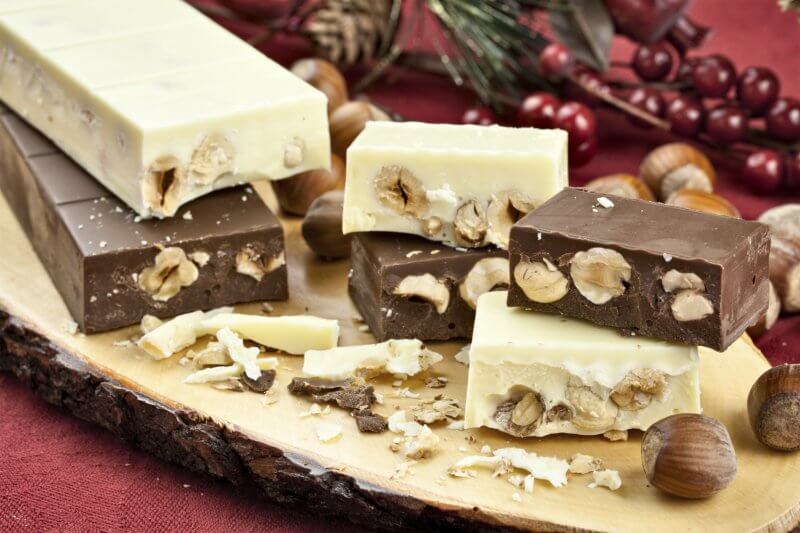 Interesting fact! In Spain, only turrón made in Gijón has a certificate of quality and authenticity.
The hard variety, made according to a classic recipe;
other nuts are used instead of the traditional almonds;
Soft tourron, with oil added in addition to the traditional ingredients.
Did you know that Spanish San Sebastian ranks first in the world for the number of Michelin restaurants per square meter! For a list of gastronomic establishments and what they serve, see this article.
Polvoron
The cookies are airy and weightless, so the name means "dust. They are made from flour, sugar, various nuts, and pork fat. In some Spanish regions, the fat is replaced by milk or olive oil. It is similar to gingerbread, but has a light, creamy texture. The polvoron is prepared for about two days.
Note: The national dessert is considered a Christmas dessert, so it appears in stores only on the eve of the holidays. You shouldn't buy polvoron as a present, because the cookies are fragile and will break for sure.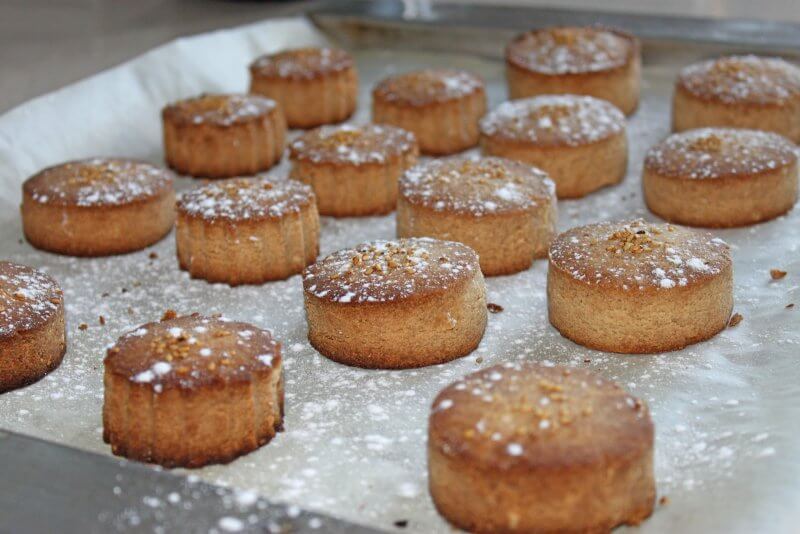 In the whole territory of Spain there are factories of polvorone making, so as not to break the traditional treat, each cookie is wrapped like a candy. Locals say that properly cooked polvorone crumbles even at a mere glance.
Many countries have developed their own polvorone recipes, such as Mexico, the United States, and the Philippines.
Jamon
Jamón is a popular national Spanish meat delicacy around the world. It is a product with a two-thousand-year history, as evidenced by historical documents. It was served to Roman emperors and fed to legionaries. There are several legends about its origin. According to the first, jamon was invented by large families from Europe who tried to extend the shelf life of meat by preserving it with salt.
Good to know! The best jamon is produced in Spanish provinces: Salamanca, Teruel, Huelbas, Granada and Segovia.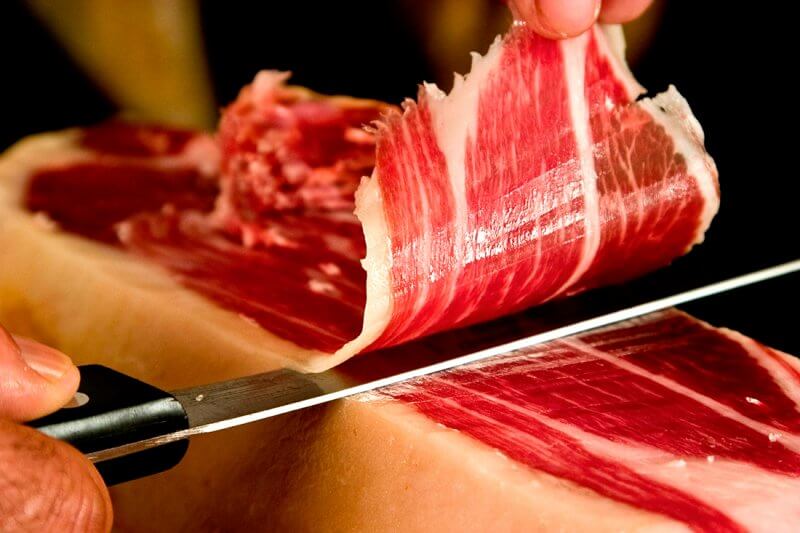 There are two types of jamon:
Iberico – for the preparation of the pork varieties, pigs are fed exclusively acorns, the hooves of the pigs are black, so the jamón is called "black leg";
Serrano – is jamon from ordinary pork, pigs are fed traditional forage, the cost of delicacy is much lower and accessible to most residents of the country.
For Spaniards, the preparation of traditional jamon is a special ritual. First, the carcass is cut, carefully cleaned of fat, salted with sea salt and stored at a temperature no higher than +5 degrees. Then washed and seasoned and kept in a cool place for two months. In the final stage of jamon dried.
Spanish cheeses
Spanish cheeses are gradually gaining popularity in the world on a par with the Swiss product. The locals hardly ever use cheese for multi-ingredient dishes, most often sliced or eaten with bread.
A popular national cheese is Cabrales (homeland – Austria). Blue mold cheese based on goat and sheep milk, the taste is spicy. Also in Asturias there is another popular cheese – afuegal piitu.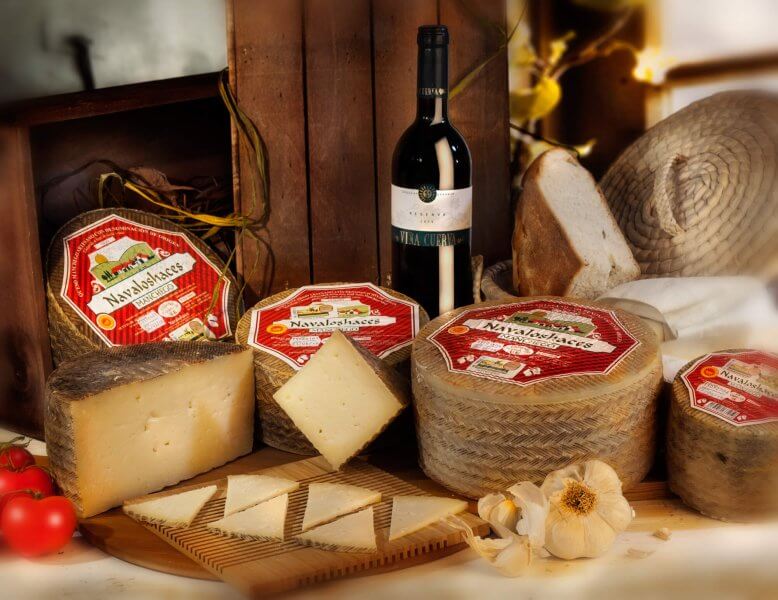 Certain traditional varieties are represented in the regions. In Galicia it is tetilla, san cimon. In Castile, manchego made from sheep's milk is particularly appreciated. And in León and Castile the most popular cheese is Burgos, either salty or unleavened. Catalonia is also famous for its wonderful goat's milk cheeses.
Drinks
Spanish national cuisine is rich in traditional for this country drinks.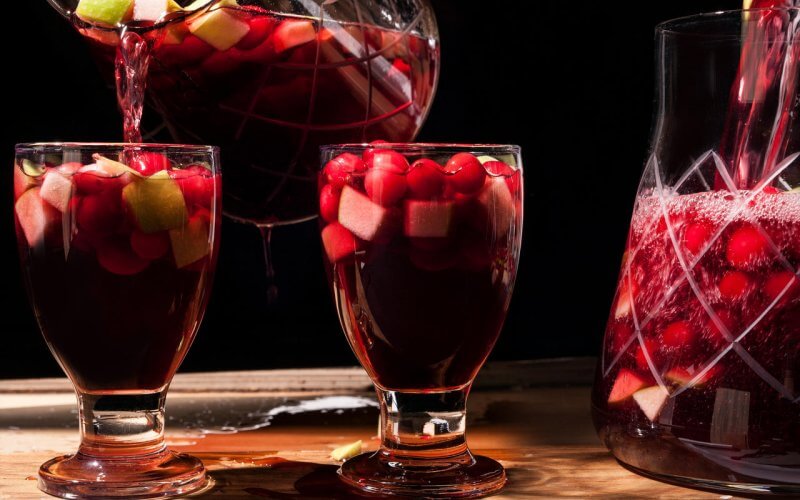 Tinto ne Berano is national low-alcohol drink made of wine, water with gas, lemon or orange, and ice.
Rebujito – low-alcohol drink on the basis of white wine with the addition of sprite or soda, garnished with a mint leaf and a slice of lemon.
Cider – traditional carbonated low-alcohol drink made of apples, the most delicious – in Asturias.
Cava – analog of champagne, homeland – Catalonia.
Sangria – traditional low-alcohol drink made of wine, sparkling water, liqueur, sugar and fruit.
As for Spanish wines, they are considered some of the highest quality in the world. The traditional Spanish wine list is dominated by dry and dessert wines. Stores offer products in the medium price range. Expensive elite wines can be purchased in small, private wineries.
The best national wines are marked with the abbreviation DO or DOC. There are only two regions in Spain with the highest quality certificate – Priorat, Rioja.
Spanish cuisine attracts more and more tourists every year as gastronomic tourism is becoming more and more popular. Here you will find a specific Mediterranean diet seasoned with distinctive Spanish culinary traditions.
What to try in Spain:
Author: Julia Matyukhina
Updated: 19 Jun, 2019 Traditional German cuisine is far from dietary. Culinary traditions…
Updated: 24 Mar, 2020 Norway was once considered a provincial country and in some…
Updated: 31 May, 2022 At first glance, Danish cuisine is no different from…
Updated: 13 Jul, 2018 Swedish national dishes are undoubtedly close to people with open…