Paris, France in 24 hours: happiness for a day
So much has been said about Paris that to add something is akin to heresy, which reeks of plagiarism and understatement. In this densely populated city, you can easily feel lonely. Here, croissants are filled with love, a woman's lashes are soft, and a day can last for years or crumple into fleeting seconds. And above it all, the imposing phallic symbol of metal construction number one looms large. What your own Paris will be like depends only on you.
If you are lucky enough/unlucky enough to stay in Paris for 24 hours, then you need to know what to do so that the most romantic city of the world does not pass you by. Yes, you can't get to know Paris in 24 hours, but you can touch it. And the touch of a miracle, as you know, gives the right to be called a happy man. So, here is our advice on how to become happy in just 24 hours by taking three drops of Paris.
Moving around the French capital is very easy . It has everything to move quickly and comfortably from one sight to another, from one experience to another.
You can rent a bike …
If you don't want to use the bus or subway, then get on one of Velib's bikes, which will rub your heel for a whole day for only 13 euros. But you should remember that we have only a day, so you will pedal at home, and now it's best to use public transportation.
You can rent a bike …
…or you can go for something more exotic.
The ideal is the City-Tour circular bus, which takes you to all the landmarks of the "Grey Rose. Get off where you like and get back on the next bus.
The subway should not be neglected either.
Yes, do not forget that being a Parisian does not mean to be born in Paris, but to be born there again. So happy new citizenship to you!
…or you can go for something more exotic.
9:00-10:00 – Louvre
Again, remembering that our visit to Paris is cursory, so why shouldn't a visit to the Louvre be similar? If you are lucky and there are no queues at the museum (the water gets dry faster and the ground is edible), an hour is quite enough to run through the humming halls and see the "Venus of Milossa" and the ever-smiling "Mona Lisa".
It is well known that the queues at one of the most famous museums of the planet are at times simply unimaginable, so it's better to arrive in the morning. However, it is not a problem at all, because pre-purchased tickets will give you the right to enter the museum without queuing.
Free guided tour of the Tuileries Garden : Saturday and Sunday at 15.30 from April to October.
Tip : You can find the Gioconda in the Denon wing, specifically in the seventh room of Italian paintings. As for the Venus of Milos, look for it in the Sully section, in Room 16 of Greek, Etruscan and Roman Antiquities.
9:00-10:00 – Louvre
10:00-12:00 – Notre Dame de Paris
You simply have no right not to invade the spiritual heart of Paris, which is Notre Dame de Paris. Near the cathedral itself there is a mark of kilometer zero, which can bring you the fulfillment of any wish. To do this you need to stand on the mark, make this deepest desire, and then 12 times to scroll clockwise. You'll spend a minute in a fog of disorientation and vertigo, but it's worth it.
Again, you'll have to wait in line for a bit, but in the end you'll be rewarded with a view of the marvelous stained glass windows and the sounds of the organ music, which can safely be called divine.
10:00-12:00 – Notre Dame de Paris
12:00-13:00 – the Montparnasse district
Montparnasse is truly a habitat for Parisian intellectuals and artists. Here Max Jacob sinned, Marc Chagall looked for inspiration, Lenin and Trotsky languished in exile, Picasso and many other geniuses hung out.
Climb to the 56th floor of Montparnasse tower – from its observation deck you can enjoy a view of Paris that leaves you in indescribable delight and quite predictable shock. You can get here by subway line 4, getting off at Montparnasse-Bienvene station.
Here you can also dine at Panorama Bar 360 or Le Ciel de Paris restaurant, both the highest in Europe.
12:00-13:00 – the Montparnasse district
13:00-16:00 – walk around Montmartre
This is one of the most famous and romantic districts of Paris. It's also the highest point of the French capital which you can climb both by famous stairs and by funicular.
Visit the Sacré Coeur basilica and stroll through the cobblestone streets, where celebrities such as van Gogh, Gauguin, Degas, Zola, Matisse, Modigliani, Renoir and Toulouse-Lautrec have breathed. Your feet will lead you to the Basilica of the Sacre-Coeur. On the way, stop by the famous singer Dalida's square, find her bust and rub your hands over her… bust in the traditional tourist way.
Tip: If you are on Steinkerque, beware of cheaters and scammers who live only to cheat gullible tourists.
13:00-16:00 – walk around Montmartre
19:00-21:00 – Eiffel Tower
Readers apparently breathed a sigh of relief after finally getting to the most famous tower in the world. Without the number one steel structure, Paris would not be the Paris that the average earthling's imagination paints. So you simply must visit the tower not to blush later, answering the question of friends, "Well, how is the Eiffel Tower?"
It may look like a small queue, but you have to stand in it 40-50 minutes. But once you get to the top, you'll have a view of Paris in the evening, and it's worth it.
Advice : near the tower you'll meet merchants of souvenirs, where you can buy magnets and key chains much cheaper than in souvenir shops – just a couple of euros, and you'll have a dozen key chains in the form of the Eiffel Tower, which will help to solve the problem of souvenirs for friends.
19:00-21:00 – Eiffel Tower
21:00-23:00 – Sightseeing tour on the Seine
A ride on a river streetcar with dinner is another must on the tourist program . A little away from the Eiffel Tower is the pier from which the Bateaux-Parisiens sightseeing barge with panoramic roof departs every day at half-hour intervals. The entire trip along the Seine is accompanied by an audio guide, which is also available in Russian.
But if you choose one of the floating restaurants, take into account that there is a rather strict dress code – in sportswear and jeans you simply will not be allowed on board.
21:00-23:00 – Sightseeing tour on the Seine
23:00-01:00 – Moulin Rouge
If you think of visiting Paris and not going to the Moulin Rouge cabaret, don't hesitate to give your head to a rider without one – you don't need one anyway. At 11 p.m. you will not be served dinner, but you can buy a ticket, the price of which includes a bottle of champagne for two.
The most important thing is that you can perceive this place the way you want: a cabaret, a nightclub, a brothel, after all. Even if you are a hard-hearted skeptic, you will love the Moulin Rouge, because this is Paris – the city that does not give anything by force.
Advice: it is strictly forbidden to take photos and videos, it refers not only to the show, but also to any manipulations with photo- and video-cameras inside the club.
23:00-01:00 – Moulin Rouge
Paris in 24 Hours
Hello all lovers of France! If you all of a sudden for some reason still do not like this beautiful country, I am sure that thanks to my column you will change your opinion. My name is Martha, and for more than 14 years I love France from a distance.
Paris in 24 Hours
So how did our love story begin? When I was 14 years old, I went on a Euro-tour (yes, yes, the same one where you visit an endless number of countries in a week). And here I am for the first time in Paris. Of course, at 14 years old, I had little interest in the wonders of architecture, the magnificent boulevards of the Baron Haussmann era and instead of the Louvre, I was happy to do a shopping run. Two days was enough to fall madly in love with this wonderful city. So what happened after the Euro-tour? Learning French, reading books, watching French movies and traveling to different parts of France.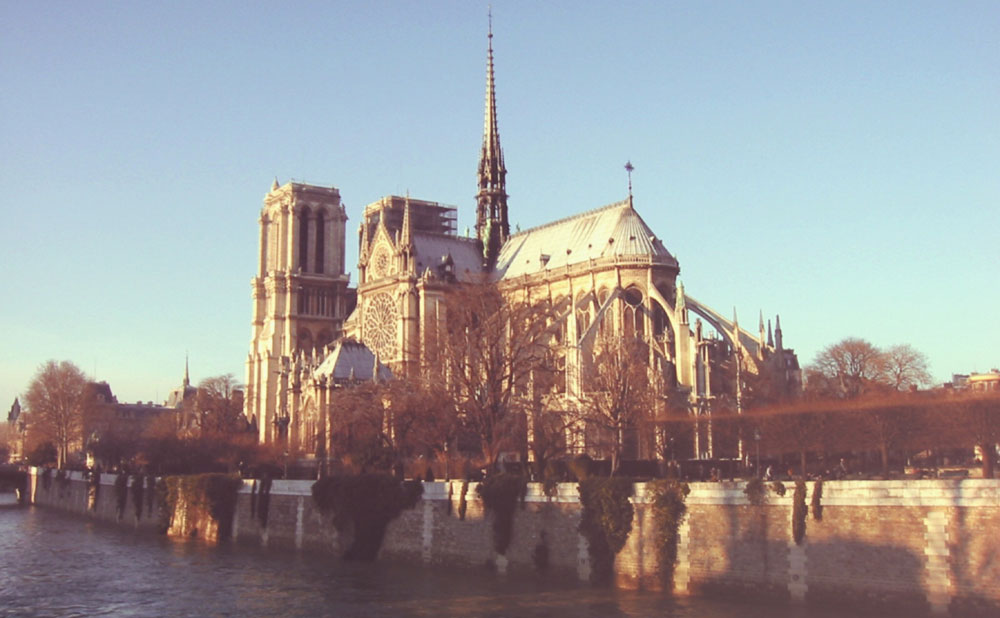 Notre Dame de Paris or Notre Dame de Paris Cathedral. Paris
Today I will tell you about a perfect day in the city of lovers. I am convinced that everyone should give this city a chance and spend at least 24 hours here. The most important thing is to see the very Paris that shines in light melodramas and novels, and then you will definitely want to stay here longer than 24 hours. So, let's start with the fact that Paris is a very contrasting city and if you only have a day to explore the city, you should definitely settle in a nice neighborhood. Are there any unpleasant districts in Paris, you ask? Oh yes! I still remember when I made a wrong turn around the famous Grand Opera House and found myself in the realm of African-Americans on Rue Sesame (for some reason there were many hair salons, where the "magicians" offered to dye hair in all shades of the rainbow). Anyway. In my opinion, the most successful districts for tourists: 1, 4, 5, 6. So, try to find a hotel or an apartment here. About the most colorful apartments and hotels in Paris (as if from the pictures of famous Instagram-bloggers) I will tell you soon. And so the very day came and you woke up in Paris. Beautiful, isn't it? If you did your best and found an apartment or hotel with a nice wrought iron balcony, then hurry out to it. Shouting with joy is allowed, taking pictures too. After you've taken 1,500 or so identical photos and made sure at least one is Instagram-worthy it's time to head to breakfast. You've probably already heard about the classic Parisian breakfast. It is not at all scrambled eggs with bacon and a sandwich (although you can find such format as Benedict in the fashionable Marais district – 19 Rue Sainte-Croix de la Bretonnerie, 75004), but traditionally breakfast is served: pastry (baguette, croissant, bun with butter), jam (strawberry, apricot, cherry), orange juice and coffee. Many of our compatriots do not understand such a modest le petit dejeuner and after an hour look for something more satisfying. So, there is probably a café or bakery near your place of residence, where you can have breakfast. Hurry outside and find the most attractive place. By the way, bakeries sell baguettes with different toppings, small pizzas are for when the set of the traditional le petit dejeuner does not inspire confidence.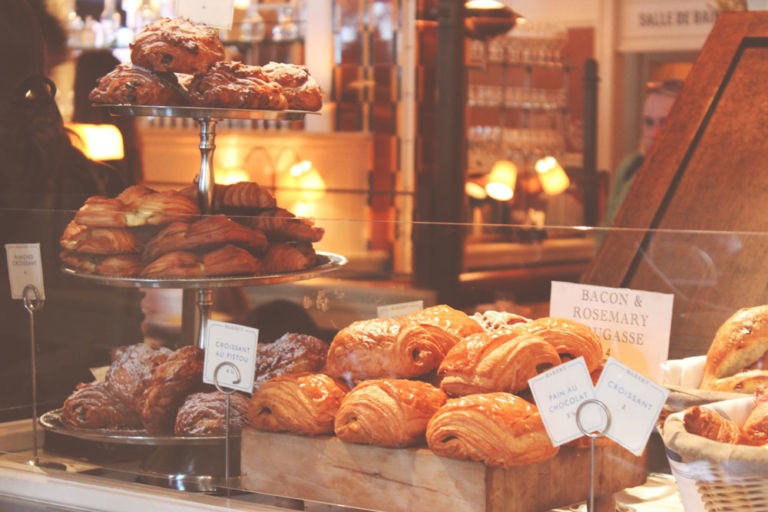 After breakfast, go for a walk. Paris is often called a museum in the open air, and there is no arguing with that, so in this mini guide I will not advise to visit museums, we will walk and enjoy the city. After all, the Mona Lisa is unlikely to escape from under armored glass. So where to go after breakfast? No, not to the Eiffel Tower, but don't worry, it will stay for dessert. A good starting point for an exploration of the city is the Île de la Cité, a walk along the Seine, visit the Notre Dame de Paris and the Notre Dame de Paris – the entrance is free, visit the flower market, which has been open since 1808 (Allée Célestin Hennion, 75004). Where do we go next? The fashionable district of the Marais (le Marais "The Swamp") is a 10-minute walk from the island of Cité. Previously it was a marsh, which was drained in the XIII century. If you get tired of walking you can buy cheese, snacks, baguette in a supermarket and organize a mini-picnic on Place des Vosges, the oldest square in Paris. In the Marais area there are many small boutiques, cafes and bars. For example, visit a favorite Parisian store – "Merci" (111 Boulevard Beaumarchais, 75003). I am sure you will not leave this wonderful "swamp" without nice purchases.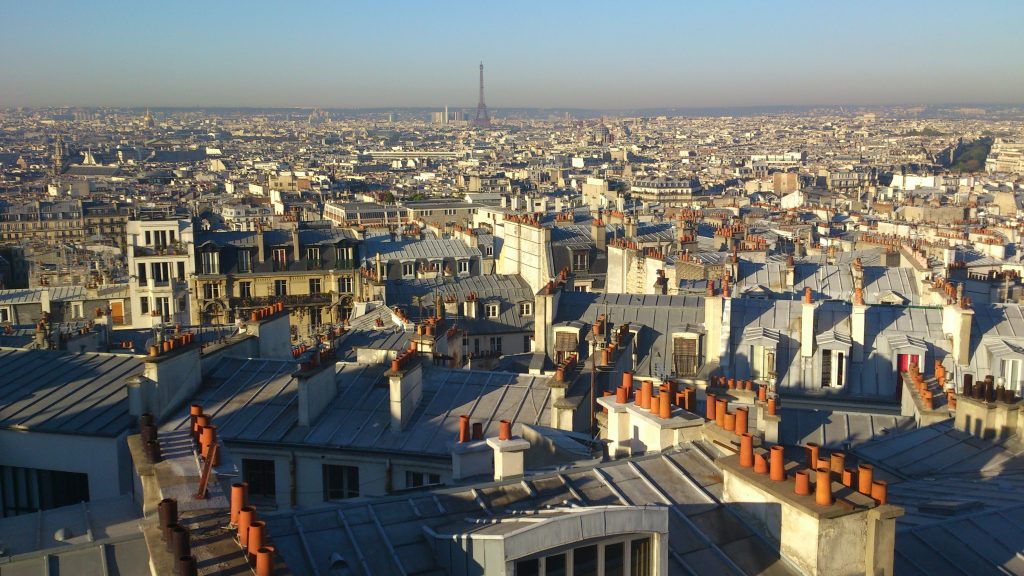 We continue our day in Paris. After the modern Marais, let's go to Montmartre, where great artists (Renoir, Van Gogh, Toulouse-Lautrec, Picasso, Modigliani and others) created and lived in tiny attics, where there is still an ineffable atmosphere. You can get to Montmartre via the famous stairs or the funicular railway. What to see in Montmartre? Visit the majestic Sacré-Coeur Basilica (35 Rue du Chevalier de la Barre) and admission is free. From the steps of the basilica you have a magnificent panoramic view of the city. Next to the basilica is the famous Place du Tertre, the heart of Montmartre. Here during the day artists and cartoonists draw. If you like the work of Auguste Renoir, you should definitely check out the Montmartre Museum (12-14 Rue Cortot, 75018). This is where the artist's first studio was at the end of the 19th century. Thanks to this museum you can plunge into the diverse history of this district. The cost of a visit varies from 9,5 € to 11 € depending on the chosen exhibition, the price includes a free audio-guide in Russian. Not far from the museum on the corner of rue de Sol and rue Saint-Vensain is a secret vineyard of Paris, where 400-500 liters of Montmartre wine are produced annually. Is it time for lunch? Head to 2 Rue de l'Abreuvoir for one of the most photogenic restaurants, La Maison Rose (no fashionable Insta-blogger would miss this location). And if you like fondue, you can visit "Le Refuge des Fondus" (17 Rue des Trois Frères). At the end of this wonderful day you can admire the Eiffel Tower. I suggest two options: go to the trendy restaurant "Le Perchoir Marais" (33 Rue de la Verrerie) or as it gets dark go to the Chaillot Palace and from the Trocadero Square enjoy a wonderful view of the sparkling tower, which begins to shine at the beginning of every hour for 5 minutes. I am sure that after such an interesting and eventful day you will want to stay in Paris for a couple more days.