Marsa Alam – a new vacation destination in Egypt
When we plan to rest a week or two on the Red Sea, what kind of places offer us travel agencies? Of course, those that are most "on everyone's lips" – Sharm el Sheikh or Hurghada! Well, lovers of scuba diving still remember a good place Dahab with its famous Blue Hall. But recently on the warm Egyptian coast there is another place – Marsa El Alam. It is located about 270 kilometers south of Hurghada and, compared to the above-listed resorts, is less well-known and is just starting its promotion.
Most of its customers were tourists from Western European countries, but in the last year, because of the Covid Pandemic, they are almost absent there and many resorts are half-empty. In 2020, several tour operators from Ukraine launched charter flights to Marsa Alam, which was a sure discovery for tourists who have been to Egypt more than once and want something completely new.
The main advantage of this place everyone believes almost untouched by civilization, the marine life. There is still a well-preserved pristine coral world, and with it the fish that live in it. In addition, there you can see not only many exotic fish species, but also such rare species of marine life as turtles, dugongs, dolphins and hammerhead sharks.
Our March trip to Hurghada, during which, because of the cool winds and the same uncomfortable sea, we almost did not swim, was not very successful in terms of beach vacation. But this weather was nice for lovers of Egyptian shopping and informative excursion to Luxor. Without this place, knowledge of Egypt is not considered complete…
Continued isolation from the outside world and the cold spring caused a desire to fly somewhere warm again. But to which place? It was again Egypt and our choice fell on a new and not yet promoted to our tourists place – Marsa El Alam. Looking at the offers of travel agencies we were a bit saddened, because there are not many hotels in those places and some of them are dozens of kilometers away from the airport. The most distant hotels like Fantasia Resort Marsa Alam, 5* and Shams Alam Beach Resort are a hundred…
After consultation with TripAdviser, we chose Brayka Bay Reef Resort 5*, which is located on the same bay together with Royal Brayka Beach Resort, 5*. It was opened in 2004 and offers guests maximum comfort and high quality service. From the airport, this resort is about 50 kilometers away, but on a good road the journey does not seem long.
These two hotels have one owner – an Egyptian and have a common beach and a fairly spacious area with a well-developed infrastructure in the form of swimming pools, sports and playgrounds. Only the restaurants are different – each tourist goes, thanks to his ribbon on his hand, to these institutions in their territory. Probably could have gone to the neighbors, but somehow did not ask them even a glass of water. And in general, as it turned out later, everywhere the food – the usual for 5 * hotels in Egypt. In restaurants – self-service and free drinks from tea, coffee, cola to whiskey and tequila.

If you go further south from our hotel, the next populated area is the town of Marsa Alam, and after it a couple more hotels, among which Fantazia Resort Marsa Alam 5* and Shams Alam Beach Resort are considered the most popular. The last one is 125 km away from the airport. If you go even further south, you can check out such beach places as Sharm el Luli and Hankorab Beach. And soon after them will be the border with Sudan…
Brayka Hotel Complex
So, our Royal Brayka Beach Resort, 5*, and its sister hotel Brayka Bay Reef Resort 5*, well matched their stated parameters – location and beach infrastructure. The Internet promised a good warm weather with temperatures above 25 degrees and warm sea water in mid-April, and the JoinUp company offered a good price for 8 days with flight and All Inclusive ($499/person). So, as they say in Odessa, why not?
Four hours flight by a big Boeing of SkyUp and we took off from Kiev at 3 am, landed early in the morning in a small airport of Marsa Alam. Unlike one in Hurghada or Sharm el-Sheikh it is private, which is not so common in the world. The airport operates since 2001 and its owner is a Kuwaiti citizen M. A. Kharafi, who has received a concession for forty years. Soon after the completion of the airport, Egypt Air was the first to open here regular flights. At the same time new hotel complexes were under construction and dozens of European airlines, including those from Ukraine, were launched here. Alas! Kovid has dramatically slowed down the whole process last year and today many hotels are either half-empty or mothballed. Along the only road running not far from the sea shore you can see enormous undeveloped buildings…
After checking into the hotel, we walked around its large territory, arranged in a horseshoe shape along a large sea bay.
Before the pandemic, mostly Europeans prevailed here: Poles, Germans, Czechs and the Dutch. But now there are far fewer of them than there was before and only Russian and Ukrainian speech is heard everywhere. On the diving I met Poles and Dutch…
Once outside the reception area, we are in a vast desert. There are no streets with stores, bazaars and other commerce, like in Hurghada or Sharm. There is nothing but desert. On either side of the hotel there is the same picture, but with the sea and endless lines of desert shores stretching into the distance. The hotel is like some island of life between the desert and the sea. The only thing that connects these islands of life is a good highway…
That's why, after seeing it, no one is attracted to walk somewhere and do some shopping. You can't do that here. True, the two hotels themselves have these little shopping spaces. And you can wander there a little bit out of boredom. But most come here for the sea, warm and comfortable swimming. For children there are very comfortable and wind-protected pools. In addition – with heated water. So our children played and splashed until exhaustion. We had our own animation for adults – different aerobic exercises, helping to correct body shape flaws after the All Inclusive.
There were two volleyball courts on the beach between the hotels, where we gathered for a couple of hours before dinner. There were enough players for one court, but not for two…
But on the shore you could rent places like this for dinner. Good C-food with excellent Vino Blanka – what else do you need to be happy with your beloved woman or good friends?
We walked leisurely along the entire beach line of the sea bay, around which our two Brayka-branded hotels are nestled. Along all the paths are blooming bushes of bougainvillea and mallow flowers.
The path passes by a long line of three-story hotel rooms, a large modern Dive Center building, and ends at a two-story mansion, beyond which the deserted Red Sea shore begins. That's it! Civilization is over…
О! And next to this house on a steep bank and the famous bench, which, although it does not sit on it "krasivy devushchka," it is worth writing about! It symbolizes the memory of the owner of these lands on which our two fine hotels, Mr. Azmy Ycussef Morocco, are set. Azmy Ycussef Morcos. He himself, for about a year now, has passed into the "Other World" and there in the distance you can see his house, where his family continues to live. No high fences, like many of our people who suddenly popped up "on the surface". Here, everything, European style, is in full view…
The town of Marsa El Alam
For the second night we decided to drive to Marsa el-Alam by ourselves, having rented a minibus for seven people – it's about 15-17 kilometers away. We paid $50 at the reception. There is a good two-lane road in each direction. There is a 10-15 meter gap between the lanes, just like in America when you drive in the desert areas of Las Vegas. On the left we glimpsed a couple of abandoned hotel constructions on the beach and a military unit. Slowing down, we passed a police checkpoint with heavily armed sentries. We couldn't get through it fast – the undulating bumps in the road and the big iron barrels that had to be driven around in an S-shape would make it impossible to get through quickly.

Under the name of the city of Marsa Alam, there are actually two such places – the old town with its poor one-story houses and the modern one with only two or three streets. The first is on the shore of the Red Sea and is considered a fishing village, and the new one is built by Italian designers and craftsmen and its houses look very attractive. Well, it just seems that you got somewhere in the Mediterranean.
In the town itself live workers of the so-called Gold Mine, a company engaged in the development of gold mines. It was long ago that deposits of gold were found in the local deserts and they have been exploiting them for many years. Before the company arrived, the coast was deserted. But now about three thousand "gold diggers" live in Marsa Alam.
In fact, there is almost no tourist sphere in the town. And there is not much to see. Simple and small stores on the first floors have not always decorated such beautiful houses. The local population, unlike tourists, clearly respected the quarantine conditions and many walked in masks, even on the streets.
When we arrived in the town, the driver dropped us off near some souvenir store and, having entrusted us to its owner, Akhmet, he took off somewhere. Seeing that we were not particularly interested in his merchandise, he, in turn, handed us over to his son, who took us for a walk down the only shopping street. When we came back, our bus was still missing. The sun was rolling inexorably over the horizon and we felt that darkness was coming. And what did we see? Nothing yet! And we would have liked to go to a fishing village, where the history of this place began. Finally, Ahmet called someone and soon another car arrived whose driver agreed to drive us to the old part of the village for $5. We drove to the sea and stopped at the main attraction of the town – its mosque, beautifully illuminated by the setting sun.
The city mosque in Marsa Alam is quite appropriate for the settlement – quiet and small. Its appearance is quite traditional and, like all the mosques in the world, it is oriented towards the holy city of Mecca. The building is built of sand bricks, topped with a dome and decorated with small columns. Inside it, as in any Muslim mosque, there are no images of idols or people-it is forbidden by religion. However, there are decorations with carvings and colored mosaics.
Gold and Gem Mining in Marsa Alam
After leaving the mosque on the highway, the driver turned around and drove to a fishing village and stopped at a monument to gold miners. As I mentioned above, gold was found in these parts in very olden days and mining never stopped.
The earliest mentions of the riches of these places are attributed by specialists to the times of Ancient Egypt. The surrounding coastal area was rich in deposits of copper, lead, gold, emeralds and semi-precious stones. It is believed that this region was home to the world's first emerald mines and was the only source of emeralds for the Roman Empire.
In Wadi El Gamal National Park, which is located south of Marsa Alam, you can visit the so-called Cleopatra Mines, where emeralds were mined. It is known that Cleopatra loved jewelry and most of all she loved this green gemstone. She even gave the emeralds with her portrait engraved on them to her chosen ambassadors, as well as to Julius Caesar.
This was most likely the only area of emerald mining in the Roman Empire and these mines were used until the fourteenth century, but later fell into disrepair due to the importation of emeralds from India.
And as for gold mining in this region, more than seventy gold mines accounted for a significant portion of Ancient Egypt's legendary wealth before 1000 B.C. In addition to it, historians estimate that there were about thirty kinds of stone, gemstones, and iron in the eastern Egyptian desert. Some of the gold mines continued to operate under British administration into the early twentieth century before eventually closing due to the high cost of mining. In the first decade of the 21st century, however, they were reopened by foreign investors using the latest mining technology. These mines, together with some marble and granite quarries, provide employment for a large part of the population.
What else was interesting about this place in ancient times? It is believed that during the reign of Ptolemy II (281-246 BC) the first road was built to connect Marsa Alam on the Red Sea with Edfu, a city on the Nile. The main purpose of the road was to bring emeralds and other precious stones and metals from mines near the Red Sea to the Nile for onward shipment to Europe. For the same purpose, Marsa Alam, along with the more northern town of El-Qusayr, was also used as a section of the so-called Silk Road, ferrying goods from Asia from the Red Sea coast to the Nile…
After getting acquainted with the monument we set a course for the strip of sea ahead. Oh! Here is the old village that served as the base of this town. Single-storey unimpressive houses with their unpretentious belongings inside. Only a few dozen left. Judging by the modest vehicles parked near the houses, their owners will live here for a long time. What do the inhabitants of this village do? Some continue the work of their ancestors by fishing for a living.
Others, having gone to work for the gold mining companies, leave this place and move to more comfortable homes that we saw in the new part of town. Their old parents are probably left to live out their days by the sea. And some go to work in the hotel complexes. But it has its own difficulties – as a rule, you have to work for 20 days in a row without leaving the hotel, and only for 10 days then you can go home. That's why we didn't see a single woman among hotel attendants: their destiny is the house and children.
Marsa Alam: dugongs, diving and ecotourism
A young and thriving resort, 290km south of Hurghada, is a mecca for diving enthusiasts. Find out what reviews tourists leave about holidays in Marsa Alam.
Contents:
The look of the resort and tourists' impressions
Marsa Alam is growing like a fairy tale. Until recently it was a small village on the Red Sea, but in 2003, after the construction of an international airport, it began a tourist boom. A small resort is actively being built. The choice of hotels is still small, but everything is new and expensive. Prices are 1.5-2 times higher than in Hurghada.
Marsa Alam is appreciated by those who like sparsely populated beaches, clean turquoise sea and comfortable service, when there is no need to go out of the hotel. Coral reefs are little disturbed by man, so during the holidays in Marsa Alam, you can see the beautiful fish, giant mantas, dolphins and sea cows – dugongs. Fans of eco-tourism, snorkeling, snorkeling and kiting are just in love with these places!
Appa: "Beautiful reef, wall-depth of 30m. When coming in from the shore you can meet stingrays, surgeon fish, butterfly fish and many others. At low tide – crabs, stars. At the time when we vacationed, the tides were daily and very pronounced, but it did not stop us from swimming.
Julia K: "To see with my own eyes a sea cow and a turtle, as I grew up – unforgettable! The azure sea and the beautiful reef."
Marsa Alam is appreciated by those who like small beaches, clear turquoise sea and comfortable service. Photo: maudanros / Depositphotos.com.
Best hotels
There are about 50 hotels in the resort, and among them many "five". Almost all hotels are all-inclusive. The staff does not speak Russian. Look for hotels in Marsa Alam on Hotelluk, and tours – on Travelate.
The best hotels in Marsa Alam, according to tourist reviews:
Aurora Bay Resort Marsa Alam 4* – A comfortable Mediterranean-style vacation with four pools and 2 restaurants. For a room for two with breakfast you will pay from $74.
Elphistone Resort Marsa Alam 4* is a wonderful hotel for everyone who likes rooms with bathrooms. The hotel has a good spa and tennis courts. An all-inclusive double room costs from $56.
Brayka Bay Reef Resort 4* is a luxurious first-line hotel with a private beach on the shores of Brayka Bay. An all-inclusive double room costs from $68.
Fantazia Resort Marsa Alam 4* is a great choice for anyone who wants to rejuvenate. Large well-groomed area and a great sandy beach awaits guests. A room for two with breakfast costs from $ 245.
Almost all hotels are all inclusive. The hotel staff speaks no Russian. Photo: maudanros / Depositphotos.com.
Beaches
The beaches of Egyptian resort stretch for 50 km, most of them are deserted. Marsa Alam has high environmental requirements, so there are no artificial sandy beaches like in Hurghada. The coast is covered with fine clean sand. In some places, the reef is only 20 meters from the shore. At the entrance to the sea there are stones, and in the sand – pieces of coral. Be sure to take beach shoes!
Marsa Alam has a lot of shallow water, where it is good to swim with small children. Compared to more northern resorts, the sea water is 1-2 ° warmer.
Hope: "I can't swim, so a gradual, smooth entrance to the sea is very important to me. A lot of marine life, even standing knee-deep in water, you can see colorful fish and other animals! There are many different crabs on the shore. The sand is fine, white and clean. Garbage is removed in time. There is a diving center. If you want to see all the beauty of the Red Sea, you can take a training course and dive."
The beaches of Marsa Alama stretch for 50 km, most of them are deserted. Photo: catalby / Depositphotos.com.
Excursions
Water sports and diving thrive at the Egyptian resort. A one-day training with diving costs $70 to $100, and a 4-day diving course costs $350 to $400. The most famous attraction is the picturesque Samadai Reef. According to reviews, from Marsa Alam, sea excursions to dugongs and dolphins are popular – $50, to Hamata Island – $45 and sea fishing – $45.
Fans of ornithology love excursions from Marsa Alam to Gebel Elba National Park, where you can look at rare desert birds. Just a half-hour drive from the resort is Wadi El Gemal National Park, which is home to wild gazelles and offers camel rides. Vacationers willingly go on safari to the desert – $50, to Cairo – $50 and Luxor – $45.
Marina: "We booked a tour "Coral Garden, Turtle House". Emotions and impressions were overflowing as we managed to see 2 turtles and a dugong. These are memories to last a lifetime. Everything was very well organized, the service was top notch. We took the Faster boat.
The most famous attraction is the picturesque Samadai Reef. Photo: hotspur1705 / unsplash.com.
When best to go
Like most resorts in Egypt, Marsa Alam can be visited all year round. The water temperature in the Red Sea does not drop below +21 ° C. Fewer people come in winter and early spring, when the coast is relatively cool and windy. According to feedback from tourists, not too pleasant in Marsa Alam in the summer when there is a lot of heat. For a comfortable holiday is better to come in April, May or autumn.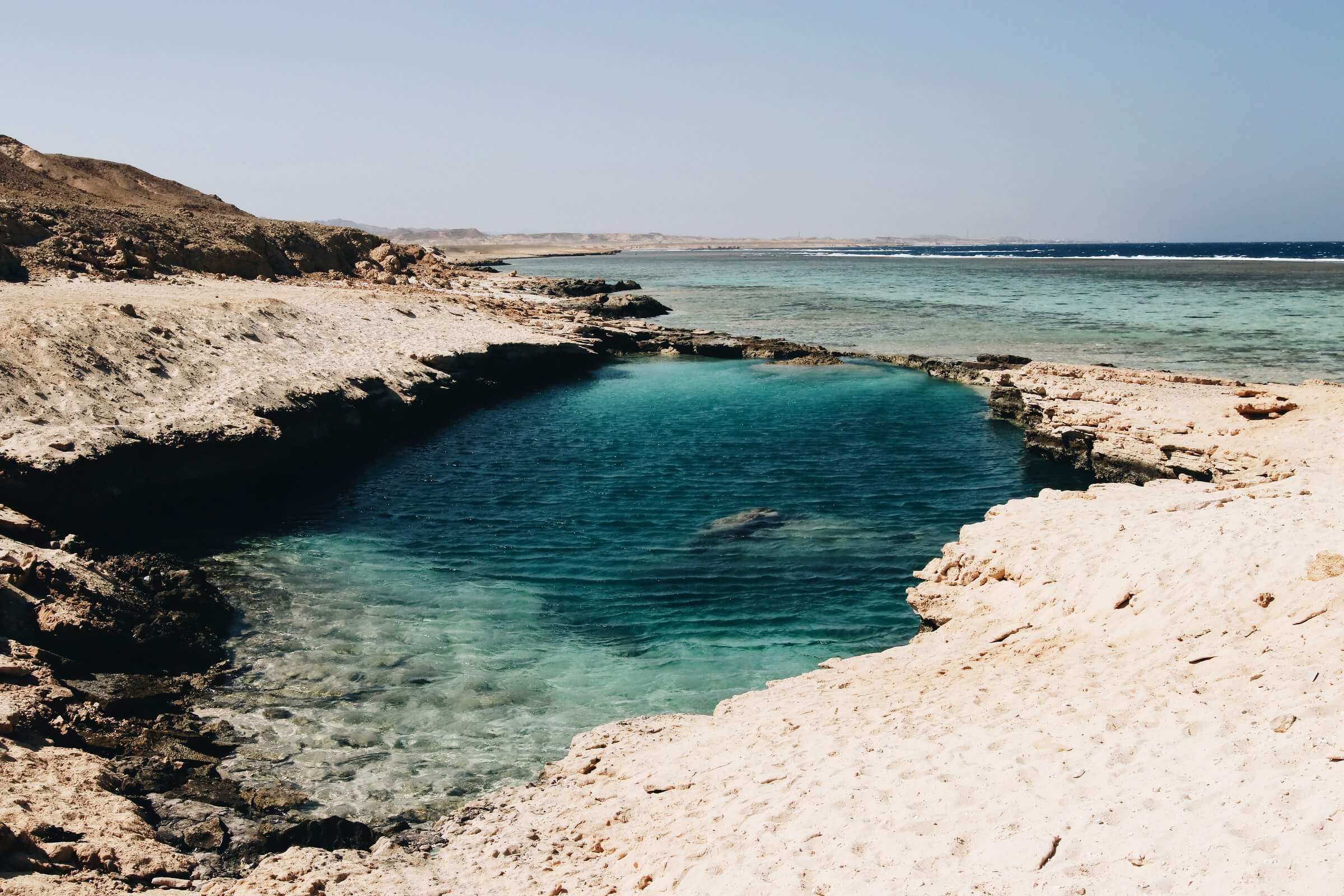 The Al Nayzak rock pool. Photo: bellaskova / unsplash.com.
Worth the trip
The young and expensive resort of Marsa Alam is ideal for fans of diving, a quiet holiday by the beautiful sea, elderly tourists and parents with children. Lovers of nightclubs and partying will be bored here.
The main disadvantage of vacationing in Marsa Alam is the remote part of Egypt. Charter flights from Russia to Marsa Alam have never flown, so packers get from Hurghada International Airport by tourist buses. The trip takes 3.5-4 hours.
kakatros: "Picturesque place, fascinating! Very beautifully arranged for recreation, relaxation and meditation, reconnection with nature. The sea is beautiful, which can only be seen in expensive resorts. White sand, clear turquoise water.