Ganges cruise on the classic steamer RW Kalaw Pandaw
Our tour is a great opportunity to see Bengal and rural India at its most idyllic. Its small towns and the beautiful Bengali capital, Calcutta, with its magnificent architecture of British quarters and the unique charm of its former grandeur. Cruise the lower Ganges on its Hooghly arm on the 2014 RW Kalaw Pandaw, which is a complete replica of the Kalaw steamer that operated from 1917 to 1942 in Burma.
The Lower Ganges expedition is one of the most beautiful river trips imaginable. The river flows through the lush countryside of West Bengal, with its culturally significant towns overflowing with temples and palaces. Rich and vibrant rural life abounds, and there is never a dull moment as we sedately navigate this pleasant waterway. Ten years ago, for the first time since colonial times, Pandaw organized river expeditions in India. And now we can offer the original Pandaw ship, perfectly more suitable for river expeditions in the tropics.
Calcutta cruise start dates: November 9, November 17, December 20, 2022, January 13, February 14, 2023
Program of the tour
Arrival in Calcutta, the captivating capital of British India, where the spirit of imperial grandeur still lingers. Meet and greet at the airport and transfer to the beautiful The Lalit Great Eastern. This day is not included in the cruise price.
Meet the cruise company representative at 10:00 a.m. in the hotel lobby and transfer to the pier. At noon start of the cruise on the Hooghly River, one of the arms of the Great Ganges in its delta. We depart Calcutta, pass the old Danish colony of Serampur, and come ashore at Barrackpore for a stroll through the city. Dinner on board and continuation of the cruise.
Breakfast on board. The ship goes upstream toward the town of Kalna. We go ashore and transfer to rickshaws to get closer to one of Bengal's most attractive terracotta temples, the unique Shiva Temple, which is girded by concentric rings of 108 mandirs.
Return to the steamer, lunch on board. Towards nightfall we will be arriving at the pier near the village of Matyari.
After breakfast you will visit the charming coastal village of Matyari. The locals are hereditary coppersmiths, who have been practicing the same craft for generations: you can see the whole primitive process of hammering out brass water pots and other vessels. We continue upstream and, time permitting, visit the battlefield of Plessy, where in 1757 Robert Clive, commander in chief of British India, defeated Siraj-ud-Dawla, the last independent Nawab of Bengal, and changed the course of Indian history. Lunch on board. The ship will dock for the night near Murshidabad.
After breakfast on board, a walk through Khushbagh, the Mughal style garden. A tour of the tomb of Siraj-ud-Daul, the last Nawab of Bengal. A short walk upstream and right from the ship there is a view of the embankment, where the majestic Hazarduari Palace rises. The palace, built by an English architect in 1837, contains an extensive collection of paintings, porcelain, weapons, and other objects. The tour program for today is quite extensive. We will tour the Hazarduari Palace and also visit the great mosque of Katra and several other local palaces, Nashipur and Katgola. Mooring for the night on the riverbank opposite the town.
We continue along the waterway of the Hooghly River, which winds between banks dotted with mustard fields and mango orchards. A morning walk through the fields of the delightfully sleepy village of Baranagar. A visit to three magnificent miniature terracotta temples.
This is rural India at its most idyllic. We will also see several Jain temples in Azimganj. Baranagar is the "upper" point of our itinerary: here the ship turns around and continues downstream. Breakfast, lunch and dinner on board.
We continue our journey downstream. Today we will see the imposing Imambara at Hooghly. The Imambara is a historic Shiite complex combining a colorful mosque and meeting hall, a chance for us to take a step back in time and relive a slice of Islamic history in Bengal.
Continuation of the cruise. Next stop is the old Dutch settlement of Chinsura in Chandernagore, owned by France until 1950. Here we will visit the 18th-century church and the home of Duplet, the former Governor General of French India. In the evening the ship will approach the pier near Calcutta. Gala dinner on the ship to celebrate the completion of the cruise.
Arrival in Calcutta in the morning. End of service. Optional: Sightseeing tour of Calcutta: Visit Victoria Memorial Palace and a ride through the main streets of the city where you can still see the famous streetcars, which have been in use in the British Indian capital since 1873. A visit to the colourful flower market on the banks of the Hooghly River is a colorful and unforgettable experience. Walk through the neighborhood potters who do only one thing – mold for religious holidays clay gods, which are then painted, dressed up, sent to temples and used in traditional ceremonies. Tour the magnificent Jain temple of Pareshnath, the walls of which shine with millions of tiny mirrors. The National Museum of Calcutta is located in a colonial building with huge columns: the building itself is worth a visit.
Possible continuation of the program: departure from Calcutta or overnight in Calcutta.
Cruise price per person: from USD 3380
| | | |
| --- | --- | --- |
| Cruise November 9, 2022, January 13, February 14, 2023 | In double cabin | In single cabin |
| Main deck | 3430 USD | 4290 USD |
| Upper deck | 3750 USD | 6230 USD |
| | | |
| --- | --- | --- |
| Cruises November 17, December 20, 2022, January 21, 2023 Special offer for single occupancy! | In double cabin | In single cabin |
| Main deck | 3430 USD | 3450 USD |
| Upper deck | 3750 USD | 3770 USD |
Tour price includes :
Accommodation on a cruise ship RW Kalaw Pandaw in a double cabin (15 sq.m.),
full board (drinks are not included, except for mineral water, coffee in jugs and tea),
all transfers by motor transport with air conditioning,
all excursions with English-speaking guides as part of a combined group,
entrance fees to museums and monuments,
air flight Moscow – Delhi – Moscow (from 35000 rubles),
an air flight Delhi – Calcutta – Delhi (from 210 USD),
sightseeing tour in Calcutta with an English or Russian speaking guide (180 USD for a group of 2 people),
Accommodation and transportation in India before and after the cruise,
electronic visa to India (35 USD),
port charges (65 USD per person),
medical insurance (1.5 USD per day).
RW Kalaw Pandaw Cruise Ship:
A total of 18 cabins, with a maximum capacity of 36 passengers: 8 cabins on the upper deck and 10 cabins on the main deck. Each stateroom is finished in teak and brass, stateroom area: 15 sqm.
Cruise price includes: Transfer between the rendezvous point in Calcutta, the ship and the disembarkation point in Calcutta, entrance tickets on the cruise itinerary, guide services (in English), tips for the crew, basic meals, local mineral water, coffee in jugs, tea and decoctions.
In the cabin:
panoramic French window, soft bathrobe and slippers, spa amenities, unlimited mineral water, electric mini-safe, individually controlled air conditioning, quality linens with down comforter and two types of pillows, premium mattresses, welcome floral arrangement and welcome gift on cruise start day, mirror, roomy closet and storage space under the bed, hair dryer, free evening canapes, yoga mats in all cabins.
On the ship:
restaurant with tables both inside and on the open deck, local chef leads an experienced international team of chefs, breakfast and lunch half buffet – main courses served by waiter, unlimited appetizers and desserts, theme dinners with fixed menu, complimentary local mineral water, pitcher coffee, tea and concoctions, extensive wine list with premium wines (extra. Cultural events, cooking classes and excursions on the ship, 24-hour bar (extra charge), onboard bakery with freshly baked bread and rolls daily
Honest Tips for Tourists in North India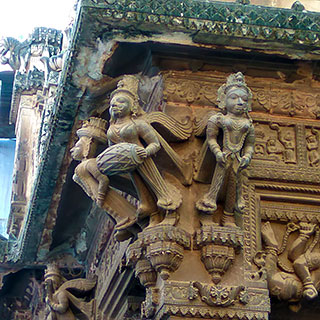 Written on the heels of a month-long trip through 9 cities in northern India in December 2016:
New Delhi – Agra – Kolkata – Digha – Gaya – Bodhgaya – Varanasi – Rishikesh – Haridwar.
Table of Contents
43 tips for traveling in northern India
If you are going to go to Goa in India, these tips are only partly relevant. Things are not as tough and complicated in Goa as they are in northern India.
This is the advice I would give myself before going to India:
If you go to the north, only to the places that are geared for foreign tourists – Rishikesh or Calcutta – at least there will be something to eat and it will be more or less calm.
Try to stay in hotels geared for foreigners to get enough sleep, and not to stay in hotels for Indians – they are a very loud nation, especially children.
In hotels, ask for a receipt for the money you took, or make a note of it in the book at the front desk. If the hotel manages to negotiate a lesser amount, try to put it in writing. Such things will save you time when you check out of the hotel.
Make full and accurate arrangements for paying anything. For example, if you take a tuk-tuk, state your exact destination and price, state that it is in rupees, and state that the quoted price is for two people, not one. Similarly in hotels, make it clear that the price quoted is fixed and includes all taxes.
Do not stay in hotels under 1,000 rupees a night to have fewer problems that will appear after you pay, such as bedbugs, rats, dirty sheets, no towels, bedspreads, hot water. Although all of these problems are possible in rooms under 2,000 rupees.
Less communication with Indians, their main task is to rip you off in every way, starting with money, ending with your attention.
Minimize travel by tuk-tuk, in large cities use the subway – it's quieter and more convenient.
Do not pay in advance, first take a product or service, then pay for it. The exception may be some decent hotels.
Look at the person's face, if at first sight the person you dislike – do not take anything from him and do not buy, find someone who looks normal and honest, try to buy only from such and there will be fewer problems.
If you're waiting for your juice-make sure you didn't put any salt, sugar, spices in it; when you come to the train station check the schedule, maybe your train is moved or canceled, and it can be moved to an earlier or later time.
The best and cheapest way to or from the airport in Delhi is to take the Metro – there is a separate line from the airport to the railway station in New Delhi, it costs 60 rupees per person.
Briefing at the airport
Upon arriving in India, I would give myself about this short briefing:
You are no longer at home, you are in India, remember that every second, every day. And if hell exists, you can easily rest there after traveling in India. Over there, behind the passport control, any critter, adult or small, whether it crawls, runs or sits in the dirt wants to rip you off and eat your soul for dessert.
Waiting for the next life
Hindus all over the country are waiting for the next life, and this is not an insignificant figure of speech to be dismissed, it is definitely true and you will definitely feel it on your own skin.
It follows from this fact that this current life is unimportant, one can live by the line of least resistance and not give a damn about anything.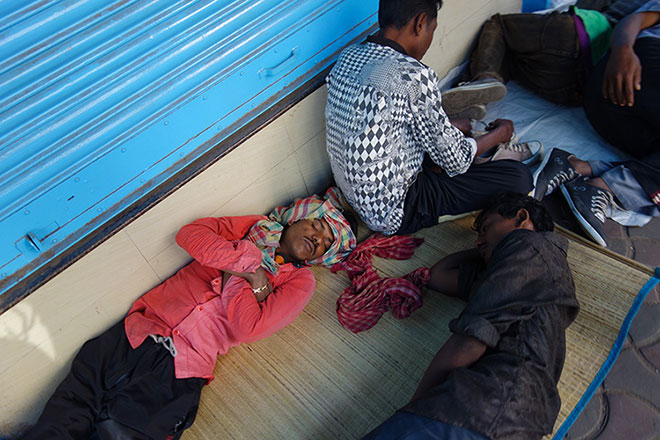 Life on the street in Calcutta
Characteristically, Hindus are fond of chewing tonic leaves and then spitting them wherever they can, thus spitting is expressed not only figuratively but literally as well – all over northern India sidewalks, walls and columns of buildings are spit with the dark brown chewed mass.
In the subway and in some other public places you can find a "Don't spit" sign, or else everything would be spit up there, too. Also, in Indian cities, signs that read: "Don't pee" and "Don't poop," because these needs are managed on the streets wherever they have to.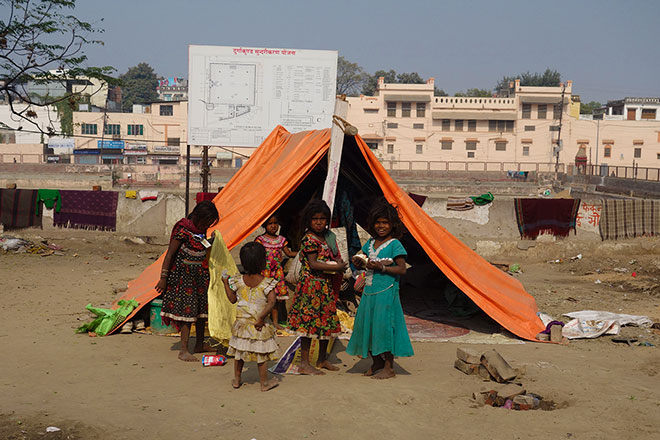 Indian girls outside their home in Varanasi
Remarks about Hindus
Here are some other remarks that came to mind when looking at Hindus in various situations: dirty, unkempt, slovenly, negligent, forgetful, piffilist, indifferent, beggars, extortionists, swindlers, thieves, peddlers, hustlers, shameless, unconscionable, uncultured, inconsiderate, careless, insolent, unprincipled, pushy, stupid, liars, they lie just to say something, cheaters, beggars, cripples, sleep on sidewalks, lazy, work late, immoral, disrespectful, pretend to sweep the streets, walk slowly, don't look around, communicative, the whole country eats on sidewalks at street cooks, there was a TV show where young women were taught to use a mop and 7-8-year-old children – to wash hands with soap.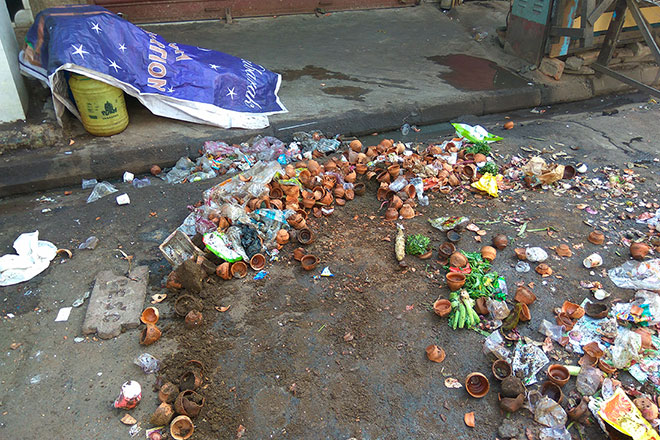 Clay masala tea cups and other trash in the middle of the road in Delhi.
Incredible India – Shocking India
North India as a whole in different cities looks like the Hindus who live in it.
Trash is a strange word for the Russian people, which comes to everyone's mind from the first hours of being in India.
The recurrent slogan "Incredible India" describes very organically what is happening there, if you translate it as "Shocking India".
Shock is a feeling that everyone experiences in India – newborn babies, goats, cows, dogs, foreigners, this shock does not go away, it is stamped on them all as long as they stay there. And I think this is another reason why Hindus dream of leaving India almost anywhere.
Remarks about India
Here are some remarks about India that echoed in my mind as I traveled through it: insane, screaming, hopeless, hopeless, spiritless, cursed, deceived, infantile, disharmonious, dusty, dirty, littered, a dump, cities drenched with urine, animal and human shit in the streets, unsettled, disjointed, chaotic, tolerant, bazaar-vokzal, stable, pigsty, same everywhere, monotonous, beggarly, traditional, self-serving, one big divorce everywhere, inedible food, ruin, baksheesh, tips, donations, no living conditions, poor quality, cramped, everything is mixed, country just for nothing, useless, aimless, uncertain, waiting, delays, prices without taxes, prices for tourists up to 50 times higher, backward, catastrophe country, a country of nothing, fake, on sidewalks bazaar, so people walk on roads, goats and dogs in kaftans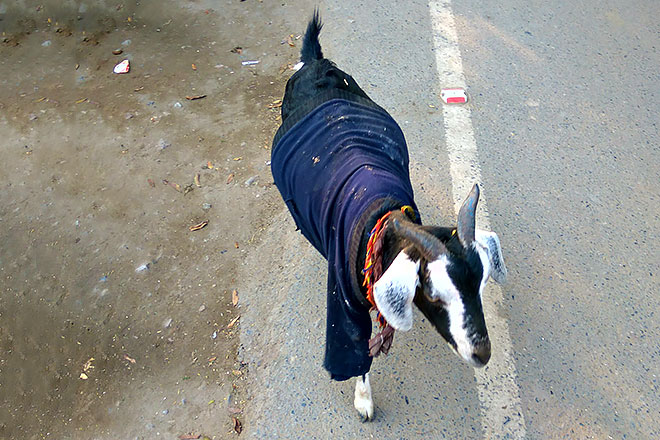 A goat in a sweater in Gaia.
A typical street of any northern Indian city.
The following is a typical street of any city in northern India – the noise, the constant signals, which you can't hide from even in the hotel rooms, the chaotic traffic mixed with the crowds of people and animals walking on the roads, and you constantly need to watch your step so as not to get into the shit or the garbage, and to squeeze through all this madness – a day is very tired of it.
Attention and subservience.
And to top it all off, almost every tuk-tuk driver or vendor shouts "hello, sir," cripples and beggars of all stripes stretch their arms toward you, strolling "saints" look you in the eye, helpers tell you something and show you where to go, pretending you already hired them, and even passersby look at you every now and then like a white tiger in the Calcutta zoo.
By the way, at the Calcutta Zoo, we were the only whites and attracted more attention than this white tiger and the other animals.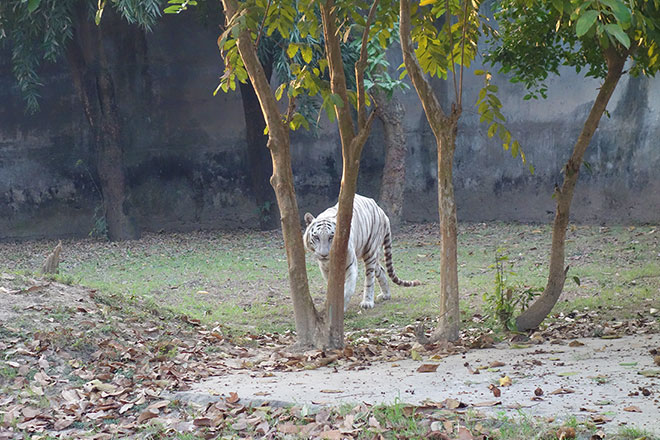 The white tiger at Calcutta Zoo
Since the next life in some beautiful country continues to be present in their minds, it goes without saying that Hindus cannot completely disconnect from their current life and so they often display such qualities as: subservience, submissiveness, addressing "sir" and "ma'am," wanting to take pictures with white people in the streets, posers, driving short distances, loving to have someone carry their things, false excessive politeness, helpfulness that borders on obsessiveness, reading the morning papers.
Self-mockery.
This dissonance between what is and their fantasies about the next life is so great that it naturally affects their ability to think, thus making the situation even worse.
It looks like mental perversion at the same time as dumbing down. Sensors are knocked down: smell, taste, hearing, colors, and so everything is too: too spicy, too salty, too sweet, too noisy, too bright, too cold, too hot.
It's as if they're mocking themselves on purpose. They take off their shoes before entering the temples, and many of them have dirtier feet than their shoes. They pretend to be important dignitaries, even though the whole country lives in shambles, like pigs in a real spattered garbage dump. Have great problems with information, with its transmission, storage and processing. This lack of reason in their eyes and instinctive behavior makes them very much like animals.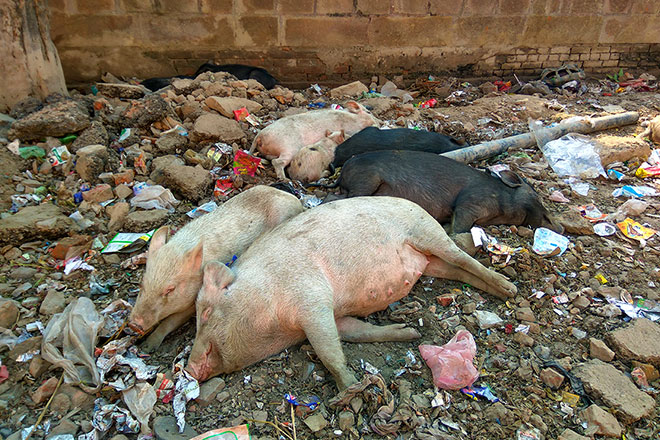 On a street in Varanasi.
When people who live in the middle of a garbage can, a toilet, and a pigsty, where the government can cancel 500 and 1000 currency bills at a time, leaving more than a billion people without cash, ask if Russia has gotten worse under sanctions and if it is true that when Putin was prime minister the economy was in decline – it causes nothing but amazement and laughter.
Living in Russia it is usual to scold her, after a trip to India it wants to praise, here is clean, beautiful clean air, bright colors, culture, coziness, edible food, quietness, peace, peace, mind in the eyes of people, absolutely all!
Leonardo DiCaprio once recommended to go to Africa to understand that your problems are not problems at all, I have not been to Africa, but it seems to me that India is a more suitable place for that, to feel the whole abyss, so to speak.
Spirituality in India.
As for spirituality, if there was any spirituality in India, it ended long ago, now it is mostly speculation on ancient knowledge with lost understanding of its essence, today's India is no more spiritual than any other country and only good advertising continues to attract pilgrims to it.
Read also: Bengal's capital city of Calcutta – is it so awful, what to see for sure, where to stay
The spiritual seekers who go to India are total suckers and at the same time angels who unwittingly fly in from all corners of the world to light up and balance this hopeless, deluded, deluded country with their idealism and judging by the following photo taken at New Delhi airport, someone in India knows it.
Tourist angel figures at Delhi airport
Disappointment is a word that kept coming up from the beginning to the end of the trip. Usually when you go on a trip you don't assume that there will be more survival than relaxation.
It may seem that I regret going to India-it was not at all; the disappointment in such a great "spiritual" farce that has been spun around India was well worth the trip.
In addition, the simple animal-instinctive life they live is something that is so lacking in all of us who are so smart, conscientious, fair, self-aware and who know who needs to do what and how to act, yet do so little and live a simple and natural human life so little.
16 cool moments from a trip to northern India
In addition to the parts in India, of course, there were also cool moments, for example, here is what we liked, remembered in northern India, what is interesting and enjoyable about it:
1. The delicious masala tea and the ubiquitous culture of drinking it, which for a while unites and equalizes everyone who stops to drink it.
Masala tea in clay cups in Delhi
2. the difference in general is interesting: in the way of life, nature, everyday little things, such as the subway may open at 12 noon on weekends and restaurants at 7 pm, the monkeys and parrots that live in the city, the quarters where mattresses and blankets are hand sewn, or the quarter where wedding cards are made.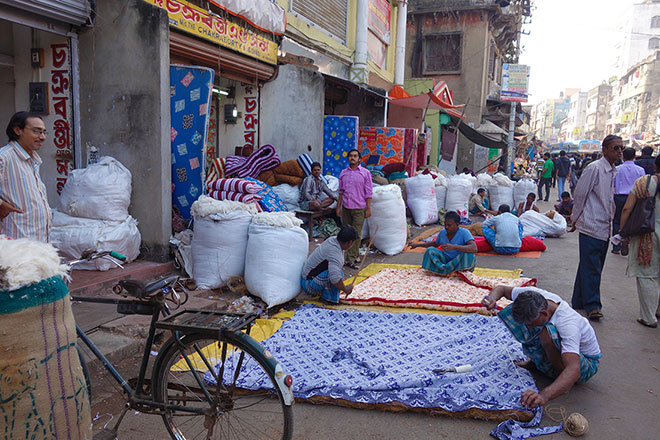 Handmade mattresses and quilts in a neighborhood in Calcutta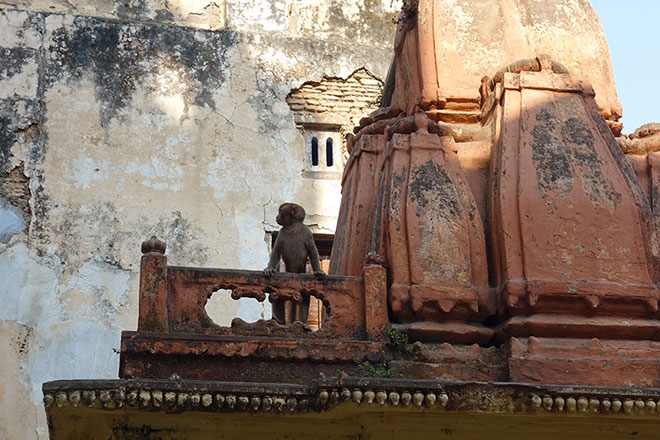 A monkey on a temple in Varanasi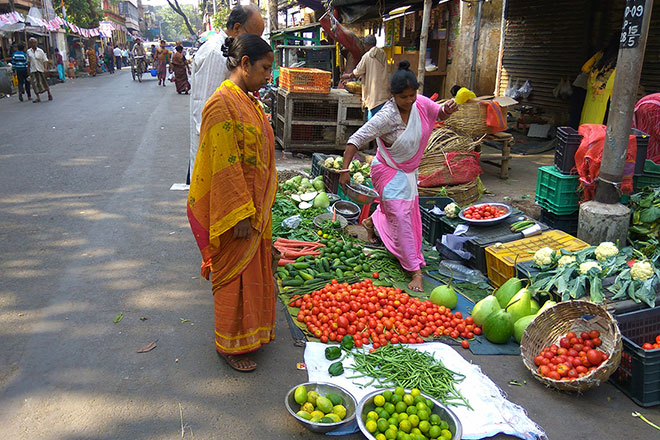 Selling vegetables in the middle of the road in Calcutta.
3. Rishikesh, especially beyond the Laxman Jhula Bridge along the river, the enchanting combination of the Himalayas and the gentle flow of the purest blue-green Ganga with large flocks of black ducks flying over it. And the gentle young cow on the beach, petting and nuzzling at my feet like a dog. And the serenity on the face of the statue of a sitting Shiva with a girl on her head.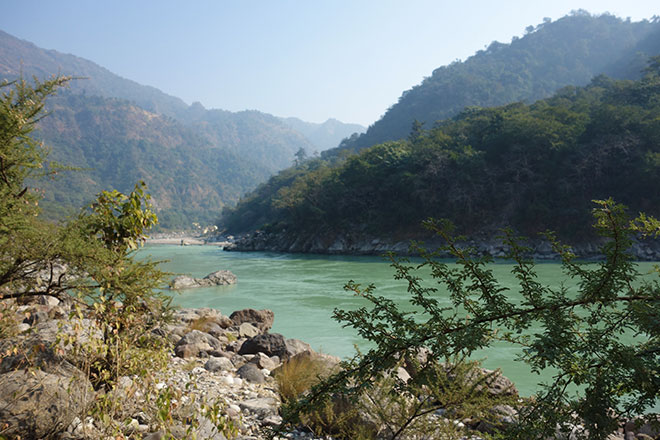 View of the mountains and the green clearest Ganga in Rishikesh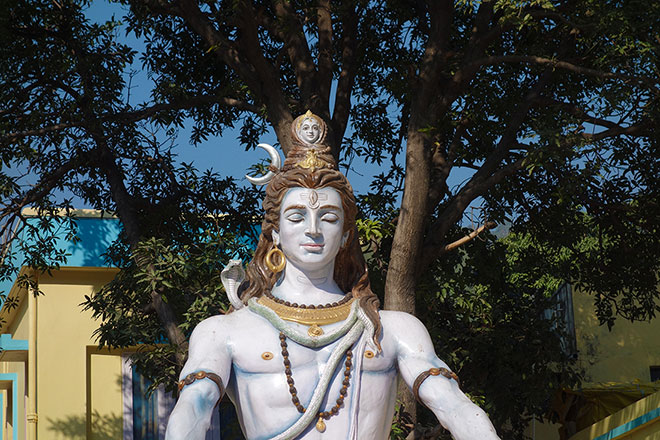 Shiva with a Ganga girl on his head in Rishikesh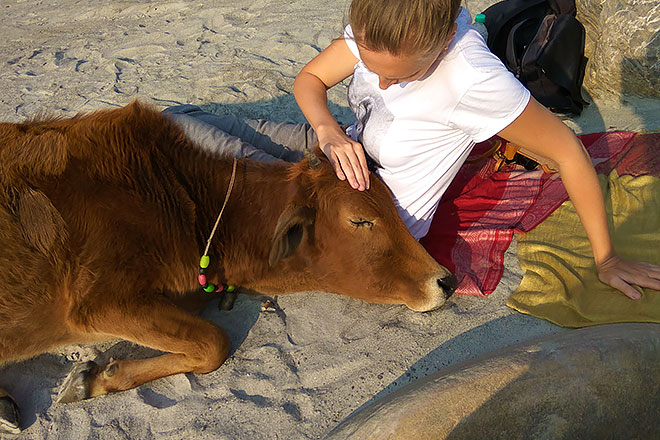 A nestled chick on the beach in Rishikesh
4. the special atmosphere at Bodhi Temple, the temple grounds at the site where the Buddha enlightened in Bodhgaya.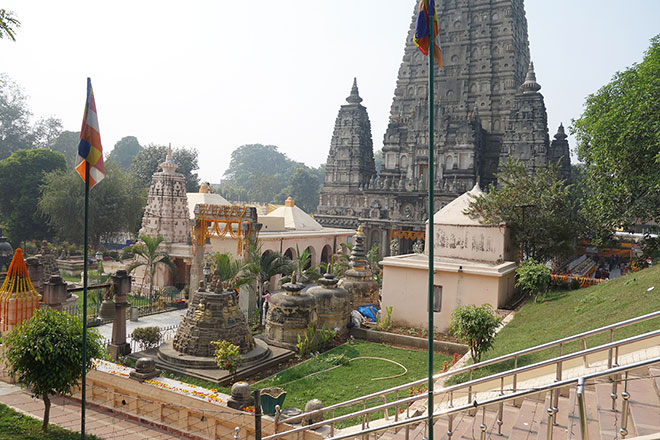 Bodhi Temple in Bodhgaya.
5. The unique, childlike and magical Jai temples in Calcutta and the majestic simplicity and order of the Ramakrishna temple (Belur Math complex).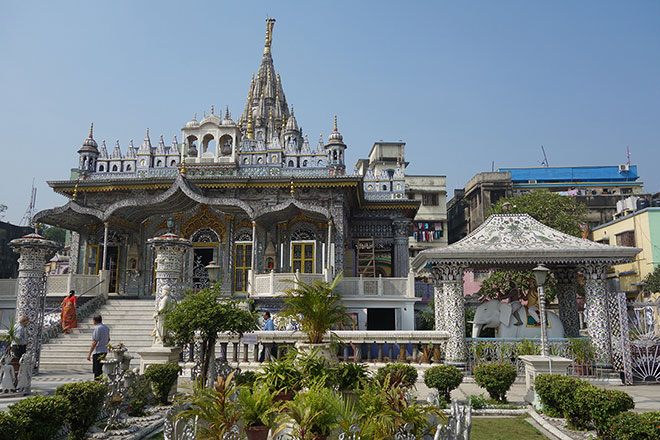 Jai temples in Calcutta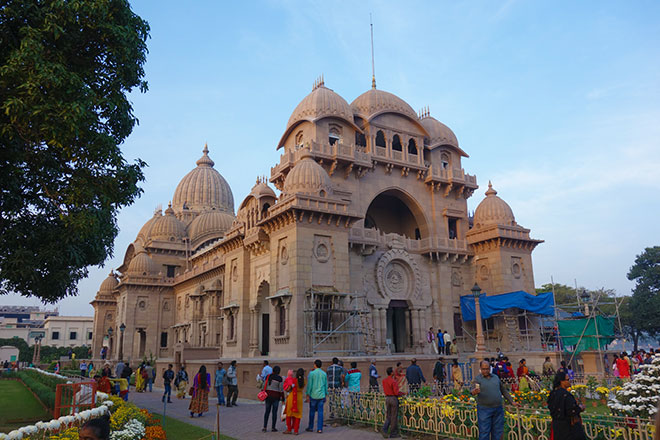 Ramakrishna Temple at the Belur Math complex, Kolkata
6. Incredible architecture of the Lotus Temple in Delhi with eagles soaring above it.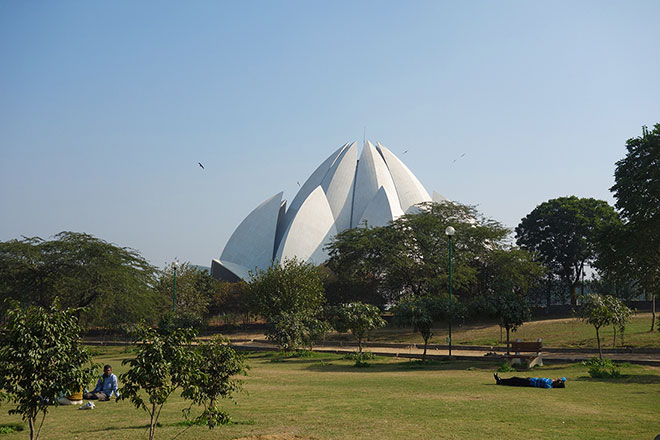 The Lotus Temple in Delhi with eagles soaring above it
7. A big beautiful white humpbacked cow encountered at night in Delhi.
8. A water walk on the Hooghly River in Calcutta. Calcutta itself, as a city, is more or less cozy and cultured, at least in the center.
The Hooghly River and the Khovra Bridge in Calcutta
9. A really huge statue of Shiva standing in Haridwar.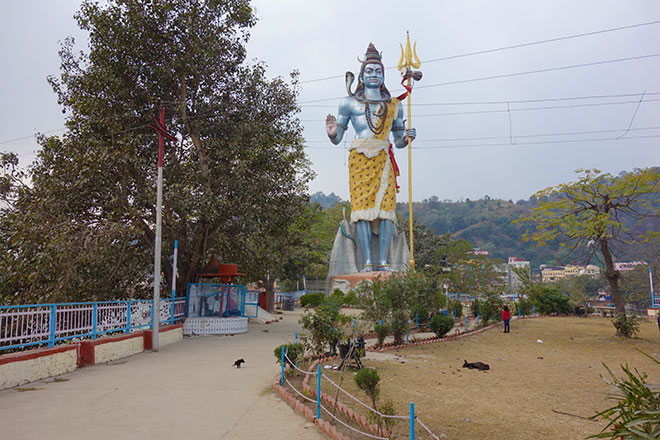 The statue of Shiva standing in Haridwar
10. The vastness of the waterfront in Varanasi and the charm of its narrow streets.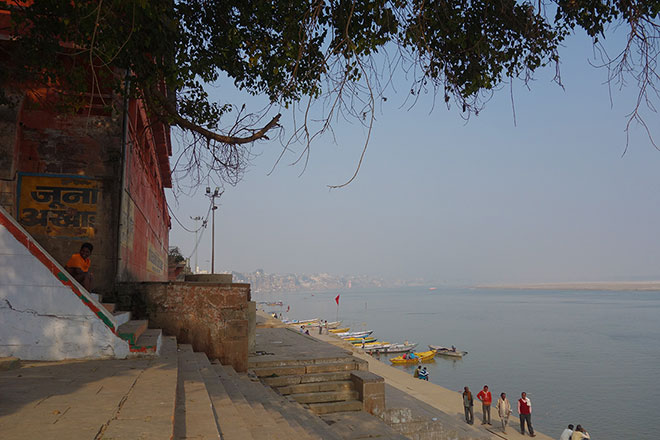 The Waterfront in Varanasi
11. the velvet water in the Indian Ocean Bay of Bengal and the gilded sand beach with the funny red crabs in Digha.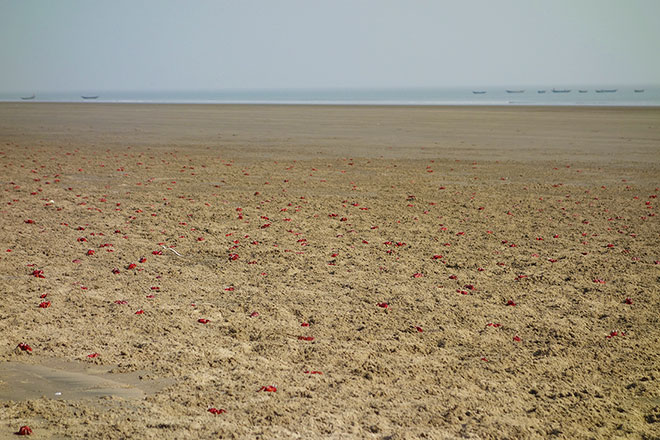 Crabs on the beach at Dighe in the Bay of Bengal
12. from food: tasty chocolate cakes, chicken and chocolate momos, very tasty dessert in the form of warm mass with some orange fruit and cashews in the candy store near the railway station in Gaya, food at the Chinese restaurant Bar-B-Q in Calcutta – we looked this restaurant through the service Foursquare, delicious cookies in packs – they are some natural, freshly squeezed juices.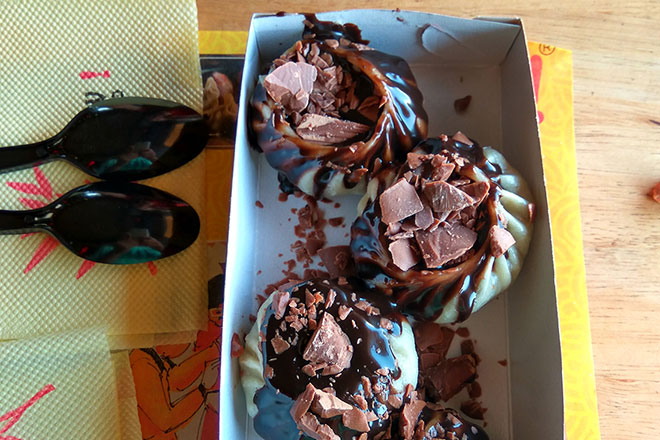 Chocolate Momos at Digha.
13. Super comfortable sandals and sandals, especially a great selection of men's shoes.
14. Stylish models and high quality local brand sunglasses.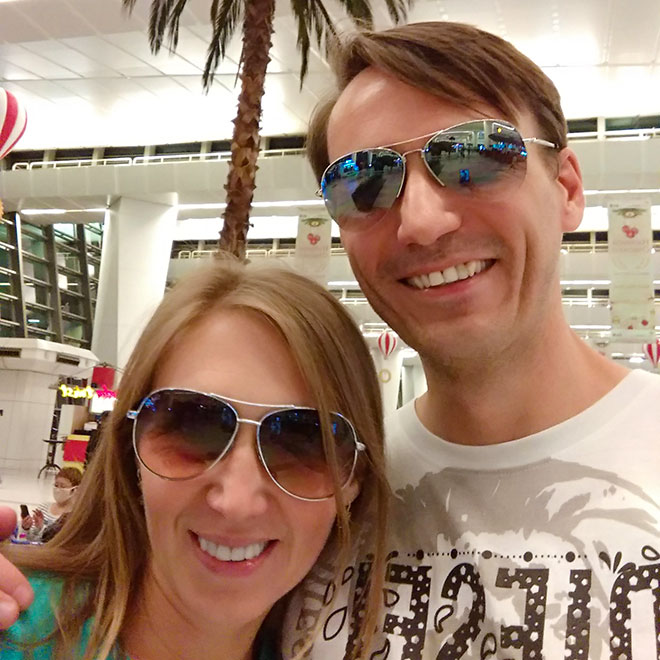 Indian-made sunglasses